Top 5 Matches: Week Ending 7/1/2018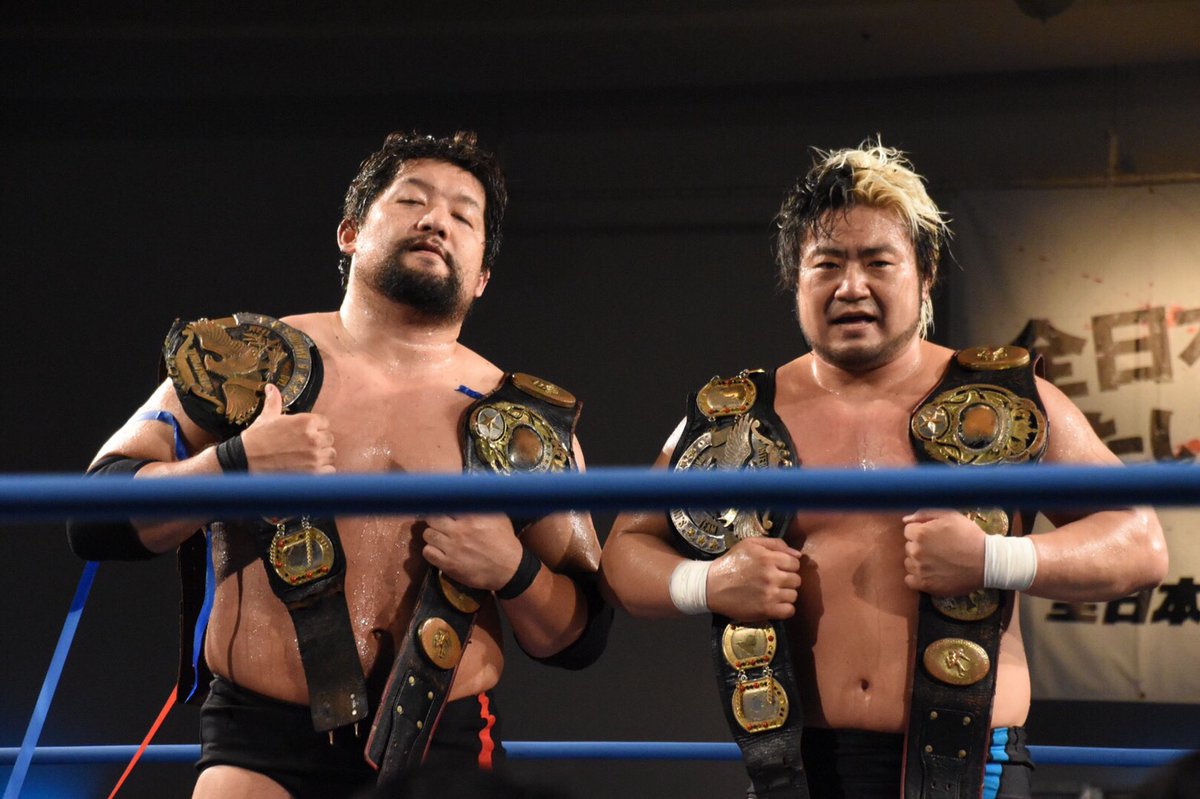 Well we get a pseudo-holiday weekend, unless you're in Canada, then Happy Canada Day. This is an interesting week when it comes to the make up of the Top 5 Matches. I'm fairly sure, this is the first time in the history of The Chairshot, that a certain company has been at the top, much less 1 & 2.
But, business first, we have a vote we need to address from last week. This vote came down to very literally, the last submission. Edging out Dolph Ziggler vs Seth Rollins, the 205 Live Triple Threat: Buddy Murphy vs Hideo Itami vs Mustafa Ali, managed to squeak into the monthly pool. Speaking of that, this will be the last voting week for June, since only 1 day took place in July.
So with the formalities out of the way, let's get the proceedings, proceeding.
5. AJPW Dynamite Series World Tag Team Championship Match: Suwama & Shuji Ishikawa vs Ryoji Sai & Dylan James (c)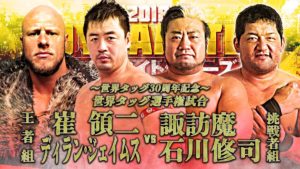 Alrighty, so the Tag Team scene is very odd in All Japan. Suwama & Ishikawa won the last Tag League, and held the belts for a month this year before losing them to Miyahara and Yoshitatsu. Sai & James defeated Bodyguard & Zeus in March, and it seems like they were used to legitimize each man as a singles threat. Sai is also the All Asia Heavyweight Champion, and James just came off an unsuccessful attempt to take the Triple Crown from Kento Miyahara. So will the longest reigning tag champs of 2018 be able to hold back the two veteran monsters?
In a word: No.
Sai showed great heart in this match, but this continued to show the fierce determination of Suwama and Ishikawa, as well as making James looking like a larger threat. There were multiple times when James went toe to toe with both members of the other team, or even won power contests against Ishikawa. As much as I'm not a fan of Dylan, I do admit that he's looking more and more competent.
This was an old school slobber knocker. Big power moves, a few high risk spots but the ending sequence saw Shuji hits his signature Fire/Thunder Bomb on Sai to make sure he couldn't interfere while Suwama hit a big Last Ride Powerbomb followed by a Backdrop Hold for the pinfall.
It's nice to see the titles back in the hands of the Violence Giants, but hopefully they can hold it for more than a month. Both men are imposing and great singles threats, but with their older age, the tag division is a perfect fit.
Winner: Suwama via Backdrop Hold
Rating: ****
4. NXT UK Special United Kingdom Championship: Pete Dunne (c) vs Zack Gibson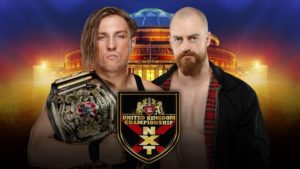 Tournament winner Gibson looks to take the title off of Dunne, who's held it for over a year.
This match was quite slow early on, with a lot of posturing and jaw jacking spots. Dunne went to go break fingers a few times, but Gibson fought it off for most of the match. It picks up at the points where Shankly Gates was applied (since the story was he put away everyone in the tournament with it). So Dunne fighting through to the ropes and not tapping out, got a big reaction from a storytelling perspective.
Each man hit their finishers multiple times, but both showed a great deal of resiliency. I probably rated this match lower than some, since certain spots were excessive or stupid to me. There is one point where both men just start trading headbutts for a good while before both just collapsing. which was excessive and foolish looking. Then the ending sequence just looked awkward and like they were stalling for something. Gibson having full control, but deciding to point a finger and berate Dunne, giving the opening to break his finger and hit a Bitter End from nowhere, was anti-climactic.
It was a fine match, definitely worth a watch, but I doubt it will be a Match of the Year contender anywhere.
Winner: Pete Dunne via Bitter End
Rating: **** 1/4
3. AJPW Dynamite Series: Kento Miyahara vs Jake Lee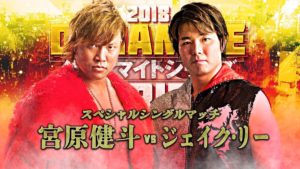 There's a few interesting threads with this match. Jake Lee retired in 2011 after only 10 professional matches to pursue MMA, however, he obviously returned. Upon his return in 2015, he saw some success as a member of Nextream (Miyahara's stable), but an ACL injury in 2017 saw him miss more time. He returned in April at one of the Champion Carnival events, to declare he was cleared, but wouldn't return to Nextream and wanted to wrestle Kento.
So that sets the backstory a little, this is a proving ground match for Jake. With that fact, this match was very reminiscent of Nakamura or Tanahashi versus Shibata. What I mean there, is when Shibata came back from MMA, he had to prove himself for about two years. Even though he was one of the New Musketeers with Nakamura and Tanahashi, they always managed to keep him in check until he proved his heart was back with them.
Jake, unlike Shibata, has more of a confident poise instead of just a blue collar "wrestler" persona. Kento took a few liberties here or there in the match, where Kyohei Wada had to pull him off by the hair and admonish him, but the match was a master class in establishing someone. Jake was working from underneath most of the match, but got in a few nice knee strikes and timely big moves, to sell a possible upset.
The crowd was mostly behind Kento, but Jake more than held his ground, and proved that in a year or so, we could have something special. It should be mentioned that Kento got visibly irritated with Jake's resilience and had to pull out all of his 'go to' finishing moves, Blackout Knee Strikes, German Suplex Hold and Shutdown Suplex Hold. So Jake can already absorb most of Kento's moves, so maybe he's further along than anyone thought.
Winner: Kento Miyahara via Shutdown Suplex Hold
Rating: **** 1/4
Honorable Mentions:
Lucha Underground Grave Consequences Triple Threat: Mil Muertes vs Jerimiah Crane vs Fenix
Winner: Mil Muertes
Rating: *** 3/4
NXT UK Special NXT Tag Titles: Undisputed Era (c) vs Moustache Mountain
Winner: Moustache Mountain via Knee Drop/Burning Hammer combo
Rating: *** 3/4
ROH Best in the World Heavyweight Title Triple Threat: Cody vs Marty Scurll vs Dalton Castle (c)
Winner: Dalton via Bang-a-Rang
Rating: *** 1/2
WWE Raw Intercontinental Title Match: Dolph Ziggler (c) vs Seth Rollins
Winner: Rollins via DQ
Rating: *** 1/2
AJPW Dynamite Series Junior Heavyweight Title Match: Atsushi Aoki (c) vs Yohei Nakajima
Winner: Aoki via Cobra Clutch Variation
Rating: *** 1/2
Impact Wrestling: Rich Swann vs Trevor Lee
Winner: Swann via Middle Rope Phoenix Splash
Rating: *** 1/4
ROH Best in the World: Austin Aries vs Kenny King
Winner: Aries via Brainbuster
Rating: *** 1/4
ROH Best in the World: Oedo Tai & Kelly Klein vs Mayu Iwatani, Sumie Sakai, Jenny Rose & Tenille Dashwood
Winner: Iwatani via Dragon Suplex Hold
Rating: *** 1/4
MLW Fusion: ACH vs Rich Swann
Winner: ACH via Counter Cradle
Rating: ***
2. ROH Best in the World: Jay Lethal vs Kushida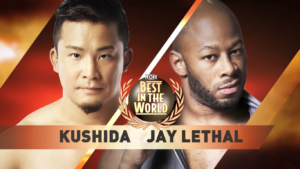 Kushida opts not to shake hands at the beginning of the match, which is odd since he's usually a happy babyface. Lethal controls the first exchange with a top wrist lock, as Kushida then chain a few moves together, before they both pop up and stare each other down. After bumping off eachother with mirrored shoulder tackles, Lethal hits a single leg takedown, and then Lethal locks in a front facelock and holds it for a little bit. Lethal went for Kushida's hip toss/cartwheel dropkick combo, but misses, Kushida hits one of his own and takes the advantage.
Then we see Kushida mimic Lethal a little by going for 3 Tope con Hilos in a row, as he then comes down with a Double Axe Handle from 3 corners and even poses similarly to how Lethal does it. So this is defintely a match to prove they know each other well and Kushida being a little more heelish is interesting. Both men try to lift the other for Vertical Suplexes, way too many times. Kushida slides out of one and then tries for a Lethal Injection, but Jay kicks the hands out from under Kushida and starts working over Kushida's knee.
Jay continues the knee breakers, and Kushida lands a few desperate chops, but it's all Lethal at the moment.Lethal drives Kushida's knee into the top turnbuckle and gets a fairly long 2. Lethal then just sits on Kushida with some odd Cloverleaf kind of submission. Jay keeps slamming Kushida's knee into his own, hyper extending and smashing the knee joint. Another pin attempts gets 2, and then an uppercut leads to a Figure Four attempt, but Kushida kicks off. Lehtal keeps the advantage, Triangle Dropkick to send Kushida to the ouside, and then we get Lethal's Triple Suicide Dives. But Lethal gets caught on the third by Kushida into a Fujiwara Armbar.
Jay tries to get a single leg on Kushida, but he continues to move his leg and kick Lethal in time. But the Lethal Combination slows things down and gives Lethal a chance to catch his breath. Figure Four attempt number two, is stopped because now Lethal wants a Macho Man style elbow drop. Lethal seesm to be stuck between all of his old gimmicks. Flair, Black Machismo, Heel and himself.
An inverted Torture Rack, gives Lethal the opening to go for the Elbow Drop again, but Kushida catches him in the Triangle Armbar. Lethal manages to counter it into a pin attempt and then slaps on the Figure Four, but Kushida gets to the ropes. Fighting spirit moment as both men tell the other to strike the injured areas. Kushida gets the best of the exchange, Paintbrushes Lethal and then shakes his hand while he's dazed. Pump Kick from Lethal, Pele from Kushida, another Pump Kick from Lethal leads to an attempted Lethal Injection. Kushida catches him into a Hoverboard Lock, but Lethal works out of it, Back to the Future attempt, into locomotion cradles and counters.
Both men struggle to get up, but Lethal finally hits the Lethal Injection, for pinfall victory.
Winner: Jay Lethal via Lethal Injection
Rating: **** 1/4
1. ROH Best in the World Tag Team Title Match: The Briscoes (c) vs The Young Bucks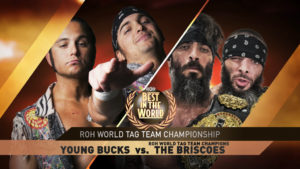 Nick hits the Lucha Style Arm Drag and Twist, and keeps his momentum going through tandem attempts from the Briscoes. All four men get in the ring, attempt tandem moves and then just square up and talk shit to each other. Bricoes get a little momentum and then get caught by stereo Superkicks, followed by the over head toss split legged drop kick, as the Young Bucks look strong. Bucks look to continue their advantage, but get caught by Jay Briscoe and a Redneck Boogie, nearly ends the match right there. Marc takes the opening finally to lay into Matt, as he tags in Jay and we see the Briscoes finally lay in their more deliberate strikes. Sliding Dropkick from Jay gets a 2 count as they keep Matt in their corner. Matt slides out of the ring, acts like he's going to Nick, just to Superkick Jay. Miscommunication on the Biscoes as Jay manages to pull out Matt, but gets Dropkiced by Marc. Matt hits an Apron Blockbuster to give him the opening to tag in Nick for his Triangle Corkscrew Splash.
Bulldog/Dropkick combination from Nick on the outside, as he and Matt hit their stereo dives, and Nick throws Jay back in. Marc pulled down Nick with a Chokehold and then takes out Matt with a running Blockbuster. Froggy Elbow from Marc allows Jay to pin Nick for a very close 2 count. Avalanche Redneck Boogie countered by the Bucks and Matt comes in, knocking Marc Briscoe down multiple times. Jay comes in to break things up, and somehow just powers through a double clothesline. Matt keeps running and gets caught with a Spicoli Driver while everyone slowly gets back up. Jay stomps on Matt's head, but eats a Superkick. Then the Briscoes hit two Superkicks, the Bucks hit Superkicks, and the Briscoes land flying lariats.
Jay Driller lands flush on Matt, but Nick manages to break it up. Doomsday Device attempt, Springboard Cutter and Victory Roll nearly win the match for the Bucks. The Bucks hit a Springboard Doomsday Device for a near fall. More Bang for Your Buck on Jay, but Marc lands the Froggy Elbow on the referee. The Bucks Superkick Marc, and look to Meltzer Driver Jay, but Marc breaks up the pin. Melzter Driver attempt two, but Marc throws a chair at Nick, Jay Driller on Matt one more time on the chair, for only 2 again.
Avalanche Redneck Boogie, finally puts away Matt Jackson. So the Briscoes retain!
Winner: Briscoes via Avalanche Redneck Boogie
Rating: **** 1/2
Ya my blurbs for the first three weren't play by play, mainly because I wasn't sure about the matches going into things, and didn't have the time to rewatch them and go over things meticulously. I was focusing more on variety this week, with so much available.
With all that said, my choice for match of the week will go to, ROH: BITW – The Briscoes vs The Young Bucks, the crowd added a level of heat to the match that wasn't really palpable in the rest of the match as well each move feeling like it had more weight. There was just something magical about this match, and probably my favorite…or second favorite tag match of the year ( and no my first isn't Golden Lovers vs Young Bucks).
As I always end things, vote along, make your opinion heard…and Always Use Your Head
Andrew's Top 5 Matches: Week Ending 6/23/2019
We know the drill by now. Top 5 Matches of the week. Do you agree or disagree? Let your opinion be known!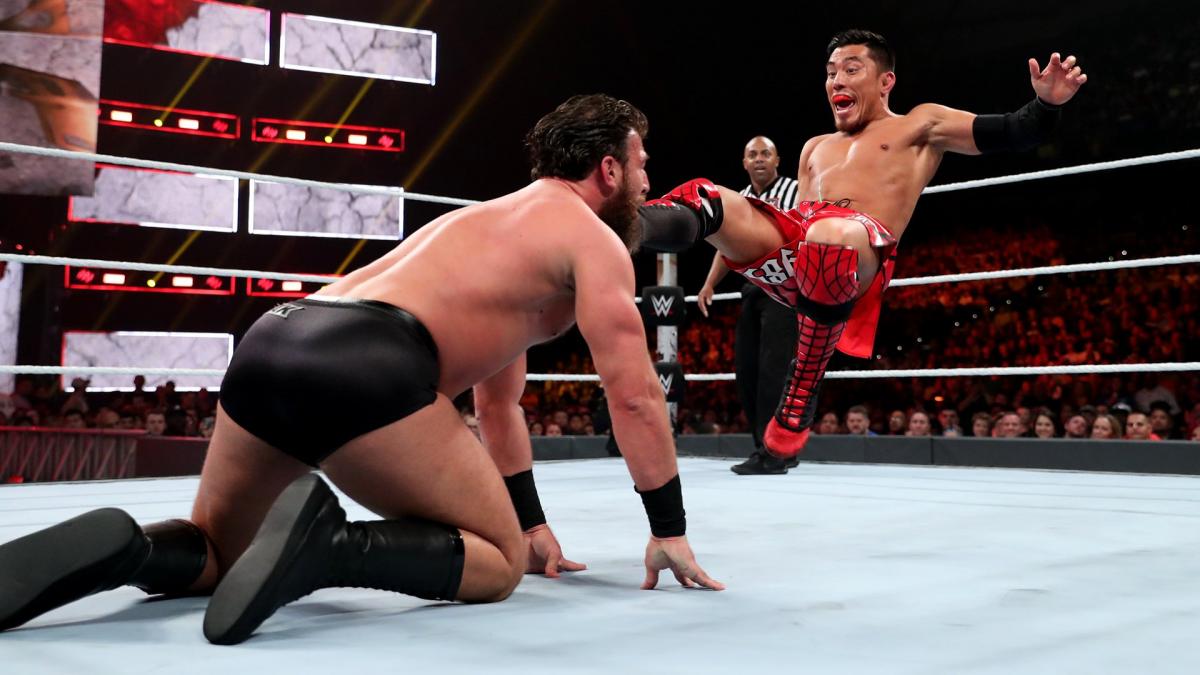 We know the drill by now. Top 5 Matches of the week. Do you agree or disagree? Let your opinion be known!
Covering Stomping Grounds meant I couldn't see WrestleCircus. So let's just hope nothing great happened there.
Last week's vote was a nail biter. The variety of product spread out a lot of votes but two rose to the top. Winning by one vote, AAA Tag Team Championship: The Young Bucks vs Lucha Bros.
So with all that out of the way, let's see what we got out of Stomping Grounds and others, during a fairly quiet week.
5. NXT: Adam Cole, Bobby Fish & Roderick Strong vs Velveteen Dream, Tyler Breeze & Matt Riddle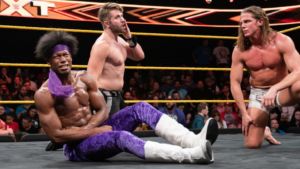 Snippet from Mitchell's Review:
Riddle pries his way out and throws elbows, but Fish rakes the eyes. Fish stomps Riddle down then tags Cole. Cole gives Riddle stomps then taunts him. Cole hits Dream hard just because! Riddle CHOPS Cole and throws big hands from all sides! But Cole stomps the bare feet. Cole fakes Riddle out with the muel kick, but leaps into a Bro Trigger! Hot tags to Fish and Breeze! Breeze rallies on the Undisputed Era! Forearm, forearm and SUPER MODEL KICK! Fish mule kicks and runs but into an enziguri! Fish flounders and Breeze hits another forearm. Breeze reels Fish in but Fish counters to a fireman's carry. But Breeze slips out to give Fish a Beauty Shot! Cover, but Strong drags Fish to safety! Or so they think, as Breeze builds speed. But Dream tags in!?
Dream and Breeze argue and they don't see Strong tag in. Cole SUPERKICKS Riddle down! Breeze and Dream double SUPERKICK Cole! But Strong's super knee hits Breeze into Dream! Then Strong drags Dream up for End of Heartache!! Cover, the Era wins!!
Winner: Strong via End of Heartache
Rating: *** 1/2
4. IMPACT: Rich Swann vs Johnny Impact vs Michael Elgin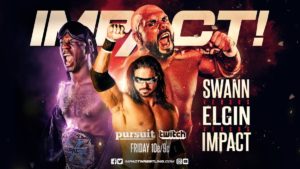 From My Analysis:
Impact main events have been really impressive last few weeks and this one fell a little short of that mark, but not by much. Many moves missed by just a hair or looked too cooperative to really get full marks, but it was a fun match. Swann getting the pin on Johnny was a spot. John E. Bravo comes out to help Johnny beat down Rich. Elgin doesn't want Johnny to use the big red X, but doesn't seem against destroying Swann. But Brian Cage's music hits, and comes out with a plan. Gorilla Press tosses Johnny out of the ring, has a quick back and forth with Elgin and then does the full Kevin Nash putting the cigarette out flair, before hitting a Jack Knife Powerbomb on Elgin.
Winner: Swann via 450 Splash
Rating: *** 1/2
3. AJPW Dynamite Series Day 2: Yusuke Okada vs Hikaru Sato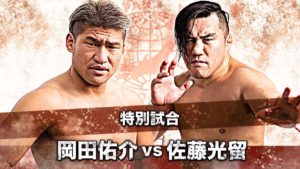 This was a special singles match. Special because Okada and Sato requested this match, in honor of Atsushi Aoki. Aoki was a fellow stablemate, friend, and to Okada, a mentor. He was head trainer in the dojo, a corner stone wrestler since Akiyama returned to AJPW. This was their gift, to their fallen friend.
During introductions Okada was crying, the crowd was crying, and notably, the referee came out in an all blue outfit as his own dedication. We got a match that Aoki would be proud of. Even though he was a Junior, Aoki was very technical and mat based in his approach. He would only go to the top ropes on occasion, and his proteges did the same.
The weight and significance of it all must've continued to hit Okada during the match. He wasn't as crisp, attempted a very sloppy Step Up Tornado DDT from the ropes and just generally seemed to not be there. It was all understandable, and the match was still very good and showed they both learned a lot from Aoki and cared deeply. So from an emotional aspect, this match was a 10 out 5. But from a technical aspect, the hiccups did hurt it a little.
After the match, they had words for their friend, they played Aoki's music, Dory Funk sent a video message and all of Evolution posed together one last time: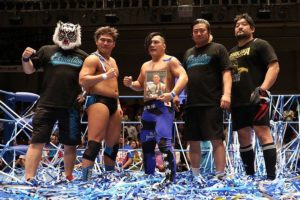 Winner: Sato via Ude-Hishigi-Gyaku-Juji-Gatame
Rating: *** 3/4
Honorable Mentions:
AJPW Dynamite Series Day 2: All Asia Tag Titles: Jake Lee & Koji Iwamoto vs Kazumi Kikuta & Ryuichi Kawakami (c)
Winner: Lee via High Angle Backdrop
Rating: *** 1/2
WWE Stomping Grounds: Sami Zayn & Kevin Owens vs Xavier Woods & Big E
Winner: Owens via Stunner
Rating: *** 1/2
AJPW: Nobe Bryant, Odinson & Parrow vs Shuji Ishikawa, Suwama & Super Tiger
Winner: Suwama via Manriki Sleeper
Rating: *** 1/2
WWE Stomping Grounds: Steel Cage WWE Championship Match: Dolph Ziggler vs Kofi Kingston (c)
Winner: Kofi via Escaping the Cage
Rating: *** 1/2
GCW Crushed Up: GCW Championship: Nick Gage(c) vs Tony Deppen
Winner: Gage via Chokeslam onto back of chairs
Rating: *** 1/2
WWE Stomping Grounds: Raw Women's Championship: Becky Lynch (c) vs Lacey Evans
Winner: Becky via Disarm-Her
Rating: *** 1/4
IMPACT: Jake Crist vs Tessa Blanchard
Winner: Tessa via Magnum
Rating: ***
SmackDown Live: Dolph Ziggler vs Xavier Woods
Winner: Ziggler via Superkick
Rating: ***
WWE Stomping Grounds: SmackDown Live Women's Championship: Alexa Bliss vs Bayley (c)
Winner: Bayley via Bayley to Belly
Rating: ***
WWE Raw: Seth Rollins vs Daniel Bryan
Winner: Rollins via Stomp
Rating: ***
GCW Crushed Up: Dan Maff vs Mathew Justice
Winner: Maff via Burning Hammer through Door
Rating: ***
WWE Stomping Grounds: SmackDown Live Tag Team Titles: Heavy Machinery vs Rowan & Daniel Bryan (c)
Winner: Bryan via Small Package
Rating: ***
2. WWE Stomping Grounds: Cruiserweight Championship: Akira Tozawa vs Drew Gulak vs Tony Nese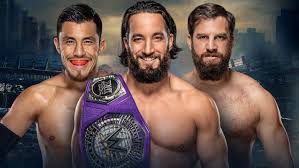 From my Analysis:
Constant action defined this match. Gulak kicked things off with a Dropkick at the bell, and it was pedal to the metal from there. Tozawa breaks up the Gu-Lock with his Top Rope Senton, which the camera didn't focus on, so it was cool to see Tozawa just crash down from the sky. Each man had a legitimate shot at different points in the match. Gulak however took advantage of the situation, tried to TKO Nese, but Nese wiggled out to the apron, Drew dodged Tozawa's Dropkick, grabbed Tozawa and hit the TKO for the win. Gulak finally gets the belt, which is a bit overdue, and he didn't win via submission. Things should be interesting on 205 Live. Great start.
Winner: Gulak via TKO
Rating: ****
1. WWE Stomping Grounds: United States Championship: Samoa Joe (c) vs Ricochet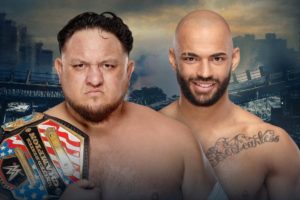 Snippet from Mitchell's Coverage:Ricochet keeps his cool as he heads for another corner. He climbs up and aims, but Joe gets up. Ricochet jumps over but Joe scoops him for a powerslam! Cover, TWO! Joe grows frustrated, but keeps his eyes on Ricochet as Ricochet stirs. Joe drags Ricochet up but Ricochet throws forearms and CHOPS! But Joe CHOPS back again! Ricochet stands so Joe whips, Ricochet handsprings, but into a full nelson! Ricochet breaks free but still gets a German Suplex! Joe runs as Ricochet rises to LARIAT! Cover, TWO!! Ricochet survives and Joe is shocked. Joe glares at Ricochet as he clamps hands on the shoulders. Joe drags Ricochet up for another urenage, but Ricochet fights out! Ricochet boots but Joe blocks it, to FLIP Ricochet!
Joe puts on the Coquina Clutch! But Ricochet climbs the ropes! Ricochet hotshots Joe down! Joe is in the drop zone, and Ricochet climbs up again! Ricochet 630 but he has to roll through! Joe LARIATS Ricochet, but Ricochet springs back up! CODE BREAKER! Ricochet keeps going and gets back up top! Ricochet tries again, 630 SENTON! Cover, Ricochet wins!!
Winner: Ricochet via 630 Senton
Rating: ****
Thoughts:
Well the B-rated PPV ended up taking the top 2 spots this week! That could say something about the level of competition this week, but let's look at the positive!
My vote goes to the Cruiserweight Triple Threat. I'm happy Gulak finally won the belt, hopefully he can help bring a level of excitement/interest back to 205 Live. Since it really seemed to lose it's luster after Cedric and Buddy were called to the main roster.
(NOAH) WEEKLY NEWSLETTER VOL.40 ~ 23RD JUNE 2019
NOAH is in a tiny transition between tournaments this week. Hisame brings us the updates in preparation for the Global Junior Tag League!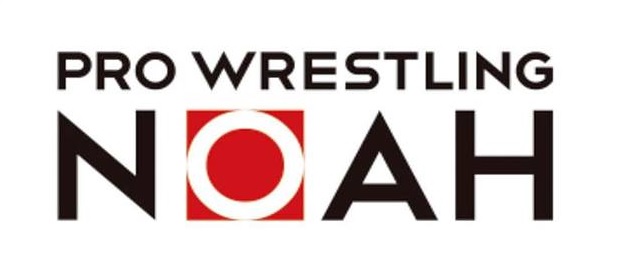 NOAH is in a tiny transition between tournaments this week. Hisame brings us the updates in preparation for the Global Junior Tag League!
In between "Global Junior Tag League" ending on the 13th June, and "Global Junior Tag League" starting on the 27th June, NOAH held a small interim tour of only three days. In the past these tours would have names like "Navigation with Spirits", "Navigation to The Future" (or my personal favorite "Navigation on Stormy Seas"), but sadly LIDET have done away with these, and now all the interim tours are simply "NOAH The Spirit".
It should be mentioned that all the tours have had excellent attendances with full houses each night, and this has given a tremendous morale boost to NOAH.
Yoshiki Inamura and his "rival" Kinya Okada faced off on the first night in Aizu, with the more experienced Inamura picking up the win. The rest of the tour was Inamura teaming with Kongoh, and Okada having matches with seniors like Daisuke Harada & Masao Inoue.
Junta Miyawaki faced his seniors (and lost to them) starting with Hi69 in Aizu on the 19th, Naomichi Marufuji on the 22nd and Atsushi Kotoge on the 23rd. Kotoge's unanimated lack of expression and unusual calm demeanor is starting to scare people…
Miyawaki showed his first element of defiance, by refusing to shake hands with Marufuji. It's rare for Miyawaki to act in this way towards his seniors (I can't imagine this happening to Misawa had he asked Marufuji for one at that age and at that point in his career, then again 2001 was a very different world).
Hitoshi Kumano had his first singles match ever with Takashi Sugiura on the 22nd June in Nagano, and said that he was so happy about facing his hero, he couldn't sleep. Nothing was going to mute this excitement, even the fact that he lost to him.
RATELS entered into their usual squabble about Global Junior League (this happens every year, with Tadasuke threatening to poison everyone last year, but this year he yelled out to whoever was listening, that he would win), with Daisuke Harada saying he was going to win in the backstage interview. 
Naturally, this did go down well with the others, with Tadasuke walking off over it, and then coming back to point and yell at Harada that it was HIS victory that would happen.
On the 22nd June, YO-HEY lost to Yoshinari Ogawa, and Tadasuke became irate and started yelling. Harada got into the ring to try and calm the situation, but this only made Tadasuke angrier and he left (still shouting), although he later apologized and said he was disappointed.
RATELS seemed to have patched up their differences by the 23rd, but again no one wanted to trust each other, and in their post match interview, when they went to do their handshake they all jumped back into a defensive pose with their fists raised. Even HAYATA (who is in Block B), and was smirking at the others arguing with each other, joined in.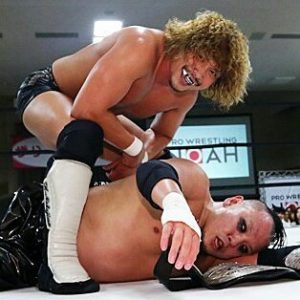 Kaito Kiyomiya, Shuhei Taniguchi (and various other partners) faced Kongoh each night. The record stands with Kiyomiya having two victories over the group in three nights, the third was when Kenoh pinned Hi69 following the foostomp.
On the final night of tour, Kaito Kiyomiya spoke on the microphone, and hinted that he and Taniguchi may team up together to take the tag belts. One of his dreams was to hold both championships.
AXIZ and The Sugiura Army also had their last three pre-matches (although Sugiura took time out to take on Hitoshi Kumano), with a elbow brawl breaking out between Shiozaki and Sugiura on the last night. Katsuhiko Nakajima seemed to have quickly shed his politeness in asking for a title match, and was photographed in the usual grinning poses over a fallen opponent.
EVENT RECAPS
Aizu (19th June 2019)
Post match interviews
Nagano (22nd June 2019)
Post match interviews
NEWS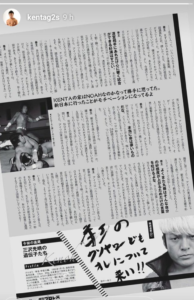 "COME AT ME YOU BASTARDS": Kenoh's column (June 2019)
Kenoh's tri-weekly column was back to talk about the Misawa Memorial show, his rants against others, his shock at Atsushi Aoki's death, and KENTA'S return to Japanese wrestling (albeit New Japan), or as he put it "that man has returned".
Kenoh (who says he respects KENTA, despite his rant) says that he will make NOAH a place that KENTA will want to come home to, as well as making him regret that he ever chose New Japan over "his home". Naturally, Kenoh wouldn't be able to keep his ire at Marufuji supporting KENTA out of it, and said that Marufuji's message of support to him was Marufuji saying "anything to be popular".
Both Marufuji and KENTA responded to Kenoh in different ways.
In usual talkative style, Marufuji posted a picture of Kenoh's article with graphics over it, with a message that didn't really translate too well but basically saying there was nothing wrong with being supportive, and hinting at a secret (and for good measure he called him "Kenoh-kun", which he knows will wind him up)
KENTA, in usual quiet style, made no comment, and simply posted a picture of the column to his Instagram story.
CURRENT CHAMPIONS
TOUR TIDBITS
~ Go Shiozaki got stuck in his jacket
~ YO-HEY wouldn't let HAYATA leave during the post match interview in Aizu
~ Hitoshi Kumano said he is aiming to have a body that does not lose to the heavyweights, but would cause havoc amongst the juniors
~ Takashi Sugiura photographed Masao Inoue at the urinal (again)
~ Yoshinari Ogawa held a training session for the roster at Takaoka, Toyama before the event started. He taught Kaito Kiyomiya and the new trainee.
~ IPW have mentioned that Daisuke Harada will be defending the IPW Junior Heavyweight title, but have said that NOAH will make the announcement.
~ Naomichi Marufuji's search for a tag partner continues.
~ In Aizu, AXIS wore t-shirts with "AIZU" on them.
~ Hitoshi Kumano can be considered the unofficial third member of AXIZ.
BROADCASTS
Riki Choshu's Power Hall (featuring Go Shiozaki and Yoshiki Inamura) will be broadcast live on the 26th June on Samurai at 6.30pm
The opening night of Global Junior League (Thursday 27th June 2019, Korakuen Hall) broadcast at Friday 5th July on Samurai.
LINKS
"The long days of summer are just around the corner: the stories behind the famous photograph of June 2000"
Global Junior League: Mini interview with YO-HEY
Global Junior League: Mini interview with Minoru Tanaka
The Mitsuharu Misawa Memorial Ten Year Event, and "The Future of Noah", presented by 22 year old Kaito Kiyomiya
"It's been ten years since Mitsuharu Misawa died" ~ Keiji Mutoh's memories
PICTURE CREDITS: Noah GHC, KENTA, PKDX
GIF CREDIT: Noah GHC
Newsletter by Hisame