Top 5 Matches: Week Ending 7/15/2018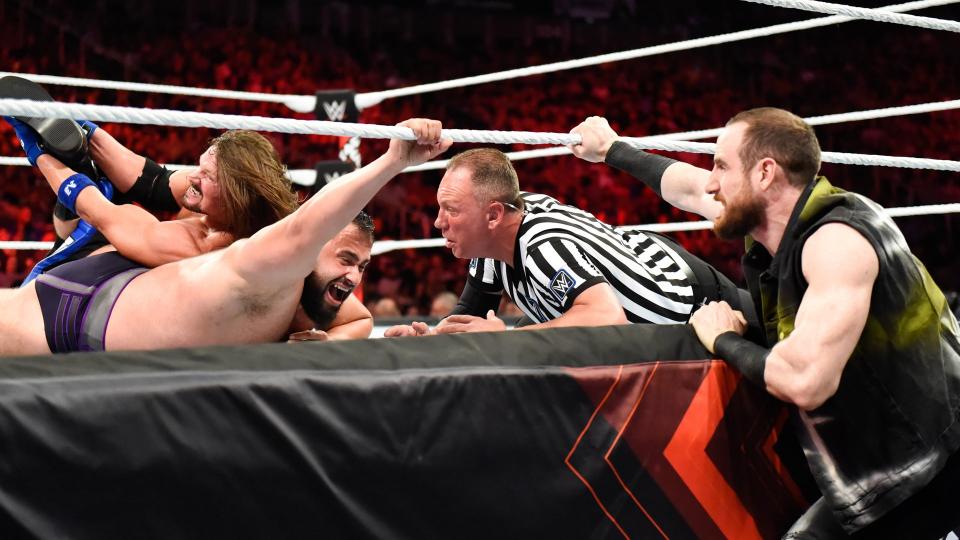 Now last week we had two votes, the June Pool and the normal weekly one. Both votes came down to a tie breaker vote, and one isn't a surprise where the other might be a small shock. Let's show what the current MOTY Pool looks like, and you'll see what won June.
January – Takeover Philadelphia NXT Championship Match: Johnny Gargano vs Andrade Almas (c)
February – New Beginning in Osaka IWGP Championship Match: Kazuchika Okada (c) vs SANADA
March – Strong Style Evolved: Golden Lovers vs Young Bucks
April -Takeover NOLA NXT Championship Match: Andrade Almas (c) vs Aleister Black
May – WWE  Backlash Intercontinental Match: Seth Rollins (c) vs The Miz
June – NJPW Dominion IWGP Heavyweight Match -Kazuchika Okada (c) vs Kenny Omega
So yes, Omega vs Okada IV barely edged out Nakamura vs Styles. The first match to go into the July pool though, may be a surprise. Coming off of a fairly high critical acclaim G1 Special in San Francisco, one could've expected New Japan to take the first week. But too many votes were spread out among the ones on the list, so it came down to Jay White vs Juice Robinson or Mustafa Ali vs Buddy Murphy. The 205 Live NoDQ match, edged out all of the New Japan matches.
Will we get more of the sam? Since the G1 started on Saturday, so for the next month, it will be very hard for anything to overshadow G1 matches.
5. WWE Extreme Rules WWE Championship Match: AJ Styles (c) vs Rusev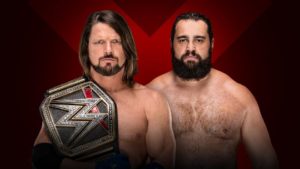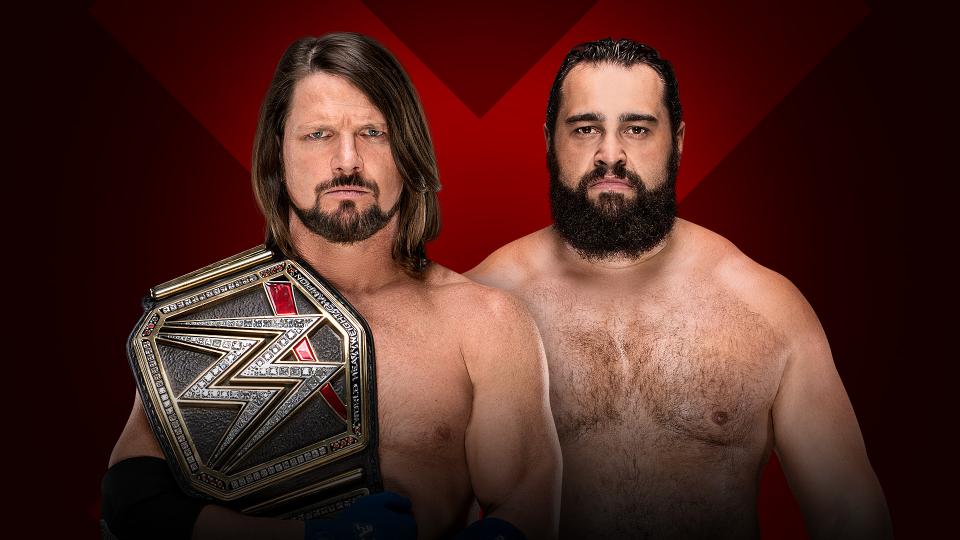 Both men trade strikes, as AJ goes after the legs, but Rusev manages a nice Judo throw to start stomping on Styles. Styles continues the leg strikes, tries a suplex, but it gets blocked, so he goes to the ropes and Rusev catches him with a Spinebuster. Rusev is visibly favoring his left leg but manages two Vertical Suplexes and a elbow drop for a 1 count.
AJ attempts a few more kicks and tries to get something going, but Rusev throws AJ back with a huge Back Body Drop. Styles gets beat down for a while until Rusev goes for a top rope move, but AJ lands an Enzuigiri to the injured leg and sends him crashing to the floor. Styles then follows up with a Flying Forearm to the outside.
Phenomenal Blitz back inside as AJ hits the sliding forearm. Stinger Splash from AJ, as he tries an Ushigoroshi, but Rusev slides out. AJ counters Rusev's attempt with a Scorpion Deathdrop for 2. Styles takes Rusev to the corner and tries to roll him out for the Calf Crusher, but Rusev blocks it and sends him to the outside. Suicide Dive attempt from Rusev, met with a jumping forearm.
Rusev counters another Calf Crusher attempt, going into the Accolade, as AJ slips out, kicks him in the bad leg and goes for the sliding forearm again but Rusev kicks him in the face. Fall Away Slam attempt from Rusev, but AJ turns it into the Calf Crusher. Aiden pushes the ropes forward to help Rusev break the hold, AJ gets distracted, chases Aiden on the outside as he eats a Belly to Belly Suplex followed by a Machka Kick for 2.
Macha Kick attempt number two, dodges and Styles hits a Pele Kick. Rusev catches Styles next move and hits a Roundhouse Kick for 2. Accolade attempt, but Rusev's left leg gives out on him so it's more like a Half Camel Clutch as Styles struggles to the ropes. Aiden gets involved again by taking the pad off the top turnbuckle. Rusev goes face first into the exposed turnbuckle since he wasn't aware of it, Styles lands a Springboard 450 for 2.
Styles knocks Aiden down and lands the Phenomenal Forearm for the pinfall victory.
Winner:  Styles via Phenomenal Forearm
Rating: **** 1/4
4. NXT Tag Team Championship Match: Moustache Mountain (c) vs The Undisputed Era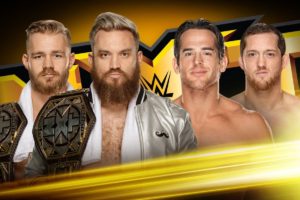 Moustache Mountain dethroned the, then NXT Tag Champions, Undisputed Era during the UK Special a couple weeks ago. So we get to see The Era try to prove something, whereas Trent Seven got his leg banged up in a previous Six Man Tag.
Trent Seven started it off, and that was the beginning of the story. Strong and O'Reilly managed to work over the injured like hunters going in for the kill. Multiple back breakers from Strong and O'Reilly with Heel Hooks and Knee Bars just killing Seven's leg.
After a few cut off moments stopping Tyler Bate from getting into the match, Seven finally fights through and gets in the fresher man. It was at this point we get a goofy spot where Bate has Strong on his shoulders and grabs O'Reilly for an Airplane Spin/Big Swing combo, but since he couldn't hold Strong, it made no sense why he stayed on his shoulders. So the crowd might've enjoyed it, but it really was rather awful.
We see Bate hit a Tyler Driver '97, but it gets broken up. The trainers come out to work on Seven's knee, which inspires Bate to try and fight harder without letting him come back in. Eventually, the Bate's energy leaves him and the numbers game gets too much, so he ends up tagging in Seven.
Trent comes back in looking good, knocking them both down, hitting a Seven Star Lariat for a near fall, but it was all cooking. However, after breaking up one submission attempt the referee admonishes Bate and him being the good babyface listens to him. So we see Kyle O'Reilly go back to torturing Trent Seven by tearing his knee apart as Bate stays in the corner and tries to urge him on.
However, it becomes too much after a while. Tyler can't watch his mentor get his knee torn apart so he throws in the towel even though Seven keeps saying not to do it. So Undisputed Era regains the Tag Titles.
Winner: Undisputed Era via Stoppage
Rating: **** 1/4
3. NJPW G1 Climax 28: SANADA vs Hirooki Goto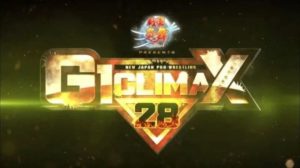 This match is interesting where neither of these guys have much history fighting each other. Goto, who even though he's the current NEVER Openweight champion and a former winner of the G1, as well as, he went to the finals of G1 Climax 26, but isn't ever seen as a strong favorite. SANADA on the other hand is seen as a future champion.
It's hard to really put in to words what happened in this match. We saw beautiful counter wrestling from SANADA, and his athleticism was on display opposed to Goto's technical Bushido persona. We saw the match spill to the outside for a short time, but in general the match started off a little slow. So as we watch this build, it has the skeptical hallmarks of a good but forgettable Goto match.
But once we get to a point where SANADA goes for the Skull End then we watch the counter wrestling begin. SANADA did the usual thing where he puts too much stock in the Muta Moonsault and misses, which gives Goto the opening. A nice tease is Goto looks like he's gonna pull off a Shouten Kai which was more of his go to finish before the GTR all the time.
So Goto lands a Reverse GTR, Draping GTR and his normal GTR to pull off a hard fought victory. SANADA keeps impressing and Goto definitely showed up a lot of doubters. Could've easily been the number 1 match, if it wasn't paired against the well recognized names.
Winner: Goto via GTR
Rating: **** 1/2
Honorable Mentions:
WWE Extreme Rules Intercontinental Iron Man Match: Seth Rollins vs Dolph Ziggler (c)
Winner: Ziggler 5-4
Rating: ****
NJPW G1 Climax 28: Michael Elgin vs EVIL
Winner: Elgin via Elgin Bomb
Rating: ****
NJPW G1 Climax 28: Kota Ibushi vs Zack Sabre Jr
Winner: Ibushi via Kami GoYe Knee
Rating: ****
205 Live Cruiserweight Title Match: Hideo Itami vs Cedric Alexander (c)
Winner: Alexander via Lumbar Check
Rating: *** 3/4
Raw: Drew McIntyre vs Seth Rollins
Winner: McIntyre via Claymore
Rating: *** 3/4
Impact: Sami Callihan, Jake Crist & David Crist vs Rich Swann, Fenix & Pentagon Jr
Winner: Callihan via Get Out of Here
Rating: *** 3/4
WWE Extreme Rules: Roman Regins vs Bobby Lashley
Winner: Lashley via Spear
Rating: *** 1/2
NJPW G1 Climax: Tama Tonga vs Juice Robinson
Winner: Tama via Gun Stun
Rating: *** 1/4
MLW Fusion: 'Filthy' Tom Lawlor vs Jake Hager
Winner: Lawlor via DQ
Rating: ***
2. NJPW G1 Climax 28: Kazuchika Okada vs Jay White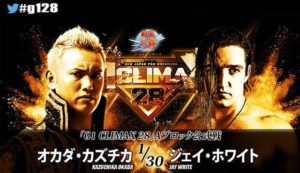 So Jay White gets his first shot at Okada since returning from excursion and joining Chaos. Jay did say he wanted more inner stable matches, but given that neither have titles currently, this is just awkward. Okada sporting red hair and new awful music, and Jay White asking people where his belt is…I don't even know what to think here. One will bounce back after big losses, but neither seems to be mentally complete at the moment.
Okada comes out with his balloons and looking relaxed to the point of goofiness, but does manage to take an early advantage. After some time on the outside, Jay White turns it around and starts banging Okada's back off the barricade and apron. Plenty of entertaining spots in this match. Jay rips off the banner from the apron and tries to asphyxiate Okada, wait til 4, and then reattaches it as the crowd applauds that. Jay beats down Okada on the outside, Red Shoes starts counting, but Jay goes out there and throws Okada in the ring as the crowd applauds that also. So even though he's doing obviously heelish things, they're applauding when he does nice stuff as a show of respect, even if Jay is being disingenuous.
Even though this shell of Okada isn't the same man that defended the IWGP title for 720, he gets a small fire under him when Jay starts toying with him. The Okada Dropkick, Macho Man Style Elbow Drop, Scooby Dooby Doo Crossbody and even a Rainmaker pose, but Jay manages to counter the Rainmaker the first few times.
We see Jay going to any lengths necessary to try and win the match, while verbally harassing Okada and messing with the crowd. Speaking of the crowd, they were oddly quiet through a lot of it. I'm not sure if they're still trying to figure out new Okada or if they're just not ready to openly support him after a year of cheering ever challenger he faced. Either way, the tense atmosphere, coupled with Jay's insistence upon cheating to make it "his Chaos", gave the match an odd feel.
Towards the end, Jay brings in a chair, pushes down Red Shoes and goes to hit Okada, but the Rainmaker Dropkicks the chair into Jay's face and looks to be on track to winning the match. Red Shoes gets up, Okada winds up Jay for the Rainmaker, but Jay backfists Red Shoes before eating the Rainmaker. So even though the ref could've counted to 12, White's tactics paid off. Kazuchika goes to pick him for another move, Jay hits a low blow, followed by throwing the chair into Okada's face and finally, Blade Runner ends the match as the referee comes to.
So it told a good story of Okada still not being himself, and Jay White finding a character that will go to any lengths to win all while claiming everything is his.
Winner: Jay White via Blade Runner
Rating: **** 1/2
1.  NJPW G1 Climax 28: Kenny Omega vs Tetsuya Naito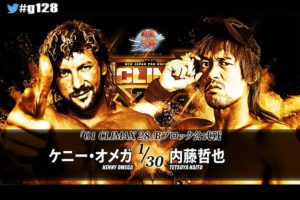 Usually when we see these two, it's either the finals, or leading to the finals. In two previous matchups they each have one win, but Omega wasn't the champion at the time. Also there's the under current of Omega's comments about Japanese wrestlers not working as hard as gaijins (it's a work), so Naito has something to prove not only for himself but for Japanese wrestlers.
This starts off fast and doesn't slow down until they start to get exhausted. Naito gets his Avalanche Frankensteiner countered a few times, both the Destino and One Winged Angel get countered multiple times, and it's just a beautiful match to watch. For as much as people talk about Okada versus Omega matches, the Naito matches have a special feeling about them.
Recounting things that happened won't do this justice, so I'll just fast forward to the end. Naito lands a Running Destino, but Omega kicks out. He then tries Destino four or five more times from different angles, but Omega finally gets an opening to land a V-Trigger to daze Naito long enough to hit the One Winged Angel.
Omega gets the early 2 points, which puts Naito behind the eight ball since B Block doesn't really have an easy match up. Let's remember that Okada went 6-0 last year before the wheels fell off, so it's more how you finish, then how you start.
Winner: Omega via One Winged Angel
Rating: **** 3/4
Now even though my summation wasn't fantastic, you need to watch the match to understand it, Tetsuya Naito vs Kenny Omega, gets my vote for match of the week. I can't wait to see them have a match outside of the G1, but for now, I'll be happy with these.
So Use Your Head, and I'm gonna go to bed.
DeMarco: Early WWE WrestleMania 37 Predictions
WrestleMania is now set for the second weekend of April, and Greg DeMarco takes your all-too-early look at the potential card.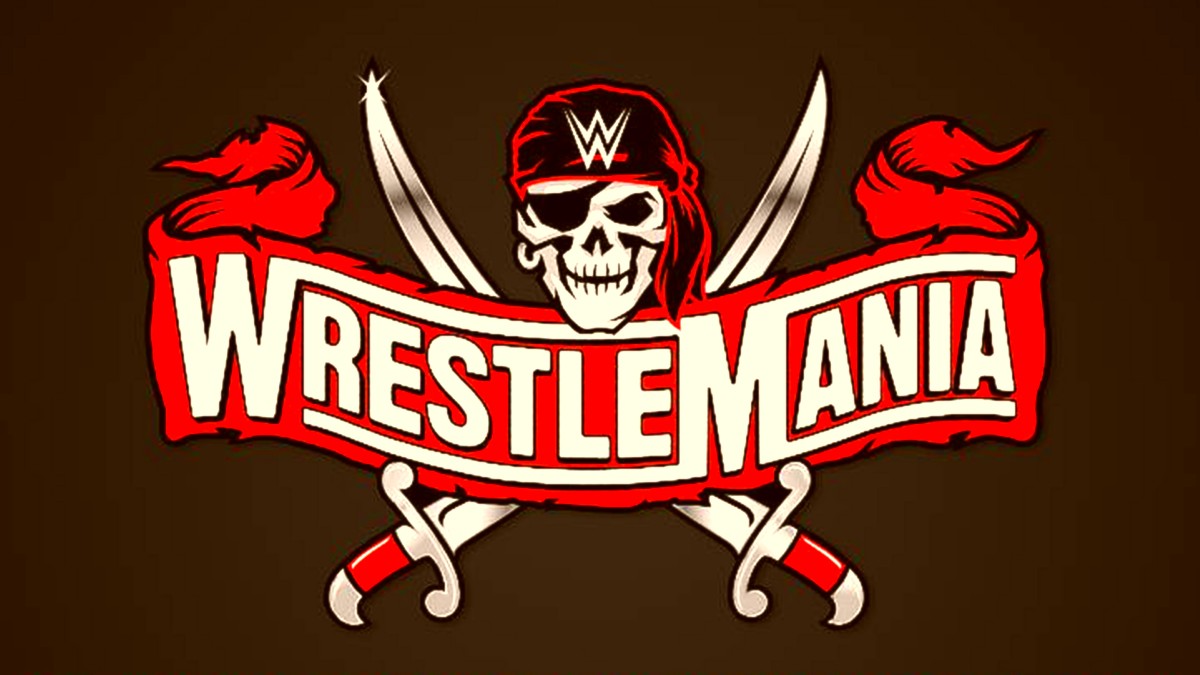 WWE WrestleMania 37 is now set for the second weekend of April, and Greg DeMarco takes your all-too-early look at the potential card.
During Saturday's NFL pregame show on NBC, WWE announced the rumored change in location and date (dates) for WrestleMania 37. The event will take place in Tampa Bay on April 10 and April 11, both at Raymond James Stadium. they also revealed that WrestleMania 38 would be the event's return in Dallas, and WrestleMania 39 would (finally) hit SoFi Stadium in Los Angeles.
If anything points to COVID sticking around well past its welcome and things taking longer than expected–despite a vaccine–to get back to "normal," look at the fact that the Los Angeles WrestleMania got pushed back TWO YEARS just to be safe. Florida and Texas have been more liberal with the freedom to congregate and move around, making them easy choices for WWE in this case.
But right now I am focused on WrestleMania 37, taking place over two nights at Raymond James Stadium. Why two nights? Seating is sure to be limited and distanced, and WWE can sell more tickets over two nights while likely not paying double the rent. Regardless of how you feel about the handling of COVID then, now, and forever, this is the right move purely from a business perspective.
#WrestleMania 37 is about to get BUC-wild. 🏴‍☠️

We're heading to @RJStadium on April 10th & 11th, 2021! pic.twitter.com/YLBSD1yy3z

— WWE (@WWE) January 17, 2021
So what's going to happen in the top matches? See what I think and then comment with your own ideas!
WrestleMania 37 – Top Match Predictions
WWE Universal Champion Roman Reigns vs. Daniel Bryan
Daniel Bryan has accumulated every accolade possible in WWE, save for one: Royal Rumble winner. I think that changes in 2021, and Bryan–who has said his in-ring career is winding down–is the perfect opponent for your (and my) Tribal Chief. Shinsuke Nakamura has an outside chance, but that's recency bias on my part with his renewed babyface push.
As for the result? I love me some Daniel Bryan, but Roman's reign (see what I did there?) has legs. I could honestly see him walking to Dallas still holding the Universal Championship.
Prediction: Roman Reigns defeats Daniel Bryan to retain the WWE Universal Championship at WrestleMania 37
WWE Champion Drew McIntyre vs. Keith Lee vs. Sheamus vs. AJ Styles
I know the reported argument for Goldberg challenging Drew McIntyre at the Royal Rumble is that "no one's ready," but as we proved with Shinsuke Nakamura over on Smackdown, it only takes a week. You can get anyone ready. I think we will see some sort of controversy at Elimination Chamber that leads us to this match. Drew vs. any one of these athletes would be (and has been) great, but a four-way is what is really jumping out at me. Keith Lee can have a memorable moment in the match, Sheamus is a Hall-Of-Famer-in-waiting, and AJ is simply one of the best in the world.
Look, Drew McIntyre is the guy, cemented as such at WrestleMania 36, but he's 35 years old and in WWE lore the number of title reigns matters. So I think he drops the belt here, only to win it back soon after. But who wins it, then, Greg? Well that, to me, is Keith Lee. He made his pro debut only 4 years after Sheamus, but The Celtic Warrior has four world titles, a King Of The Ring, Royal Rumble, AND Money In The Bank all to his name. And AJ is AJ–he could win and be a great foil for Drew, and a WrestleMania moment would be great for him, but I think this is Keith Lee's night (one or two, lol).
Prediction: Keith Lee captures the WWE Championship, but pins Sheamus to do it, at WrestleMania 37
Edge vs. Randy Orton in an I Quit Match
I am going with the rumored stipulation here, because it really does make sense. It's a great gimmick that both men can really sink their teeth into, and Edge's return will be yet another great moment. I hope he doesn't return before this match honestly. Have him come back on Raw to set this up, but let this be his first match back in the company since the Greatest Wrestling Match Ever (where he lost to ol' Randall Keith Orton).
Picking a winner is hard. Edge is a Hall Of Fame legend, and Randy is an active performer. But Randy is the best Randy we've seen in a long time, possibly ever, and he's way more mature. I can easily see him wanting Edge to get the win here.
Prediction: Edge forces Randy Orton to say "I Quit" at WrestleMania 37
Raw Women's Champion Alexa Bliss vs. Charlotte Flair
When Charlotte Flair returned at WWE TLC, I fully expected this to build to Charlotte vs. Asuka at WrestleMania 37, a main event worthy rematch from their WrestleMania 34 showdown where Asuka suffered her first WWE loss. But Alexa Bliss is figuratively and literally on fire right now, and I think it culminates in a WrestleMania match with the Queen herself. Hopefully Asuka has a tag team partner and can possibly do something else, because I really don't want her to miss WrestleMania.
What happens here? #LOLCHARLOTTEWINS
Prediction: Charlotte Flair beats Alexa Bliss to win the Raw Women's Championship
Smackdown Women's Champion Sasha Banks vs. Bayley in a Falls Count Anywhere Match
I know we had a great blow-off for this feud at WWE Hell In A Cell, but these two deserve the WrestleMania stage. How we get there is simple: Bayley wins the Women's Royal Rumble match. You know me, I wasn't always the biggest Bayley fan, but in 2020 Bayley stepped her game up and deserves to add Royal Rumble winner to her resume.
I added the Falls Count Anywhere stipulation to give these women the chance to excel in a different way. They've wrestled each other so many times and are inseparably linked–but in a Falls Count Anywhere match in a football stadium they can really turn it up another notch.
To me, it's still Sasha Banks' time, and she can move on to a great feud with Bianca Belair after this one is over.
Prediction: Sasha Banks beats Bayley to retain the Smackdown Women's Championship at WrestleMania 37
"The Fiend" Bray Wyatt vs. Jeff Hardy
With Randy Orton, Edge, and Drew McIntyre otherwise occupied, we need an opponent for The Fiend. Keith Lee could work here, but that messes up another prediction now doesn't it? Instead we get crazy Jeff Hardy doing Crazy Jeff Hardy things, and this time it means an entertaining feud with The Fiend.
I don't see The Fiend losing here, as Jeff Hardy doesn't even really gain anything from a win.
Prediction: "The Fiend" Bray Wyatt beats Jeff Hardy at WrestleMania 37
Kevin Owens vs. Goldberg
While Goldberg dropped a challenge to Roman Reigns that might have really been him going off-script, it's a match that doesn't really make sense within current WWE storylines. Roman Reigns is the head of the table, and Goldberg just isn't likeable enough.
Kevin Owens, on the other hand, is insanely likeable and has been doing his best Stone Cold for a while now. A match with Goldberg doesn't really help Roman, but it could do wonders for Kevin Owens. Plus, they have history! Goldberg beat Kevin Owens for the Universal Championship at Fastlane in 2017 (thanks to "The Demo God" Chris Jericho, lol). That's enough to build a feud on, as Owens wants to avenge that loss and Goldberg scoffs at the notion that he needed any help to beat Owens.
So we get Goldberg's second WWE match of 2021 out of the way at WrestleMania 37, just like we did in 2020. And the year ends for him in the same manner as well–in a loss.
Prediction: Kevin Owens beats Goldberg at WrestleMania 37
NXT Champion Finn Balor vs. Karrion Kross
Finn Balor has already made the suggestion that we get him vs. Karrion Kross at the Showcase Of The Immortals, and honestly this match belongs on that stage. Kross is a main roster star through and through, totally misplaced on NXT. Balor is a great NXT Champion–he almost feels "too big" for the brand, but that in turn elevates the NXT altogether.
Kross doesn't need to win the Royal Rumble to get this, it's just easy for William Regal to go all William Regal and say, in his perfect British accent, "you'll get your match…at WRESTLEMANIA!" and we'll all be fine with it.
Kross belongs on the main roster, and should end up there after this match happens. He loses to The Demon, an iteration of Balor that has an amazing record in WWE, and then heads to Smackdown (or Raw) where he belongs.
Prediction: Finn Balor, as "The Demon," beats Karrion Kross to retain the NXT Championship
So there you have it, eight top matches for WWE WrestleMania 37, which takes place from Raymond James Stadium in Tampa Bay.
WAIT. Hold up–
This is a two night event, right? Let's slot these matches into the two nights!
WrestleMania 37, Night 1
WWE Champion Drew McIntyre vs. Keith Lee vs. Sheamus vs. AJ Styles
Smackdown Women's Champion Sasha Banks vs. Bayley in a Falls Count Anywhere Match
Edge vs. Randy Orton in a Falls Count Anywhere Match
Kevin Owens vs. Goldberg
WrestleMania 37, Night 2
Universal Champion Roman Reigns vs. Daniel Bryan
Raw Women's Champion Alexa Bliss vs. Charlotte Flair
"The Fiend" Bray Wyatt vs. Jeff Hardy
NXT Champion Finn Balor vs. Karrion Kross
Still plenty of opportunity on the card, including Big E defending his Intercontinental Championship, all three tag team championships, Bobby Lashley defending the United States Championship (although I could see all four members of The Hurt Business in an 8-man tag team match, possibly against Undisputed Era in another NXT crossover), a possible return for Braun Strowman, something of significance for Shinsuke Nakamura (him vs. Big E could kick all kinds of babyface vs. babyface ass), and more.
You'll notice an absence of The Rock (too busy, and we need fans for him to really make a difference), Brock Lesnar (not too busy, but his spectacle is best experienced with fans), John Cena (although it's entirely possible) and The Undertaker (he's retired, dammit!). I think we'll get legends in some capacity, but in the ring we have Goldberg and active legends like Randy Orton, Edge, and Roman Reigns (that's right, I said it!).
What do you think? Drop your predictions in the comments below, at me on social media @ChairshotGreg, or discuss this in our Facebook group.
NXT Minus 6: Let's Make History!
Bradley Jay makes history in this week's edition of the NXT Minus 6. What kind of history is he making? Well, that's for you to read and see!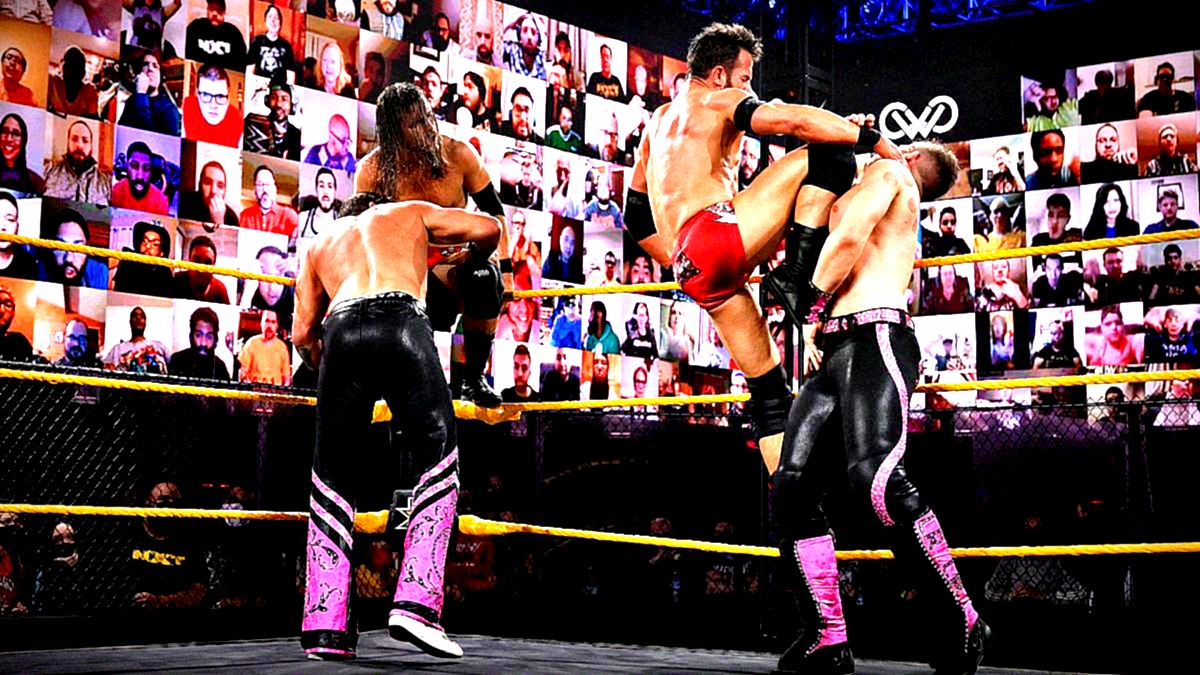 Bradley Jay makes history in this week's edition of the NXT Minus 6. What kind of history is he making? Well, that's for you to read and see!
This will be the most historic column in the history of history!
6. Did you notice how many people want to make history? It's all anybody talked about this week. I turned it into a drinking game. Every time someone said they wanted to make history, I took a shot. After 10 minutes, I died from alcohol poisoning. So much history.
5. Shotzi Blackheart will make history as the first person with green hair to win a Dusty Rhodes Tag Team Classic tournament. Kayden Carter & Kacy Catanzaro will become the first tag team in history to win a DRTTC whose collective weight would qualify for 205 Live. Ember Moon will make history as the first person to leave NXT, return and win a tournament that didn't exist the first time she was there. BTW, the tag team I want to see is Kayden Carter & Ember Moon.  
4. Johnny Gargano and Austin Theory will make history as the first mentor/mentee team to win the DRTTC. KUSHIDA will make history as the first wrestler to win in all caps! MSK will make history as having the most God-awful name of any team to win. Unless it's a shout out to Memorial Sloan Kettering Cancer Center, then the name is doo doo on a stick.
3. Grizzled Young Veterans are sssssooooooon to make history as the first team to lose in the finals and win it the next year. Killian Dain by himself will be the hairiest team ever to win the DRTTC. Bollywood Boyz will make history as the first…I can't finish that sentence. Those gomers aren't winning Jack Squat. 
2. Overall, it was a good start to the tournament. Every match was 3.5 stars. Nothing memorable, nothing horrible. Breezango versus Undisputed Era was the best of the bunch. It would have been better without the horribly overbooked end. I'm not sure the point of it all if Breezango couldn't use it to pick up a victory.   
1. "You look like a man who is questioning if he's still got it." It was a filler line, but that's the story! I'm slightly excited for Tommaso Ciampa versus Timothy Thatcher, primarily because of the Fight Pit. Right now, it's two tough guys wanting to beat each other up. I want to see Ciampa fighting to prove he's still got it. I want to see Thatcher fighting to crush the soul of the locker room leader. That's the story.