Well last week we had a mostly G1 Top 5, and the trend continues into this week. It's not for lack of trying, since there's over 15 Honorable Mentions this week, but Japanese tournaments are really hard to top without a PPV. With all of this being said, NXT put up a fight last week. Moustache Mountain vs Undisputed Era, lost to Omega vs Naito by a slim margin.
So with a G1 match taking down last week, and a good chance it might take down this week…that will make this month quite interesting. To all the WWE faithful, I apologize that you may not have seen any of these, but…you probably should.
Let's see what we're working with this week.
5. NJPW G1 Climax 28: Tomohiro Ishii vs Tetsuya Naito

We've seen this match numerous times and it tends to be a fairly even matchup. Trying to go over how many times they've wrestled is gonna take a long time, so let's just say, they know each other well.
Well this was another one for their scrap book. A solid outing of Naito trying to taunt Ishii or disrespect him, met with the stone demeanor and pure aggression of the Stone Pitbull. Naito slapped him, which just pissed him off and brings them to trading strikes…which Naito never really wins.
After a well timed Enzuigiri, Naito would try Destino but get it brushed off and an Enzuigiri in return. Naito drops Ishii on his head with Gloria, and attempts to Destino again, but that gets countered. Ishii goes for his Vertical Drop Brainbuster, but Naito hits the partial Destino counter. Both men try their finishers at least one more time before Naito manages to stagger Ishii after a well timed knee. Giving him the opening he needs to land a clean Destino and pick up the victory.
Winner: Naito via Destino
Rating: **** 1/2
4. Impact Slammiversary Hair vs Mask Match: Sami Callihan vs Pentagon Jr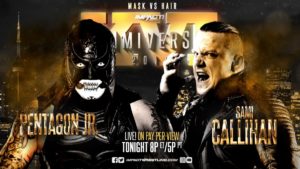 One of the bigger storylines that drove the Pay-per-View this year. Callihan has been harassing the luchadors, and once Pentagon got involved he took his mask at a different show. So that pissed off Pentagon to the point of demanding an old school Mexican stipulation of Hair vs Mask. Callihan accepted, and now we get to see what these two dream up.
Before this match we had a House of Hardcore and a 5150 match, neither of which compared to the violence of what we saw here. A few basic spots into the barricade and missing chops that hit the ring post, paled in comparison to the usage of chairs, powder, a baseball bat and tent stakes or spikes. Both men used different items to drive the spikes into the other's head to make an audible 'ding' to get the crowd to react. Even at one point, each had one stake and just kept driving it into the other's head before they both fell down.
After the afore mentioned powder was used on Pentagon, fun spot was that he couldn't see the ref and thought it was Callihan. So Pentagon breaks the refs arm, immediately regrets it when he can finally see, but hits a Pentagon Driver on Callihan. The ref yells that he can't count because his arm is broken, and I'm pretty sure I heard Pentagon say something like "El otro", which basically means "use the other arm". But that wasn't how it was going down, and Callihan takes advantage of the situation to hit Get out of Here on a chair, but still no referee.
Eventually Baby Referee appears and counts only to 2, and the match continues. The Crists attempt to interfere, but Pentagon fights them off, Callihan sets up four chairs to drive Pentagon through, but Pentagon counters and hits Fear Factor through the chairs.  One more Fear Factor, and the match is over, Pentagon wins and Callihan loses his hair.
Winner: Pentagon Jr via Fear Factor
Rating: **** 1/2
3. Dragon Gate Open the Twin Gate Championship Match: Big R Shimizu & Ben-K (c) vs BxB Hulk & YAMATO

YAMATO and Hulk are two of the older generation of Dragon Gate, as it seems there's a generational war in both NOAH and Dragon Gate currently. So given that, the younger champions will have their work cut out for them.
As with most tag matches we get a little bit of each competitor, but eventually YAMATO does the better portion of the heavy lifting. Which is taking nothing away from Hulk since he pulled off a few Backflip Kicks, and even a nice elbow to the stomach, kneeling Pele Kick at one point to Big R. This match was really a test of YAMATO's endurance since he absorbed, numerous Spears from Ben-K and even Big R's dumb looking Chokeslam.
After some time outside brawling with Ben-K, Hulk finally gets involved at breaking up pinfalls and trying to put something together. YAMATO and Hulk trade off finishers on Ben-K, but he still manages to kick out. Big R hits a modified Leg Capture Chokeslam on Hulk and then when he goes to finish YAMATO, he manages to counter and give them an opening.
YAMATO picks up Big-R for Gallaria and Hulk hits a First Flash style thrust kick to the back of Shimizu's head for the pinfall victory. So now we have new champions and I swear if Hulk tried as hard in the King of Gate tournament as he did in this match, I wouldn't have looked so far off picking him to win Block B.
Winner: YAMATO via Gallaria/First Flash Combination
Rating: **** 1/2
Honorable Mentions:
NJPW G1 Climax 28: Hirooki Goto vs Kenny Omega
Winner: Omega via One Winged Angel
Rating: **** 1/4
NJPW G1 Climax 28: Kazuchika Okada vs Hangman Page
Winner: Okada via Rainmaker
Rating: **** 1/4
Raw: Roman Reigns vs Finn Balor vs Drew McIntyre
Winner: Reigns via Spear
Rating: ****
Impact Slammiversary World Championship Match: Austin Aries (c) vs Moose
Winner: Aries via Brainbuster
Rating: ****
ROH Honor for All NWA World's Heavyweight Championship: Nick Aldis (c) vs Flip Gordon
Winner: Aldis via Kingsland Cloverleaf
Rating: ****
Dragon Gate Open the Dream Gate Championship Match: Shingo Takagi vs Masato Yoshino (c)
Winner: Yoshino via Sol Naciente Kai
Rating: *** 3/4
Impact Slammiversary 5150 Street Fight Tag Team Championship Match: LAX (c) vs OGz
Winner: LAX via Frog Splash on Thumb Tacks
Rating: *** 3/4
NJPW G1 Climax 28: Kazuchika Okada vs Togi Makabe
Winner: Okada via Rainmaker
Rating: *** 3/4
Impact Slammiversary: Fenix vs Petey Williams vs Johnny Impact vs Taiji Ishimori
Winner: Johnny via Starship Pain
Rating: *** 3/4
MLW Fusion MLW Heavyweight Championship Match: Shane Strickland (c) vs Low Ki
Winner: Low Ki via Switchblade Kick
Rating: *** 3/4
AJPW Summer Action: Jake Lee vs Naoya Nomura
Winner: Jake Lee via Seated Double Arm Facelock
Rating: *** 3/4
NJPW G1 Climax 28: Tetsuya Naito vs Juice Robinson
Winner: Naito via Destino
Rating: *** 3/4
Impact Slammiversary X Division Title: Matt Sydal (c) vs Brian Cage
Winner: Cage via Drill Claw
Rating: *** 1/2
ROH Honor for All: Cody vs TK O'Ryan
Winner: Cody via Cross Roads
Rating: *** 1/2
Lucha Underground Lucha Underground Championship Match: Pentagon Dark (c) vs Brian Cage
Winner: Pentagon via Package Piledriver
Rating: *** 1/2
SmackDown United States Championship Match: Shinsuke Nakamura (c) vs Jeff Hardy
Winner: Hardy via DQ
Rating: *** 1/4
NJPW G1 Climax 28: Hiroshi Tanahashi vs Hangman Page
Winner: Tanahashi via High Fly Flow
Rating: *** 1/4
NJPW G1 Climax 28: Bad Luck Fale vs Hiroshi Tanahashi
Winner: Tanahashi via DQ
Rating: *** 1/4
ROH Honor for All: Marty Scurll vs Vinny Marseglia
Winner: Scurll via Chickenwing
Rating: *** 1/4
NJPW G1 Climax 28: Toru Yano vs Zack Sabre Jr
Winner: Sabre Jr via European Clutch
Rating: ***
NJPW G1 Climax 28: Togi Makabe vs EVIL
Winner: EVIL via Everything is Evil
Rating: ***
ROH WOH Title Match: Sumie Sakai (c) vs Hazuki
Winner: Sakai via Smash Mouth
Rating: ***
2. NJPW G1 Climax 28: SANADA vs Zack Sabre Jr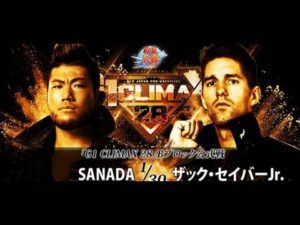 This is a rematch from the Semi-Finals of the New Japan Cup. Sabre tapped out SANADA with Orienteering with Napalm Death, so it's all up to SANADA to see if he learned how to combat Zack.
What we have here, is 11 minutes of pure technical mastery. It starts early with SANADA constantly reversing Sabre into a Full Nelson, just to frustrate him. Whatever Zack tries is mirrored and even a little more smoothly from SANADA.
Surprisingly for SANADA, aside from a couple Dropkicks, he stays mostly grounded, proving he can wrestle Zack's style. Both men go for submissions, but the other gets out of the position. SANADA manages to land Skull End, but Sabre rolls back and turns it into a pin via European Clutch. But we saw SANADA is familiar with this in his last match, so SANADA would reverse it into his own European Clutch for 2 points.
The growth SANADA showed, the technical mastery and the rub ins, by using a Sabre signature against him added to the story in this match.
Winner: SANADA via European Clutch
Rating: **** 1/2
1. NJPW G1 Climax 28: Hirooki Goto vs Tomohiro Ishii

These guys are no strangers to one another, however it has to be said that Ishii hasn't beaten Goto in 3 years. Coming off of his first single's loss all year, Goto looks to get back on the winning ways, while Ishii looks to finally put to bed some ghosts of the past.
Umm…okay words. This match was everything the NEVER division was built off of years ago with Makabe, Ishii and Shibata. It was just stiff strikes, full throttle, strong style. Everything people grew to love about Ishii, was on full display.
Some may wonder how an 18 minute fight gets a 5 Snowflake rating, but trust me, this match fits in so much action, it's just condensed nuclear fission. We saw Ishii counter Goto's forearm by just stepping in with a headbutt, hell at one point they both hit headbutts. An Avalanche Brainbuster, Reverse GTR, Shouten Kai and a few Sliding Lariats, but these men were still standing. This is the Strong Style that people say New Japan has lost, but it's alive and well, just needs some space to flourish.
Eventually, Ishii gets the best of the exchanges and as soon as we think Goto is gonna hit a GTR for the win, Ishii rattles off some offense and hits his Vertical Drop Brainbuster
Winner: Ishii via Vertical Drop Brainbuster
Rating: *****
As I already said, see, I tried pretty hard to find stuff this week since I figured the G1 was gonna dominate the Top 5. Oddly one other match was an even more obscure Japanese match, but hey, Impact snuck in there after a pretty damn good Slammiversary PPV.
However, that Goto vs Ishii match was just brutally beautiful. Goto has a tendency to get over shadowed, and Ishii isn't always seen as a main event player. Well this match should turn that narrative on it's head nicely. So much good wrestling this week, too bad they can't all be like this.