Top 5 Matches: Week Ending 7/29/2018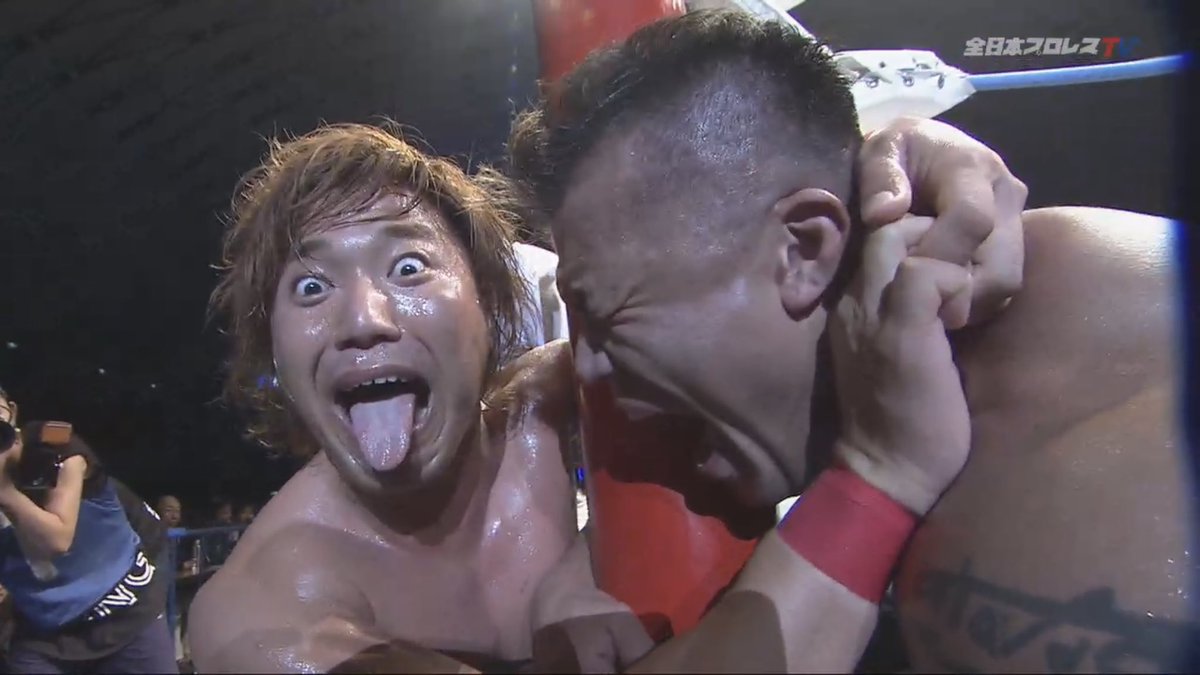 Okay, so we're gonna have two more weeks of G1 dominance, and at this point, it's inevitable. As you can see from this week, the Honorable Mentions have a nice mixture, including a match from World Of Sports' return to TV. For a first episode, it showcased a few wrinkles, villains and babyfaces to get behind, while giving us at least one top quality match.
Last week's voting was fairly competitive, but the number 1 match actually ran away with the vote by the final tally. So that means, G1 Climax 28 Hirooki Goto vs Tomohiro Ishii,  is moving into the July pool. Also this will be the final  week in the July voting pool, but at least we have a non-New Japan match that might take this week.
Without further ado, let's just see what matches made the Top 5 this week.
5. NJPW G1 Climax 28: Kenny Omega vs SANADA
These two men met up last year, and Omega moved passed him without much challenge. This year SANADA is in a position to not only help himself, but help his LIJ leader Tetsuya Naito, if he can put a blemish on Omega's record.
Well SANADA was the overall favorite and played babyface in the match. Early on he knocks Omega to the outside, and Omega moves out of the way anticipating a Tope, but SANADA catches himself and holds the ropes open for Omega. Kenny never takes his eyes off SANADA, but SANADA allows him to get in. The crowd cheers, SANADA claps for good sportsmanship and as he tries to get in, Kenny dropkicks his knee.
That ends up playing a big part in the match, since many of Omega's strikes aim for the injured knee, where a lot of SANADA's offense needs his legs. Eventually we see Omega slip up and SANADA puts a few moments together, fighting through the pain to land a few dropkicks and a Plancha to the outside. At this point it seems a little more even, but a big highlight spot is when SANADA gets shot into the corner, does the Flair/Misawa up and over, then attempts a Springboard Dropkick only to get caught into a Powerbomb. I think Omega did something similar in one of his Okada matches, but the spot is still cool.
From  there we see both men trading strikes, playing to the crowd and trying to get small advantages. SANADA is only ever really able to get Skull End once, but let's go to attempt his Moonsault, but misses that. SANADA however has kind of turned into a greatest hits of AJPW with his moveset. Mutoh Moonsault, Misawa up and over with the ropes and even pulling off a few Tiger Suplexes.
Even though we did see a lot more from SANADA this year, the match went the way most predicted. Omega and SANADA jocky for position, counter a few moves, until Omega gets him mostly set for the One Winged Angel, and good night SANADA. Omega moves to a perfect 10 points, and SANADA is still positioned okay with 6, but someone has to figure out how to slow down the champion.
Winner: Omega via One Winged Angel
Rating: **** 1/4
4. NJPW G1 Climax 28: Kota Ibushi vs SANADA
Surprised this is the main event, but I am very glad this is the case, since I don't think the two have faced each other before. Adding a special aspect to this match, despite it happening in the G1 Climax. Both of them have two victories and one loss and a victory for either one of these men would give them a bigger advantage since neither of them has fought Kenny yet and they could be the ones to knock Omega down a peg. Who's gonna get the win? Either way, we're gonna have something special in this dream match between two.
SANADA really is something special and the more I watch him more frequently in these types of matches, the more I slowly start to consider him my favorites in 2018 overall and not just in New Japan. It was pretty much exactly how I expected it to turn out with while having a great match, still leaving out enough to let us know that they could definitely fight again pretty soon and I'm sure they'll blow us away the next time their paths cross. Majority of the match was fairly even with the chain wrestling, the reversals, and the attempts of hitting their big moves onto each other but some of the spots however would come out a tiny bit sloppy, but not enough to take it away from the match at all. SANADA goes to the outside where Ibushi attempts a Baseball Slide for SANADA to duck it and drag him outside also and eventually Ibushi jumps to the ropes to land an Asai Moonsault. Ibushi now pulling the big spots with the Last Ride only for SANADA to kick out at two and SANADA kept on weakening Ibushi with the Skull End a few times to try and get him down for the Moonsault and Ibushi rolls out of the way before it would connect. Ibushi looks to finish it with the Kamigoye Knee and SANADA ducks the knee to get him into the Skull End one more time and even gets him knocked out long enough to drag him to the corner for the Diving Moonsault as SANADA gets the win. I felt like SANADA winning the the Skull End here would've been a more impactful finish, but I will take this and glad to see SANADA getting the victory over Ibushi, but I would love to see them fight again and soon.
Winner: SANADA via Moonsault
Rating: **** 1/2
3. NJPW G1 Climax 28: Kota Ibushi vs Tomohiro Ishii
Both men are in the middle of the block, and have a little bit of history. Ishii has been the MVP of the tournament so far, but we all know what Ibushi is capable of. So let's see how this one plays out.
Girl damn. The start off driving into each other with Shoulder Tackles, and then we see a flurry of counters and misses that end in the good ole fashioned stare down. From there we go to Ishii being in control as he keeps baiting Ibushi to hit him harder, hit him for real, and just keeps sending Kota backwards with Forearm Strikes. The first few minutes were almost as brutal as the Ishii vs Goto match.
The Kota takes it into the crowd and does one of his signature second story/balcony Moonsaults onto Ishii as the crowd was in full throat with the Yes chant. From there Ibushi seems to almost channel his inner Shinsuke Nakamura. When they get back in, Ibushi starts with short kicks and slaps to Ishii's head to insult him into squaring up. That goes on a few times, and both men trade 'big brother' kind of moments.
Kota hits his Last Ride Powerbomb while falling backwards a little so he just sits out, for a near fall. His first KamiGoye attempt is countered, as Ishii hits his own. Then when Ishii tries the Vertical Drop Brainbuster, Ibushi counters it with one of his own.
After both men steal a finisher, then we go back to strikes. Headbutts from Ishii rock Kota. Ibushi's kicks glaze over Tomohiro's eyes. The punishment was on full display as Kota hits a Sliding Knee for only a 1 count. At that point there's a few more strikes until Ibushi grabs Ishii's wrist, kicks him in the top of his head, which sends him down to his knees, and Ibushi takes the opening to land KamiGoye.
This match will be towards the top of most people's lists in the G1. We've still got 9 more nights if you include the Finals, but this was tremendous.
Winner: Ibushi via KamiGoye Knee Strike
Rating: **** 3/4
Honorable Mentions
WOS:  Davey Boy Smith Jr vs Will Ospreay
Winner: Davey via Avalanche Powerslam
Rating: ****
NJPW G1 Climax 28: Kazuchika Okada vs YOSHI-HASHI
Winner: Okada via Rainmaker
Rating: ****
Impact X Division Championship Match: Brian Cage (c) vs Matt Sydal
Winner: Cage via Drill Claw
Rating: ****
Lucha Underground Gift of the Gods: El Dragon Azteca Jr vs King Cuerno vs Dezmond X
Winner: El Dragon Azteca Jr via Super Victory Roll
Rating: *** 3/4
NJPW G1 Climax 28: Minoru Suzuki vs Michael Elgin
Winner: Suzuki via Gotch Style Piledriver
Rating: *** 3/4
NJPW G1 Climax 28: Juice Robinson vs Kenny Omega
Winner: Omega via One Winged Angel
Rating: *** 3/4
NJPW G1 Climax 28: Tomohiro Ishii vs Zack Sabre Jr
Winner: Sabre via Fujiwara Armbar
Rating: *** 3/4
Raw: Roman Reigns vs Bobby Lashley
Winner: Reigns via Spear
Rating: *** 1/2
NJPW G1 Climax 28: EVIL vs Hangman Page
Winner: EVIL via Everything is Evil
Rating: *** 1/4
Impact: Petey Williams vs Taiji Ishimori
Winner: Ishimori via Bloody Cross
Rating: *** 1/2
NJPW G1 Climax 28: Juice Robinson vs Toru Yano
Winner: Juice via Pulp Friction
Rating: *** 1/2
AJPW All Asia Tag Team Championship Match: Jun Akiyama & Yuji Nagata (c) vs Yuma Aoyagi & Naoya Nomura
Winner: Aoyagi via Rockstar Buster
Rating: *** 1/4
NJPW G1 Climax 28: Hirooki Goto vs Tetsuya Naito
Winner: Naito via Destino
Rating: *** 1/4
NJPW G1 Climax 28: Tama Tonga vs Tetsuya Naito
Winner: Naito via Destino
Rating: *** 1/4
AJPW All Asia Heavyweight Championship Match: Bodyguard vs Ryoji Sai (c)
Winner: Bodyguard via The Bounce
Rating: ***
NJPW G1 Climax 28: Tama Tonga vs Zack Sabre Jr
Winner: Sabre via DQ
Rating: ***
NJPW G1 Climax 28: Togi Makabe vs Hiroshi Tanahashi
Winner: Tanahashi via High Fly Flow
Rating: ***
2. AJPW Summer Action Series Triple Crown Championship Match: Kento Miyahara (c) vs Zeus
Zeus has been on the rise for about a year now. After a decent showing in the 2017 Champion Carnival with a win over Joe Doering, he was granted a title shot during the January 2nd New Years Wars show, but fell short. From there we see Zeus slowly move away from being a tag team wrestler, especially off the heels of the 2018 Champion Carnival where he had an opportunity to win B Block, but fell short there also. Miyahara is seen as the new Ace of All Japan. Young, extremely charismatic, over with every crowd and very adept in the ring. After going back and forth in tag matches, Zeus was positioned well enough to grant him this opportunity. Does 6 more months of seasoning, give him what he needs?
So what we get here is a match with two men who are very familiar with the other. The early action is slow and methodical, where both trade back and forth until Miyahara takes it to the outside.  Kento decided to play heel, since this final show of the Summer Action Series, was in Zeus' hometown of Osaka. So we see Kento using the barricades, working at Zeus' legs and turning up the aggression. Even going as far to do a signature spot of his where he pulls his opponents head against the ring post and doesn't relent even after the referee gives the 5 count. This time, referee Kyohei Wada was pulling on Miyahara's hair and yelling at him, all while he continued to pull on Zeus' head. This made for a small comedic wrinkle with Wada admonishing him like an angry father, but the match went on.
Kento maintained the advantage in a lot of this match. As soon as Zeus started to build some momentum with Lariats and power moves, they go out to the apron, where Kento snaps off a big Vertical Suplex, which may have given Zeus a stinger since he was favoring his left arm and wiggling his fingers, causing the referee to come out and double check on a couple occasions. Zeus is about to beat the 10 ten count (it's at 7) but he loses grip of the ropes and falls back to the floor.
Wada is about to count 10 but Zeus is mostly on the apron, and Kyohei uses his discretion to stop his count. But it was here that we basically got a different match. Kento flies into the corner to connect with a Blackout, only to piss off Zeus and have him storm out of the corner with a massive lariat. Both men trade signatures for a while here. A few more Blackouts (V-Trigger Knees) and a German Suplex Hold from Kento, while Zeus connects with a Chokeslam and even a Jackhammer, but Kento kicks out.
I've never seen someone kick out of the Jackhammer, or it happens so rarely it felt new to me. So the suspense builds nicely as Miyahara keeps trying to land his Shutdown Suplex, but Zeus is a former bodybuilder, so trying to keep his arms down is asking a lot. After each failed attempt, both men trade strikes until it looks like Miyahara finally has it. But midway throw Kento's arch for the bridge, Zeus breaks out and sends the Ace spinning with a lariat. One more Jackhammer, and we have it, a New Triple Crown Champion!
Zeus pins Kento Miyahara to win the Triple Crown!!! #ajpwhttps://t.co/yOuDZGaiTd pic.twitter.com/3BloFZaUPD

— Ro Bert ロバート (@b3rt4) July 29, 2018
Winner: Zeus via Jackhammer
Rating: **** 3/4
1. NXT Championship Match: Tommaso Ciampa vs Aleister Black (c)
After feeling he's dispatched Johnny Gargano, Ciampa decided to focus his attentions on the NXT champion. Neither one of them having a lot of back story together, made a lot of sense to give us a couple weeks of Ciampa stirring the pot and then we get a TV title defense.
The frustration was obvious in Aleister's aggression, moments of chiding Tommaso and even things he said throughout the match. Early on it's very back and forth, we see more mat wrestling than one might expect and not a lot of strikes. The early going showcased Ciampa's mind games mainly, especially when he stops short as Black attempts a Deep Arm Drag but misses completely, giving Ciampa a pin attempt for 2.
Eventually Aleister turns the tide and Ciampa is on the back foot for a bit. It spills to the outside and Black continues to throw Ciampa around and land some big Round Kicks, as they slide back in Ciampa jumps on the champion quickly to try and build back his position in the match. But the educated feet of Black get the best of Ciampa again, so when Ciampa gets knocked off the apron, it looks like Black will go for a dive, but Ciampa moves, Aleister does his Asai Moonsault into a meditative sitting position and waves at a now annoyed Tommaso Ciampa.
After heading back into the ring, Ciampa finds a small opening to push Black over the top rope in mid Moonsault. This grants the opportunity for Ciampa to throw him into the barricade, apron and then the stairs. Ciampa returns the mind games but sitting on the stairs cross legged and waving. It's at this point the intensity of the match picks up and it becomes a very back and forth effort. Ciampa has a small advantage, then a timely kick or suplex grants Aleister the opening he needs.
Out of desperation we see Ciampa uses a crutch from under the ring while the ref isn't paying attention but only gets a 2 count. Then Ciampa goes to the outside and pulls up the protective mat, which prompts the referee to come out and scold him. So when Ciampa heads back in the ring, Black charges him and accidentally kicks the referee off of the apron, immediately after landing Black Mass, but with no one to count.
Black goes to try and revive the ref, when he returns to the ring and lifts Ciampa, Tommaso drives his thumb into Black's eye. Taking the moment he goes to get the NXT Championship to use it as a weapon, but Johnny Gargano tries to get involved. Superkicks Ciampa and in the process of grabbing the belt away, he loses his balance and strikes Aleister with the belt.
Ciampa throws out Gargano, the ref slowly makes it back into the ring and Ciampa nails a Double Underhook Piledriver for the victory.
Most of the callbacks in this match were callbacks to his matches with Gargano, so it made sense for him to get involved. This is most likely heading towards a Triple Threat, but for now, we have one of the best heels in the business walking away with the gold.
It's absolute MAYHEM. Not only has the referee been thrown from the ring, but @JohnnyGargano has interfered in the #WWENXT #Championship Match! pic.twitter.com/wIu1LLFwHo

— WWE (@WWE) July 26, 2018
Winner: Ciampa via Double Underhook Piledriver
Rating: **** 3/4
Well, this is one of those week's I go with the dark horse match. Zeus has been one of my favorites since I got back into All Japan last year, so seeing the payoff in a high quality match, and his way of walking around the entire stage area to personally shake hands and hug each fan, was something special. Yes yes, Ciampa being the devious evil villain is a good story, but it's also an outcome most of us knew was happening since WWE spoiled it themselves.
So for shear impact it had on me, and a little smidgen of bias, I'm going with, AJPW Triple Crown Championship: Kento Miyahara vs Zeus, just because.
Tiffany's Takes: Stomping Grounds (6-23-19)
Stomping Grounds is here! Was WWE able to drum up enough interest for the opening PPV of the summer season?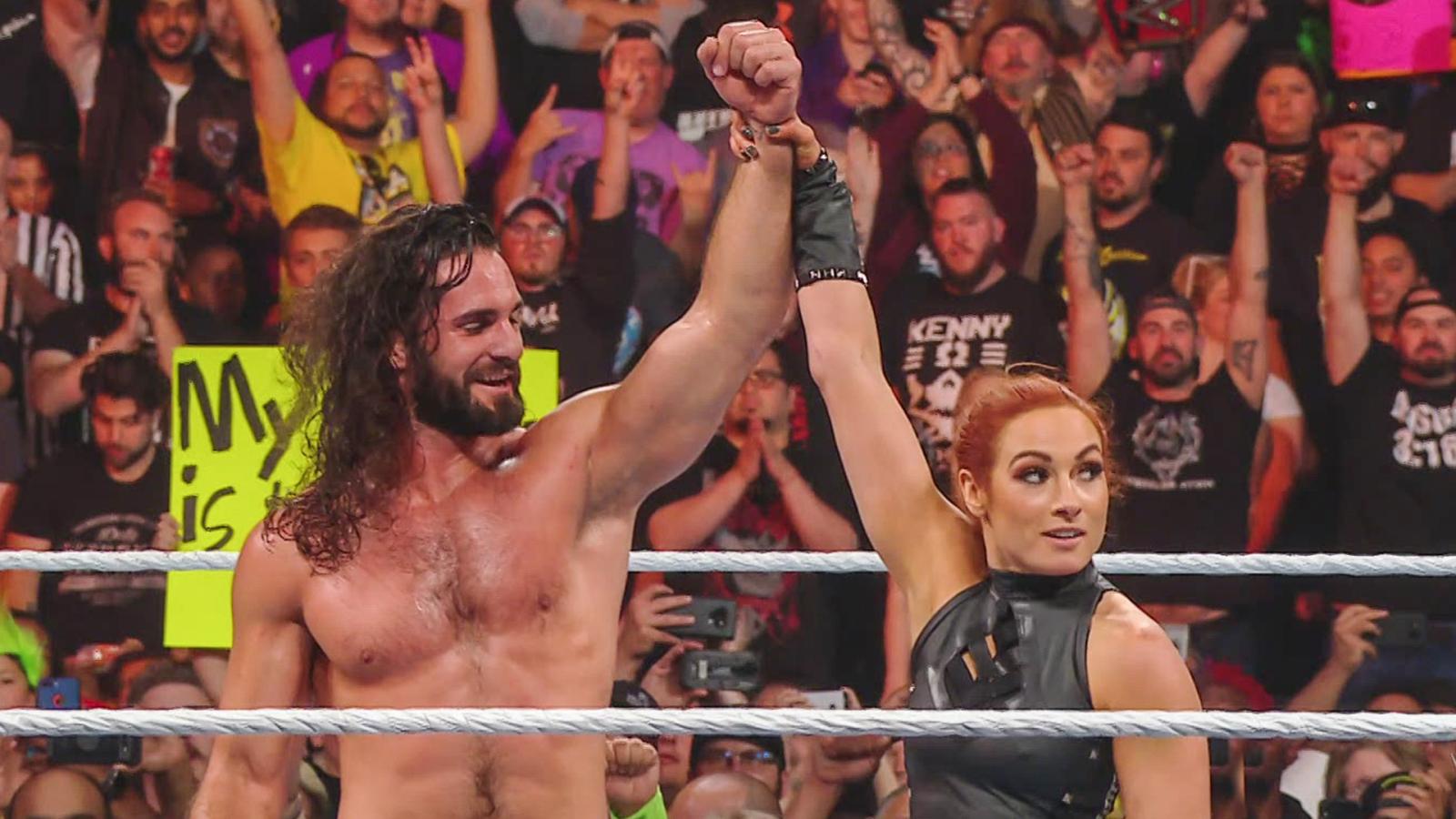 Stomping Grounds is here! Was WWE able to drum up enough interest for the opening PPV of the summer season?
Universal Championship Match – Seth Rollins vs Baron Corbin. Special Guest Referee: I'm not sure who came up with the idea of Lacey Evans being the special guest ref for this match, but it was a 'Better on Paper' idea. I mean, it's brilliant on paper. As a babyface, Rollins would never attack a woman with a chair or intentionally knock her out, but the forcing of his RL relationship with Becky into this storyline is awkward and cringey, especially with Becky basically saving her boyfriend's title for him. I get that they're making Becky look like a badass, but that was just…blah and it makes Seth look like an idiot. That's not the way to book your top champion, WWE.
Steel Cage Match for the WWE Championship: Kofi Kingston vs Dolph Ziggler: Well, it's still not Ziggler, despite his best efforts. That said, of all the matches these two have had over the years, this wasn't their best effort. It was still a really good match, but I've seen these two have barn burner matches and this match didn't even get the barn hot. Hopefully, this is the end of things and Kofi can move on.
New Day vs Kevin Owens and Sami Zayn: Right now, that math is my candidate for MOTN. I'm not really a fan of New Day or Owens/Zayn, but that was a hell of a match! It almost feels like either Big E still isn't 100% and Woods was covering for him, or Woods is getting groomed for a singles run because he was definitely the star of the match. I'm not even mad that Owens/Zayn won since it adds to the New Day/Whiner's Club (Ziggler, Owens, and Zayn) feud and Owens and Zayn needed a win after eating a lot of pins lately.
United States Championship Match – Samoa Joe vs Ricochet: HOLY SHIT, he did it! Ricochet is the NEW United States Heavyweight Champion!!! He and Joe had a hell of a match, the contrast in styles really worked for them, and I thought Joe had it in the bag, but Ricochet stuck it out and now has his first main event championship, four months after his debut, which isn't bad. Congrats man, hope you don't get killed tomorrow because Joe's gonna be pissed!
RAW Women's Championship – Becky Lynch vs Lacey Evans: Scarlett (Lynch) won it again! I'm not a big fan of Lacey Evans as an in-ring talent, I just don't think she's got the skills her spot suggests she should have, but she's been a good foil for Becky over this feud and it was a good match, but I'm more than ready for this feud to be over and for Becky to move on to someone else now that we're heading into SummerSlam season.
SmackDown Women's Championship – Bayley vs Alexa Bliss: Well, what a difference a few years makes! Two years after one of the worst Women's matches in WWE history, Bayley and Alexa Bliss not only had a really good match, but Bayley vanquished the self-proclaimed Goddess and RETAINED her SmackDown Women's Championship! I honestly didn't think Bliss would win, WWE seems determined that the wild card isn't going to involve actual title reigns, which is nice. However, both ladies looked great in this match. Bayley finally looks like a credible champion and Bliss got a chance to shake her ring rust before, presumably, getting a push on RAW. I also loved the build of Bliss vs Cross that definitely seems to be on the way. Drinks all around!
WWE Cruiserweight Championship – Tony Nese vs Drew Gulak vs Akira Tozawa: Wow. I can't believe WWE actually put the title on Gulak. Nese wasn't a great champion, but he had definitely grown on me.
The match was pretty good, I'll give them that, but I'm not thrilled about Gulak as champion, his gimmick mimics too many negative RL things for me to really get behind him. Hopefully, this will be a transitional reign to something like giving Tozawa a better reign than the joke one he had back in 2017.
SmackDown Tag Team Championship – Planet's Defenders vs Heavy Machinery: That…wasn't as bad as I feared. Greenjerks (Planet Defenders) are still the SmackDown Tag Team Champions, but Heavy Machinery really showed what they can do. I didn't think they were going to beat Bryan/Rowan, at least at the moment, but the match definitely delivered because Tucker and Otis got to show that they're more than a comedy act and that makes it a win for everyone.
Roman Reigns vs Drew McIntyre: Thank you, God, he beat him! Roman Reigns fought through the machinations of Shane and McIntyre to win and managed to make McIntyre look good in the process, which is a feat in itself, TBH. I'm not confident that this feud is over, though it needs to be, but if this is going to end up as Roman vs Shane, having McIntyre lose is the best way to do it.
Overall Comments: Well, it wasn't as bad as I feared it would be. I had very little interest in this PPV, but it was actually pretty good. There was very little downtime between matches, which made it move more quickly, which was very nice.
I was a little surprised that the 24/7 title wasn't featured, but Truth might be in hiding after crashing Maverick's wedding.
The two main events did NOT live up to expectations. They were okay, but I was expecting more from everyone and the addition of Seth and Becky's RL relationship was just dumb.
I'm not sold on Gulak as Cruiserweight champion, I'm hoping it's a short reign and we can get someone else.
Ricochet vs Samoa Joe was the match of the night, hands down.
Bayley vs Bliss was excellent and everyone won.
Lynch vs Evans was okay, and I'm not thrilled about the continuation of this feud for the summer. Let's move on, please?!
That's it for Tiffany's Stomping Ground Takes! Tune in tomorrow as I take on RAW!
Andrew's WWE Stomping Grounds Ratings & Analysis
Hiking boots and mediocre shows built up to this. Do we get a surprisingly good show? Does the WWE main roster continue to languish?

Hiking boots and mediocre shows built up to this. Do we get a surprisingly good show? Does the WWE main roster continue to languish?
Well we kick off with a Cruiserweight Triple Threat! Nese has been fairly underwhelming, so here's to hoping we see a title change!
Dolph and Baron need to finally have their angles ended here. Dolph is boring, people have lost faith in him the last few years. Baron does a decent job at being a true heel, so after enough loses he may be able to excuse them away, but he needs to drop down a little.
Well let's see what kind of show we get!
Ratings:
Cruiserweight Championship Match: Tony Nese (c) vs Drew Gulak vs Akira Tozawa: Gulak wins via TKO @11:15 – ****  – TITLE CHANGE!!!
Raw Women's Championship: Becky Lynch (c) vs Lacey Evans: Lynch retains via Disarm-Her @11:20 – *** 1/4
Sami Zayn & Kevin Owens vs Xavier Woods & Big E: Owens wins via Stunner @10:55 – *** 1/2
United States Championship: Ricochet vs Samoa Joe (c): Ricochet wins via 630 Senton @12:30 – **** – TITLE CHANGE!!
SmackDown Live Tag Team Titles: Heavy Machinery vs Rowan & Daniel Bryan (c): Bryan retains via Small Package @14:20 – *** 
SmackDown Live Women's Championship: Alexa Bliss vs Bayley (c): Bayley retains via Bayley to Belly @10:35 – *** 
Roman Reigns vs Drew McIntyre: Reigns wins via Spear @17:25 – ** 3/4
Steel Cage WWE Championship Match: Dolph Ziggler vs Kofi Kingston (c): Kofi retains via Escaping the Cage @20:00 – *** 1/2
Universal Championship: Seth Rollins (c) vs Baron Corbin: Rollins retains via Stomp @18:45 – **
Analysis:
Constant action defined this match. Gulak kicked things off with a Dropkick at the bell, and it was pedal to the metal from there. Tozawa breaks up the Gu-Lock with his Top Rope Senton, which the camera didn't focus on, so it was cool to see Tozawa just crash down from the sky. Each man had a legitimate shot at different points in the match. Gulak however took advantage of the situation, tried to TKO Nese, but Nese wiggled out to the apron, Drew dodged Tozawa's Dropkick, grabbed Tozawa and hit the TKO for the win. Gulak finally gets the belt, which is a bit overdue, and he didn't win via submission. Things should be interesting on 205 Live. Great start.
This match got a bit more time than I was expecting. Aside from the Springing Back Kick in the corner missed spot, the match was alright. Some spots were a little clunky, but it wasn't a bad match at all. Hard fought match, a few close calls for Lacey, but Becky continues to be the benchmark for the women's division.
Owens and Zayn come out the gates with Superkicks, Frog Splashes, Blue Thunder Bombs and just beat the hell out of Xavier. Xavier was isolated for a while, but he kept kicking out. When Big E got in, New Day started to take control back in the match. They broke up Owen's Pop-Up Powerbomb, Big E wipes out Zayn for Xavier to take to the skies. But Owens crotches him and catches him with the Stunner before Big E can recover. So after being on the receiving end of most outcomes in the lead up, Sami and Kevin finally get a win.
Well I'm surprised with this outcome. Samoa Joe dominated the early goings, Ricochet had a few flurries, but Joe just enforced his will on the challenger. The Coquina Clutch attempt is what did in Joe oddly enough. Ricochet was able to position himself to outside and drop Joe over the top rope. This gave Ricochet enough momentum to string together a few impressive evasive maneuvers, hit the Codebreaker and follow up with the 630 for the title change!
This was one of those matches where you can tell all participants tried, but it just didn't click. Numerous awkwardly timed spots, poorly executed spots and what seemed like second guessing in transition. Was the match awful? No. But a match that was trying to prove a focused Heavy Machinery is serious business, missed the mark with too many goofy spots and just some things that didn't make sense.
Alexa has definitely done work on her ring positioning and skill set during her time out of the ring. Her moves look more crisp and even though she's not the most fluid wrestler, she's figured out how to incorporate her character as well as her ring awareness. Nikki Cross eating the Dive on the outside seemed to play well to continue this alliance between Alexa and Nikki. Bayley winning seems correct and the fact they didn't do some kind of turn between the Crazy Goddesses makes me happy. The match was fairly enjoyable as well.
Well Roman versus Drew was what we expected it to be. Two bigger guys slugging it out. Pace was a bit on the slow side though. Shane getting involved made sense for the story, it effectively being a handicap match all made sense, it was just too long and too slow. Still not bad at all, plus it allows for the angle to continue. I just wish the match was more engaging.
Cage match had a lot of weird posturing throughout. Both started off by trying to sneak their finisher immediately, and then we got a fairly mediocre match with a couple interesting spots. The match picked up towards the end, but not because of in-ring action, but because of ring positioning. Dolph hit a Superkick and nearly kicked Kofi out of the cage. From then on it was a cat and mouse game of trying to escape the cage. Dolph looks like he's about to win, but Kofi literally dives out of the door and hits the floor before Dolph to retain.
So, umm…where to start. I did like the fact that Corbin picked Lacey as the referee. I saw a fan theory that said he should pick Charlotte for similar reasons, and it was clever. Also, Lacey constantly changing the rules to the match was reminiscent of Baron being GM (good or bad is for you to decide). But aside from that, this was just overbooked to the point of being a chore. With Becky coming in to take out Lacey and John Cone being the substitute referee, this whole match were nice call backs. It was still rough to sit through even though I could see the moving pieces. But yeah Becky and Seth walking out hand in hand was the cute babyface victory moment.
Overall Score: 6.75/10
The show started off really well with a great Cruiserweight match and was really good up until Roman versus Drew. It's a little sad to say the show lost points because of the main and semi-main event matches, but it really did end awkwardly.
I would say the show was better than most people expected, and better than it had any business being since the lead in was so lame. So all in all, I was fairly entertained by the show. Above Average, just a sad away from Good because of the final stretch. Also let's not understate Drew Gulak winning is totally the right call! I may pay closer attention to 205 Live now.