Top 5 Matches: Week Ending 7/8/2018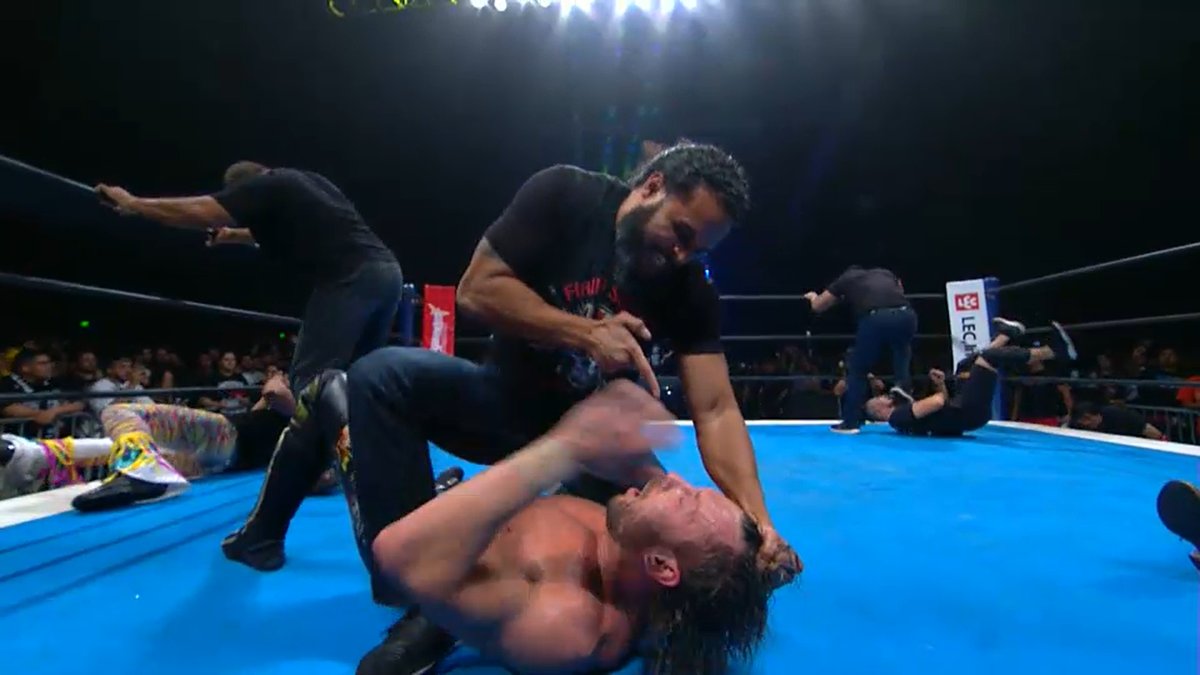 Now this week was interesting. It starts off with a pretty lame RAW and no one had a lot of expectations for the G1 Special in San Francisco. So you'd expect a down week, right?
Before we get into this week, let's handle the results of last week's vote and reveal the June Pool for Chairshot MOTY. Last week's winner, by a very slim margin, ROH BITW Tag Team Championship Match: Young Bucks vs The Briscoes (c). Which rounds out June, so not let's look at that.
June Pool
205 Live Cruiserweight Championship: Buddy Murphy vs Cedric Alexander
NJPW Dominion IWGP Heavyweight Championship 2 out of 3 Falls: Kazuchika Okada vs Kenny Omega
WWE Money in the Bank WWE Championship Last Man Standing: AJ Styles vs Shinsuke Nakamura 
205 Live: Buddy Murphy vs Hideo Itami vs Mustafa Ali
ROH BITW Tag Team Title Match: The Briscoes vs The Young Bucks
To be perfectly honest, this is a difficult pool. Many people might default to Omega vs Okada IV because of the Meltzer rating or what have you, but none of the matches on this list are hands down inferior. Since I didn't think Meltzer's 7 star orgasm was that fantastic (it was still damn good, just not scale breaking), I'm giving my vote to, AJ Styles vs Shinsuke Nakamura.
So let's get to this week's matches, and yes, still doing the overview since life and chores get in the way. Being an adult kinda sucks…but anyway…TO THE LIST!
5. Dragon Gate Rainbow Gate Open the Triangle Gate Championship: Natural Vibes (Genki Horiguchi, Kzy & Susumu Yokosuka) (c) vs Don Fujii, K-ness & Ryo Saito

Now admittedly my interest in Dragon Gate waned a bit after a fairly awful King of Gate tournament. But my general confusion on how this match happened and the main event of the show, intrigued me enough to turn it on.  So the usual goofy Ryo Saito, is apparently going under a new transformation where he is a "rookie" again. Due to his change, he and Don Fuji managed to get a tag team win over Genki and Susumu, so it set the stage nicely for them to have a claim to the Triangle Belts.
This match started off the way most 6 man tags do, where each person got a few minutes, tagged out, rotated for a while and then finally the match started to pick up. I was curious why Ryo was going for so many Backslides, and apparently it's because that was his new "finishing maneuver". That at least explained the crowd reaction and why the pinfall break ups seemed so intense.
However, Ryo, Don and K-Ness aren't really a legitimate stable, and Natural Vibes are still rather new and building steam. So it's not really surprising that Kzy finds a way to win the match, but it was a fun match. Numerous near falls, multiple finishers and seeing Ryo Saito playing a more serious character again is, well…different. After being rejected as a main event player, he's become a beloved comedy guy.
All in all, this match was really solid and seemed to be more a conduit for Ryo Saito's new character and evolution.
Winner: Kzy via Skayde Schoolboy
Rating: *** 3/4
4. 205 Live NoDQ Match: Mustafa Ali vs Buddy Murphy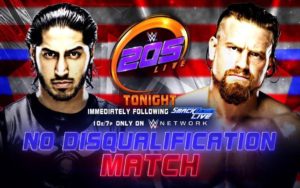 This is like the 5th matchup between these guys in 7 or 8 weeks. They have yet to put on a bad match, but running it back too often is starting to wear on my desire to watch.
When we get down to the match, it works the same way most of them have. Murphy establishes his dominance since he's bigger and stronger, but Ali finds a small opening and the match gets a little closer. I'm not sure how I feel about the crowd chanting "we want tables" and then when they didn't get what they wanted we got a "no more steps" chant, so it was just a small annoyance about the crowds trying to get themselves over.
Funnily enough, there was one attempted announce table spot with the Spanish Fly onto it, and then the finish utilized the steps nicely. Ali had a superplex spot where he used the steps for extra height and then hit his Popping Tornado DDT off of the steps for a rather surprising victory. Now I may be wrong, but I feel like this evens up their overall record at 2-2-1, so we might get another match, hopefully much later.
Really good match, but aside from the use of the steps towards the end, it wasn't super different from what we've already seen from them.
Winner: Ali via Popup Tornado DDT
Rating: ****
3. NJPW G1 Special IWGP Heavyweight Championship Match: Cody vs Kenny Omega (c)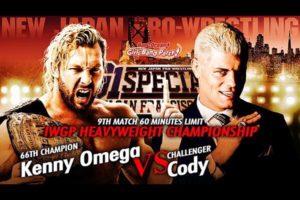 This match had a lot to follow up during the show, but it was the most well known storyline, probably in all of wrestling. Will Cody pull off the massive upset and ruin Omega's victory parade over Okada, or does Omega get his win back over Cody while solidifying his leadership of Bullet Club?
Honestly, this match was just a lot of spots. It could be interpreted that both men were willing to "go to their limits" to take leadership for Bullet Club, but it just felt like too much. The first table spot was set up poorly, where Cody looked like he was gently tossed and ready to take a nap. Then we had a bunch of Brandi interjecting herself, the Bucks pleading with both guys to just squash things, but more stuff came out.
Chairs, Ladders, another table, all came out to try and end the match. Cody with a Superplex off the ladder back into the ring, Kenny Powerbombed Cody towards the outside table, but came up a little short. Cody hits a Crossroads after a ref bump for a near fall, but then Kenny hits multiple V-Triggers and finally finishes it with a One Winged Angel.
A few slow spots in the match, overkill on spots and general hiccups stopped this from being the best match of the show, but it definitely told a great story and showed Cody's workrate ability a little more than previous matches.
Also the entire match got overshadowed more by the Tongan Firing Squad angle, as well as what looks like Cody and Kenny burying the hatchet. So lots of fun moving pieces, the match set things in motion…but just fell short.
Winner: Omega via One Winged Angel
Rating: **** 1/2
Honorable Mentions:
NJPW G1 Special IWGP Heavyweight Tag Title Match: Young Bucks (c) vs EVIL & SANADA
Winner: Bucks via Meltzer Driver
Rating: *** 3/4
NJPW G1 Special: Kazuchika Okada & Will Ospreay vs Tetsuya Naito & Bushi
Winner:  Ospreay via Stormbreaker
Rating: *** 1/2
Impact: Rich Swann vs Fenix
Winner: Fenix via Fenix Driver
Rating: *** 1/2
2. NJPW G1 Special IWGP US Championship Match: Jay White (c) vs Juice Robinson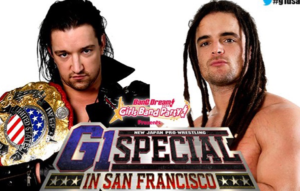 This was honestly surprising. Jay White has a tendency to be put in a bad spot before a Bullet Club main event and after a big match right before his, so he tends to get overlooked.
What started out as a mostly basic match, that was gimmicked because Juice was unable to use his left hand in fear of getting disqualified because of the cast on it, really blew up after one big spot. Jay White, throws Juice into the guardrail in front of the announce table and knocks over Jim Ross, which prompts Josh Barnett to get up and stalk down Jay White as the heel back peddles for a decent chunk of time.
You may be wondering how random extra people helps, but holy hell it added another layer of intensity to the match. Jay was getting booed more furiously (and the crowd already liked Juice's Flamboyant Colonial Pirate outfit), which just dialed everything up to 11. Then on top of that, Jay tries to beat Juice in a cheap way with a low blow while Red Shoes is cowering in the corner.
However, thanks to Red Shoes apprehension to turn around, it gave Juice the 'turn around is fair play' moment and he clocked Jay White with his illegal left hand. Surprisingly that only got a 2 count, and it came down to Juice with a cute Rollup, and the pinfall victory. So he wins with the called shot, that he's made a joke about all month.
The first United States born wrestler to hold the US Championship, but the match really helped to define Jay White's character and maybe set up something cool between Josh Barnett and Jay White.
Winner; Juice Robinson via Rollup
Rating: **** 1/2
1. NJPW G1 Special IWGP Junior Heavyweight Championship Match: Hiromu Takahashi (c) vs Dragon Lee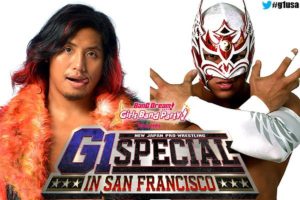 The insanity in this match, just, wow. Dragon Lee and Hiromu go all the way back to Mexico, but Dragon Lee started the match before Hiromu even got into the ring.
We saw a match that was expected from both of them. Fast paced, hard strikes and general disregard for their health. Nothing I say can really do this match justice since they started at 100 mph and never slowed down.
Plus now we're all aware of the infamous Phoenix Plex/Steenilizer spot, which caused Hiromu to possibly suffer a broken neck.
Really hope the reports of Takahashi suffering a broken neck and collapsing backstage aren't true, prayers and well wishes for the time bomb👏🏼😔 pic.twitter.com/yTdA1a3tyy

— Rachereen Dream. (@WWERDream) July 8, 2018
This spot was part of what took away from the match for me, since some of the moves were just risky for the sake of being risky and not overly necessary. Hopefully the injury isn't too serious and we see Hiromu back shortly, even though comparisons will be drawn to the infamous Shibata Headbutt and how he walked away but then collapsed.
A wonderful match, might've even been better without the cringe worthy moments. Thoughts and Prayers with Hiromu.
Winner: Takahashi via Time Bomb
Rating: **** 3/4
Now even with the news that broke Sunday about Hiromu, that doesn't take away from how beautiful the match was and I already wasn't a fan of some of the riskier moves or obvious botch, of course. So with all that said, Hiromu vs Dragon Lee, stole the show, let's just make sure we get more matches from these guys instead of crazy spots for the present.
Everyone likes to pick on WWE's "safe" style, but there's a big difference between people tearing an ACL (it happens in non contact situations, ask Teddy Bridgewater) and getting dropped on your neck cause the move looks cool. Use Your Goddamn Head.
King's WrestleMania Rewind: Eddie Guerrero vs. Rey Mysterio (WrestleMania 21)
In the next WrestleMania Rewind, Chris King takes us back to WWE WrestleMania 21, and Rey Mysterio vs Eddie Guerrero in a battle of tag team champions!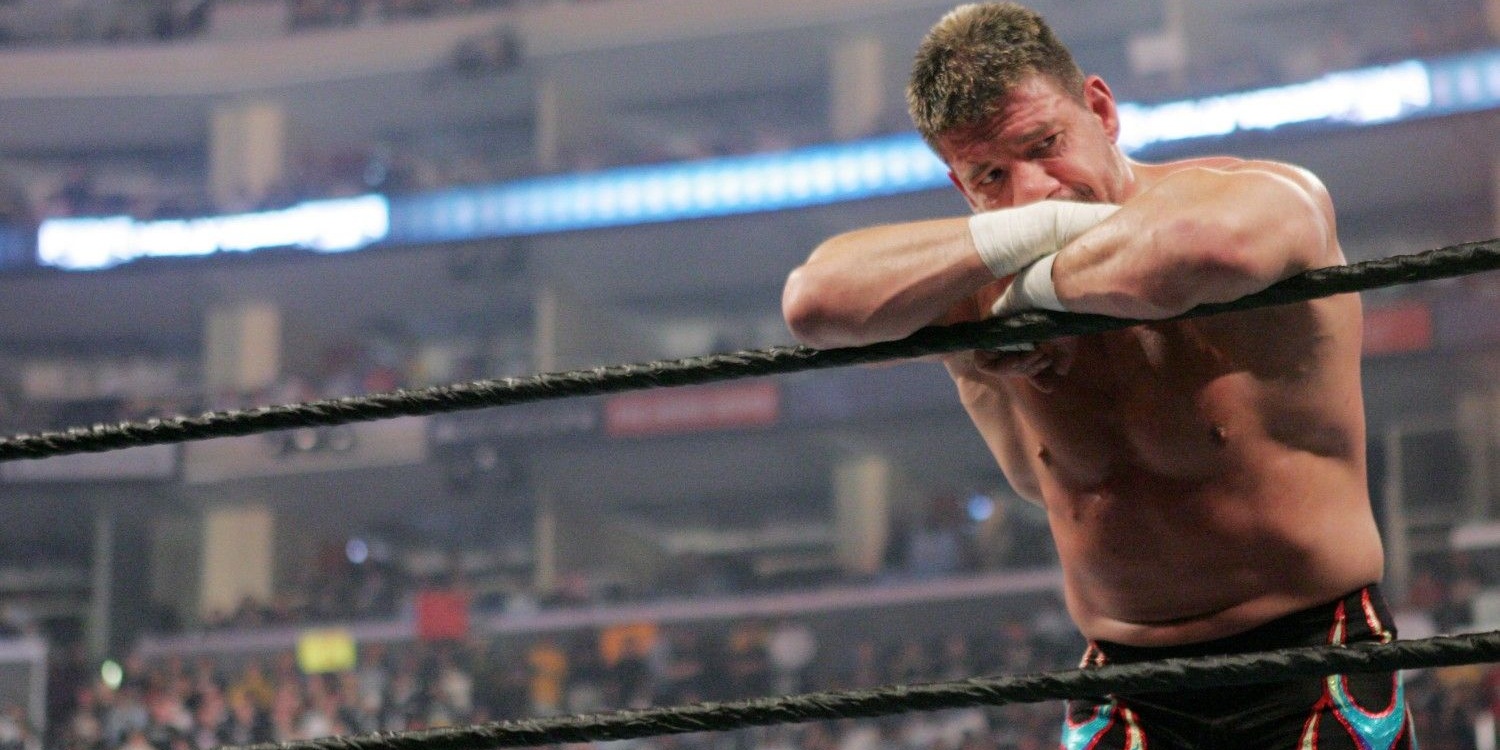 In the next WrestleMania Rewind, Chris King takes us back to WWE WrestleMania 21, and Rey Mysterio vs Eddie Guerrero in a battle of tag team champions!
Chris King is back with his third edition of WrestleMania Rewind. This week he's bringing us back to some 'Latino Heat.' We're rolling back to WrestleMania 21 where Eddie Guerrero faced longtime friend and rival Rey Mysterio.
This would be Guerrero's last Mania match caused by his unfortunate death. Over on SmackDown, Mysterio and Guerrero would become the tag team champions at No Way Out where they defeated MNM.
Chavo Guerrero would get into the head of Latino Heat by making him believe Mysterio was trying one-up his tag team partner. Chavo went as far as to tell his uncle to stop using the Guerrero name.
Guerrero would finally give in to his nephew's manipulation and went on to challenge Mysterio to a one-on-one match at WrestleMania 21. I For the first time in history, both tag team champions would face each other. Guerrero vs. Mysterio was the first match on the stacked card. Both partners threw everything at each other including the kitchen sink in a battle of one-up-manship.  In an incredible high-octane match that saw both superstars delivering counter for counter, Mysterio pulled off the win with a surprise pin roll up.
A few months later, what once was a friendly battle turned into a nasty fight involving the custody of Mysterio's real-life son Dominik Mysterio. After several torturous weeks, both former tag team champions would face off in a ladder match with the custody of Dominick on the line. I forgot how amazing this rivalry was and it's definitely worth a watch. Sadly, we would lose Latino Heat in November of 2005. There will never be another Eddie Guerrero. Viva La Raza!
King's WrestleMania Rewind: Stone Cold VS. Scott Hall (WrestleMania X8)
Chris King is back with another WrestleMania Rewind, looking at the NWO's Scott Hall battling Stone Cold Steve Austin at WWE WrestleMania X8 from Toronto!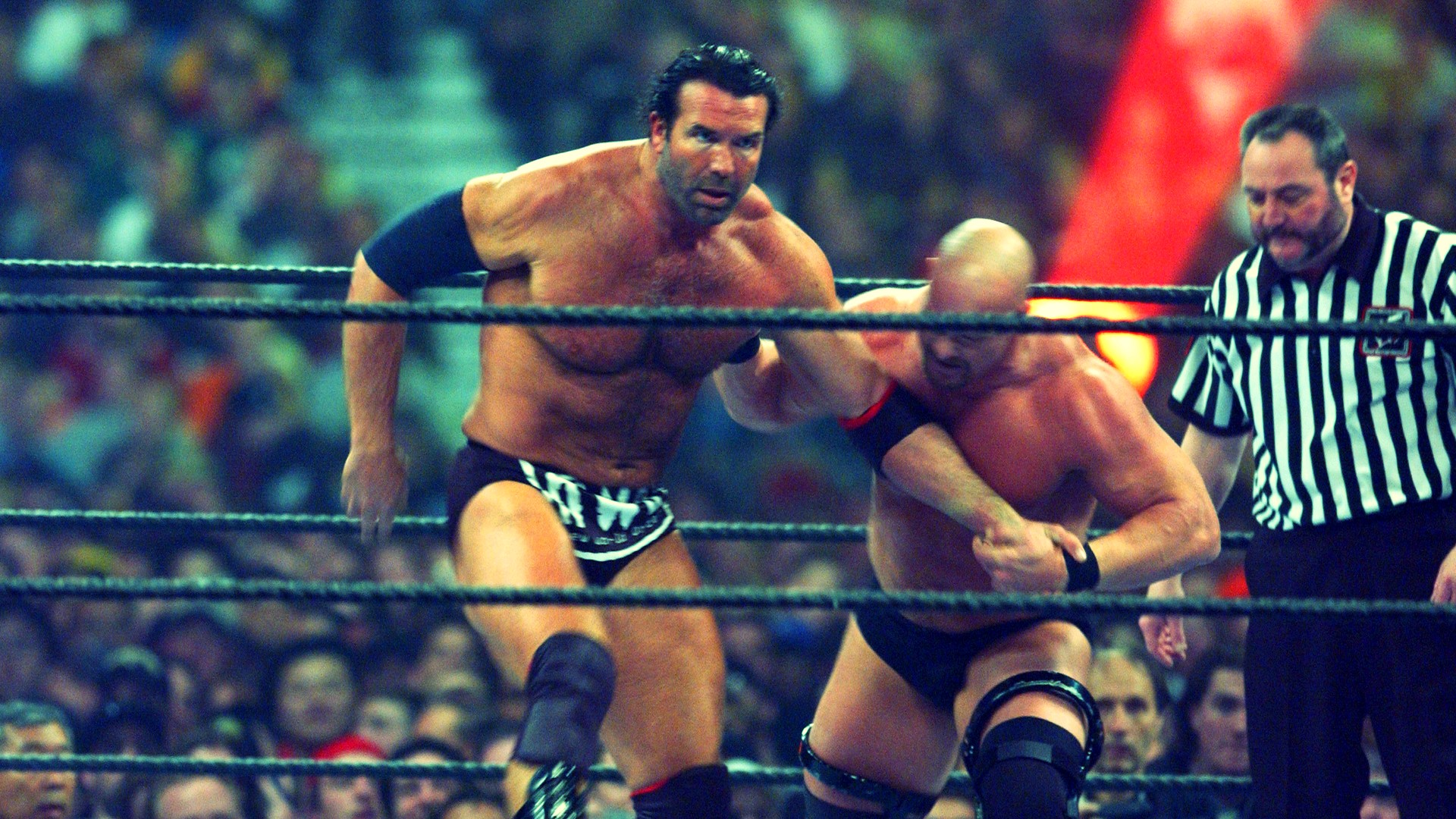 Chris King is back with another WrestleMania Rewind, looking at the NWO's Scott Hall battling Stone Cold Steve Austin at WWE WrestleMania X8 from Toronto!
Chris King is back this week with another edition of WrestleMania Rewind, where he is rewatching all the past Mania matches and feuds. This week you're in for a treat as we look back at 'Stone Cold' Steve Austin vs. Scott Hall at WrestleMania X8.
In late 2001, Vince McMahon bought out his competition WCW and acquired the rights to a plethora of talent including Booker T, Eddie Guerrero, Chris Benoit, and the iconic trio known as NWO. Hulk Hogan; Kevin Nash, and Scott Hall were hell raisers, and what better way to make a name for yourself than take out the two top superstars in the WWE The Rock, and Stone Cold?
The NWO cost Austin his chance at becoming the Undisputed Champion at No Way Out during his match with Chris Jericho. Adding insult to injury, the NWO spray-painted 'The Texas Rattlesnake' with their brand logo just like they did in WCW. As you can imagine, Austin was pissed and out for revenge against the group and primarily Scott Hall.
Hall would challenge Stone Cold to a match at WrestleMania 18. Both superstars beat the living hell out of each other leading up to this highly-anticipated match for who runs the WWE.
The glass broke and Stone Cold made his iconic entrance, and black and white NWO covered Halls' entrance alongside Kevin Nash. With the odds stacked against 'The Toughest S.O.B' could Austin or NWO prove their dominance? Sadly the NWO  broke up that very night when Hulk Hogan came to the aid of his adversary The Rock after their 'iconic' dream match. Stone Cold would ensure the victory with the Stunner. Hall would perform an Oscar-worthy sell over the finisher.
What a time to be a wrestling fan in the 2000s when nothing was impossible for WWE. Who would've thought WCW would go out of business and Hogan would make his long-awaited return to WWE?