Top 5 Matches: Week Ending 7/8/2018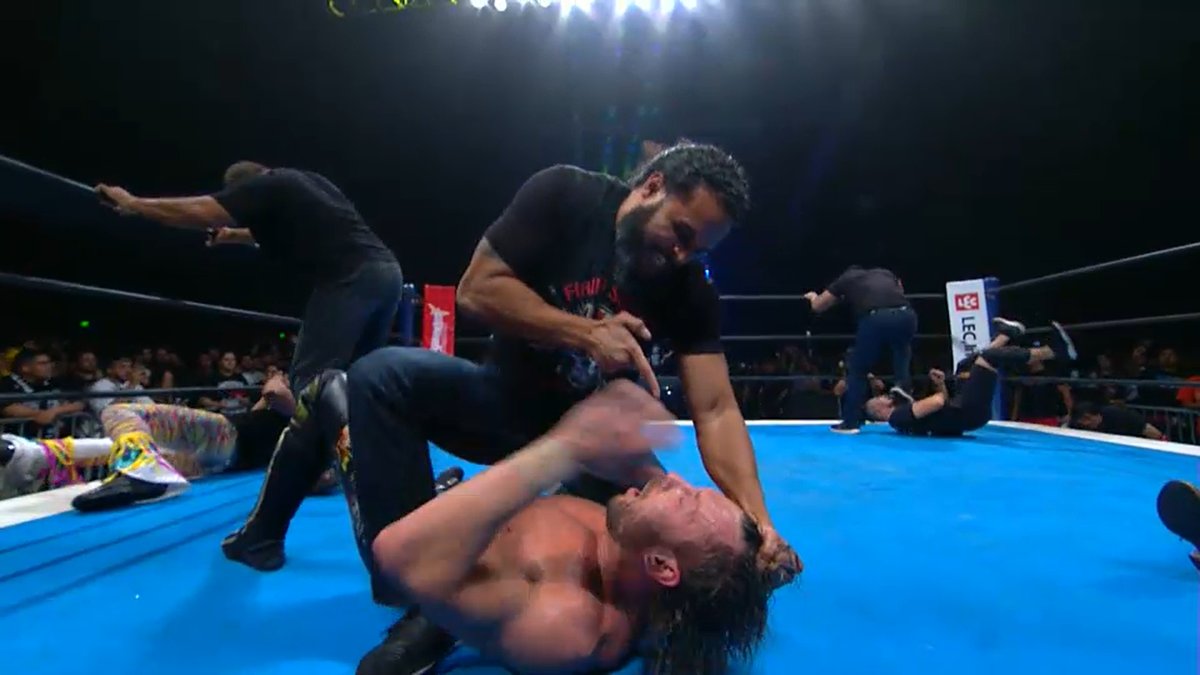 Now this week was interesting. It starts off with a pretty lame RAW and no one had a lot of expectations for the G1 Special in San Francisco. So you'd expect a down week, right?
Before we get into this week, let's handle the results of last week's vote and reveal the June Pool for Chairshot MOTY. Last week's winner, by a very slim margin, ROH BITW Tag Team Championship Match: Young Bucks vs The Briscoes (c). Which rounds out June, so not let's look at that.
June Pool
205 Live Cruiserweight Championship: Buddy Murphy vs Cedric Alexander
NJPW Dominion IWGP Heavyweight Championship 2 out of 3 Falls: Kazuchika Okada vs Kenny Omega
WWE Money in the Bank WWE Championship Last Man Standing: AJ Styles vs Shinsuke Nakamura 
205 Live: Buddy Murphy vs Hideo Itami vs Mustafa Ali
ROH BITW Tag Team Title Match: The Briscoes vs The Young Bucks
To be perfectly honest, this is a difficult pool. Many people might default to Omega vs Okada IV because of the Meltzer rating or what have you, but none of the matches on this list are hands down inferior. Since I didn't think Meltzer's 7 star orgasm was that fantastic (it was still damn good, just not scale breaking), I'm giving my vote to, AJ Styles vs Shinsuke Nakamura.
So let's get to this week's matches, and yes, still doing the overview since life and chores get in the way. Being an adult kinda sucks…but anyway…TO THE LIST!
5. Dragon Gate Rainbow Gate Open the Triangle Gate Championship: Natural Vibes (Genki Horiguchi, Kzy & Susumu Yokosuka) (c) vs Don Fujii, K-ness & Ryo Saito

Now admittedly my interest in Dragon Gate waned a bit after a fairly awful King of Gate tournament. But my general confusion on how this match happened and the main event of the show, intrigued me enough to turn it on.  So the usual goofy Ryo Saito, is apparently going under a new transformation where he is a "rookie" again. Due to his change, he and Don Fuji managed to get a tag team win over Genki and Susumu, so it set the stage nicely for them to have a claim to the Triangle Belts.
This match started off the way most 6 man tags do, where each person got a few minutes, tagged out, rotated for a while and then finally the match started to pick up. I was curious why Ryo was going for so many Backslides, and apparently it's because that was his new "finishing maneuver". That at least explained the crowd reaction and why the pinfall break ups seemed so intense.
However, Ryo, Don and K-Ness aren't really a legitimate stable, and Natural Vibes are still rather new and building steam. So it's not really surprising that Kzy finds a way to win the match, but it was a fun match. Numerous near falls, multiple finishers and seeing Ryo Saito playing a more serious character again is, well…different. After being rejected as a main event player, he's become a beloved comedy guy.
All in all, this match was really solid and seemed to be more a conduit for Ryo Saito's new character and evolution.
Winner: Kzy via Skayde Schoolboy
Rating: *** 3/4
4. 205 Live NoDQ Match: Mustafa Ali vs Buddy Murphy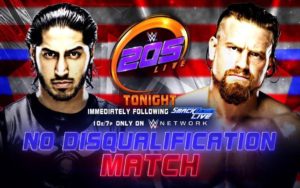 This is like the 5th matchup between these guys in 7 or 8 weeks. They have yet to put on a bad match, but running it back too often is starting to wear on my desire to watch.
When we get down to the match, it works the same way most of them have. Murphy establishes his dominance since he's bigger and stronger, but Ali finds a small opening and the match gets a little closer. I'm not sure how I feel about the crowd chanting "we want tables" and then when they didn't get what they wanted we got a "no more steps" chant, so it was just a small annoyance about the crowds trying to get themselves over.
Funnily enough, there was one attempted announce table spot with the Spanish Fly onto it, and then the finish utilized the steps nicely. Ali had a superplex spot where he used the steps for extra height and then hit his Popping Tornado DDT off of the steps for a rather surprising victory. Now I may be wrong, but I feel like this evens up their overall record at 2-2-1, so we might get another match, hopefully much later.
Really good match, but aside from the use of the steps towards the end, it wasn't super different from what we've already seen from them.
Winner: Ali via Popup Tornado DDT
Rating: ****
3. NJPW G1 Special IWGP Heavyweight Championship Match: Cody vs Kenny Omega (c)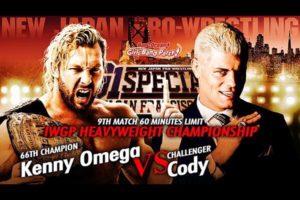 This match had a lot to follow up during the show, but it was the most well known storyline, probably in all of wrestling. Will Cody pull off the massive upset and ruin Omega's victory parade over Okada, or does Omega get his win back over Cody while solidifying his leadership of Bullet Club?
Honestly, this match was just a lot of spots. It could be interpreted that both men were willing to "go to their limits" to take leadership for Bullet Club, but it just felt like too much. The first table spot was set up poorly, where Cody looked like he was gently tossed and ready to take a nap. Then we had a bunch of Brandi interjecting herself, the Bucks pleading with both guys to just squash things, but more stuff came out.
Chairs, Ladders, another table, all came out to try and end the match. Cody with a Superplex off the ladder back into the ring, Kenny Powerbombed Cody towards the outside table, but came up a little short. Cody hits a Crossroads after a ref bump for a near fall, but then Kenny hits multiple V-Triggers and finally finishes it with a One Winged Angel.
A few slow spots in the match, overkill on spots and general hiccups stopped this from being the best match of the show, but it definitely told a great story and showed Cody's workrate ability a little more than previous matches.
Also the entire match got overshadowed more by the Tongan Firing Squad angle, as well as what looks like Cody and Kenny burying the hatchet. So lots of fun moving pieces, the match set things in motion…but just fell short.
Winner: Omega via One Winged Angel
Rating: **** 1/2
Honorable Mentions:
NJPW G1 Special IWGP Heavyweight Tag Title Match: Young Bucks (c) vs EVIL & SANADA
Winner: Bucks via Meltzer Driver
Rating: *** 3/4
NJPW G1 Special: Kazuchika Okada & Will Ospreay vs Tetsuya Naito & Bushi
Winner:  Ospreay via Stormbreaker
Rating: *** 1/2
Impact: Rich Swann vs Fenix
Winner: Fenix via Fenix Driver
Rating: *** 1/2
2. NJPW G1 Special IWGP US Championship Match: Jay White (c) vs Juice Robinson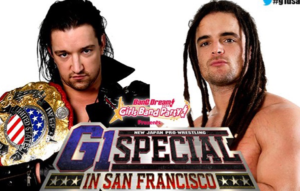 This was honestly surprising. Jay White has a tendency to be put in a bad spot before a Bullet Club main event and after a big match right before his, so he tends to get overlooked.
What started out as a mostly basic match, that was gimmicked because Juice was unable to use his left hand in fear of getting disqualified because of the cast on it, really blew up after one big spot. Jay White, throws Juice into the guardrail in front of the announce table and knocks over Jim Ross, which prompts Josh Barnett to get up and stalk down Jay White as the heel back peddles for a decent chunk of time.
You may be wondering how random extra people helps, but holy hell it added another layer of intensity to the match. Jay was getting booed more furiously (and the crowd already liked Juice's Flamboyant Colonial Pirate outfit), which just dialed everything up to 11. Then on top of that, Jay tries to beat Juice in a cheap way with a low blow while Red Shoes is cowering in the corner.
However, thanks to Red Shoes apprehension to turn around, it gave Juice the 'turn around is fair play' moment and he clocked Jay White with his illegal left hand. Surprisingly that only got a 2 count, and it came down to Juice with a cute Rollup, and the pinfall victory. So he wins with the called shot, that he's made a joke about all month.
The first United States born wrestler to hold the US Championship, but the match really helped to define Jay White's character and maybe set up something cool between Josh Barnett and Jay White.
Winner; Juice Robinson via Rollup
Rating: **** 1/2
1. NJPW G1 Special IWGP Junior Heavyweight Championship Match: Hiromu Takahashi (c) vs Dragon Lee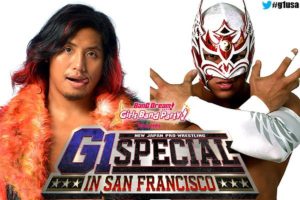 The insanity in this match, just, wow. Dragon Lee and Hiromu go all the way back to Mexico, but Dragon Lee started the match before Hiromu even got into the ring.
We saw a match that was expected from both of them. Fast paced, hard strikes and general disregard for their health. Nothing I say can really do this match justice since they started at 100 mph and never slowed down.
Plus now we're all aware of the infamous Phoenix Plex/Steenilizer spot, which caused Hiromu to possibly suffer a broken neck.
Really hope the reports of Takahashi suffering a broken neck and collapsing backstage aren't true, prayers and well wishes for the time bomb👏🏼😔 pic.twitter.com/yTdA1a3tyy

— Rachereen Dream. (@WWERDream) July 8, 2018
This spot was part of what took away from the match for me, since some of the moves were just risky for the sake of being risky and not overly necessary. Hopefully the injury isn't too serious and we see Hiromu back shortly, even though comparisons will be drawn to the infamous Shibata Headbutt and how he walked away but then collapsed.
A wonderful match, might've even been better without the cringe worthy moments. Thoughts and Prayers with Hiromu.
Winner: Takahashi via Time Bomb
Rating: **** 3/4
Now even with the news that broke Sunday about Hiromu, that doesn't take away from how beautiful the match was and I already wasn't a fan of some of the riskier moves or obvious botch, of course. So with all that said, Hiromu vs Dragon Lee, stole the show, let's just make sure we get more matches from these guys instead of crazy spots for the present.
Everyone likes to pick on WWE's "safe" style, but there's a big difference between people tearing an ACL (it happens in non contact situations, ask Teddy Bridgewater) and getting dropped on your neck cause the move looks cool. Use Your Goddamn Head.
(NOAH) WEEKLY NEWSLETTER VOL.10 ~16TH NOVEMBER 2018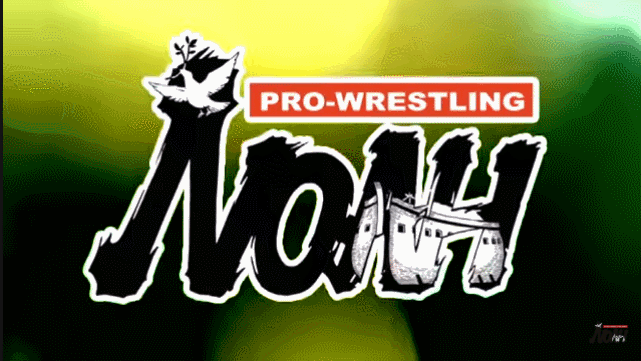 Another wonderfully in depth recap of this week in Pro Wrestling NOAH. How is the Global League going? Let's see what else has been going on in NOAH.
CURRENT TOUR RECAP
NOAH were in Hiroshima on the 12th November; Hiroshima is a city of mixed emotion for NOAH, for some it is home, but for the promotion as a whole it has sad associations, as Mitsuharu Misawa died there in 2009.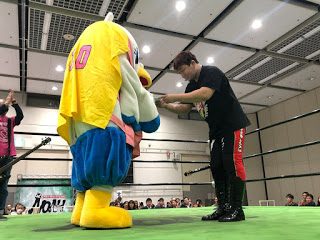 Hitoshi Kumano, (a local bear), took charge of fundraising for the Heavy Rain Fund (Hiroshima was hit badly earlier in the year by floods, and the mascot got yelled at by Mitsuya Nagai). Nagai was wound up by Naomichi Marufuji as well, who held the ropes open for him, a tactic which served to wind Kenoh up too. It was also the event where Kotaro Suzuki got his win over HAYATA, and sat on the ropes holding the belt up to both Daisuke Harada and HAYATA. Kotaro Suzuki later said that HAYATA bought out his trump card in the previous match ("the Headache"), and so he bought out his too, and that he would be no match for him with his own number of various maneuvers which he would bring out in the title match. They had their final match before the championship match on the 17th in Osaka, and they will both go into the match with one victory each over the other in the build up for the challenge.
Fan support is very much on the side of HAYATA (who is not NOAH born unlike Suzuki who is seen as an outsider, despite being NOAH born) to bring the championship home.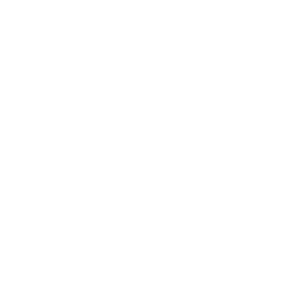 Mitsuya Nagai clashed with Naomichi Marufuji, and was chopped to shreds. Marufuji said he looked like a "boiled octopus" afterwards. Katsuhiko Nakajima would dismiss Nagai as "small fish" on the 14th, but Nagai would break through the dark cloud on the 16th when he ended the winning streak of Kohei Sato.
Despite his fluke win and spazz out victory celebration against Takashi Sugiura, Kaito Kiyomiya suffered two defeats in a row; the first being against Atsushi Kotoge on the 14th and Cody Hall on the 16th. Kotoge, however, has been on a roll and defeated Go Shiozaki on the 16th.
In a rare moment on the 14th, Masa Kitamiya and Kenoh shook hands. Kitamiya said that he did it to acknowledge that he and Kenoh (who lost to him) had practically fought to the death for the win, and that he didn't trust wrestlers who had no ambition. Speaking of Kenoh, during the huge tag on the 16th November, his victory over
Marufuji seemingly wasn't enough, and he decided to get his face again.
Marufuji (now with both shoulders needing athletic support) just looked tired and like he'd had enough.
The show on the 16th November was a shift in the league; Kohei Sato, Kazusada Higuchi and Go Shiozaki had their perfect records beaten by Mitsuya Nagai, Mohammed Yone and Atsushi Kotoge, and Nakajima avenged his loss against Quiet Storm in Global League 2017.
As Global League is beginning to heat up, everyone is talking about not letting anymore victories slip through their fingers, but of course, not all matches can go to a draw, and someone has to lose. There can only be two finalists, and ultimately one winner.
Full recap of Global League 2018 so far, can be found here.
Noah will be back on Saturday 17th November at the Edion Arena in Osaka, (gong sounds at 18.30).
NEWS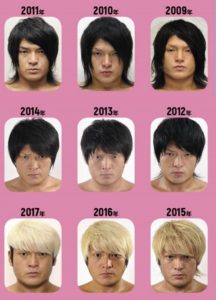 THE EVOLUTION OF KENOH 
The upcoming "Wrestlers Directory" 2018 (basically a guide to who is who, what, and where in 2018) was previewed and Naomichi Marufuji and Kenoh were profiled with their changing looks over the years. 
Kenoh made the following comments about his entry:
His 2009 picture is ugly
Like all trainees, he debuted with a shaved head. Says he didn't used to cut it, and its awkward to look at it, says he didn't think he had any money to cut it.
It doesn't really translate well, but Kenoh says he cut his hair in 2012 because it had been long for long enough. In another rough translation he says that he looks like a child of badboy parents, who has been forced to pose.
Kenoh said about his expression that it doesn't change, because in his every day life, he does not laugh a lot.
In 2015, Kenoh says that "I admired him and went blonde, but I can no longer say I have the aspiration to be like him" (he is talking about Morishima, who very sadly, has let a lot of people down, including Kenoh).
YOSHIKI INAMURA ADDED TO THE NOAH ROSTER PAGE 
At the moment there is not too much information on him apart from his birthday (November 18th 1992), his height and weight, blood type and birthplace (Otawara City in Tochigi Prefecture), date of debut and finisher. His finisher isn't anything special at the moment, and doesn't have a special name, being listed only as a "tackle".
He doesn't have a Twitter account yet.
CHRISTMAS AT MUSCLE GRILL
Naomichi Marufuji's current restaurant MUSCLE GRILL in Tokyo will be having a Christmas party on the 22nd December. Naomichi Marufuji, Hi69, Tadasuke, Atsushi Kotoge and Junta Miyawaki will be attending, but obviously this depends on whether or not they manage to stay injury free.
Event is now full.
HAJIME OHARA IN CHINA
Hajime Ohara has missed some Noah dates as he is training the Eastern Hero Athletes in Shanghai, and also when they visit the Noah dojo in Saitama. Ohara is known to be a very strict trainer with a lot of emphasis on health and well-being, which goes further than working out as he is a big advocate for healthy eating and avoiding alcohol (although he does seem to have a weakness for cake); he has banned smoking during training sessions, forbidding his students to smoke while on breaks.
NOAH IN 2019 
Noah have announced the dates for "Navigation for The Future 2019". The tour will run from January 6th to Friday, February 1st. They have also announced their (provisional) Korakuen Hall schedule for 2019.
TAKESHI MORISHIMA UPDATE
There has been no real news following Morishima's arrest earlier in the month, but further sad details have come to light about his behavior prior to the arrest and his living circumstances.
Morishima it seems was (and is) homeless and without any form of income, and was begging for drinks, even using the tactic of asking to drink with the bar staff as it meant he would be given free drinks.
The management company who were sponsoring his return had originally put him up in an apartment, which they paid the rent for. The deal was that Morishima would concentrate on his return, however, Morishima didn't do this, and preferred alcohol to training. The President of the company, seeing that Morishima wasn't giving anything in return despite repeated requests for him to change his ways, eventually lost his patience and told Morishima to pack up and leave.
Morishima, seemingly unconcerned about this, told him flippantly that he was drinking in Shinjuku, and if he wanted the keys, he should come and get them.
GHC BELT NEWS
GHC Heavyweight Champion: Takashi Sugiura
GHC Junior Champion: Kotaro Suzuki
GHC Heavyweight Tag Champions: Naomichi Marufuji & Akitoshi Saito
GHC Junior Tag Champions: Minoru Tanaka & Hi69
The winner of Global League 2018 will earn the right to challenge Takashi Sugiura for the GHC Heavyweight title, if he himself wins, Sugiura says that he will nominate Masato Tanaka as his challenger.
Kotaro Suzuki will defend the GHC Junior Heavyweight title against HAYATA on the 17th November at Edion Arena, Osaka.
The GHC Heavyweight Tag titles have not had a challenger as of yet, and probably won't until after Global League wraps up. Mitsuya Nagai has hinted that he may challenge, but Saito said that he will not be granted a title shot. Katsuhiko Nakajima was asked if he was going to challenge after the Global League match with Saito, and said cryptically, he was "in the mood for shopping" (i.e., shopping around to see what deal is best).
The GHC Junior Tag Championship will be challenged for by Koji Kanemoto and Hiroshi Yamato on the 25th November at Korakuen Hall. Seiya Morohashi has also challenged for them, his partner at this time is as yet unknown, but it is thought it will either be TAMURA or Kouki Iwasaki.

TOUR TIDBITS
Atsushi Kotoge drinks "Revolutionary Coffee"
Naomichi Marufuji sat on a wet bench wearing thin grey pants…
There was a cat at the hotel in Ehime, much to YO-HEY's delight
Kaito Kiyomiya appears to be being fitted for tailored suits (long gone are the days of the oversize one thank god)
Daisuke Harada celebrated his 32nd birthday on the 13th November (President Uchida did not even know it was his birthday!), and Yoshiki Inamura will celebrate his 26th birthday on November 18th, Takashi Sugiura bought him an early birthday cake and a small party was held at a restaurant Inamura had been taken out to by his seniors.
Shu Nishinaga said Ally (the ring announcer) "whined like a child" for udon noodles.
Naomichi Marufuji says he was disturbed by mosquitoes, in November, which woke him up at 2.30am
Kenoh apparently went jogging in the Imperial Palace Gardens in Kyoto (a fan who saw him, thought he was a blonde delinquent fleeing the law before it was discovered it was Kenoh)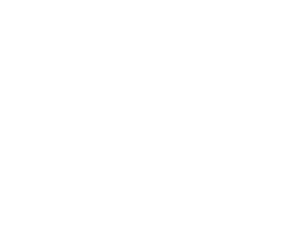 KING SHAMELESS CORNER 
After weeks of silence. Takashi Sugiura is back, posting a picture of Masao Inoue holding an ice cream cone with white foam in it and labeling it "mood" and photographing erotic looking food.
I'll leave it to your (and his) dirty imagination as to what exactly he meant by oysters being "erotic"…
BROADCASTS
The final night of Global League, 25th November, will be broadcast at 6pm on Saturday 8th December
The event on the 12th December, will be broadcast on the 15th December
The event on the 16th December, will be broadcast on the 22nd December
This is more than usual, and all seem to be going out on a weekly basis. This makes me wonder if the network are trying something out.
LINKS
K-FORCE: music inspired by Katsuhiko Nakajima
ARTICLE: "Traces to Nowhere: the tragic story behind the Takeshi Morishima arrest"
News article on Takeshi Morishima's drunken and chaotic life
Enjoy what I do? Help me do it full time.
IPW are the official vendors of Noah merchandise, please click here for shop
English translation of "Heir to the Ark" (Naomichi Marufuji's biography) ~ work in progress
Enjoy the Pro Wrestling NOAH content? Let us know on social media @theCHAIRSHOTcom and always remember to use the hashtag #UseYourHead!
The Good, Bad and Ugly: WWE Survivor Series 2018 Pre-Show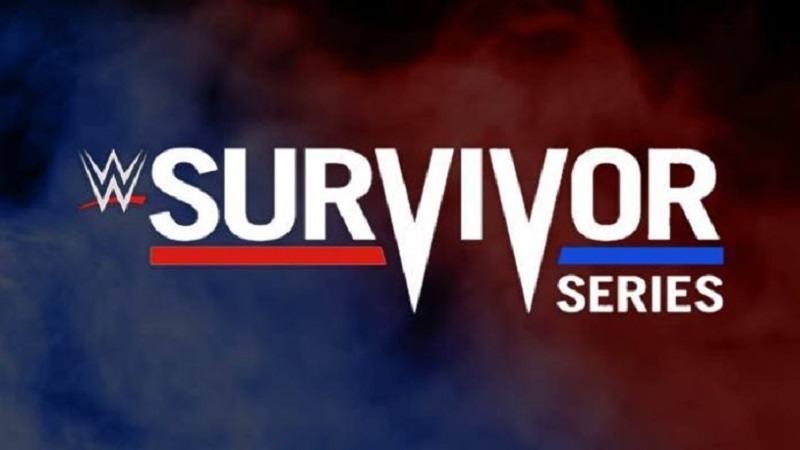 WWE Survivor Series (2018 style) is upon us, and that means Bobby is in to give you the Good, the Bad, and definitely the Ugly as we head into Staples Center!
One of my very favorite events.  A mainstay and vital time of year around Thanksgiving.  Oh how I miss the old school random tag matches.  The late 80's early 90's Survivor Series are a frequent watch on my WWE Network account.   It represents an original major show for the WWE, and usually involves some twist and turns. Of course this is the second year with the Raw vs Smackdown format. However the twist and turns happened a lot during the weekly Raw and SmackDown already but anything can happen in the WWE right?
The Good
Champion vs. Champion: Universal Champion Brock Lesnar vs. WWE Champion Daniel Bryan
I predicted this fued a long time ago.  After Daniel Bryan was injured and couldn't continue I thought it was a dead idea.  Now here it is.  Although this is a crazy WrestleMania level match, we will see that we have a few matches on this card that also are WrestleMania caliber.  Classic David vs. Goliath 101, with a no doubt hot crowd prepared for this match.  I am beyond happy that Daniel Bryan is now a sort of heel.  Becky Lynch was doing this also facing the female Brock Lesnar Ronda Rousey.  This really will be a Good match.  I do however fear that we may not have Daniel Bryan much longer after, as he is going to be pushed to the physical limit with the Beast Incarnate.  The crowd goes bananas Daniel Bryan Wins after multiple low blows or some type of debauchery.
WWE Raw Women's Champion Ronda Rousey vs. Charlotte Flair
Wooo! This is another crazy fantasy WrestleMania type of match of the night.  I really wish it was with Becky Lynch though, as I cannot get enough of "The Man."  I'm glad she will be okay though and will be back soon!  Charlotte is the perfect replacement.  The Queen will certainly be bringing her A Game against Rousey.  The crowd was behind Becky Lynch in this one, but now it is a toss up in my opinion.  I expect brutality and punishment galore.  The crowd will love this.  Although it is a difficult call Charlotte Wins due to outside interference.
Champion vs. Champion: Intercontinental Champion Seth Rollins vs. United States Shinsuke Nakamura
I won't waste a lot of time on this one.  Read who is in it.  This will be a good match.  We will see both of their respective skills shine with one another and I would be surprised if this match falls flat.  I see that they will be feeding off of each other and most likely will work this match on the fly until the finish.  Seth Rollins Wins!  I expect Dean Ambrose will mess up his day though soon after his hand is raised.  Rollins will be beaten up quite a bit already and The Lunatic will pick the bones.
Survivor Series Tag Team Elimination Match:
Team Raw – Bobby Roode and Chad Gable, The Revival, The B-Team, Lucha House Party and The Ascension vs. Team SmackDown – The Usos, New Day, Sanity, Luke Gallows and Karl Anderson, and The Colóns
Old school Survivor Series type Tag Match.  I just love these.  The fans get their money's worth.  You see a lot of talent and unlike a Battle Royal you see more action.  This match is filled with talent.  The story in this match and standouts I believe will be the members of Sanity. I really like Sanity and honestly anytime they are utilized it is interesting.  I know this match won't be perfect but it will no doubt be good.  Winners!  Pick em!   I say Team SmackDown.
Survivor Series Elimination Match:
Team Raw – Mickie James, Nia Jax, Tamina, Natalya, and Ruby Riott (w/Alexa Bliss, Liv Morgan, and Sarah Logan) vs. Team SmackDown – Carmella, Naomi, Sonya Deville, Asuka, and Mystery Partner
Again, I love these type of matches.  The Women's Divisions have been exciting, interesting and relevant.  They have been killing it!  I see Survivor Series as no different.  With the exception of Becky Lynch getting taken out, the segment on Raw was just awesome!  I really am excited for it, and this match will not disappoint.  I am a huge Liv Morgan fan however, but I hope she is not the pick.  I want someone new and unexpected.  I used the term Mystery Partner because that is what they called the Undertaker when he debuted.  I just want to be surprised and see someone we don't expect.  Team SmackDown Wins!
The Bad
Survivor Series Elimination Match:
Team Raw – Dolph Ziggler, Drew McIntyre, Braun Strowman, Finn Bálor, and Bobby Lashley w/ Baron Corbin and Lio Rush at Ringside vs. Team SmackDown – The Miz, Shane McMahon, Rey Mysterio, Samoa Joe, and Jeff Hardy
I just don't know how to feel about this match.  There is no doubt some talent, I just am not excited for it.  I do like the aspect of it being a traditional tag match but aside from that I am not surprised or excited overall.  I was hoping for something new but it is just more of the same old.   We will see a lot of action.  The match will be filled with high spots and risk, however I just don't see it doing anything special.  They will all provide their usual role we see every week, and for an important show like Survivor Series, that is kind of Bad to me.  Team SmackDown Wins!
Cruiserweight Championship Match: Buddy Murphy (c) vs. Mustafa Ali
I am not saying that this will suck, it won't be ugly.  However it will get lost.  No one will care about the outcome of this.  Both men are extremely talented and will deliver a stellar performance.  It just won't be significant overall which makes it a Bad Thing.  Murphy Retains the Cruiserweight Championship!
The Ugly
Champions vs. Champions: Smackdown Tag Team Champions The Bar vs. Raw Tag Team Champions AOP
AOP is nothing to write home about.  We are going to see a lot of stiff contact and predictable action.  This is another that will fall through the Ugly cracks of the show.  The Bar is just an awesome team but working a team like AOP will inhibit their abilities and really Ugly up the show for us fans.  This match is a shame.  AOP Wins a very sad match.




I truly believe the WWE could and should do better, but I won't be cynical.  I will be sitting back and enjoying the show no matter the case.  Check out my Post Survivor Series article and thank you for reading.  Please comment and share!  Prayers to the residents of California who are enduring this horrible disaster.  Much love to you.
How do you feel about this year's Survivor Series? Let us know on social media @theCHAIRSHOTcom and always remember to use the hashtag #UseYourHead!