WWE Rumors: Latest On Rey Mysterio-WWE Negotiations, How It Could Affect 'All In'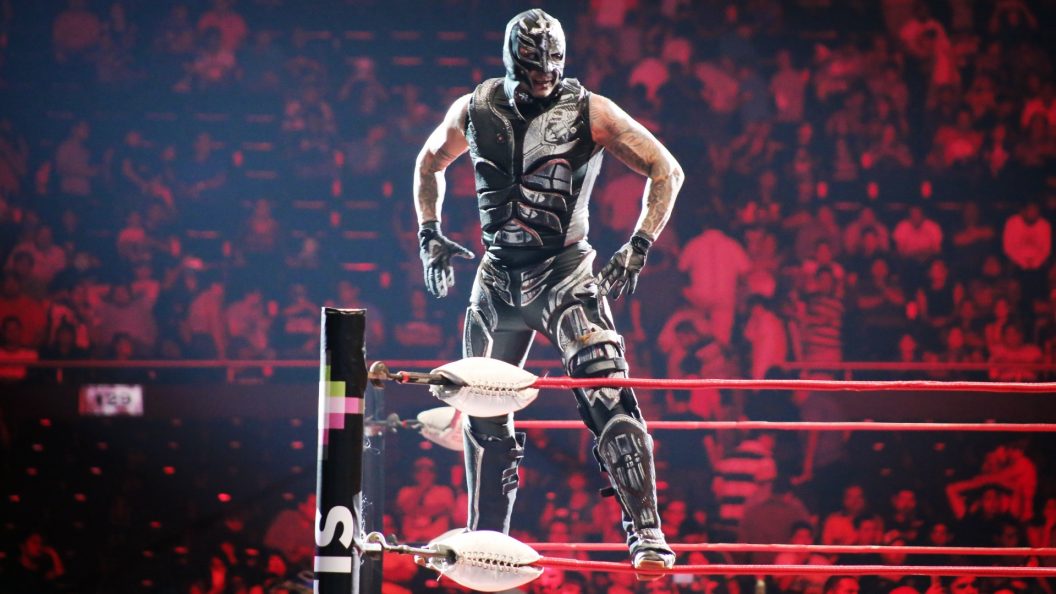 With the recent reveal of multi-time World Champion Rey Mysterio as one of the exclusive pre-order characters for the upcoming WWE 2K19 video game (read about that here), the questions regarding when the purveyor of the 619 may sign on the dotted line with WWE have not slowed. In late June, Rey revealed that he was still at the negotiating table with the company, saying that a three-year contract was what has been discussed (check that story out here).
The Wrestling Observer Newsletter is reporting that both sides are still in talks about Mysterio's return and that they're close enough to a deal that at this point, the discussion now surrounds Rey's remaining bookings, on top of a part-time schedule. Of course, Mysterio has committed to the Cody Rhodes and Young Bucks event, All In, on September 1st, which The Observer reports that Rey would still like to work. Additionally, it's said that Rey wants to be able to go to Mexico and drop his Crash World Championship.
With both sides reportedly being so close, it should be noted that The Observer also recently reported that WWE would like to break the news of Rey's return themselves. Therefore, when an agreement is reached an announcement could be fairly immediate.
EA's Take: For the life of me, I can't seem to figure out why WWE would continue wanting a full-time schedule out of Rey. It really doesn't make any sense to me. Have they not learned by now after all the time he spent on the shelf while under contract to them before? He CAN'T do it full-time anymore and hasn't been able to for YEARS. So what's the big deal? That should be an easy fix, just give the guy the damn part-time schedule and be happy if that's the case. As for Rey wanting to work All In, if I'm WWE I definitely don't want that happening. Nevermind having a WWE contracted guy at All In, I just wouldn't want to take the risk of him getting hurt outside of my own ring!
Continue following TheChairshot for all the latest skull smashing opinion, news, reviews and so much more! @theCHAIRSHOTcom on Twitter
Always #UseYourHead
Chairshot Wrestling News Shuffle (2/20/19)
Start your Wednesday off with commentary on Asuka and Daniel Bryan's WrestleMania opponents, the Uso's being free agents, NXT call ups and more!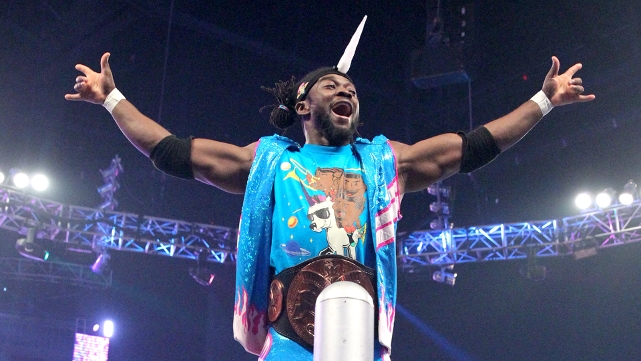 Jason shuffles into hump day with the Chairshot Wrestling News Shuffle! Today we take a look at news on Asuka and Daniel Bryan's WrestleMania opponents, the Uso's being free agents, NXT call ups and more!

Asuka's WrestleMania Opponent Set?
In yesterday's new shuffle, I chatted about the talk of Dave Meltzer stating that Lacey Evans was due for a huge push in WWE. On today's episode of Wrestling Observer Radio, Meltzer alludes to the possibility of a match between Asuka and Lacey Evans at WrestleMania:
"As far as Asuka goes, I mentioned the thing with Lacey Evans last night. There actually was talk of Asuka and Lacey Evans being the WrestleMania match and it was definitely on the books at one point. But I was let to believe that it was being reconsidered and that it was not a 100 percent 'no' and it could happen but it was actually on the books and the point is that it's not a 100 percent 'yes' and it may be more than likely 'no.' I wasn't given an opponent for Asuka yet. I don't think they have one."
Who Will Daniel Bryan Face At WrestleMania?
There have been various reports making the rounds today as to who Daniel Bryan may face at WrestleMania. There was talk that the WWE could bring back someone currently not active such as Batista, Bray Wyatt, Kevin Owens, or Sami Zayn. Other reports, and it is the hope of many fans, that Kofi Kingston will be the opponent at WrestleMania due to his strong showing and fan support at the Elimination Chamber pay per view. Wrestling Observer Radio has reported both scenarios the past few days, so perhaps we will receive an answer in the coming weeks.
Some Upset With NXT Stars On RAW?
Many of us were excited to see NXT stars on RAW Monday, however, some backstage weren't as excited. According to PWInsider, some stars backstage are worried that their spots might be in danger.  (Special thanks to @WrestlingNews.com for the transcription)
"Four NXT stars were brought up," Johnson said. "They were not at the Elimination Chamber. I can tell you from speaking to a number of people who work on the main roster, no one seemed to have any knowledge or understanding that they were coming to work the show. When they showed up, there was definitely some side eye at these guys going 'ok, why are they all here? why are they all working Raw?' There were definitely some talents who have been brought up within the last couple of months who really have kind of just floated around not due to their issues but just due to how they were treated on creative. They were kind of like 'oh, are they coming for my spot? what's going on here?'"
Johnson continued, "For the first time in a while, not that there was anger or resentment against the quartet that showed up last night [but] we definitely heard some feedback from some WWE talents who were paying closer attention to their own spot and what these talents coming up could mean for their spot. I don't mean people who just came up to the roster from NXT. I'm talking about existing mid-card talent who haven't gotten a lot or are just starting to get a little bit of a push again. There was definitely some whispering among each other like 'hey what's going on here?'"
Special Announcement Planned For NXT This Week?
According to an article on WWE.com, a big announcement is planned for NXT this week. The article states:
"Get ready, because this week's NXT will feature a special announcement. With no additional details currently available, speculation about what's in store for the black-and-gold brand is running wild. Be among the first to find out when NXT streams Wednesday at 8/7 C on WWE Network."
Uso's Potentially Leaving WWE?
It wouldn't be a Chairshot Wrestling News Shuffle without a potential AEW defection. Rikishi took to Instagram this morning congratulating his sons on winning the SmackDown tag team championships, but also alluded to the fact that they will potentially be free agents soon.
Jason's Thoughts On Today's News
Sorry for the lack of context and news in the shuffle the past few days, I've been battling the plague. In all honesty, what has the WWE done with Asuka since her winning the Royal Rumble in 2018? Her undefeated streak came to an end at last year's WrestleMania, and other than her recent SmackDown women's title victory over Charlotte Flair and Becky Lynch, creative really has done nothing with her. While I understand the potential that Lacey Evans may have, a push to a title match at WrestleMania seems like a bit of too much too soon. the infusion of young talent in to the WWE roster is great, but WWE shouldn't force it down our throats either.
I am very interested to see what the announcement will be on NXT. Perhaps there will be talent exchanged between RAW and SmackDown and NXT? Perhaps it is regarding the potential superstar shakeup in 2019?
Some of the main roster stars should be worried. Ratings have been in the toilet for months, and typically when times are like that, the WWE makes unorthodox moves to the roster. Black, Ciampa, Gargano, and Ricochet will be great additions to the main roster, and I wouldn't be surprised if Black and Ciampa aren't in the world title hunt within the next two years.
I am writing this as SmackDown is airing, and they plan to announce a Fastlane Undisputed title match before the end of the show. Most likely, Kofi Kingston makes sense, however, if the match occurs at Fastlane, don't expect Kingston to walk away as champion. WWE has a chance to finally push someone else for a change, hopefully they don't blow it.
Chairshot Wrestling News Shuffle (2/19/19)
Start your Tuesday off with commentary on DX in the Hall Of Fame, Lacey Evans, heat for Lio Rush, and more!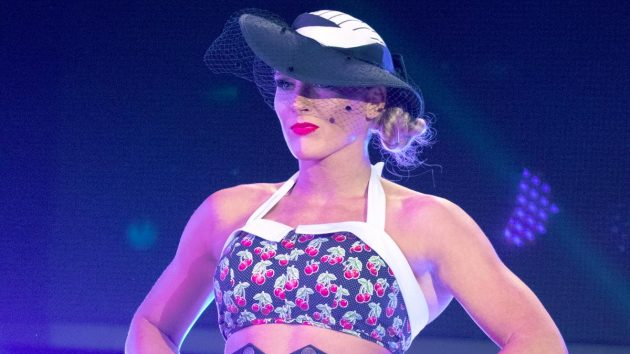 Jason shuffles into Tuesday with the Chairshot Wrestling News Shuffle! Today we take a look at news on DX, Lacey Evans, heat for Lio Rush, and more!

Why Becky Lynch Won The Royal Rumble
Many fans have been questioning why Becky Lynch won the Royal Rumble if the goal was to have Charlotte inserted in to storyline with Ronda Rousey. The current storyline between the three would have made more sense had Charlotte won. Dave Meltzer stated on the latest edition of Wrestling Observer Radio that Vince McMahon was insistent that Becky Lynch win the Royal Rumble.
Are You Ready?
It was announced earlier today that the first members of the WWE Hall Of Fame Class of 2019 will be none other than D-Generation X. Xpac, Shawn Michaels, HHH, The New Age Outlaws and Chyna will all be a part of the induction.
BREAKING: As first reported by @espn, D-Generation X are the first inductees in the WWE Hall of Fame Class of 2019. https://t.co/rIPCM14ewY

— WWE (@WWE) February 18, 2019
Big Plans For Lacey Evans?
Since debuting on the main roster and participating in the Royal Rumble, fans have wondered what creatives plans are for Lacey Evans. According to Dave Meltzer and the latest edition of Wrestling Observer Radio, Lacey Evans is in for a gigantic push, and there are many backstage officials that are very high on her.
Lio Rush Has Heat ?
Sunday nights finish to the Intercontinental title match between Finn Balor and Bobby Lashley has people scratching their heads. Perhaps there is reason to the breakup of Lashley and his hype man Lio Rush. According to PWI Insider Elite, Rush has heat backstage.
"It appears as if Lio Rush is done with Bobby Lashley. I can tell you behind the scenes there were not a lot of people surprised at that and not a lot of people surprised that Lio took the pin."

"There are times Lio has a reputation for rubbing people — including other workers the wrong way. Whether that was being held against him and that was part of the reasoning for him losing or whether it was just a decision to protect Lashley and shift the belt to Finn Balor, I guess we'll have to see based on how Lio is presented in the weeks and months to come."
Jason's Thoughts On Today's News
DX is getting a well deserved Hall Of Fame Induction, but I have mixed feelings on it. This feels like an easy way out for WWE to have Chyna included into the HOF, rather than have her inducted as an individual. Also, I am probably in the minority on this, but there are others more deserving to be in before DX. I personally would have went with the NWO, but I am a mark for the NWO, so that's just me.
Lacey Evans has the look, and her mic skills aren't bad, however, she is green as grass. It will be interesting to see what type of program they come up with for her. A clash with Alexa Bliss perhaps?