3000+ G1 Supercard Tickets On Stubhub: What Does it Mean?
Ring Of Honor and New Japan Pro Wrestling sold out Madison Square Garden with G1 Supercard, and the wrestling world doesn't really know what to think.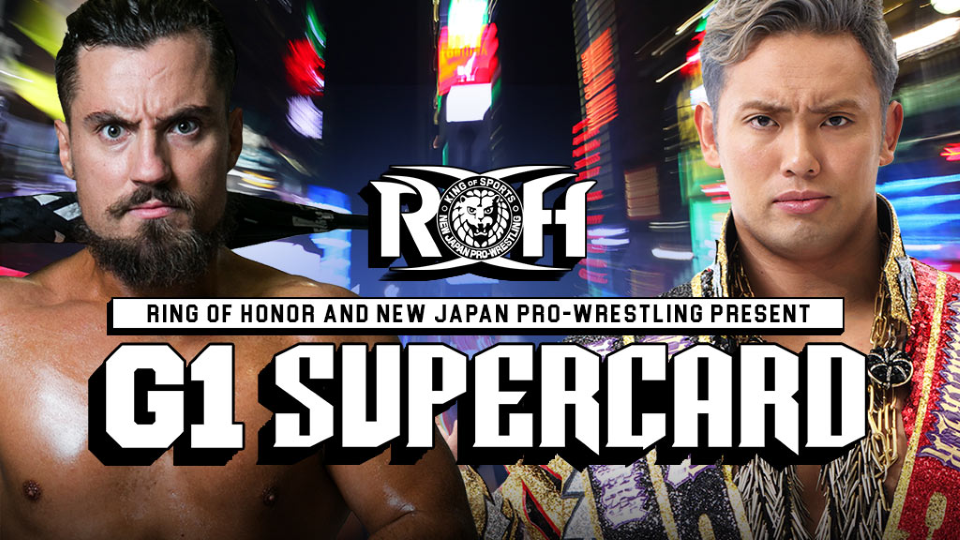 Ring Of Honor and New Japan Pro Wrestling are constantly in the news, but no topic has been more high profile for both groups than their attempts to run Madison Square Garden. First they were in, then they were out, then they were (finally) in again. All In, at that. (That's a pun.)
Then they went and sold the place out!
WE DID IT!!! I want to thank all involved in the G1 Supercard at MSG selling out today!! You know who you are!! @ringofhonor @njpwworld

— Cary Silkin (@rohcary) August 10, 2018
This is an amazing accomplishment for this partnership to come together and sell out the single building most closely linked to the ascension of the largest sports entertainment company in the world in WWE. It obviously wasn't easy. There were probably lawyers involved. But the world's most famous arena wanted to be a part of WrestleMania Weekend, and now it is.
Before we get into the secondary ticket market, realize one thing: Ring Of Honor and New Japan (which drew 43,000 to the Tokyo Dome for WrestleKingdom 12 in January) teamed up to compete with NXT.
It's something to be said that the number 2 and 3 wrestling organizations in the world have to team up just to compete with WWE's developmental brand. This is notable, but when one company does this on their own, then we have something to talk about

— Rey Ca$h (@itsreycash) August 11, 2018
But the bottom line is that ROH and NJPW sold Madison Square Garden out in 19 minutes. That's not 19 real minutes, mind you, because 10,000 tickets were sold in advance to those with the presale code via Honor Club (or found on Twitter). I would love to see the Honor Club numbers for August, as I have seen multiple posts on social media about people buying more than one Honor Club membership just to get these tickets. I don't know if they signed up for the monthly ($9.99), the annual ($99.99) or the VIP ($119.99), but's astounding business for Ring Of Honor if you ask me.
But let's look at the real matter at hand here…the secondary ticket market.
"Have fun buying those tickets at jacked up prices from secondary ticket resellers!"
This is a comment I have seen more than once since G1 Supercard sold out. And it's a sentiment that I totally understand. First thing I wanted to do was put some numbers to it: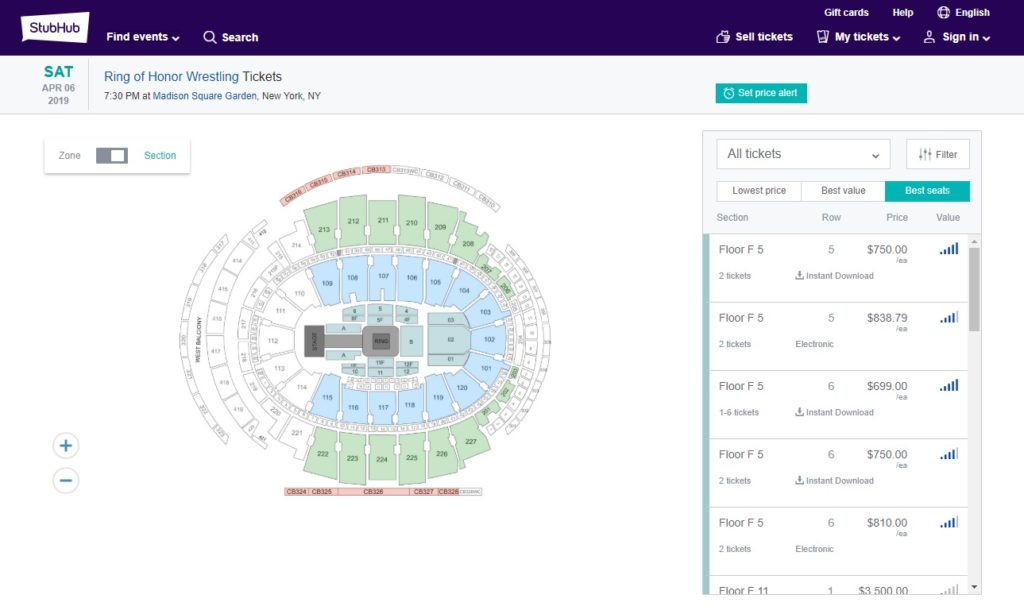 I went to StubHub, the largest and most prominent ticket reseller not named Ticketmaster, and did a little hand-count-research on G1 Supercard as of about 8:45 AM the morning of August 11 (pacific time), there are 3291 tickets available for this event. Tickets are available in every section of the building, at prices ranging from $3500 (good luck selling those) to $114 (those might move).
If the assumption that Madison Square Garden is configured for 19,000 fans for G1 Supercard (allegedly expanding to 21,000 between now and bell-time), that means 17.32% of the tickets sold are currently available on the secondary market.
17% seems like a high number, right? Well it's about to seem bigger when you consider that the same hand-count-research, at the same time, tells me that 548 tickets are available on StubHub for ALL IN. This represents 5.48% of the assumed 10,000 seats sold.
But ALL IN is less than a month away, and isn't part of WrestleMania Weekend. And it's not at Madison Square Garden. (But it IS a Ring Of Honor event, don't let yourself be fooled!)
Who else is hit by the secondary market?
I went in and checked SummerSlam as well (this is a little more difficult due to the ticket packages), but there are 2871 tickets available, and the 2017 edition of SummerSlam has a reported attendance of 16,128. That's 17.8% of the SummerSlam tickets available for SummerSlam, and at the time of this writing, that event is 8-days away.
Side note: Based on tickets already sold for G1 Supercard and the available seating configurations of both Madison Square Garden and The Barclays Center, ROH/NJPW are guaranteed to outdraw WWE NXT. At least in terms of people, but probably in gross ticket sale revenue as well.
Something else to keep in mind is why tickets are even listed on the secondary market. There are types of sales on the secondary market:
Ticket resellers who buy tickets with the sole purpose of reselling them online
Individuals who buy tickets with the hopeful intention of selling them online but will otherwise likely attend
Individuals who buy tickets with the full intention of attending the event, but would be willing to skip it if it means making a substantial profit
Individuals who bought tickets with no intention of ever selling them, but ended up needing to sell them due to not being able to attend or having a financial need arise
Earlier I mentioned that StubHub is the most prominent ticket resale site not named Ticketmaster. Ticket scalping, legal or otherwise depending on your location, has been a very real thing far longer than most of us have been alive. Much like professional sports leagues getting into the gambling market, Ticketmaster has long taken the "If you can't beat 'em, join 'em!" stance on scalping.
They've made a legal platform for you to sell tickets you own, and do so on the Ticketmaster website. They even take care of the distribution of your personal sale! What's more, you can sell your tickets in the very same spot Ticketmaster is selling them for the same even, oftentimes to a buyer who might not even realize they are buying a resale ticket. I've used this service myself to secure multiple event tickets, and I've always done so at a great price. But it's a thing, and can't be ignored.
It also confused the hell out of some people buying G1 Supercard tickets:
Did anyone come across this during @ringofhonor's #G1Supercard pre-sale? pic.twitter.com/2eut6EN67P

— HOOD NAITO 🧐 (@morishima_youth) August 8, 2018
But what does it all mean, man?
It's really easy to try to rob Ring Of Honor and New Japan of the credit they deserve for selling out Madison Square Garden. G1 Supercard sold out MSG, a historic venue forever associated with WWE in the eyes of most wrestling fans. They sold 19,000 tickets with barely anything announced. This is right in the face of the fact that Cody Rhodes, The Young Bucks, and Kenny Omega could work for WWE by the time April 6, 2019 rolls around.
At least 17% of those tickets are being sold on the secondary market, most of them (but not all) probably purchased with the intent to do so. This same thing happens to WWE, UFC, NFL, and every other major entertainment outlet in the United States. For Ring Of Honor (and New Japan) to be included in that category is NOTHING but a compliment.
But it also speaks to the power of WrestleMania Weekend, which was built of course, by WWE. I was asked to provide a quote for someone today, and here's what they got:
"On average I'd say the biggest financial opportunity for the biggest companies exists on WrestleMania Weekend."
The criticism of Ring Of Honor (most people don't lump New Japan in with this one) only selling this out due to it being WrestleMania Weekend is just silly. ROH wouldn't try to run Madison Square Garden on a regular basis, hell WWE doesn't even sell 19,000 tickets that many times per year.
What this truly means is that Ring Of Honor is a sustainable business entity in the world of professional wrestling. They can manage the ups and downs of a yearly cycle, can capitalize on opportunity (like WrestleMania Weekend), and can draw eyeballs all around the world. They're often criticized because they made changes the product to appeal to a larger audience. Well guess what? That worked!
Ring Of Honor has outlasted WCW, outlasted ECW, and outlasted so many other wrestling promotions that shot for the moon and missed. They've grown, they've shrunk, they've changed, and they've evolved.
But they're still here, and they still keep achieving more and more each year. G1 Supercard is the latest (and biggest) achievement on that list.