Andrew's G1 Climax 28 A Block Ratings & Review: Day 13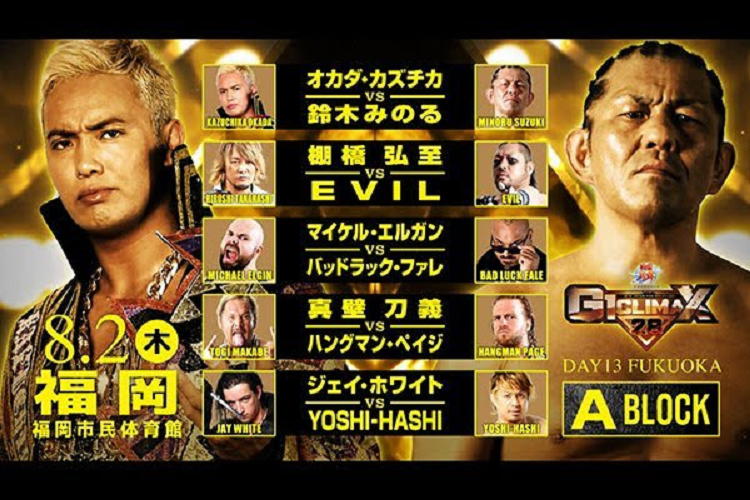 It's going to be hard for the A Block to match or exceed the previous night. With so many people already eliminated, the mindsets have to change. Makes you wonder who will show up.
The biggest angle here is EVIL. If he can play spoiler on the block leader again, that will keep most of the top half of the leader board alive.
So, no pressure EVIL, right?
Bad Luck Fale vs Michael Elgin
Both of these men have met before in the New Japan Cup, but never in the G1 Climax. We learn today that Elgin's left bicep was injured in the Suzuki match, but he tried to ignore it for the Okada match. Can Fale take advantage of Elgin with a bad arm?
Fale tries to do a test of strength against Elgin's bad arm at the beginning of the match, and that was mostly what Fale was focusing on. Sadly though, the mach never really picks up. A Suicide Dive against Loa to try and neutralize that threat, but after that nothing special.
Elgin's arm gave him issues throughout the entire show to stop him from pulling off some suplexes and even a Burning Hammer, but he still held his own. When the ref bump happens, it seems unnecessary, especially since Elgin fights of Loa very easily and looks to set up the finish.
Elgin goes to the top rope after performing a Scoop Slam on Fale, but Tama comes out with a chair and starts wailing on Elgin. Marty Asami throws out the match, and we get another DQ finish.
Winner:: Elgin via DQ
Rating: ** 1/4
Togi Makabe vs Hangman Page
Page has had an interesting first G1. He wins his first match by DQ, but has been getting outclassed left and right. Makabe does have a fairly decorated career, but isn't seen as one of the veteran pillars. Does Page finally get his first signature victory?
This was kind of a text book basic match. Number strikes and lariats coupled with a little barricade fun on the outside. Makabe lands his signature Laughing Head Strikes in the corner, goes for the Spider German Suplex, Page counters but gets caught with a Spider Belly to Belly.
At this point we tend to have learned, if Makabe doesn't hit the Spider German, he doesn't win. A disoriented lariat from Makabe lays both men out, as we head to the finish. Makabe lands a few clubbing blows while Page is on the apron, goes to hit the ropes, but Page flips in and levels Makabe with a Buckshot Lariat.
Quickly, Hangman transition that into the Rite of Passage, to pick up his first legitimate G1 victory.
Winner: Page via Rite of Passage
Rating: ***
YOSHI-HASHI vs Jay White
Both of these men are members of CHAOS, so in the previous nights tag, Jay suggested they don't fight, but YOSHI thought differently. So Jay is in a, "teach Yoshi a lesson", kind of mood.
Jay jumps on HASHI while the ref is checking him, and continues his usual Switchblade brand of crap. I was amused when Jay takes the match to the outside and starts saying , " Where are my friends? There are my friends", in regard to the English announce team.
Kevin Kelly and Rocky Romero get pissed off and make mention that he's knock them off air 3 times this tournament. White doesn't care, and he repeatedly rams YOSHI into the barricade and apron. HASHI does manage to get some offense in, after Jay tries to introduce a chair.
A running Head Hunter ( Block Buster) and another from the middle turnbuckle start to build some momentum for YOSHI. It should be noted, that YOSHI never tried the Butterfly Lock and only went for Karma on multiple occasions.
Sadly, YOSHI wasn't destined to win this one. Jay pulled his usual stunt of using the ref as a shield and ramming HASHI into him. All the while, giving him the opening to hit a low blow and eventually win with Blade Runner.
No shock here, but Jay feeling like he was teaching YOSHI a lesson could be an interesting wrinkle, if CHAOS does splinter.
Winner: Jay White via Blade Runner
Rating: *** 1/2
Hiroshi Tanahashi vs EVIL
Though A Block isn't as drastic of a run away as B Block is looking, Tanahashi still has a small cushion. EVIL really needs the win to allow him to stay in the running. With EVIL having to face Okada and Suzuki for his final two matches, bringing the Ace down a peg, would help everyone in the block.
A good, yet underwhelming match. EVIL focused on Tanahashi's arm through most of the match, where Tanahashi tried to play it neutral. Lariats were EVIL's best friend, every time he could hit one, Tanahashi was rocked pretty hard.
We get a nice roll through, into a Darkness Falls for EVIL, only to end up in a 2 count. Tanahashi finally starts aiming for EVIL's injured knee with a few Dragon Screw Leg Whips, and we start seeing the math add up. EVIL goes for Everything is Evil, Tanahashi reverses it, hits his own STO, and then ends the match in style with a High Fly Flow.
A pretty run of the mill match with Tanahashi, nothing bad, all mostly good, just nothing that stood out.
Winner: Tanahashi via High Fly Flow
Rating: *** 3/4
Kazuchika Okada vs Minoru Suzuki
Now that we know EVIL is mathematically out of it, we come to two men who have a lot of history in a short period. Their last two matches together have ended in draws, so there's a precedent to believe this may end the same way. If both of these men Draw, well that just makes the last few nights significantly more intriguing.
Well this match was a little shorter than I expected it to be, but both men did their thing. Suzuki attacked Okada before the bell, took him to the outside, buried him in the barricade and chairshots. Then he threw him into a few rows of chairs, before Red Shoes tried to get them back to the ring, and used a chair to protect himself from the ire of Suzuki.
Okada had two big moments where he nearly got counted out, but returned to the ring for more punishment. There was a very long exchange of strikes between Suzuki and Okada. Suzuki mocked the Rainmaker pose and at one point both were laughing and just beating the hell out of one another.
Towards the end we see both men hinting at using the other's signature moves. Okada almost does a Gotch Style Piledriver, but Suzuki counters into a Tombstone attempt, but that gets countered into a Tombstone from Okada, where Okada adds a little Gotch Style flair before landing the Tombstone.
Following that up shortly with the Rolling Rainmaker, and then the official Rainmaker for the pinfall. The loss eliminates Suzuki, so we've got another three horse race.
Winner: Okada via Rainmaker
Rating: **** 1/4
A Block Standings:
Hiroshi Tanahashi: 6-1 (12 Points)
Jay White: 5-2 (10 Points)
Kazuchika Okada: 5-2 ( 10 Points)
Minoru Suzuki: 4-3 (8 Points) – Eliminated
EVIL: 4-3 (8 Points) – Eliminated
Bad Luck Fale: 3-4 (6 Points) – Eliminated
Michael Elgin: 3-4 (6 Points) – Eliminated
Togi Makabe: 2-5 (4 Points) – Eliminated
Hangman Page: 2-5 (4 Points) – Eliminated
YOSHI-HASHI: 1-6 (2 Points) – Eliminated
Thoughts:
This day, wasn't bad, in fact it got progressively better. But sadly, there were no impactful surprises. Okada had to be the assumed favorite, Tanahashi keeps his lead on the block, and Jay White is lurking in the shadows.
Will Jay's tiebreakers over Okada and Tanahashi play a part in the final standings? Find out next time on Dragon Ball – nope…that's not right. Find out on August 5th.