Andrew's NXT Takeover Brooklyn 4 & SummerSlam: Ratings & Review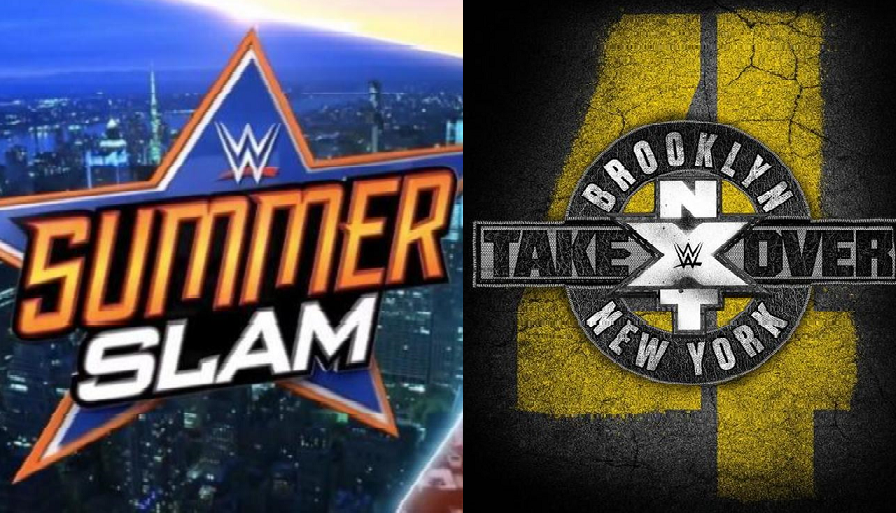 Well everyone, this is what happens when you have plans on a Saturday. So I didn't get to watch NXT live, so now I get to power through 84 hours of programming at the same time.
Everything I've heard said the show was a good one, which is always nice to hear. Especially since I said during the picks article, that this was one of the shows with a very low amount of buzz. Time to find out what went on, before SummerSlam goes into full swing.
NXT Takeover Brooklyn 4:
NXT Tag Team Title Match: Undisputed Era (c) vs Moustache Mountain
NXT really likes the tag teams to go on early, but this match lived up to the story. The third match in about 5 weeks, with both teams getting one win, the rubber match was damn good.
Numerous callbacks to their previous matches, including the towel spot. Tyler Bate still did that stupid Fireman's Carry/Giant Swing move, with makes no sense, but the match still flowed well. Trent Seven pulled off a move I've never seen him do, which looked like a Vertical Suplex lift, into a Flowsion, But the pace was so fast it felt a little too much, there were even times it looked like Kyle O'Reilly wasn't quite ready when Strong was calling for tags.
Aside from nit picks, this was the best match I've seen between the two, I just wish it was paced slower. Undisputed Era came out the gates hot, and aside from one moment where O'Reilly had Tyler Bate in a Heel Hook submission, the frantic pace never seemed to change.
After Kyle kicks out of a Burning Hammer/Knee Drop tandem move, Strong slides in to cut off Bate and they land Total Elimination out of nowhere. The ending seemed a little abrupt, but with how the match was paced, it seemed very fitting.
Winner: Undisputed Era via Total Elimination
Rating: **** 3/4
Velveteen Dream vs EC3
This match was pretty awkwardly paced honestly. Dream with the HBK/Hogan over selling being kicked in the corner and then getting crotched on the rope. But I'm not really sure what they were trying to get across. EC3 controlled the pace until Velveteen Dream hit a Twisting DDT on the ramp.
I suppose if I need to say something, it's that this was basically a main roster match on NXT. There were a lot of entertainment spots, that didn't make a ton of sense or just looked awkward, but the crowd seemed to enjoy it. A rolling Dream Valley Driver on the apron gave Dream the idea to hit the Purple Rainmaker on the apron, roll EC3 back in and squeak out with a Takeover victory.
Winner: Velveteen Dream via Purple Rainmaker Elbow
Rating: *** 3/4
NXT North American Championship Match: Adam Cole (c) vs Ricochet
Ricochet's talent versus Adam Cole's ego. Not sure if the battle is which is better or which is bigger, but it should be fun to watch.
Adam Cole talked smack most of this match, but the exchanges were pretty impressive. Cole showed a lot of spots of being the clever heel, but Ricochet threw haymakers and Cole ran out of answers. Tiger Feint in the corner ropes, Fosbury Flop, Inside Out Frankensteiner off the apron, all big impressive moves. But Cole had fantastic moments from timing a Thrust Kick perfectly to dodge the Asai Moonsault and kick Ricochet in the face as well as a nice Backstabber catching Ricochet mid Back Handspring.
The climax moment had to be the strike exchange that ended in a random near fall. Going back and forth and then Adam Cole falling on top of Ricochet made you wonder if the match was gonna end in a fluke way, or if Ricochet would realize what was going on. As you can see, Ricochet realized, overcame and picked up his first WWE championship.
All in all, the selling was solid, the story it was telling was great and amplified by Adam Cole running his mouth in the ring. It's just one of those special moments and this was the first glance the WWE Universe got to see at a really great Ricochet match.
Winner: Ricochet via 630 Senton
Rating: *****
NXT Women's Championship Match: Kairi Sane vs Shayna Baszler (c)
The second of three rubber matches tonight. Kairi beat Shayna to win the first Mae Young Classic, but Baszler got her win back after they were both in NXT. Which wrestler has grown the most in the past year?
Kairi immediately starts off with going for submission holds, which gets into Shayna's head. A Heel Hook followed up with a Stretch Muffler attempt get under Shayna's skin and we see both women pulling out different things. Shayna's striking has evolved, even pulling out an interesting Hesitation Bicycle Knee Strike.
Since Kairi was seen as the underdog the entire build, it was definitely driven home through the match. Kairi paced out the match much like Hiroshi Tanahashi, working through the pain to hit signature top rope moves and capturing the hearts of the audience while she just wouldn't quit. Numerous close calls with the Kirafuda Clutch made it look like Kairi was as good as dead, hell, Shayna even kicked out of an Insane Elbow.
The finish really made you feel like Shayna was going to win this when she got her feet up to counter the Insane Elbow and went for the Kirafuda Clutch, but shades of Ember Moon, Kairi just floats backwards and manages to reverse the submission into a pin. So where Kairi has shown more heart and a bevy of submission moves, Shayna lost the same way she did when she first joined NXT.
Curious how this will all play into the story moving forward.
Winner: Kairi Sane via Submission Reversal Roll
Rating: **** 1/4
NXT Championship Last Man Standing Match: Tommaso Ciampa (c) vs Johnny Gargano
Best friends turned bitter rivals, who love gimmick matches. I'm fully aware this is only a match because Aleister Black got legitimately injured, but I also can't stop myself from being burnt out by this story. Hopefully whatever happens in this rubber match, puts some space between these two.
Well this match starts off slowly, but that's necessary since there's so much to unpack in this rivalry. After the Spanish Announce Table destruction, the match starts to really pick up. No amount of me talking about moves or spots will do this justice.
Going through tables, but propping himself up on a crutch is a layered moment for Ciampa. The handcuffs, the exposed ring, ripping the padding apart on the outside and even the end. Johnny has a tendency to let his emotions get the best of himself. All the way back to when Zelina Vega distracted him with a DIY shirt, to Chicago II when he knocked down the ref so when he had Ciampa beat there was no one to count his victory and then he literally walked into a DDT. So I've seen some complaints about the ending, but it makes so much sense that Gargano would do something to screw himself over.
There's probably some layered comment about Cleveland and shooting himself in the foot, but damn, this was the best of their trilogy…and now I'm not completely sure what I said earlier holds up. Even if I'm sick of the story, these matches are tremendous.
Winner: Ciampa
Rating: ***** 1/4
Thoughts:
Well this definitely ranks up there with the previous Brooklyn shows. Ricochet vs Cole, Ciampa vs Gargano, those will be matches people remember for a few years. Hell Kairi and Shayna was surprisingly gritty and tough, not quite as good as Sasha vs Bayley or Ember vs Asuka, but damn good.
Takeover brought it and even if most people see NXT in an odd transitional period, it's hard to argue with the quality of the last few shows. SummerSlam will have it's work cut out for it.
It's Time For WWE To Reunite The Wyatt Family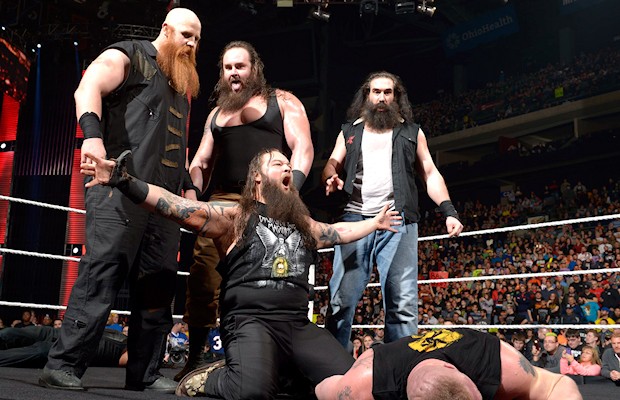 Given all of their strife over the past year, Carol thinks it's time for WWE to bring a family back together–The Wyatt Family!
Out of all the wrestling stables in recent years, The Wyatt Family stands out as one of the most intriguing groups. The trio consisting of Bray Wyatt, Luke Harper, and Erick Rowan made their main roster debut in the summer of 2013.
From the moment they stepped into the ring, the stable piqued the interest of the WWE Universe. Bray Wyatt was perfect as the menacing cult leader, who preached about saving the world from darkness. Harper and Rowan excelled in their roles as Bray's followers, doing whatever their leader commanded.
The group grew bigger when Braun Strowman joined the stable, making them a force to be reckoned with.
Yet, like many wrestling stables, The Wyatt Family soon disbanded. After their split, the four men have gone on to have decent singles careers with some ups and downs along the way.
Braun Strowman has been the member to have the best career.He's gone on to become one of WWE's top guys and has competed in numerous matches for the Universal Championship. While he hasn't won the coveted title yet, Strowman has won over fans, who are strong supporters of The Monster Among Men.
Bray Wyatt also achieved a great amount of success by becoming WWE champion along with two-time tag team champion. As for Harper and Rowan, they're run as singles competitors was a little rocky. But the two men would team up as The Bludgeon Brothers and became one of Smackdown's top tag teams.
Currently, all four men are out of action. Strowman, Harper, and Rowan are dealing with injuries. As for Bray, he hasn't been seen since July when he and Matt Hardy lost the RAW tag titles. But in recent days, he's been hinting at a return, promising a something different.
While Bray hasn't been on television in months, he did make an appearance during the Starrcade house show a few weeks ago, when he wrestled Baron Corbin. Bray's involvement at Starrcade has led to speculation that he'll be making his return at the upcoming TLC PPV during Braun and Corbin's match.
If Bray does return to help Braun, does that mean that a Wyatt Family reunion is in the works?
It seems possible and to be honest this could be the best thing to happen to the group.
As I stated earlier, the men have had ups and downs in their singles careers. Braun's momentum has faltered since losing his Universal Championship match against Brock Lesnar. Bray has been just one of the many wrestlers who've suffered at the hands of WWE creative team.
From a storyline point, you could have Bray come back to help Braun resurrect the monster that Strowman is. With Bray's guidance, Braun could gain back some of the momentum he's lost and become a dominant force among the roster.
As for Harper and Rowan, they too could benefit from a Wyatt Family reunion. The two have struggled following the disbanding of the group.Yet, with them part of the stable again, they'll be back in the spotlight as they take on their roles as Bray's enforcers.
There's no telling what WWE has planned for Bray, but with Wyatt's recent tweets and TLC coming up, it's going to be interesting to see if The Eater of Worlds makes an appearance and sets up a Wyatt Family reunion.
Let us know what YOU think on social media @theCHAIRSHOTcom and always remember to use the hashtag #UseYourHead!
Are We Really Even Fans Anymore?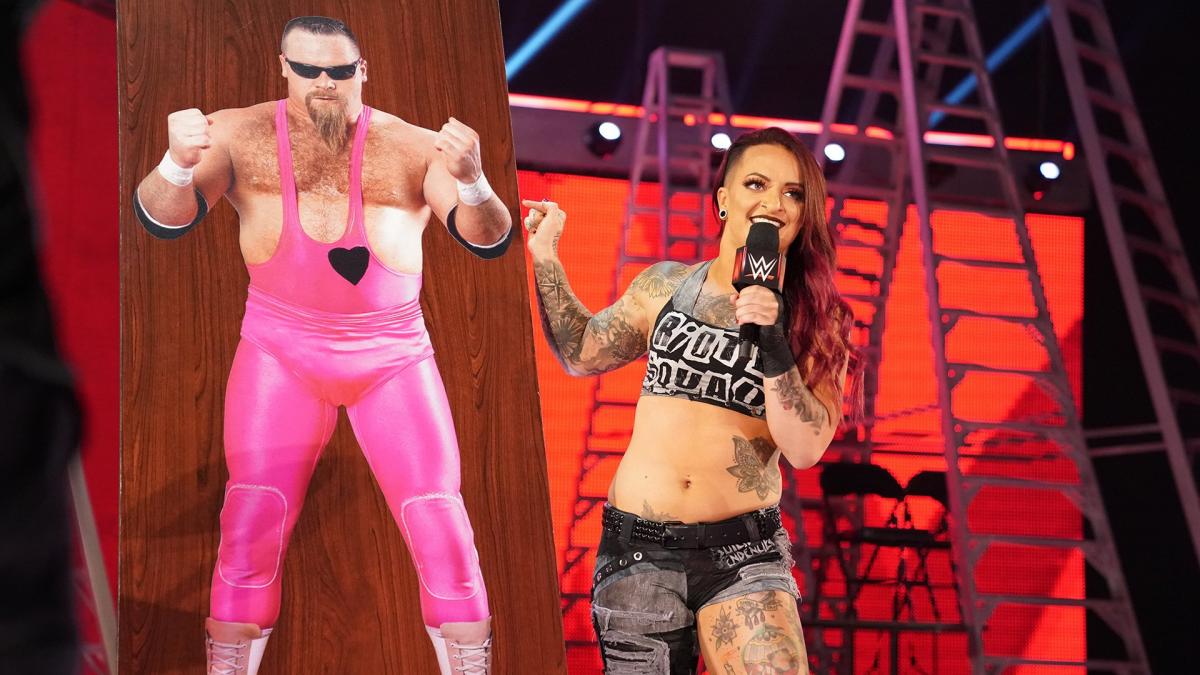 Rey Ca$h looks to speak some truth into your life about your hatred of WWE Raw!
On April 3rd, 2016, The Walking Dead went from the biggest show on television to one riddled with controversy.  This particular episode is the infamous one where Negan, the biggest of all the big bads, makes his debut and kills an unknown member of Rick's crew with Lucille, his barbed wire bat.  We don't see who it is and we are forced to wait 6 months to find out who died and what all happened.
Why am I talking about The Walking Dead on a wrestling website?  I bring up this show, and in particular this episode, for one major reason.  The fan reaction to it was vitriolic.  Some fans hated it.  Some loved it.  Everybody had an opinion.  But for a large number of fans, that was where the show crossed the line.  Funny thing is, if you read the comics that the show is largely pulled from, this was a paramount storyline that was always going to have to happen on the show.  So essentially, fans were told EXACTLY what was going to happen, even down to the smallest details, and they revolted.
Sound familiar?
You Hate Raw.
The vitriol spewed at the WWE currently, particularly Monday Night Raw, is stronger than ever.  The thing is, however, WWE has never lied about what type of show Raw is.  It's a variety entertainment hour featuring wrestling.  And yes, ratings are down, but they're consistently one of the top 5 shows watched every night on cable.  So, do the ratings really matter when nobody's watching anything else either?
I understand that we as fans have an intrinsic right to feel how we are led to about the product we are given.  For many, Raw is sub-par to terrible.  I get that and respect that.  I even echo that to a small extent.  But I've started to wonder one major question as of late – are we really even fans anymore?
I hate to go all literal on you guys, but Merriam-Webster defines fan in this particular respect as "an enthusiastic devotee (as of a sport or a performing art) usually as a spectator; an ardent admirer or enthusiast (as of a celebrity or a pursuit)."  We all know that the word fan is derived from the word fanatic, as these definitions allude to.  Have we thought, however, about how that really affects us?  Do we think about what type of fan we are?  How our fandom affects that which we are said fans of???
The WWE needs no sympathy.  They're a billion-dollar company, thriving in a business sense that was never before thought possible.  But these criticisms…if we think deeply into them, is it really because the show is that bad, or is it because we're not fans of what the product is anymore?  Let me give you an example.
Gregg Popovich, super successful and championship winning coach of the San Antonio Spurs, was in the news recently because he mentioned that he thinks the current NBA is not beautiful anymore.  The game, which has progressed from slower, more stylistic and cerebral play to quicker, more skill laden play, isn't what he's used to anymore.  Add to that the empowerment of the player in this generation and the rise of super-teams, and many fans tend to agree with Coach Pop.  The NBA has jumped the shark for many.  For others, however, it's the best it's ever been.  It's massively entertaining, it's breeding more stars than ever, and the skill is at an all-time high.
This reminds me of wrestling, WWE in particular.  This generation of fans seems to be primarily interested in in ring prowess and "workrate", choosing to focus on sequences of moves and characters that only resonate with them.  Older generations, however, were largely intrigued by the characters and the stories told, with promo ability being lauded even more than in ring ability.  A great match was only great because the story allowed it to be.  Neither side is wrong, but much like if you watch CZW, you can expect hardcore style wrestling, if you watch Monday Night Raw, you can expect story driven television.
But What Is Raw?
Let's take a look at the show from an analytical perspective.  We have to acknowledge, from the beginning, that 5 of the top 8 male stars on the brand are out for significant periods of time.  Roman Reigns is facing the fight of his life with leukemia, Braun has had his second surgery in years on his elbow, Kevin Owens and Sami Zayn will be out possibly past WrestleMania season because of major surgeries, and the Universal Champion Brock Lesnar is somewhere on his farm.  All criticisms must acknowledge this.
So, the major stories for the guys on the show revolve around Baron Corbin as General Manager Elect, and Seth Rollins and Dean Ambrose's blood feud revisited.  For the women, Ronda Rousey is locked in a heated feud with Nia Jax and her cousin Tamina, and Natalya is out for personal revenge against the dastardly Ruby Riott and her Riott Squad.  I ask you to think seriously about this question I'm about to ask you guys.  What do all four of those feuds have in common?
They're all story driven.
Corbin is drunk with power, abusing it to his whim.  As such, he's gained allies who want to be at the top, and are using Corbin's power to hold their enemies down.  Rollins and Ambrose have a near biblical feud, revolving around a very real and personal issue of betrayal.  Ronda Rousey faced her toughest challenge recently against Becky Lynch and Charlotte, and Nia, who broke Becky's face, wants to get back the title that she lost due to a cash in and beat the "Baddest Woman On The Planet" to prove her dominance.  Ruby Riott broke Natalya's late father, Jim "The Anvil" Neidhart's sunglasses, destroying a personal heirloom of Nattie's.  Natalya wants to get personal revenge for that and the multiple attacks that the Riott Squad have given her.
All four of those are Raw style stories.  They are largely told through promos and backstage vignettes, they are riddled with drama, and they are building to a crescendo.  The stories can always be told better, but are you sure you're not against the stories before they're even told to you because of your expectations?
Look at Dean Ambrose for example.  We've long salivated at the thought of a truly unhinged, heel Ambrose.  Instead, we get a germophobic, cerebral, emotional Dean.  In a sense, the emotionless lunatic has turned into the over emotional thinker.  And many fans are down on it.  Why???  The promos have been fantastic.  The cat and mouse game he's played with "The Architect" have been wonderful.
But, it's not what we expected.  And to add to that fact, it's not what we wanted.
That take is not only unfair, but it's a hindrance to everybody involved in telling that story.  The people with that take have essentially said that they refuse to let WWE tell them a story because it's not what they want.  That is MASSIVELY different than being told a story in full and not enjoying it.
I legitimately ask you all, which side are you on?  Not liking things because it's not what you wanted or expected, or reacting to what you're being given.  I'd bet good money it's the former.
My goal in this column is not to tell any of you that you're wrong in your opinions.  I'm not even trying to advocate for Raw – if you listen to Chairshot Radio or The Outsider's Edge, you'll see that I criticize the show just as much as you guys.  My point in this is simply to push you to step back and look at the big picture.  Re-evaluate what you think you want.  Ask yourself are you giving the show a legitimate chance, or are you already against the show before they get a chance to entertain you.  Then, maybe you'll realize that Raw doesn't need to change when they're being who they've always been.  Maybe them not changing isn't the problem.  Maybe you're the one who needs to change.  Maybe we all are.
FIN
Let us know what YOU think on social media @theCHAIRSHOTcom and always remember to use the hashtag #UseYourHead!