Andrew's NXT Takeover Brooklyn 4 & SummerSlam: Ratings & Review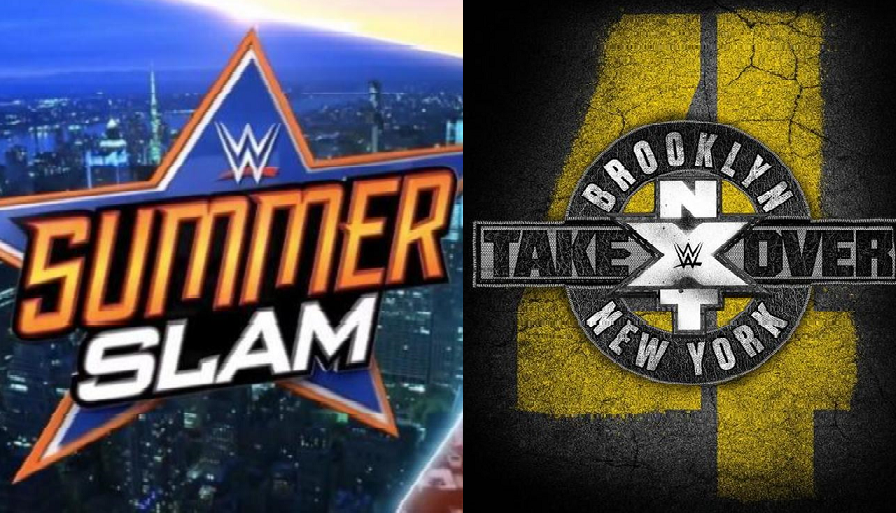 So now that I'm caught up on Takeover Brooklyn 4, time to get my 5 Hour Energy ready and figure out what I'm eating. Hmm…well let's get this Kickoff Show started.
SummerSlam:
Rusev & Lana vs Andrade 'Cien' Almas & Zelina Vega
Rusev and Lana have come up short in singles matches because Aiden English inadvertently messes things up. Will they keep him away and get a win?
Ugh, ya know, Andrade is smooth in the ring but the women in this match really brought the quality down. Zelina wasn't great when she was Rosita in TNA, and it looks like she's not significantly better. Lana's whole gimmick was being green and not great, but somehow she looks like the more competent one in the ring. I don't even know what to say, especially since Zelina barely got her feet on the ropes for the Dirty Pin, and it was just awkward. Thank god it was on the pre-show.
Winner: Zelina Vega via Dirty Pin
Rating: * 3/4
Cruiserweight Championship Match: Cedric Alexander (c) vs Drew Gulak
This match actually flowed really nicely. Gulak's tough mat based style mixed well with Cedric's offense. We saw a few stiff strikes, some dives to the outside, but Gulak had some of the flashier moments. Kicking Cedric's feet out from under him causing him to crash into the turnbuckle, the Gu-Lock through the ropes and earlier in the match we got another Gory Special.
Gulak was able to catch Alexander's foot during a Neuralyzer and apply an ankle lock, until we got locomotion cradles for at least a dozen near falls before Cedric finally got the best of it. So in a surprising fashion, Alexander wins after a cradle sequence. Very good match.
Winner: Cedric via Rolling Cradle
Rating: *** 3/4
Raw Tag Team Title Match: B-Team (c) vs The Revival
*sigh* Okay, the finish was kinda amusing, but the new dumb entrance theme and the constant dumb luck isn't really doing much to establish a level of validity for the tag belts. The match was actually pretty decent though, The Revival came in with a great plan hitting an early Shatter Machine on Axel to keep him out of commission for most of the match. Bo Dallas showed a lot of resiliency honestly, kicking out of tandem moves and holding on long enough for Axel to get his faculties back.
Granted yes, Dawson having an Inside Cradle for a 4 count isn't the story since the referee was distracted. Dallas gets throated over the top rope, stumbles backwards and trips over the pinning combination and it reverses it, so Axel ends up pinning Dawson for the win.
It was somewhat entertaining and the feel good story continues, but really, it's getting ridiculous.
Winner: B-Team via Inside Cradle
Rating: ***
Intercontinental Championship Match: Dolph Ziggler (c) vs Seth Rollins
Well it looks like they have Ambrose's return being a reunion tour of sorts. Return from the injury and be a deciding factor in the match, it makes sense.
When it comes down to the match, it was pretty damn good. The dynamic between McIntyre and Ambrose on the outside for most of the match was tenuous and added a different air to the match. It started off very deliberately paced and didn't really feel like it sped up until Rollins hit a Reverse Superplex into a Sidewalk Slam for a near fall.
McIntyre gets involved by taking out Ambrose, allowing Ziggler to hit a Zig Zag for 2. Ambrose then nullifies McIntyre with Dirty Deeds, Seth hits a Super Kick before Ziggler can, and wins with a Curb Stomp, Blackout, The Stomp…whatever they call it anymore. Match told a solid story, so I guess we're gonna see different iterations of tag matches and maybe even McIntyre getting a shot at the title by Hell in the Cell.
Winner: Rollins via Stomp
Rating: **** 1/2
SmackDown Tag Team Championship Match: The New Day vs Bludgeon Brothers (c)
Well this was a weird match. It started off much like a usual Blugeons match with isolating Xavier and hitting some power moves, but the New Day members showed more resiliency than the first couple encounters. Big E kicked out of the Dual Crucifix Powerbomb, Xavier kicked out of a Sitout Powerbomb from Harper.
Big E managed to execute a Big Ending on Rowan on the outside, after wiping out Kofi Kingston. Harper rolls to the outside when Xavier has some momentum, then he goes for Limit Breaker on the outside. Big E rushes over to quickly get everyone back in so they can do the Up Up Down Down finisher, but Rowan hits Xavier with the stone mallet and the Bludgeons get disqualified.
So the New Day took the Bludgeons so far to the limit, that they had to cheat to retain. Should be interesting moving forward.
Winner: The New Day via DQ
Rating: *** 1/2
Money in the Bank Briefcase Match: Kevin Owens vs Braun Strowman
It was an elongated squash match. Owens literally got in one move that didn't effect Braun (and it was a Superkick). I was not expecting Owens to get so completely destroyed. The promo package they ran before the match, was longer than the match itself.
Winner: Braun Strowman via Power Slam
Rating: 1/2
SmackDown Women's Championship Triple Threat Match: Becky Lynch vs Carmella (c) vs Charlotte Flair
Admittedly Carmella performed really well. Never really seen as good worker, but she really showed up here.
A nice Suicide Drive from Carmella, Corckscrew Moonsault from Charlotte and multiple Dis-arm-her attempts and even a Wristclutch Exploder. Becky channeled her inner Bull Nakano with her make up, and after having Carmella beat, Charlotte comes out of nowhere with a Natural Selection for the pinfall victory.
Plenty of good wrestling and storytelling in the ring, and even though the fan favorite Lynch didn't win, she finally turned heel! Becky rag dolls Charlotte around and walks out frustrated yet seemingly okay after the cathartic beat down.
Winner: Charlotte via Natural Selection
Rating: **** 
WWE Championship Match: AJ Styles (c) vs Samoa Joe
Well talk about interesting. The match started off with both Joe and AJ address AJ's wife Wendy in the audience, but then we got a hell of a match.
Cleverly the match was paced slowly early on, where both men were measuring kicks and basically just getting across the point that they knew each other well. After Styles hits an Asai DDT, the match seemed to hit that next gear. A Styles Clash where AJ couldn't quite hook Joe's one arm, cause a 2 count. Joe revered a Calf Crusher into the Coquina Clutch, but was too close to the ropes.
At that point Joe motions for the Muscle Buster, and Corey never says it's name, but eludes to it like the most dangerous move in wrestling. Styles fights away, but Joe snaps off an Enzuigiri to send AJ spilling to the outside. This is the point in time Joe picks up a microphone again and says basically, " I know I said daddy was coming home, but I guess he won't be. But I'll be your daddy", and that sent Styles into a rage. Breaking through the barricade, leveling security, Styles finds a chair and starts wailing on Joe, getting himself disqualified.
The actual match we had was damn good and could've easily been considered a classic, but with the DQ finish, that means we prolly get a let me on feud aside from just a generic rematch clause. Good stuff.
Winner: Samoa Joe via DQ
Rating: **** 1/4
Daniel Bryan vs The Miz
Another really good match, with solid ring work and an overall story that you can sink your teeth into. Daniel kept wanting to make Miz pay for the verbal harassment last few years and to prove he's a joke of a wrestler. The Miz just wanted to prove that his style is the best style for professional wrestling, and that he was superior because of it.
Both men pulled off the signature Roundhouse Kicks, Bryan doing his best Strong Style impression as he kept pushing forward into Miz's kicks. Daniel kicks out of a Skull Crushing Finale, Miz fights to the ropes while in the Yes Lock, just a lot of good spots and moments where you weren't sure who was going to win, Daniel hits a big Avalanche Belly to Back Suplex, and Miz moves out of the way to make sure Daniel kicks the ring post.  A lot of good back and forth.
The finish comes when the match spills to the outside in front of Maryse in the crowd with the baby, and it looks like she hands Miz something. So Miz absorbs some more punishment to shield the foreign object from the referee, and as Bryan goes for a Suicide Dive, Miz just cold cocks him with the Loaded Fist. He gives the item back to Maryse and slides into the ring for the pinfall victory.
Winner: The Miz via Loaded Left Hand
Rating: **** 1/2
Finn Balor vs Baron Corbin
Well now, Finn comes out as the Demon. No one expected that, and this turned into a squash real fast. Corbin got in less offense than Kevin Owens. 2 Sling Blades, a Tope con Hilo, Shotgun Kick and Coup de Grace. A  few other things aside from that, but nothing necessary to know.
The one snowflake is purely for Corbin's acting during the Demon reveal and trying to weasel out of it. Also for a change Finn acted like a different person and was significantly more aggressive then smiling 'Balor Club is for everyone'.
Winner: Balor via Coup de Grace
Rating: *
United States Championship Match: Shinsuke Nakamura vs Jeff Hardy
The match had moments of being sloppy, but the mind games in the opening minutes were amusing. The turning point of this match was Hardy hits the first Swanton Bomb, but Nakamura was close to the ropes and able to reach out to break the count. Then he goes up for a second, but Shinsuke rolls to the apron. Hardy perches himself on the post and goes for a Swanton Bomb, but misses and catches all apron.
It was a little surprising watching him crash and burn so hard, but Shinsuke takes advantage of the situation and rolls Hardy back in. Hits an Axe Kick and then one Kinshasa and it's over.
Winner: Nakamura via Kinshasa
Rating: *** 1/4
Raw Women's Championship Match: Ronda Rousey vs Alexa Bliss (c)
Not really much of a match, but all the jawing Ronda did at Alexa was entertaining. Even turning her back and letting Alexa take some free shots was like watching a lion toy with it's prey. Not super surprising or anything, save for how easily Ronda destroyed Alexa.
Kinda been an odd theme this PPV. A bunch of good to great matches, and also random quick borderline squash matches. Just odd.
Winner: Rousey via Armbar
Rating:  * 1/4
WWE Universal Championship Match: Roman Reigns vs Brock Lesnar (c)
The rating here isn't really fair to the story this match told. It's just that there wasn't much in regard to the match and the whole thing was fairly short. Braun showing up to explain he wanted them to know he was cashing in, gave Brock a whole new direction in the match.
Reigns starts off quick with three Superman Punches, a Spear and when he goes for the second Spear he gets caught in a Guillotine choke. Roman has to get out of that twice, and when he goes for another spear, Brock moves and Roman flies into Braun. This gives Brock the opportunity to F5 Braun, throw Roman back into the ring, and then he gets the idea to beat the hell out of Braun. Hits him with the briefcase, chucks the briefcase and then beats him with a chair.
So Braun is now too banged up to cash in, with the briefcase up the ramp. Brock rolls in with the chair, Roman hits the Spear, and gets the win. FINALLY! Roman has slayed the beast, and the title will be on TV more than once a quarter!
Winner: Roman Reigns via Spear
Rating: ***
Thoughts:
You know, SummerSlam was probably the most well rounded PPV the main roster had all year. Multiple well rated matches, good stories told left and right, plus the show ended at 11 PM Eastern. So even if three squash matches is a little odd, the time was cut down to a tolerable level.
So between Takeover and SummerSlam, this was a pretty damn good weekend honestly. I know I found myself enjoying SummerSlam more than any other WWE PPV all year. Ya really don't have anything negative to say. I'm somewhat excited to see what happens on Raw since there was just a lot of good stuff.