King Of The Ring is a favorite WWF/WWE event among hardcore fans, and given its format, is an easily format for the most casual of fans to bite into. It's a tournament, and everyone loves tournaments, right?
In the US, March Madness is the most famous tournament, with brackets becoming the bane of everyone'e existence and the first Thursday and Friday of the tournament being the least productive days for most companies. Every major sports league in the US has a playoff format that is basically a tournament. And almost every independent wrestling company in the States runs at least one tournament per year.
With the WWE Network running strong, there is always the possibility of a King Of The Ring revival. In fact, one was teased earlier this year!
So if WWE were to bring back King Of The Ring (and I think they should), how do they pull it off in the modern era?
Well let's book it! Here are a few caveats that we need to establish before we get started:
While this could very easily be a single brand event, our incarnation must be a multi-brand event.
If a current singles champion appears in the tournament, they aren't being eliminated clean.
We are going to use this to push someone, otherwise it's a total waste.
The 2018 King Of The Ring Field
As we look to establish the field, I feel it's important that every brand is represented. This includes the WWE Network ones. I also need a good mix of talent, including some main event players. Let's see what we can come up with:
NXT: EC3
Dixie Carter's nephew is really miscast on NXT, so this gives us a chance to right that perceived wrong, and possibly use this as a springboard to the main roster. In my opinion, he should have moved up after the North American Championship Ladder Match in New Orleans, and this might be our chance here.
205 Live: Mustafa Ali
The heart-and-soul of 205 Live makes perfect sense here, as it basically serves as a consolation prize for not carrying the Cruiserweight Championship (much like CM Punk getting The Undertaker at WrestleMania 29 since he had to drop his WWE Championship to The Rock).
Smackdown: Andrade "Cien" Almas
Adrade makes total sense here, as he's not doing all that much on Smackdown, but is a name the hardcore fanbase will talk about on Social Media. A run through this tournament could do wonders for the originator of Tranquilo.
Raw: Drew McIntyre
Either Ziggler or McIntyre would be a great fit, but the Scottsman is ready to make an impact on the roster and this is the place to do it. Plus, with Drew in the field, Ziggler will be involved by association.
Smackdown: Big E
While he's one half (third?) of the Smackdown Tag Team Champions, Big E is a star that everyone thinks can make it to the top. Occupying a slot in the 2018 King of The Ring just makes sense. A back-up idea is to enter the entire New Day, and letting them Freebird Rule the entire tournament. That basically ensures they're in the finals, and I would still have Big E in that spot. But we'll just stick with Big E here for simplicity sake.
Raw: Seth Rollins
The tournament needs some star power, and Rollins could have a Bret Hart like run through the tournament. He's the current Intercontinental Champion, so that's a small wrench in our plans. But storylines are in place that helps out if he isn't booked to win.
Smackdown: The Miz
One of the best all around performers on the roster, I can't think of a better guy to walk around proclaiming himself King Of WWE than The Miz. Seems like a gimmick he was born to play. But will he play it…
Raw: Bobby Roode
A throwback of sorts, The Glorious One strikes me as a guy who would have been a staple of the King Of The Ring semifinals in years past, but never quite winning the big one. Can he escape that stigma in the 2018 rendition?
Quarterfinals
We have four quarterfinal matches, including the show opener that features a guy accustomed to opening big shows in 2018
KOTR Quarterfinal: Seth Rollins (Raw) vs. Mustafa Ali (205 Live)
Spoiler alert: Mustafa Ali was never advancing in this tournament. Given that, it only made sense to put him in the match that can best showcase his abilities, and that is a match with Seth Rollins. Rollins will get the win, but will elevate Ali in the process, and Mustafa can return to 205 Live with a heroes welcome.
KOTR Quarterfinal: Drew McIntyre (Raw) vs. The Miz (Smackdown)
A break in the face-heel alignment, this is easy to pull off. Both guys are over, and fans will pick a side. With a former Miz foe in Dolph Ziggler running around, it's easy for the big man to pull off the win and advance over the A-Lister, who in all honesty doesn't need this (as much as I'd love to see him win it all).
KOTR Quarterfinal: Andrade "Cien" Almas (Smackdown) vs. Bobby Roode (Raw)
Two former NXT Champions doing battle in a match that almost seems like a push could go to the winner. That winner is Andrade "Cien" Almas, likely thanks to Zelina Vega being the X-Factor.
KOTR Quarterfinal: EC3 (NXT) vs. Big E (Smackdown)
A win wasn't in the cards for Mustafa Ali, and the same seems to go for EC3 here. I really wanted to put EC3 through to the second round, but it didn't quite make sense the way the rest of the field and tournament were shaping up.
Semifinals
After a break in the action, possibly a one-off Sasha Banks vs. Bayley match (or tag match for them, depending on where the story is at the time of this show) that doesn't really accomplish much, we are back to the tournament as we see who can win here and make it to the finals!
KOTR Semifinal: Seth Rollins (Raw) vs. Drew McIntyre (Raw)
A fun match with a lot of storyline overlap. Dean Ambrose and Dolph Ziggler can get involved, but we do need a winner since I don't want to book this one without a final round. Rollins already has the Intercontinental Championship (and a WWE Championship in the past) to his credit, so it's Drew picking up the win. A distraction is likely in order, probably due to Ambrose and Ziggler fighting.
KOTR Semifinal: Andrade "Cien" Almas (Smackdown) vs. Big E (Smackdown)
The inverse of the all-Raw match above, this match could end up getting "Match Of The Night" honors. Almas could really use a win here, but it's not meant to be. I don't want to go heel-heel in the finals.
King Of The Ring Finals
Since Raw was up between the first two rounds, we can give the not to Smackdown here. We'll have The IIconics losing to Naomi and Asuka in a crowd pleasing affair.
KOTR Finals: Drew McIntyre (Raw) vs. Big E (Smackdown)
This is a money match featuring two talents that can easily carry a main event. Big E would likely be the favorite among the staff here at The Chairshot, but the nod is going to Drew McIntyre. I see Dolph Ziggler, Kofi Kingston, and Xavier Woods all being sent to the back, and both men tearing it up before Drew picks up the clean win, and the crown.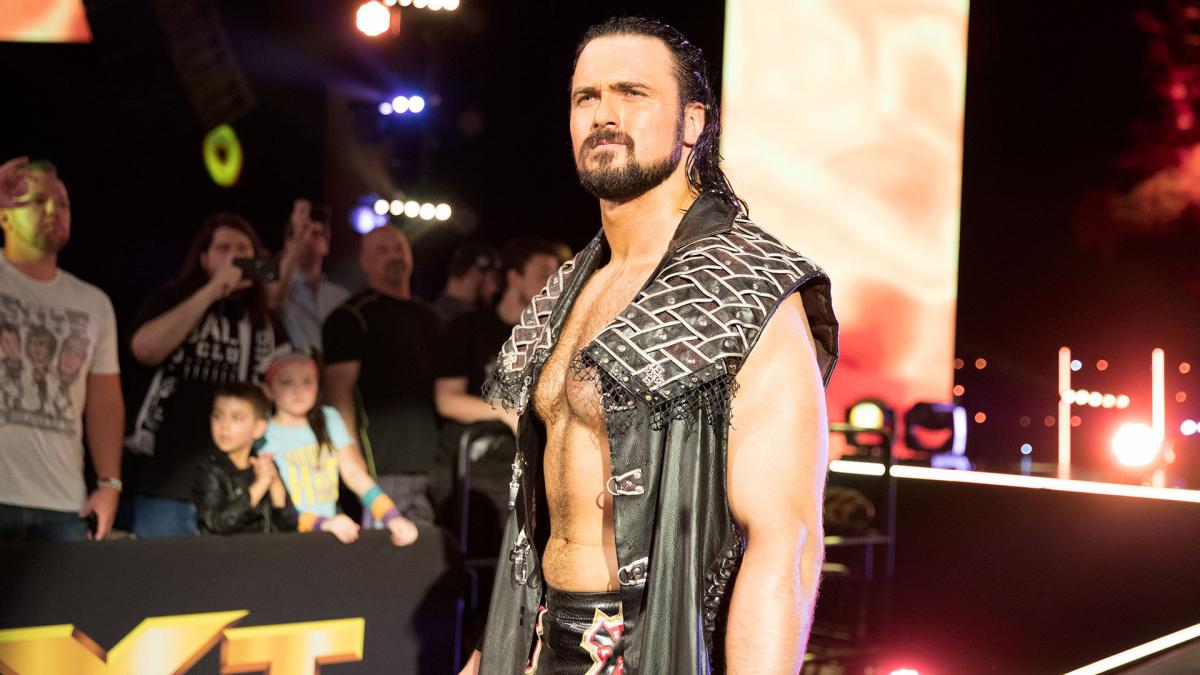 Interesting of note, an "alternate finals" featuring Seth Rollins vs. Andrade "Cien" Almas might actually be a better match-up, one that sees Almas picking up the huge win to elevate his career. I was really really really close to swapping out the match, but I had to stick to me instincts and give this one to Drew McIntyre.
---
What say you? Who would you put in the King Of The Ring? Am I shamed for leaving out an NXT UK talent? Should we book a Queen Of The Ring next?  Share your thoughts on Twitter using the hashtag #UseYourHead and tweet to me @ChairshotGreg and @theCHAIRSHOTcom!