Carmella Could Use A New Sidekick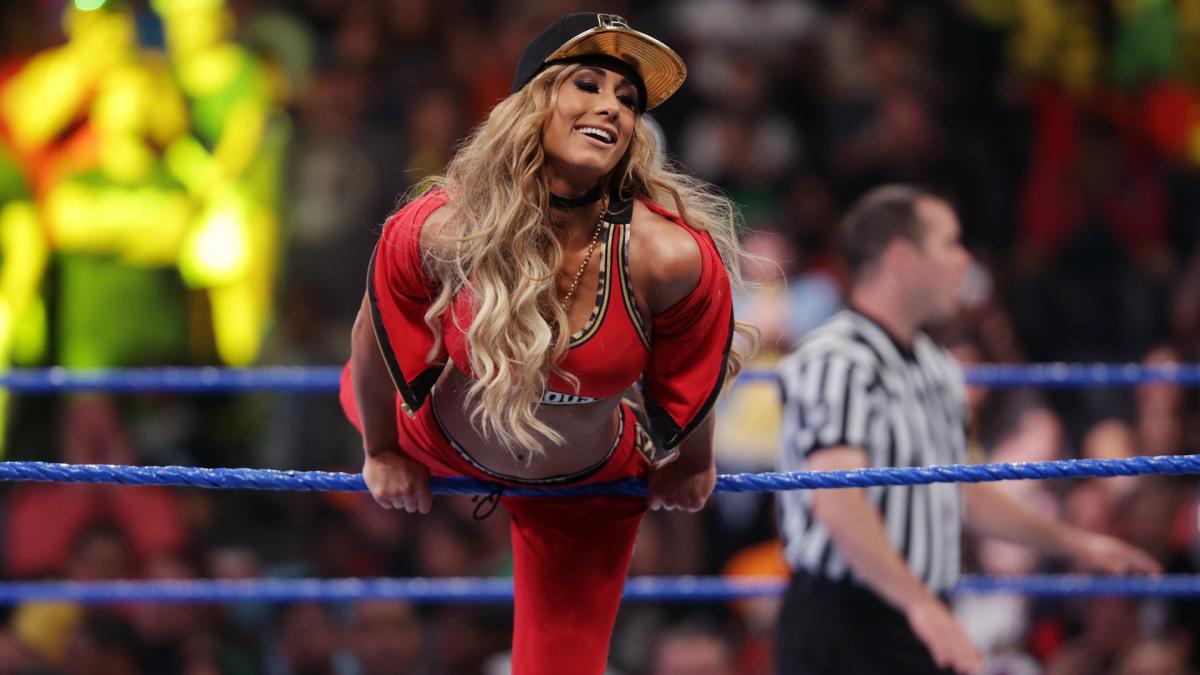 Carmella is one of Smackdown's top female stars. While her wrestling skills aren't the best, her charisma and ability to cut promos makes her an excellent heel. Whether she's cheered or booed, Carmella gains everyone's attention when she's in the ring.
Her partnership with James Ellsworth helped make them both stars. Ellsworth played a huge role in helping her win the Women's MITB briefcase, then he returned after a seven-month absence to help her retain the Smackdown Championship against Asuka.
But now that Ellsworth's gone (permanently this time), Carmella finds herself alone as she gears up for her next championship match.
However, knowing Carmella she'll have an ace up her sleeve and there could be some interference in the match, leading her to retain the championship.
So if Carmella enlists the help of a new sidekick, who will that person be?
Let's take a look at a few possibilities.
Asuka
This one seems far-fetched since they just had a championship match at Extreme Rules back in July. But with WWE, they've done some crazy stuff before and Asuka aligning with Carmella would be a WTF moment.
Carmella is good at manipulation and she could entice Asuka with another championship opportunity if The Empress of Tomorrow is in her corner at SummerSlam.
Naomi
Naomi is one of Smackdown's popular stars, yet the former women's champion hasn't been part of a big storyline in a while. Many of Naomi's fans would love to see her part of the championship picture again and becoming Carmella's sidekick could be the boost Naomi needs to rejuvenate her career.
Mandy Rose and Sonya Deville
With the odds stacked against her at SummerSlam, Carmella may need the help of two people. That's where Mandy and Sonya come in.
The two women made their main roster debut as heels when they teamed with Paige to form the group Absolution. When Paige's injury forced her to retire from wrestling, Mandy and Sonya decided to remain a tag team.
With Paige as the new Smackdown general manager, she and Carmella have butted heads when it comes to championship. If Carmella wants to keep the title and piss off Paige, what better way than to team with Mandy Rose and Sonya Deville.
The IIconics
Billie Kay and Peyton Royce were a popular heel duo in NXT, but like many stars once they hit the main roster, their momentum stalled due to lack of creative direction.
They're good wrestlers and have had matches with Becky Lynch and Charlotte, but if The IIconics want to maintain a huge presence on Smackdown they need a good storyline. Having them team with Carmella could be just the thing to get them over with the crowds.
Plus, let's not forget that if it wasn't for them, Carmella never would have cashed in and won the title from Charlotte.
All these ladies are good choices to be Carmella's potential sidekick, although I have to admit I'm partial to The IIconics because their alliance with Carmella would be fabulous.
Come Sunday, we'll see what tricks Carmella pulls out to win and if she'll have someone to do her dirty work.