Chairshot CLASH! The End of the Rematch Clause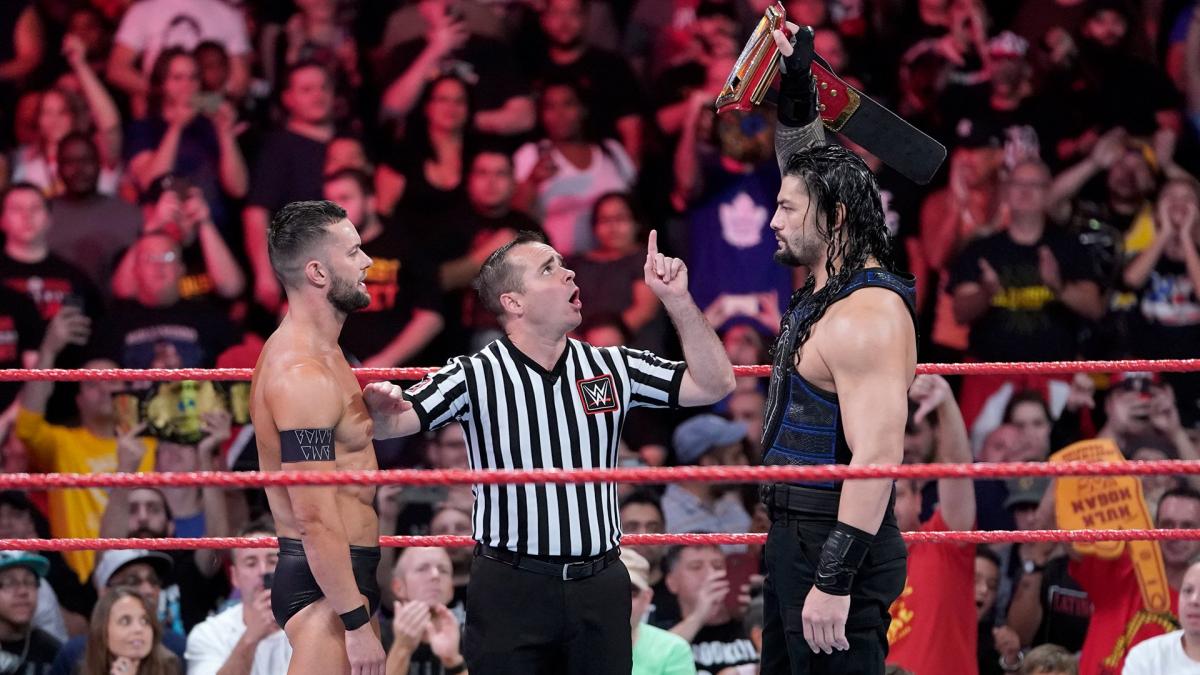 The End of the Rematch Clause?
Until this past Monday night on RAW, the Universal Title held a very unique quality that none of the other current championships in WWE could claim: no former champion had ever received a rematch. Roman Reigns, immediately vaulting right into the role of fighting champion that we have come to expect when, well, any good guy holds a title these days, extended a challenge to defend his newly won mountain of gold and jewels (and red leather) against the original Universal Champion. Finn Balor became the inaugural champ 2 years ago in the Barclays Center and had to relinquish it the next night. Since then, he has earned a couple of opportunities to earn an opportunity at a shot at the title. He hasn't been able to secure a shot at the belt, even though, going by WWE's long-accepted rule of the rematch clause, he was due a match with the title on the line at some point upon his return.
He never got that, but neither have any of the other men who held onto WWE's newest belt. Kevin Owens, the second champion, lost the belt to Goldberg, who almost immediately lost the belt to Brock Lesnar, who lost the belt to Roman Reigns last weekend after holding it for over 500 days. Kevin Owens hasn't been involved in a match for the Universal Title since he was destroyed by Goldberg at Fastlane 2017. Goldberg hasn't been involved in a match at all since he was summarily dethroned by Brock Lesnar shortly after at WrestleMania 33. Goldberg is, for all intents and purposes, retired, so not receiving a rematch isn't much of an injustice.
On Monday, Paul Heyman implored Kurt Angle to afford his client, Brock Lesnar, with his contractually obligated rematch clause, a match he demanded happens in September at the Hell in a Cell event. That marked the first time in the title's 2-year existence that the clause was even mentioned, let alone cashed in on. Kurt Angle rebuffed Heyman's advance on the rematch — he acknowledged that Brock was entitled to his rematch, but, more importantly, there's no timeline that must be met in regards to when he is granted that opportunity. The short backstage segment from RAW may have set the precedent that just like all of the other championships, the Universal Title's previous holder is owed a chance to regain the belt after losing it. Alternatively, it may only illustrate that Brock Lesnar had it written into HIS contract, while the three prior champions may not have.
And wouldn't that be grand?
In this new series, Nick Marsico and Greg DeMarco will go back-and-forth discussing the good, bad, ugly and otherwise of a multitude of topics in the world of professional wrestling.
So, would it indeed be grand to see an end of the automatic rematch clause?
Welcome to the first edition of the Chairshot CLASH! Let's see who uses their head.
---
NICK:
I think it would be great. I thoroughly dislike the trope of the contractually obligated rematch clause and have for many years. It's lazy. WWE often leans toward the easiest, least creative means of getting from point A to point B, and the rematch clause helps them get there with exactly zero effort. Want a feud template? Heel champion retains his title via disqualification, so the babyface challenger is granted another shot. Babyface challenger wins the title in the rematch, heel immediately opts to utilize the rematch clause, babyface beats them in the third match, and you have 3 cookie-cutter months of average television. Congratulations!
GREG:
Here's the thing for me: I don't hate it. The Championship Rematch Clause actually makes sense in a "real sport" scenario. It's logical. It CAN work. But it doesn't always make sense. And I think that's because professional wrestling (GASP!) isn't actually a real sport. It's a fictional world where we are led to believe we are watching a real sport. Or at least it WAS, but it hasn't been that for approximately 20-years…at least! Hell, the UFC doesn't even always enact a rematch when a champion loses their title, because it's not contractually mandated. In fact, I would Paul Heyman (advocate) for the contractual rematch clause to be used just like a championship–as a storytelling prop. Use it when it makes sense, don't when it doesn't. But that doesn't mean get rid of it.
NICK:
That's completely fair. It can certainly work when used extremely sparingly. There are two manners that I can think of, off the top of my head, that I would be okay seeing it used. One, by a character just like Brock Lesnar, who has special clauses (rematches, extra money, and so forth) written into the contract for every match. And two, by a character who outsmarts a known cheater by getting the clause added in. The champ gets cheated out of the title due to shady and/or nefarious means, but he had it scouted… he made sure he had an automatic rematch clause built in just in case the challenger pulled something.
I'm sure there are other, better ways of doing it, but just a very quick scan of my brain brings me to those ideas. I would just prefer to see it go the way of the dinosaur. We can have Jurassic Park eventually, but let the concept fossilize.
I would say, though, to test the waters, just get rid of it for the Universal Championship. Formally. Roman granted Finn his rematch out of the goodness of his heart (and also to stick it to Brock Lesnar). I think Roman should offer Kevin Owens a shot at the title as well. It would be great to see Roman be self-aware. He knows that he had a ton of opportunities. Others haven't been granted that same luxury but as a fighting champion and someone who understands being screwed over, it's only fair to give Owens a match. Hell, he could even throw out Goldberg's name, just to drive the point home. I wouldn't even be against seeing Goldberg show up for the fight! It would be pretty cool, actually. It would also, with the exception of Brock Lesnar, close the door on former champions getting rematches for the belt.
Once Roman has gone through Owens and (possibly) Goldberg, it can be announced by the authority figure of the week that due to the interesting first two years of the existence of the Universal Championship, WWE will be eliminating the automatic contractually obligated rematch clause. If you lose the title, you have to earn a chance to get it back. Roman is of course 100 percent on board with this.
I think that would give the Ugly Red Belt a good distinguishing characteristic from the rest of the titles in the company.
GREG:
I, for one, LOVED Roman Reigns giving Finn Balor his rematch. It wouldn't shock me if Roman also gives a rematch to Kevin Owens, resolving that prior issue as well. And while we're at it, why not throw a good $400,000 at Bill Goldberg and book Roman vs. Goldberg for the Royal Rumble? This gives Roman Reigns a win over every prior Universal Champion not named Brock Lesnar. Now you're left with yet another reason for Paul Heyman to claim a conspiracy against his client, giving relevance to their feud.
But in all honesty, what I listed above has far less to do with any "automatic rematch" and more with Roman Reigns being a fighting champion. Imagine for a second (and this isn't a big stretch) that The Miz is the man to dethrone AJ Styles for the WWE Championship. The perfect story is Miz cheating to win (preferably thanks to Maryse slipping him a weapon), and then denying AJ Styles' rematch saying he isn't contractually obligated. This makes AJ earn his way to a WrestleMania rematch (before losing and going to Raw in the shakeup).
But then, my idea of AJ Styles not getting a contractually mandated rematch becomes a story ABOUT a contractual rematch…
THERE'S NO ESCAPING THE REMATCH CLAUSE!
NICK:
There is no escape until the door is shut. Your idea (which is awesome for Miz, by the way, and I would LOVE to see him get another run with the WWE Title) is a sensible one. It's not a lazy way to use the rematch clause to get another month of fighting between two wrestlers. It's a simple way for a slimeball to use something that used to be taken for granted and give us all a great reason to hate him. It helps catalyze a long-term story for the guy who now has to earn his way back to something that he was screwed out of.
I also agree with the Heyman/Lesnar/Roman deal. Roman giving the other three guys matches for the title and being blatant about the fact that he's doing it because they never got the opportunity to try to win it back is a great way to get further under the skin of Heyman and his client. They spent years hiding behind contracts and now Roman is rubbing it in their faces. I think it would also be a nice touch for Roman to use the word "justice" to refer to him offering those title opportunities now that The Shield is back together.
The story of Roman vs. Brock has one final match that must take place in order to close that chapter of Reigns' career. He finally beat Lesnar, but it still ended with Brock getting speared and pinned because he was too busy focusing on the guy threatening to get a match to take his title and not the guy actively in the match trying to take his title. Roman's win feels a bit hollow because it took a distraction to win. Roman needs to beat Brock fair and square, clean in the middle, with no room left for doubt.
Brock obviously has the rematch clause, which means eventually, the match will happen. In a similar vein to your idea of even when you avoid the rematch clause, it cannot be escaped, my story would go in a different direction. The match happens because it's contractually obligated, but Roman is the one who, after months of successful defenses, goes to the authority figure and says that it's time. They need to stop delaying the inevitable. Brock is legally owed a shot at Roman's belt, but Roman needs to beat Brock in order to feel like he truly deserves to be called the champion. No Shield, no Braun, no Paul Heyman. No distractions. Just two men, one ring, one definitive winner. Brock gets the rematch, but it's not only because he's owed the match. It's because Roman, the champion, wants it to happen. It weakens the concept of the obligation.
That pushes the door even further shut.
GREG:
To me, The Automatic Rematch Clause is just like any other wrestling storytelling device: use it when it makes sense, but don't marry yourself to it. It feels like a thematic pay-per-view, it's not fun when it's forced.
Now can I get a damned Interim Champion the next time a champion gets injured?
NICK:
Holy cow, who would have thought that you and I would come out of our first discussion in complete agreement?
The Interim Champion idea is interesting, but it all ties into WWE's lack of ability to tell a long-term story. In MMA, you do an interim champion, then when the injured champ comes back, if he loses, then the interim guy is the true champion and everyone moves on. That's fine for sports, but not really for wrestling. Imagine Kevin Owens was made the interim champion when he won the four-way instead of just becoming the new champion. WWE clearly had no intentions of using Finn Balor as a main event guy by the time he returned. How disappointing would it be for Finn to come back from injury after such a long break only to lose to the interim champion and then be shunted down the card into forever purgatory? Granted, that's exactly what's going to happen now that he finally got his shot and failed.
That idea, however, is a discussion for another time. I'm sure we'll organically find ourselves talking about it at some point. But for now, we're putting this to bed. Yes, Greg and I are agreeing that the rematch clause is overused but doesn't necessarily have to be completely done away with.
I have a feeling that next week, things won't be wrapped up in a neat little bow.