Chairshot Week In Review: WWE July 29 – August 4, 2018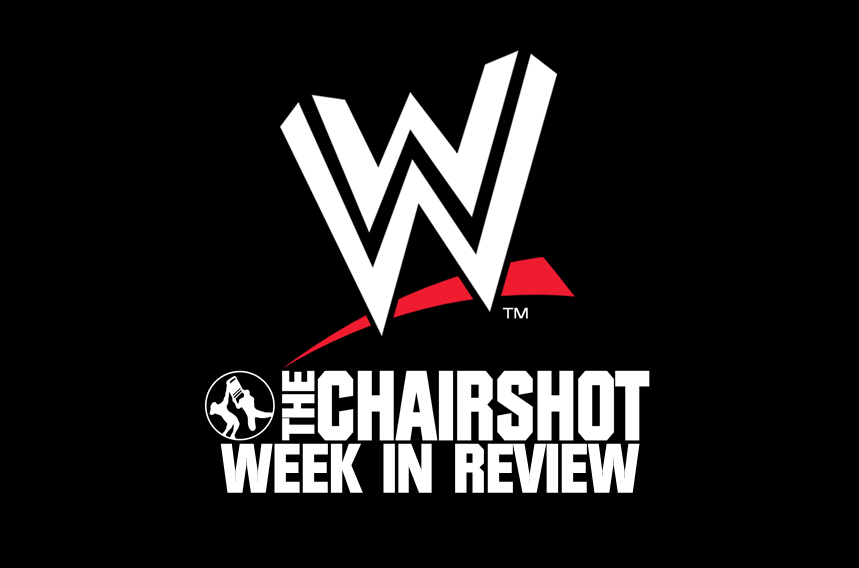 The State of WWE:  July 29-August 4, 2018
It is Week 3 of the build for SummerSlam and once again, WWE realizes that the problem with booking so many title matches so far in advance is trying to keep the momentum going. So let's see how WWE did this week.
RAW
WWE Universal Championship: Roman Reigns may be primed and ready to take on Brock Lesnar, but Lesnar doesn't seem to think he has any reason to fear Reigns or actually hype his match. This attitude leads to trouble for Lesnar's long time advocate, Paul Heyman, who finds his job in WWE jeopardized by Lesnar's apathy.
The tensions between Angle and Corbin continued to grow as Corbin, with the backing of Stephanie McMahon, undermines Angle's authority and credibility at every turn, but learns the downside of being a stooge to the McMahons: You're the first to get your ass kicked if you cross the top babyface. Corbin learned that lesson the hard way when he and Angle threw Reigns out of the building for no good reason, with the threat that he'd lose his title shot if he didn't comply. Reigns called out Angle's seeming impotence before knocking Corbin flat on his ass.
Later in the evening, Lesnar would finally come to the ring, but seems to be buying into his own hype and turns on Heyman and assaulting Angle. It seems that Lesnar is getting out of control, but what Angle and WWE can and will do is another matter.
WWE Intercontinental Championship: Ziggler wasn't in action tonight, but Seth Rollins was against Drew McIntyre. Rollins managed to pick up a win by DQ after Ziggler attacked him to stop Rollins from pinning McIntrye again. A fight broke out, but Rollins still got a win over McIntrye and was left standing over Ziggler.
Later on, Renee was interviewing Rollins when Ziggler and McIntyre got the jump on Rollins, but the match is still on for SummerSlam, boys. 
RAW Women's Championship: Alexa Bliss didn't have a match tonight, but there was plenty of action when she seconded Alicia Fox against Natalya Neidhart, who just happened to be seconded by the returning Ronda Rousey.
Fox picked up the win, with some help from Alexa Bliss, but Fox found herself on the bad side of Ronda Rousey and paid for it. Fox made the situation worse by attacking Rousey from behind, which I wouldn't do if I was being backed up by the US Army, Seal Team Six, and the Winchester brothers from 'Supernatural'.
However, Karma might be ready to get a hold of Fox and Bliss, because Angle announced that Ronda Rousey will have her first match on RAW against Alicia Fox NEXT WEEK.
RAW Tag Team Championship: Well, we learned one thing this week: Bo Dallas never won a spelling bee, considering that he seems to think that there is a 'B' in 'dream'. ANYWAY, B Team cut a promo, only to be interrupted by the Deleters of Worlds, who aren't happy about being beaten by Axel and Dallas. The Revival also threw their hats into the ring, saying that they should be given a title shot since DoW lost their rematch, and due to Revival beating Lashley and Reigns, which doesn't mean jack squat in the tag division. A fight breaks out between Revival and DoW, leaving DoW standing tall.
A match was quickly made between Deleters of Worlds and The Revival that ended with the Revival standing tall and with an actual claim to be in the tag title picture.
Sasha vs Bayley: Team BossHugger were in action against Sarah Logan and Liv Morgan of the Riott Squad. BossHugger would come out on top, but it still feels like something's brewing.
Kevin Owens vs Braun Strowman: Owens was sucking up to Corbin during the show and helping undermine Angle's authority on RAW, but Corbin wasn't playing games tonight.
Strowman was in action tonight against Jinder Mahal, however, due to outside shenanigans by Kevin Owens, who took off with the Money in the Bank briefcase, Strowman was counted out, giving Mahal the victory. Strowman was, understandably, NOT happy about this and chased Mahal out of the ring.
Finn Balor: Balor came out on the losing end of a very good match against Baron Corbin on RAW and suffered a further beatdown after the match. It's still not clear what Balor's story is going to be heading into SummerSlam and my original theory just took a sharp turn.
Angle vs Corbin: This came to me after comments by Roman Reigns and the assault on Angle by Brock Lesnar at the end of RAW. Corbin has been a thorn in Angle's flesh as Stephanie's stooge, undermining his authority and credibility, so I can almost see a match between Angle and Corbin at SummerSlam over who is going to be the final authority on RAW, Angle or Corbin.
Bobby Lashley vs Elias: Bob again interrupted Elias, but apparently he wanted to join him in a song, which turned out to be Rockin' Robin (oh, boy).  Elias was so angry that he attacked Lashley, who quickly turned the tables and I think we've got Elias vs Lashley for SummerSlam
Authors of Pain vs Titus Worldwide: Apollo Crews was in action tonight against Akam (no, I'm not sure which one that is). They showed a taped interview that went a little better than the one last week, if you ignore all the author/writing puns. Crews picked up a surprising win, but this isn't going to go over well.
Bobby Roode vs Mojo Rawley: Rawley's war against the locker room continues for some reason and he ended up picking a fight with Roode, who has done more in his wrestling career than Rawley could ever hope to do. A fight broke out, but was quickly broken up, but this seems to be another build for SummerSlam.
SmackDown Live
WWE Championship: Samoa Joe cut a promo on Styles, citing their long history, and even said that he respected Styles and what he's done on SmackDown, even though Styles seems to have put being champion before everything, including being a father. He vows to tear down the House that Styles built and becoming WWE Champion.
WWE United States Championship: Jeff Hardy cut a surreal promo about the US Title, Nakamura, and Orton. Hardy said that as important as the US title is, beating the hell out of Orton was more important. Orton responded to the challenge, only for Nakamura to attack Hardy from behind. So, I'm guessing that this is going to be a Triple Threat at SummerSlam.
Orton continued to assault Hardy after Nakamura left, wiping off his facepaint and generally being a psychotic creep.
Update: Per General Manager Paige, Shinsuka Nakamura WILL defend the United States Title at SummerSlam against Jeff Hardy. No word yet on Orton's place in this match, but Jeff Hardy will get another shot at regaining the US Title.
Smackdown Women's Championship: Carmella and Becky kicked off SmackDown tonight and Carmella gave what seemed like a heartfelt promo, until Ellsworth's music hit and she attacked Becky from behind. The sneak attack brought Charlotte Flair, who has been out due to injury, to her friend's aid.
Carmella whined to Paige, who was not having it. So, she made a match between Charlotte and Carmella, adding that if Charlotte won, the Women's Match at SummerSlam would become a Triple Threat.
During an interview segment with Renee, Charlotte was happy and confident and was determined to reclaim her throne.
When Becky was asked about Charlotte potentially being added, she didn't seem very happy about the idea but said that she wouldn't root against her best friend.
Charlotte vs Carmella was the main event, but before the match, Carmella was asked about the whole situation and mocked Charlotte and Becky's friendship, pointing out that Becky didn't really seem to be rooting for her 'best friend.'
To no one's shock, this was a great match, nor was the outcome really a surprise: Charlotte won with the Figure Eight, thereby earning herself a shot at SummerSlam and stealing the momentum Becky had earned for herself. It's safe to say Becky isn't happy about this, but time will tell what the full fallout of this match is going to be for the Thelma and Louise of Wrestling.
SmackDown Tag Team Championship: Tuesday was Week 2 of the Tag Tournament, the Uso faced the Bar. Unsurprisingly, it was a great match. The Bar managed the win, but the Usos have a legit reason to be ticked since they had the match won on several occasions. So, next week will be The Bar vs New Day.
Daniel Bryan vs The Miz: The war of words between Daniel Bryan and Miz continued this week, with both men trading barbs about each other's careers. Miz seems to have won this round with a withering put down of Bryan's career and accomplishments, despite the fact that Bryan was the talk of sports in 2014-15 due to the Yes! Movement, WrestleMania 30, and his forced retirement.
Later in the week, Daniel Bryan challenged Miz to a match at SummerSlam, which Miz refused, but I have a feeling that General Manager Paige will have something to say about it come Tuesday.
Lana vs Zelina Vega: After last week's catfight, Lana and Zelina were put into a match by Paige. The match wasn't the total, flaming, trainwreck I was expecting, Vega outclassed Lana at every step, though Lana managed to hang with her. English tried to even the odds for Lana, when Almas tried to interfere, but ended up costing her instead. Despite this, Lana blasted Rusev backstage for not coming to her aid and saying that English had been there for her.
205 Live
Cruiserweight Championship: So, last week, Drew Gulak won the opportunity to face Cedric Alexander at SummerSlam, in an amazing match. This week, the opponents had a tense contract signing. Drew tried to cut a promo before signing, but Cedric basically told him to shut up and sign the contract. Drew said that he simply wanted to congratulate Cedric on being undefeated in 2018, one ONE little asterisk: He hasn't done anything since. Cedric scoffs at this, pointing out that he's defended his title all over the world, against all comers. Gulak says that while he's not knocking Cedric's performance, he points out that when the title wasn't on the line, Cedric wasn't around, while guys like Gulak were building the brand, ignoring the fact that Cedric had been helping build the brand as well, before and after he became champion.
Cedric's had about enough of Gulak and tells him to get to the point because he's tired of listening to Gulak's nonsense. Gulak gets to his point: Alexander lets his potential competitors wear themselves out and then steals all the glory, which makes absolutely no sense to anyone but Drew Gulak, and tells him to take a page out of Brian Kendrick's book, and that Cedric Alexander will be known as the Brock Lesnar of 205, even though Alexander has defended his title more since WrestleMania than Lesnar has in his entire reign.
Cedric takes the insult much better than I would have but warns Gulak that he just guaranteed that Brian Kendrick was going to be in for a world of hurt during their match later in the show.
In 205's main event, Cedric took on The Brian Kendrick.  Cedric was flying solo, which seems like a bad idea.
This was a really good match. Kendrick did a great job of feeding Alexander while not looking like a total chump.
Drew Gulak came out at one point and distracted Cedric, which lead to some under the ring shenanigans with Kendrick and Cedric. However, the affects of the dirty tricks didn't last long and Cedric powered back. Kendrick tried to hit the White Bread #1, but Cedric countered by throwing him outside.
This match is how title matches should be done on every show, both guys looked great and it really felt like the title could change hands. Cedric hits the Lumbar Check, which looks like it hurts like hell, and gets the three count.
Gulak is FURIOUS that Kendrick lost, even though Kendrick winning would've thrown a wrench in Gulak's SummerSlam plans. Gulak moves like he's going to confront Cedric in the ring, but while Cedric is urging him to come in the ring, he's attacked from behind by Jack Gallagher. Before any other shenanigans can happen, Drake Maverick comes running out and threatens to revoke Gulak's  #1 Contendership if he and Gallagher don't get out of the ring and go to the back. If Cedric's still thinking of going solo, he might want to rethink that.
Kalisto vs Tony Nese: The Lucha House Party was in action against the Party Crashers in one-on-one action this week in a very good, hard-hitting match up. Kalisto won with the Salida del Sol, though nothing can be taken away from Nese who seemed to have tweaked his knee at one point.
As Kalisto was leaving, he was confronted by Buddy Murphy, who wasn't happy about his buddy, Nese, being defeated and things quickly got physical. Kalisto was saved from being a long dart by Lince Dorado, who is supposed to be out with a ruptured tendon in his thumb. The Lucha House Party buddies quickly took Murphy out with stereo superkicks left the Party Crashers flat.
Lio Rush vs Ricky Martinez: Rush comes out first and cuts a promo about how people were made he didn't give Tozawa a rematch, but Rush says that he's a hot commodity and that everyone wants a piece of him. He says he was tempted to give Tozawa a rematch but thought it wasn't fair since he's already found someone way more qualified to face him than Tozawa, which is apparently the guy waiting for him in the ring.
This match was quick, but Martinez did a really good job. Rush played the arrogant heel who is too big for his britches really well. As Rush is celebrating, Tozawa's music hits and the Japanese Chainsaw makes his way to the ring. Rush decides to beat a hasty retreat because Tozawa's ready to fight.
NXT
NXT Championship: Last week, Tommaso Ciampa SHOCKED the WWE Universe by beating Aleister Black for the NXT Heavyweight Championship, with an unintended (I hope) assist from Johnny Gargano.
The Blackheart cut a deranged promo and eviscerated Gargano and Gargano's screw up from last week.
Black comes out, understandably pissed off by what happened last week, but Gargano runs out of the back and takes down Ciampa. Ciampa beat a hasty retreat, leaving Gargano and Black in the ring.
Gargano, who seems to be his own worst enemy at times, gets on the mic and tells Ciampa that this isn't his (Ciampa's) NXT and owns up to the fact that he's the reason Ciampa is champ right now.
That's a good enough confession for Black, who lays out Gargano with one kick. In the closing moments of the show, it looks like we're going to have a triple threat at TakeOver.
Update: Aleister Black suffered a torn groin muscle during a house show and it isn't clear what's going to happen with this match.
NXT North American Championship: Adam Cole was not featured on NXT this week. However, GM William Regal made an announcement for TakeOver Brooklyn: Cole WILL defend his North American Title against Ricochet.
NXT Women's Championship: Shayna Baszler was in action against Candice LeRae in a non-title match. This was a really good match and both ladies looked good, with Baszler getting the submission victory. Though the end of the match was used to build Baszler vs Sane for TakeOver, LeRae made a great argument for being included in that match.
NXT Tag Team Championship: Former champions, Mustache Mountain were in action against Matt Knox and Brandon Taylor. Mustache Mountain get a great pop and their opponents, a jobber team, are already in the ring.
This was a really good match, at least on Mustache Mountain's end, however Knots and Taylor gave as good as they got. However, this was a quick one with Mustache Mountain coming out on top.
The boys get on the mic, Severn apologizes for what happened in their title match. Severn says that he's spoken to William Regal and they have a plan. Bate says that they're on a mission to get back their NXT Tag Titles and that they're invoking their rematch clause against the Undisputed Era at TakeOver: Brooklyn.
When asked if they had any tricks up their sleeve, MM said that they'll do to Undisputed Era what they did to them at the Royal Albert Hall. They're interrupted by War Machine (I think) who vow to destroy anyone who gets in their way.
Heavy Machinery vs The Mighty: Apparently, the Mighty beat one member of Heavy Machinery, but I'm finding that a little hard to believe, these guys are MASSIVE and stiff as concrete.
This was a good match, but I'm a little confused as to why guys as massive as Heavy Machinery are being booked as they are, they should be squashing The Mighty. Maybe it's just the pudgier guy they're booking wrong because the tall guy, Tucker, is something else.
The Street Profits interrupt by having a party in the audience, distracting The Mighty, who miss Tucker Knight tagging in his buddy. Machinery hits the Compacter and gets the three. The Mighty aren't happy, but since Street Profits didn't come near the ring, the Mighty have no one to blame but themselves. 
EC3 vs Kona Reeves: This was a really good match, but I'm having trouble getting behind either one of these guys. Velveteen Dream comes out and distracts EC3 with a promo about EC3 not getting over what happened at the Royal Albert Hall and says that if EC3 wants to talk about it, he'll have to come to the Dream's world. Despite that, EC3 manages to get a pinfall victory over Reeves.
Backstage, EC3 is asked about Dream's offer and says he'll play Dream's game, but Dream has to know that the conversation will turn into a fight. 
Regal makes a match for TakeOver: EC3 vs Velveteen Dream.
Tiffany's Take
This was a really interesting week for WWE in terms of building for SummerSlam. RAW is suffering a little from booking so many title matches so far in advance, but the ongoing story of Reigns/Lesnar was really good this week. On every show, the main title stories were advanced and some lower card matches were being built. It'll be fun to see how things will take shape as we start coming into the homestretch for SummerSlam and TakeOver.
---
Always Use Your Head and visit the official Pro Wrestling Tees store for The Chairshot All t-shirt proceeds help support the advancement of your favorite hard-hitting wrestling website, The Chairshot!

---
Top 5 Matches: Week Ending 10/21/2018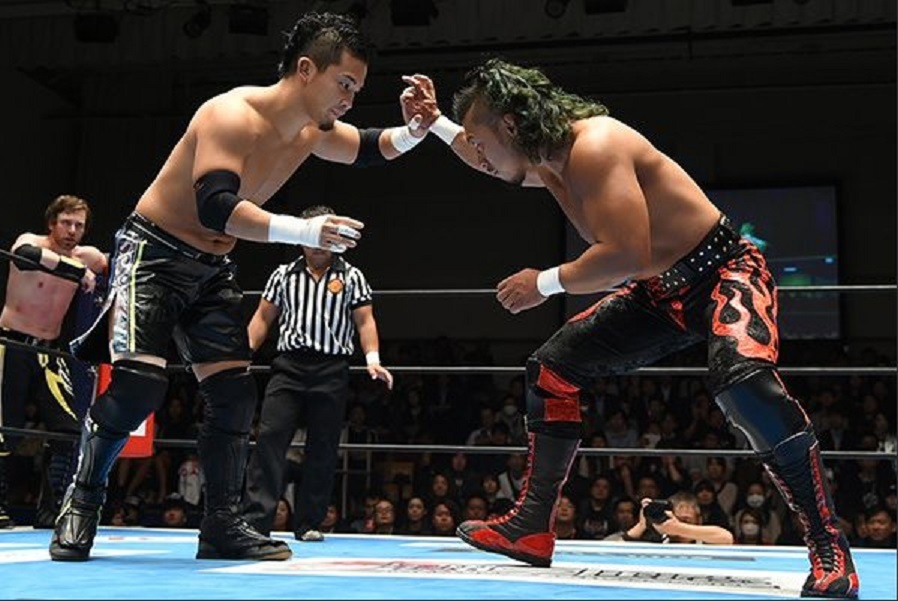 Well damn this is a busy week for wrestling. NWA 70, New Japan Super Jr Tag League, All Japan leading up to their big Triple Crown match…and I wasn't even able to get to Stardom's Tag Tournament. So just a whole lot of stuff going on, on top of regular television products. Sheesh, sometimes just covering all this is tiring, in the fact that there aren't enough hours in a day.
ANYWAY – last week the match that ran away with the votes was, NJPW King of Pro Wrestling Triple Threat: Cody vs Kenny Omega (c) vs Kota Ibushi. So now we're gonna be looking at a lot of Japanese matches in the coming weeks, but part of the fun is seeing if other stuff can sneak in too.
So let's see what made the grade.
5. 205 Live Fatal Five Way: Gran Metalik vs TJP vs Tony Nese vs Cedric Alexander vs Lio Rush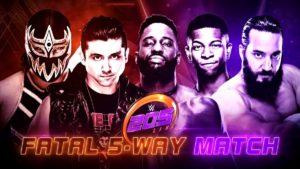 The Age of Alexander wants to rebuild his legacy, but the Premier Athlete wants to pave his own over it. The FilAm Flash wants to humiliate the lucha libre tradition, but the King of the Ropes won't stand for it. As for the Man of the Hour, he simply came to collect! Who will succeed in their mission and take a step towards the top of the Cruiserweight Division?
Current Cruiserweight Champion, Buddy Murphy, watches from backstage, wanting to see the moment someone wins this match. The bell rings and DC cheers its own 23 Year old Piece of Gold. The five circle and TJP rushes Metalik while Lio gets out of the way. TJP drags Metalik out of the ring, wanting to focus on their lucha libre grudge. He bumps Metalik off barriers, while Nese and Alexander brawl in the ring. Nese backs Alexander down but Alexander chops him back. Alexander clotheslines Nese out and Lio comes back in. Lio talks trash with Alexander, but Alexander catches that kick. Alexander flips Lio but Lio lands on his feet. Things speed up as Lio keeps changing directions on a dime. Lio slides but Alexander catches him. Alexander yanks Lio back up but Lio arm-drags.
Things speed up again and Alexander handsprings back to headscissor, but Lio lands on his feet again! Lio says "it's not happening". Alexander rushes Lio but Lio ducks. Lio whips but Alexander reverses, only for Lio to springboard and headscissor Alexander again. Lio does a dance and knows Alexander knows what that means. Alexander rushes Lio and the chase is on. They pass around the corner and Nese clobbers Alexander! Metalik and Lio are in the ring, and the luchador dares Lio do come at him. Metalik swing kicks Lio away, then springboards for a crossbody! He keeps moving and handsprings but Lio avoids it. Lio runs but Metalik dodges, tilt-o-whirl gutbuster! Metalik keeps moving, runs the ropes, and hits the missile dropkick! He drags Lio to a cover but Nese throws Metalik out hard.
Nese has Lio but Lio fires off forearms. Lio whips but Nese stops himself. Nese elbows Lio then leaps but Lio gets clear. Nese goes Matrix to then mule kick, knee lift and roundhouse, but Lio dodges to mule kick and enziguri back! Lio stands tall while Nese rolls out, and DC cheers their own. Murphy seems moderately impressed as Lio dropkicks Alexander back out. Lio joins everyone on the outside and drags Metalik in. Metalik crawls but Lio dares him to stand up. But TJP grabs Lio in a modified abdominal stretch. Metalik swings on TJP but ends up in another abdominal stretch. TJP has mirrored stretches, and goes after Metalik's mask!
Nese comes in and rolls TJP up, but TJP resists. Lio runs in, but into a German Suplex! Nese bridges to have both TJP and Lio in simultaneous pins! Metalik breaks both covers just in time! Nese kicks Metalik back, then throws TJP into a post. TJP tumbles out while Nese runs Metalik over with an elbow. Nese rocks Alexander to keep him out of the ring, and now the Premier Athlete flexes. Fans boo and jeer but Nese stomps Metalik and Lio. Nese wrenches Metalik's neck while putting his weight on him. Fans rally up for the others, and Metalik fights back. Nese back suplexes Metalik down, covers, TWO!
Nese goes back to the neck wrench, but lets go to intercept and throw out Alexander. Alexander hasn't gotten much of anything, and Nese goes back to Metalik for more neck wrench. Metalik fights but Nese drops a leg. Nese soaks in the heat, then drags Metalik up and over. He puts Metalik in the Tree of Woe to then stomp a mudhole into him. Nese brings back Full Contact Cardio! Fans boo more but Nese simply counts out that 8-pack. But Alexander rolls him up! TWO, and Nese runs Alexander over again! Cover, TWO! Nese drags Metalik up, but Metalik fights back. Nese knees then whips Metalik, but Metalik stops himself to SUPERKICK Nese back!
Metalik jumps up and quebradas, but Nese catches it and makes it a cover. ONE, and Nese fireman's carry. Metalik fights out and suplexes, for a brain buster! Cover, but Alexander breaks it just in time. Alexander goes after Metalik but is powered to a corner, for a LOUD chop! Metalik runs in but into a boot. Alexander springboards for the clothesline! Fans fire up with the former champ as he runs at Nese. Alexander rallies with lariats and a big uppercut. Alexander whips but Nese reverses, only for Alexander to dropkick the legs out. He hurries to the apron, but Alexander has to jump over TJP's swipes at his legs. Alexander boots TJP then kicks Nese, to then hit the springboard complete shot! Cover, but Lio breaks it!
DC cheers Lio he stomps Alexander. TJP comes in and fireman's carry, but Lio slips out to put TJP in a corner for a forearm smash. Lio hoists TJP up top then climbs up. They brawl up top, and TJP dumps Lio all the way down. Metalik swing kicks TJP, then brings him back up. TJP resists the superplex, but Alexander adds on. They both want to suplex TJP, but in comes Nese. Nese throws Alexander down then electric chairs Metalik. TJP works with Nese, but Metalik victory rolls to avoid the crossbody! TJP gets Alexander but Alexander rolls through! Cover on Nese, TWO! Lio climbs, Alexander hits a Michinoku Driver on TJP, cover, TWO! Final Hour frog splash on Alexander! Cover, but Nese and Metalik both break it! All five men are down but DC fires up. DC chants for "205! 205!" as the five men stir.
DC goes back to cheering for Lio while Metalik and Nese brawl. Metalik chops Nese but Nese mule kicks Metalik. Nese runs but Metalik dodges, handspring arm-drag and dropkick! TJP is up to rolling sobat Metalik! Lio is up to mule kick and heel kick TJP! Nese is up but Lio bobs 'n' weaves to fire back. Lio swings but Nese shoves to rock him with that left! Nese turns around, Alexander blows past to handspring and Neuralizer! Cover, TWO!! All five men are down again, but fans rally up. Alexander grits his teeth as he glares at Nese. Nese crawls to the apron but Alexander is on him. SUPERKICK from Metalik, but Alexander swing kicks him down. Alexander builds speed to FLY onto Metalik! He gets Metalik back in, but TJP rocks Alexander to cover Metalik! TWO, but TJP is after that mask again!
Metalik kicks TJP away, but TJP clubs him back down. TJP whips but Metalik DIVES onto Alexander! TJP hits the triangle wrekcing dropkick, but then Lio handspring kicks TJP! Nese rolls Lio, TWO, to a deadlift bomb to the OUTSIDE! Lio, TJP, Metalik and Alexander are all down, and Nese has his pick. Nese drags Lio up and in, covers, but Alexander drags him off it. Nese shoves Alexander away but Metalik is on Nese. Metalik chops Nese in the corner, thenw hips him corner to corner. Nese reverses but runs into a SUPERKICK! Sling-dog! Metalik climbs up but TJP shoves him right off. TJP has Nese in the kneebar! Nese endures, but is so close. Alexander stomps TJP, only to get put in the kneebar!
Metalik stomps TJP and then whips TJP. TJP holds ropes and puts Metalik on the apron. TJP runs, but Metalik springboards to let TJP go under AND Asai at the same time! All five men are down once again, but Nese and Lio stand. Nese runs into a SUPERKICK! Lio hurries up top and DC fires up for the hometown hero! Alexander runs in but gets a haymaker. Lio leaps for a flying headscissor, but Alexander blocks with pure power! And lifts Lio, to then pop him into the Lumbar Check!! But Nese rolls Alexander up, Nese wins!!
Winner: Tony Nese via Roll Up
Rating: ****
4. NWA 70 NWA Heavyweight Championship 2 out of 3 Falls Match: Nick Aldis vs Cody (c)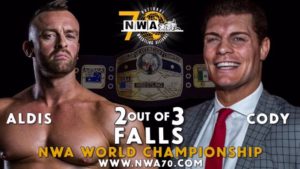 Well we all know the backstory for this. Cody won the NWA title at All In and Aldis felt robbed. Which he had legitimate claims that there was interference and an extended period where the match should've been thrown out, but it wasn't. So Aldis gets a female enforcer to keep Brandi in check and requests the 2 out of 3 falls match. Does Aldis win the belt back, or do we continue to ride the feel good high of Cody Rhodes?
So Aldis' female enforcer turns out to be Kamilla Kaine, aka Mrs. Braun Strowman. So she's an Amazon in her own right and definitely played her part in the match. Much like Omega vs Okada, I'm not going over everything since there's just too much to try and document.
The first fall saw Cody tap out quickly to protect himself from further damage in the King's Lynn Cloverleaf. It seemed clever until Aldis immediately powders out at the beginning of the second fall. So this forces Cody to make a big dive and the entire second fall sees them brawling through the entire Fairgrounds. Trash cans were used, even the refreshment stand spot with the cup of soda or water, got used as weapons on the way back to the ring. Cody tried to introduce a table, but Brandi and Kamilla got involved which took attention away from the table as the referees got the table out of the ring.
Aldis gets a small advantage and goes to get the aforementioned table, places Cody on top and then goes for an Elbow Drop. Nick misses big and crashes through the table. Cody gets Nick back in the ring, Crossroads, and the second fall goes to Cody.
Third fall was exciting with how quickly it started, and then turned into a video game move stealing marathon. Firstly, the women get everyone thrown out of ringside when Brandi gets sick of Kamilla and tries to choke a bitch. But after the attention goes back to the ring, we see Cody execute the Bionic Elbow, Orton Style Hanging DDT and even a Rainmaker. So it's at this point, Cody definitely seems more desperate when he thought he had the advantage.
Nick hits a Tombstone Piledriver, and then we get one more reference from Cody as Nick grabs his foot, and the boot slips off. Cody goes for the Small Package, but Aldis shifts the weight and turns the Small Package in his favor. So, NEW NWA Champion and man who effectively sucked the air out of the entire building, Nick Aldis.
Here's to hoping Willie Mack turns into the working man's draw, cause this event should prove the Aldis doesn't have the appeal at all to the crowd. No boos, just dead silence.
Winner: Nick Aldis via Small Package (2-1)
Rating: **** 1/4
3. NJPW Super Jr Tag League: Shingo Takagi & BUSHI vs SHO & YOH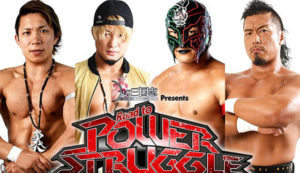 Well Shingo being the big sixth member of Los Ingobernables de Japon lead to BUSHI having a tag team partner. Shingo moved away from the Junior Division earlier in his career, but the Animal Hamaguchi bond most of the LIJ members have, must've convinced him to drop back down for now. The focus of this match is really to see SHO vs Shingo, the two powerhouses of the Junior Heavyweights.
This was just a very good tag team match. BUSHI seems to be trying a little harder than usual and Shingo is establishing himself as a beast. SHO and YOH pulled off numerous tandem moves, just never the 3K. There was even a great moment where Shingo came in to save BUSHI and absorbed strikes from both SHO and YOH.
Yes, I'm aware this is an abbreviated version, but this match felt more like an introduction for people who didn't know Shingo. Shingo looked amazing, Pumping Bombers, Pop Up Death Valley Drivers and power moves for days. YOH tried his Rewind Kick, but Shingo just over powered the smaller man and lands his finisher Last Falconry – oh wait, since he's the Dragon it's Last of the Dragon now. Okay, so Last of the Dragon, and it's just the beginning.
As a special treat the rest of LIJ showed up at the end, the crowd erupted, and they ended with the fist bump pose.
Winner: Takagi via Last of the Dragon
Rating: **** 1/4
Honorable Mentions
NJPW Super Jr Tag League: SHO & YOH vs Yoshinobu Kanemaru & El Desperado
Winner: YOH via Japanese Clutch Hold
Rating: ****
NJPW Super Jr Tag League: ACH & Ryusuke Taguchi vs Taiji Ishimori & Robbie Eagles
Winner: Ishimori via Bloody Cross
Rating: ****
NWA 70 National Heavyweight Title Match: Willie Mack vs Samuel Shaw
Winner: Mack via Stunner
Rating: *** 3/4
NJPW Super Jr Tag League: Soberano Jr & Volador Jr vs Tiger Mask & Jushin Thunder Liger
Winner: Tiger via Tiger Suplex Hold
Rating: *** 3/4
AJPW Raising an Army AJPW World Tag Title match: Shuji Ishikawa & Suwama vs Kai & Kengo Mashimo
Winner: Suwama via Last Ride
Rating: *** 3/4
NJPW Super Jr Tag League: Tiger Mask & Jushin Thunder Liger vs Robbie Eagles & Taiji Ishimori
Winner: Eagles via Inverted Figure 4
Rating: *** 1/2
NJPW: Hiroshi Tanahashi, Togi Makabe & Tomoaki Honma vs Kota Ibushi, Chase Owens & Yujiro Takahashi
Winner: Tanahashi via High Fly Flow
Rating: *** 1/4
NJPW Super Jr Tag League: BUSHI & Shingo Takagi vs Tiger Mask & Jushin Thunder Liger
Winner: Tiger via Abdominal Stretch Cradle Pin
Rating: *** 1/4
NXT Tag Team Championship Match: War Raiders vs Undisputed Era
Winner: War Raiders via DQ
Rating: ***
NJPW: Ayato Yoshida, Yota Tsuji & Yuya Uemura vs Ren Narita, Shota Umino & Tomoaki Honma
Winner: Umino via Boston Crab
Rating: ***
NWA 70 Women's Championship Match: Jazz (c) vs Penelope Ford
Winner: Jazz
Rating: ***
2. NJPW Super Jr Tag League: Kushida & Chris Sabin vs Shingo Takagi & BUSHI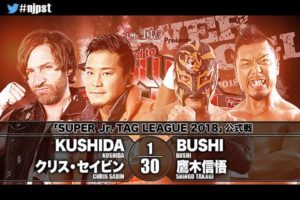 So the previously highlighted tandem from LIJ, who will ride the Dragon to victory. Yes I'm aware that's a drug reference, it's funny, roll with it. But the other team has a built in story since Kushida picked Chris Sabin because Alex Shelley retired. So Kushida wanted to tag with Shelley's other tag team member, and they are affectionately referred to as the Time Machines ( Time Spliiters + Motor City Machine Guns). Does the singles champion and his new partner have what it takes to put the Dragon to rest?
Since it's late and I'm tired, I really tend to enjoy abbreviated recaps. This was a continuation of the first match where Shingo looks like the most imposing figure in the Junior division. Kushida more then held his own though.
At one point Kushida had Shingo knotted up in a Rings of Saturn variation, which made it interesting that both BUSHI and Shingo were favoring their arms. Even dinged up, Shingo pulled off many impressive power moves. Hell there was a spot where he did the Pop Up Death Valley Driver, but was falling backwards. It could've been a mistake, but it still looked good and since it was done to Sabin, I was happy no one died.
BUSHI definitely has fallen into his role in this team. He takes most of the offense, gets in some impressive tandem stuff, like a Spinebuster/Back Cracker combo, but Shingo is the main event. If this team loses, BUSHI will most likely eat the pin.
As a good way to create some heat with Shingo and Kushida, they exchanged even blows, but the finish comes on Sabin. So Shingo hits Last- of the Dragon on Sabin, and the LIJ team keeps rolling.
Winner: Takagi via Last of the Dragon
Rating: **** 1/2
1. AJPW Raising an Army Triple Crown Championship Match: Zeus (c) vs Kento Miyahara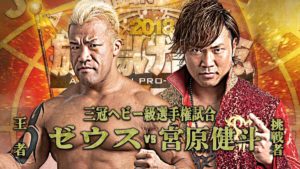 This is Zeus' second defense, against the man he took the title from. Kento won the 6th Royal Road tournament to earn this shot, so this should be interesting. Kento is easily the new Ace of All Japan, but Zeus has been a very good up and coming foil. Does Zeus retain, or do we see the Ace reclaim the belt for the 4th time?
I don't have intelligent sounding words for how fantastic this match was. The aggression of both men was through the roof. Early hard shots and then they take the match to the outside. Zeus flings Kento around, and pulls off a nice Snap Suplex on the outside. Zeus does something he doesn't usually do and removes part of the turn buckle pad and throttles Kento's throat across the exposed part. Kyohei Wada has to pull Zeus off of Kento and the match continues.
The expression on both men's face just dialed up in emotion and aggression. We saw them charge at each other multiple times and this just had a much different feeling than any other modern All Japan match I've seen. Kento chained a few Blackouts and German Suplexes together, but that just pissed off Zeus and he came back more angry. Another uncharacteristic spot was Zeus kept pummeling and choking Kento in the ropes. He throws Wada off and continues his assault until Wada literally has to wedge himself in the middle to get Zeus to break.
Kento has a Sting like resiliency where no matter how long the match goes, he can charge back up. Multiple knee strikes made it seem like Kento was putting it all together. He hits his Shutdown German Suplex Hold…but Zeus kicks out. That's maybe happened once or twice in the last 2 years, so that was a huge spot.
Kento tried to follow up and Zeus hits him with a straight right fist. Jackhammer from Zeus, but Kento kicks out. So the frustration is huge on both men. Chops and strikes, Zeus even gets Kento down on the ground with repeated Karate Chops to the back of the neck/shoulder blades. Just when it seems like Zeus beat the life out of him, Kento fires back up and lands a half dozen Blackouts.
Zeus kept trying to pop back up after them, but the last one rocked him. He stumbles around the ring, not aware of where he was, so Kento catches him for the Shutdown German Suplex Hold. The three comes down and Kento is champion once again!
King's Road style is different than New Japan's "Strong Style", but I'm fairly sure this match will translate beyond what many assume all Japanese wrestling is. After the match Kento called Zeus back up, I think saying something about continuing to build up All Japan together. Zeus took his hand and agreed before the leaving the ring to a chant of " Zennippon" (All Japan).
Winner: Kento via Shutdown German Suplex Hold
Rating: ******
Thoughts:
I feel like this happens quite a bit, but the All Japan match can't be touched this week in my opinion. Passion, aggression, resiliency and the power struggle between these two all year has been a great story. Yes, yes, more people visit the Dunkin Donuts in rural West Virginia than watch All Japan, I get it. But that doesn't lessen how amazing the match was, with or without context.
So Always Use Your Head, and watch some of these matches you may have not seen. Branch out, put extra bacon on your burger, just enjoy the wide variety of wrestling that we have currently
---
Always Use Your Head and visit the official Pro Wrestling Tees store for The Chairshot All t-shirt proceeds help support the advancement of your favorite hard-hitting wrestling website, The Chairshot!

---
NXT UK Is Not The End Of The UK Indy Scene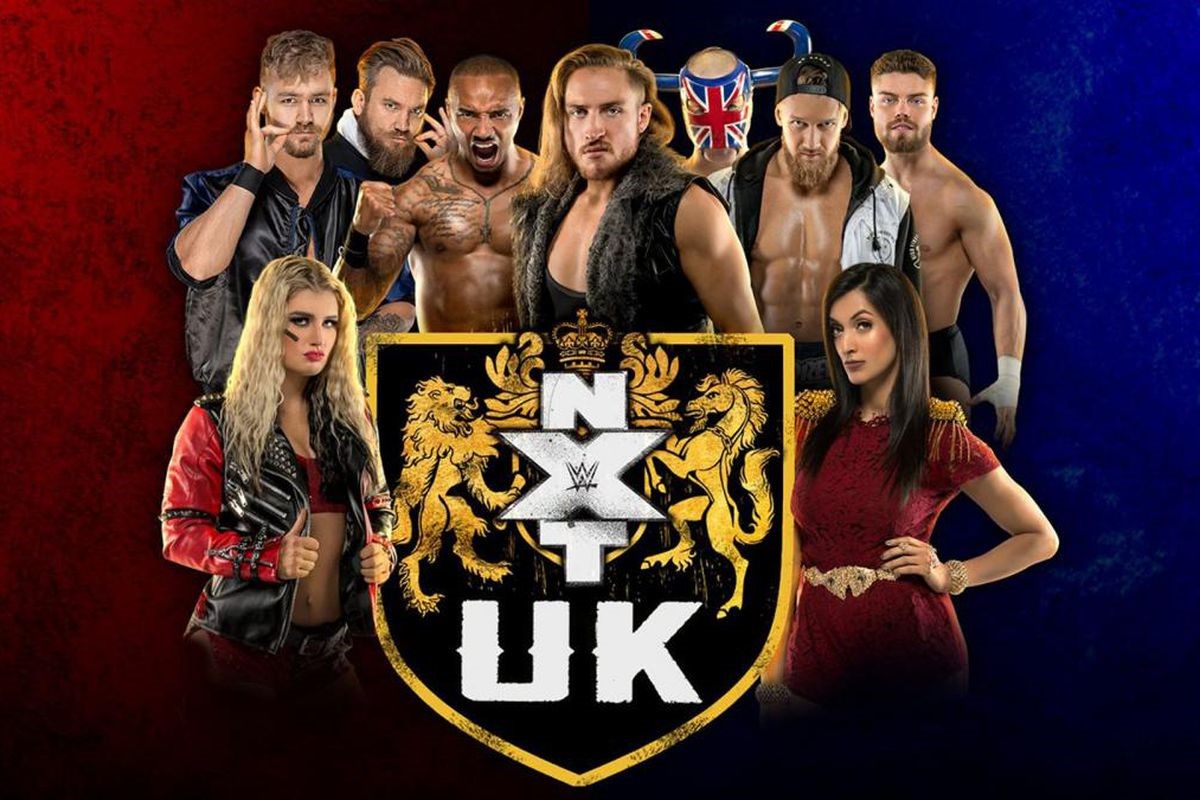 Ever since the announcement of a WWE UK brand and the relationship WWE had with certain UK promotions people have been crying it as the end of the UK Indy scene.
I don't think this is the case and I'll tell you why.
On Wednesday night after months of waiting for it NXT UK has finally aired on the network. A good first episode caped off with Pete Dunne retaining his UK Championship over Noam Dar.
While it seems clear that NXT UK is a knee jerk reaction to the relaunch of World of Sport both are great for a lot of the wrestlers. WOS being on terrestrial TV and NXT UK being on the Network it gives a lot of talent an opportunity to be seen by a whole new audience.
About every home in the UK get ITV so could possibly see WOS and casual fans who have persuaded to get the network may stumble across NXT UK. Also American fans who are very into Indy wrestling but don't watch a lot of UK wrestling can go on the network and get a good insight to how good British wrestling is.
The wrestlers involved are still able to work indies in between which helps those indies in turn gain some new eyes. They can put NXT superstar next to a NXT UK Guys name to draw in the casual fans.
While there has been criticism that they're only doing indies WWE approve of they're still working the main UK promotions like Progress and ICW. These are the promotions responsible for the recent boom so I think it stands to reason that these are the companies WWE would look to for the best in the UK. It's almost recognition to these promotions for helping build the scene.
There was a story that WWE UK guys weren't allowed to work Indy shows if it's within a certain amount of time before one of their WWE dates that caused to outrage. While that might suck if it causes them to miss a date it just seems like WWE protecting their investment and preventing these stars from being injured.
Missing one show is better than getting injured and missing out on your opportunity to work with biggest wrestling promotion in the world and depending on the injury miss out on more indy dates than you would have originally.
If anything, the fact that NXT UK and WOS are fighting over talent is a compliment to how big the UK scene has gotten in the last few years. Not even WWE  who have notorious for pretending no other promotions exist can ignore how big it's gotten.
This is part of WWE's global expansion which if it's anything like this looks to hearkens back to the old territory system of the 60's and 70's. Something you know has to be a Triple H idea because he loves old school wrestling.
If Triple H is behind it which all the evidence is pointing to gives me more faith in it as we've seen what he's done with NXT.
In the end I think the fans are going to be the real winners. With NXT UK and World Of Sport competing against each other could almost be the UK's version of WWE's war with WCW. Not exactly because they're not on at the exact same time but you get my point.
---
Always Use Your Head and visit the official Pro Wrestling Tees store for The Chairshot All t-shirt proceeds help support the advancement of your favorite hard-hitting wrestling website, The Chairshot!

---
Kenny Omega vs Bad Luck Fale Needs, Or Needed, To Happen.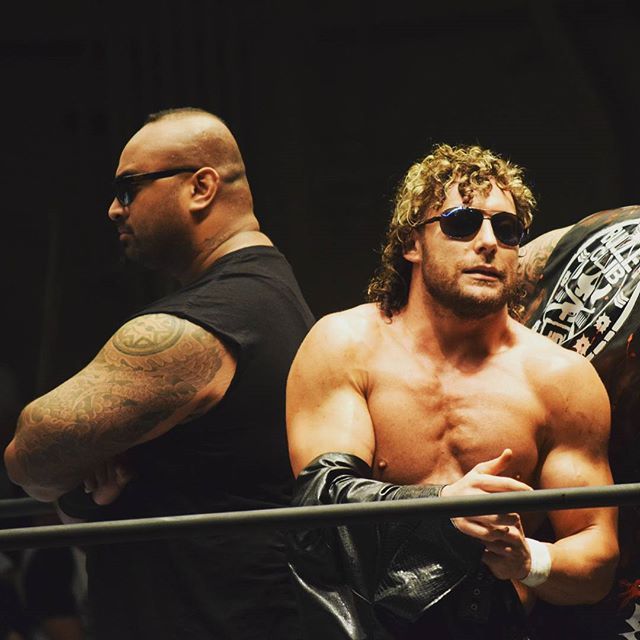 I am pretty sure some of you are wondering after reading the title, but allow me to reaffirm this. Kenny Omega vs Bad Luck Fale, for the IWGP Heavyweight Championship, is a necessity. I will now tell you everything about why I think this match should, or possibly, should have happened.
 Kenny Omega has been the IWGP Heavyweight Champion for slightly more than five months. In these five months, he defended the championship three times. Once against Cody Rhodes, then against Tomohiro Ishii, which was, in my opinion, his best out of the three defenses, and a triple threat against both Kota Ibushi and Cody Rhodes. The match against Ishii really felt like a test for Omega, but, in my opinion, a second test to see if he is worthy of main eventing Wrestle Kingdom as IWGP champion would have been interesting. That's where Fale enters. Since the Triple Threat match which happened at King of Pro Wrestling has been announced, I thought it wasn't the right match. Even after it ended, and it's not taking anything away from the match itself since it was really good, I had this same feeling. So, I thought to myself : "Which match would be better than this, storyline wise ?"
 
There, I thought of The Underboss of Bullet Club. Fale is not an easy opponent to defeat, he represents the perfect challenge for a man needing to prove something. Kenny Omega needs to prove he is the right man to bet on, now that he is the champion. His ultimate test being against Tanahashi at Wrestle Kingdom, imagine if he enters his first main event as champion after defeating two of the toughest wrestlers to beat in the whole roster ?
 
Now, to the other important part. I talked about the story, and, after the story of Fale being a great challenge for anyone needing to prove something, let's talk about the Bullet Club as a whole. The Faction has been divided, Kenny represents The Elite, and Fale the OG's. The thing is, there was, at King of Pro Wrestling, the perfect opportunity to add more to the inner Bullet Club storyline. Obviously, it has been done with Jay White joining and, I'm assuming, taking the top spot in the group, as he's likely to be the man who will main event shows and challenge for the Heavyweight championship in the future, but what about Kenny ? Was costing him a win against Toru Yano in the G1 and beating him up an handful of times really enough ? Tama Tonga and company are pointing Kenny Omega as, pretty much, THE reason why Bullet Club isn't what it was and how bad it is, but they're not making him that much of a priority in the end. they just kicked him out and changed the face of the faction. Where has been the involvement of the Bullet Club OG's in Kenny Omega's IWGP Heavyweight Championship reign ?

Going back to the match itself, if you are really not going to give Kota Ibushi the one on one match for the championship he earned, the King of Pro Wrestling main event should have had a storyline purpose. It is exactly what Fale represents. Oh, and let me clarify that Fale is indeed a more than decent wrestler. He will do his job right, and the man he faces will look strong or smart. Ask Tanahashi, Okada, Shibata or Nakamura.  

 Now, since this quick rant is now post-KOPW, we know it is very unlikely that this bout, that I believe to be both interesting, meaningful and important, happens before January 4th. There is a chance it happens afterwards, since the Wrestle Kingdom 13 match hasn't played out yet, we can still assume Kenny might retain the championship, which opens the door again for the match against Fale. But tell me, would it have the same impact if it happens after Omega's biggest match since he defeated Okada ? I don't think it would. Kenny just proved to the world he really is the man to lead New Japan into this new age, and then he gets to this sort of other gatekeeper to stop him from going forward. But, what gate does Fale keep in that case ? What special flavour does he bring, by not getting the possibility to take Kenny Omega down, as the latter is trying to get to the top of the Wrestling world ? Is he really the biggest challenge Kenny has to face at that specific time ?
 Ask yourselves these questions, and you can tell me how you feel about a Kenny Omega vs Bad Luck Fale match for the IWGP Heavyweight Championship. Was or is it a necessity to you ? What do you think about such a match ?
---
Always Use Your Head and visit the official Pro Wrestling Tees store for The Chairshot All t-shirt proceeds help support the advancement of your favorite hard-hitting wrestling website, The Chairshot!

---