Chairshot Week In Review: WWE July 29 – August 4, 2018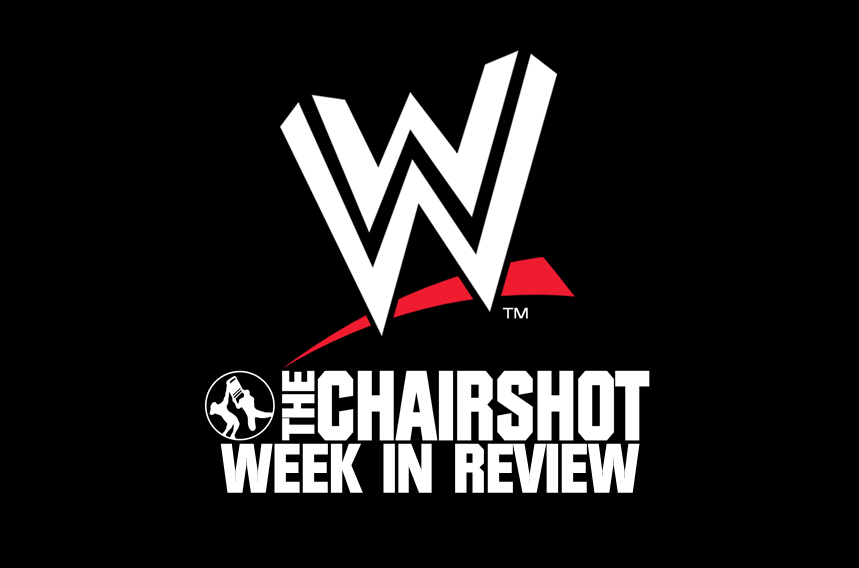 The State of WWE:  July 29-August 4, 2018
It is Week 3 of the build for SummerSlam and once again, WWE realizes that the problem with booking so many title matches so far in advance is trying to keep the momentum going. So let's see how WWE did this week.
RAW
WWE Universal Championship: Roman Reigns may be primed and ready to take on Brock Lesnar, but Lesnar doesn't seem to think he has any reason to fear Reigns or actually hype his match. This attitude leads to trouble for Lesnar's long time advocate, Paul Heyman, who finds his job in WWE jeopardized by Lesnar's apathy.
The tensions between Angle and Corbin continued to grow as Corbin, with the backing of Stephanie McMahon, undermines Angle's authority and credibility at every turn, but learns the downside of being a stooge to the McMahons: You're the first to get your ass kicked if you cross the top babyface. Corbin learned that lesson the hard way when he and Angle threw Reigns out of the building for no good reason, with the threat that he'd lose his title shot if he didn't comply. Reigns called out Angle's seeming impotence before knocking Corbin flat on his ass.
Later in the evening, Lesnar would finally come to the ring, but seems to be buying into his own hype and turns on Heyman and assaulting Angle. It seems that Lesnar is getting out of control, but what Angle and WWE can and will do is another matter.
WWE Intercontinental Championship: Ziggler wasn't in action tonight, but Seth Rollins was against Drew McIntyre. Rollins managed to pick up a win by DQ after Ziggler attacked him to stop Rollins from pinning McIntrye again. A fight broke out, but Rollins still got a win over McIntrye and was left standing over Ziggler.
Later on, Renee was interviewing Rollins when Ziggler and McIntyre got the jump on Rollins, but the match is still on for SummerSlam, boys. 
RAW Women's Championship: Alexa Bliss didn't have a match tonight, but there was plenty of action when she seconded Alicia Fox against Natalya Neidhart, who just happened to be seconded by the returning Ronda Rousey.
Fox picked up the win, with some help from Alexa Bliss, but Fox found herself on the bad side of Ronda Rousey and paid for it. Fox made the situation worse by attacking Rousey from behind, which I wouldn't do if I was being backed up by the US Army, Seal Team Six, and the Winchester brothers from 'Supernatural'.
However, Karma might be ready to get a hold of Fox and Bliss, because Angle announced that Ronda Rousey will have her first match on RAW against Alicia Fox NEXT WEEK.
RAW Tag Team Championship: Well, we learned one thing this week: Bo Dallas never won a spelling bee, considering that he seems to think that there is a 'B' in 'dream'. ANYWAY, B Team cut a promo, only to be interrupted by the Deleters of Worlds, who aren't happy about being beaten by Axel and Dallas. The Revival also threw their hats into the ring, saying that they should be given a title shot since DoW lost their rematch, and due to Revival beating Lashley and Reigns, which doesn't mean jack squat in the tag division. A fight breaks out between Revival and DoW, leaving DoW standing tall.
A match was quickly made between Deleters of Worlds and The Revival that ended with the Revival standing tall and with an actual claim to be in the tag title picture.
Sasha vs Bayley: Team BossHugger were in action against Sarah Logan and Liv Morgan of the Riott Squad. BossHugger would come out on top, but it still feels like something's brewing.
Kevin Owens vs Braun Strowman: Owens was sucking up to Corbin during the show and helping undermine Angle's authority on RAW, but Corbin wasn't playing games tonight.
Strowman was in action tonight against Jinder Mahal, however, due to outside shenanigans by Kevin Owens, who took off with the Money in the Bank briefcase, Strowman was counted out, giving Mahal the victory. Strowman was, understandably, NOT happy about this and chased Mahal out of the ring.
Finn Balor: Balor came out on the losing end of a very good match against Baron Corbin on RAW and suffered a further beatdown after the match. It's still not clear what Balor's story is going to be heading into SummerSlam and my original theory just took a sharp turn.
Angle vs Corbin: This came to me after comments by Roman Reigns and the assault on Angle by Brock Lesnar at the end of RAW. Corbin has been a thorn in Angle's flesh as Stephanie's stooge, undermining his authority and credibility, so I can almost see a match between Angle and Corbin at SummerSlam over who is going to be the final authority on RAW, Angle or Corbin.
Bobby Lashley vs Elias: Bob again interrupted Elias, but apparently he wanted to join him in a song, which turned out to be Rockin' Robin (oh, boy).  Elias was so angry that he attacked Lashley, who quickly turned the tables and I think we've got Elias vs Lashley for SummerSlam
Authors of Pain vs Titus Worldwide: Apollo Crews was in action tonight against Akam (no, I'm not sure which one that is). They showed a taped interview that went a little better than the one last week, if you ignore all the author/writing puns. Crews picked up a surprising win, but this isn't going to go over well.
Bobby Roode vs Mojo Rawley: Rawley's war against the locker room continues for some reason and he ended up picking a fight with Roode, who has done more in his wrestling career than Rawley could ever hope to do. A fight broke out, but was quickly broken up, but this seems to be another build for SummerSlam.
SmackDown Live
WWE Championship: Samoa Joe cut a promo on Styles, citing their long history, and even said that he respected Styles and what he's done on SmackDown, even though Styles seems to have put being champion before everything, including being a father. He vows to tear down the House that Styles built and becoming WWE Champion.
WWE United States Championship: Jeff Hardy cut a surreal promo about the US Title, Nakamura, and Orton. Hardy said that as important as the US title is, beating the hell out of Orton was more important. Orton responded to the challenge, only for Nakamura to attack Hardy from behind. So, I'm guessing that this is going to be a Triple Threat at SummerSlam.
Orton continued to assault Hardy after Nakamura left, wiping off his facepaint and generally being a psychotic creep.
Update: Per General Manager Paige, Shinsuka Nakamura WILL defend the United States Title at SummerSlam against Jeff Hardy. No word yet on Orton's place in this match, but Jeff Hardy will get another shot at regaining the US Title.
Smackdown Women's Championship: Carmella and Becky kicked off SmackDown tonight and Carmella gave what seemed like a heartfelt promo, until Ellsworth's music hit and she attacked Becky from behind. The sneak attack brought Charlotte Flair, who has been out due to injury, to her friend's aid.
Carmella whined to Paige, who was not having it. So, she made a match between Charlotte and Carmella, adding that if Charlotte won, the Women's Match at SummerSlam would become a Triple Threat.
During an interview segment with Renee, Charlotte was happy and confident and was determined to reclaim her throne.
When Becky was asked about Charlotte potentially being added, she didn't seem very happy about the idea but said that she wouldn't root against her best friend.
Charlotte vs Carmella was the main event, but before the match, Carmella was asked about the whole situation and mocked Charlotte and Becky's friendship, pointing out that Becky didn't really seem to be rooting for her 'best friend.'
To no one's shock, this was a great match, nor was the outcome really a surprise: Charlotte won with the Figure Eight, thereby earning herself a shot at SummerSlam and stealing the momentum Becky had earned for herself. It's safe to say Becky isn't happy about this, but time will tell what the full fallout of this match is going to be for the Thelma and Louise of Wrestling.
SmackDown Tag Team Championship: Tuesday was Week 2 of the Tag Tournament, the Uso faced the Bar. Unsurprisingly, it was a great match. The Bar managed the win, but the Usos have a legit reason to be ticked since they had the match won on several occasions. So, next week will be The Bar vs New Day.
Daniel Bryan vs The Miz: The war of words between Daniel Bryan and Miz continued this week, with both men trading barbs about each other's careers. Miz seems to have won this round with a withering put down of Bryan's career and accomplishments, despite the fact that Bryan was the talk of sports in 2014-15 due to the Yes! Movement, WrestleMania 30, and his forced retirement.
Later in the week, Daniel Bryan challenged Miz to a match at SummerSlam, which Miz refused, but I have a feeling that General Manager Paige will have something to say about it come Tuesday.
Lana vs Zelina Vega: After last week's catfight, Lana and Zelina were put into a match by Paige. The match wasn't the total, flaming, trainwreck I was expecting, Vega outclassed Lana at every step, though Lana managed to hang with her. English tried to even the odds for Lana, when Almas tried to interfere, but ended up costing her instead. Despite this, Lana blasted Rusev backstage for not coming to her aid and saying that English had been there for her.
205 Live
Cruiserweight Championship: So, last week, Drew Gulak won the opportunity to face Cedric Alexander at SummerSlam, in an amazing match. This week, the opponents had a tense contract signing. Drew tried to cut a promo before signing, but Cedric basically told him to shut up and sign the contract. Drew said that he simply wanted to congratulate Cedric on being undefeated in 2018, one ONE little asterisk: He hasn't done anything since. Cedric scoffs at this, pointing out that he's defended his title all over the world, against all comers. Gulak says that while he's not knocking Cedric's performance, he points out that when the title wasn't on the line, Cedric wasn't around, while guys like Gulak were building the brand, ignoring the fact that Cedric had been helping build the brand as well, before and after he became champion.
Cedric's had about enough of Gulak and tells him to get to the point because he's tired of listening to Gulak's nonsense. Gulak gets to his point: Alexander lets his potential competitors wear themselves out and then steals all the glory, which makes absolutely no sense to anyone but Drew Gulak, and tells him to take a page out of Brian Kendrick's book, and that Cedric Alexander will be known as the Brock Lesnar of 205, even though Alexander has defended his title more since WrestleMania than Lesnar has in his entire reign.
Cedric takes the insult much better than I would have but warns Gulak that he just guaranteed that Brian Kendrick was going to be in for a world of hurt during their match later in the show.
In 205's main event, Cedric took on The Brian Kendrick.  Cedric was flying solo, which seems like a bad idea.
This was a really good match. Kendrick did a great job of feeding Alexander while not looking like a total chump.
Drew Gulak came out at one point and distracted Cedric, which lead to some under the ring shenanigans with Kendrick and Cedric. However, the affects of the dirty tricks didn't last long and Cedric powered back. Kendrick tried to hit the White Bread #1, but Cedric countered by throwing him outside.
This match is how title matches should be done on every show, both guys looked great and it really felt like the title could change hands. Cedric hits the Lumbar Check, which looks like it hurts like hell, and gets the three count.
Gulak is FURIOUS that Kendrick lost, even though Kendrick winning would've thrown a wrench in Gulak's SummerSlam plans. Gulak moves like he's going to confront Cedric in the ring, but while Cedric is urging him to come in the ring, he's attacked from behind by Jack Gallagher. Before any other shenanigans can happen, Drake Maverick comes running out and threatens to revoke Gulak's  #1 Contendership if he and Gallagher don't get out of the ring and go to the back. If Cedric's still thinking of going solo, he might want to rethink that.
Kalisto vs Tony Nese: The Lucha House Party was in action against the Party Crashers in one-on-one action this week in a very good, hard-hitting match up. Kalisto won with the Salida del Sol, though nothing can be taken away from Nese who seemed to have tweaked his knee at one point.
As Kalisto was leaving, he was confronted by Buddy Murphy, who wasn't happy about his buddy, Nese, being defeated and things quickly got physical. Kalisto was saved from being a long dart by Lince Dorado, who is supposed to be out with a ruptured tendon in his thumb. The Lucha House Party buddies quickly took Murphy out with stereo superkicks left the Party Crashers flat.
Lio Rush vs Ricky Martinez: Rush comes out first and cuts a promo about how people were made he didn't give Tozawa a rematch, but Rush says that he's a hot commodity and that everyone wants a piece of him. He says he was tempted to give Tozawa a rematch but thought it wasn't fair since he's already found someone way more qualified to face him than Tozawa, which is apparently the guy waiting for him in the ring.
This match was quick, but Martinez did a really good job. Rush played the arrogant heel who is too big for his britches really well. As Rush is celebrating, Tozawa's music hits and the Japanese Chainsaw makes his way to the ring. Rush decides to beat a hasty retreat because Tozawa's ready to fight.
NXT
NXT Championship: Last week, Tommaso Ciampa SHOCKED the WWE Universe by beating Aleister Black for the NXT Heavyweight Championship, with an unintended (I hope) assist from Johnny Gargano.
The Blackheart cut a deranged promo and eviscerated Gargano and Gargano's screw up from last week.
Black comes out, understandably pissed off by what happened last week, but Gargano runs out of the back and takes down Ciampa. Ciampa beat a hasty retreat, leaving Gargano and Black in the ring.
Gargano, who seems to be his own worst enemy at times, gets on the mic and tells Ciampa that this isn't his (Ciampa's) NXT and owns up to the fact that he's the reason Ciampa is champ right now.
That's a good enough confession for Black, who lays out Gargano with one kick. In the closing moments of the show, it looks like we're going to have a triple threat at TakeOver.
Update: Aleister Black suffered a torn groin muscle during a house show and it isn't clear what's going to happen with this match.
NXT North American Championship: Adam Cole was not featured on NXT this week. However, GM William Regal made an announcement for TakeOver Brooklyn: Cole WILL defend his North American Title against Ricochet.
NXT Women's Championship: Shayna Baszler was in action against Candice LeRae in a non-title match. This was a really good match and both ladies looked good, with Baszler getting the submission victory. Though the end of the match was used to build Baszler vs Sane for TakeOver, LeRae made a great argument for being included in that match.
NXT Tag Team Championship: Former champions, Mustache Mountain were in action against Matt Knox and Brandon Taylor. Mustache Mountain get a great pop and their opponents, a jobber team, are already in the ring.
This was a really good match, at least on Mustache Mountain's end, however Knots and Taylor gave as good as they got. However, this was a quick one with Mustache Mountain coming out on top.
The boys get on the mic, Severn apologizes for what happened in their title match. Severn says that he's spoken to William Regal and they have a plan. Bate says that they're on a mission to get back their NXT Tag Titles and that they're invoking their rematch clause against the Undisputed Era at TakeOver: Brooklyn.
When asked if they had any tricks up their sleeve, MM said that they'll do to Undisputed Era what they did to them at the Royal Albert Hall. They're interrupted by War Machine (I think) who vow to destroy anyone who gets in their way.
Heavy Machinery vs The Mighty: Apparently, the Mighty beat one member of Heavy Machinery, but I'm finding that a little hard to believe, these guys are MASSIVE and stiff as concrete.
This was a good match, but I'm a little confused as to why guys as massive as Heavy Machinery are being booked as they are, they should be squashing The Mighty. Maybe it's just the pudgier guy they're booking wrong because the tall guy, Tucker, is something else.
The Street Profits interrupt by having a party in the audience, distracting The Mighty, who miss Tucker Knight tagging in his buddy. Machinery hits the Compacter and gets the three. The Mighty aren't happy, but since Street Profits didn't come near the ring, the Mighty have no one to blame but themselves. 
EC3 vs Kona Reeves: This was a really good match, but I'm having trouble getting behind either one of these guys. Velveteen Dream comes out and distracts EC3 with a promo about EC3 not getting over what happened at the Royal Albert Hall and says that if EC3 wants to talk about it, he'll have to come to the Dream's world. Despite that, EC3 manages to get a pinfall victory over Reeves.
Backstage, EC3 is asked about Dream's offer and says he'll play Dream's game, but Dream has to know that the conversation will turn into a fight. 
Regal makes a match for TakeOver: EC3 vs Velveteen Dream.
Tiffany's Take
This was a really interesting week for WWE in terms of building for SummerSlam. RAW is suffering a little from booking so many title matches so far in advance, but the ongoing story of Reigns/Lesnar was really good this week. On every show, the main title stories were advanced and some lower card matches were being built. It'll be fun to see how things will take shape as we start coming into the homestretch for SummerSlam and TakeOver.
WWE Week in Review: January 14-20, 2019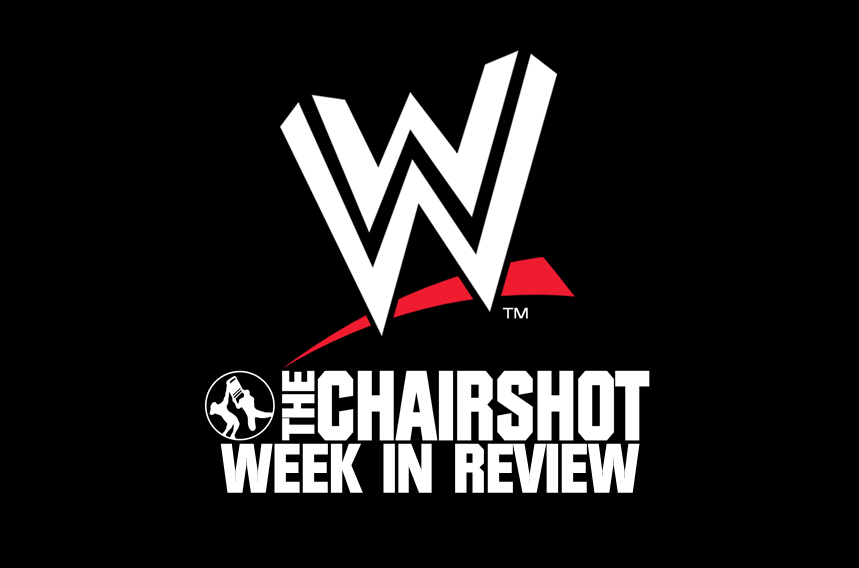 Tiffany brings us the rundown of the week that was in WWEland. Let's see how it all plays out before the Royal Rumble week!
We are a week away from the Royal Rumble and the fur is starting to fly!
On RAW, Braun Strowman's temper costs him big time. The Revival learn to fight fire with fire. Four men are granted the chance of a lifetime. Dean Ambrose defends his title against Seth Rollins and Bobby Lashley, and the Women's Division gets their first look at a game-changer while Sasha Banks and Ronda Rousey's war of words gets heated and starts pulling everyone in.
On SmackDown, AJ Styles strikes back at Daniel Bryan. Rey Mysterio and Andrade Almas meet in a dream match. Mandy Rose's mind games with Naomi take a shocking turn.
On NXT UK, the fallout from TakeOver begins. The White Witch looks to put the so-called Queen in her place. El Ligero faces Joseph Conners, and Mark Andrews and Flash Morgan Webster look to vanquish Fabian Aichner and Marcel Barthel.
On 205 Live, everyone is ramping up for the big Fatal Four Way. Buddy Murphy issues an open challenge and Lio Rush looks for revenge against the Lucha House Party.
On NXT, Aleister Black and Tommaso Ciampa discuss their upcoming rematch. Johnny Gargano faces Humbert Carrillo. Street Profits look to get back in the game, and Bianca Belair and Shayna Baszler face each other before their title match at TakeOver.
How did WWE do? Let's find out!
RAW
Universal Championship: Braun Strowman certainly had reasons to be in a good mood on Monday. In thirteen days, he was meeting Brock Lesnar at the Royal Rumble, then Baron Corbin happened. Strowman was in the ring giving a promo when Corbin came out and ran his mouth, saying that Strowman constantly lets the fans down. Furious, Strowman chased Corbin to the back, but the Lone Wolf got away. Thankfully, Strowman got an assist from Elias, who sang to him that said that Corbin was hiding in the limo parked in the unloading area of the arena. When Corbin refused to come out of the limo, Strowman snapped and ripped the door to the limo OFF THE HINGES, only to be confronted by a FURIOUS Vince McMahon, who just HAPPENED to 'own' the limo.
To his credit, Strowman tried to fix the limo, but to no avail. Vince fined him $100k for his actions, when Strowman scoffed at the amount, Vince did him one better, he STRIPPED Strowman of his Universal Championship match two weeks before Royal Rumble. Understandably even angrier than before, Strowman retaliated by FLIPPING the limo over. That'll show 'em.
Vince went to the ring to address the sudden lack of a #1 Contender for the Universal Championship. Before he can get started, he's interrupted by John Cena! Cena has the perfect solution to this little problem, put him in the championship match! Cena was then interrupted by Drew McIntyre, who thought Cena was the LAST person who should get a title shot, especially with his truly around. McIntyre was interrupted by Baron Corbin, who was then interrupted by Finn Balor, who doesn't think any of them should be getting a shot over the FIRST Universal Champion.
Vince admitted to admiring Balor's guts, but doesn't think he's big enough for the job. Balor challenged that notion and all hell breaks loose, which inspires Vince to make a Fatal Four Way match between the four men in the ring, winner goes to Royal Rumble.
However, Balor getting a chance to POSSIBLY face Lesnar at the Royal Rumble didn't sit well with everyone, namely Jinder Mahal, who saw no reason why he shouldn't have gotten the slot. Vince gives him a shot, if he can beat Balor in a one on one match, he'll get the spot in the Fatal Four Way.
Mahal and the Singhs did their best, but Balor had come too far to be stopped by Mahal and his goons. That said, it was a really good match but the outcome was never really in doubt. Balor put away Mahal with a Coup de Grace and moved on to the Fatal Four Way.
Balor had accused Vince of not taking him seriously, but McIntyre and Corbin certainly did, as both did their best to take Balor out of the equation early in the match. It was a hell of a fight for all four men, but Finn Balor would shock the WWE Universe and WIN the match, earning himself the chance to face Brock Lesnar at the Royal Rumble.
Intercontinental Championship: Last week, what was supposed to be the final match between Dean Ambrose and Seth Rollins over the Intercontinental Championship ended in controversy when Bobby Lashley attacked Seth Rollins, costing him the match. Now, the logical thing to do would be to have Rollins and Lashley meet in a match and have Ambrose face someone else, but someone decided to have Rollins and Lashley face Ambrose for the Intercontinental Championship instead.
Ambrose, the Moral Compass of WWE, fumed about this stating that in a world of right and wrong, him having to defend his title against Rollins again and against Lashley, who had done nothing to ear the opportunity, was wrong and Ambrose is never wrong.
The match was really good, and it gave us Shield fans a chance to see Ambrose and Rollins working together as a team again, even if it was just out of mutual dislike for Lashley. Unfortunately, Lio Rush proved to be the deciding factor and Lashley would become the NEW Intercontinental Champion.
Ambrose was furious, especially since he was the one pinned, and since there's no rematch clause, he doesn't get an automatic second chance, but we can be sure that the Moral Compass of WWE will do what he has to to right this injustice.
Women's Division: Ronda Rousey and Sasha Banks are scheduled to meet at the Royal Rumble for the Raw Women's Title, but they have some mutual adversaries to deal with, namely Nia Jax and Tamina Snuka.
This was kind of a dream team up for a lot of fans, and Rousey and Banks certainly gave the fans the teamwork you'd expect. Banks did most of the match and reminded everyone why she is the Boss of WWE, including her tag team partner. After the match was over, the two women were interviewed by Charli Caruso and Rousey made the mistake of saying that she would make Sasha tap at Royal Rumble. That did it.
Sasha fired back that she was going to teach Rousey to lose with class and that she WILL make Rousey tap out and take back her title.
That should've been the end of it, but the argument kept going backstage and drew in Bayley and Nattie, who then proceeded to argue about whose BFF was in the right, which greatly amused the Riott Squad, who challenged the bickering pair to a six woman tag. Issue? There wasn't really a sixth woman available, at least not from the current roster that Nattie and Bayley could call on. Or is there?
Well, RAW just got a little crazier. Nattie and Bayley did manage to find a +1 for their tag match against the Riott Squad and it was Nikki Cross! The Twisted Sister of NXT wasted no time in bringing her particular brand of chaos to the ring, much to the chagrin of the Riott Squad and Nikki's…playfulness proved to be the decider as she helped Bayley pick up the win for the babyfaces. Look out, RAW, Nikki wants to play!
Alexa Bliss' A Moment of Bliss was such a hit last week, I guess, that she got a second episode, but the self-proclaimed Goddess had a VERY awkward moment when her assistant was so eager to deliver her coffee to her that he walked in while she was topless.
Recovering her senses, Bliss went on to host A Moment of Bliss with a very cool guest, Paul Heyman, but first, Little Miss Bliss had a debut to MC, the new Women's Tag Team Titles have arrived and they are gorgeous, Bliss also revealed that the new champions would be crowned at Elimination Chamber. Bliss' interview with Heyman, even with all the chaos, consisted of Heyman hyping Brock Lesnar, nothing really interesting, until Otis 'Dozer' Dozovic of Heavy Machinery burst onto the scene, warning a stunned Heyman and Bliss that he and Tucker Knight are coming, before being ushered away by Tucker Knight.
Tag Team Division: For months, the Revival have struggled to become the RAW Tag Team Champions and have always come up short. After the disastrous Lumberjack Match that saw Roode and Gable retain despite Dawson's foot CLEARLY being on the rope, the Top Guys decided to fight back, and their first targets were the guys who were in clear position to set the ref straight and refused: Lucha House Party.
Revival and LHP have had a pretty intense rivalry and LHP always got the win due to competing under Lucha House rules, but this time, the Revival was ready for them. Lucha House Rules seem to have been done away with when the McMahons took back control of WWE, so it was a  straight 2-2 match, but that didn't stop Lince Dorado from trying to help Kalisto and Gran Metalik. However, the reversal of Lucha House Rules proved to be the advantage Dash and Dawson needed to FINALLY beat the Lucha House Party fair and square, Dash even got a little revenge on LHP by knocking Metalik's foot off the bottom rope during the final pin. Revival have vanquished one (three) foe(s), but will that get them a third chance at the RAW Tag Titles?
SmackDown
WWE Championship: For weeks, Daniel Bryan has been proving that there is nothing more annoying than a health nut with a mission, railing against the processed foods and consumerism that makes up American life, and just generally being a pest. This week, #1 Contender AJ Styles struck back for every American's right to eat processed junk food and buy cheap shirts made in China.
To prove his point, Styles went to the concession area and cut a promo in front of surprised and cheering fans, AJ touted the right of every fan to eat all the processed food they wanted because they've spent their hard earned money to come see their favorite wrestlers perform.
Bryan, ever the thick-headed crusader, didn't appreciate being told that nagging people isn't the best way to tout your point of view, attacked Styles, but Styles was ready for him and left the champ laying on a broken concession table of hot dogs, covered in mustard and ketchup. Styles got the last laugh, but who will be laughing at the Royal Rumble?
SmackDown Women's Division: Becky Lynch has been calling herself 'The Man' for a while now, but this week, she proved why that name wasn't just a cool gimmick. Otis Dozoric and Tucker Knight of Heavy Machinery were showing New Day their…recipe for never fail protein shakes, which consists of steak, pancakes, and god only knows what else, much to New Day's disgust. When Lynch walked up, took a swig of what looked like Polyjuice Potion, declared it weak, and went to the ring.
To further shore up her badass creds, Lynch went to the ring and cut a promo on Asuka, vowing to regain her SmackDown Women's Championship and proving that she wasn't just a flash in the pan. As far as Lynch was concerned, Asuka's win was a fluke, but the Empress of Tomorrow has no idea how to lead a women's division. Becky had made the WWE Women's Division the most talked about division in sports. Asuka had lost to Charlotte and Carmella.
Asuka isn't convinced. As far as she's concerned, Becky is all about the hype, but has no real power. In Asuka's mind, Becky will be exchanging Charlotte's shadow for Asuka's.
Before this argument could get nastier, they were interrupted by the IIconics, who were both tired of the whole thing. As far as they were concerned, neither Becky nor Asuka had any dignity or class. The IIconics are going to make their own history by being crowned the first WWE Women's Tag Team Championship at Elimination Chamber.
Becky dared both members of the IIconics to step up and decided to prove that she was more than hype by having the first match.
The match between Royce and Lynch was pretty good, but Lynch showed a definite mean streak by extending her hand in a handshake, then punching Royce right in the throat, which pretty much set the tone for the rest of the match. Peyton put up quite a fight but she fell victim to the Dis-Arm-Her.
Billie Kay had even less luck with Asuka who handily defeated her with the Asuka-Lock, even stealing the Dis-Arm-Her. So each side of the SmackDown Women's Championship Match have notched a victory and gained some momentum for their Royal Rumble match, but who will be the last woman standing after the Rumble.
Mandy Rose has been playing a vicious mind game with Naomi by trying to seduce Jimmy Uso. This week, despite Sonya Deville's concerns, Mandy stepped up the game, inviting Jimmy to come to her hotel room. After some hesitation Jimmy did, but Mandy was in for a surprise, Jimmy didn't come alone. In a scene straight out of 'Kill Bill', an enraged Naomi attacked Mandy in the hotel room. Mandy managed to get the upperhand, but she can be sure Naomi won't stop until she's destroyed her rival.
SmackDown Tag Team Division: Miz and Shane McMahon have been ironing out the kinks in their relationship, but it's been slow-going. Since it was Shane's birthday on Tuesday, Miz decided to throw a birthday party for Shane. It was a typical WWE birthday party, with awkward, cringe-worthy, someone come out and stop this, sort of talk and behavior.
Thankfully, the Bar was willing to step up to stop the perpetual face-palming. They even pretend to be embarrassed that they weren't invited, they didn't even invite Shane's family. The Bar's present to Shane was going to be showing him how a real tag-team looked and worked.
Shane and Miz were less than impressed and challenged the Bar to prove how tough they were by taking on one of them. Neither Shane or Miz was really dressed to wrestle, but that never stopped anyone, but Miz volunteered.
Miz vs Sheamus was really good, but like many matches where there's food in the vicinity, someone got thrown into it. This time, Cesaro got thrown into one of Shane's birthday cakes by Shane, which let Miz get a roll up victory on a distracted Sheamus.
We're not done yet, though. An enraged Sheamus attacked Miz, but Shane ran in and the two men over powered Sheamus with Miz hitting a Skull-Crushing Finale on the Irishman. Still not satisfied, Shane and Miz dragged Sheamus into a corner where Shane hit his patented Coast to Coast through yet another cake on Sheamus' face. They were standing tall this time, but will Shane and Miz leave the Royal Rumble as champions?
Samoa Joe vs Mustafa Ali: Last week, the dream team of Mysterio and Ali came up short against Samoa Joe and Andrade Almas, but the two heels weren't satisfied with just beating the Underdog and the Beacon last week, they wanted to try and do it again.
The match between Joe and Ali never got started because Joe jumped Ali before the bell rang and pummeled the Beacon of Light, while screaming something about understanding.
When asked about the attack, Joe was unrepentant, saying that what happened to Ali was just a warning to the other 29 Royal Rumble competitors. Will anyone heed the warning or will Joe regret targeting Ali.
Andrade Almas vs Rey Mysterio: In the other half of these retaliation matches, Rey Mysterio and Andrade Almas took each on in a dream match that can't truly be put into words. Rey had one victory over Almas before the tag match last week, but Almas pinned Rey to win that tag match.
This match was so good, it's hard to describe. Watching Almas and Mysterio was like watching Mysterio and Eddie Guerrero twenty years ago. It was easily a Match of the Year candidate and we're not even two weeks into the New Year. Despite a fabulous effort by Mysterio, Almas would pull out the victory, evening up their rivalry at 1-1.
NXT UK
Travis Banks: At TakeOver: Blackpool, Travis Banks was robbed of his chance to shut Jordan Devlin up by Jordan Devlin, when Devlin attacked Banks before the show and before the match. Johnny Saint and Sid Scala may have gotten the last laugh on the devious Ace by having a backup plan, but Banks isn't satisfied. Devlin robbed him of his chance to perform and show off his skills, but it's not going to happen again.
El Ligero vs Saxon Huxley: This was a fairly random match up, but that didn't stop it from being good. Ligero and Huxley put on a great match that Huxley largely dominated. However, Ligero would manage to get the pinfall victory with his Tornado DDT. The Leeds Luchador got the win, but will it put him in Pete Dunne's sights.
Jinny vs Isla Dawn: For weeks, Isla Dawn has been targeted by Jinny, who wanted to look down her nose at the feisty White Witch after Dawn narrowly lost to Rhea Ripley.
The match was pretty good, though the start was a little rough. Jinny dominated the match at first, but Dawn battled back each time. In the end, Jinny would pull out the victory with a nasty facebuster. The Queen won this round, but we can be sure that the Witch won't forget this defeat.
Mark Andrews and Flash Morgan Webster vs Marcel Barthel and Fabian Aichner:  The Flying Welshmen have been having a lot of problems with the emerging tag team of the Euro-Express ever since Mark Andrews first locked up with Fabian Aichner.
The match was REALLY good. Aichner isn't a finesse guy, but Barthel is and it made for a nice contrast, especially against the two high-flyers. Andrews and Webster gave up a lot of weight to Aichner, but were able to take it to the Italian Tank. This was one of those matches where the winner wasn't really an issue because the match was so-good, no one cared, but the Euro Express would get the pinfall win after an amazing European Uppercut/Powerbomb Combo on Webster. Aichner/Barthel won this round but will the Flying Welshmen accept that?
205 Live
WWE Cruiserweight Championship: Buddy Murphy will be defending his Cruiserweight Championship at the Royal Rumble, but he decided to issue an Open Challenge for the Cruiserweight Championship to prove he wasn't a closet champ. His opponent was Humberto Carrillo, who has been making a few appearances in NXT as cannon fodder for teams like Lorcan/Burch and the Forgotten Sons.
The match was really good, Carrillo had done a pretty good job in NXT, even as enhancement talent, and he got to show his skills to full effect on Murphy, he even came close to pulling out the shock victory, but Murphy was able to hold himself together and put away Carrillo with Murphy's Law for the win. Murphy held on, but next Sunday, he'll have three other opponents to worry about.
Lio Rush vs Lince Dorado (with Lucha House Party): Two weeks ago, Lio Rush lost out on an opportunity to be part of the Fatal Four Way at the Royal Rumble because he let himself get distracted by Lince Dorado and Gran Metalik, but Rush decided to blame Lucha House Party rather than himself for what happened.
The match was really good, LHP's goofiness aside, all three guys are SUPER talented and it was really on show in this match for Dorado. It even looked like Rush was going to lose, but he was able to send Dorado into the post and get the win, but he wasn't happy with that. He attacked Dorado as Dorado was leaving before being chased away by Kalisto and Gran Metalik. Rush got some revenge for his loss, but will the luchadores stop his pity party?
Drake Maverick's Office: Maverick was NOT happy about Rush's antics and was about to go check on Dorado when he was interrupted by TJP. TJP was offended by the fact that Maverick never check on him, Maverick's reason was he never had to, though TJP thought having a bad cold was equivalent to Dorado's injury, which Maverick didn't find amusing.
On to business, TJP assumes that he's going to be the one getting the Open Challenge, but Maverick informs him that the newest member of the 205 roster will be doing that, but he appreciates TJP's eagerness and will let him know next time there's an opportunity.
NXT
NXT Championship: Aleister Black will be getting his rematch against Tommaso Ciampa at TakeOver: Phoenix and took the to the mic to address the NXT Champ. Ciampa was foolish to think that helping Gargano would make him safe, but Black would help him by absolving him of his MANY sins and taking that lovely title back. However, it's such a long time until Phoenix, so why don't they start the fight now?
Tommaso Ciampa didn't agree. As far as he's concerned, the Champ only fights on the biggest stages, but Ciampa warns 'the ultimate puppet' that he needs to be careful what he wishes for in challenging the Puppet Master to a fight, but whether Ciampa actually ACCEPTED Black's challenge is still a bit of a mystery.
NXT North American Championship: Johnny Gargano will be facing Ricochet at Phoenix, but he decided to send the One and Only a message by taking on Humberto Carrillo, who had just made his debut on 205 Live.
The match was fantastic. Carrillo and Gargano really put on a show and Carrillo got show off his impressive skills. On several occasions, it looked like Carrillo was going to pull off a surprising upset on Mr. Wrestling, but Gargano's mean streak came into play and he finished off Carrillo with a slingshot DDT.
NXT Women's Division: Bianca Belair might be the #1 Contender for Shayna Baszler's NXT Women's Title, but don't be stupid enough to think she's intimidated by the Queen of Spades. Nope, the EST fears no woman and she's going to walk out of Phoenix still undefeated.
Baszler and the horsewomen weren't exactly impressed with Belair either. Clearly, Belair isn't the smartest woman on the roster if she's not worried about Shayna Baszler. That's okay, though, in Phoenix, Shayna will prove the Un-De-Fea-Ted is overrated. Baszler also advices Belair to not worry about Duke and Shafir, but Belair responds with a slap to Baszler's smirking face and then is fast enough to dodge Duke and Shafir, giving the seething Horsewomen a blown kiss as she leaves. We'll see who has the last laugh in Phoenix.
NXT Tag Team Division: The Street Profits have been noticeably absent from NXT over the past couple of months, but they made their return in epic style this week while taking on the Metro Brothers.
The match was pretty quick. Apparently, the Metros have been on NXT before because Ford seems to remember them, but that was about the most memorable thing about this match. Street Profits would put away with the Metros with a Frog Splash. However, the Forgotten Sons ruined the fun by attacking the Profits as they were celebrating, and the fight was on. It looked like the Profits might be able to hold off the Sons, but the Sons were angrier and left the Profits in a heap in the ring. The Profits might want to curse the Tag Division with greatness, but the Sons won't stand being forgotten or ignored.
The War Raiders are getting another chance at beating the Undisputed Era for the NXT Tag Team Titles, and they're getting ready. Every empire falls and the Undisputed Era will be no different once the War Raiders are done with them.
Kassius Ohno vs Keith Lee: Matt Riddle has had his fair share of problems with Kassius Ohno, but his buddy, Keith Lee is willing to help him deal with the Knockout Artist. Riddle was happy to step aside for this one, and just requests that Lee leave some of Ohno left for Riddle to destroy.
The match between Ohno and Lee was fantastic. Lee's got a lot of talent, even if I'm not a fan of his work. Lee dominated most of the match and Ohno played the cowardly heel to perfection. That said, Ohno's experience advantage played a big part in keeping him in this match and would be the deciding factor in the match when a timely shove into the ref gave Ohno the opening to low blow Lee and hit that nasty elbow, which gave Ohno the victory. An angry Riddle rushes the ring and Ohno beats a retreat, but he's shown that the Limitless One has a limit and that he'll do whatever it takes to win. What will happen with Ohno and Riddle meet again?
Dominik Dijakovic vs Adrian Jauode:  Dijakovic has been making quite a splash since his thunderous debut a couple of months ago. This week, he took on Adrian Jauode.
This match was really good and actually lasted a little longer than the usual squashes Dijakovic has had since his debut, but the end was the same. Dijakovic destroyed Jauode and picked up the win with Feast Your Eyes.
Tiff's Takes
So, how was the homestretch for the Royal Rumble? It was pretty good. The New Era for RAW and SmackDown is underway, but the McMahons are wise enough to not throw EVERYTHING out the window in their bid to freshen up their two main shows.
RAW had NO throwaway matches this week. Every match was important and fed a storyline and/or a title. There were no timefiller matches, it felt very much like the old days of RAW, which was nice.
I'm sure no one who knows me will be surprised to hear that I hated the outcome of the Intercontinental Championship match. I've watched Bobby Lashley in his first WWE run, his run in TNA, and his current WWE run, and I cannot figure out why people want him pushed to the moon. He has no personality or mic skills, and his current gimmick involves him bending over on command. Why should he get pushed? My theory is that people are too blinded by his size and his wrestling skill to notice the serious defects in the rest of the package.
I have mixed feelings about some of the Women's Division segments this week on the main roster. On the one hand, it's nice to see the women getting some non-title storylines going, but the Mandy/Naomi thing leaves a bad taste in my mouth and the Alexa thing was just dumb. I'm not going to say that it's a reversal of the Women's Revolution, but I do think that the use of old Attitude/Ruthless aggression storylines and spots is not the best WWE could do. Also, the new Tag Titles are gorgeous, but if there's only going to be one set of tag titles for the women, does that mean that WWE will be doing an all-women's TV show this year?
I'm glad the Revival finally got a win, god knows their booking has been terrible, but I'm not sure it's going to be enough to salvage RAW's tag division right now. For SmackDown, I'm over Shane/Miz and can't wait for it to implode.
The Network shows were great, but I'm glad NXT UK is back to one episode a week. It feels like 205 is struggling a little without Mustafa Ali, but that might be wishful thinking on my part. The Isla Dawn/Jinny match was not the best I've seen from either lady, but I hope the feud continues. Glad Travis Banks wasn't more seriously injured than it looked. NXT felt very random this week and hard to get into.
Again, overall WWE did a really great job this week and with the Royal Rumble coming up, the roll will continue. Next week we'll be covering my FAVORITE WWE PPV of the calendar: The Royal Rumble!!! Have a great week and be good to each other!
NXT Minus 6: Best WWE NXT Matches Of 2018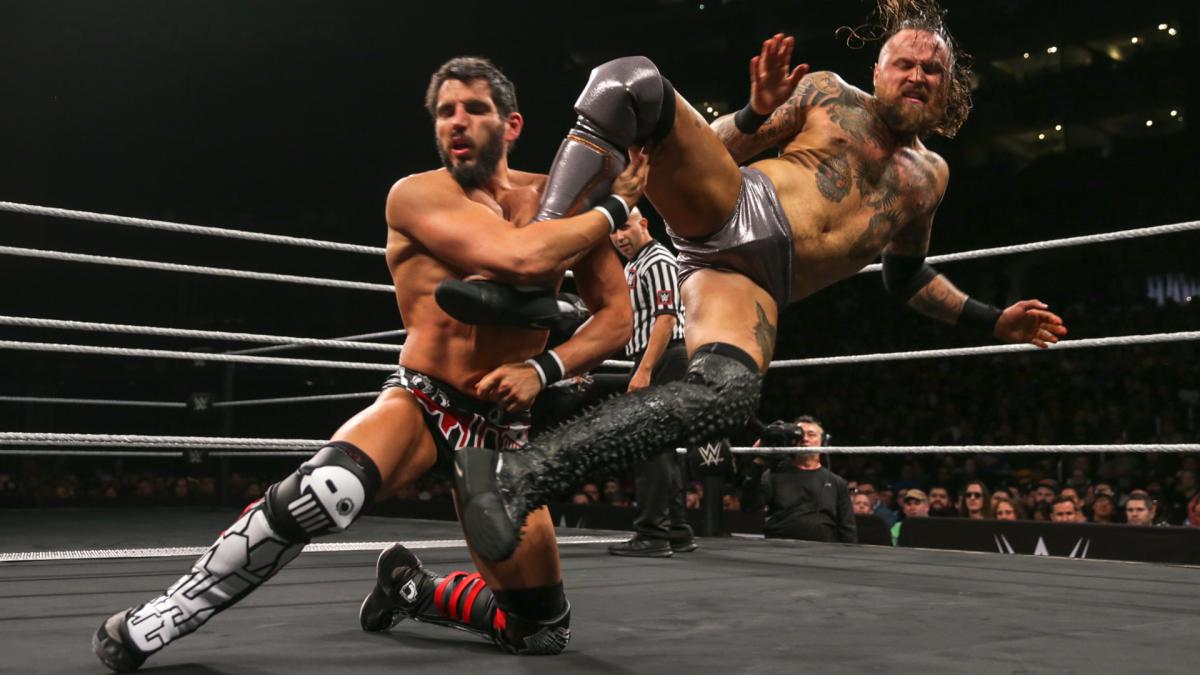 In a year of amazing action for WWE NXT, these 6 matches rose to the top.
In 2018 NXT had one of the finest years of any promotion in American wrestling history. Of the 19 Takeover matches, there was exactly 1 clunker. Throw in the occasional PPV-worthy match on Wednesday night and the match of the year candidates quickly add up. After rewatching every Takeover (oh how I suffer for my craft), here are my top 6 NXT matches of 2018.
HONORABLE MENTION
Ricochet versus Velveteen Dream, Takeover Chicago
War Games match, Takeover: War Games
Undisputed Era versus Oney Lorcan & Danny Burch, Takeover Chicago
North American Title Ladder Match, Takeover New Orleans
Shayna Baszler versus Kairi Sane, Takeover War Games
6. Pete Dunne versus Ricochet, NXT Television
This match is awesome but somewhat of a cheat. Both guys had great years and deserve to make the list. I decided to kill 2 birds with one stone. Here's why I give it such high marks. One of the hardest things in wrestling to do is create drama when everybody knows the finish. It was almost a given that UE would ruin the ending. Despite that, Ricochet & Dunne didn't slow down or hold back one bit. Luckily for us, this rivalry is far from over.     
5. Undisputed Era versus Mustache Mountain, part 2, NXT Television
UE went old school, picked a limb & obliterated Trent Seven's knee. Tried to cripple him. Tyler Bate had to choose between his best friend's health & saving their tag team titles. Every time the Big Strong Boi reached for the towel, it tore at my guts. Some people didn't care for the ending, but the drama in this match would have not been as intense any other way. This was the best match of the second best trilogy of the year.
4. Velveteen Dream versus Tommaso Ciampa, Takeover: War Games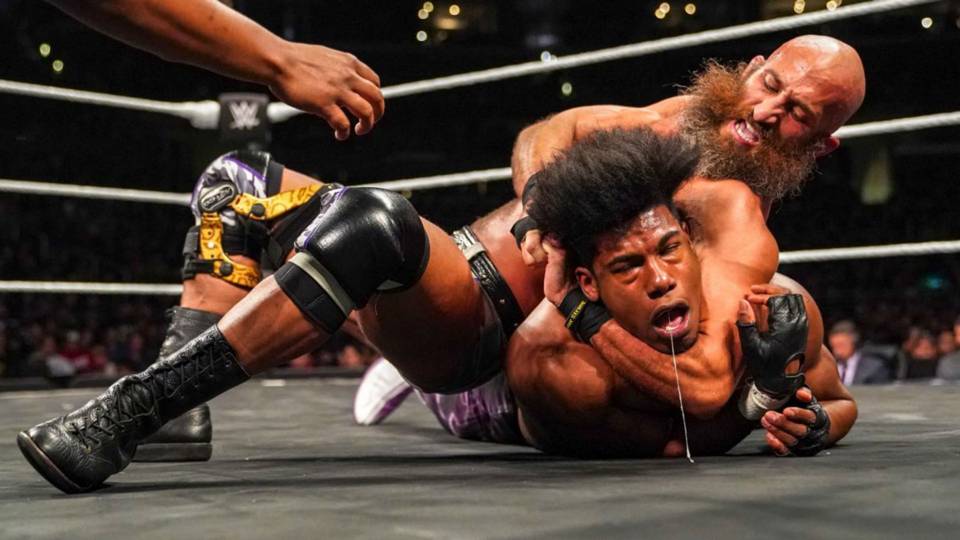 This match had less build than the others on the list. Dream simply showed up and wanted a title shot. I'm a big fan of the little things, & these guys pay attention to the little things. I loved when Ciampa threw the notepad at Ranallo. Then when the match is over, they are so exhausted they lay in a heap for about 2 minutes. Ciampa even takes the belt from the ref while he's still draped across Dream. Those little touches separate good from great, and this was a great match.
3. Andrade Cien Almas versus Johnny Gargano, Takeover Philadelphia
This match was closer to dancing than wrestling. That's how well these two worked together. Could Johnny Wrestling, the heart and soul of NXT, finally achieve his dream and capture the title? Could he beat a man he's never beaten? Everything made sense, even the interference. Zelina Vega and Candace Lerae did just enough to add to the storyline without overshadowing it. This match was so good and so early in 2018, we were left to wonder what Johnny could do to top it. Well…
2. Johnny Gargano versus Tommaso Ciampa II, Takeover Chicago
Any of the trilogy could have made the list. This is my personal favorite. Gargano's Air Raid Crash was absolutely sick. The belt shots were brutal. The moment that sealed it for me was when Ciampa spit on Gargano's wedding ring & threw it into the crowd. Wow. What a dick move. If this match happened in 1986, Ciampa would have needed a real police escort to get out alive. After another 5 star classic, we were left to wonder what Gargano could do to top it. Well…
1. EC3 versus Kona Reeves, NXT Television
This was easily the finest match NXT had to offer in 2018. The top 1% of…screw it. What am I doing?
1. Aleister Black versus Johnny Gargano, Takeover War Games
The moment this match ended, I went full Meltzer and gave it 6 stars. I stand by that. Some people talk about looking at a painting or listening to a piece of music and it brings them to tears. They are so touched by the level of beauty achieved by human hands. I feel this way about this match. The story was gripping. The action was beyond intense. There were at least 5 times I thought someone legit got knocked out. Aleister's second Black Mass is as pretty as a finisher gets. I'm not saying it's the best match I've ever seen, but I don't think I'll ever see one better.  
That's right. I said it.