Joe's AAA TripleMania XXVI Results & Review: 8/25/18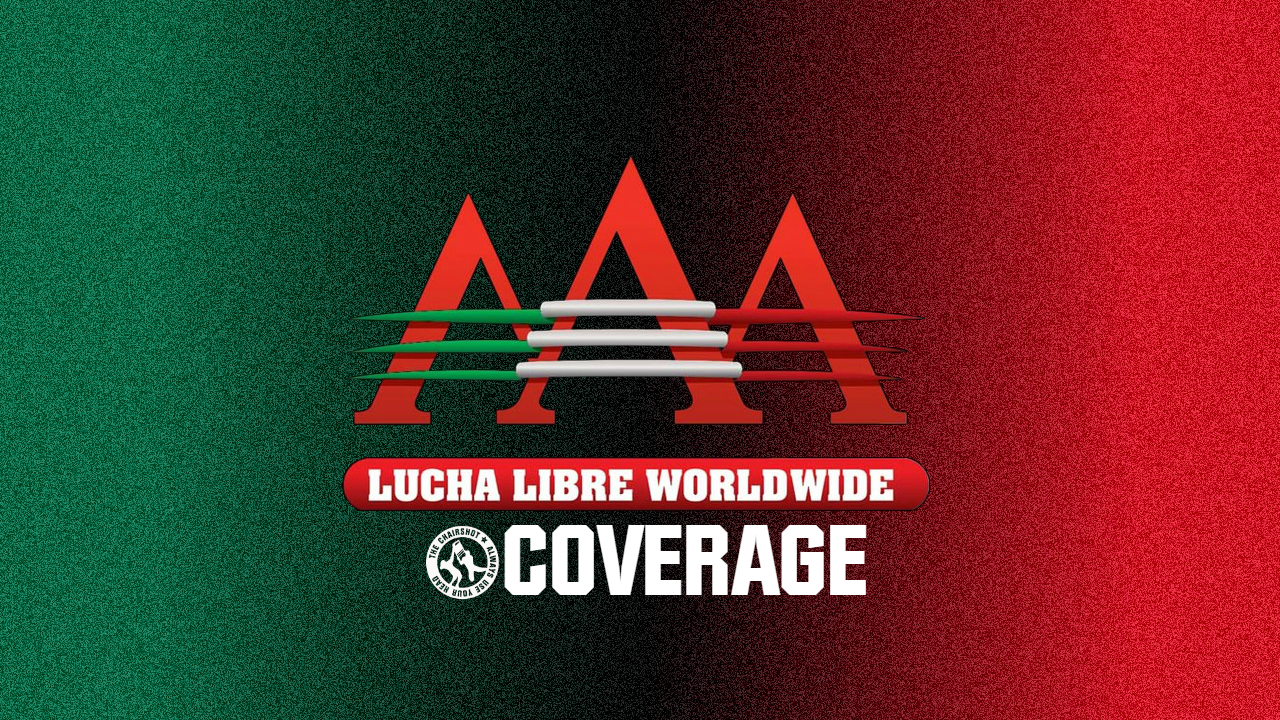 We have a packed house for TripleMania coming out of Mexico City. All the weeks of build have lead to this moment, who will leave with the AAA Mega Championship? Which woman will prevail in the mask vs hair match? And in the main event, Poker de Ases, which highly esteemed Luchador will lose his mask? The legendary LA Park? AAA's top guy, Psycho Clown? New rising phenom Pentagon Jr? Or the established El Hijo Del Fantasma?
Llave de Glora (Rising Star Match)
Dragon Bane vs. Astrolux vs. Freelance vs. Draztick Boy vs, Latigo vs. Aramis
These are the participants in this match. These are new rising talent that gets the opportunity to put on a showcase and potentially get a contract. Astrolux is 17 years old as Vampiro made mention to on the English commentary. Vampiro also added that these guys empty the tank to show everything they have, to show what they can do. As the match progresses, we just casually get a spanish fly off the apron to the floor, followed by a canadian destroyer off the apron to the floor. Whew. Freelance hits a reverse frankensteiner off the top rope for the victory.
Winner: Freelance
Before the next match we get a touching tribute for Villano III. The crowd applauds and cheers for him. The crowd starts chanting for Villano now. Villano III Jr says some words and then Vampiro translates for us. He sounds a little choked up.
AAA Cruiserweight Championship
Australian Suicide (champion) vs. Shane Strickland vs. ACH vs. Sammy Guevera
ACH comes out first. Fans of the indies, specifically MLW and ROH know him. Shane Strickland is next, former MLW world champion. ACH gets on the headset asking what Swerve means, that is Strickland's catch phrase in MLW. Striker explains it means anything can happen. Sammy Guevera is next followed by Australian Suicide and now the match begins!
ACH throws Shane out of the ring and then misses a dive. Sammy Guevera then hits a dive to get the ball rolling. After a bunch of moves by all guys we're left with Shane and ACH in the ring together. They go back and forth, until Shane hits him with a knee in the corner and hits a Saito Suplex. Guevera comes in. He hits a reverse hurricanrana on Strickland. The pattern of this match is, two people selling on the outside or in the corner and the other two squaring off.
As the match progresses, Guevera gets Suicide in an electric chair position, and Shane Strickland goes for a hurricanrana on Suicide. He botched it and the crowd boos. Finally he gets it, and then Guevera hits a 630 on Suicide to win the cruiserweight title. After the match Killer Kevin Kross came down to the ring and started to attack ACH and Guevera. He offers a MAD shirt to Australian Suicide. Kevin Kross looked awesome. Sammy Guevera pins Australian Suicide with the 630 to win the Cruiserweight title.
Winner and new AAA Cruiserweight Champion: Sammy Guevera
They show a video and they're putting Dr. Alfonso Morales in their Hall of Fame. I believe El Apache is going in as well but the Twitch stream is being very choppy right now. After all that they're promoting a documentary that's gonna air after the show, sponsored by GoPro.
The main show is finally starting and they're showing a hype video for the coming matches. This is a pretty darn good hype video. They're honoring the founders of AAA before the official show starts, as they usually do.
AAA Mixed Tag Team Championship
Nino Hamburguesa & Big Mami (champions) vs. El Hijo del Vikingo & Vanilla vs. Dinastia & Lady Maravilla vs. Angelikal & Hiedra
They make their entrances. Striker makes note that Dinastia is related to Super Crazy. Right as the match starts it appears that Vanilla might have suffered a neck injury. Vampiro called for the doctor but she got up and continued. Vikingo and Vanilla are in the ring with Nino Hamburguesa, (or for convenience, Hamburger Boy) and Big Mami. Mami and Hamburger boy get the upperhand. Big Mami hits lady Maravilla with a slam. Mami is working over all the girls. She goes to set up for a dive but Hiedra and Maravilla pull her to the outside. Vikingo then does a implosion 450 dive to the floor. He botched the set up first though and the crowd let him know.
Vanilla is in the ring with Hamburger boy and Big Mami. Hamburger gives Vanilla a kiss, Mami doesn't like it but they dispose of Vanilla to the outside when she runs at them. Everyone is on the outside as Big Mami makes her way to the top rope. The crowd goes crazy and then she dives. Now it's time for Hamburger boy. And he does a dive through the middle rope. The crowd is counting with the ref as he counts since everyone's outside.
After all of that we get Vikingo in the ring with Angelikal. Vikingo hits him with a spanish fly off the top. Dinastia breaks up the pin and him and Vikingo go at it. Dinastia goes for a german suplex but it gets kicked out of. Big Mami and Hamburger boy come in and dispose of Dinastia, and then Big Mami holds down Vikingo as Hamburger boy hits him with a splash off the top for the victory. Nino Hamburguesa pins El Hijo del Vikingo with a top rope splash.
Winners and still champions: Nino Hamburguesa & Big Mami

Ladder Match For a AAA Tag Team Championship Contract
Aero Star & Drago vs. Golden Magic & Laredo Kid vs. Bandido & Flamita vs. DJZ & Andrew Everett
Andrew Everett and DJZ come out first, Matt Striker explains the life threatening injury DJZ had last year. I believe it was a ruptured colon. Laredo Kid and Golden Magic come out next to Can't Be Stopped by Roy Jones Jr. That gets a pop from me. Now this is billed on the poster as a title match but Matt Striker claims this is for a chance at the title, or number one contendership. Bandido and Flamita are out next. Bandido is somebody to watch out for. Aerostar comes out next alone. So him and Drago will have separate entrances.
We start the match with Laredo Kid and Golden Magic attacking Everett, Drago comes in and gets thrown into a ladder. Bandido and Flamita are next against Magic and Laredo. They get the upper hand and started to do the Floss dance. In comes Aerostar next and he does a bunch of moves and then DJZ attacks him from behind. Now it's Drago vs DJZ going at it briefly. In comes Golden Magic with a ladder. He hits Drago with it. Now Drago and Magic are climbing the ladder, battling for position. Laredo Kid comes in to help Magic but then DJZ takes him out. Bandido and Flamita start double teaming Aerostar. They dispose of him and Golden Magic comes back in. He's getting double teamed by Bandido and Flamita now. The two, then hit stereo moonsaults to the outside. Followed by Laredo Kid with a moonsault. Golden Magic is up next with a twisting dive. The crowd so far is not nearly as hot for this match as the previous.
Maybe because it's early in the match or because it's two similar matches back to back. Laredo Kid was on a ladder on the outside and Andrew Everett from inside the ring leaps over the ropes and does a hurricanrana to the outside. A crazy spot, that didn't get the reaction it should have. Everett sets up the ladder as he duels it out with Drago in the ring. Everett falls to the outside. Drago climbs the ladder and Laredo Kid stops him. Kid then sets up another ladder in the standing ladder for a spot. Everett jumps in and Kid catches him for a spanish fly. Then Aerostar climbs to the top of the ladder and dives to the floor. Wow. Next is DJZ with a spinning corkscrew moonsault. Up next is Andrew Everett with a spring board shooting star press. Flamita places Golden Magic on the ladder lodged in between the standing ladder. Magic isn't having it. He sets up for a move but the ladder collapses.
Flamita sets the ladder up again and finally gets Magic on it. Laredo Kid enters the ring and throws a ladder at Bandido and then puts the ladder on the other side of the standing ladder. Flamita power bombed Kid while Bandido stomped golden magic on the ladder. Now everybody is in the ring and on a ladder. Aerostar does a sunset flip power bomb off the ladder on Flamita. Now everyone is again climbing the ladder. The ladder is very close to breaking. Laredo Kid and Aerostar both grab the contract. They're hanging from it. Aerostar falls and then Laredo Kid gets speared off the contract. Golden Magic then does a dive to the outside. Bandido brings a table into the ring. It backfired on him and now he's on the table and Drago goes up. But Flamita stops him. Flamita hits a flipping powerslam off the top rope on the table to Drago. Flamita does a death valley driver off the ladder, then Flamita helps Bandido to the top of the ladder and they get the contract and win the match. Bandido and Flamita get the contract and become number one contenders.
Winners and new #1 Contenders: Bandido & Flamita