Joe's AAA TripleMania XXVI Results & Review: 8/25/18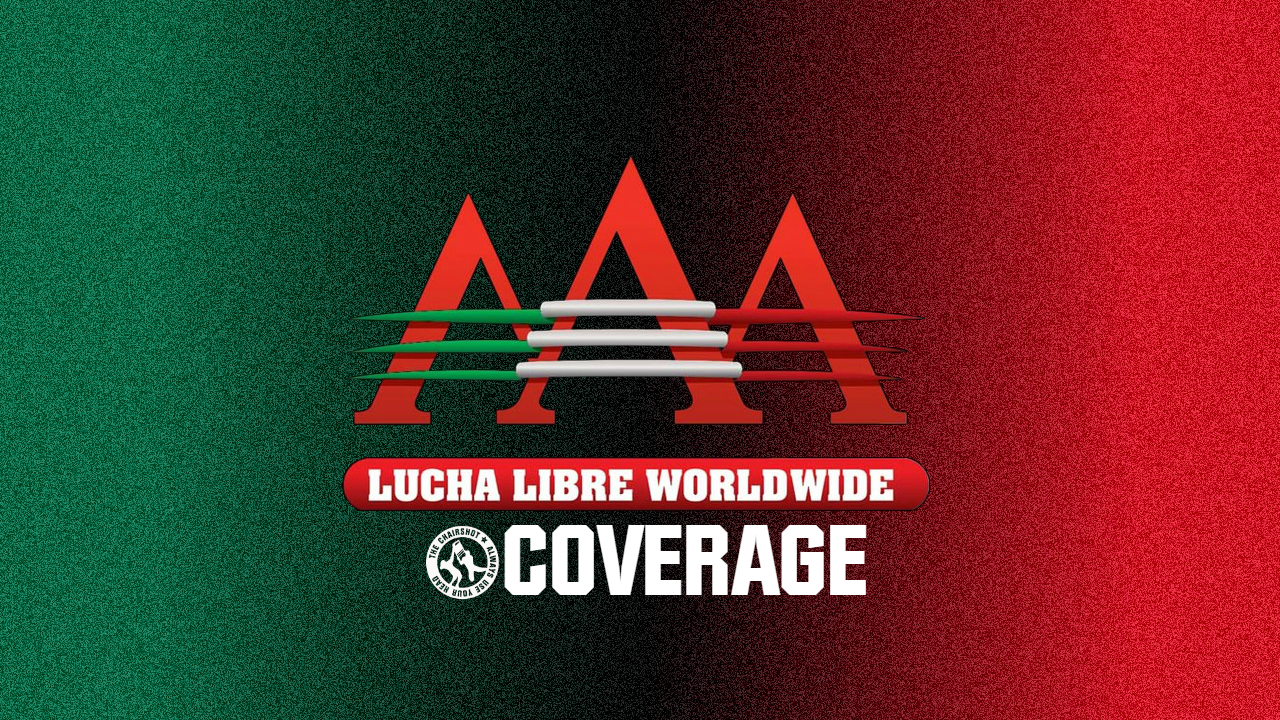 Konnan then comes out with the rest of the MAD group, Juventud, Australian Suicide, Jeff Jarrett. Kevin Kross, and Teddy Hart. Vampiro is absolutely burying Konnan. The crowd is in a frenzy. Konnan is telling Vampiro to come in the ring. Vampiro calls for reinforcements. Pagano and murder clown come down for some reason. There's a scuffle and then they just leave. Very odd. Vampiro begs for his music be played to the people in the back so the fans will get hyped up when he goes into the ring. He finally gets into the ring with Konnan. Everyone else leaves the ring. The crowd is absolutely going ballistic. Vampiro grabs a mic. Two of the biggest stars in Mexican history. Vampiro had a contract that Konnan signed and the stipulation is loser must leave AAA and Mexico. Those are some big stakes. Vampiro claims he's going to beat Konnan to death. I don't know when this match will happen, but boy these Mexican fans are going absolutely crazy for two guys who really shouldn't be working anymore. Finally onto the next match.
AAA Trios Championship
Mocho Cota Jr, Carta Brava Jr, & Tito Santana (champions) vs. Taurus, Puma King, & El Hijo Del LA Park vs. Pimpinela Escarlata, Maximo, & Mamba
No, not that Tito Santana. Match starts with everyone in the ring, eventually everyone is outside except the Exoticos (Escarlata, Maximo, and Mamba) who all dive to the outside at the exact same time. Poder de Note, now all three attack Taurus. Poder de Note is the team of Cota Jr, Carta Brava Jr, and Tito Santana. Hijo Del LA Park hit a lung blower on Mamba and Mamba landed really badly. Poder de Note are now all teaming up on Maximo.
Puma King, Taurus, and Park are now clotheslining Escarlata in the corner. This is a fast pace match, there is a pattern of one person getting triple teamed by each respective team. Escarlata is now being attacked by Poder de Note, but she's fighting back. The crowd is really into this one. As the action breaks down, Park hits a powerslam on Escarlata and goes for the pin. She kicks out. She gets disposed to the outside and takes a rough bump. In next to face Park is Maximo. Maximo hits a hurricanrana on Park and Park falls to the outside. Puma King hits a double stomp on mamba and then for the Dragon Ball Z fans in Mexico, Puma King and Taurus did the fusion dance which the crowd popped for.
Escarlata then hits a dive to the outside. Hijo Del LA Park is back in the ring, he had a hat on his head, that I guess he got from the crowd. He hit a lung blower on one of the members of Poder de Note. However, the two other members team up on Park and hit a top rope splash on him and pin him for the win. Defending their trios title. Poder de Note pins El Hijo Del LA Park for the win.
Winners and still champions: Mocho Cota Jr, Carta Brava Jr, & Tito Santana
Lumberjack Match
Jack Evans & Juventud Guerrera & Teddy Hart vs. Averno & Chessman & Super Fly
The MAD team comes out to Eminem's Lose Yourself. The group name of the opposing team is called the OGTs. The lumberjacks come out. They start the match brawling. Juventud goes to the floor and is getting smacked by…something, I think they're belts. Juvey is in the ring with Averno, and they briefly go back and forth. Jack Evans came in next for a few spots, then he tagged in Teddy Hart, and he squares off with Super Fly. Hart hits his powerbomb lung blower. The announcers are talking about Konnan occasionally during this match.
Juvey is back in and hits an elbow drop. This is a much slower paced match than the rest of the matches on the show so far. Juvey hits a hurricanrana then Jack Evans hits a 450 off the ropes. Teddy Hart got triple teamed and thrown to the outside with the lumberjacks. Now Jack Evans is getting triple teamed. Soon after the lumberjacks pull the ref out and smack him with the belts for a comedy spot.
Evans goes for a hurricanrana and Chessman counters with a powerbomb. Juvey went to powerbomb Averno but failed and got it reversed. Juvey hits the Juvidriver, but Super fly breaks up the pin. Poder de Note come out to interfere. A few weeks ago they lost a hair vs hair match against the OGTz. Super Fly hit Teddy Hart with a power bomb for the victory after all the chaos. The OGTz beat Mad, pinning Teddy Hart with a powerbomb.
Winners: Averno, Chessman, & Super Fly.
Street Fight
La Mascara & Rey Escorpion & El Texano Jr. vs. Joe Lider & Pagano & Murder Clown
This fight is gonna be bloody. Texano, Escorpion, and Mascara come to the ring first. They have a bodyguard with them. Pagano and his team comes, he's wheeling a shopping cart with weapons in it. This won't be Okada vs Omega that's for sure. Joe Lider is busted open very quickly. Lider gets drop kicked into florescent light tubes. Pagano got powerbombed onto a ladder. Murder Clown just smashed a light tube onto La Mascara's head. Pagano does a moonsault with a light tube and misses. Then he gets a spike jammed into his head. Lider does a double knee strike to the back of Texano, with a light tube stuck in his shirt. Ouch.
Pagano just ate glass and then did a middle rope dive. Murder clown just did a over the top rope dive. A table gets set up and Murder Clown puts thumb tacts on it. Murder clown press slams Texano on it, then jumps on him. Mascara then stops the count, then hits clown in the nuts. Mascara and Pagano exchange chops. Pagano goes to hurricanrana Escorpion from the top but he reverses it into a powerbomb into a shopping cart. Pagano goes for a middle rope dive with a light tube and gets hit with a steel chair.
A few moments later Pagano and Rey Escorpion walk up the asile. Oh god. Pagano lit a table on fire. Pagano delivers a spanish fly onto a flaming table on Escorpion. He is out of his mind. Murder clown does a splash onto a table on La Mascara. Texano hit Lider with a light tube. He then lit a rope on fire and hit him with it and then he went for the pin and the heel MAD ref counts quick for the win. Murder Clown throws up the X. The announcers are saying Joe Lider is seriously hurt and clutching his throat. Pagano had to be stretchered out as well. Texano pins Joe Lider after hitting him with a flaming rope.
Winners: La Mascara, Rey Escorpion, & El Texano Jr
Mask vs. Hair
Lady Shani vs. Faby Apache
Faby Apache is the women's champion, but in Lucha de Apuestas matches (hair/mask matches) the titles aren't defended. Lady Shani comes out first, then Apache. They each have a corner person, which the announcers say is tradition for these kind of matches. Hamburger boy for Shani and Taurus for Apache. Match starts with Shani going for a dive but Apache hits her with a chair. They have the heel MAD ref again.
Taurus is helping Apache beat on Shani while the ref is distracted. Taurus then spears Hamburger Boy and takes him out. Announcers say he might have hurt his knee as he gets stretchered out. Shani looks to be bleeding. Then La Parka's music hits (Not LA Park) La Parka chokeslams Taurus. Faby Apache is bleeding bad too. Now we are finally getting what resembles a wrestling match. Shani hits a code breaker and the heel ref counts slow, Apache kicks out.
Moments later Apache hits a shining wizard and the heel ref does a fast count, and Shani kicks out. This ref has an association with MAD and they don't like La Parka, and with his association with Lady Shani, the ref counts slow for her and fast for Apache. Shani get Apache in a submission but the ref helps Apache get to the ropes. Shani slaps him, and the ref grabs Shani. Apache goes for a top rope drop kick and Shani moves and she hits the ref. Shani puts her back in the submission and she taps but no ref. Taurus comes in and hits Shani with a move, the La Parka comes in to make the save. A new ref comes out and him and the other ref start fighting. Amidst the chaos, Shani hits a lung blower and pins Apache after the new ref took out the heel ref. Lady Shani pins Faby Apache with a lung blower. She must have her head shaved.
Winner: Lady Shani