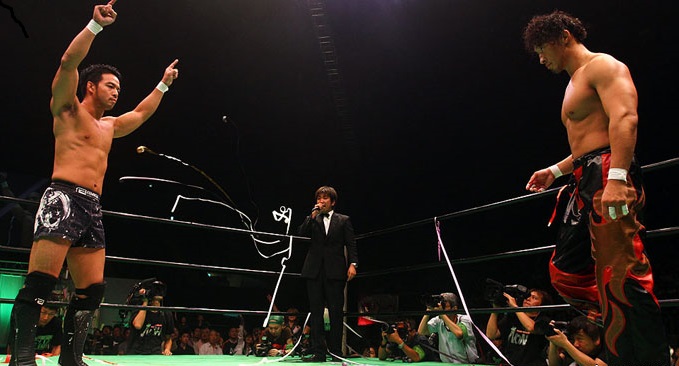 September 1st will be a special night in professional wrestling history.
For many hardcore fans alike, they will converge to the Sears Center in Rosemont, Illinois for the indie supershow ALL IN. It's an event that will get all of the attention and praise with a decent card with streaming on the Honor Club Network (hence why it's a glorified ROH show). To others including myself, there's an event that shares equal importance in the future of the business with Pro Wrestling NOAH's 'Flight' show, which also doubles as Naomichi Marufuji's 20th anniversary. The main event for that card will feature Marufuji against a returning KENTA — still under contract with WWE as Hideo Itami — in an unprecedented move.
Itami makes his return for the first time in four years in a one-off appearance; the opening signal of an apparent working relationship between WWE and NOAH. For Itami, this could be the moment that reawakens the spirit that made him so special, to begin with, and shows that he is still an elite worker.
Initially starting in All Japan after a kickboxing stint in 2000, he quickly joined Mitsuharu Misawa in the famed exodus that created Pro Wrestling NOAH. He shot into the junior heavyweight ranks as the main fixture shortly thereafter, teaming up with ally and inevitable rival Marufuji to become the inaugural GHC Jr. Heavyweight Tag Champions in 2003. The duo's bond intertwined from that moment; from one of the most popular tag teams in the world to rivals defining a generation into the 2010s.
Itami, then going by as KENTA at the time, would win the GHC Jr. Heavyweight Championship from Yoshinobu Kanemaru at NOAH's Destiny show at the Tokyo Dome in 2005. As the ace of the division, KENTA would carry the title for 321 days including a successful title defense against Marufuji. Marufuji would return the favor in 2006 defeating KENTA for the GHC Heavyweight Title. While both were at the pinnacle of their peaks, they were still yet to be the draws they are now.
KENTA would find a more success during his NOAH run, with two more Jr. Title reigns in the singles and tag division and a GHC Heavyweight title reign before departing in 2014. From there, he would sign with WWE under their development wing, NXT, in hopes of becoming one of the first big international stars to the brand.
For a time, things were looking up for the rebranded Hideo Itami. He debuted to a great amount of fanfare, developing a team with Finn Balor and was even showcased in the second annual Andre Memorial Battle Royal at WrestleMania 31. Everything was looking at him to be the new crown jewel to NXT to unseat Kevin Owens for the NXT Championship, but injuries began to derail his push, leaving him in limbo for close to two years. Within that time, he saw Balor and fellow Japanese comrades Shinsuke Nakamura and Asuka skyrocket over him in critical praise and adoration.
By the time Itami became valuable again last year, he lost that bite in his presence. The matches were still good and believable, but something was missing. Even with his call-up to 205 Live, the emotional investment in his matches was absent. Maybe it's a lack of confidence due to his recent injuries or mental roadblocks as a performer. Whatever the case may be, Itami has a shot at redemption next Saturday at Sumo Hall.
Let's face it, there's a certain sect of fans who see Itami as washed up. That may be true, but he can still be capable of providing realistic matchups with the right opponents. His peer in Shinsuke Nakamura is not as good as a striker or in-ring grappler as Itami is, but what he lacks in that he makes up for in his personality and theatrics. Even in his broken-down state, he can skate by to the top of the card due to his charisma. Itami will have to work twice as hard physically to make up for the lack of facial mannerisms and swagger. Besides, the main reason why he mattered in the first place is that Itami/KENTA beats people the hell up.
If successful, Itami could be in the front-running again for WWE's international expansion alongside Kairi Sane and Io Shirai. With an opponent that he's known with since the beginning of his career in Marufuji — who also suffered from multiple knee injuries and a total style overhaul — both can rekindle that magic that was last seen a decade prior. This relationship can also blossom for WWE to take advantage of the non-New Japan promotions for additional exposure. That, however, is a conversation for another time.
This will be the most interesting NOAH card to date: with names from All Japan, DDT, Wrestle-1, and Zero-1 all involved. Jun Akiyama, Kotaro Suzuki, and Atsushi Aoki all make their returns to NOAH for the first time after a brutal exodus in 2012. While that will be a major story arc in its own right, KENTA's return is the draw here and it will be a moment that no one will ever forget.