Levin's WWE SmackDown Live Review: August 7, 2018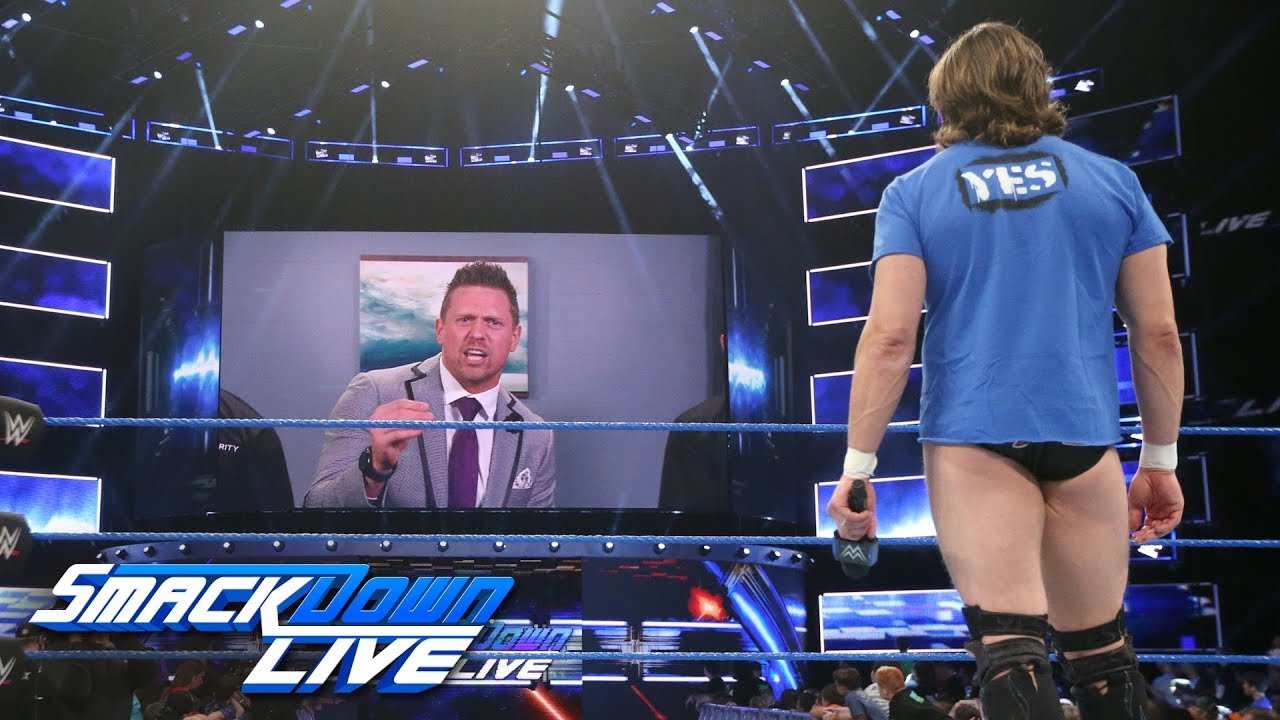 Is it fair to say I was underwhelmed by Tuesday's SmackDown Live show from Orlando? After being on hand to watch Ronda Rousey in her WWE singles debut and feeling the energy from the soldout crowd in Jacksonville from Momday Night Raw, I came home Tuesday night hoping to be overcome with excitement as the second to last show for the blue team before SummerSlam should have made a statement.
It did not. And because of it, I changed my format a bit for this week. We are allowed to do that from time to time, to show creativity and keep things fresh.
While Randy Orton continues to give fans his best performance of his career, blaming them for the lack of respect he has been shown over his career, how he fits in the United States Title match between Shinsuke Nakamura and Jeff Hardy is yet to be determined. It is difficult following to storylines when the title match takes a backseat to the new package WWE has created for "The Viper."
Personally, I never knew the third-generation superstar could be this entertaining. In years past, he has been stiff, uncomfortable on the microphone and somewhat robotic. The "Apex Predator" has finally become a complete performer.
I have to admit I am beginning to like the new Randy Orton. From "Legend Killer" to "Legend" or whatever you want to call him, he has been at his best while he has been at his worst. Orton opened SmackDown Live with plenty to say and one statement to make. He would erase any opponent put in front of him.
This is the best Orton we have seen, and the most vocal. He said his actions are because of a lack of respect he has received over the years from the locker room and the fans. While he is not part of the United States Title match between Jeff Hardy and Shinsuke Nakamura, the 13-time world champion figures to be a part of the result.
WWE has rebranded a veteran who figures to be part of the main event shortly. Orton prefers to play the role of the heel and has been rumored to have politic for the change.
Here are a few other thoughts from Tuesday night
Charlotte Flair and Becky Lynch are Headed for Splitsville
This, my friends, is what we call tension. We all know where this is headed – the infamous storyline of friends becoming foes. Somehow, I believe the IIconics want to be the Bella Twins. The fans did not like the monologue prior to the match. The match wasn't great. Flair got the win, which thrilled Lynch.
Sense the sarcasm?
After the match, you could see the transformation happening, the fiery redhead turning into a jealous and angry heel. It's only a matter of time. Less than two weeks and counting. The problem is, in order to do this properly, Flair must beat Lynch for the strap while Carmella falls in line with the story.
The idea of Lynch turning heel does have its appeal, especially if it leads to a confrontation with Asuka for the title by the end of the year.
The Miz's Major Announcement
It is on! The Miz announced he and Daniel Bryan will meet at SummerSlam. It could be the match of the year. Hopefully, WWE will continue to build the momentum of this battle.
Byron Saxton interviews The Miz…
Once again, The Miz kicks it out of the part. His over-the-top personality is perfect for this wrestling climate. And then, Bryan appears and attacks his rival. It's building to be … wait for it… AWESOME!
WWE has slow played this match since "Talking Smack" and the confrontation heard around the wrestling world. This match must meet everyone's expectations – including mine. I am already thinking "Match of the Year" and "Feud of the Year".
Please do not disappoint me, boys.
AJ Styles Speaks
It was the current WWE Champion's chance to rebuke the comments made by Samoa Joe one week ago. This was a fairly bad promo as Styles is a better performer than he is a talker. Still, the message is clear – this could be one of the best matches of the night in Brooklyn.
"You made it personal when you talked about my family," Styles said. "I want to be one of the greatest WWE superstars for my family."
Styles and Joe go back to the independent circuit. While his delivery wasn't as direct as his opponent, Styles made his claim to keep the WWE Title. I hope WWE does the right thing and puts the strap on Joe's waist for a while. Let Styles chase him for the belt, and eventually make him a three-time world champion.
Zelina Vega vs. Lana – The Rematch
I still want to see more of Andrade "Cien" Almas and Rusev, but this will do – if f0r nothing else than the hot factor. The only problem is I hate the program. It takes away from Almas getting a much-deserved push.
Both women have been impressive in recent weeks. But the Aiden Engish angle takes away from a pretty good storyline. Can we already get past the apologies and have the two former friends get in the ring?
And if that is the case, where does Almas fir in all of this? I thought WWE was high on him and ready to push him toward the main event? That's two straight weeks has not been in-ring action.
The New Day Beat The Bar
The best match of the night produces the wrong winner, in my opinion. The Bar – Sheamus and Cesaro – showed no signs of rust and continue to impress with their strength and size.
The New Day is still one of the best tag teams to ever wrestle in WWE. Maybe it is fatigue, but I would love to see someone else go over and face the Bludgeon Brothers. When you have a tag team so big and so dominant as Harper and Rowan, you must have an equally impressive opponent. The David vs. Goliath theme does not work here.
So SummerSlam will pit the baddest tag time in wrestling since the Wild Samoans against cartoonish act we are tired of.
Some hold the popcorn. This might be a bathroom break for me.
---
Always Use Your Head and visit the official Pro Wrestling Tees store for The Chairshot All t-shirt proceeds help support the advancement of your favorite hard-hitting wrestling website, The Chairshot!

---
What if Brock Lesnar Beats Roman Reigns at WWE SummerSlam?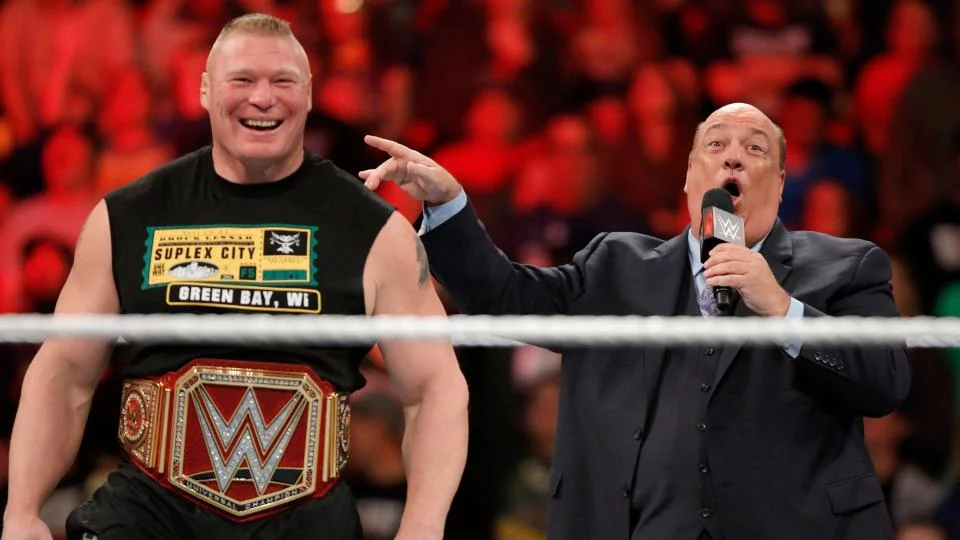 Brock Lesnar's upcoming SummerSlam match against Roman Reigns has been the talk of the pro wrestling world. That's largely due to the controversy surrounding The Beast Incarnate's lack of WWE appearances. But it's also due to Reigns' ascension to the top of the company, which seems to still be happening.
For many of his critics, nothing will justify Roman's reign over WWE. However the overall success of his run at the top also seems predicated on his ability to defeat Brock Lesnar, which he has been unable to do. Roman Reigns, for whatever reason, cannot get past Lesnar. Of course SummerSlam is believed to be the night when Roman finally conquers The Conqueror. But what if he doesn't?
What are the chances that WWE will keep the Universal Championship around the waist of Brock Lesnar? It seems like an insane notion but when it comes to this rivalry, fans have learned to expect the unexpected. Of course, many of those fans feel that Roman's win is a foregone conclusion and recent events on Monday Night Raw seem to reinforce that notion.
When Brock put his hands on Paul Heyman, he crossed a line that many thought spelled doom for The Beast's title run. The idea of Heyman advocating for Reigns and leading him to the Universal title is one that will not go away. Long before WWE teased the possibility on Raw, fans were debating it online.
When Paul stood in the middle of the ring and publicly offered his services to Roman, fans knew the transition was near. Even as Heyman doused Roman with what appeared to be mace, the shocked crowd likely left knowing that Reigns would soon have Paul in his corner. After all, when the company seems to go left, fans automatically expect a sudden turn right.
It seems like the right time to make the move. Brock is headed back to the UFC and WWE needs the Universal Championship back on TV full-time. Roman may not be the popular choice to be champion but at least if he has it, he can drop it to someone else at any moment. Lesnar is not in love with the pro wrestling business and WWE has gone out its way to remind the world of that every week on Raw.
All signs indeed point to Roman Reigns beating Brock Lesnar at SummerSlam. That's how the company has crafted this storyline and that's what fans believe to be true. But what is the alternative if Lesnar actually wins on August 19?
Fans know that if Brock does go over on Roman, then the Universal Championship will be no closer to getting back on the red brand than it was before. Lesnar is in the drug testing phase of his UFC return. So he's likely getting in fight shape in anticipation of his upcoming match against Daniel Cormier.
That means after SummerSlam, Lesnar is gone once again and the title goes with him. He may not even appear on the August 20 edition of Raw. Fans will return to debating his title reign and continuing to hate Roman even though he's the guy working hard to entertain them.
There are six pay-per-views between SummerSlam on August 20 and WrestleMania 35 on April 7, 2019. That means WWE will have at least six opportunities to book Lesnar to lose the Universal title. But the more time passes, the less likely that Brock will drop the championship. Lesnar will be in the middle of training, with his focus set on January, or possibly February, of 2019.
Lesnar will probably be unavailable. He could always show up for a random promo on Raw or a pre-taped interview alongside Paul Heyman. But for the most part, Brock will likely not be around. WWE will talk about him. Other Superstars will mention him. Fans will complain about him. But Brock Lesnar will continue to be the absentee champion. That is, of course, if Brock does not lose the Universal title in his match.
Lesnar doesn't have to drop the pin to Reigns in order to lose the championship. He could still beat Roman and leave The Big Dog in the middle of the ring as he's done so many times before. But as The Beast Incarnate hoists the championship above his head, The Monster Among Men could tear it away from him.
Braun Strowman is the x-factor in this match. He is the one unpredictable element that throws a wrench into the machine and causes fans to completely rethink the outcome. Surely WWE gave Braun the Money in the Bank briefcase for a reason. The company knows what it has with Braun. He has earned the responsibility of being champion. He is the most athletic and most talented big man the company has seen in quite some time.
He's entertaining without the championship and doesn't really need it to get over. But when WWE considers who should be on the short list to become Universal champion, Strowman's name has to be on it. Otherwise, why does he have the briefcase?
Of course Kevin Owens could find a way to beat Strowman at SummerSlam. If he does, then he could cash in on Roman Reigns if The Big Dog does indeed beat Brock Lesnar. But that is a big "if."
The time has come for Brock Lesnar to lose the Universal Championship. He's on his way out of WWE and everyone knows it. Roman Reigns is the top guy in WWE and everyone knows that as well. But there is a chance that the company could put Brock over at SummerSlam and send him to the UFC with the Universal Championship. When it comes to WWE, anything is indeed possible. 
---
Always Use Your Head and visit the official Pro Wrestling Tees store for The Chairshot All t-shirt proceeds help support the advancement of your favorite hard-hitting wrestling website, The Chairshot!

---
Official Chairshot Picks: WWE SummerSlam 2018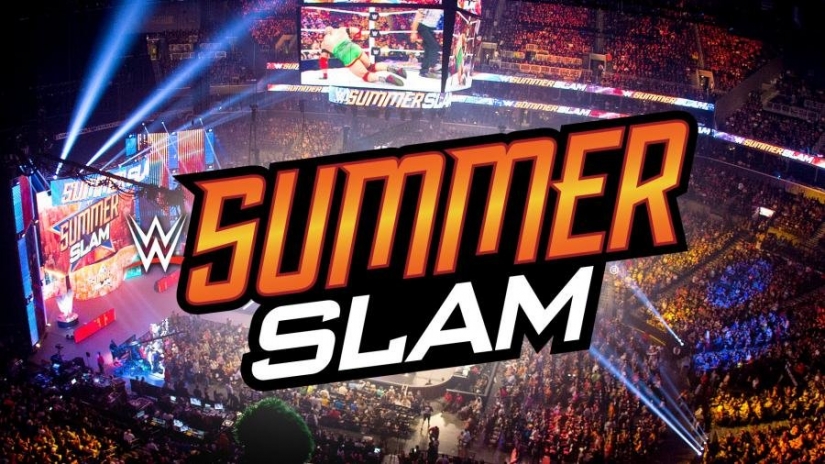 Alright, so now we get to the main course of the weekend, SummerSlam! Will it out perform most of the other main roster Pay-per-Views, or will this become the (superman)punch line of numerous jokes for the next few months?
Before we get to the breakdown, now I can go over our standings, not including last night's Takeover.
So Extreme Rules best record was: Steve Cook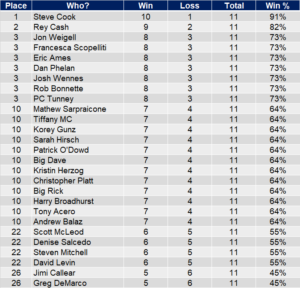 Thanks to Steve's performance last PPV, he's closed the gap a little on the man who's been leading this game since Day 1-ish. It is him, it doth be, D.P.P.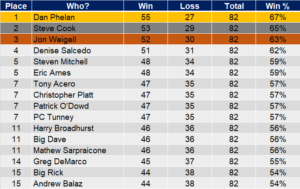 And as the site grows, so does our game, so for our newer players, let's see who's setting the pace: Francesca Scopelliti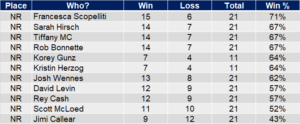 Well now that we've covered the Pick Standings, let's get to our thoughts for the 7 hour monster that is SummerSlam.
Andrade 'Cien' Almas & Zelina Vega vs Rusev & Lana
Well the Kickoff Show is treated as an extension of SummerSlam nowadays, so we've got a little undercard feud hopefully ending today. Rusev Day has slowly been falling apart since Aiden English consistently tries to help, but makes things worse. Doing his best impression of Caboose from Red vs Blue, Aiden and his 'help' will be a big factor in this match
Mathew: Andrade & Vega
Andrew: Rusev & Lana
Tiffany: Rusev & Lana
Deez: Rusev & Lana
Eric: Rusev & Lana
Weigell: Andrade & Zelina
Francesca: Andrade & Zelina
Steve: Rusev & Lana
David: Double Count Out
McLeod: Andrade & Zelina
Abe: Rusev & Lana
Big Rick: Andrade & Zelina
Korey: Andrade & Zelina
Platt: Rusev & Lana
Jimi: Andrade & Zelina
Kirstin: Andrade & Zelina
DPP: Andrade & Zelina
Cook: Andrade & Zelina
PC: Andrade & Zelina
Big Dave: Rusev & Lana
Greg: Rusev & Lana
Patrick: Andrade & Zelina
Denise: Andrade & Zelina
Harry: Andrade & Zelina
Tony: Rusev & Lana
Official Chairshot Pick: Andrade & Zelina 14-10-1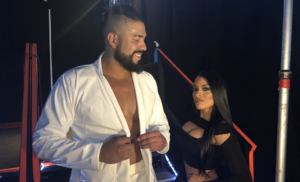 Cruiserweight Championship Match: Cedric Alexander (c) vs Drew Gulak
With no main show support and still trying to rebuild their damaged image, 205 Live has been relegated to the pre-show all year. With two conflicting styles, this match has potential to be really good. Gulak's mat based submissions against Cedric's combination of brawling and high flying leave a lot of room to work. Aside from that, I don't expect a lot. This won't suddenly have the fans clamoring for the Cruisers to be back on Raw, but a good match will continue to rebuild the brand.
Mathew: Cedric Alexander
Andrew: Drew Gulak
Tiffany: Cedric Alexander
Deez: Cedric Alexander
Eric: Cedric Alexander
Weigell: Cedric Alexander
Francesca: Drew Gulak
Steve: Cedric Alexander
David: Drew Gulak
McLeod: Drew Gulak
Abe: Cedric Alexander
Big Rick: Cedric Alexander
Korey: Cedric Alexander
Platt: Cedric Alexander
Jimi: Drew Gylak
Kirstin: Drew Gulak
DPP: Cedric Alexander
Cook: Drew Gulak
PC: Cedric Alexander
Big Dave: Cedric Alexander
Greg: Cedric Alexander
Patrick: Cedric Alexander
Denise: Cedric Alexander
Harry: Drew Gulak
Tony: Cedric Alexander
Official Chairshot Pick: Cedric Alexander 17-8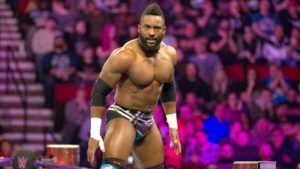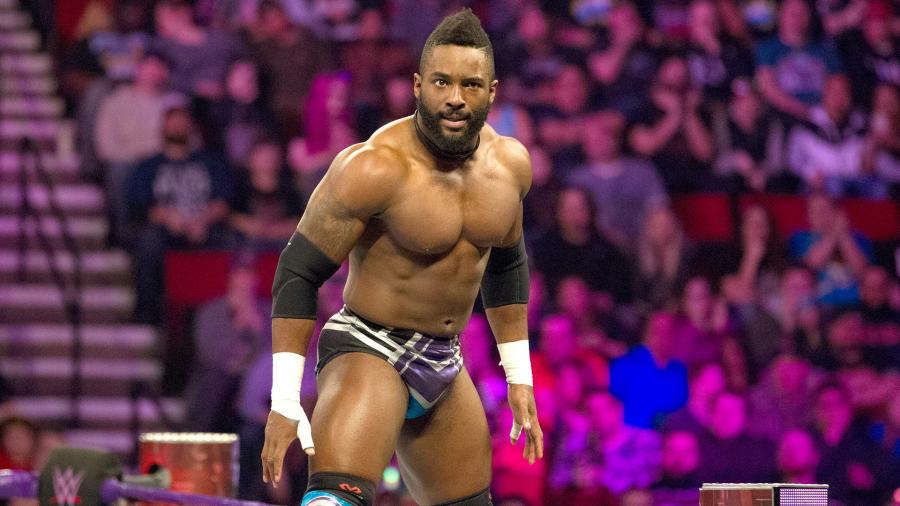 Raw Tag Team Title Match: B-Team (c) vs The Revival
The flukey team of jobbers turned undefeated idiot savants, against the only real tag team on the brand.  It's gonna be hard for me to accept The Revival losing when this should be exactly the type of match, "old school tag team specialist". should thrive in. But who knows, the WWE likes to milk comedy bits that seem well received, so I can definitely see a few more months of B-Team as champions.
Mathew: The Revival
Andrew: The Revival
Tiffany: The Revival
Deez: The Revival
Eric: B-Team
Weigell: The Revival
Francesca: B-Team
Steve: The Revival
David: B-Team
McLeod: The Revival
Abe: The Revival
Big Rick: The Revival
Korey: B-Team
Platt: B-Team
Jimi: B-Team
Kirstin: The Revival
DPP: The Revival
Cook: B-Team
PC: B-Team
Big Dave: The Revival
Greg: The Revival
Patrick: B-Team
Denise: B-Team
Harry: The Revival
Tony: B-Team
Official Chairshot Pick: The Revival 14-11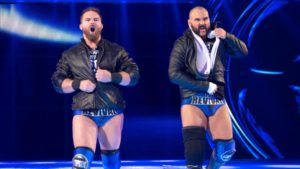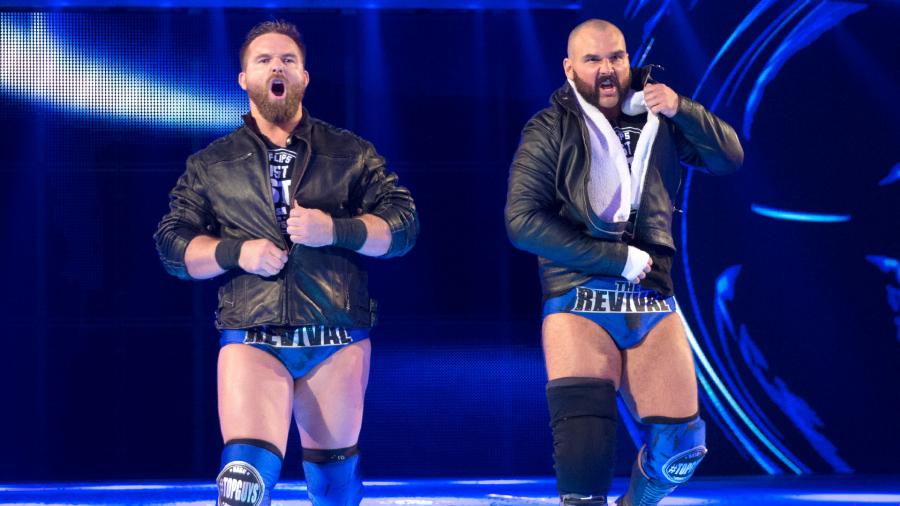 ---
Always Use Your Head and visit the official Pro Wrestling Tees store for The Chairshot All t-shirt proceeds help support the advancement of your favorite hard-hitting wrestling website, The Chairshot!

---
My Favorite SummerSlam Matches Over the Years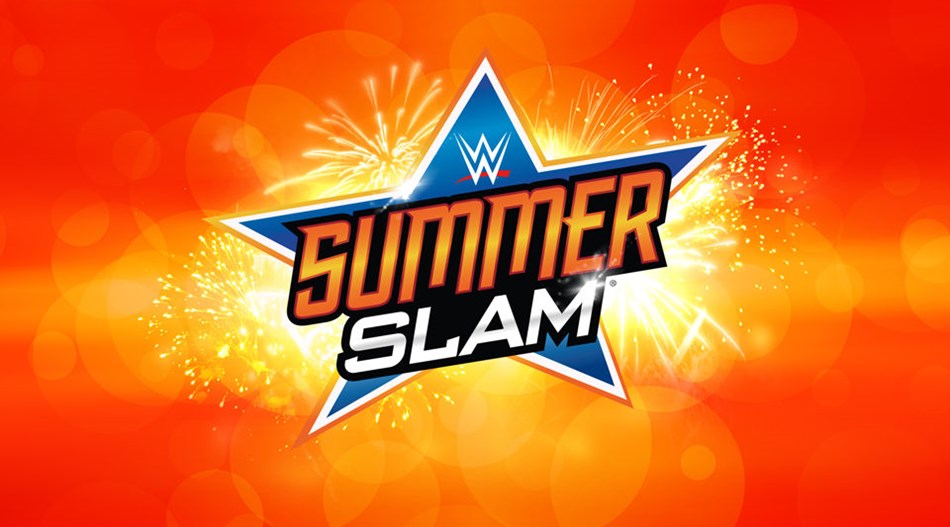 This was inspired by a topic by another wrestling fansite that I saw yesterday. The topic was: What is your all-time favorite SummerSlam match. Anyone who has ever asked me what my all-time favorite anything will tell you, my answers are always a little complicated because it's hard for me to pin down one single favorite anything because my favorites change depending on the day, my mood, and what pops into my head. However, I do have several SummerSlam matches that I would consider my favorites.
1. Intercontinental Championship Match: Bret vs The British Bulldog – SummerSlam 1992
This is still considered the greatest Intercontinental Championship Match of All Time, and with good reason. This was an amazing match by both men. The story of their conflict affecting their personal relationship (Davey Boy was Bret's RL brother-in-law at the time) was a little 'eh' but pretty interesting at the time. Watching Davey Boy win the Intercontinental Championship in London, with a HUGE home country crowd cheering for him was amazing. The pop must've been deafening LIVE because it was loud on video and Wembley Stadium was open air, so it must've been loud.
Where I was: I was nine when this match happened, my parents weren't into wrestling so I never got to watch PPVs live, but I remember a guy my dad worked with loaning me his taped copy of the PPV and I just remembered being enthralled. The storyline didn't really interest me, but I remember loving the match.
2. Intercontinental Championship Ladder Match: Triple H vs The Rock – SummerSlam 1998
This is an underrated classic, in my opinion. When people think of Triple H and Rock now, they don't think 'ladder match', which is a shame because this was a really good match. Triple H and Rock were just coming into their own as main event players and were leading feuding factions Degeneration X and Nation of Domination. The ladder match was, admittedly, not as good as the TLC matches that would become legendary a couple of years later, but it was still very good and is definitely worth a watch.
Where I was: I was fifteen when this match happened and saw it later on video. It's crazy to think of a time when Triple H and the Rock weren't in the main event scene, let alone being in a ladder match together.
3. WWF Tag Team Championship Tables, Ladders, and Chairs Match: Edge and Christian vs the Dudley Boys vs the Hardy Boys – SummerSlam 2000
The match that launched a hundred careers. This is a legendary match for a very good reason, not only was it great on its own, but it launched six careers outright, spawned several sequels, and would eventually get its own PPV. It was one of those matches where no one really remembers who won (Edge and Christian, BTW), they just remember how crazy the match was. All six guys tore the house down and well-deserve the legendary status the match gave them.
Where I was: I was seventeen in 2000 and would see the highlights on RAW later and when I saw the full match, I was amazed and intrigued by TLC. Ladder matches are still some of my favorite kinds of matches, in part because of TLC.
4. WWF Championship Match: The Rock vs Triple H vs Kurt Angle – SummerSlam 2000
This match is one of my favorites because it was not only a really good match on its own, but I was enamored with the Triple H/Stephanie/Kurt Angle storyline going into it. For those who weren't watching WWF back then, the storyline revolved around Triple H becoming convinced (with good reason) that Kurt Angle was trying to move in on Stephanie McMahon, who was Triple H's on-screen wife at the time (they would get married in RL a few years later) while they were both being managed by Stephanie and challenging Rock for the WWF Championship. This was one of the more intriguing storylines of the Attitude Era, which had primarily relied on sex and shock for ratings, rather than interesting storylines, or good wrestling. This was one of those matches where the storyline overshadowed the title, which I normally hate as an adult, but teenage!me was enthralled by the love triangle.
Where I was: As stated above, I was seventeen and getting ready to enter my senior year of high school.
5. Hell in a Cell Match: Edge vs The Undertaker – SummerSlam 2008
This was the culmination of the Edge/Undertaker feud that had been going on since 2007. Edge had done everything imaginable to screw Taker out of the World Heavyweight Championship, thank in large part to his onscreen relationship with SmackDown GM, Vicki Guerrero. Unfortunately, Edge made the HUGE mistake of thinking with the brain between his legs instead of the one between his ears. When Vicki found out that Edge had cheated on her with their 'wedding planner', Alicia Fox, she was NOT happy and hell hath no fury like a woman scorned. As the ultimate act of vengeance against her faithless husband, Vicki not only brought back Undertaker, who had been 'fired' after Extreme Rules, but put his return match inside Hell in a Cell against Edge.
This match was brutal, even for a Hell in a Cell match. Taker and Edge hit each other with everything but the kitchen sink, though that may have been because no one had thought to put one under the ring. Even the commentators weren't safe as a spot by Taker actually knocked out a section of the Cell and narrowly missed hitting JR and Tazz, who were doing commentary. Taker would emerge victorious, and would give the WWE Universe one of the most memorable moments in SummerSlam history, when Taker chokeslammed Edge through the ring and flames burst out of the hole.
Where was I: I was 25 when this match happened and watched it on DVD later. I cheered when Edge was chokeslammed to Hell and that Taker was back.
6. Lumberjack Match: Dean Ambrose vs Seth Rollins – SummerSlam 2014
I love this match just because it was fun and crazy. Seth Rollins had just turned heel on Dean Ambrose and Roman Reigns and Dean was out for revenge. So, after beating Rollins in the Beat the Clock challenge, Dean was allowed to choose the stipulation for their SummerSlam match and he chose a Lumberjack Match, but not just any old Lumberjacks would do. In a display of maniacal brilliance, Dean decided that the Lumberjacks would consist of the people the Shield had attacked during their run, which would ensure that neither he nor Seth would have allies in the match and that they would tear each other apart. The Lumberjacks were hilariously bad at keeping Ambrose and Rollins IN the ring, but it made for some great spots. Seth would emerge the victor, but not without some help and after Dean used Seth's own finisher, the Curb Stomp, against him.
Where was I: I was just getting back into watching wrestling full time when this match happened and I was livid that Dean lost, but looking back, I really enjoyed the match.
7. RAW Tag Team Championship: The Bar vs Seth Rollins and Dean Ambrose – SummerSlam 2017
Did you honestly think this Dean Ambrose/Shield fangirl was going to leave out Rollins and Ambrose reuniting after three years of feuding to take on the Bar? The story of Rollins and Ambrose mending their fences and beating the Bar at SummerSlam was such a big deal last year, The New York Post actually dubbed it the most interesting storyline of the SummerSlam build. It was a slow build but to finally see Ambrose and Rollins united and champions was great storytelling and had me running around my house like a nut when they won.
Where was I: I was on my sofa, watching this live and screamed and cried when they won.
So there are the my all time favorite SummerSlam matches…at least right now. I know that there are sometimes gaps of several years between them, but these are the ones that I love to rewatch, sometimes repeatedly. What are your favorites?
---
Always Use Your Head and visit the official Pro Wrestling Tees store for The Chairshot All t-shirt proceeds help support the advancement of your favorite hard-hitting wrestling website, The Chairshot!

---