Levin's SmackDown Live Review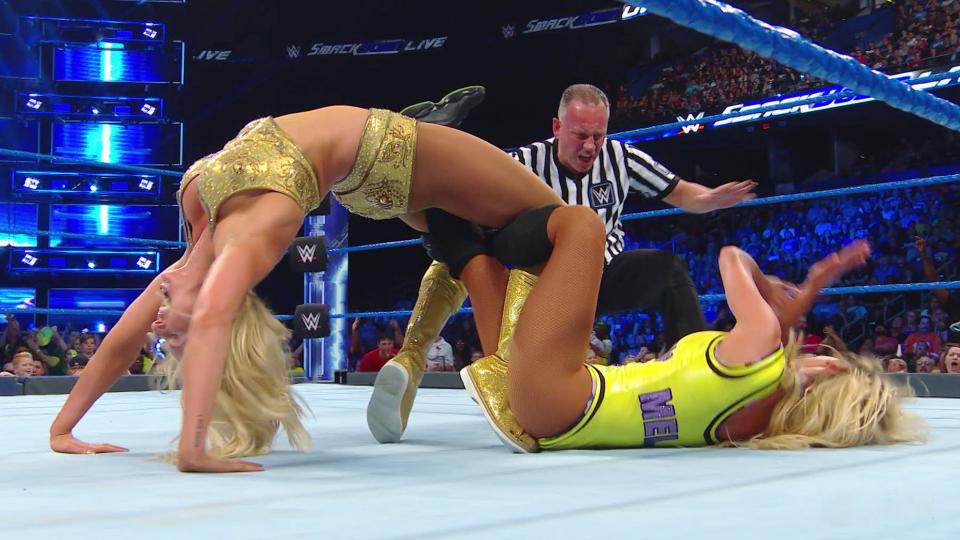 WWE picked up right where it left off last Tuesday night on SmackDown Live, promoting Randy Orton as the new baddest man on the planet. This time, it was Jeff Hardy's turn to confront "The Viper" after his recent attacks and promo that made him Public Enemy No. 1.
But first, Becky Lynch continued her ascension toward the top of the women's division food chain. Despite how the company has buried Asuka in my opinion, they are doing the right thing in pushing the first ever SmackDown Women's Champion in a program with Carmella for the title at SummerSlam.
"I knew if I kept pushing, I would get back to where I want to be," Lynch told the fans in attendance.
No title match in recent memory. No title belt since 2016. This was a long-time coming. But it's the right move. Gordon Solie used to say the challenger is always stronger than the champion because they are hungrier. This is exactly what he was talking about.
Carmella is the perfect villain in this scenario – who is making it look too easy to hate her. The heat she receives from WWE's fan base. The current blue brand champion is learning to deliver a better promo.
But… Then Carmella tries to garner sympathy from the fans in Tampa on Tuesday night. And you knew what was coming. Until Charlotte Flair comes to Lynch's aid. We all know what's coming Flair vs. Carmella with a Triple-Threat match for the title at SummerSlam in Brooklyn
Here are a few other things I observed from Tuesday night.
The Usos vs. The Bar
Another match in the SmackDown Tag Team Title Tournament. Two former champions show us how its done. With WWE moving forward with the Bludgeon Brothers as champions, putting together a solid tag team tournament is a smart move.
With The New Day watching the match, of course. This match did not disappoint. The one thing this kind of match does is remind us how important the tag team division is to the Tuesday night program because one less hour means more concentration in the ring.
Move and countermove, fans approved every maneuver. The Bar wins in the best match of the night and face The New Day with the winner getting a title opportunity at SummerSlam.
Samoa Joe Speaks
Is there any chance the Samoan Submission Machine won't win the WWE Title in Brooklyn? WWE is finally doing the right thing in putting the title on the line with A.J Styles facing an old nemesis from TNA.
I have spoken openly on other sites how Joe has been miscast on more than one occasion. Joe knows how to cater to the fans, make his point and still scare the crap out of them at the same time.
This should be one of the better matches at SummerSlam.
Joe's promo hit below the belt and was brilliant. Failure as a father and failure as a husband, it makes for an amazing plot line.
Jeff Hardy Gets a Turn – Sort of
Hardy still wants the United States Title and hopes to get a shot at Shinsuke Nakamura for the strap. First, he must take care of business with Orton.
And Nakamura got involved in the shenanigans. A stare down of both heels and a mental agreement before the 13-time world champion once again picks apart Hardy. And wiped away the identity of his future opponent.
I'm not sure how this turns out other than a match at SummerSlam – with or without Nakamura as part of the package. It's a good storyline for Orton.
Lana vs. Zelina Vega
It may not have been the best match of the night, but it was the hottest match, that's for sure.
I would rather see what the storyline between Andrade "Cien" Almas and Rusev goes, but this, of course, is a slow build,
Vega wins with the interference of Aiden English. Someone cannot be too happy with this outcome.
Daniel Bryan Addresses the Fans About Last Tuesday
Bryan talked about The Miz building a wall between the two of them. He said his nemesis taunted him and picked at him while he was on the shelf. It continues to be part of the build toward SummerSlam.
Bryan calls The Miz a coward. Yes! Yes! Yes! The Miz is one of the best protagonists in the history of the business. I love how Bryan told The Miz he won't be The Rock or John Cena.
And the challenge has been issued. SUMMERSLAM!
No, we did not need the crying babies.
Carmella vs. Charlotte Flair
Triple-Threat anyone? This was a much better match than I thought it would be.
Carmella has upped her game and looked solid against the Gold Standard. Flair also sold well for the smaller opponent. This has the makings of a solid match, where now I am thinking Becky Lynch is the one who turns on her best friend.
Predicting The Card: WWE WrestleMania 35 (Round 2)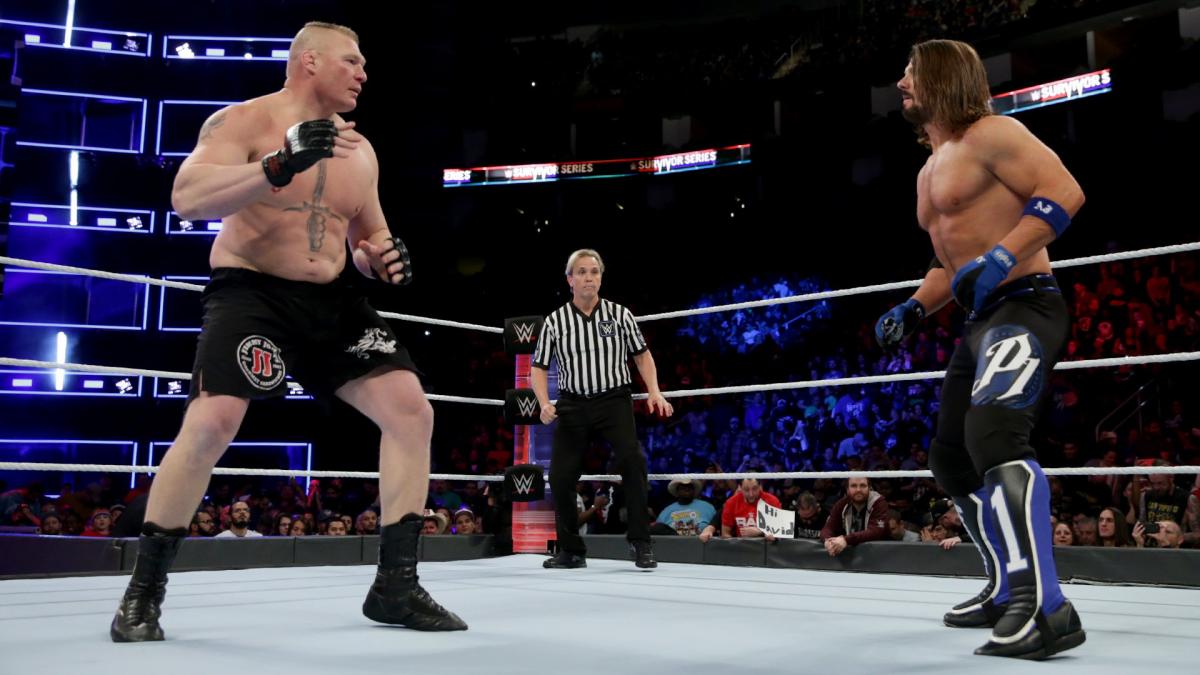 The date is November 23, 2018, less than a week removed from WWE Survivor Series 2018. Greg DeMarco checks in with his top match predictions for the big event in New York City!
Survivor Series is behind us, meaning it's time to update our WrestleMania speculations! October 7 was the date of my last WrestleMania speculations, and a lot has changed. Namely, Roman Reigns is off beating leukemia, with no timetable set for his return. We also have a new injury to Triple H, and there's also talk of an injury to Samoa Joe. And who can forget Becky Lynch!?!?
---
Recommended Reading:
Injured WWE Superstars & Their Expected Return Dates
---
So between the growing injury report, title changes, and Survivor Series fallout, we are ready to update our WrestleMania predictions!
Universal Championship
Brock Lesnar (champion) vs. AJ Styles
Last time I called for a Shield Triple Threat here, with Roman Reigns walking in as Universal Champion. Reigns obviously vacated that championship, and Brock is the new champion. Reigns' announcement left WWE with big void to fill–the WrestleMania closer.
As I referenced on a recent Greg DeMarco Show, WWE (and any company worth its salt) books backwards from a set ending. This is why the WrestleMania focus is typically set by the week after the prior year's event itself, to give the booker, writing teams and agents a focal point to guide their decision making. When Reigns steps away, the first order of business was "What do we do at WrestleMania?"
I believe the answer to that question was AJ Styles.
Survivor Series went from AJ Styles vs. Roman Reigns to AJ Styles vs. Brock Lesnar to Daniel Bryan vs. Brock Lesnar–and the latter delivered an amazing and unique match that isn't getting the love it deserves.
AJ Styles is the perfect story for WrestleMania. Signed to be a mid-carder, AJ has exceeded expectations within WWE, and has shown the ability to deliver in all scenarios. A Royal Rumble win and subsequent match with Brock Lesnar would have MetLife Stadium rocking, delivering the ultimate feel-good moment for WWE and likely the top highlight in a career full of highlights for AJ Styles.
Before you ask, yes I have read the rumors of Lesnar vs. Seth Rollins at 'Mania. Doesn't mean I believe them!
Raw Women's Championship
Ronda Rousey (champion) vs. Charlotte Flair
Becky Lynch has set the world on fire, and I am among her top fans. But I also live in a place called reality, and I don't see this match changing at all. I called this match last time, and for months everyone has been calling for this match to close the show (I don't think it does).
The finish of their Survivor Series match served only to continue us on our path to Rousey-Flair at WrestleMania 35. Rousey said herself (in a red-carpet interview before Evolution) that she wants to take time off and have a family. She's also struggling with life on the road.
WWE is building Charlotte Flair's legacy. She ended Asuka'a "streak" at WrestleMania 34, and she is going to serve Ronda Rousey with her first loss at WrestleMania 35. Becky will be just fine, as another round of Becky-Charlotte after WrestleMania will do big business, and likely see both women main eventing house shows and possibly a pay-per-view along the way.
Becky Lynch vs. Nia Jax
Talk about things changing! In my first round of WrestleMania predictions, I said we'd get Asuka challenging Becky Lynch. I assume Becky will end up dropping (or forfeiting) the Smackdown Women's Championship soon enough, and I think Asuka is still in a championship match at WrestleMania.
But Becky Lynch vs. Nia Jax is MONEY. I know it's not Lynch-Rousey, which we may have been robbed of thanks to that errant punch thrown by Nia Jax. But assuming Rousey-Flair is in stone (as I am), the next best thing is for Becky Lynch to get her hands on Nia Jax in front of 90,000 rabid fans in the New York/New Jersey area. Nia is finally settling in as a heat magnet, and "The Man" is the true people's champion.
Becky doesn't need Ronda at WrestleMania, Becky sells this WrestleMania match on her own–and that's the biggest compliment you can give a WWE superstar.
WWE Championship
Daniel Bryan (champion) vs. The Miz
I was originally going to slot Shane McMahon in as The Miz's opponent, but I think that storyline gets tied up sometime during the TLC-Royal Rumble-Elimination Chamber run.
I had Miz pegged as your challenger for the WWE Championship (then held by AJ Styles) along with a Royal Rumble win. Now that AJ is in a different position, it only makes sense that Miz–who is creeping closer and closer to being a babyface on a daily basis–to emerge as Bryan's challenger. Bryan will have his supporters over WrestleMania Weekend, but Miz has emerged as a favorite of the internet fanbase himself. This match can steal the show, and is worthy of a top spot at WrestleMania.
Street Fight
Seth Rollins vs. Dean Ambrose
I originally went with a Shield Triple Threat for WrestleMania 35, but that might have to wait a year. Instead we continue the issue between Ambrose and Rollins.
This is a much better match for Rollins, in my opinion. Yes, Lesnar is the money match, but Ambrose and Rollins will deliver big time, and the street fight stipulation only helps things.
I considered Hell In A Cell (which happened at WrestleManias 29 and 32), but the street fight makes sense here. If Roman is able to, an appearance either helping Rollins or celebrating at the end makes total sense as well.
The Undertaker vs. John Cena
No change from last time–to me this seems as "set in stone" as Rousey-Flair. (Mainly so I can be doubly wrong? Maybe…)
Drew McIntyre & Dolph Ziggler vs. Kevin Owens & Sami Zayn
One thing that really stood out to me in Eric's injury report today was that both Kevin Owens and Sami Zayn are expected back by WrestleMania. I was racking my brain to figure out what the company would do with Drew McIntyre, and this provided the answer.
Owens and Zayn will get a heroes welcome upon return, as that is the standard return pop for WWE superstars these days.  Ziggler and McIntyre are amazing as heels, and I would bet money on Drew getting a mega-push after WrestleMania. McIntyre vs. Styles could be a major program for the company. It's fresh, it's exciting, and it would deliver.
I'd expect Kevin & Sami to go over (on Ziggler), with McIntyre turning on his partner and ending their year long alliance in the process.
---
There's a lot more ground to cover outside of those matches. You have Shane McMahon, Asuka & the Smackdown Women's Championship, United States Championship, Braun Strowman, Triple H (if he's back), and more. This will be another packed WrestleMania for sure, so get ready for 5+ hours of action next April!
What do you think? Let us know on social media @theCHAIRSHOTcom and always remember to use the hashtag #UseYourHead!
Top 5: Things I Learned From WWE Survivor Series 2018
WrestleMania… Faces and Heels… what was learned from WWE Survivor Series 2018?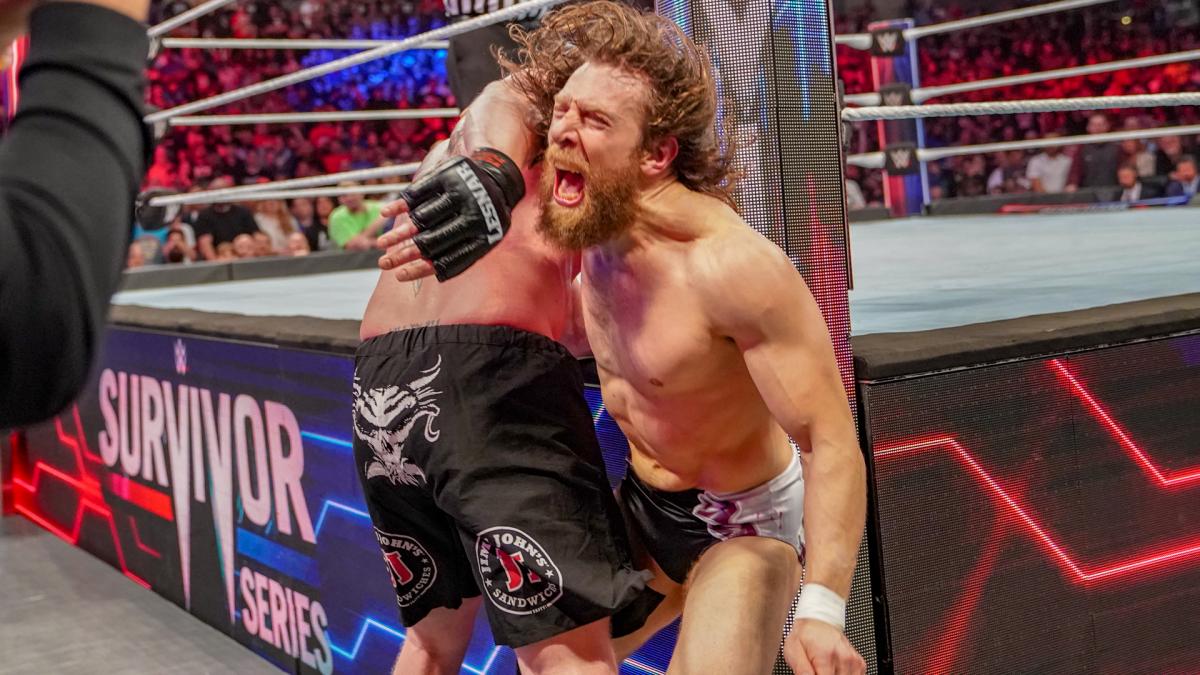 Greg DeMarco is back with the things he learned from WWE Survivor Series 2018–five of them!
After a really fun and insightful NXT Takeover War Games, the main roster took the stage to see if they can "keep up." I use quotes because I find that notion hilarious, but I know it's out there so I'll roll with it.
But I learned some things from Survivor Series as well, and they're equally important. Let's have a look, eh?
5. We've Hit The Reset Button On AJ Styles
It's kind of a soft reset, but it's still a reset… or headed towards one.
It's easy to see that the original plan for this event was AJ Styles vs. Roman Reigns, but Roman's well documented condition forced a change of sorts. That brought us here.
Daniel Bryan winning the WWE Championship was necessary so the WWE can make their plans with AJ Styles. The man appeared on 32 straight WWE PPV events until Survivor Series, not missing a beat since his debut. He loses his WWE Championship on Tuesday, isn't on the Survivor Series card, and has a 365 special on the network right after.
Here's what I see: AJ will lose to Daniel Bryan at WWE TLC, and go on to win the Royal Rumble. He then gets Brock Lesnar at WrestleMania, giving the internet smark happy crowd a moment they'll cherish forever. Him not being there tonight was merely a step in that direction.
4. WWE Sees Money In Becky Lynch vs. Nia Jax
I know everyone thinks we are getting Becky Lynch vs. Ronda Rousey at WrestleMania, but I never believed that to be the case. And after Survivor Series, I can't see how anyone thinks that's the case. It's merely wishful thinking. The company laid the foundation for Ronda Rousey vs. Charlotte Flair II at WM35, and that path is crystal clear now.
But what about the real People's Champion, Becky Lynch? My initial thought was her being challenged by Asuka at WrestleMania 35, but it seems like that isn't happening. What could happen?
Nia Jax.
Becky is a pro, and WWE was smart enough to see there was money in Nia vs. Becky. And much like AJ Styles, absence makes the heart grow fonder. Don't be shocked if Becky's next match is the Royal Rumble, where she takes out Nia Jax and charts a course towards Met Life Stadium.
I know everyone wants to see Ronda Rousey vs. Becky Lynch, but we are actually in a place now where we could see Ronda-Charlotte, Becky-Nia, plus Asuka in a Smackdown Women's Championship Match, all at WrestleMania. That's a huge win.
3. The Miz Is Brilliant
Yes, The Miz ultimately met his demise in the Men's Elimination Match, but it wasn't until AFTER he basically owned Shane McMahon in the process.
We all know Shane's crazy, right? He did his trademark elbow from the top rope through a table on Braun, and that's probably the 15th time he's done it. That doesn't include a career full of other crazy spots.
Miz, like the rest of us, knows this, and used it against Shane by getting him to do Coast 2 Coast twice after he was visibly hurt.
Why? Because Shane ain't saying no!
Miz knew he was opposite Braun Strowman, Drew McIntyre, and Bobby Lashley. He knew that even if Team Smackdown won, they still had two more matches against Ronda Rousey and Brock Lesnar to win just to TIE.
So what did Miz do? He manipulated the manipulator, and likely set the ball in motion for his WrestleMania match.
And that's why The Miz Is…Brilliant.
2. The Tag Team Division Is Still Really Good
The Kickoff Match was crazy entertaining, and The Bar vs. AOP was a fun battle of brutality before Big Show, Drake Maverick, and pee got involved.
That shows me that if we can carve out even a little more television time, the tag teams can be an asset. Makes me want to check out a house show, were tag team wrestling is the norm.
Maybe it's time for a #TagTeamEvolution?
1. Faces And Heels Are Dead
This isn't a new statement, but it needs to be the end of the discussion.
It's over. Done. There are no more faces and heels. WWE doesn't need them. More importantly, the WWE fans don't need them.
The fans, both in the arena and on social media, reacted to drama. They reacted to twists and turns that made the show interesting. They didn't care because Daniel Bryan was working heel, they cared that it was fresh. They didn't care because Charlotte Flair "turned heel," they cared because it was different. Becky Lynch is different. People are finding ways to be more edgy, and it's clicking.
As the company moves into their new television deals, we might see entry into a new "era." Little more attitude, little more aggression, little more edge.
It's also real life. Most people have face and heel tendencies. Many TV characters aren't 100% good or evil anymore. It makes total sense for WWE to follow suit. My only concern is that the one group that will have the most trouble with it is the internet fans.
What were your biggest takeaways from WWE Survivor Series 2018?
Let us know on social media @theCHAIRSHOTcom and always remember to use the hashtag #UseYourHead!