Levin's SmackDown Live Review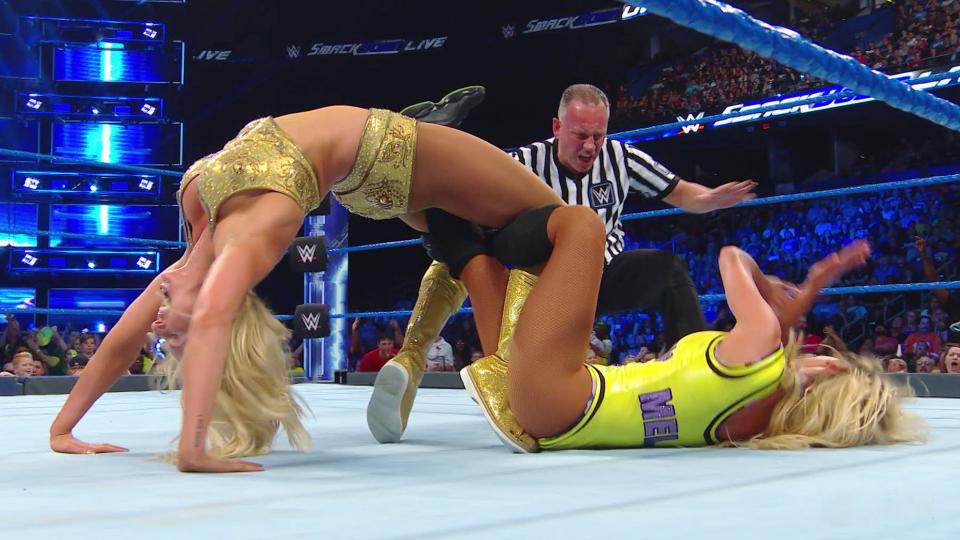 WWE picked up right where it left off last Tuesday night on SmackDown Live, promoting Randy Orton as the new baddest man on the planet. This time, it was Jeff Hardy's turn to confront "The Viper" after his recent attacks and promo that made him Public Enemy No. 1.
But first, Becky Lynch continued her ascension toward the top of the women's division food chain. Despite how the company has buried Asuka in my opinion, they are doing the right thing in pushing the first ever SmackDown Women's Champion in a program with Carmella for the title at SummerSlam.
"I knew if I kept pushing, I would get back to where I want to be," Lynch told the fans in attendance.
No title match in recent memory. No title belt since 2016. This was a long-time coming. But it's the right move. Gordon Solie used to say the challenger is always stronger than the champion because they are hungrier. This is exactly what he was talking about.
Carmella is the perfect villain in this scenario – who is making it look too easy to hate her. The heat she receives from WWE's fan base. The current blue brand champion is learning to deliver a better promo.
But… Then Carmella tries to garner sympathy from the fans in Tampa on Tuesday night. And you knew what was coming. Until Charlotte Flair comes to Lynch's aid. We all know what's coming Flair vs. Carmella with a Triple-Threat match for the title at SummerSlam in Brooklyn
Here are a few other things I observed from Tuesday night.
The Usos vs. The Bar
Another match in the SmackDown Tag Team Title Tournament. Two former champions show us how its done. With WWE moving forward with the Bludgeon Brothers as champions, putting together a solid tag team tournament is a smart move.
With The New Day watching the match, of course. This match did not disappoint. The one thing this kind of match does is remind us how important the tag team division is to the Tuesday night program because one less hour means more concentration in the ring.
Move and countermove, fans approved every maneuver. The Bar wins in the best match of the night and face The New Day with the winner getting a title opportunity at SummerSlam.
Samoa Joe Speaks
Is there any chance the Samoan Submission Machine won't win the WWE Title in Brooklyn? WWE is finally doing the right thing in putting the title on the line with A.J Styles facing an old nemesis from TNA.
I have spoken openly on other sites how Joe has been miscast on more than one occasion. Joe knows how to cater to the fans, make his point and still scare the crap out of them at the same time.
This should be one of the better matches at SummerSlam.
Joe's promo hit below the belt and was brilliant. Failure as a father and failure as a husband, it makes for an amazing plot line.
Jeff Hardy Gets a Turn – Sort of
Hardy still wants the United States Title and hopes to get a shot at Shinsuke Nakamura for the strap. First, he must take care of business with Orton.
And Nakamura got involved in the shenanigans. A stare down of both heels and a mental agreement before the 13-time world champion once again picks apart Hardy. And wiped away the identity of his future opponent.
I'm not sure how this turns out other than a match at SummerSlam – with or without Nakamura as part of the package. It's a good storyline for Orton.
Lana vs. Zelina Vega
It may not have been the best match of the night, but it was the hottest match, that's for sure.
I would rather see what the storyline between Andrade "Cien" Almas and Rusev goes, but this, of course, is a slow build,
Vega wins with the interference of Aiden English. Someone cannot be too happy with this outcome.
Daniel Bryan Addresses the Fans About Last Tuesday
Bryan talked about The Miz building a wall between the two of them. He said his nemesis taunted him and picked at him while he was on the shelf. It continues to be part of the build toward SummerSlam.
Bryan calls The Miz a coward. Yes! Yes! Yes! The Miz is one of the best protagonists in the history of the business. I love how Bryan told The Miz he won't be The Rock or John Cena.
And the challenge has been issued. SUMMERSLAM!
No, we did not need the crying babies.
Carmella vs. Charlotte Flair
Triple-Threat anyone? This was a much better match than I thought it would be.
Carmella has upped her game and looked solid against the Gold Standard. Flair also sold well for the smaller opponent. This has the makings of a solid match, where now I am thinking Becky Lynch is the one who turns on her best friend.
Greg DeMarco's YouTube Performance Report: WWE Raw (4/22/19)
You shouldn't be surprised at the video that topped Raw on YouTube this week.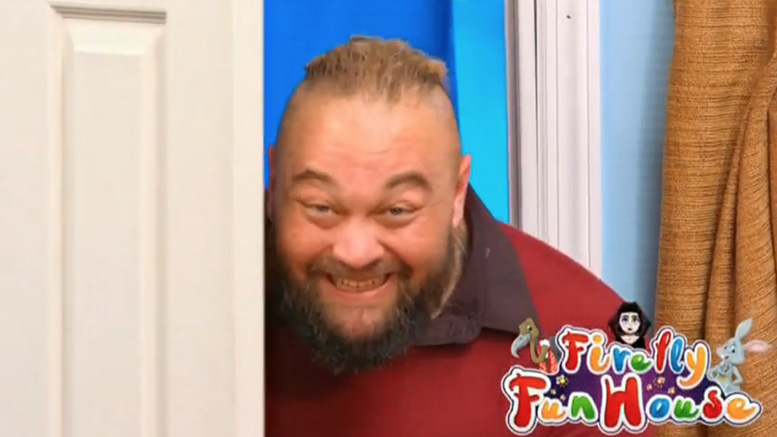 A look at the YouTube performance for the April 22nd edition of WWE RAW!
As we all know, social media and other outlets have become a huge means of drawing in interaction and viewers for WWE. Most people will point to television ratings like they did during the Monday Night Wars in the late 1990's, however that can be skewed with so many various means of watching today that do not include cable television. As such, YouTube has joined social media as a metric as important to WWE as television ratings (if not more).
As you've become accustomed to, here is this week's RAW YouTube Report, compiled Wednesday morning, for the 4/22/19 edition of WWE Raw:
Bray Wyatt's Firefly Fun House – 2 million views
Seth Rollins' challengers emerge – 1.58m views
AJ Styles vs. Baron Corbin – 904k views
The Miz vs. Drew McIntyre vs. Baron Corbin – 815k views
AJ Styles vs. Rey Mysterio vs. Samoa Joe – 775k views
Becky Lynch & Lacey Evans promo – 450k views
Robert Roode vs. Ricochet – 440k views
Becky Lynch vs. Alicia Fox – 395k views
Naomi vs. Billie Kay – 332k views
Cedric Alexander vs. Cesaro – 325k views
The Revival and The Usos Backstage – 292k views
Sami Zayn runs down the WWE Universe – 282k views
The Viking Raiders decimate The Lucha House Party – 225k views
Zack Ryder & Curt Hawkins discuss The Viking Raiders – 126k views
Ratings analysis appears after the ad – buy a shirt!
---
Elisa looks great in her Chairshot gear.
You can, too!
Be like Elisa and get yours at:
https://www.prowrestlingtees.com/related/thechairshot.html
---
Greg DeMarco's WWE Raw YouTube Ratings Analysis
It should be no surprise that Bray Wyatt's Firefly Funhouse comes in at #1 for the week, surpassing 2 million views. We are in the post-Easter week, so numbers are down overall (only 2 videos over 1 million views), but this one definitely has people talking. It's also the #18 trend on all of YouTube.
Seth Rollins also topped a 1.5 million, as we had the show opening multi-man promo scheme designed to set up the matches for later. The set-up and those matches were the major focus on Raw on YouTube this week, ranking #2-#5 in terms of views.
Becky Lynch didn't deliver this week, as she might be suffering from a bit of overexposure. The Raw women's division continues to rebuild, making me wonder why they broke up The Riott Squad. The division occupied spots #6, #8, and #9, and cumulatively they barely broke a million views. But let's be honest, the less people that see Becky Lynch vs. Alicia Fox, the better.
Also bad news for the tag team division, as they occupied 3 of the four bottom videos.
My favorite video…the Robert Roode pornstache!
What did the YouTube results for this week tell you?
Greg DeMarco: If I Was Betting On Dean Ambrose…
What do the betting odds tell us about the future of Dean Ambrose?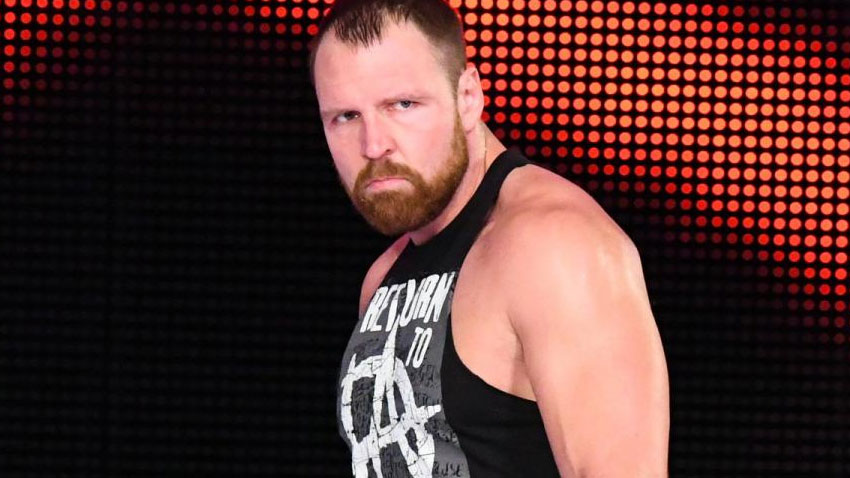 What do the betting odds tell us about the future of Dean Ambrose?
On Sunday night, we were treated to the last chapter for The Shield, in an event aptly named The Shield: Final Chapter. It was an exercise in futility for WWE fans, as it basically served as an outlet to sell two more Shield themed t-shirts, and got them all riled up for the Shield (and Dean Ambrose, of course) one…more…time.
Basically? Y'ALL GOT WORKED AGAIN! (Worked for your viewership time and spending dollars, anyway.)
The Shield is easily one of the Top 5 WWE creations of the past 10 years, and in my opinion the best stable the company ever produced. Yes, that's better than Evolution or DX, because The Shield elevated three individuals who, at the time of their debut, where nobodies to a standard WWE audience. Don't get on me about Seth Rollins as Tyler Black and Dean Ambrose as Jon Moxley—I know about those. I saw them live. But the key here is the standard WWE audience. Never forget that we aren't the target audience. We're the money marks for them!
Now as I was saying, The Shield took three wrestlers and used a gimmick trio for their debut. All three went on to become world champions, and all three finished in the Top 10 in the earnings list for multiple years. If the goal of The Shield was to turn all three into stars, then this was a smashing success. Today, one man (Seth Rollins) is the current Universal Champion, another (Roman Reigns) just got shipped to Raw after main eventing 4 straight WrestleManias (and probably narrowly missing a fifth), and the third (Dean Ambrose) is a former world champion and the most talked about wrestler in the business today. That's a damn good success rate!
Now that their final-really-last-ending-finale-showdown with Baron Corbin (who sucks), Bobby Lashley, and Drew McIntyre is over, we can look to the future for all three men. Seth Rollins' future is easy, he's the Universal Champion and taking the lead on Raw. Roman Reigns' future is equally easy. He's the "biggest acquisition in Smackdown history" and is likely to be WWE Champion by the end of 2019.
For Dean Ambrose, the future appears to be far less certain. He seems to be done with WWE for now, and that leaves the internet world guessing. And when there's an opportunity to guess, there's an opportunity to bet—I usually hit Sports Betting Dime to see what the odds are for these things.
SBD sets the odds at 1/6 (-600) that Dean Ambrose is leaving the WWE at the end of April. An April departure was announced in January, and while he was still being hyped for some post-Mania events, they were all still in April. As any contract lawyer could tell you, it makes as much sense that Ambrose's WWE deal would expire at the end of a specific month as after a specific show. Some theorized that his rumored departure was just a guise setting up something bigger, but our oddsmakers believe it's highly likely that April marks the end of the Ambrose era, at least for the time being. Many expect to see him take his talents to All Elite Wrestling, which reportedly offered him a massive $6 million deal.
Now we have no way of confirming that lucrative figure from AEW, but we know the group fronted by The Elite has money to spend, and outside of CM Punk (who might be interested now more than ever), no name would draw more eyeballs to the fledgling company than Dean Ambrose (or Jon Moxley, as would likely be the case).
All Elite Wrestling actually offers some other benefits outside of money that Dean Ambrose would like: Creative Freedom and Reduced Schedule.
The creative freedom seems obvious, as his character is one that seemingly succeed in a less scripted environment, where word choice isn't scrutinized and the performer is trusted to hold of the direction for their character.
However, don't sneeze at the reduced schedule. If AEW airs live on a weekly basis (I think it settles into more of an alternating schedule of live and taped), and has a handful of live "major" events per year, you're looking at around 60 dates per year—and that's if he works every week of TV (he shouldn't). If they alternate the TV schedule like I said, now you're looking at approximately 34 dates per year. Both of these numbers are assuming 8 special events per year which is purely a "guesstimate." But it helps set the table.
For WWE, you're looking at around 240-260 dates per year, which is more than 4 times the highest AEW estimate I could develop. That's a huge benefit for a talent like Dean Ambrose, who had an entire WWE Network special where he talks about the road breaking him down.
The title of this article is "If I'm Betting On Dean Ambrose…" and if I was (I'm not), I would still bet on a WWE return. I've used #Houston2020 a few times, as I think it makes perfect sense for Dean Ambrose to take his time off and be a surprise entrant (and winner) in the 2020 Royal Rumble match. Imagine if Dean Ambrose was the Royal Rumble winner and faced with the following choices for his WrestleMania 36 opponent: Universal Champion Seth Rollins or WWE Champion Roman Reigns. Could we see Winner Take All, Part 2?
Save for that last part, I can see Dean Ambrose actually having this agreement in place with WWE. At the very least, WWE can freeze his contract for 9 months, while still paying him. I can't imagine a world where they don't. They've done it to others (Rey Mysterio, Neville, and would do it to Sasha Banks), and it benefits them to pay Ambrose to sit at home and not work for the perceived competition. Letting him go is great for the business as a whole, but not a good business move for WWE.
Dean Ambrose leaving WWE and showing up at Double Or Nothing, Fyter Fest, or Fight For The Fallen sounds great. But we all have tons of ideas that sound great and never come to fruition. While you never say never in this crazy world of wrestling, when it comes to Dean Ambrose's next in-ring move I am saying "See you in Houston!"