Levin's SmackDown Live Review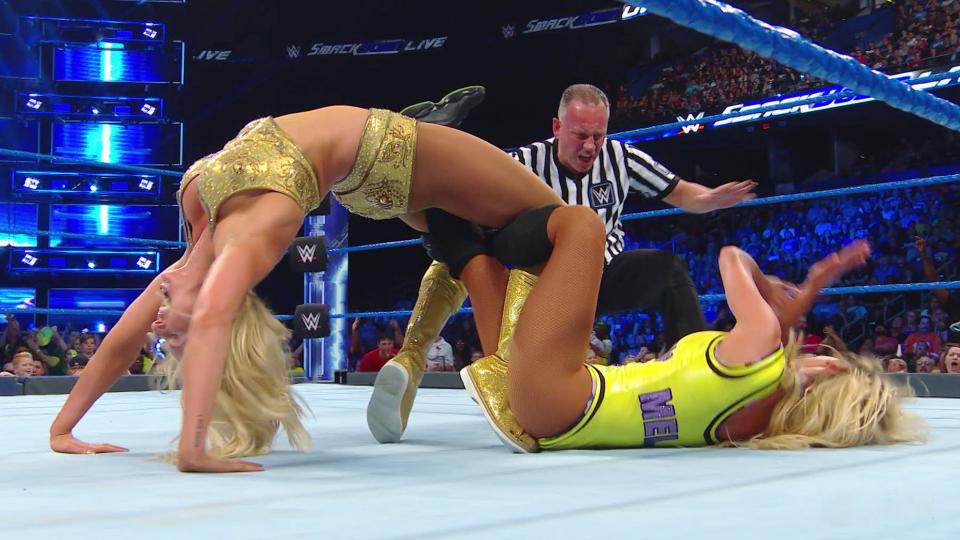 WWE picked up right where it left off last Tuesday night on SmackDown Live, promoting Randy Orton as the new baddest man on the planet. This time, it was Jeff Hardy's turn to confront "The Viper" after his recent attacks and promo that made him Public Enemy No. 1.
But first, Becky Lynch continued her ascension toward the top of the women's division food chain. Despite how the company has buried Asuka in my opinion, they are doing the right thing in pushing the first ever SmackDown Women's Champion in a program with Carmella for the title at SummerSlam.
"I knew if I kept pushing, I would get back to where I want to be," Lynch told the fans in attendance.
No title match in recent memory. No title belt since 2016. This was a long-time coming. But it's the right move. Gordon Solie used to say the challenger is always stronger than the champion because they are hungrier. This is exactly what he was talking about.
Carmella is the perfect villain in this scenario – who is making it look too easy to hate her. The heat she receives from WWE's fan base. The current blue brand champion is learning to deliver a better promo.
But… Then Carmella tries to garner sympathy from the fans in Tampa on Tuesday night. And you knew what was coming. Until Charlotte Flair comes to Lynch's aid. We all know what's coming Flair vs. Carmella with a Triple-Threat match for the title at SummerSlam in Brooklyn
Here are a few other things I observed from Tuesday night.
The Usos vs. The Bar
Another match in the SmackDown Tag Team Title Tournament. Two former champions show us how its done. With WWE moving forward with the Bludgeon Brothers as champions, putting together a solid tag team tournament is a smart move.
With The New Day watching the match, of course. This match did not disappoint. The one thing this kind of match does is remind us how important the tag team division is to the Tuesday night program because one less hour means more concentration in the ring.
Move and countermove, fans approved every maneuver. The Bar wins in the best match of the night and face The New Day with the winner getting a title opportunity at SummerSlam.
Samoa Joe Speaks
Is there any chance the Samoan Submission Machine won't win the WWE Title in Brooklyn? WWE is finally doing the right thing in putting the title on the line with A.J Styles facing an old nemesis from TNA.
I have spoken openly on other sites how Joe has been miscast on more than one occasion. Joe knows how to cater to the fans, make his point and still scare the crap out of them at the same time.
This should be one of the better matches at SummerSlam.
Joe's promo hit below the belt and was brilliant. Failure as a father and failure as a husband, it makes for an amazing plot line.
Jeff Hardy Gets a Turn – Sort of
Hardy still wants the United States Title and hopes to get a shot at Shinsuke Nakamura for the strap. First, he must take care of business with Orton.
And Nakamura got involved in the shenanigans. A stare down of both heels and a mental agreement before the 13-time world champion once again picks apart Hardy. And wiped away the identity of his future opponent.
I'm not sure how this turns out other than a match at SummerSlam – with or without Nakamura as part of the package. It's a good storyline for Orton.
Lana vs. Zelina Vega
It may not have been the best match of the night, but it was the hottest match, that's for sure.
I would rather see what the storyline between Andrade "Cien" Almas and Rusev goes, but this, of course, is a slow build,
Vega wins with the interference of Aiden English. Someone cannot be too happy with this outcome.
Daniel Bryan Addresses the Fans About Last Tuesday
Bryan talked about The Miz building a wall between the two of them. He said his nemesis taunted him and picked at him while he was on the shelf. It continues to be part of the build toward SummerSlam.
Bryan calls The Miz a coward. Yes! Yes! Yes! The Miz is one of the best protagonists in the history of the business. I love how Bryan told The Miz he won't be The Rock or John Cena.
And the challenge has been issued. SUMMERSLAM!
No, we did not need the crying babies.
Carmella vs. Charlotte Flair
Triple-Threat anyone? This was a much better match than I thought it would be.
Carmella has upped her game and looked solid against the Gold Standard. Flair also sold well for the smaller opponent. This has the makings of a solid match, where now I am thinking Becky Lynch is the one who turns on her best friend.
---
Always Use Your Head and visit the official Pro Wrestling Tees store for The Chairshot All t-shirt proceeds help support the advancement of your favorite hard-hitting wrestling website, The Chairshot!

---
Jordan Fox Blog: My Life in Wrestling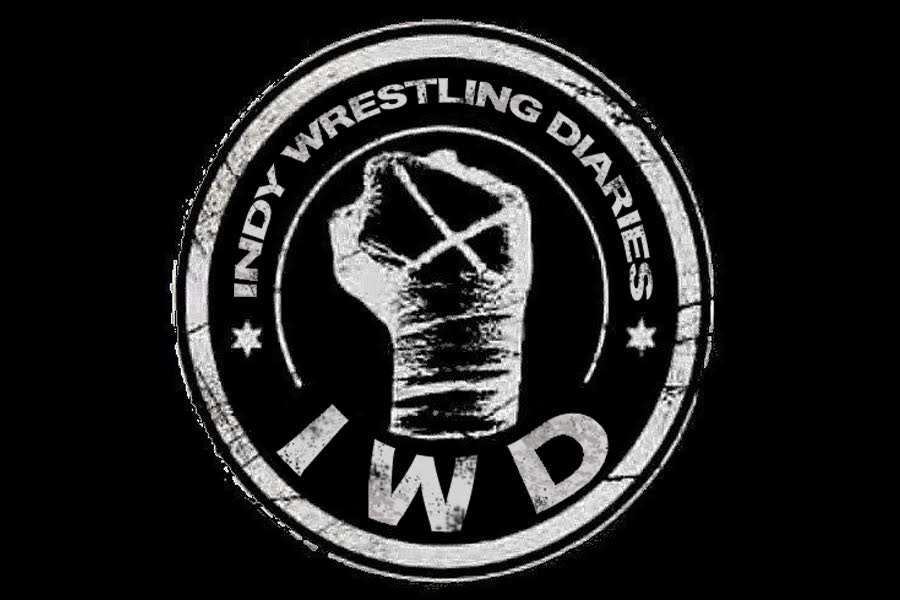 Wednesday August 15th, 2018
Quick shout out! Yesterday's episode of my show Indy Wrestling Radio has already gotten over 500 downloads!! So thank you to all the listeners!!
Disclaimer – Sometimes you might wonder what the point of the stories are… I'll be honest, sometimes there isn't going to be any meaning to what I'm blogging. I just simply want to share these really cool moments I get to experience. I get to experience these wonderful moments because I work in "The Business." I work in wrestling, that might not mean much to a non fan, but to wrestling fans, being a full time wrestling employee, like I am, is the Holy Grail.
I don't have a "shoot" job. The wrestling business is my job & this blog details the fun I experience in our wacky world of wrestling… ENJOY!
On Sunday I had my first show with Heroes of Wrestling which is based out of Royse City Texas, which is 30 miles outside of Dallas.
That sentence alone is incredible when all things are considered. I finally got clean & sober, 8 months now. My time in Iraq, time as a flight paramedic & 7 years as a fulltime firefighter have not been easy on the body or mind. I was been left with PTSD that was so crippling at times that I began to self medicate.
I know what people think about PTSD, they either think "I've seen dead bodies, what's the big deal?" or they'll feel so sorry for you that they won't take you seriously, you'll get the whole "Ahhhh, good for him." I hate that. The first one is the worst, the "I've seen dead bodies" one. I'm not discounting that you've seen some shit, I actually feel sorry for you, I don't wish that upon anyone but to think because you have seen screwed up shit & you don't have nightmares doesn't mean that I should be judged because I wake up terrified thinking I smell human flesh burning. I've seen so many things that I wish I hadn't, I couldn't begin to name them all, but the smell of human flesh burning is that one, that one thing above all else I would take away from my memory if given the chance.
Anyway, back to wrestling. I was, am still am, in a boot on my left foot because I rolled my ankle at the wrestling academy that I'm attending in Tulsa. Anyway, the show was absolutely great. I got to meet a ton of new guys & call their matches. It was a lot of fun, A life experience that every wrestling fan should experience.
The night started off with me getting ready in the locker room & as I was pulling my hair back, my friend & stablemate, Malico, came to me & said we need to shoot something short for our MadWorld web series we are developing. During the 30 second clip he called me by my character name for the first time, Sly. I was over the moon. Something I've worked so hard towards & dedicated so much time to felt like it was starting to come together at that moment. It couldn't of come at a better time either, with me being somewhat depressed that I can't train for a few more weeks because of my ankle.
I called my first "bull rope match" which featured Randy Wayne & Graham Bell. Holy shit these two guys are tough. That was a lot of fun. I had met both guys earlier in the evening & both were really cool to talk with. I was in a couple of group convo's with Randy & you can tell he knows a lot about the wrestling business so I hope to pick his brain more as I get to know him better. I didn't want to be the douche bag that asks him for advice on the first night lol.
Andy Dalton & Will Allday had a great match. I got to kinda shoot the shit with Andy for a little while but I didn't get to talk to Will a ton. My partner on commentary, Wil Rigdon said that he was from Booker T's school/promotion, Reality of Wrestling. It was obvious that wherever he was training, they are amazing because the guy was great. Both guys were. I actually watched a match of Andy's on Twitch randomly so it was cool meeting him.
Brock Baker, who had a very entertaining match with Chandler Hopkins that night as well, & Will Allday are in the middle of a feud & it was a lot of fun being on commentary as that unfolded. I wanna say that Rigdon said that Brock Baker is a Booker T guy as well.
I called a match that featured a former WORLD CHAMPION! The fan in me still can't believe that. The match was Tim Storm vs Bam Bam Malone. Bam Bam was a really cool dude, as was Brysin Scott who I got to kinda BS with for awhile. he had recently won a promotions title so I got to see his new hardware & pick his brain a bit.
AND, in a really cool moment, my good pal Malico faced off against Barrett Brown & it was great. Two world class athletes going head to head like that while I get to call the action from 12 feet away, it's indescribable. I met both guys on my first night in wrestling, so I love when I get the chance to work with either of them. I obviously don't get to work with Barrett as much but it's a blast when I do get to.
It was a ton of fun. I'm still a fan, even though I work in wrestling full time between commentary, TheChairshot.com & podcasting, I'm still a huge fan & anytime I have the opportunity to "suspend my disbelief" I'm going to take it.
These guys are stars & still on the rise, so go check them out on social media! Thanks to everyone for checking out this weeks blog entry!
Stay strong & Too Sweet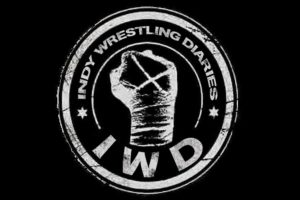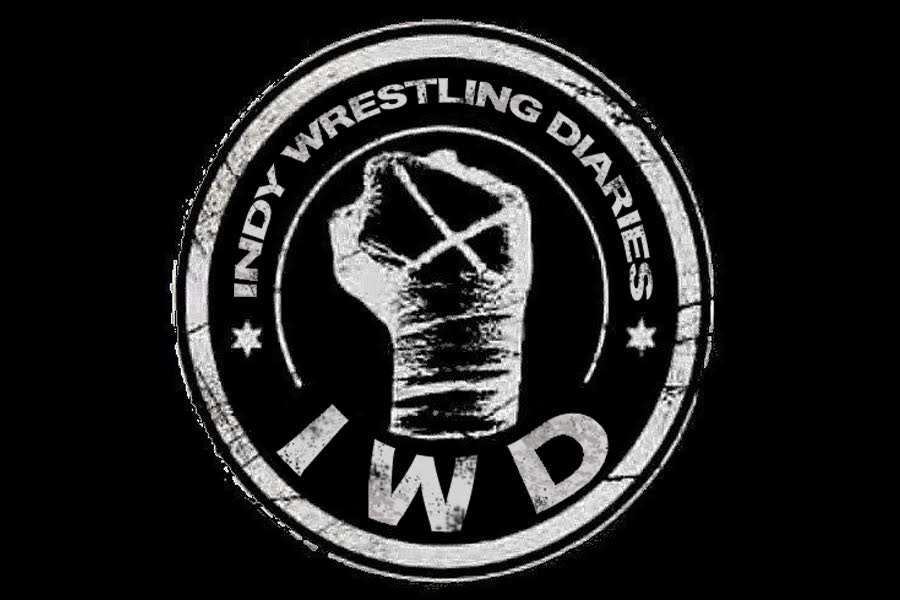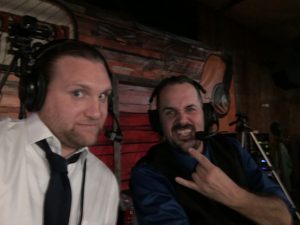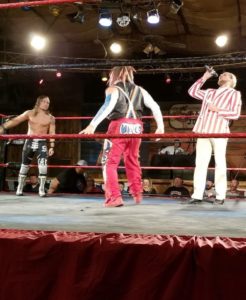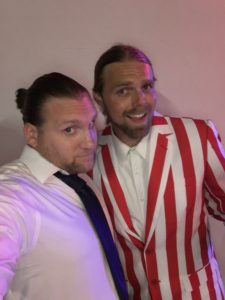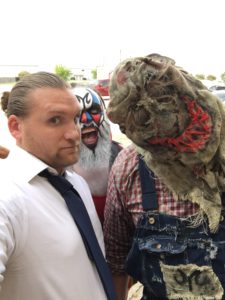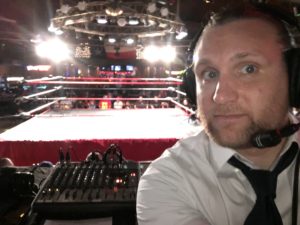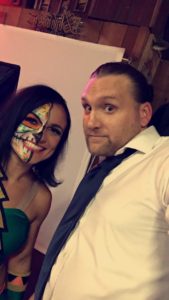 ---
Always Use Your Head and visit the official Pro Wrestling Tees store for The Chairshot All t-shirt proceeds help support the advancement of your favorite hard-hitting wrestling website, The Chairshot!

---
Jordan Fox Blog: My Cat Almost Killed Colt Cabana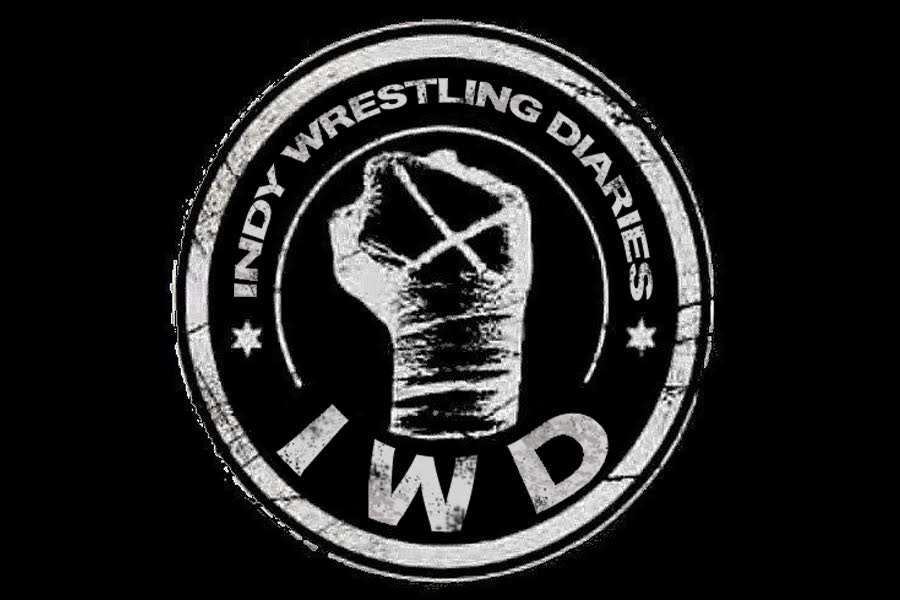 Wednesday August 8th, 2018 – My Cat almost killed Colt Cabana
I just want to tell everyone, I live such a blessed life getting to work in wrestling & that is why i started this blog. I wanted a platform other than my DAILY wrestling podcast, Indy Wrestling Radio. I want to tell short, kinda funny, kinda inspiring stories like this one that I'm about to bore you with lol.
PS – Sometimes you might wonder what the point of the stories are… I'll be honest, sometimes there isn't going to be any meaning to what I'm blogging. I just simply want to share these really cool moments I get to experience. I get to experience these wonderful moments because I work in "The Business." I work in wrestling, that might not mean much to a non fan, but to wrestling fans, being a full time wrestling employee, like i am, is the Holy Grail.
I don't have a "shoot" job. The wrestling business is my job & this blog details the fun I experience in our wacky world of wrestling… ENJOY!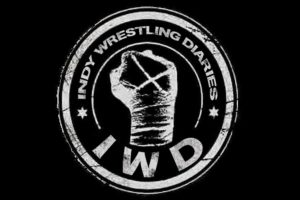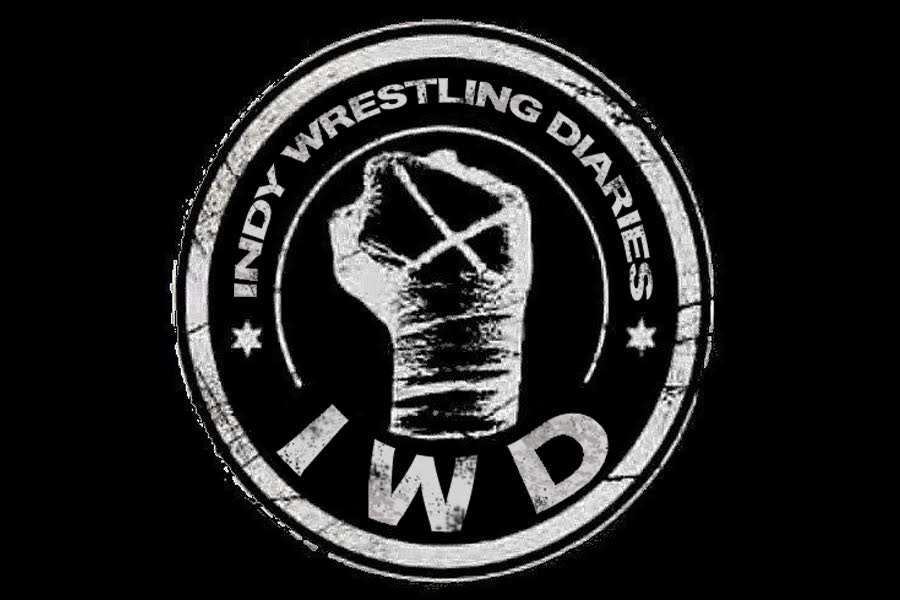 I had only been working in wrestling for a few weeks when i showed up for our second of three shows on the weekend of April 21st, 2018.
I showed up to help put the ring up but as fate would have it they had bigger plans for me.
When i come up to the ring I met one of the veterans of the promotion that i worked for at the time. He said that he wanted to work on some stuff for his match tonight & wondered if I'd mind driving about 35 minutes away to pick up Colt Cabana… Come on bro, what wrestling fan is going to say no to that?? So, of course I said yes. I quickly hit the road & got to his hotel about a half hour later. I walk into the lobby & there is Prince Mahalli, a great Indy Wrestler in Oklahoma, sitting with Eugene!
I go over and introduce myself to Eugene (per wrestling protocol) & then take a seat with Mahalli to wait for everyone else to come down. I shoot the shit with Eugene A LITTLE but he was kinda in the zone on his phone so i took the hint that he didn't wanna talk to anyone just yet. Five or 10 minutes go by & up walks Colt Cabana. He walks up like an angel with the big white light behind him and the harp playing in the background.
Lol ok, that's not all true, but he did walk up to me… He comes over & shakes my hand… I'm in heaven… He introduces himself by his shoot name but we all know that I'm going to be calling him Colt.
We then wait a little longer for Eli Drake to come down then we all start headed to our vehicles. I help get Colt's bag in my trunk and then we are off.
About 2 minutes into the drive Colt sits straight up and in a very serious voice looks at the dash and says "is that cat hair or dog hair?" I look around because I have no idea what he is talking about & then i see maybe 3-4 hairs on my dash about the radio controls, he must of seen the hair when he was looking for the A/c controls. I tell him it's cat hair & I immediately see him get uncomfortable for a minute & he rolls down the window. He says "I'm deathly allergic."
OMG, I'm thinking "damnit, I'm about to accidently kill Colt Cabana!" How the hell would i explain that one?? luckily, about 2 minutes later he says, "Well it doesn't seem to be bothering me, luckily." luckily is right lol.
Geezus, I can't stress enough how scared i was in that moment. What would i of done? THEN, how luckily am I that he isn't a premadonna like so many other celebs & make me pull over to wash the car, or go and complain to my boss or a ton of other shit he could of done.
So anyway, I'm not off to the best start with meeting & hanging out with "The Godfather of Wrestling Podcasts" but at least I didn't kill him lol. We stop at Subway (He buys my Subway sammich BTW, which I'll never stop telling people lol) & we are chatting. He asks me what I do for a living & I tell him that I actually am a wrestling podcaster & publicist for the promotion. He seemed to think that that was cool because I told him "Man, I know you've heard this a 10,000 times before but you are a HUGE part of the reason I have a wrestling podcast. you paved the way for so many of us in my generation to host our own wrestling podcast."
You could tell he was genuinely flattered by what I had said. We go on to talk about a ton of other stuff, my military background, which led to him thanking me for my service & giving me a fist bump in appreciation.
It was around this time that he asked me how i got into wrestling. I told him the cliff notes version but you know, it felt so weird to tell him the story, almost uncomfortable. It was because i felt like he thought i didn't belong in "The Business" because I was not a wrestler. I knew there were wrestlers out there that don't think you should be in the business unless you are a wrestler or were a wrestler. So i was nervous to tell him.
It was like he knew what I was thinking, he knew in a weird way i was looking for his approval & guess what, HE GAVE IT TO ME! The host of one of the most successful wrestling podcasts of all time just gave me his stamp of approval.
Colt told me You know, at least once at every single show I'm working the merch table & someone will come ask me "How do I get into wrestling?" & i just want to say to them "BRO, a wrestling promotor isn't going to just pluck your resume out of thin fuckin air, you have to put yourself out there!" & that's the truth, you have to make your voice heard. You have to be a hustler. You have to hussle to get into this business without being a wrestler. I'm sure you've seen that already. You have obviously hussled to get to where you are, I can tell. If you are podcasting every single day on top of working for the promotion, you're a hustler.
That one paragragh is what this entire blog entry is about. "You have to be a hussler." When he told me that, it was like it was a turning point in my life. Not only had he told me that i was a hussler, but he told me you had to hussle to get into this business.
It was confirmation that I belonged in "The Business." up until that point i was unsure how some of the bigger names were going to accept me. Colt was the first big name that I spent time alone with & he being so open & accepting of me coming into the business is what gave me the confidence to openly talk to guys on car rides. Guys like Matt Striker, MVP, Matt Sydal, Juvie, Lisa Marie Baron, The Von Erich's and probably a dozen more.
If Colt hadn't made me feel like i belonged in this business, I might not of ever applied for the Wrestling Training Academy! He barely knew me but he saw my worth, my passion, my drive, he could tell that I bring something to the table.
Thank you guys & gals so much for reading todays blog post. I'm still learning guys so if yall have ANY constructive criticism about my blog entires, please dont be afraid to email me and tell me. i would LOVE to hear from you guys on how to improve the content i put out into the universe.
Stay Strong & Too Sweet!
"The Sly One" Jordan Fox
Podcast – Indy Wrestling Radio
Twitter, Facebook & Snapchat handle for podcast – @IWRdaily
my personal Twitter & Instagram handle – @FoxThePodcaster
Email – JordanFox@TheChairshot.com
---
Always Use Your Head and visit the official Pro Wrestling Tees store for The Chairshot All t-shirt proceeds help support the advancement of your favorite hard-hitting wrestling website, The Chairshot!

---
Jordan Fox Blog: Why would you criticize another's experiences?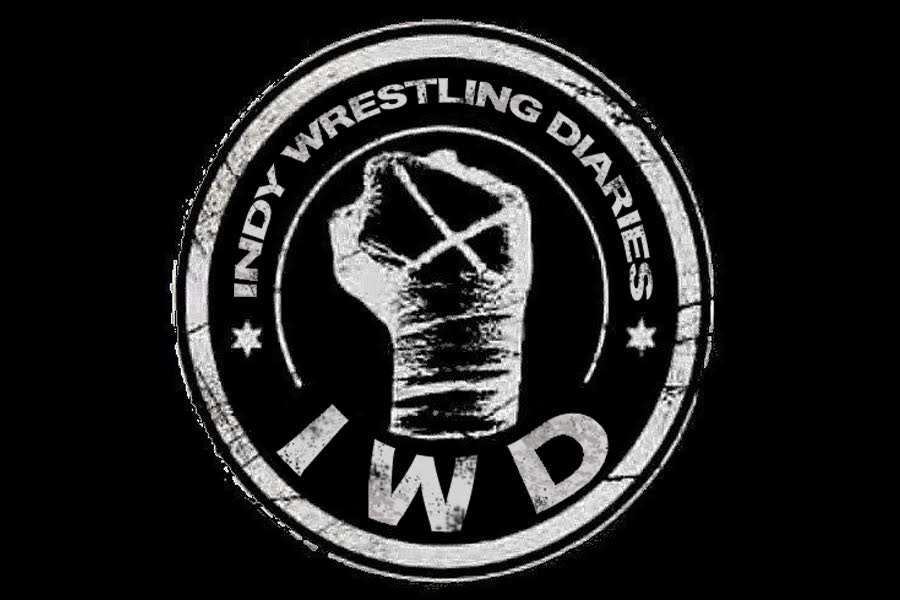 After my first blog post was posted, I had someone that I used to work with within the wrestling profession screen shot it, Facebook message it to me & criticize me. One of the things he said (after taking credit for me meeting Colt Cabana) was that he thought that I hadn't properly paid my dues & that I was somehow capitalizing on the very little that I had done in the wrestling business.
This guy has been in professional wrestling for 12 years, it's not a shocker that he has accomplished more within wrestling than I have, a person that has been in the business for less than a year. But even with knowing how much more he had seen in this business that I had, he still felt the need to write me, to rain on my parade because I am openly proud of what little I have done within the business so far in my career.
Had he ever enlisted in the military as an Infantryman? Had he gone to war? Had he done things he wished he could take back, things that kept him up at night. Had he been given the diagnosis of "PTSD" at the age of 20 & then spent the next several years keeping it from anyone because he was afraid that people would call him crazy?
Had he come home from war & became a Firefighter/Paramedic to yet again give back to the world around him? administer CPR to a child, crawl into a burning trailer home in search of 2 elderly women, hug his friend in the middle of his hometown Emergency Room after he had just worked on his said friend's dad for 31 minutes by himself. Had he done any of that?
The answer is no, no he had not done any of that. BUT, I never criticized him for it. I would of never inserted my judgmental viewpoints into any story that he was telling. Why? Because experiences are unique from person to person. My experiences in the Iraq War are not going to be the same as someone I was with, just like John Cena's WrestleMania experiences aren't going to be the same as Stone Cold Steve Austin's.
I'm not going to mention that person's name on here, even after the shitty things he said to me. Up until that moment I looked at him as a friend, I had no reason not to. He had given me one of his "merch" shirts after an interview and whispered something very nice and personal to me that I won't repeat because again, I'm not here to put him on blast. I look back on that memory & I can't believe that was the same person who sent the message to me yesterday.
He was protective of the company we used to work for together and I get that. He doesn't want me to talk badly about the company. But again, his experiences with the company were far different than mine.
Still, I have no plans to speak ill of the company, I never did. I'm sure I will "Monday morning quarterback" some of the decisions that were made by the company, but I'm not going to speak ill of the company that gave me my start. So his attack on me served no other purpose than to show his true feelings toward me.
I'll be back either tomorrow or Monday to share the story of when I was able to get one on one commentary advice from the voice of wrestling "Jim Ross."
Stay Strong & Too sweet.
Please feel free to email me anytime – JordanFox@TheChairshot.com
Twitter & Instagram handles – @FoxThePodcaster
Podcast Twitter & Facebook handles – @IWRdaily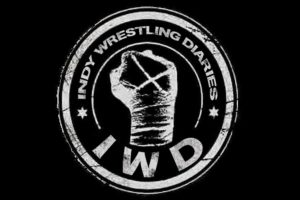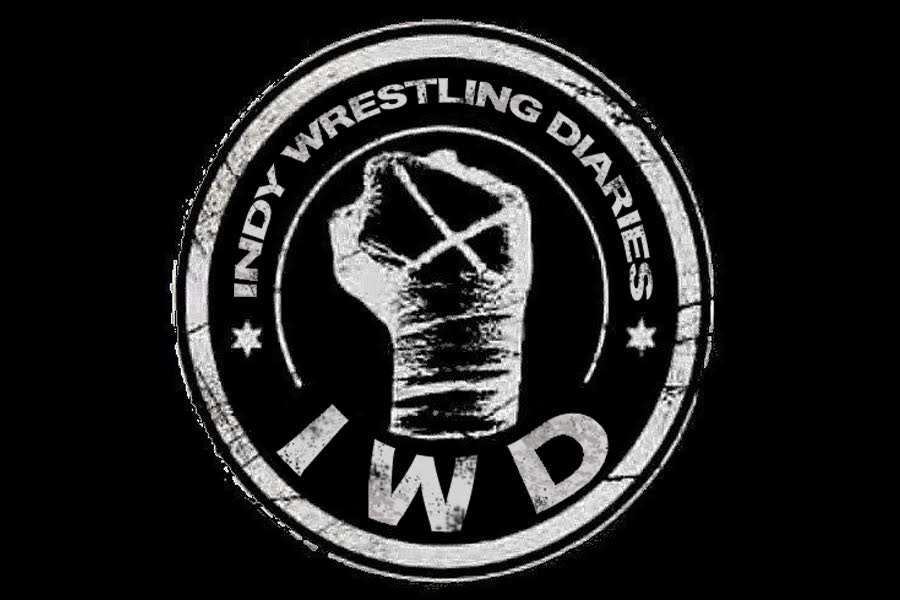 ---
Always Use Your Head and visit the official Pro Wrestling Tees store for The Chairshot All t-shirt proceeds help support the advancement of your favorite hard-hitting wrestling website, The Chairshot!

---