Mathew's G1 Climax 28 B Block Results & Review: Day 12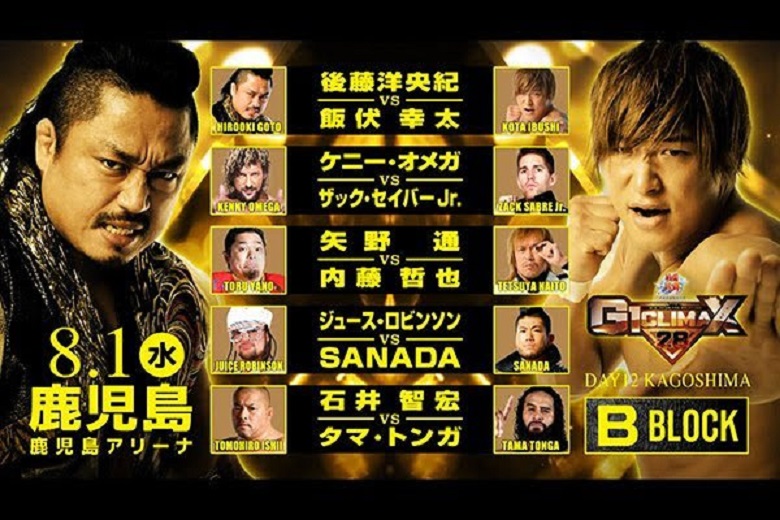 Well, I'm back from my vacation and it's time to get back to work. I wanna again thank Andrew for covering the last B Block show for me while I was away and no doubt he did a good job doing it and I owe him one next time.
We have about three more days of B Block after this one, so this will be the time to see who will be mathematically eliminated from the tournament and who has a chance of advancing to the final round once the G1 is over. Time to see who will advance as we…dive right in.
G1 Climax 2018 Block B Match
Tama Tonga vs. Tomohiro Ishii
Review: Both of these men right now don't have a chance of winning since Tama only has one win in his name and four losses while Ishii has two wins and three losses under his, so while they have no chance of winning anymore, Tonga could still use his antics while Ishii is gonna use this time to either ruin it for someone else while also give us great matches at the same time here. Will Tonga get a second win finally or does Ishii make him suffer another loss?
It looked like Tama could've gotten the quick win over Ishii when he wasn't looking thanks to his brother Loa, but Ishii knew better this time and made sure it wouldn't happen and tried to hit him, but Tama was just too fast for Ishii to make sure he didn't get any kind of openings early on. It was mostly Tama trying to use his quickness in the match to try and throw Ishii off for any type of opening he could get his hands on and Ishii would just be a step ahead of him at the time and would strike him down most of the time. Loa would try to do the numbers factor in the match whenever the referee wasn't looking and Ishii wasn't having any of that as he grabbed Loa in to beat him down a little before throwing him back out after a Lariat and Tonga would try to use the chair on Ishii, but he uses it instead to try and take him down before Tama hits a DDT on the broken chair for a two count. Tama would keep attempting the Gun Stun on Ishii and he even caught him before he could fully land and hits a Sliding Lariat for a two count when Loa dragged the referee outside for Bad Luck Fale to come in and try to knock Ishii down and he does with the Grenade before leaving the ring as Ishii still kicks out of it. Tama went to go for another Gun Stun but gets caught again for Ishii to attempt a Brainbuster but Tama catches him with a Gun Stun in mid-air for the three count.
It's about time Tama at least got a win since his first one was on their first day when he defeated Juice Robinson, it was time to get another one so it wouldn't be too repetitive with the back and forth DQ's or clean losses.
Recommended: Not the best match on the card and they had better, but still decent and worth a view.
G1 Climax 2018 Block B Match
Juice Robinson vs. SANADA
Review: SANADA has only three wins right now and had a big one against Ibushi, but the fact that he was unable to defeat Kenny Omega has hurt his momentum big time here and would need to win this match to stay in the race or he will be eliminated as well. His next opponent is Juice Robinson who only has one win in his name as well and while he's eliminated, he can still at least try to ruin SANADA's chances to make it either since he already lost to the top ones right now. Can SANADA do it or will Juice derail him right here?
No offense to the both of them and they're both great wrestlers, I personally didn't like the flow of this one and this is probably the weakest matches in their block so far in my opinion. Not that it was a horrible match, but compared to the other matches that they had here on B Block, this would be ranked the lowest as of right now. It looked like Juice's hand is slightly healed up and doesn't hurt as much anymore since he had a bit fewer bandages on it compared to the duration of the tournament it looks like. SANADA didn't seem like he was fully himself or took the match as serious as the others since it was Juice he was fighting and felt like it could've been an easier win for him to make it a step closer to the final, but Juice is also someone you shouldn't put behind you or you'll pay for it in the end. The ending is what was more interesting since they were playing back and forth with the Skull End applying it to one another to see who would get the upper hand in the match and it looked like SANADA did as he went for his Diving Moonsault before missing. They would then now go back and forth with attempting the Pulp Friction until Juice would land it after hitting SANADA with a right hand from his injured hand as Juice gets the win and eliminated SANADA.
Now that SANADA has suffered a third loss, he is now mathematically eliminated from winning the G1 Climax thanks to Juice being the spoiler in the match, bout time Juice got more wins otherwise he would have to defend his title quite a lot. SANADA has been great and he can at least give us three more exciting matches for the time being.
Recommended: If you feel like it.
G1 Climax 2018 Block B Match
Tetsuya Naito vs. Toru Yano
Review: Naito right now is currently standing in second place in this block and while a loss won't totally bump him down or hurt his chances of winning, it would still affect him a little bit since he would have to win his remaining matches after this if he even wants a chance to make it to the finals and his next bout after this one is Kota Ibushi. Toru did get the surprise win over Ibushi when the two fought, so don't count him out to take another one with him if given the chance. Would Naito be too Tranquilo to notice or will he be one step closer to achieve his Destino? No? Nothing? I'll let myself out…
Naito took so long with taking off his suit that Toru got annoyed about it and puts back on his shirt while waiting for Naito to get ready. Naito was being too Tranquilo for Toru and Toru just did his taunt behind him to hit him and get him outside as he tried to use the tape to tie up Naito like he did with Ibushi, but Naito isn't dumb enough to fall for that and ties his hand up against the guardrail instead to get him stuck there and he almost got the count out win but Toru ran in with the guardrail still taped around his arm. Naito even grabbed Toru's DVD to hit him with it and that's just about the evilest thing you could do to Toru, use his own DVD against him! Match itself was actually pretty entertaining for the most part and Naito needed somewhat of a light match from all the ones he's had so far and Toru was a good balance for him here. Toru would have Red Shoes shirt above his head to blind him while using his own shirt to try and blind Naito and it would fail to work as Naito kicks him below the belt and hits the Destino for another win.
Naito appears to still be in the ring with still one loss in his record and him claiming to win the rest of the matches appears to be getting a bit closer than expected since he has about three matches left and they're all pretty huge as he fights Ibushi, SANADA, and Zack. Naito would attack Toru with the turnbuckle post after the match and throw it outside as it hits Red Shoes…poor guy.
Recommended: Solid match, worth checking and was fun.
G1 Climax 2018 Block B Match
Kenny Omega vs. Zack Sabre Jr.
Review: Kenny Omega is still the only one in the tournament that's undefeated and if he wins at least two more of his matches, he would almost be a lock to win his block by default but he could have a chance to suffer his first loss here if he's not careful against his opponent tonight, Zack Sabre Jr. Zack could still be in the race if he does get the surprise victory over the current champion, but if he does lose then he'll be mathematically eliminated like SANADA was not too long ago. Can Kenny still remain undefeated while being so close to the finish line?
If Zack ever signs with New Japan full-time, I think he would go far there while maybe not the IWGP Heavyweight Champion, he'd be great with the Intercontinental, US, or Openweight titles there and would be a nice change of pace for him, but I'm enjoying him now while he's here for the time being. I really enjoyed this match here and it told a really good story with Omega trying to secure his undefeated streak while Sabre would do what he does best and apply his submission holds on you any chance he gets and innovates them well enough to make it easier for his opponents to tap out since you never know how he's gonna lock you in at any given time either. I loved how Zack would put Omega in holds to reverse out of the One-Winged Angel or when he grabbed his knee after hitting the V-Trigger since those would be the better times to apply those submissions due to them being his two big moves in his arsenal. The match had a good combination of ring work and storytelling here to give us great chemistry and even the ending felt like that their paths would cross again soon as Zack kept locking Omega in with his submissions and it seemed like Omega knew he wouldn't be able to hit his finisher on Zack and he decided to do something else and that is to outsmart him like how SANADA did and rolled him up in a Crucifix only for Zack to try and roll Kenny back up but Kenny rolled him back into it to get the three count and still remain undefeated.
Right now Kenny Omega is sitting with six wins and zero losses in this tournament and still the only person undefeated in the G1 Climax and the last time the IWGP Heavyweight Champion has won the G1 Climax was around the year 2000 and if he wins the next one then he is almost locked to winning the B Block unless Ishii, Toru, and Ibushi defeat him and Omega takes the final three losses, but we gotta wait and see. Zack is not mathematically eliminated from the tournament but still can ruin Naito's chances on the final B Block day.
Recommended: Great match with a mix of ring and storytelling, worth watching.
G1 Climax 2018 Block B Match
Hirooki Goto vs. Kota Ibushi
Review: Now that both Omega and Naito are the only ones left on top of the board, Ibushi would need to get a win here if he wants to be another name on the list of having a chance to win, but his next opponent is Hirooki Goto who right now has no chance of winning and could at least take Ibushi down with him for the time being. So far Goto has main event three of these matches so far and that's pretty awesome despite that he didn't win the last two, but maybe he can turn it around right here against Ibushi? Will Ibushi get one step closer or is the Openweight Champion gonna ruin it also?
Goto has really been killing it in this G1 tournament and definitely delivered another great match here against Ibushi even though his match with Ishii is still my favorite of B Block, this one was still good. Goto had most of the control in the match trying to make sure Kota wouldn't hit any of his big moves and felt like he knew how to counter him any chance he got against him during the bout. Ibushi still proving why he's considered one of the best with his agility and skill to make his moves seem deadly, especially with his kicks since he can knock you out with them if you give him an opening. Goto would attempt to hit the Kaiten off the top rope and Ibushi would flip out of it like how Neville does and would attempt the Kamigoye, but Goto would always try to block it and hits his moves like the GTR and Shouten Kai as Ibushi would kick out of them. Ibushi would hit the Boma Ye shades of Nakamura and proceeds to hit the Last Ride Powerbomb only for a two count and quickly gets up to hit the Kamigoye for the win as he stays in the race.
Ibushi still only has two losses and if he lost to Goto, then he would've been mathematically eliminated from the tournament and we'd only be down to just two people, which would be kinda boring and we now have that third person in the race this time. He now has to fight Tetsuya Naito next and a win here would keep him still in the mix, he would then have to defeat Tama Tonga and Kenny Omega meaning he cannot lose another match or he will be out.
Recommended: Great match, worth viewing
Overall: Another solid night for B Block here as most of the matches were enjoyable except for one and it pretty much told us who was and wasn't making it to the finals. We only got three more days with B Block, so things should start looking interesting from here on out.
Favorite Match: Zack Sabre Jr. vs. Kenny Omega
Least Favorite Match: SANADA vs. Juice Robinson
Score: 8/10
B Block Standings:
Kenny Omega 6-0 (12 Points)
Tetsuya Naito: 5-1 (10 Points)
Kota Ibushi: 4-2 (8 Points)
SANADA: 3-3 (6 Points) – Eliminated
Zack Sabre Jr: 3-3 (6 Points) – Eliminated
Tomohiro Ishii: 2-4 (4 Points) – Eliminated
Hirooki Goto: 2-4 (4 Points) – Eliminated
Tama Tonga: 2-4 (4 Points) – Eliminated
Juice Robinson: 2-4 (4 Points) – Eliminated
Toru Yano: 1-6 (2 Points) – Eliminated
Just like that, seven people have been considered mathematically eliminated from winning B Block and it's pretty much up to our top three competitors, Kenny Omega, Tetsuya Naito, and Kota Ibushi. Let's see what they would need to do to make it to the finals.
Kenny Omega: Win one or two more matches depending on how Naito and Ibushi's matches play out.
Tetsuya Naito: Has to win his last three matches, but could afford one loss if Omega loses his last three and Tonga beats Ibushi.
Kota Ibushi: Has to win his last three matches and Omega has to lose to Ishii or Yano.