Mathew's G1 Climax 28 B Block Results & Review: Day 14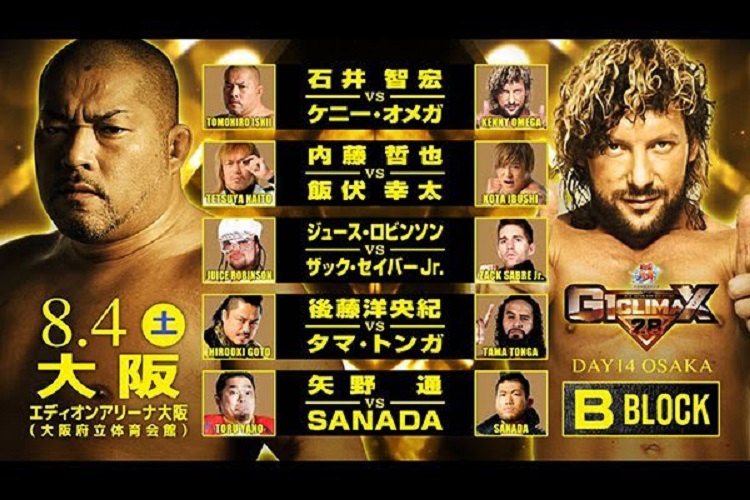 We are back at B Block!
Apparently, A Block disappointed quite a few people but not to worry as B Block will have all of your needs satisfied right here as we got two big matches taking place on this show with Ishii vs. Omega and Naito vs. Ibushi. Plus, as we saw from the last show, only three people can make it to the finals now while the other seven can't but could at least have a chance to ruin it for the leaders, so let's see if the top three will remain or will we only have two left?
Let's find out and…dive right in.
G1 Climax 2018 Block B Match
SANADA vs. Toru Yano
Review: The last time these two fought was at the New Japan Cup and they were very entertaining to see and one of their better matches of 2018 with Toru trying to use his tricks to get the quick win while SANADA showing great ring awareness and even had one of my favorite referee spots when he grabbed the refs hand to stop the count. I wonder what antics will be involved with on this bout though.
Toru didn't even give SANADA time to get in the ring as he attacked him right away and tried to lock in the Paradise Lock to get him counted out rather quickly, but he used his shirt to tie him up instead and doesn't work when SANADA hopped back to the ring. While not as good as their first encounter, this was still an entertaining match with plenty of humor from both of these men. I normally despise the English commentary from New Japan, but I felt like the match was much better with it since it added more to the humor of the match taking place here. SANADA would lock the Paradise Lock to Toru from the outside of the ring to try and get the countout victory but Rocky Romero of all people pushes Toru so he could get out of the hold and back into the ring in time. SANADA went back out to do it again but this time he uses the guardrail to tie Toru up around that and when Rocky was about to help Toru again, SANADA grabs Rocky to tie him up to the Paradise Lock and gets the quick countout victory in five minutes.
Recommended: Funny match, better with the English commentary.
G1 Climax 2018 Block B Match
Hirooki Goto vs. Tama Tonga
Review: It's clear that both of these men are out of the tournament but they still have to finish the block matches and fight each other even though they can't advance, it can, however, lead to a future Openweight Championship match if Tonga somehow can defeat Goto in this match or he could just say fuck the rest of the matches and get himself disqualified for the remaining three he has left, but it should be an interesting bout either way and let's see where it goes.
If you thought it was going to be any different compared to the other Tonga matches in this G1 Climax, then you would be wrong since of course the Firing Squad would get involved in the match since again the wins do not matter to them at all in this match since they wanna go back to their actual roots when Bullet Club was considered a good faction instead of a cash cow since there was a time when the faction would've been considered a legit threat instead of how they are now, and Tonga wants to fix that problem. The match felt rather slow and at times sloppy at times and kinda took away from the match a little bit and it was still average, to say the least, but nothing big to write home about at the end of it all. It looked like Goto was going to win it once he hits the GTR on Tonga but Bad Luck Fale would drag the referee out before the three count was made and hits the Grenade on Goto to go for the cover, but Red Shoes comes in to attempt the count and he decides to flip the both of them off and gives Goto the Disqualification victory, I love Red Shoes.
Recommended: Match was meh at best, but up to you.
G1 Climax 2018 Block B Match
Juice Robinson vs. Zack Sabre Jr.
Review: Much like the previous two matches from this night, the two competitors would be unable to advance and still have to fight each other but Zack could be in line for a United States Championship match if he does defeat Juice in this match, Juice is gonna need to make some title defenses soon at this rate from the ones that he lost already. Can Juice claim a third victory or is Zack gonna make him tap out?
I loved the chemistry between the two here with Sabre seeing while Juice's hand isn't 100%, he can still mess it up to make it worse as if he never healed at all and that was exactly what he did. I don't even know the names of Zack's crazy submissions, so I'm just going to give the random names and just see if they stick. Sabre handled the control of the match rather well with his submissions to re-injure his hand to try and get the easy submission victory but Juice's fighting spirit keeps holding on so he wouldn't go down without a fight. Juice took the tape off his left hand to try and knock out Zack and it wasn't enough. Zack applies the 'Juice Bar' and hold onto almost all of his limbs while stretching it without mercy and Juice was holding on for as long as he could but it was too much for him and had no choice but to tap out.
So far Juice has lost to Tonga, Naito, Omega, Ibushi, and now Zack and I'm sure Naito, Ibushi, and Omega have no interest in the IWGP United States Championship, Juice still at least has Zack Sabre Jr and Tama Tonga as potential title contenders leading to Wrestle Kingdom but the question is who and where?
Recommended: Solid match, worth a watch.
G1 Climax 2018 Block B Match
Kenny Omega vs. Tomohiro Ishii
Review: Kenny Omega is still undefeated and I'm surprised he didn't lose at the previous night, but he's still on a roll and adding another victory here could very well secure him a spot in the final if things do in fact go his way here but he would have to now fight one of his rivals from last year, Tomohiro Ishii. These two would have a trilogy of matches and all three of them would be some of their best bouts in the year of 2017 and now they must fight once again and Ishii could be the one to give Omega that first defeat in the G1 Climax and could also increase the chances of Naito and Ibushi to make it instead of Kenny.
The story for this one was rather simple and yet effective and that is you don't poke a pitbull with a stick because bad things happen to you and they bite…hard which is what he did to Kenny Omega when he kept trying to poke the pitbull and slapping his shiny bald head which is pretty much asking for a death sentence thanks to Kenny getting rather cocky lately since he still hasn't lost a match yet. Is the match great? Absolutely. Is it my favorite match in G1? Honestly, kinda gonna have to go with no since I will admit that the beginning felt a little bit sloppy at times and while I did love the sequences between the two with the V-Triggers, Lariats, and among various moves, it did feel rather predictable at times and felt like it took away from the match a little bit. These two did go to war and I will not take that away from them despite the little nitpicking I just said and Ishii really is the MVP of this G1 Climax so far as he keeps on delivering in either match quality or storytelling and they just work out so well. Ishii would hit his Vertical Suplex and he would give Kenny Omega his first loss in the tournament! Ishii really needed another big win in his record aside from Goto and this was definitely needed for him, especially since it was a matter of time before he took a loss from his arrogance just like Okada did last year, now Kenny is gonna have to really focus or he could slip-up once again.
Now that Ishii has defeated Omega, he very well could be a future challenger for the IWGP Heavyweight Championship before Wrestle Kingdom since the champion usually defends the belt against people that have defeated him in the tournament to avenge their loss. Wonder what big show it would take place in?
Recommended: Great match, worth viewing.
G1 Climax 2018 Block B Match
Kota Ibushi vs. Tetsuya Naito
Review: It is time for our main event as it is between the other top contenders in the tournament, Kota Ibushi, and Tetsuya Naito. Last year, the two would fight on the very first night of A Block and Naito was the one that came out the victor in that match. Now they will fight again, as Ibushi needs to defeat Naito here if he wants to stay alive in this tournament or he will be considered eliminated and we'll only have Naito and Omega as our top 2 contestants in the B Block. Can Naito tie it up with Omega or will Ibushi find a way to stay in the race?
This match was just as good as their match last year and probably slightly better in my opinion since the story in this one made it a lot more emotional since both of them really need a win here, but you, unfortunately, can't give it to them and especially this late in the game no less so this was crucial for both of these men here. How does Naito still have a neck? I ask because it's not just this match but in most of his big matches he would just land on his neck and he somehow appears to be fine and still going, I don't know if it's just how he lands to make it safe or if he's just a madman but he makes any neck bump spot look so deadly in these. Both of these men performed at the top of their game had the right amount of pacing, and again it was the story that made it so much better to give it that little bit extra of an edge. Ibushi pulled all of the stops on this one when he did a backflip when Naito attempted a Reverserana off the top rope and looked much better than when you do it with a Sunset Flip, also did his German Suplex from the other side of the ropes and even hitting the Bomaye to get a two count. Naito would hit the Destino for a two count and would attempt to go for another one but Ibushi catches him to drop him down on his head for a two count and would end it with the Kamigoye to secure the victory and stay alive in the race!
Now that Kota Ibushi has defeated Tetsuya Naito, he's still in the race and has a chance to advance if he wins his next two matches. While Naito could've used a win, this one loss won't hurt him too bad but he cannot afford to take another loss or he will be out himself and there should be a clear idea on how it would go once the next day happens.
Recommended: Highly recommended
Overall: Another solid night with the majority of the matches except for one delivering tonight with two great main events back to back and none of them overshadowed the other which is a good thing. The next show should be an interesting one since Kenny Omega will fight Toru Yano and Kenny would pretty much have to lose while Ibushi and Naito win to make it a three-way tie before the final day next Saturday to see how things play out. The next show is definitely shaping up to be a great one with Naito and SANADA being the main event.
Favorite Match: Tetsuya Naito vs. Kota Ibushi
Least Favorite Match: Tama Tonga vs. Hirooki Goto
Score: 8/10
B Block Standings:
Kenny Omega 6-1 (12 Points)
Tetsuya Naito: 5-2 (10 Points)
Kota Ibushi: 5-2 (10 Points)
SANADA: 4-3 (8 Points) – Eliminated
Zack Sabre Jr: 4-3 (8 Points) – Eliminated
Tomohiro Ishii: 3-4 (6 Points) – Eliminated
Hirooki Goto: 3-4 (6 Points) – Eliminated
Tama Tonga: 2-5 (4 Points) – Eliminated
Juice Robinson: 2-5 (4 Points) – Eliminated
Toru Yano: 1-6 (2 Points) – Eliminated