Ronda Rousey's WWE Raw In-Ring Debut Is A Huge Success Live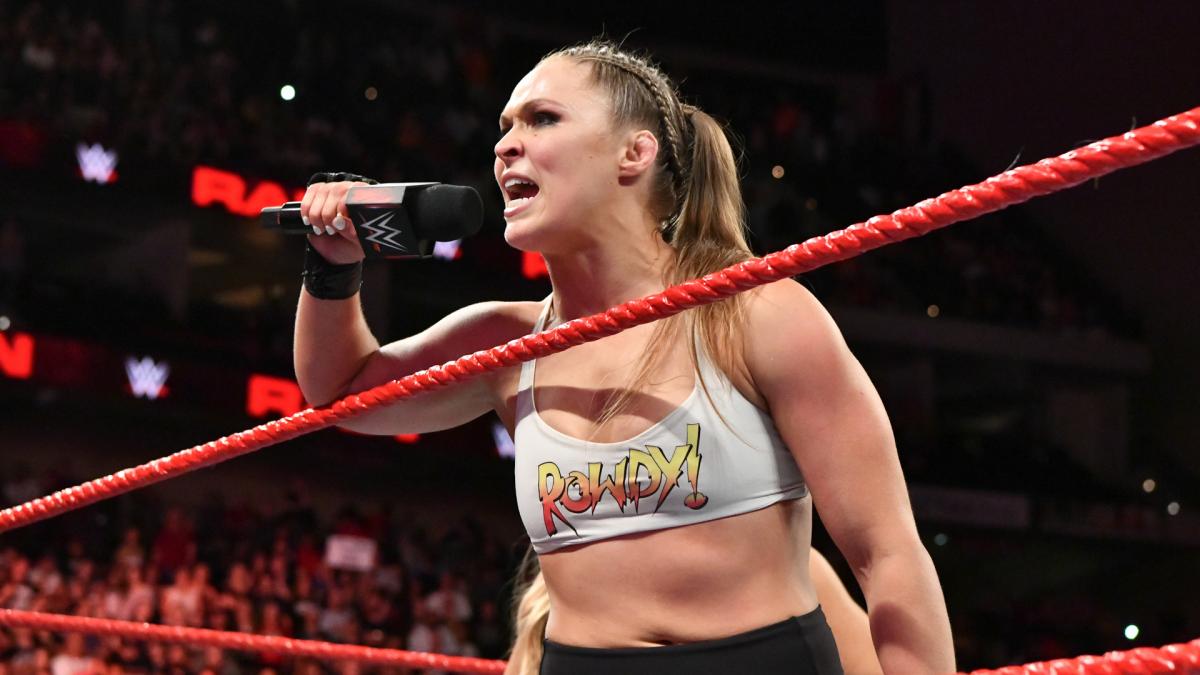 Take a journey to WWE Monday Night Raw, live, with The Chairshot's David Levin, who is in attendance for the Raw in-ring debut of Ronda Rousey in Jacksonville, Florida.

The last time I attended a professional wrestling match, I was a sophomore in college and the NWA was still a thing in this business. My return to a live show, with the first ever Monday Night Raw singles match for Ronda Rousey, made it worth the trip. Welcome to Monday Night Raw, Ronda.
While the match did not last long, and there was more talking and promotion before the match before the in-ring action took place, there is little doubt WWE is now doing the right thing by building Rousey, the former UFC, and MMA star, into the biggest thing to come around this business since Brock Lesnar signed with WWE.
The sellout crowd in Jacksonville was more than receptive to Rousey's first singles match and to Alicia Fox, who is from Ponte Vedra – a stone's throw from the Veteran's Memorial Arena.
WWE has created a buzz around the women's division on both Monday Night Raw and SmackDown Live with the Evolution PPV on the horizon. To close down the show with two consecutive matches – The Riott Squad vs. Bayley and Sasha Banks preceded the Rousey-Fox finale – shows the company's commitment to making women's matches a staple of sports entertainment.
For years, WWE made women a carnival sideshow. Beth Phoenix, Lita and Trish Stratus left the company, leaving a group of beautiful yet talented performers the company did not know how to market. The Women's Revolution – Paige, Charlotte Flair, Becky Lynch, Banks, and Bayley – changed all of that.
A change for the better.
Rousey should have won this match much like Nia Jax and Braun Strowman did when they first moved to the main roster. But I do see what WWE is doing here by sticking to a true storyline with the finale of the program ending in a match between Rousey and Alexa Bliss at SummerSlam.
Kudos to the creative team for having the foresight to realize the match at WrestleMania 34 with Kurt Angle vs. Stephanie McMahon and Triple H should not be what defines the rookie as a performer.
The ultimate goal is to make Rousey a believable character. It's hard to try to dial down the hysteria and hype of a woman who consistently beat the hell out of her opponents in an octagon. Now, her focus is on knowing how to self-promote, play to the strengths of the crowd and sell for her opponents. Jax is still learning how to make that work.
Rousey's debut is exactly how it should have gone, with her coming out on top. With two weeks left until SummerSlam, WWE will need to put its foot on the accelerator to make sure the hype train does not derail because of some of her shortcomings.
The Rousey project should be a half-marathon, not a sprint. There is plenty of time to continue to build her up as the biggest and best WWE has to offer. After last night, it's a given it will happen sooner rather than later.
NXT Minus 6: Best WWE NXT Matches Of 2018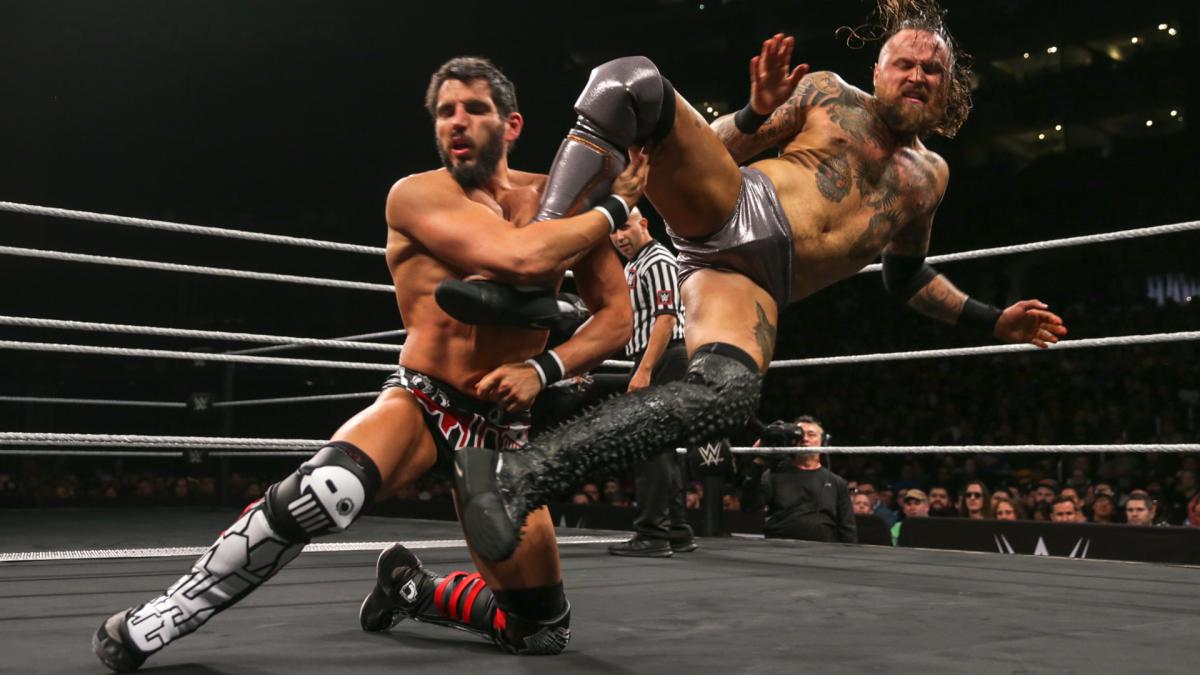 In a year of amazing action for WWE NXT, these 6 matches rose to the top.
In 2018 NXT had one of the finest years of any promotion in American wrestling history. Of the 19 Takeover matches, there was exactly 1 clunker. Throw in the occasional PPV-worthy match on Wednesday night and the match of the year candidates quickly add up. After rewatching every Takeover (oh how I suffer for my craft), here are my top 6 NXT matches of 2018.
HONORABLE MENTION
Ricochet versus Velveteen Dream, Takeover Chicago
War Games match, Takeover: War Games
Undisputed Era versus Oney Lorcan & Danny Burch, Takeover Chicago
North American Title Ladder Match, Takeover New Orleans
Shayna Baszler versus Kairi Sane, Takeover War Games
6. Pete Dunne versus Ricochet, NXT Television
This match is awesome but somewhat of a cheat. Both guys had great years and deserve to make the list. I decided to kill 2 birds with one stone. Here's why I give it such high marks. One of the hardest things in wrestling to do is create drama when everybody knows the finish. It was almost a given that UE would ruin the ending. Despite that, Ricochet & Dunne didn't slow down or hold back one bit. Luckily for us, this rivalry is far from over.     
5. Undisputed Era versus Mustache Mountain, part 2, NXT Television
UE went old school, picked a limb & obliterated Trent Seven's knee. Tried to cripple him. Tyler Bate had to choose between his best friend's health & saving their tag team titles. Every time the Big Strong Boi reached for the towel, it tore at my guts. Some people didn't care for the ending, but the drama in this match would have not been as intense any other way. This was the best match of the second best trilogy of the year.
4. Velveteen Dream versus Tommaso Ciampa, Takeover: War Games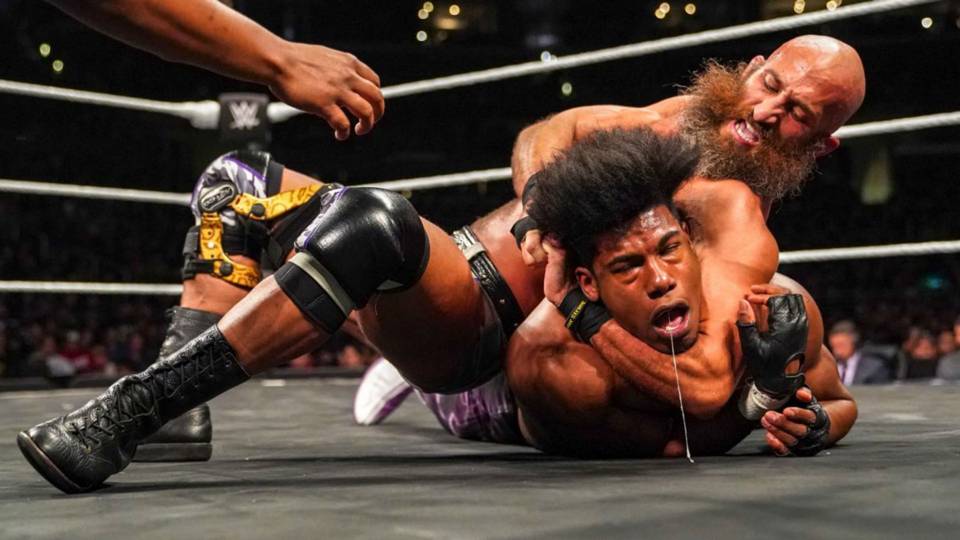 This match had less build than the others on the list. Dream simply showed up and wanted a title shot. I'm a big fan of the little things, & these guys pay attention to the little things. I loved when Ciampa threw the notepad at Ranallo. Then when the match is over, they are so exhausted they lay in a heap for about 2 minutes. Ciampa even takes the belt from the ref while he's still draped across Dream. Those little touches separate good from great, and this was a great match.
3. Andrade Cien Almas versus Johnny Gargano, Takeover Philadelphia
This match was closer to dancing than wrestling. That's how well these two worked together. Could Johnny Wrestling, the heart and soul of NXT, finally achieve his dream and capture the title? Could he beat a man he's never beaten? Everything made sense, even the interference. Zelina Vega and Candace Lerae did just enough to add to the storyline without overshadowing it. This match was so good and so early in 2018, we were left to wonder what Johnny could do to top it. Well…
2. Johnny Gargano versus Tommaso Ciampa II, Takeover Chicago
Any of the trilogy could have made the list. This is my personal favorite. Gargano's Air Raid Crash was absolutely sick. The belt shots were brutal. The moment that sealed it for me was when Ciampa spit on Gargano's wedding ring & threw it into the crowd. Wow. What a dick move. If this match happened in 1986, Ciampa would have needed a real police escort to get out alive. After another 5 star classic, we were left to wonder what Gargano could do to top it. Well…
1. EC3 versus Kona Reeves, NXT Television
This was easily the finest match NXT had to offer in 2018. The top 1% of…screw it. What am I doing?
1. Aleister Black versus Johnny Gargano, Takeover War Games
The moment this match ended, I went full Meltzer and gave it 6 stars. I stand by that. Some people talk about looking at a painting or listening to a piece of music and it brings them to tears. They are so touched by the level of beauty achieved by human hands. I feel this way about this match. The story was gripping. The action was beyond intense. There were at least 5 times I thought someone legit got knocked out. Aleister's second Black Mass is as pretty as a finisher gets. I'm not saying it's the best match I've ever seen, but I don't think I'll ever see one better.  
That's right. I said it.
The Risk & Reward Of The Original WrestleMania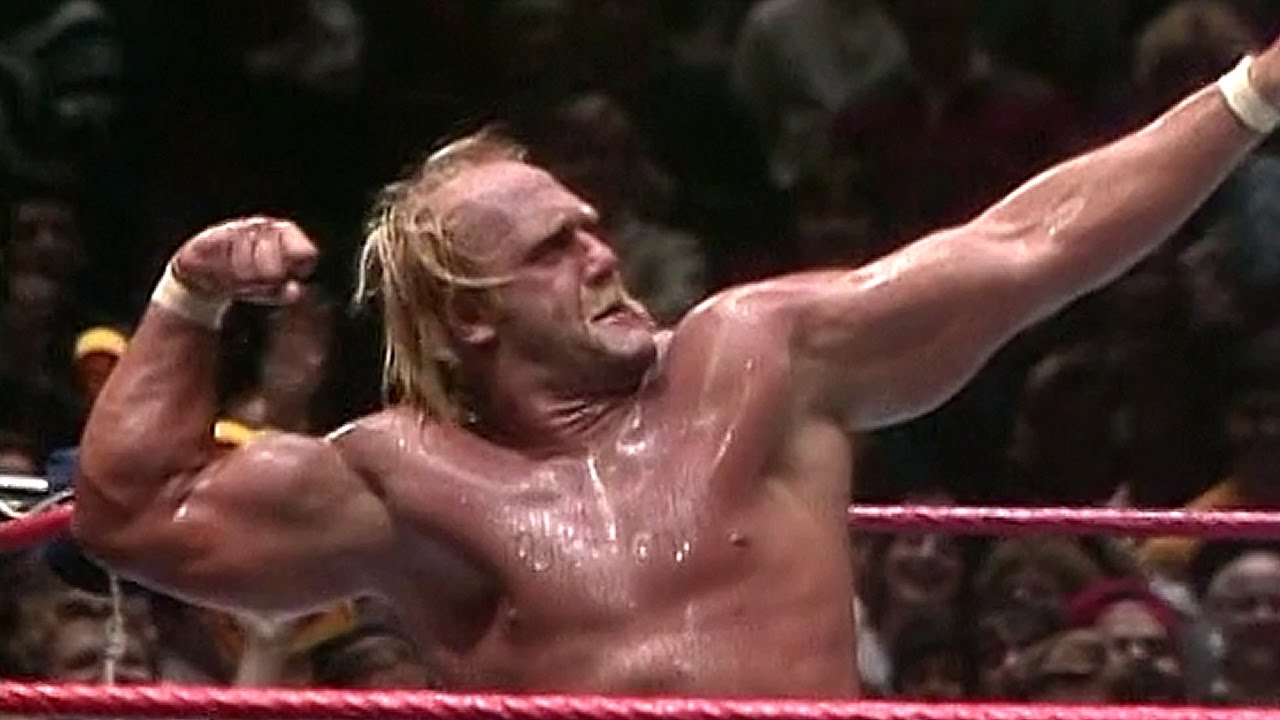 WrestleMania. It's what put the world of Sports Entertainment on the map. Sports Entertainment being the keyword. If you wanted Professional Wrestling, if you were a hardcore fan, you had the NWA's Starrcade event but that only ran in the territory. If you wanted action, drama, emotion, larger-than-life athletes, and celebrities, you had… nothing.
That was until Vincent Kennedy McMahon thought up the incredible event of WrestleMania. McMahon turned an idea into reality using his own fortune, using Cindy Lauper, using Mr. T, using MTV, and using the top athletes from each territory from around the world to make his idea of WrestleMania into the most exciting, the most captivating event in sports and entertainment history. More exciting than the Academy's Oscars, more exciting than the MLB's World Series, even more exciting than the NFL's Super Bowl.
WrestleMania took every risk possible to become what it is today. It isn't an event, it's a feeling. A feeling that comes one week a year to anyone viewing either in-person or through PPV. This is the story of the risks taken to make WrestleMania what it is today and the story of the reward it received to have tens of thousands of average people from around the world to view the incredible spectacle dubbed as "WrestleMania Week." 
It all started in the Summer of 1984. Vince McMahon had thought up the idea of WrestleMania: "I remember in 1984, in the Summertime, there was a meeting room, literally a little meeting room. I remember Vince said, 'I'm gonna do this,' and he explained his vision, what he wanted to do. We all thought he was nuts, but we all knew one thing about Vince McMahon, when he sets his mind onto doing something, he's going to do it." – Howard Finkel on Vince McMahon pitching the idea of WrestleMania (Source: WWF WrestleMania: The Official Insider's History DVD). 
Now the question is, "Why?" The answer is simple: Domination. Vince Jr. had bought out the World Wrestling Federation from his father, Vince Sr., Gorilla Monsoon, and Arnold Skaaland. Vince was always known as wanting more. Well, in 1984, he sought after it. He sought after that mysterious "More" that no single promoter really understood or ever had at the time. One singular domination over the entire country is what McMahon wanted, and this was the start. 
There, of course, was an issue. No promoter wanted any performer involved in WrestleMania, or else, they'd be shunned: "This guy's gonna piss everybody off. Vince is gonna get everybody so mad that everybody that'll work on the WrestleMania card will be blackballed," Hulk Hogan noted in the WrestleMania Rewind series on the WWE Network. "This was the first real move on Vince McMahon's expansion. The promoters were telling wrestlers that if you go work for him, you may never come back again," Bill Apter noted in WrestleMania Rewind. If WrestleMania succeeded, everyone involved would never be forgotten. If it failed, their names could've very well been scratched from every record book by every promoter personally. 
Now obviously, you can't get a reward with no risk. It is well known by many insiders that Vince had put every single penny of his own fortune into his crazy idea of WrestleMania.
"It was the general consensus around the country that Vince McMahon was taking the biggest risk of his life and there was still some other wrestling companies around the country who were actually hoping that Vince would fail," is what Jerry Lawler said on WrestleMania Rewind about Vince's massive risk. "It was a huge gamble, the biggest gamble I've ever been involved with. It was a roll of the dice," Vince said. "The risk for Vince McMahon was his entire life so to say. He had everything, all his money down on WrestleMania betting that this would make his business soar," said Bill Apter on WrestleMania Rewind. 
Vince had to gain buzz about the event, and he did so by working two shows with MTV. The first show being "The Brawl to End It All" which went down on July 23, 1984. It featured multiple dark matches including a WWF Intercontinental Championship match which showed champion Tito Santana and Bob Orton Jr. wrestle to time-limit draw, a WWF World Heavyweight Championship match which featured champion Hulk Hogan defeated Greg Valentine in ten minutes, and WWF World Martial Arts Championship match which featured champion Antonio Inoki defend against Charlie Fulton in a little under four minutes, a WWF Tag Team Championship match which showed the incredible Adrian Adonis and Dick Murdoch defend against Sgt. Slaughter and Terry Daniels in an outstanding 17:16 bout.
The featured event though was for the WWF Women's Championship. It featured The Fabulous Moolah, accompanied by Lou Albano, defend against Wendi Richter, who was accompanied to the ring by musician Cyndi Lauper and David Wolff. The entire world was shocked when Richter had ended Moolah's 10,000+ day reign as WWF Women's Champion. 
The second event, "The War to Settle the Score", occurred a month before WrestleMania. It featured many dark matches which included The U.S. Express (Barry Windham and Mike Rotunda) successfully defend their WWF Tag Team Championships against The Spoiler and The Assassin. Another title match was for the WWF Women's Championship. Leilani Kai, accompanied by The Fabulous Moolah, had beaten Wendi Richter, who was accompanied to the ring by Cyndi Lauper, in 11:49. The Women's Title change was aired via tape delay on the March 5th edition of Prime Time Wrestling.
The Main Event was aired on MTV, it was the set-up for WrestleMania. It featured Roddy Piper get disqualified in his match against champion Hulk Hogan for the WWF World Heavyweight Championship after Hogan was attacked. This would be the set-up for the Main Event of WrestleMania. 
The day had come: WrestleMania.
It had nine bouts. The first one showed Tito Santana defeating The Executioner (FKA "Playboy" Buddy Rose) in 4:50. The second bout showed King Kong Bundy defeat Special Delivery Jones in an astonishing twenty-three seconds! The third bout showed Ricky Steamboat defeat Matt Borne in 4:38. The fourth match was a homecoming for the Sammartino Family, as it showed Bruno Sammartino's son, David Sammartino compete against Brutus Beefcake. Unfortunately for both competitors, that match ended in a double-DQ. The fifth match was the first title event of the night, it showed champion Greg Valentine defend the WWF Intercontinental Championship against Junkyard Dog. While JYD had beaten Valentine, it was via countout, so Greg Valentine kept his title.
The sixth bout was also a title match, this time for the WWF Tag Team Championship. It showed The Iron Sheik and Nikolai Volkoff, who was accompanied by Freddie Blassie defeat the team of The U.S. Express, which consisted of Barry Windham and Mike Rotundo, and manager Lou Albano. The seventh bout was the $15,000 Body Slam Challenge. It showed André the Giant put his career on the line against Big John Studd. If André won, he would get Studd's $10,000. If not, Big John would have the tremendous honor of getting to say he retired the Eighth Wonder of the World. Of course, André won in 05:54. The Semi-Final Bout showed Wendi Richter with Cyndi Lauper take back the WWF Women's Championship from Leilani Kai in 06:12.' 
The Main Event was ready. It was promoted every second Vince McMahon could get the chance, including the night before when Hulk Hogan and Mr. T hosted Saturday Night Live. The Main Event went incredible. It featured world-class boxer Muhammad Ali and inaugural WWE Intercontinental Champion Pat Patterson as special guest referees, New York Yankees manager Billy Martin as the special guest ring announcer, and musician Liberace, accompanied by The Rockettes, as the special guest ring announcer. The Main Event consisted of every celebrity possible. It showed the team of WWF World Heavyweight Champion Hulk Hogan and Mr. T (accompanied by Jimmy Snuka) defeat the team of "Mr. Wonderful" Paul Orndorff and Roddy Piper (accompanied by Bob Orton Jr.) after Orton had tried to hit a double-ax handle on Hogan when the ref wasn't looking but Hogan moved away, and Orton had hit Mr. Wonderful instead. 
The Original WrestleMania had concluded, and it left a legacy no one could dare imagine. Obviously, it had succeeded. Vince McMahon went onto say this on WrestleMania Rewind, "After the event was over in Madison Square Garden, the very first one, I began to get phone calls from the rest of the Eastern Sea Board. That to was a success, now we're onto something. What about the Midwest? Chicago came in, hey that's working. So, at the end of the night, we had been parting quite heavily." Hulk Hogan said on WrestleMania Rewind, "We had a guy, Vince McMahon, who believed in us and he put everything he into that night and I just knew that if everybody stepped up to their A-game, we're onto greatness, one way or the other. Vince McMahon went onto call this the defining moment of the WWE on WrestleMania Rewind: "With the success of WrestleMania, it really put us on the map and that was the defining moment of what we know now as the WWE." 
The legacy of WrestleMania is well documented. There have been 34 annual WrestleMania events, and one more confirmed to be happening. WrestleMania became more than a day though… now it's a week. WrestleMania Week is home to an NXT TakeOver event, the WWE Hall of Fame, WrestleMania Axxess, ROH Supercard of Honor, and other independent shows. Thanks to WrestleMania, World Wrestling Entertainment is now a household name. Vince McMahon is now a billionaire, and the company alone is worth hundreds of millions of dollars. To think, it all started with that one meeting in the Summer of 1984.