Things I'd Like To See Happen at SummerSlam (But Probably Won't)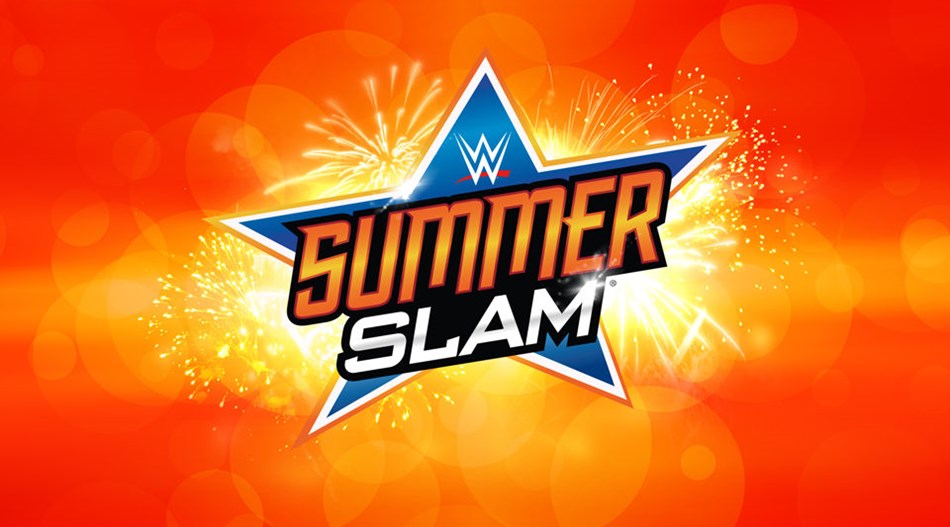 The biggest event of the Summer goes down this Sunday. We all have things we'd love to see happen at WWE SummerSlam. If you're anything like me, you've noticed that most of the things you'd like to see happen end up not happening. A lot of times, things end up working out for the best. At least that's what people tell me anyway.
I find its important to keep my expectations limited. Here are some events I'd like to see happen at SummerSlam that I know probably won't.
Daniel Bryan defeats the Miz
When Bryan returned to the ring, this is the match I wanted to see. Many of you were probably fantasizing about all sorts of dream matches, or matches with IWC favorites. Me, I wanted to see a match that had been built for years. I wanted to see one of wrestling's best current rivalries back in the ring. Forget all the riff-raff, this is why Daniel Bryan needed to come back.
As a Bryan fan, I always root for the guy to win. I'll definitely be rooting for him against The Miz, a guy that I've always found more enjoyable to root against. The thing is, I'm somewhere around 90% sure that Miz is winning. It makes the most sense to continue the rivalry. It's the smart choice. But when you're a fan, you don't care about the smart choice.
AJ Styles vs. Samoa Joe will be a 5 star match
Given the reputations that Styles & Joe have built up with us over the years, expectations will be high surrounding their first WWE PPV matchup. Not as high as they were for Styles vs. Shinsuke Nakamura, but people will still be expecting a 5 star classic. That's not going to happen. The Styles vs. Joe build has been very personal, with Styles being whipped up into a rage by Joe talking about his family.
Don't expect a scientific, cosmetically pleasing match here. It shouldn't be one based on the build. Styles should come out like a raving lunatic, much like he did in the Saudi Arabia match with Nakamura. It'll be more of a good ol' fashioned street fight, which I love, but part of me yearns for a five star classic like they have in Japan.
Peyton Royce does something significant
You knew I had to work this in somehow. Peyton took offense to something Dave Meltzer said on a podcast this week in relation to her look now versus her look in NXT. Most of the WWE roster & other people in the business that have had issues with the DIRT SHEETS over the years joined her in running the bus back & forth over Meltzer's carcass. It was an interesting thing to see everybody that had an axe to grind and people that wanted brownie points with those folks jump in on the guy.
Those who have listened to Dave talk at some point know that he's poor at articulating his points via the spoken word. A lot of writers are, and that's why they write. Dave's reference to Peyton being lighter in NXT was in reference to the breast augmentation she underwent before hitting the main roster. He was trying to be sly about it because some people are sensitive when it comes to fake breasts, but when the alternative was people thinking he meant she was fat, he should have just said it was the boobs. Hey, if you're going to take unwarranted shots at peoples' looks, make sure it's obvious what you're going for.
The best way for Peyton to silence Dave & the critics would be to do something. Anything. She & Billie Kay haven't accomplished a whole lot since their arrival to the main roster. Hopefully they get a chance soon. WWE loves to stick it to the sheets, so hopefully this will encourage them to do something.
The crowd won't be the most interesting part of Brock Lesnar vs. Roman Reigns
Like many of you, I suffer from Lesnar vs. Reigns fatigue. Other Chairshot writers will jump up & down & scream about how they've had the same number of matches as other feuds that people actually like & we're not being fair to Roman's continual failed attempts to win the Universal Championship. The number doesn't matter. If the match isn't interesting, I don't want to see it. Sorry.
Maybe Brock & Roman surprise us and do something other than suplex-suplex-suplex-punch-punch-suplex. Probably not, but stranger things have happened. Unfortunately, or fortunately if you're into this kind of thing, the most interesting aspect of the match will be the Brooklyn crowd's reaction to it. Will they boo both men out of the building? Will they spend the match chanting things having nothing to do with the match? Or will they be too tired to have much of a reaction to anything?
Hopefully we can move past this trend where crowd reaction is the only thing anybody talks about after a major event. It won't be this month, as the Brooklyn hipsters will be sure to take their spot as part of the show.
There is one idea I can think of that might not make this a thing…
Braun Strowman Cashes In…At The Beginning Of The Match.
This would require a couple of things to happen. First, Braun would have to beat Kevin Owens in short order. This would make some people angry, but not me. I like KO, but he doesn't need to be winning the briefcase right now. Braun should be the next champion, and cashing in at SummerSlam would be interesting. However, he's not the kind of guy that should be cashing in during the middle of a hard-fought match, or after one. Doing that would make him look weak, or as weak as a man of his size could. If he's going to interrupt a match, it should be before it happens.
Nobody would accuse Braun of being weak if he had to go through Lesnar & Reigns to get the title. His winning is something that the Brooklyn crowd wouldn't crap all over. At least I think they wouldn't. Smart fans still like Braun, right?
The show will end before 11 PM Eastern.
As somebody that has a job that also writes about these PPV events, I love shows that end early. Money in the Bank got a positive review from me mainly because it didn't overstay its welcome. At this point in my life, I'd rather be in bed than struggling to stay up through a Roman Reigns match at 11:30.
There will be no such luck with this show. Thirteen matches, an Elias concert & who knows what else WWE has in store for us? Midnight is a safer bet. On the bright side, I've already told my other bosses about my Fantasy Football draft delaying my SummerSlam recap, so this doesn't matter as much to me as it would have otherwise.
King's WrestleMania Rewind: Charlotte Flair vs. Asuka from WrestleMania 34
Chris king is back with one of the most underrated matches in WrestleMania history–Charlotte Flair vs. Asuka!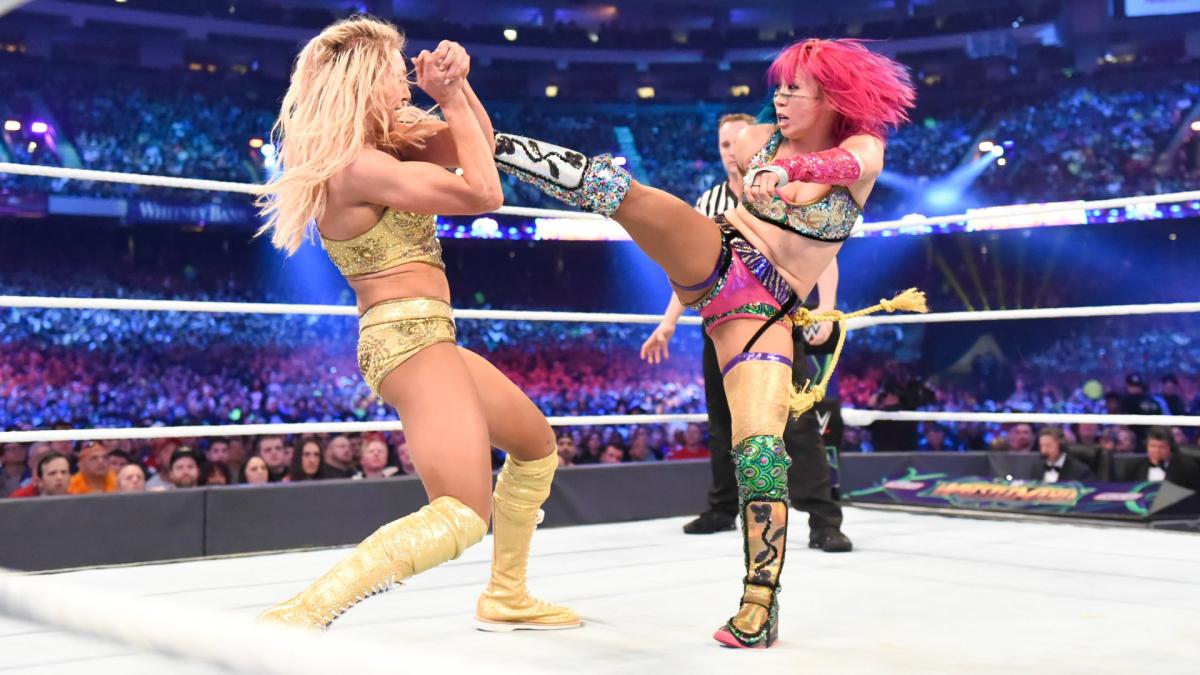 Chris king is back with one of the most underrated matches in WrestleMania history–Charlotte Flair vs. Asuka!
We look back at Charlotte Flair vs. Asuka at WWE WrestleMania 34. 'The Empress of Tomorrow' put her unprecedented and historic undefeated streak of 914 days on the line against 'The Queen's' SmackDown Women's Championship.
For years, this was considered a dream match while Asuka dominated the roster in NXT, while Flair won numerous championships on the main roster on both Raw and SmackDown. The Empress made her long-awaited debut on the September 11th episode of Raw and began to tear through the competition.
Asuka outlasted all twenty-nine other women in the historic first-ever Women's Royal Rumble match to challenge for the title of her choosing. At Fastlane, she made her choice.
The WWE Universe was so excited for this match myself included. Both superstars delivered a fantastic performance on the Grandest Stage of Them All executing counter after counter. Asuka showed off some nasty-looking kicks to her opponent, and Flair hit a thunderous Spanish Fly off the top rope. Flair was seconds away from defeat at the hands of The Empress but she locked in Figure Eight and Asuka was forced to tap out.
I can't even begin to explain how shocked I was at this outcome, as nearly everyone expected The Empress to continue her undefeated streak and walk away with the women's title. This controversial decision was the downfall of Asuka's momentum. She would ultimately win the SmackDown Women's Championship at the 2018 TLC pay-per-view in the triple-threat ladder match.
Fast forward to this year when Asuka has recently returned with her Japanese-inspired persona Kana. Kana is dangerous and ruthless and is heading into a championship with Bianca Belair at WrestleMania 39. The Empress has regained all her momentum and is highly favored to walk away with the Raw Women's Championship. Let's hope that Asuka and Belair can tear the house down and deliver an A+ grade match both women are fully capable of.
King: Dominik Mysterio Needs To Do This At WrestleMania
Chris King is here with what WWE should do with Dominik Mysterio at WrestleMania in his long-awaited match against his father Rey Mysterio Jr.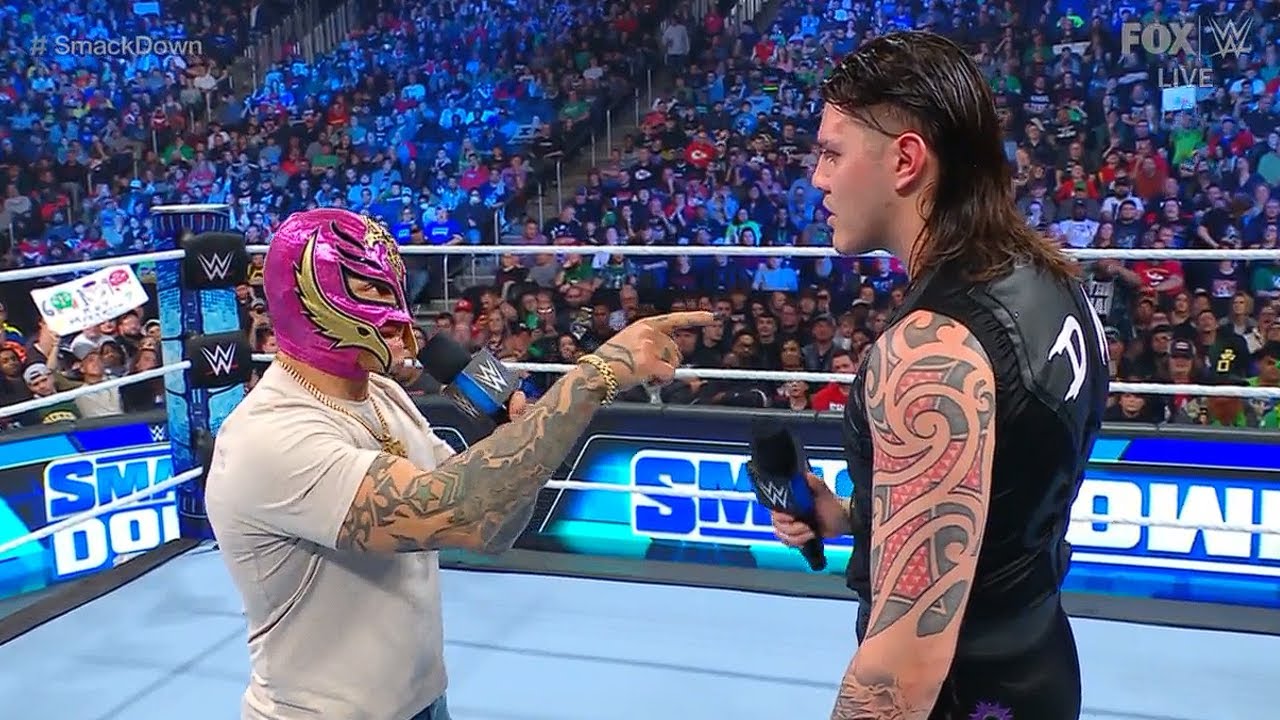 Chris King is here with what WWE should do with Dominik Mysterio at WrestleMania in his long-awaited match against his father Rey Mysterio Jr. 
On this week's episode of Friday Night SmackDown, Rey Mysterio finally snapped and beat some sense into his disrespectful punk-ass kid Dominik. The member of the Judgement Day came out to push his father again for a match on the Grandest Stage of Them All, this time with his mother and sister at ringside. The ungrateful punk told his mom to "Shut Up," as a father even I wanted to jump through the screen and whoop his ass.
Back in October of last year, Mysterio made the emotional decision to possibly quit the company but, instead, Triple H persuaded the Lucha libre superstar to move over to SmackDown to avoid his son. This came after Dominik shockingly turned on his father at Clash at the Castle. Mysterio did everything he could to refuse his despicable son's challenge for Mania but, a man can only be pushed so far. Mysterio will be inducted into the 2023 WWE Hall of Fame and I expect Dominik to embarrass his father during his speech to further this personal feud.
Yes, the WWE Universe hates Dominik and wants to see him get the ever-loving crap kicked out of him but, this feud is missing a special ingredient to capitalize on the biggest heat possible. Throughout this feud, Dominik has made mention of the legendary Eddie Guerrero on several occasions going back to the "iconic" 2005 feud.
I know WWE might not want to go this route but, Dominik MUST come out to Eddie Guerrero's theme at Mania. The disrespectful punk needs to come out in a lowrider to garner nuclear heat. It doesn't matter if The Judgement Day comes out and causes interference for Dominik to get the win, all that matters is that both superstars get the biggest payoff of this nearly year-long feud. Just imagine the Roman Reigns heat after he defeated The Undertaker and multiply that by ten. Dominik portrays the perfect heel and he truly is the missing ingredient that The Judgement Day needed to grow and evolve into a top faction.