Top 5 Matches: Week Ending 8/5/2018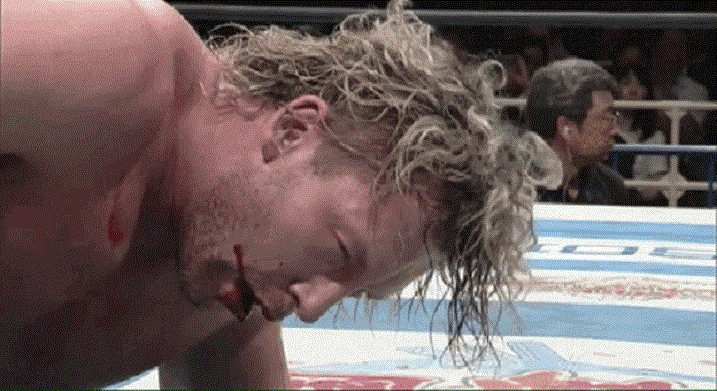 This is another week where we get a couple non-G1 matches in the Top 5, but it's still mostly New Japan. Still very similar to last week, our number 1 match doesn't take place in Japan! Speaking of last week, I guess we should find out what the July Pool looks like, so you'll figure out who won last week.
July Pool:
205 Live No DQ: Buddy Murphy vs Mustafa Ali
G1 Climax 28: Kenny Omega vs Tetsuya Naito
G1 Climax 28: Hirooki Goto vs Tomohiro Ishii
NXT Championship: Tommaso Ciampa vs Aleister Black (c)
So that means this a week with two votes. For July, I'll have to go with, G1 Climax 28: Hirooki Goto vs Tomohiro Ishii.  
Aside from that, let's see what we've got on tap for August.
5. Kazuchika Okada vs Michael Elgin
Elgin was really the first one to challenge Okada last year during his 6-0 run. Even though Okada came out with the win, a bunch of big moments could've had last year's match go either way. Can Elgin overcome 'Gone Fishin' Okada, or does this watered down Rainmaker still have enough for a victory?
This match was kind of the same, but different than their previous encounters. Almost immediately both men went for signatures before the Tombstone ended up being Okada's Achilles heel. Elgin stops the attempt and counters it into a Delayed Vertical Suplex. This gave Elgin the necessary space to pull off numerous lariats, Powerbomb variations and generally over power Okada.
That's what I meant by saying it was the same, because it was Elgin's power against Okada's athleticism. Especially on display when Okada tried the Scooby Dooby Doo Crossbody only to get caught and slammed down by Big Mike. The landscape changed a bit when Elgin attempts an Avalanche Splash Mountain, but Okada counters it into a Super Wheelbarrow Arm Drag.
Elgin got a little desperate at different points in the match, which is a good story, since a loss to Okada and his G1 hopes are over. So he tries to force the Burning Hammer, but Okada gets out of it. During a lariat exchange, Okada finally gets the best of Big Mike, hitting a Tombstone shortly after, Discus Rainmaker and then the official Rainmaker for the pinfall victory.
Winner: Okada via Rainmaker
Rating: **** 1/2
4. G1 Climax 28: Kenny Omega vs Tomohiro Ishii
Kenny Omega is still undefeated and I'm surprised he didn't lose at the previous night, but he's still on a roll and adding another victory here could very well secure him a spot in the final if things do in fact go his way here but he would have to now fight one of his rivals from last year, Tomohiro Ishii. These two would have a trilogy of matches and all three of them would be some of their best bouts in the year of 2017 and now they must fight once again and Ishii could be the one to give Omega that first defeat in the G1 Climax and could also increase the chances of Naito and Ibushi to make it instead of Kenny.
The story for this one was rather simple and yet effective and that is you don't poke a pitbull with a stick because bad things happen to you and they bite…hard which is what he did to Kenny Omega when he kept trying to poke the pitbull and slapping his shiny bald head which is pretty much asking for a death sentence thanks to Kenny getting rather cocky lately since he still hasn't lost a match yet. Is the match great? Absolutely. Is it my favorite match in G1? Honestly, kinda gonna have to go with no since I will admit that the beginning felt a little bit sloppy at times and while I did love the sequences between the two with the V-Triggers, Lariats, and among various moves, it did feel rather predictable at times and felt like it took away from the match a little bit. These two did go to war and I will not take that away from them despite the little nitpicking I just said and Ishii really is the MVP of this G1 Climax so far as he keeps on delivering in either match quality or storytelling and they just work out so well. Ishii would hit his Vertical Suplex and he would give Kenny Omega his first loss in the tournament! Ishii really needed another big win in his record aside from Goto and this was definitely needed for him, especially since it was a matter of time before he took a loss from his arrogance just like Okada did last year, now Kenny is gonna have to really focus or he could slip-up once again.
Now that Ishii has defeated Omega, he very well could be a future challenger for the IWGP Heavyweight Championship before Wrestle Kingdom since the champion usually defends the belt against people that have defeated him in the tournament to avenge their loss. Wonder what big show it would take place in?
Winner: Ishii via Vertical Drop Brainbuster
Rating: **** 1/2
3. NOAH GHC Heavyweight Tag Title Match: Akitoshi Saito & Naomichi Marufuji vs Katsuhiko Nakajima & Masa Kitamiya (c)
The generational war is in full swing in Pro Wrestling NOAH. The younger generation is rising up to cut their teeth and prove themselves. With things trending upwards for NOAH in the last year or so, it makes sense to solidify the new stars with the beloved veterans.
Nakajima starts off by trying to dissect Marufuji. They had one really good counter exchange, before Nakajima's aggression started shining in full force. Marufuji's entire right arm was taped, so it's safe to say they've been trying to work over the older stars the entire tour. Focusing on Marufuji's left knee, Nakajima utilized stomps, chairs and just torquing on the knee.
Kitamiya got tagged in and continued more of the same. Eventually Naomichi gets away from the slower power guy, to tag in Akitoshi Saito. We get a nice power battle between the two for a while, before Nakajima comes in to work over Saito's right arm. Even going as far to use a Fujiwara Armbar, which yes is an effective move, but could've also been psychological since Akitoshi was trained by Yoshiaki Fujiwara himself.
So the trend in the match was the younger guys trying to isolate and pick apart the older generation, but we did get a rare treat. Knowing there was a level of desperation, Marufuji dumps both Kitamiya and Nakajima to the outside, and wipes them out with a Tope con Hilo.
Naomichi Marufuji's moonsault over the top rope.
A rare sight these days. pic.twitter.com/uB3uD0SuUS

— Hisame (冰雨Pro-Wrestling Noah in English) (@Hi5ame) August 4, 2018
It was at this point the older generation was putting together better offense, but Nakajima still proved a step ahead. Marufuji went for his combination blitz from the corner, but Nakajima dodged it all, and landed dozens of stiff kicks. At this point, we start remembering why Nakajima is known as the 'Genius of the Kick', but then tags in Kitamiya. Sadly for Kitamiya, he doesn't know Marufuji as well, and gets lit up by the corner blitz.
Saito comes in and has to wrestle the good portion of the rest of the match alone. Numerous Uranagis from Saito start to build momentum. Marufuji does make a nice save when he slides in, jumping off Saito's back, laying out Nakajima with a Ko-Oh. Kitamiya and Saito exchange lariats and willing themselves through the pain. Death Sickles come in bunches from Akitoshi, as he finishes off the match with Death Brand (vertical suplex piledriver).
So the older generation manages to outsmart the younger guys in this one.
Winner: Saito via Death Brand
Rating: **** 1/2
Honorable Mentions:
G1 Climax 28: Jay White vs Hangman Page
Winner: White via Blade Runner
Rating: **** 1/4
G1 Climax 28: Kenny Omega vs Zack Sabre Jr
Winner: Omega via Roll Up
Rating: **** 1/4
G1 Climax 28: Hiroshi Tanahashi vs YOSHI-HASHI
Winner: Tanahashi via Arm Capture Cradle
Rating: **** 1/4
G1 Climax 28: Kazuchika Okada vs EVIL
Winner: Okada via Rainmaker
Rating: **** 1/4
G1 Climax 28: Hirooki Goto vs Kota Ibushi
Winner: Ibushi via KamiGoya Knee Strike
Rating: **** 1/4
G1 Climax 28: Kazuchika Okada vs Minoru Suzuki
Winner: Okada via Rainmaker
Rating: **** 1/4
Inaugural WOS Women's Championship Match: Viper vs Kay Leray vs Bea Priestly
Winner: Leray via Gory Special
Rating: ****
G1 Climax 28: Minoru Suzuki vs EVIL
Winner: Suzuki via Gotch Style Piledriver
Rating: ****
G1 Climax 28: Hiroshi Tanahashi vs Michael Elgin
Winner: Tanahashi via Inside Cradle
Rating: ****
205 Live: Kalisto vs Tony Nese
Winner: Kalisto via Salida del Sol
Rating: *** 3/4
Evolve 108 Evolve Tag Team Championships: Chris Dickinson & Jaka (c) vs TK Cooper & Tracey Williams
Winner: Dickinson via Thrust Kick/O'Connor Roll combo
Rating: *** 3/4
G1 Climax 28: Hiroshi Tanahashi vs EVIL
Winner: Tanahashi via High Fly Flow
Rating: *** 3/4
G1 Climax 28: Jay White vs Togi Makabe
Winner: White via Blade Runner
Rating: *** 3/4
WOS: Adam Maxted & Nathan Cruz vs Doug Williams & HT Drake
Winner: Cruz via Springboard Blockbuster
Rating: *** 1/2
G1 Climax 28: Minoru Suzuki vs Hangman Page
Winner: Page via Rite of Passage
Rating: *** 1/2
G1 Climax 28: Juice Robinson vs Zack Sabre Jr
Winner: Sabre via Submission
Rating: *** 1/2
G1 Climax 28: YOSHI-HASHI vs Jay White
Winner: White via Blade Runner
Rating: *** 1/2
WOS Heavyweight Championship Match: Rampage (c) vs Joe Hendry
Winner: Rampage via DDT
Rating: *** 1/4
G1 Climax 28: Hangman Page vs Togi Makabe
Winner: Page via Rite of Passage
Rating: ***
2. G1 Climax 28: Kota Ibushi vs Tetsuya Naito
It is time for our main event as it is between the other top contenders in the tournament, Kota Ibushi, and Tetsuya Naito. Last year, the two would fight on the very first night of A Block and Naito was the one that came out the victor in that match. Now they will fight again, as Ibushi needs to defeat Naito here if he wants to stay alive in this tournament or he will be considered eliminated and we'll only have Naito and Omega as our top 2 contestants in the B Block. Can Naito tie it up with Omega or will Ibushi find a way to stay in the race?
This match was just as good as their match last year and probably slightly better in my opinion since the story in this one made it a lot more emotional since both of them really need a win here, but you, unfortunately, can't give it to them and especially this late in the game no less so this was crucial for both of these men here. How does Naito still have a neck? I ask because it's not just this match but in most of his big matches he would just land on his neck and he somehow appears to be fine and still going, I don't know if it's just how he lands to make it safe or if he's just a madman but he makes any neck bump spot look so deadly in these. Both of these men performed at the top of their game had the right amount of pacing, and again it was the story that made it so much better to give it that little bit extra of an edge. Ibushi pulled all of the stops on this one when he did a backflip when Naito attempted a Reverserana off the top rope and looked much better than when you do it with a Sunset Flip, also did his German Suplex from the other side of the ropes and even hitting the Bomaye to get a two count. Naito would hit the Destino for a two count and would attempt to go for another one but Ibushi catches him to drop him down on his head for a two count and would end it with the Kamigoye to secure the victory and stay alive in the race!
Now that Kota Ibushi has defeated Tetsuya Naito, he's still in the race and has a chance to advance if he wins his next two matches. While Naito could've used a win, this one loss won't hurt him too bad but he cannot afford to take another loss or he will be out himself and there should be a clear idea on how it would go once the next day happens.
Winner: Ibushi via KamiGoye Knee Strike
Rating: **** 3/4
1. Evolve 108 Evolve Heavyweight Championship Hardcore Match: Matt Riddle (c) vs Shane Strickland
This whole rivalry got extremely personal. In their previous 2 meetings Strickland won via DQ and then there was a no contest. Which lead to the stipulation and explains the lengths these two are willing to go to.
Riddle starts off immediately lighting up Shane's chest with Open Hand Chops that visibly take the breath out of his chest. Riddle then keeps it up in and outside of the ring. The crowd is pretty hot for this early on, and Riddle goes to get the ceremonial table that all crowds always want nowadays. However, getting the table allows Shane to find a chair and hit Matt with it when he comes around the corner. Riddle does manage to send Swerve through the table after a Broton (senton) from the apron.
Strickland has an awesome heel moment here by taking Riddle up the ramp to where his 3 kids and wife are sitting, and proceed to beat the hell out of him. Shane sits him down on a chair and goes for what was probably supposed to be a Swerve Stomp, but looked more like a Seated Senton. Either way, you can see the concern on the faces of the children, and Shane just continues to berate the crowd and Riddle's family.
By the time they get back into the ring, we can see that Riddle's hand is cut open, as Shane goes for submissions holds and joint manipulation focusing there.  Strickland starts to introduce a few more chairs and jaws at the crowd that keeps asking for tables by saying, "What's that? You want more chairs? Okay". After setting up six chairs, Shane gave Riddle far too much time to recover, and Riddle pops up, catching him in a Tombstone position and forward slamming him through the chairs for a near fall.
We see a little strong style back and forth striking, before Riddle hits the Bro to Sleep, but Swerve kicks out. Riddle gets even more chairs (I hope they got a wholesale deal or something) and piles them into the middle, slamming Swerve onto them. Then he goes to the top rope, but Shane manages to intercept him and Superplex him on the afore mentioned chairs.
Strickland gets this look in his eye and you know he's just trying to hurt Riddle. He literally hits 3 Swerve Stomps but Riddle shows his resiliency. Strickland goes out for a ladder and another table. Riddle absorbs a few more shots before falling on the table as Swerve climbs the ladder. The referee holds the ladder as Matt finds some surge to climb up and try to muster up some fight. They go back and forth at the top of the ladder, before Shane steps over and rocks Riddle to the point where he's hanging on by just one arm.
Swerve Stomp from the ladder through the table is a massive spot, but Riddle finds a way to kick out. At this point Shane is apoplectic, and removes the padding from his knee. Riddle slowly sits up and eggs on Shane. After multiple running knee strikes, Riddle keeps asking for more as Shane grows more frustrated. When Shane turns for another strike, Riddle pop up with a Bicycle Knee Strike of his own. Riddle looks to finish the match, but Swerve catches him with his Killshot finisher, the JML Driver, for the pinfall victory.
Winner: Strickland via JML Driver
Rating: *****
Shane Strickland and Matt Riddle work wonderfully together. This is actually the second time this year I've given them 5, the first being their MLW Championship Match. With all that and the fact the Riddle is a few months away from debuting in NXT, I'll give my vote to the Evolve 108 match. Great storytelling, fantastic action in the ring, just all in all very enjoyable.
Revealing The Asian Pacific Independent Promotions: Part 2
Shawn is back with a deeper look at the Asian Pacific Independents!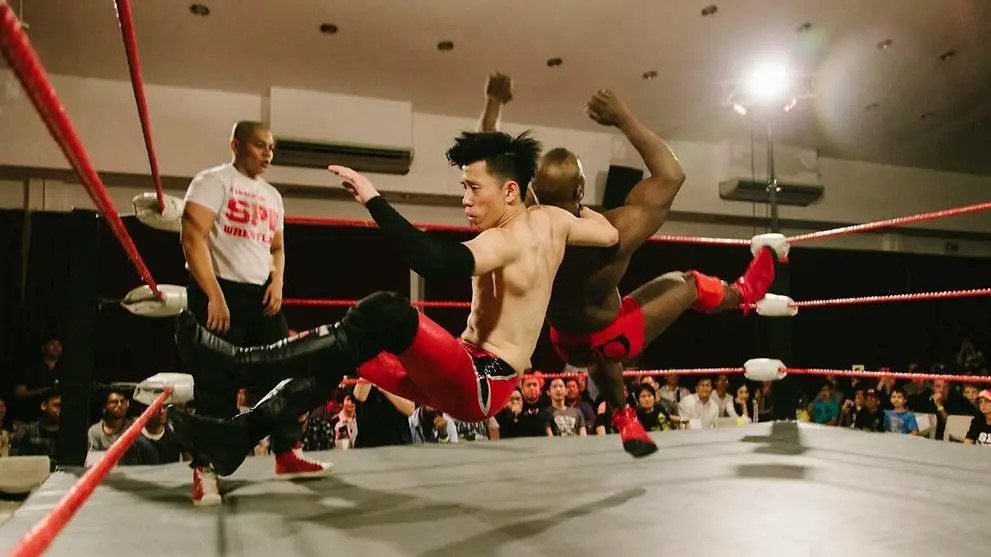 Shawn is back with a deeper look at the Asian Pacific Independents!
I covered the major promotions in part 1 of this series.  It is easy to see the contributions each made to create the current atmosphere. Those contributions to establish Asian wrestling would not have succeeded without the support of the following promotions.
Gatoh Move Pro Wrestling Thailand

GMPW was established in 2012 by Legendary Japanese women's wrestler Emi Sakura (2009 NWA Women's Pacific Champion).  If Ho Ho Lun represents the father of modern professional wrestling in Asia, than Emi Sakura has earned the legacy of mother.  Emi's footprint can be found not only in Thailand, but also Malaysia, Singapore, and the Philippines.
First, her connections with previous Japanese promotions Ice Ribbon, Ryukyu Dragon, DDT Pro Wrestling, and All Japan Pro Wrestling (AJPW) provide much needed talent into Asia.  

Secondly, Emi tours throughout Asia providing in ring experience to much younger talent.

She took on the role of mentor to several women's wrestlers as they became trainers for their respective promotions.  

Emi is still in her prime as a wrestler and continues to tour internationally.
Malaysia Pro Wrestling (MYPW) Malaysia
Originally created as a fan club, transformed into a wrestling club after the WWE/WCW wars ended. In 2014, MYPW was established by Mr. Ayez Shaukat Fonseka.. Without an actual trainer, Mr. Fonseka traveled to the United States and studied under Rick Drasin (product of Mae Young) and Dr. Tom Prichard.  Prichard became a mentor to Shaukat and has helped in the early stages of the company. I recently interviewed MYPW and more details will be provided once the article is published. Fans interested in viewing matches can go to YouTube.
Singapore Pro Wrestling (SPW) Singapore
SPW is the oldest promotion in Southeast Asia.  Established in 2012 by a marketing agent Andruew Tang.  His partner Vadim Koryagin (Pro Wrestler).  Vadim Koryagin established the first professional wrestling promotion in Russia and is credited with training over 300 wrestlers.  Koryagin and Tang met during a town hall meeting to determine the value of expanding into Singapore. SPW was the first to go through the growing pains of exposing local fans to live events.  The promotion struggled until 2016 as shows began growing in attendance. Today the promotion has several hundreds in attendance on a regular basis and attracts popular wrestlers from around the world.  Local talent is also shared with the other promotions in this article. Tang and Koryagin also one of a few promotions in the region pushing women's wrestling. Fans interested can find some matches on YouTube.
Pacific Region Powers New Zealand
Much like Japan and Australia, the promotions in New Zealand play a unique role in Asia.  Close enough to southeast Asia, these promotions offer European and American style experiences that Japan fails to provide.  IPW and SPW both host frequent international wrestlers from all over Europe and the United States, therefore providing vast exposure to new wrestling styles, matches, and audience participation.  New Zealand promotions provide larger talent which many Asian promotions rarely encounter. New styles of matches like hardcore, tables and ladders, 2 out of 3 fall, and gauntlet matches take place frequently exposing Asian wrestlers to expand their experience levels.  IPW and SPW enjoy the benefit of large numbers of independent wrestlers passing through on tour, providing booking opportunities for local fans. New Zealand is the introduction locale for such talents before they enter the unique wrestling scene in Asia.
SANADA, From Breakout Performance To Breakout Year ?
Valentin brings us some thoughts of the up and coming SANADA. If you haven't watched the match between Minoru Suzuki and SANADA, go back and do that.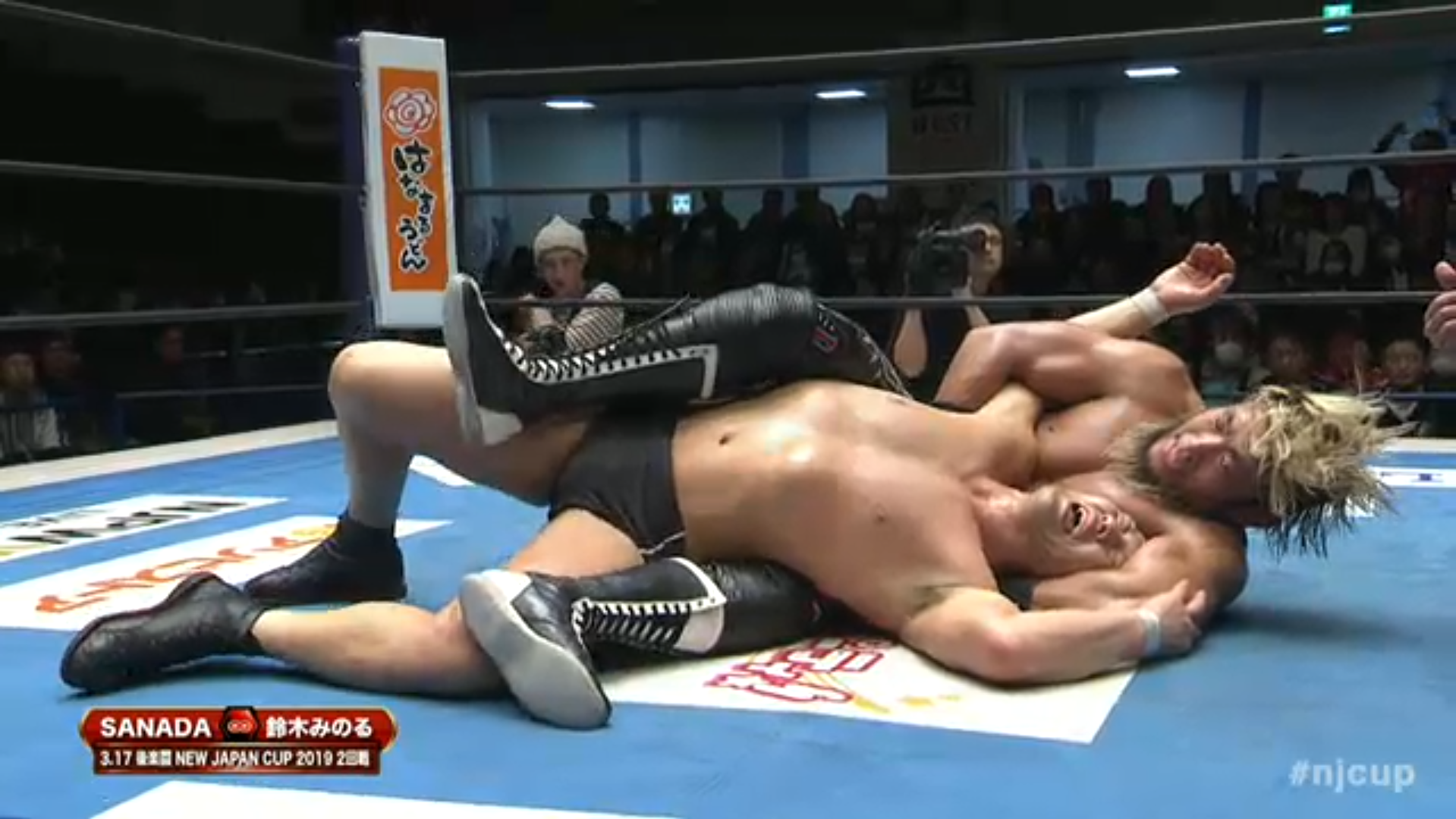 Valentin brings us some thoughts of the up and coming SANADA. If you haven't watched the match between Minoru Suzuki and SANADA, go back and do that.
You know, tournaments are always full of surprises. From upsets you never saw coming, to matches you never thought would be as good as they are. Sometimes, as the matches happen, you see some things develop which you were not expecting.

Today, I will take a look at one of these things, as March 17th saw SANADA had one of his best, and possibly most important matches in his New Japan career.
This year's New Japan Cup has been filled with interesting turn of events and some participants, already eliminated or not, can be considered breakout stars of this tournament so far. One of them is Los Ingobernables de Japon member SANADA, who has now defeated both Hirooki Goto and Minoru Suzuki, to advance in the tournament. The first thing to note is that out of the three L.I.J members originally participating, SANADA is the only one left, and even considering who eliminated Naito and EVIL in the first round, this is quite impressive.
The biggest feat so far for SANADA, of course is his performance against Suzuki. Not only did he win, but as you possibly know, not all wins weight the same, and we are talking about a big win here. After losing to Suzuki in Sapporo, this match was SANADA's chance to redeem himself. The match itself being built to focus on SANADA's ability to out wrestle his opponent and endure some unbearable amount of pain. Suzuki being a master at inflicting pain, you knew this was the perfect match-up to build SANADA up. From some of the usual vicious attacks to Suzuki to an intense battle of submissions full of reversals, SANADA landed Keiji Mutoh's trademark moonsault for the win, as he received possibly the biggest crowd support he has ever gotten, even by Koruaken Hall standards. Speaking of crowd reaction, rewatch the submission sequences and listen to the crowd chanting for SANADA. Only the top performers in New Japan will get this type of response, and, as well as winning the match and in which fashion, this is the last ingredient for a star making performance.
Of course, having such a performance under your belt isn't enough. With New Japan's landscape being filled with opportunities for guys to shine, things cannot just stop there. As SANADA will have to face Colt Cabana, and possibly the winner of Hiroshi Tanahashi vs Zack Sabre Jr in the semifinals, what can we expect from the Cold Skull now ?
Outside of eventually finishing as New Japan Cup's breakout star alongside Will Ospreay, SANADA can be in for a big year, as a singles wrestler. Let's take a quick look at L.I.J.
So far, only Tetsuya Naito has had true singles success as a heavyweight, and both EVIL and SANADA have yet to really get a grasp of it, outside of good performances in previous G1 Climax tournaments, and a quick NEVER Openweight championship run for EVIL. There is a spot to fill as the second top heavyweight behind Naito, and while Shingo Takagi adds even more complexity to the mix, as of now, why can't SANADA reach that level ? He certainly keeps proving he has the ability, so all is needed now for him to reach it, is to keep scoring big wins. Making it to the New Japan Cup semifinals would be a big deal, but after the Suzuki match, capping things off by going to the tournament's finals would be a huge step. Even bigger if SANADA eliminates last year's winner in ZSJ, which he is currently tied with in singles matches. However, defeating Tanahashi would be as big of an accomplishment.
The last subject to tackle is what is next after the New Japan Cup. Ultimately, who knows, but with SANADA looking like he will be one of the wrestlers to come out of the tournament very strong, expect more singles matches outside of the G1, and possibly a championship match before that. Speaking of the G1 and championship matches, do not be shocked if SANADA ends up being a trump card in the tournament, and maybe even more. SANADA has always scored 8 points in his three participations, and while EVIL has been the one to stand out the most in the tournament the last few years, SANADA has been consistent and has managed to grab big wins, like against Tanahashi in 2016, or Ibushi and Sabre last year. With the possibility of seeing SANADA on the rise, do not be surprised if he ends up pinning one of the champions in the same block as him, and expect him to reach at least 10 points for the first time, meaning he would rank quite high in the block he is in. He could even finish the year with his first singles championship win.
Whatever happens, let me say that 2019 might be SANADA's breakout year in New Japan, and you should look forward to it.
In times where New Japan needs to build up more wrestlers as threats for the diverse championships, SANADA seems to benefit the most from this year's New Japan Cup, as an opportunity to climb up the ranks. Now tell me, what are your expectations concerning the man we will ultimately have to stop referring as Keiji Mutoh's student ?