Top 5 Matches: Week Ending 8/5/2018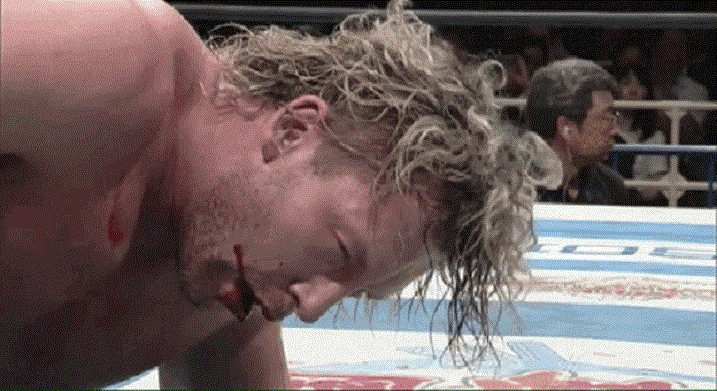 This is another week where we get a couple non-G1 matches in the Top 5, but it's still mostly New Japan. Still very similar to last week, our number 1 match doesn't take place in Japan! Speaking of last week, I guess we should find out what the July Pool looks like, so you'll figure out who won last week.
July Pool:
205 Live No DQ: Buddy Murphy vs Mustafa Ali
G1 Climax 28: Kenny Omega vs Tetsuya Naito
G1 Climax 28: Hirooki Goto vs Tomohiro Ishii
NXT Championship: Tommaso Ciampa vs Aleister Black (c)
So that means this a week with two votes. For July, I'll have to go with, G1 Climax 28: Hirooki Goto vs Tomohiro Ishii.  
Aside from that, let's see what we've got on tap for August.
5. Kazuchika Okada vs Michael Elgin
Elgin was really the first one to challenge Okada last year during his 6-0 run. Even though Okada came out with the win, a bunch of big moments could've had last year's match go either way. Can Elgin overcome 'Gone Fishin' Okada, or does this watered down Rainmaker still have enough for a victory?
This match was kind of the same, but different than their previous encounters. Almost immediately both men went for signatures before the Tombstone ended up being Okada's Achilles heel. Elgin stops the attempt and counters it into a Delayed Vertical Suplex. This gave Elgin the necessary space to pull off numerous lariats, Powerbomb variations and generally over power Okada.
That's what I meant by saying it was the same, because it was Elgin's power against Okada's athleticism. Especially on display when Okada tried the Scooby Dooby Doo Crossbody only to get caught and slammed down by Big Mike. The landscape changed a bit when Elgin attempts an Avalanche Splash Mountain, but Okada counters it into a Super Wheelbarrow Arm Drag.
Elgin got a little desperate at different points in the match, which is a good story, since a loss to Okada and his G1 hopes are over. So he tries to force the Burning Hammer, but Okada gets out of it. During a lariat exchange, Okada finally gets the best of Big Mike, hitting a Tombstone shortly after, Discus Rainmaker and then the official Rainmaker for the pinfall victory.
Winner: Okada via Rainmaker
Rating: **** 1/2
4. G1 Climax 28: Kenny Omega vs Tomohiro Ishii
Kenny Omega is still undefeated and I'm surprised he didn't lose at the previous night, but he's still on a roll and adding another victory here could very well secure him a spot in the final if things do in fact go his way here but he would have to now fight one of his rivals from last year, Tomohiro Ishii. These two would have a trilogy of matches and all three of them would be some of their best bouts in the year of 2017 and now they must fight once again and Ishii could be the one to give Omega that first defeat in the G1 Climax and could also increase the chances of Naito and Ibushi to make it instead of Kenny.
The story for this one was rather simple and yet effective and that is you don't poke a pitbull with a stick because bad things happen to you and they bite…hard which is what he did to Kenny Omega when he kept trying to poke the pitbull and slapping his shiny bald head which is pretty much asking for a death sentence thanks to Kenny getting rather cocky lately since he still hasn't lost a match yet. Is the match great? Absolutely. Is it my favorite match in G1? Honestly, kinda gonna have to go with no since I will admit that the beginning felt a little bit sloppy at times and while I did love the sequences between the two with the V-Triggers, Lariats, and among various moves, it did feel rather predictable at times and felt like it took away from the match a little bit. These two did go to war and I will not take that away from them despite the little nitpicking I just said and Ishii really is the MVP of this G1 Climax so far as he keeps on delivering in either match quality or storytelling and they just work out so well. Ishii would hit his Vertical Suplex and he would give Kenny Omega his first loss in the tournament! Ishii really needed another big win in his record aside from Goto and this was definitely needed for him, especially since it was a matter of time before he took a loss from his arrogance just like Okada did last year, now Kenny is gonna have to really focus or he could slip-up once again.
Now that Ishii has defeated Omega, he very well could be a future challenger for the IWGP Heavyweight Championship before Wrestle Kingdom since the champion usually defends the belt against people that have defeated him in the tournament to avenge their loss. Wonder what big show it would take place in?
Winner: Ishii via Vertical Drop Brainbuster
Rating: **** 1/2
3. NOAH GHC Heavyweight Tag Title Match: Akitoshi Saito & Naomichi Marufuji vs Katsuhiko Nakajima & Masa Kitamiya (c)
The generational war is in full swing in Pro Wrestling NOAH. The younger generation is rising up to cut their teeth and prove themselves. With things trending upwards for NOAH in the last year or so, it makes sense to solidify the new stars with the beloved veterans.
Nakajima starts off by trying to dissect Marufuji. They had one really good counter exchange, before Nakajima's aggression started shining in full force. Marufuji's entire right arm was taped, so it's safe to say they've been trying to work over the older stars the entire tour. Focusing on Marufuji's left knee, Nakajima utilized stomps, chairs and just torquing on the knee.
Kitamiya got tagged in and continued more of the same. Eventually Naomichi gets away from the slower power guy, to tag in Akitoshi Saito. We get a nice power battle between the two for a while, before Nakajima comes in to work over Saito's right arm. Even going as far to use a Fujiwara Armbar, which yes is an effective move, but could've also been psychological since Akitoshi was trained by Yoshiaki Fujiwara himself.
So the trend in the match was the younger guys trying to isolate and pick apart the older generation, but we did get a rare treat. Knowing there was a level of desperation, Marufuji dumps both Kitamiya and Nakajima to the outside, and wipes them out with a Tope con Hilo.
Naomichi Marufuji's moonsault over the top rope.
A rare sight these days. pic.twitter.com/uB3uD0SuUS

— Hisame (冰雨Pro-Wrestling Noah in English) (@Hi5ame) August 4, 2018
It was at this point the older generation was putting together better offense, but Nakajima still proved a step ahead. Marufuji went for his combination blitz from the corner, but Nakajima dodged it all, and landed dozens of stiff kicks. At this point, we start remembering why Nakajima is known as the 'Genius of the Kick', but then tags in Kitamiya. Sadly for Kitamiya, he doesn't know Marufuji as well, and gets lit up by the corner blitz.
Saito comes in and has to wrestle the good portion of the rest of the match alone. Numerous Uranagis from Saito start to build momentum. Marufuji does make a nice save when he slides in, jumping off Saito's back, laying out Nakajima with a Ko-Oh. Kitamiya and Saito exchange lariats and willing themselves through the pain. Death Sickles come in bunches from Akitoshi, as he finishes off the match with Death Brand (vertical suplex piledriver).
So the older generation manages to outsmart the younger guys in this one.
Winner: Saito via Death Brand
Rating: **** 1/2
Honorable Mentions:
G1 Climax 28: Jay White vs Hangman Page
Winner: White via Blade Runner
Rating: **** 1/4
G1 Climax 28: Kenny Omega vs Zack Sabre Jr
Winner: Omega via Roll Up
Rating: **** 1/4
G1 Climax 28: Hiroshi Tanahashi vs YOSHI-HASHI
Winner: Tanahashi via Arm Capture Cradle
Rating: **** 1/4
G1 Climax 28: Kazuchika Okada vs EVIL
Winner: Okada via Rainmaker
Rating: **** 1/4
G1 Climax 28: Hirooki Goto vs Kota Ibushi
Winner: Ibushi via KamiGoya Knee Strike
Rating: **** 1/4
G1 Climax 28: Kazuchika Okada vs Minoru Suzuki
Winner: Okada via Rainmaker
Rating: **** 1/4
Inaugural WOS Women's Championship Match: Viper vs Kay Leray vs Bea Priestly
Winner: Leray via Gory Special
Rating: ****
G1 Climax 28: Minoru Suzuki vs EVIL
Winner: Suzuki via Gotch Style Piledriver
Rating: ****
G1 Climax 28: Hiroshi Tanahashi vs Michael Elgin
Winner: Tanahashi via Inside Cradle
Rating: ****
205 Live: Kalisto vs Tony Nese
Winner: Kalisto via Salida del Sol
Rating: *** 3/4
Evolve 108 Evolve Tag Team Championships: Chris Dickinson & Jaka (c) vs TK Cooper & Tracey Williams
Winner: Dickinson via Thrust Kick/O'Connor Roll combo
Rating: *** 3/4
G1 Climax 28: Hiroshi Tanahashi vs EVIL
Winner: Tanahashi via High Fly Flow
Rating: *** 3/4
G1 Climax 28: Jay White vs Togi Makabe
Winner: White via Blade Runner
Rating: *** 3/4
WOS: Adam Maxted & Nathan Cruz vs Doug Williams & HT Drake
Winner: Cruz via Springboard Blockbuster
Rating: *** 1/2
G1 Climax 28: Minoru Suzuki vs Hangman Page
Winner: Page via Rite of Passage
Rating: *** 1/2
G1 Climax 28: Juice Robinson vs Zack Sabre Jr
Winner: Sabre via Submission
Rating: *** 1/2
G1 Climax 28: YOSHI-HASHI vs Jay White
Winner: White via Blade Runner
Rating: *** 1/2
WOS Heavyweight Championship Match: Rampage (c) vs Joe Hendry
Winner: Rampage via DDT
Rating: *** 1/4
G1 Climax 28: Hangman Page vs Togi Makabe
Winner: Page via Rite of Passage
Rating: ***
2. G1 Climax 28: Kota Ibushi vs Tetsuya Naito
It is time for our main event as it is between the other top contenders in the tournament, Kota Ibushi, and Tetsuya Naito. Last year, the two would fight on the very first night of A Block and Naito was the one that came out the victor in that match. Now they will fight again, as Ibushi needs to defeat Naito here if he wants to stay alive in this tournament or he will be considered eliminated and we'll only have Naito and Omega as our top 2 contestants in the B Block. Can Naito tie it up with Omega or will Ibushi find a way to stay in the race?
This match was just as good as their match last year and probably slightly better in my opinion since the story in this one made it a lot more emotional since both of them really need a win here, but you, unfortunately, can't give it to them and especially this late in the game no less so this was crucial for both of these men here. How does Naito still have a neck? I ask because it's not just this match but in most of his big matches he would just land on his neck and he somehow appears to be fine and still going, I don't know if it's just how he lands to make it safe or if he's just a madman but he makes any neck bump spot look so deadly in these. Both of these men performed at the top of their game had the right amount of pacing, and again it was the story that made it so much better to give it that little bit extra of an edge. Ibushi pulled all of the stops on this one when he did a backflip when Naito attempted a Reverserana off the top rope and looked much better than when you do it with a Sunset Flip, also did his German Suplex from the other side of the ropes and even hitting the Bomaye to get a two count. Naito would hit the Destino for a two count and would attempt to go for another one but Ibushi catches him to drop him down on his head for a two count and would end it with the Kamigoye to secure the victory and stay alive in the race!
Now that Kota Ibushi has defeated Tetsuya Naito, he's still in the race and has a chance to advance if he wins his next two matches. While Naito could've used a win, this one loss won't hurt him too bad but he cannot afford to take another loss or he will be out himself and there should be a clear idea on how it would go once the next day happens.
Winner: Ibushi via KamiGoye Knee Strike
Rating: **** 3/4
1. Evolve 108 Evolve Heavyweight Championship Hardcore Match: Matt Riddle (c) vs Shane Strickland
This whole rivalry got extremely personal. In their previous 2 meetings Strickland won via DQ and then there was a no contest. Which lead to the stipulation and explains the lengths these two are willing to go to.
Riddle starts off immediately lighting up Shane's chest with Open Hand Chops that visibly take the breath out of his chest. Riddle then keeps it up in and outside of the ring. The crowd is pretty hot for this early on, and Riddle goes to get the ceremonial table that all crowds always want nowadays. However, getting the table allows Shane to find a chair and hit Matt with it when he comes around the corner. Riddle does manage to send Swerve through the table after a Broton (senton) from the apron.
Strickland has an awesome heel moment here by taking Riddle up the ramp to where his 3 kids and wife are sitting, and proceed to beat the hell out of him. Shane sits him down on a chair and goes for what was probably supposed to be a Swerve Stomp, but looked more like a Seated Senton. Either way, you can see the concern on the faces of the children, and Shane just continues to berate the crowd and Riddle's family.
By the time they get back into the ring, we can see that Riddle's hand is cut open, as Shane goes for submissions holds and joint manipulation focusing there.  Strickland starts to introduce a few more chairs and jaws at the crowd that keeps asking for tables by saying, "What's that? You want more chairs? Okay". After setting up six chairs, Shane gave Riddle far too much time to recover, and Riddle pops up, catching him in a Tombstone position and forward slamming him through the chairs for a near fall.
We see a little strong style back and forth striking, before Riddle hits the Bro to Sleep, but Swerve kicks out. Riddle gets even more chairs (I hope they got a wholesale deal or something) and piles them into the middle, slamming Swerve onto them. Then he goes to the top rope, but Shane manages to intercept him and Superplex him on the afore mentioned chairs.
Strickland gets this look in his eye and you know he's just trying to hurt Riddle. He literally hits 3 Swerve Stomps but Riddle shows his resiliency. Strickland goes out for a ladder and another table. Riddle absorbs a few more shots before falling on the table as Swerve climbs the ladder. The referee holds the ladder as Matt finds some surge to climb up and try to muster up some fight. They go back and forth at the top of the ladder, before Shane steps over and rocks Riddle to the point where he's hanging on by just one arm.
Swerve Stomp from the ladder through the table is a massive spot, but Riddle finds a way to kick out. At this point Shane is apoplectic, and removes the padding from his knee. Riddle slowly sits up and eggs on Shane. After multiple running knee strikes, Riddle keeps asking for more as Shane grows more frustrated. When Shane turns for another strike, Riddle pop up with a Bicycle Knee Strike of his own. Riddle looks to finish the match, but Swerve catches him with his Killshot finisher, the JML Driver, for the pinfall victory.
Winner: Strickland via JML Driver
Rating: *****
Shane Strickland and Matt Riddle work wonderfully together. This is actually the second time this year I've given them 5, the first being their MLW Championship Match. With all that and the fact the Riddle is a few months away from debuting in NXT, I'll give my vote to the Evolve 108 match. Great storytelling, fantastic action in the ring, just all in all very enjoyable.
Steve Cook's Top 5: STOMPS!
Given the current Universal Champion, and the name of the most recent PPV, stomps make sense. Steve Cook thinks so too! Check out his Top 5!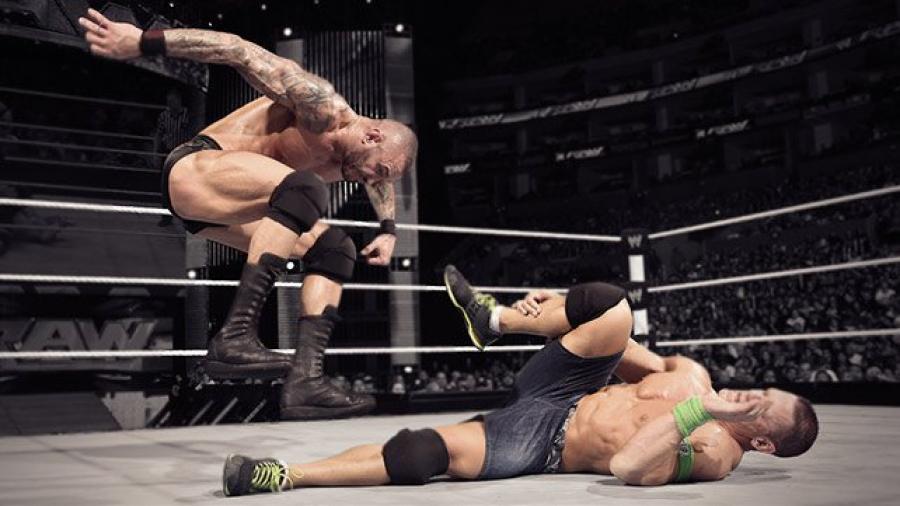 Given the current Universal Champion, and the name of the most recent PPV, stomps make sense. Steve Cook thinks so too! Check out his Top 5!
I've been sitting here all week thinking of things to write about relating to WWE Stomping Grounds.
The other Chairshot writers have taken every take possible on Shane McMahon, and he's not even on the show. Most of the matches are lame rematches from Saudi Arabia, and I get yelled at every time I talk about that area of the world. The show is in Tacoma, Washington, and the only interesting wrestler from that state is Daniel Bryan so it's not like we can make a top 5 out of that.
OK, there might be two. Jack Evans has been billed from Parkland, Washington. But a Top 2 column would be even lamer than the column I've cooked up for today.
It's Stomping Grounds Sunday, so we're talking about stomps! Yeah buddy! Top 5 Stomps for ya!
5. Shawn Michaels Tuning Up The Band
HBK was known for his finishing superkick known as Sweet Chin Music. Sometimes he'd just blast somebody with it, but often he would set up the move by repeatedly stomping the mat. If you go to 18:30 & 27:00 of that classic match up there you'll see it. The fans would get all excited since they knew what was coming. It seemed to me like Michaels was telegraphing the move, and sometimes people would manage to avoid it after the band was tuned up. But as far as fan excitement while a finisher was set up goes, few finishing moves can compare to Sweet Chin Music.
4. Seth Rollins' Stomp
The current Universal Champion is known for stomping his opponents into oblivion, so you knew he would have a place on this list.
Back on the indies, he would do some crazy stomps in the corner before hitting the Buckle Bomb, which I'm pretty sure was banned after he killed Sting with it. Not the best of ideas hitting a Social Security recepient with it.
3. Super Dragon's Curb Stomp
I'm guessing that Super Dragon's work hasn't aged well. I haven't watched any of his matches in a very, very long time. But back in the mid-2000s, he was a guy that got a lot of hype, and for good reason since he curb stomped fools.
Yes, he wore a mask & pajamas. But he was still a fearsome man. Just ask any fans that tried to get frisky with him.
2. The Garvin/Orton Stomp
How can you not love a man that tries to stomp every single joint on a person's body? Well, after watching most of Randy Orton's career, I can kind of understand. But back when Ronnie Garvin did it, it was pretty awesome.
I'm pretty sure Bristol falls in the old Southeastern territory region, so that's a perfect choice of song.
Honorable Mention: Rhea Ripley's Entrance Stomp
I wish I had a better YouTube video available of this, or a GIF or something. If NXT UK gets more popular we can make it happen. Just take my word for it that it's a pretty badass entrance stomp on television. I'm still very high on the 22 year old Australian and buying all of her stock. I'm not as high on the guy that tried to take his shot here and got nothing in return.
1. The Mongolian Stomper's Stomps
When somebody is nicknamed "The Stomper", you have to respect their stomps. Archie Gouldie was a legend in Calgary & Knoxville, which are two random places to be a legend in but it happened. The Stomper was a legit top heel in the territories he frequented, mostly because he would stomp the bejeezus out of whoever was in his path.
Interesting story behind the headgear shown in some portions of that video. The gimmick was that Stomper had an inner ear problem, so the more noise the fans made, the more difficulty he would have doing things. What a great way to get heat! Jim Cornette has told tales about how Stomper would lose matches in seconds in more podunk places to make sure he would get out of the building alive. I'm not even sure if I believe these stories, but they sound really good!
As I said in a recent 411 column, Cornette would have named a Smoky Mountain Wrestling show Stomping Grounds and put Stomper in the main event against more current heels and it would have worked.
Andrew's Top 5 Matches: Week Ending 6/23/2019
We know the drill by now. Top 5 Matches of the week. Do you agree or disagree? Let your opinion be known!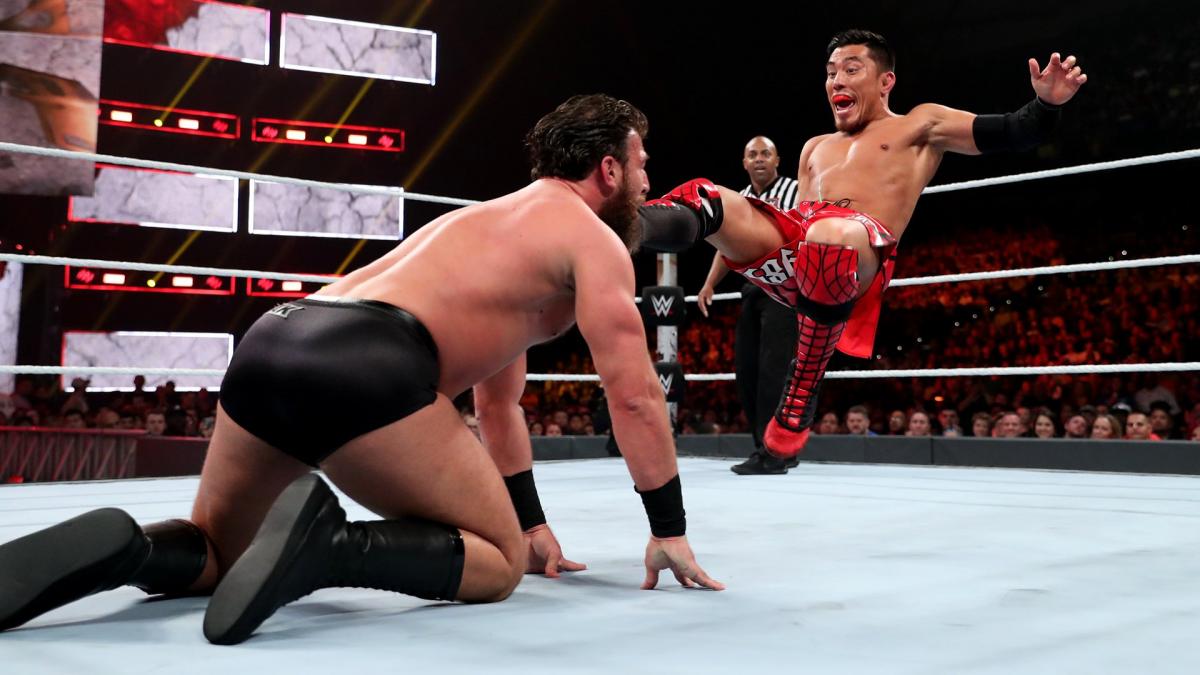 We know the drill by now. Top 5 Matches of the week. Do you agree or disagree? Let your opinion be known!
Covering Stomping Grounds meant I couldn't see WrestleCircus. So let's just hope nothing great happened there.
Last week's vote was a nail biter. The variety of product spread out a lot of votes but two rose to the top. Winning by one vote, AAA Tag Team Championship: The Young Bucks vs Lucha Bros.
So with all that out of the way, let's see what we got out of Stomping Grounds and others, during a fairly quiet week.
5. NXT: Adam Cole, Bobby Fish & Roderick Strong vs Velveteen Dream, Tyler Breeze & Matt Riddle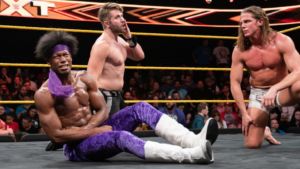 Snippet from Mitchell's Review:
Riddle pries his way out and throws elbows, but Fish rakes the eyes. Fish stomps Riddle down then tags Cole. Cole gives Riddle stomps then taunts him. Cole hits Dream hard just because! Riddle CHOPS Cole and throws big hands from all sides! But Cole stomps the bare feet. Cole fakes Riddle out with the muel kick, but leaps into a Bro Trigger! Hot tags to Fish and Breeze! Breeze rallies on the Undisputed Era! Forearm, forearm and SUPER MODEL KICK! Fish mule kicks and runs but into an enziguri! Fish flounders and Breeze hits another forearm. Breeze reels Fish in but Fish counters to a fireman's carry. But Breeze slips out to give Fish a Beauty Shot! Cover, but Strong drags Fish to safety! Or so they think, as Breeze builds speed. But Dream tags in!?
Dream and Breeze argue and they don't see Strong tag in. Cole SUPERKICKS Riddle down! Breeze and Dream double SUPERKICK Cole! But Strong's super knee hits Breeze into Dream! Then Strong drags Dream up for End of Heartache!! Cover, the Era wins!!
Winner: Strong via End of Heartache
Rating: *** 1/2
4. IMPACT: Rich Swann vs Johnny Impact vs Michael Elgin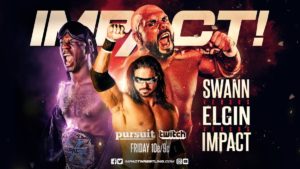 From My Analysis:
Impact main events have been really impressive last few weeks and this one fell a little short of that mark, but not by much. Many moves missed by just a hair or looked too cooperative to really get full marks, but it was a fun match. Swann getting the pin on Johnny was a spot. John E. Bravo comes out to help Johnny beat down Rich. Elgin doesn't want Johnny to use the big red X, but doesn't seem against destroying Swann. But Brian Cage's music hits, and comes out with a plan. Gorilla Press tosses Johnny out of the ring, has a quick back and forth with Elgin and then does the full Kevin Nash putting the cigarette out flair, before hitting a Jack Knife Powerbomb on Elgin.
Winner: Swann via 450 Splash
Rating: *** 1/2
3. AJPW Dynamite Series Day 2: Yusuke Okada vs Hikaru Sato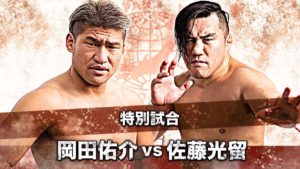 This was a special singles match. Special because Okada and Sato requested this match, in honor of Atsushi Aoki. Aoki was a fellow stablemate, friend, and to Okada, a mentor. He was head trainer in the dojo, a corner stone wrestler since Akiyama returned to AJPW. This was their gift, to their fallen friend.
During introductions Okada was crying, the crowd was crying, and notably, the referee came out in an all blue outfit as his own dedication. We got a match that Aoki would be proud of. Even though he was a Junior, Aoki was very technical and mat based in his approach. He would only go to the top ropes on occasion, and his proteges did the same.
The weight and significance of it all must've continued to hit Okada during the match. He wasn't as crisp, attempted a very sloppy Step Up Tornado DDT from the ropes and just generally seemed to not be there. It was all understandable, and the match was still very good and showed they both learned a lot from Aoki and cared deeply. So from an emotional aspect, this match was a 10 out 5. But from a technical aspect, the hiccups did hurt it a little.
After the match, they had words for their friend, they played Aoki's music, Dory Funk sent a video message and all of Evolution posed together one last time: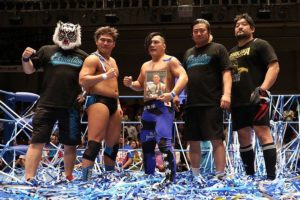 Winner: Sato via Ude-Hishigi-Gyaku-Juji-Gatame
Rating: *** 3/4
Honorable Mentions:
AJPW Dynamite Series Day 2: All Asia Tag Titles: Jake Lee & Koji Iwamoto vs Kazumi Kikuta & Ryuichi Kawakami (c)
Winner: Lee via High Angle Backdrop
Rating: *** 1/2
WWE Stomping Grounds: Sami Zayn & Kevin Owens vs Xavier Woods & Big E
Winner: Owens via Stunner
Rating: *** 1/2
AJPW: Nobe Bryant, Odinson & Parrow vs Shuji Ishikawa, Suwama & Super Tiger
Winner: Suwama via Manriki Sleeper
Rating: *** 1/2
WWE Stomping Grounds: Steel Cage WWE Championship Match: Dolph Ziggler vs Kofi Kingston (c)
Winner: Kofi via Escaping the Cage
Rating: *** 1/2
GCW Crushed Up: GCW Championship: Nick Gage(c) vs Tony Deppen
Winner: Gage via Chokeslam onto back of chairs
Rating: *** 1/2
WWE Stomping Grounds: Raw Women's Championship: Becky Lynch (c) vs Lacey Evans
Winner: Becky via Disarm-Her
Rating: *** 1/4
IMPACT: Jake Crist vs Tessa Blanchard
Winner: Tessa via Magnum
Rating: ***
SmackDown Live: Dolph Ziggler vs Xavier Woods
Winner: Ziggler via Superkick
Rating: ***
WWE Stomping Grounds: SmackDown Live Women's Championship: Alexa Bliss vs Bayley (c)
Winner: Bayley via Bayley to Belly
Rating: ***
WWE Raw: Seth Rollins vs Daniel Bryan
Winner: Rollins via Stomp
Rating: ***
GCW Crushed Up: Dan Maff vs Mathew Justice
Winner: Maff via Burning Hammer through Door
Rating: ***
WWE Stomping Grounds: SmackDown Live Tag Team Titles: Heavy Machinery vs Rowan & Daniel Bryan (c)
Winner: Bryan via Small Package
Rating: ***
2. WWE Stomping Grounds: Cruiserweight Championship: Akira Tozawa vs Drew Gulak vs Tony Nese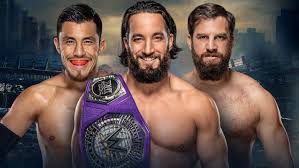 From my Analysis:
Constant action defined this match. Gulak kicked things off with a Dropkick at the bell, and it was pedal to the metal from there. Tozawa breaks up the Gu-Lock with his Top Rope Senton, which the camera didn't focus on, so it was cool to see Tozawa just crash down from the sky. Each man had a legitimate shot at different points in the match. Gulak however took advantage of the situation, tried to TKO Nese, but Nese wiggled out to the apron, Drew dodged Tozawa's Dropkick, grabbed Tozawa and hit the TKO for the win. Gulak finally gets the belt, which is a bit overdue, and he didn't win via submission. Things should be interesting on 205 Live. Great start.
Winner: Gulak via TKO
Rating: ****
1. WWE Stomping Grounds: United States Championship: Samoa Joe (c) vs Ricochet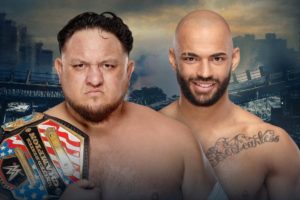 Snippet from Mitchell's Coverage:Ricochet keeps his cool as he heads for another corner. He climbs up and aims, but Joe gets up. Ricochet jumps over but Joe scoops him for a powerslam! Cover, TWO! Joe grows frustrated, but keeps his eyes on Ricochet as Ricochet stirs. Joe drags Ricochet up but Ricochet throws forearms and CHOPS! But Joe CHOPS back again! Ricochet stands so Joe whips, Ricochet handsprings, but into a full nelson! Ricochet breaks free but still gets a German Suplex! Joe runs as Ricochet rises to LARIAT! Cover, TWO!! Ricochet survives and Joe is shocked. Joe glares at Ricochet as he clamps hands on the shoulders. Joe drags Ricochet up for another urenage, but Ricochet fights out! Ricochet boots but Joe blocks it, to FLIP Ricochet!
Joe puts on the Coquina Clutch! But Ricochet climbs the ropes! Ricochet hotshots Joe down! Joe is in the drop zone, and Ricochet climbs up again! Ricochet 630 but he has to roll through! Joe LARIATS Ricochet, but Ricochet springs back up! CODE BREAKER! Ricochet keeps going and gets back up top! Ricochet tries again, 630 SENTON! Cover, Ricochet wins!!
Winner: Ricochet via 630 Senton
Rating: ****
Thoughts:
Well the B-rated PPV ended up taking the top 2 spots this week! That could say something about the level of competition this week, but let's look at the positive!
My vote goes to the Cruiserweight Triple Threat. I'm happy Gulak finally won the belt, hopefully he can help bring a level of excitement/interest back to 205 Live. Since it really seemed to lose it's luster after Cedric and Buddy were called to the main roster.