Welcome back wrestling fans to another episode of WCW Monday Nitro, coming to you on December 4, 1995 from the America West Arena in Phoenix, Arizona.
A week removed from World War 3, working towards Starrcade. The show was advertised to feature Macho Man Randy Savage defend his WCW World Heavyweight Championship against Lex Luger. Let's see how it all plays out!
Bischoff, Heenan and McMichael on commentary to break down all of the action. Ric Flair, Sting and Luger are all vying for a shot at the title leading into Starrcade. Bischoff says that Hogan, The Giant and Ric Flair are all on "probation" as of 48 minutes before the broadcast per WCW legal team.
American Males vs Harlem Heat (With Sister Sherri) – WCW Tag Team Championship Match
How long has it been since we've seen any true tag team match? Lots of singles pairings, but no true tag matches. Let's solve that by having a title match! Riggs and Stevie Ray start us off and Bischoff says Stevie is nursing a sore ankle, we'll see if that comes into play. Booker T in, but the Males fight back to gain the upper hand. During the match, we see Colonel Parker at the ramp holding a gift, presumably for Sherri. Harlem Heat in control as Sherri is given the gift from Parker and they kiss before Parker takes her from ringside and Sherri shows the camera a ring. Riggs is still getting worked over, a German suplex from Stevie Ray, knees and a kick from Booker T. Phoenix Suns star, AC Green is shown at ringside, cheering on the Males. Riggs gets his knees up for a Booker T splash and gets the hot tag to Bagwell. Fisherman suplex to Ray for a near fall, and Bagwell eats a Harlem Hangover from Booker T before eating the pinfall.
Winners: Harlem Heat via pinfall
Mean Gene Okerlund on the ramp to interview Sting who brought out Lex Luger as well. Sting says that friendship is one thing, but he's gunning for the World Heavyweight Championship and that if Luger wins tonight and Sting wins the triangle match at Starrcade, friendship doesn't matter. Luger agrees with the predictions but he's just as hungry.
Sting vs Kurasawa
Colonel Parker is not ringside which is interesting per the announcers. Sting is in control early with a big dropkick and clothesline to the outside. Kurasawa regains control with some strikes before getting back in the ring and hitting a big knee to the midsection. Sting deals with multiple standing arm breakers and chops before trying to fight back. Sting hits a big Stinger Splash and locks in the Scorpion Death Lock and Kurasawa quickly taps out.
Winner: Sting via submission
A Starrcade commercial advertises WCW facing off with stars of New Japan, I am intrigued!
Scott Norton vs The Giant (with Kevin Sullivan and Jimmy Hart)
WCW really played up The Giant being Andre's son, down to the gear. Giant takes control early with a knee and a big bodyslam followed by clubbing blows to Norton's back. Norton counters with a big atomic drop and he held The Giant up for a few seconds which was very impressive. Norton bounces Giant's head into the turnbuckle and goes for some clotheslines and off the top rope, but The Giant catches him and hits the chokeslam to pick up the victory. Surprising that they let Norton get that much offense in.
Winner: The Giant via pinfall
Mean Gene is in the ring and brings out Ric Flair who is brought to the ring by the Phoenix Suns' own, Charles Barkley. Flair says him and Barkley are going to tear the town down, I can only imagine the party those two could create. Charles says they have the best basketball fans in the world and they should respect the Nature Boy. Flair issues a challenge to Luger, Sting, Hogan and Savage to watch out, because Flair is coming for that title.
Lex Luger (with Jimmy Hart) vs Randy Savage – WCW World Heavyweight Championship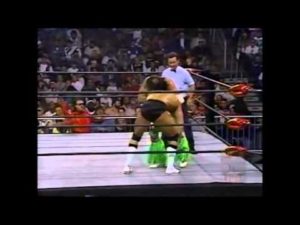 Savage is rocking some great bright green and red with white on his tights, and I will admit that I'm partial. Savage is in control early, keeping Luger in the corner, but Lex catches a rebound clothesline to gain control before taking it outside the ring. Macho hit s a big double axe handle from the top rope for a near fall. Luger counters a suplex with one of his own before missing a standing elbow drop and Savage takes advantage, working over the arm. As we come back from the break, Savage is still working over Lex's arm outside the ring and brings him inside to do more of the same. Nice old school psychology here, keep working over a limb. Randy wraps it around a ring post and continues the attack until missing a double axe handle, crashing into the guardrail. Luger is back in control, favoring that left arm heavily. Luger goes to pin Savage and hook the leg with that arm but quickly switches while grimacing, great job by Lex. Savage whips Luger into the guardrail to regain control and we see Hart removed a turnbuckle pad, but Savage puts Luger's head into it, who inadvertently bumps the referee who is unable to count after a Savage elbow drop. Ric Flair comes out with brass knuckles and hits Savage. Hart rolls Luger on top as Flair goes up the ramp, only to be stopped by Hulk Hogan. Hogan stops Flair from leaving the ring, but stops the ref from counting a pin. The ref throws the match out with a DQ. Hogan accidently hits Sting and they come face to face as Savage tries to stop them from fighting.
Winner: Lex Luger via DQ(no title change)
Mean Gene is in the ring with Hogan, Savage and Sting. Hogan questions Sting about his relationship with Luger. Sting says Luger is his best friend, but he is on Hogan's side. Hogan and Savage talk about Savage calling Luger's motives. Sting says he is with Hogan, they shake hands and Hogan asks Sting to keep Luger out of his face. Sting says he will do everything in his power to keep Luger out of their faces.
Fun show, the main event was given over 20 minutes which was great. The main event players keep seeing their storylines progress further but there still isn't much of the undercard developing which is annoying in my opinion with the talent they have. We will see how this all continues next week!