What Could Be Behind The Shield Reunion?
So, The Shield reunited, again, on Monday. YAY!!!! The Monday after a big PPV almost always has at least one surprise and that was definitely a surprise. The sight of Ambrose, Reigns, and Rollins in their Shield gear never fails to make me excited with the promise of the Hounds of Justice meting out justice on RAW. It was the perfect end to a pretty good RAW.
However, as I was watching RAW, I couldn't help but wonder what was going on. Yes, it's obvious that Roman Reigns, having lost two title matches because of  Money in the Bank cash-ins, and only escaped with his title on Sunday because of Lesnar, had thought ahead and planned to have his brothers, Rollins and the returning Ambrose, suit up to help him fend off Braun Strowman. It was a brilliant plan, though Strowman still has the briefcase, but is that the ONLY reason the Shield reunited? Think back to what else happened on RAW, Stephanie McMahon returned and got her butt kicked by Ronda Rousey. Her lackey, Constable Corbin whined about how Kurt Angle's been running things, and Stephanie decided to put Angle on a forced vacation and makes Corbin acting GM, on the same night that the Shield reforms. See where I'm going with this?
In case you don't here's the theory that's been bumping around my head since Monday:
The Shield reformed because of Kurt Angle, either indirectly or at his instigation.
Why do I think that? Let's go back to last fall. The Shield reunited on October 9, 2017. I was in the audience in Banker's Life Fieldhouse in Indianapols and screamed myself hoarse with excitement. However, the reunion was plagued by bad luck. Reigns would come down with a serious illness and be sidelined for a month, during which time, Angle would step in to be the third man in the huge match at TLC that pitted Ambrose, Rollins, and Angle against Miz, Sheamus, Cesaro, Kane, and Braun Strowman. While Angle proved himself a pretty good substituted for Reigns, what struck me was how Angle established himself as the one authority figure the Shield respected and that it would be a great set up for Angle to turn heel and have the Shield as his muscle, a feeling that strengthened during the go-home SmackDown before Survivor Series. The Shield acted like Angle's muscle, acting on his directions during the RAW invasion of SmackDown, taking orders from him pretty willingly.
So, this is what I think is going on: Kurt is getting tired of being neutered by Corbin and Stephanie, so now that Ambrose is back and healthy, and Reigns and Rollins have the top two men's singles titles, he can use the Shield to neutralize Corbin. Problem is that Stephanie making Corbin acting GM put a slight kink in those plans. Kurt's solution was to put the plan into motion with a new directive: Create as much havoc as you can until Stephanie brings Angle back to make it look like Angle is the only one that can control RAW. What happened with Strowman was an unintended consequence of that and Angle's had his own issues with Strowman to not be too upset over Strowman getting screwed.
So, why would the notoriously rebellious Shield go along with this? My guess is partly out of respect and liking of Kurt as a former wrestling great, partly out of dislike of Stephanie and Corbin, and partly out of self-interest if Angle promised to help them stay on top.
The other side is that if Angle didn't directly encourage the Shield to reform, his absence was a catalyst in convincing the Shield that someone had to step up against Corbin, who has been blatantly biased towards the heels, which would definitely affect Reigns and Rollins as the Universal and Intercontinental Champions, respectively.
Is this what's going in this storyline? Probably not. It's more likely that the Hounds reformed for their own reasons  and the Angle situation is just a coincidence. However, it is fun to think of Kurt Angle acting as a WWE Machiavelli and plotting to regain power by reuniting the Shield to force Stephanie to bring him back.
Where could this go, IF this angle is more than a fangirl's imaginings? I'm picturing a Team Angle vs Team Corbin angle at Survivor Series with the stakes being control of RAW.
King's WrestleMania Rewind: Charlotte Flair vs. Asuka from WrestleMania 34
Chris king is back with one of the most underrated matches in WrestleMania history–Charlotte Flair vs. Asuka!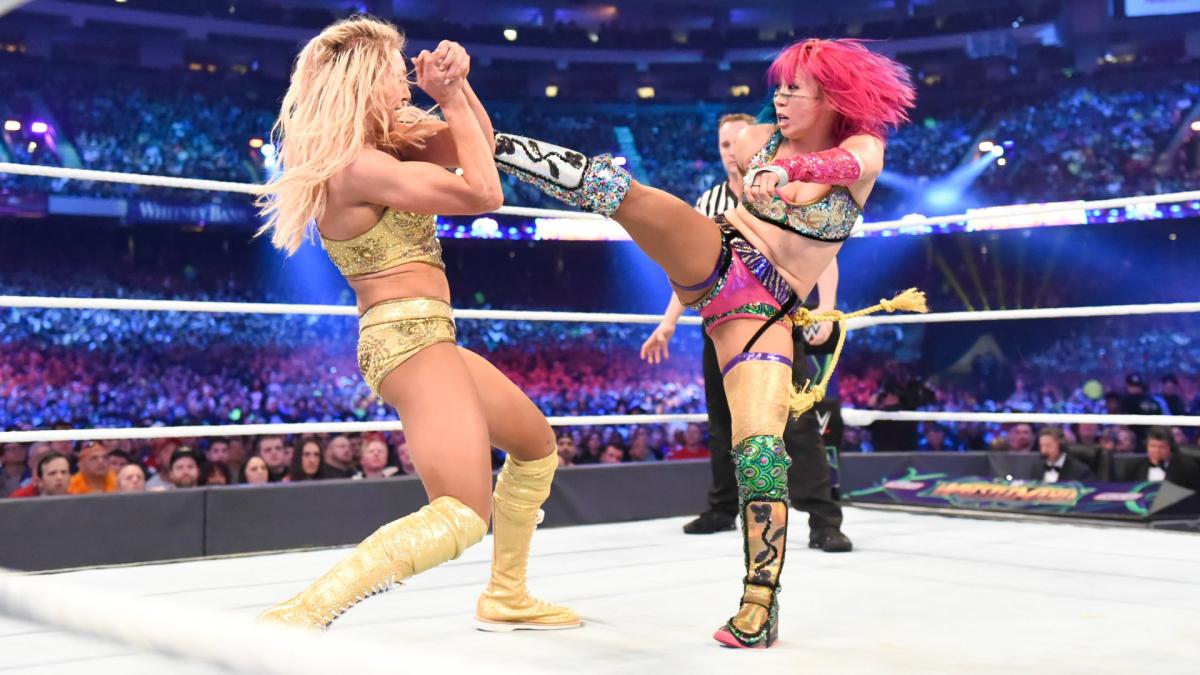 Chris king is back with one of the most underrated matches in WrestleMania history–Charlotte Flair vs. Asuka!
We look back at Charlotte Flair vs. Asuka at WWE WrestleMania 34. 'The Empress of Tomorrow' put her unprecedented and historic undefeated streak of 914 days on the line against 'The Queen's' SmackDown Women's Championship.
For years, this was considered a dream match while Asuka dominated the roster in NXT, while Flair won numerous championships on the main roster on both Raw and SmackDown. The Empress made her long-awaited debut on the September 11th episode of Raw and began to tear through the competition.
Asuka outlasted all twenty-nine other women in the historic first-ever Women's Royal Rumble match to challenge for the title of her choosing. At Fastlane, she made her choice.
The WWE Universe was so excited for this match myself included. Both superstars delivered a fantastic performance on the Grandest Stage of Them All executing counter after counter. Asuka showed off some nasty-looking kicks to her opponent, and Flair hit a thunderous Spanish Fly off the top rope. Flair was seconds away from defeat at the hands of The Empress but she locked in Figure Eight and Asuka was forced to tap out.
I can't even begin to explain how shocked I was at this outcome, as nearly everyone expected The Empress to continue her undefeated streak and walk away with the women's title. This controversial decision was the downfall of Asuka's momentum. She would ultimately win the SmackDown Women's Championship at the 2018 TLC pay-per-view in the triple-threat ladder match.
Fast forward to this year when Asuka has recently returned with her Japanese-inspired persona Kana. Kana is dangerous and ruthless and is heading into a championship with Bianca Belair at WrestleMania 39. The Empress has regained all her momentum and is highly favored to walk away with the Raw Women's Championship. Let's hope that Asuka and Belair can tear the house down and deliver an A+ grade match both women are fully capable of.
King: Dominik Mysterio Needs To Do This At WrestleMania
Chris King is here with what WWE should do with Dominik Mysterio at WrestleMania in his long-awaited match against his father Rey Mysterio Jr.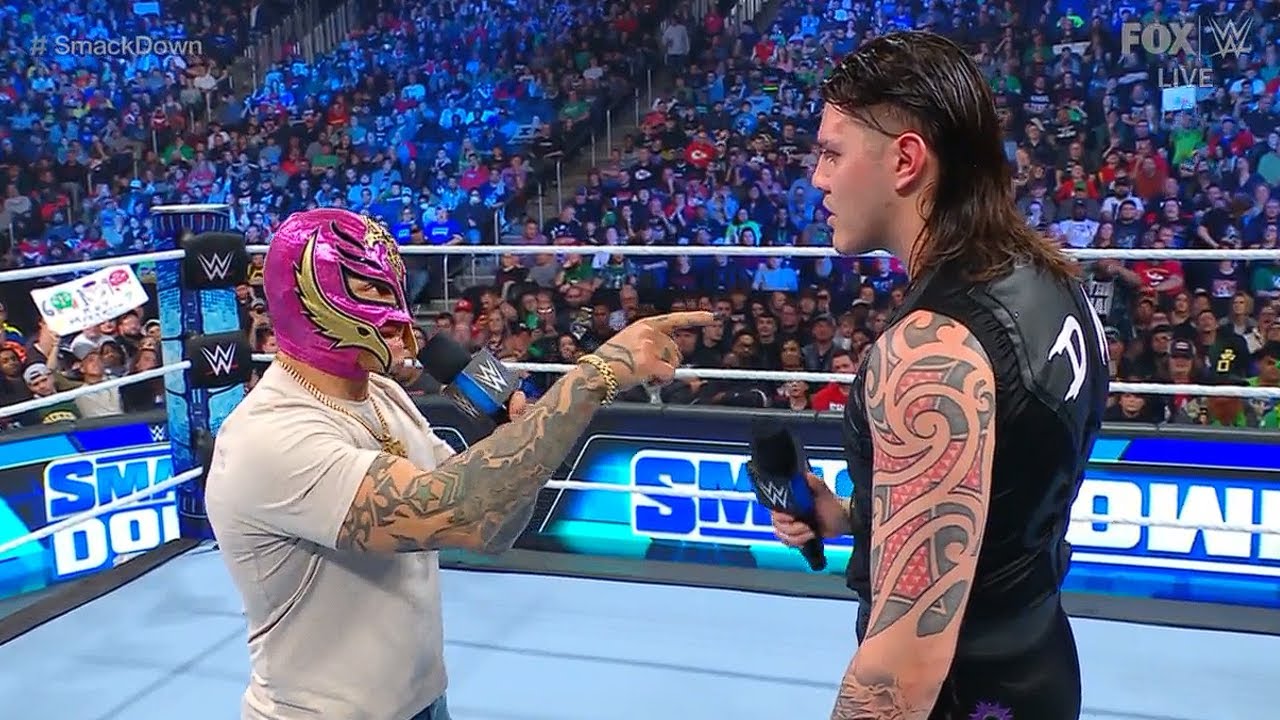 Chris King is here with what WWE should do with Dominik Mysterio at WrestleMania in his long-awaited match against his father Rey Mysterio Jr. 
On this week's episode of Friday Night SmackDown, Rey Mysterio finally snapped and beat some sense into his disrespectful punk-ass kid Dominik. The member of the Judgement Day came out to push his father again for a match on the Grandest Stage of Them All, this time with his mother and sister at ringside. The ungrateful punk told his mom to "Shut Up," as a father even I wanted to jump through the screen and whoop his ass.
Back in October of last year, Mysterio made the emotional decision to possibly quit the company but, instead, Triple H persuaded the Lucha libre superstar to move over to SmackDown to avoid his son. This came after Dominik shockingly turned on his father at Clash at the Castle. Mysterio did everything he could to refuse his despicable son's challenge for Mania but, a man can only be pushed so far. Mysterio will be inducted into the 2023 WWE Hall of Fame and I expect Dominik to embarrass his father during his speech to further this personal feud.
Yes, the WWE Universe hates Dominik and wants to see him get the ever-loving crap kicked out of him but, this feud is missing a special ingredient to capitalize on the biggest heat possible. Throughout this feud, Dominik has made mention of the legendary Eddie Guerrero on several occasions going back to the "iconic" 2005 feud.
I know WWE might not want to go this route but, Dominik MUST come out to Eddie Guerrero's theme at Mania. The disrespectful punk needs to come out in a lowrider to garner nuclear heat. It doesn't matter if The Judgement Day comes out and causes interference for Dominik to get the win, all that matters is that both superstars get the biggest payoff of this nearly year-long feud. Just imagine the Roman Reigns heat after he defeated The Undertaker and multiply that by ten. Dominik portrays the perfect heel and he truly is the missing ingredient that The Judgement Day needed to grow and evolve into a top faction.