The Best Decision For Takeover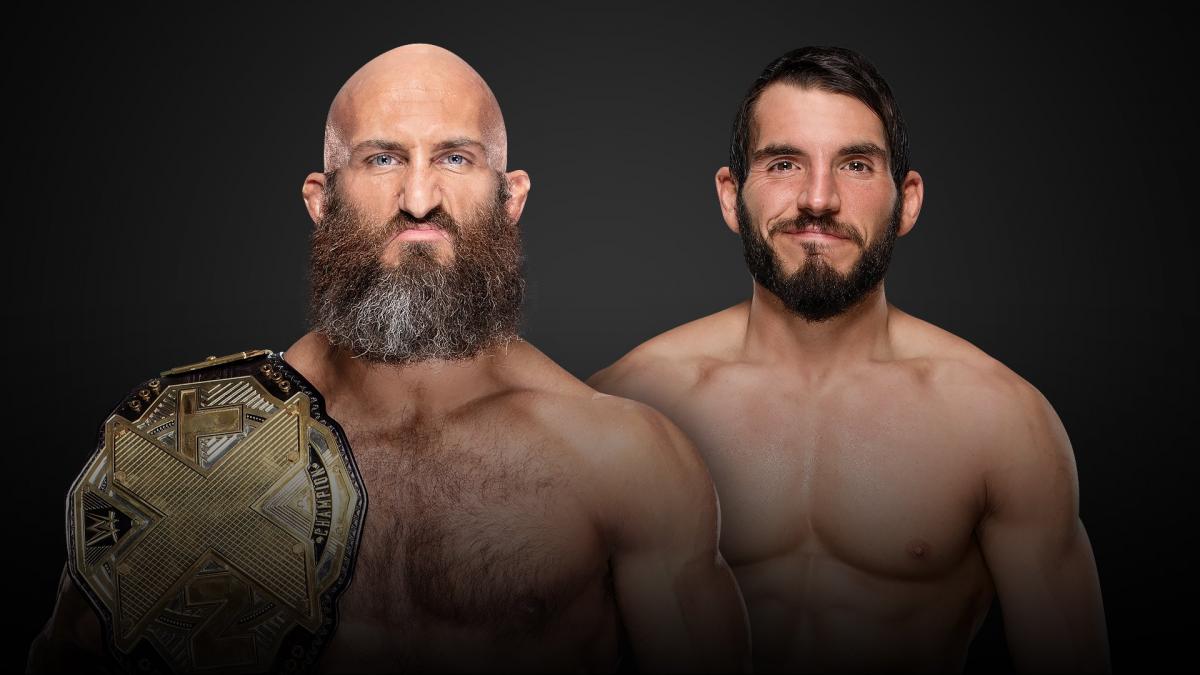 Well talk about bad karma. Last week I was talking about the triple threat for the NXT Championship at Takeover Brooklyn 4, being a potential match of the year candidate, and now one of the participants is out.
There's been rumours over the last week that Black would not make Takeover due a groin injury. Now it's been confirmed that Black is out of the match and has to have surgery. The triple threat was only made on this week's episode of NXT, but they shot an angle on WWE.com last night that saw Regal being informed by officials that Black had been laid out outside Full Sail. Clearly this is a way for them to write Black out of Takeover, so he can recover from his injury.
Smartly they've established a few different possibilities of who could have done it. Gargano happened to walk past Regal as did the Undisputed ERA.  Also, there's the obvious implication that it was Ciampa to better his chances. This gives him a clear storyline when he returns, as well as, eventually getting his rematch possibly at Takeover War Games 2. This left a huge cloud hanging over the main event of Takeover. That was until William Regal announced that it would be Gargano vs Ciampa in a last man standing match for the NXT championship. Was this the right decision?
Well the more I think about it Yes. The last two matches they've had have been excellent the prospect of another match this time for the title, sounds like another match of the year candidate. And it's Brooklyn where two years ago people thought Ciampa was going to turn on Gargano after they lost to the revival.
Before I didn't like that this match only had one week worth of build, but then I realised, it doesn't. This is just another chapter in the story they've been telling for nearly 2 years. Even when Ciampa was going after Black Gargano was still in the mix. Also what alternative did they have there isn't really anyone else on the roster that could fill Black's spot. Everyone else is either already paired up or hasn't yet been built as a main eventer?  The last episodes before Takeover have already been filmed so it seems too late to add anyone. EC3 and Velveteen Dream would both have been perfect fits if they weren't already facing each other.
Kassius Ohno is the only established roster member I can think of that could fit in. He's got involved in Ciampa vs Gargano before standing up to Ciampa after he attacked Gargano. He could interject himself to try and help Gargano. On the other hand, he hasn't exactly been positioned as a main eventer.
I have heard speculation of Matt Riddle being added to the match but it's very unlike NXT to debut someone right into a main event. They did have EC3 and Ricochet debut in the North American Championship Ladder Match but that was for the secondary title not the main title.
Obviously given the choice I wouldn't have had the match here because I worried that having three straight Takeover matches would diminish fans investment in the feud.  I would have built this for at least the January Takeover but sometimes things don't go how you want them to.
There's an element of mystery to this match because I genuinely don't know who's going to win. It seems too soon for Ciampa to lose the title. If he does he will have the second shortest reign after Samoa Joe's second reign. On the other hand Gargano winning seems like a more fitting end to this story. Although Gargano does seem to be close to the edge so it would be interesting to see how he reacts to this loss and it builds even more heat for Ciampa as if he needs it.
This is when wrestling is at it's best when you can't immediately predict the outcome and that's why I think this is the right decision.
---
Always Use Your Head and visit the official Pro Wrestling Tees store for The Chairshot All t-shirt proceeds help support the advancement of your favorite hard-hitting wrestling website, The Chairshot!

---
Andrew's NXT Takeover Brooklyn 4 & SummerSlam: Ratings & Review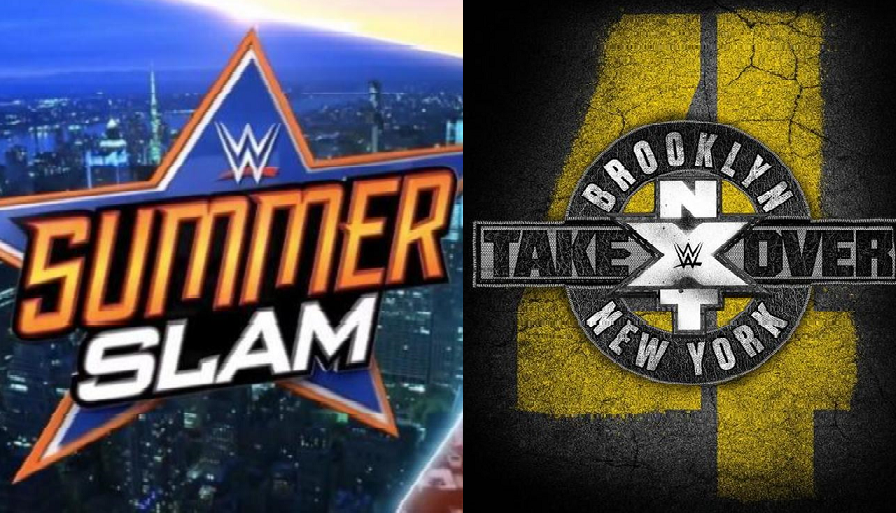 Well everyone, this is what happens when you have plans on a Saturday. So I didn't get to watch NXT live, so now I get to power through 84 hours of programming at the same time.
Everything I've heard said the show was a good one, which is always nice to hear. Especially since I said during the picks article, that this was one of the shows with a very low amount of buzz. Time to find out what went on, before SummerSlam goes into full swing.
NXT Takeover Brooklyn 4:
NXT Tag Team Title Match: Undisputed Era (c) vs Moustache Mountain
NXT really likes the tag teams to go on early, but this match lived up to the story. The third match in about 5 weeks, with both teams getting one win, the rubber match was damn good.
Numerous callbacks to their previous matches, including the towel spot. Tyler Bate still did that stupid Fireman's Carry/Giant Swing move, with makes no sense, but the match still flowed well. Trent Seven pulled off a move I've never seen him do, which looked like a Vertical Suplex lift, into a Flowsion, But the pace was so fast it felt a little too much, there were even times it looked like Kyle O'Reilly wasn't quite ready when Strong was calling for tags.
Aside from nit picks, this was the best match I've seen between the two, I just wish it was paced slower. Undisputed Era came out the gates hot, and aside from one moment where O'Reilly had Tyler Bate in a Heel Hook submission, the frantic pace never seemed to change.
After Kyle kicks out of a Burning Hammer/Knee Drop tandem move, Strong slides in to cut off Bate and they land Total Elimination out of nowhere. The ending seemed a little abrupt, but with how the match was paced, it seemed very fitting.
Winner: Undisputed Era via Total Elimination
Rating: **** 3/4
Velveteen Dream vs EC3
This match was pretty awkwardly paced honestly. Dream with the HBK/Hogan over selling being kicked in the corner and then getting crotched on the rope. But I'm not really sure what they were trying to get across. EC3 controlled the pace until Velveteen Dream hit a Twisting DDT on the ramp.
I suppose if I need to say something, it's that this was basically a main roster match on NXT. There were a lot of entertainment spots, that didn't make a ton of sense or just looked awkward, but the crowd seemed to enjoy it. A rolling Dream Valley Driver on the apron gave Dream the idea to hit the Purple Rainmaker on the apron, roll EC3 back in and squeak out with a Takeover victory.
Winner: Velveteen Dream via Purple Rainmaker Elbow
Rating: *** 3/4
NXT North American Championship Match: Adam Cole (c) vs Ricochet
Ricochet's talent versus Adam Cole's ego. Not sure if the battle is which is better or which is bigger, but it should be fun to watch.
Adam Cole talked smack most of this match, but the exchanges were pretty impressive. Cole showed a lot of spots of being the clever heel, but Ricochet threw haymakers and Cole ran out of answers. Tiger Feint in the corner ropes, Fosbury Flop, Inside Out Frankensteiner off the apron, all big impressive moves. But Cole had fantastic moments from timing a Thrust Kick perfectly to dodge the Asai Moonsault and kick Ricochet in the face as well as a nice Backstabber catching Ricochet mid Back Handspring.
The climax moment had to be the strike exchange that ended in a random near fall. Going back and forth and then Adam Cole falling on top of Ricochet made you wonder if the match was gonna end in a fluke way, or if Ricochet would realize what was going on. As you can see, Ricochet realized, overcame and picked up his first WWE championship.
All in all, the selling was solid, the story it was telling was great and amplified by Adam Cole running his mouth in the ring. It's just one of those special moments and this was the first glance the WWE Universe got to see at a really great Ricochet match.
Winner: Ricochet via 630 Senton
Rating: *****
NXT Women's Championship Match: Kairi Sane vs Shayna Baszler (c)
The second of three rubber matches tonight. Kairi beat Shayna to win the first Mae Young Classic, but Baszler got her win back after they were both in NXT. Which wrestler has grown the most in the past year?
Kairi immediately starts off with going for submission holds, which gets into Shayna's head. A Heel Hook followed up with a Stretch Muffler attempt get under Shayna's skin and we see both women pulling out different things. Shayna's striking has evolved, even pulling out an interesting Hesitation Bicycle Knee Strike.
Since Kairi was seen as the underdog the entire build, it was definitely driven home through the match. Kairi paced out the match much like Hiroshi Tanahashi, working through the pain to hit signature top rope moves and capturing the hearts of the audience while she just wouldn't quit. Numerous close calls with the Kirafuda Clutch made it look like Kairi was as good as dead, hell, Shayna even kicked out of an Insane Elbow.
The finish really made you feel like Shayna was going to win this when she got her feet up to counter the Insane Elbow and went for the Kirafuda Clutch, but shades of Ember Moon, Kairi just floats backwards and manages to reverse the submission into a pin. So where Kairi has shown more heart and a bevy of submission moves, Shayna lost the same way she did when she first joined NXT.
Curious how this will all play into the story moving forward.
Winner: Kairi Sane via Submission Reversal Roll
Rating: **** 1/4
NXT Championship Last Man Standing Match: Tommaso Ciampa (c) vs Johnny Gargano
Best friends turned bitter rivals, who love gimmick matches. I'm fully aware this is only a match because Aleister Black got legitimately injured, but I also can't stop myself from being burnt out by this story. Hopefully whatever happens in this rubber match, puts some space between these two.
Well this match starts off slowly, but that's necessary since there's so much to unpack in this rivalry. After the Spanish Announce Table destruction, the match starts to really pick up. No amount of me talking about moves or spots will do this justice.
Going through tables, but propping himself up on a crutch is a layered moment for Ciampa. The handcuffs, the exposed ring, ripping the padding apart on the outside and even the end. Johnny has a tendency to let his emotions get the best of himself. All the way back to when Zelina Vega distracted him with a DIY shirt, to Chicago II when he knocked down the ref so when he had Ciampa beat there was no one to count his victory and then he literally walked into a DDT. So I've seen some complaints about the ending, but it makes so much sense that Gargano would do something to screw himself over.
There's probably some layered comment about Cleveland and shooting himself in the foot, but damn, this was the best of their trilogy…and now I'm not completely sure what I said earlier holds up. Even if I'm sick of the story, these matches are tremendous.
Winner: Ciampa
Rating: ***** 1/4
Thoughts:
Well this definitely ranks up there with the previous Brooklyn shows. Ricochet vs Cole, Ciampa vs Gargano, those will be matches people remember for a few years. Hell Kairi and Shayna was surprisingly gritty and tough, not quite as good as Sasha vs Bayley or Ember vs Asuka, but damn good.
Takeover brought it and even if most people see NXT in an odd transitional period, it's hard to argue with the quality of the last few shows. SummerSlam will have it's work cut out for it.
---
Always Use Your Head and visit the official Pro Wrestling Tees store for The Chairshot All t-shirt proceeds help support the advancement of your favorite hard-hitting wrestling website, The Chairshot!

---
What if Brock Lesnar Beats Roman Reigns at WWE SummerSlam?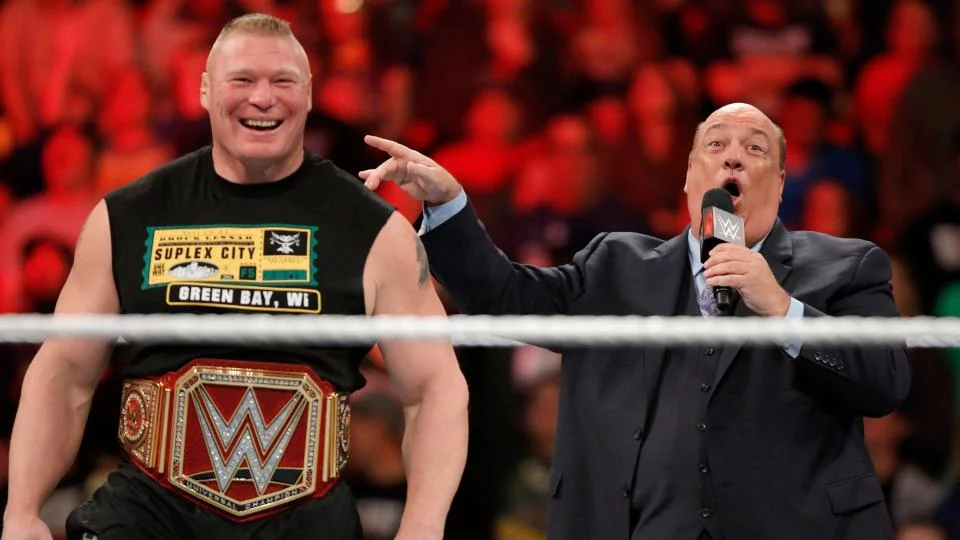 Brock Lesnar's upcoming SummerSlam match against Roman Reigns has been the talk of the pro wrestling world. That's largely due to the controversy surrounding The Beast Incarnate's lack of WWE appearances. But it's also due to Reigns' ascension to the top of the company, which seems to still be happening.
For many of his critics, nothing will justify Roman's reign over WWE. However the overall success of his run at the top also seems predicated on his ability to defeat Brock Lesnar, which he has been unable to do. Roman Reigns, for whatever reason, cannot get past Lesnar. Of course SummerSlam is believed to be the night when Roman finally conquers The Conqueror. But what if he doesn't?
What are the chances that WWE will keep the Universal Championship around the waist of Brock Lesnar? It seems like an insane notion but when it comes to this rivalry, fans have learned to expect the unexpected. Of course, many of those fans feel that Roman's win is a foregone conclusion and recent events on Monday Night Raw seem to reinforce that notion.
When Brock put his hands on Paul Heyman, he crossed a line that many thought spelled doom for The Beast's title run. The idea of Heyman advocating for Reigns and leading him to the Universal title is one that will not go away. Long before WWE teased the possibility on Raw, fans were debating it online.
When Paul stood in the middle of the ring and publicly offered his services to Roman, fans knew the transition was near. Even as Heyman doused Roman with what appeared to be mace, the shocked crowd likely left knowing that Reigns would soon have Paul in his corner. After all, when the company seems to go left, fans automatically expect a sudden turn right.
It seems like the right time to make the move. Brock is headed back to the UFC and WWE needs the Universal Championship back on TV full-time. Roman may not be the popular choice to be champion but at least if he has it, he can drop it to someone else at any moment. Lesnar is not in love with the pro wrestling business and WWE has gone out its way to remind the world of that every week on Raw.
All signs indeed point to Roman Reigns beating Brock Lesnar at SummerSlam. That's how the company has crafted this storyline and that's what fans believe to be true. But what is the alternative if Lesnar actually wins on August 19?
Fans know that if Brock does go over on Roman, then the Universal Championship will be no closer to getting back on the red brand than it was before. Lesnar is in the drug testing phase of his UFC return. So he's likely getting in fight shape in anticipation of his upcoming match against Daniel Cormier.
That means after SummerSlam, Lesnar is gone once again and the title goes with him. He may not even appear on the August 20 edition of Raw. Fans will return to debating his title reign and continuing to hate Roman even though he's the guy working hard to entertain them.
There are six pay-per-views between SummerSlam on August 20 and WrestleMania 35 on April 7, 2019. That means WWE will have at least six opportunities to book Lesnar to lose the Universal title. But the more time passes, the less likely that Brock will drop the championship. Lesnar will be in the middle of training, with his focus set on January, or possibly February, of 2019.
Lesnar will probably be unavailable. He could always show up for a random promo on Raw or a pre-taped interview alongside Paul Heyman. But for the most part, Brock will likely not be around. WWE will talk about him. Other Superstars will mention him. Fans will complain about him. But Brock Lesnar will continue to be the absentee champion. That is, of course, if Brock does not lose the Universal title in his match.
Lesnar doesn't have to drop the pin to Reigns in order to lose the championship. He could still beat Roman and leave The Big Dog in the middle of the ring as he's done so many times before. But as The Beast Incarnate hoists the championship above his head, The Monster Among Men could tear it away from him.
Braun Strowman is the x-factor in this match. He is the one unpredictable element that throws a wrench into the machine and causes fans to completely rethink the outcome. Surely WWE gave Braun the Money in the Bank briefcase for a reason. The company knows what it has with Braun. He has earned the responsibility of being champion. He is the most athletic and most talented big man the company has seen in quite some time.
He's entertaining without the championship and doesn't really need it to get over. But when WWE considers who should be on the short list to become Universal champion, Strowman's name has to be on it. Otherwise, why does he have the briefcase?
Of course Kevin Owens could find a way to beat Strowman at SummerSlam. If he does, then he could cash in on Roman Reigns if The Big Dog does indeed beat Brock Lesnar. But that is a big "if."
The time has come for Brock Lesnar to lose the Universal Championship. He's on his way out of WWE and everyone knows it. Roman Reigns is the top guy in WWE and everyone knows that as well. But there is a chance that the company could put Brock over at SummerSlam and send him to the UFC with the Universal Championship. When it comes to WWE, anything is indeed possible. 
---
Always Use Your Head and visit the official Pro Wrestling Tees store for The Chairshot All t-shirt proceeds help support the advancement of your favorite hard-hitting wrestling website, The Chairshot!

---
Official Chairshot Picks: WWE SummerSlam 2018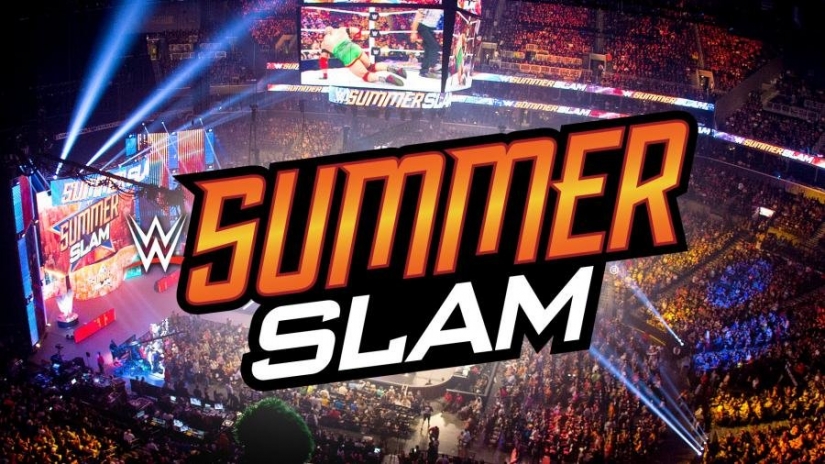 Alright, so now we get to the main course of the weekend, SummerSlam! Will it out perform most of the other main roster Pay-per-Views, or will this become the (superman)punch line of numerous jokes for the next few months?
Before we get to the breakdown, now I can go over our standings, not including last night's Takeover.
So Extreme Rules best record was: Steve Cook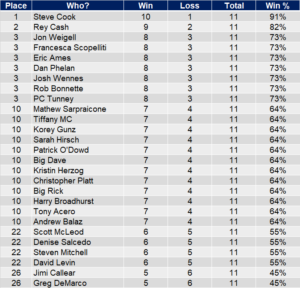 Thanks to Steve's performance last PPV, he's closed the gap a little on the man who's been leading this game since Day 1-ish. It is him, it doth be, D.P.P.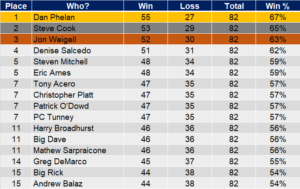 And as the site grows, so does our game, so for our newer players, let's see who's setting the pace: Francesca Scopelliti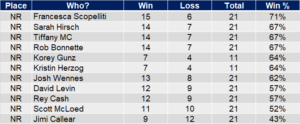 Well now that we've covered the Pick Standings, let's get to our thoughts for the 7 hour monster that is SummerSlam.
Andrade 'Cien' Almas & Zelina Vega vs Rusev & Lana
Well the Kickoff Show is treated as an extension of SummerSlam nowadays, so we've got a little undercard feud hopefully ending today. Rusev Day has slowly been falling apart since Aiden English consistently tries to help, but makes things worse. Doing his best impression of Caboose from Red vs Blue, Aiden and his 'help' will be a big factor in this match
Mathew: Andrade & Vega
Andrew: Rusev & Lana
Tiffany: Rusev & Lana
Deez: Rusev & Lana
Eric: Rusev & Lana
Weigell: Andrade & Zelina
Francesca: Andrade & Zelina
Steve: Rusev & Lana
David: Double Count Out
McLeod: Andrade & Zelina
Abe: Rusev & Lana
Big Rick: Andrade & Zelina
Korey: Andrade & Zelina
Platt: Rusev & Lana
Jimi: Andrade & Zelina
Kirstin: Andrade & Zelina
DPP: Andrade & Zelina
Cook: Andrade & Zelina
PC: Andrade & Zelina
Big Dave: Rusev & Lana
Greg: Rusev & Lana
Patrick: Andrade & Zelina
Denise: Andrade & Zelina
Harry: Andrade & Zelina
Tony: Rusev & Lana
Official Chairshot Pick: Andrade & Zelina 14-10-1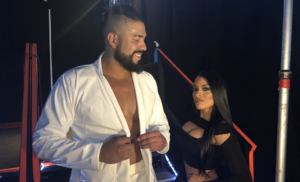 Cruiserweight Championship Match: Cedric Alexander (c) vs Drew Gulak
With no main show support and still trying to rebuild their damaged image, 205 Live has been relegated to the pre-show all year. With two conflicting styles, this match has potential to be really good. Gulak's mat based submissions against Cedric's combination of brawling and high flying leave a lot of room to work. Aside from that, I don't expect a lot. This won't suddenly have the fans clamoring for the Cruisers to be back on Raw, but a good match will continue to rebuild the brand.
Mathew: Cedric Alexander
Andrew: Drew Gulak
Tiffany: Cedric Alexander
Deez: Cedric Alexander
Eric: Cedric Alexander
Weigell: Cedric Alexander
Francesca: Drew Gulak
Steve: Cedric Alexander
David: Drew Gulak
McLeod: Drew Gulak
Abe: Cedric Alexander
Big Rick: Cedric Alexander
Korey: Cedric Alexander
Platt: Cedric Alexander
Jimi: Drew Gylak
Kirstin: Drew Gulak
DPP: Cedric Alexander
Cook: Drew Gulak
PC: Cedric Alexander
Big Dave: Cedric Alexander
Greg: Cedric Alexander
Patrick: Cedric Alexander
Denise: Cedric Alexander
Harry: Drew Gulak
Tony: Cedric Alexander
Official Chairshot Pick: Cedric Alexander 17-8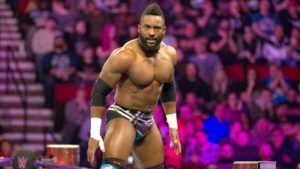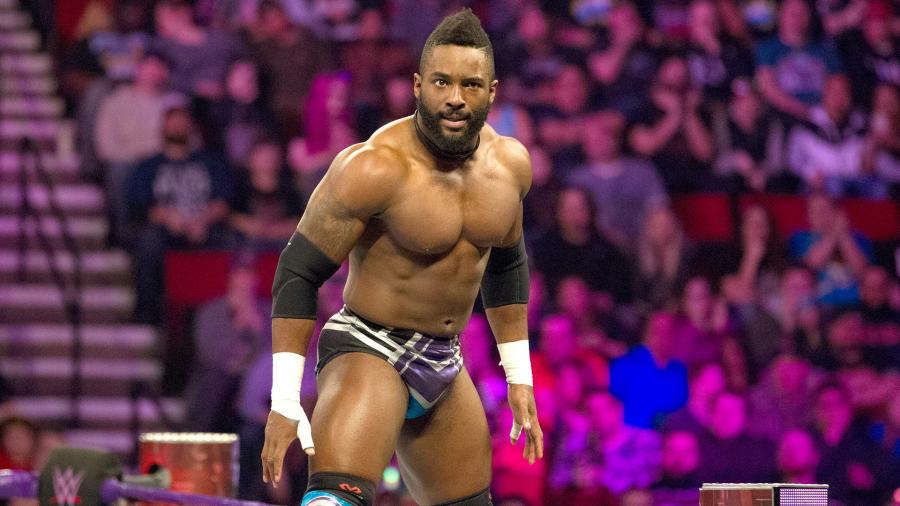 Raw Tag Team Title Match: B-Team (c) vs The Revival
The flukey team of jobbers turned undefeated idiot savants, against the only real tag team on the brand.  It's gonna be hard for me to accept The Revival losing when this should be exactly the type of match, "old school tag team specialist". should thrive in. But who knows, the WWE likes to milk comedy bits that seem well received, so I can definitely see a few more months of B-Team as champions.
Mathew: The Revival
Andrew: The Revival
Tiffany: The Revival
Deez: The Revival
Eric: B-Team
Weigell: The Revival
Francesca: B-Team
Steve: The Revival
David: B-Team
McLeod: The Revival
Abe: The Revival
Big Rick: The Revival
Korey: B-Team
Platt: B-Team
Jimi: B-Team
Kirstin: The Revival
DPP: The Revival
Cook: B-Team
PC: B-Team
Big Dave: The Revival
Greg: The Revival
Patrick: B-Team
Denise: B-Team
Harry: The Revival
Tony: B-Team
Official Chairshot Pick: The Revival 14-11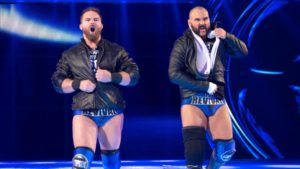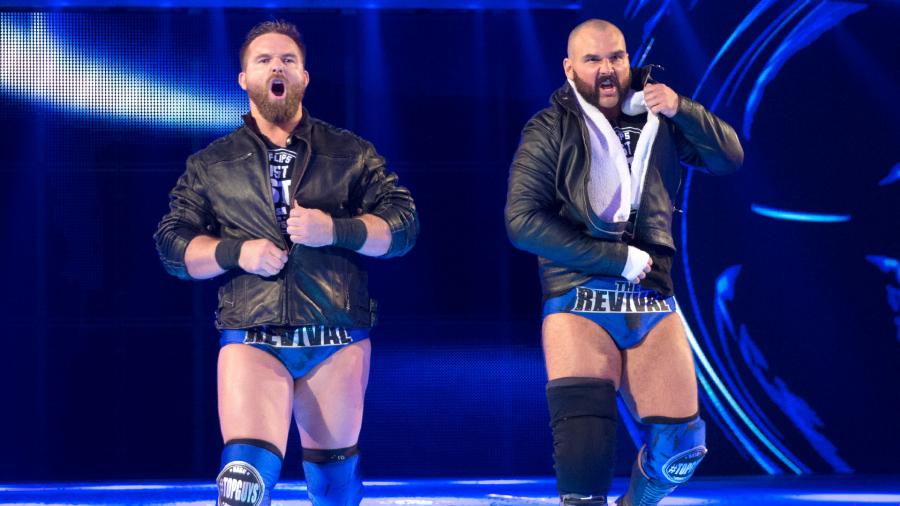 ---
Always Use Your Head and visit the official Pro Wrestling Tees store for The Chairshot All t-shirt proceeds help support the advancement of your favorite hard-hitting wrestling website, The Chairshot!

---