The Best Decision For Takeover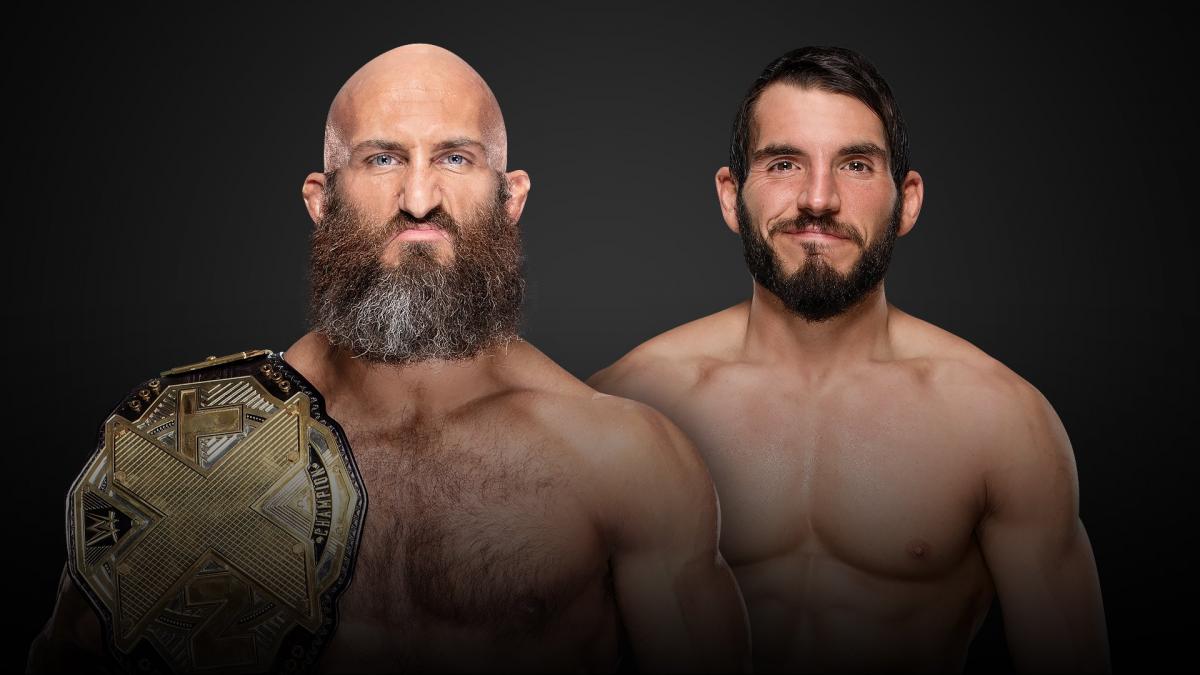 Well talk about bad karma. Last week I was talking about the triple threat for the NXT Championship at Takeover Brooklyn 4, being a potential match of the year candidate, and now one of the participants is out.
There's been rumours over the last week that Black would not make Takeover due a groin injury. Now it's been confirmed that Black is out of the match and has to have surgery. The triple threat was only made on this week's episode of NXT, but they shot an angle on WWE.com last night that saw Regal being informed by officials that Black had been laid out outside Full Sail. Clearly this is a way for them to write Black out of Takeover, so he can recover from his injury.
Smartly they've established a few different possibilities of who could have done it. Gargano happened to walk past Regal as did the Undisputed ERA.  Also, there's the obvious implication that it was Ciampa to better his chances. This gives him a clear storyline when he returns, as well as, eventually getting his rematch possibly at Takeover War Games 2. This left a huge cloud hanging over the main event of Takeover. That was until William Regal announced that it would be Gargano vs Ciampa in a last man standing match for the NXT championship. Was this the right decision?
Well the more I think about it Yes. The last two matches they've had have been excellent the prospect of another match this time for the title, sounds like another match of the year candidate. And it's Brooklyn where two years ago people thought Ciampa was going to turn on Gargano after they lost to the revival.
Before I didn't like that this match only had one week worth of build, but then I realised, it doesn't. This is just another chapter in the story they've been telling for nearly 2 years. Even when Ciampa was going after Black Gargano was still in the mix. Also what alternative did they have there isn't really anyone else on the roster that could fill Black's spot. Everyone else is either already paired up or hasn't yet been built as a main eventer?  The last episodes before Takeover have already been filmed so it seems too late to add anyone. EC3 and Velveteen Dream would both have been perfect fits if they weren't already facing each other.
Kassius Ohno is the only established roster member I can think of that could fit in. He's got involved in Ciampa vs Gargano before standing up to Ciampa after he attacked Gargano. He could interject himself to try and help Gargano. On the other hand, he hasn't exactly been positioned as a main eventer.
I have heard speculation of Matt Riddle being added to the match but it's very unlike NXT to debut someone right into a main event. They did have EC3 and Ricochet debut in the North American Championship Ladder Match but that was for the secondary title not the main title.
Obviously given the choice I wouldn't have had the match here because I worried that having three straight Takeover matches would diminish fans investment in the feud.  I would have built this for at least the January Takeover but sometimes things don't go how you want them to.
There's an element of mystery to this match because I genuinely don't know who's going to win. It seems too soon for Ciampa to lose the title. If he does he will have the second shortest reign after Samoa Joe's second reign. On the other hand Gargano winning seems like a more fitting end to this story. Although Gargano does seem to be close to the edge so it would be interesting to see how he reacts to this loss and it builds even more heat for Ciampa as if he needs it.
This is when wrestling is at it's best when you can't immediately predict the outcome and that's why I think this is the right decision.
---
Always Use Your Head and visit the official Pro Wrestling Tees store for The Chairshot All t-shirt proceeds help support the advancement of your favorite hard-hitting wrestling website, The Chairshot!

---
Shawn Michaels: The Return We Never Knew We Didn't Want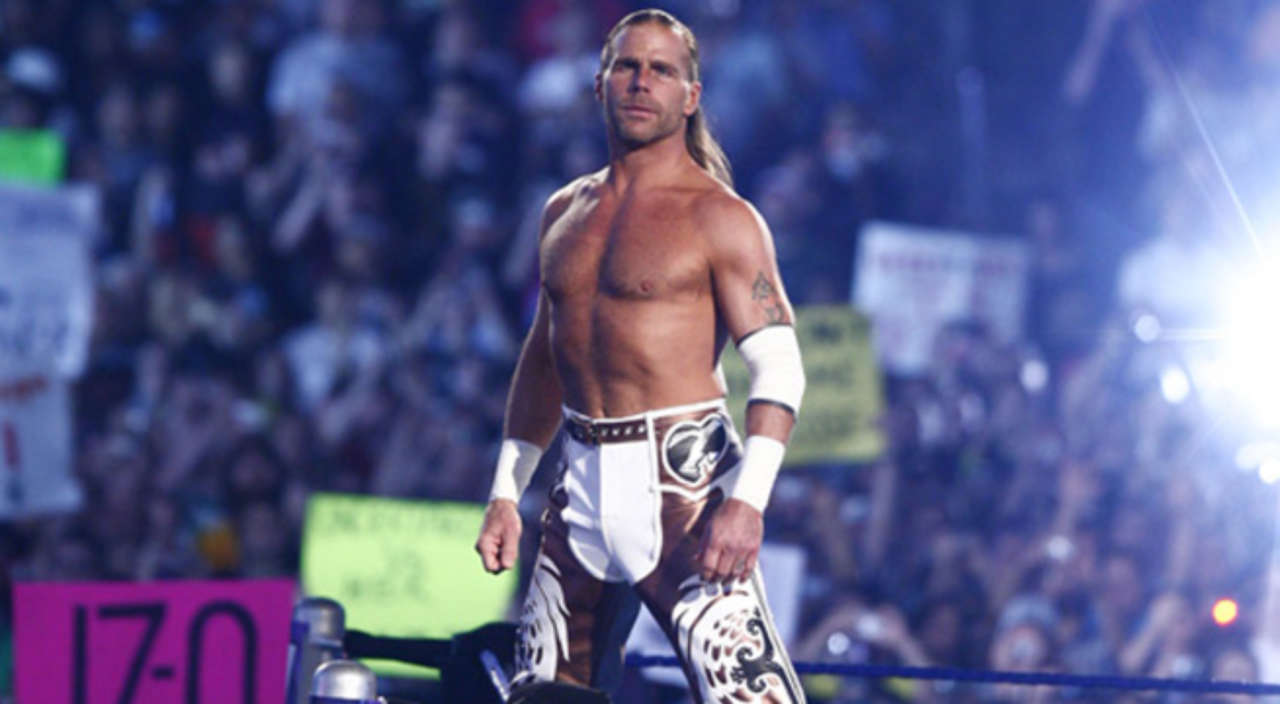 I will admit, I am a Shawn Michaels mark. He is one of my favorite wrestlers of all time, and probable number one or two when it comes to in-ring performances. When he retired after WrestleMania 26, I thought it was still a little too early for him to leave the ring completely, but I respected his decision. I respected it even more so by the fact that he actually kept his word and hasn't wrestled since then, unlike so many other wrestler "retirements" we have seen throughout the years, and amidst occassion after occasion in which he has been showered with chants of "One More Match" during various appearances. But now it seems the inevitable has occurred and Michaels is now primed to make his in-ring return after eight years. Am I interested? Absolutely. Am I excited? Not really, no. Not as much as I should be. And as a longtime HBK fan, that is disappointing.
I have always thought that Michaels could still "go" in the ring, so I am interested in seeing HBK back in the squared circle doing his thing. But there are too many dark clouds hovering over his return for me to really enjoy it the way I thought I might if this day were to come. The first is obviously the setting. The controversy, or at least uneasiness at best, surrounding the Crown Jewel event is well documented. In addition to the differing opinions about Saudi Arabia's social beliefs and culture perhaps making an undesirable environment for a publicly traded company to be holding an event at in the first place, there is now the very real situation of a Washington Post journalist being "allegedly" murdered, "allegedly" while inside the country's consulate, and government officials "perhaps" having a part in the victim's death. When I envisioned Shawn Michaels' return to the WWE, I envisioned a stage such as WrestleMania, not in the center of an international incident. In my opinion, Crown Jewel should be moved to a different location, which is another article for another time, and I hate the fact that Michaels' return will be the biggest selling point of an event that is surrounded by such controversy.
The second thing that hasn't excited me is the booking of Shawn's return. Granted, while the story itself has made sense and has made a solid natural progression, are the Brothers of Destruction really the best choices as opponents? Do we really need to see ANOTHER version of Shawn Michaels versus Undertaker at this point in their careers, especially Taker's? And don't get me started on Mayor Kane. I know wrestling is about suspending disbelief, but when you run for office all summer and then return as a masked demon and brother to the Deadman, that's asking a lot of even the stoutest wrestling fan! Why not book Shawn against one of today;s up and coming superstars? Could someone like Bobby Roode or even Elias not have used the rub from HBK? Couldn't have Finn Balor benefitted from a Club vs DX angle? If nothing else, I think I'd rather see HBK vs HHH if nothing else (which we may still get to, actually.) Now I understand that if Shawn was going to return it was going to have to be on his terms. And I'm sure he is working with three guys he is very comfortable with, and we know he had already previously turned down an opportunity to wrestle AJ Styles, so it is what it is. Granted, we don't really know what Shawn's situation will be after this event, so maybe we will get some of those dream matches at some point down the line. But for now it is just disappointing to think about the "what if" scenarios, especially when I predict that at Crown Jewel, Michaels' will be the best in-ring performer in that match, even after an eight year hiatus. Nostalgia can be fun, but Michaels' could do so much more.
And finally, and perhaps the most pressing disappointment in this whole situation for me personally, is the "why." Why has Shawn chosen now as the time to return? After eight years of being the only guy to keep his word and truly retire and stay away from the ring, what has changed? Unfortunately, I think the answer is his bank account. I think Shawn is coming back, above all else, for the money. Not because he needs it, but when you are reportedly offered seven figures for one match, that's something that is hard to pass up. And who can blame him? This is a business after all. I don't begrudge him for the compensation he will receive at Crown Jewel. I just hate it for him that, due to the location, and controversy, and booking that has left a lot to be desired, most people will point to the money as the only reason he came out of retirement after such a long time. You won't wrestle AJ Styles at WrestleMania, but you'll reunite DX (again) to face the Undertaker (again) and Kane, in a country that treats women as second rate citizens and whose government may or may not have had a role in the murder of an American journalist?
As I said, I am a Shawn Michaels fan. I will watch his match at Crown Jewel. I fully expect him to be in top form and at this point I hope this is not a one-off. But for a guy who has done as much as he has in wrestling, making a much anticipated return after eight years away, I was hoping for a bit more. On all accounts.
---
Always Use Your Head and visit the official Pro Wrestling Tees store for The Chairshot All t-shirt proceeds help support the advancement of your favorite hard-hitting wrestling website, The Chairshot!

---
"Passion Is The Reason You're Not Making It"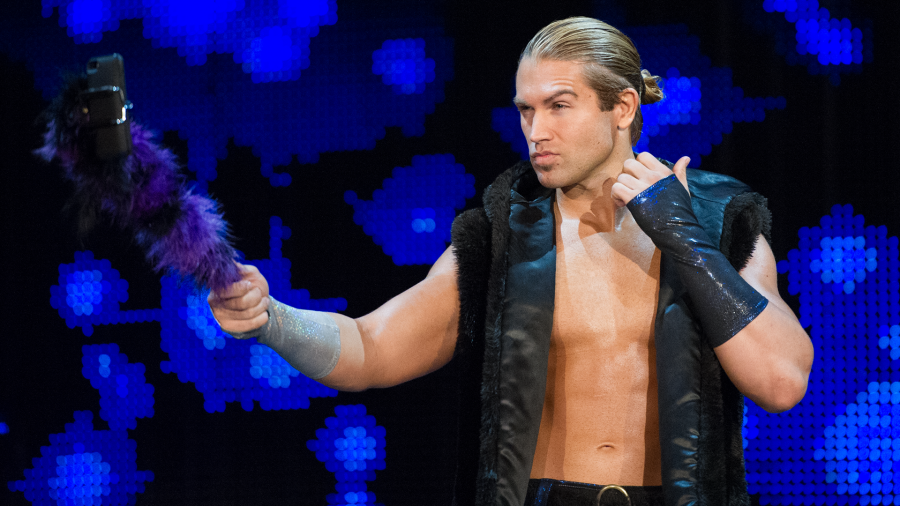 You want to know why successful people aren't making in the business? Passion. That's right, I said it.
"Whoa!!! Hold it right there! What?!"
Yes. I know. The Number 1 thing everyone says you need to make it in the business is PASSION. Whether you're a fan, a reporter, a journalist, a talent, a performer, whether you're watching an interview, you hear it ALL the time.
"You've got to have PASSION" to make it."
And you know what? I agree.
"WHAT? You just said it's holding great guys back."
It is. Because the word "Passion" has drifted so far away from what it really means in the eyes of talent.
Have you ever played the telephone game in elementary school? You whisper a message in the first persons ear, and then everyone has to whisper it down the line, and then by the last person, it's a TOTALLY different message. Remember that?
Yeah. That's what's happened to passion. You want to know why?
Because the word "PASSION" has gotten collapsed into a totally different meaning. As a matter of fact, you want to know why so many people get stuck? Because Passion has MULTIPLE meanings.
Here's ONE of the meanings, and this is the one that makes most sense for guys in the business…
"Passion: a strong liking or desire for or devotion to some activity, object, or concept."
But you want to know the other 3 definitions of the same word? That are actually ranked higher above the one I just mentioned?
SUFFERING
EMOITONS DISTINGUISHED FROM REASON
The Suffering of Christ the Night before his Death.
The very word passion, in 2018, implies SUFFERING, RABID EMOTION without REASON, and DEATH.
So you hear all these people saying "You got to have passion for the business!" Which on the surface means, "You have to have a desire for this business."
But what you get is a whole bunch of really well meaning talents who literally take it to mean, "I HAVE TO SUFFER FOREVER, HOPE SOMEONE DISCOVERS ME, AND IF I SUFFER ENOUGH IN SILENCE, WAITING, MAYBE SOMEONE WILL THROW ME A BONE, TAKE PITY, AND OFFER ME A SPOT TO BECOME FAMOUS."
It's tragic.
There was a GREAT interaction, and it was so small it might have gone unnoticed. But I wanted to point it out to you now. On Twitter, Tyler Breeze makes a comment that says, "At some point, opportunity has to come… right?" I don't want to mind read what's going through Tyler Breeze's thoughts – I think just what he wrote is enough to be self explanatory.
Here's the interesting thing…
Cody Rhodes responds to him. Arguable the most successful independently contracted talent of the modern era. He responds to Tyler Breezes comments, and goes, "NO, FRIEND! YOU HAVE TO SEIZE IT."
No. You have to go out and seize it friend. https://t.co/HHuQHH7D9N

— Cody Rhodes (@CodyRhodes) October 16, 2018
I want you to take a look at Tyler Breeze's career right now. And it's no knock on him. He's a very talented guy. Just look at his relative spot right now compared to his talent.
Now look at Cody's spot. Did Cody once have a similar, maybe slightly better, yet still underutilized spot on the WWE main roster?
Are they in two totally different UNIVERSES right now? No pun intended.
And just take a look at those tweets. Just take a wild guess. They're both talented. They're both in great shape. They're both good at what they do. What's the difference?
Look at the tweets again…
Who's hoping "Passion" is going to pay off?
Who's hoping "opportunity" will find him if he just works hard enough and keeps his head down?
Who is GETTING opportunity by taking it?
Passion isn't enough. It's the biggest lie that a talent can believe in these days.
I'm going to take it one step further to say "Passion for the Business without Measured, Focused Action, is Delusion."
You've got to be passionate about what you do, or else why do it?
…but where does the line cross from being Healthy Passionate, to disproportionate, unhealthy passionate? Both from a fan perspective, and from a talent perspective.
And by the way, what are guys so afraid of? I know, it's their dream job, they don't want to get heat, they don't want to get fired…
But what's the alternative?
Stick around for a while, say you're passionate, never get your true worth or recognition, then get released after a while and be unsatisfied with your career? Yet try to tell yourself you had a great run, but it was politics? Or you could have been more, but the stars didn't align? And then you end up selling your 8×10's at a local show saying, "Formerly on TV?"
What's so wrong with taking a chance and betting on your own career?
It worked out TREMENDOUSLY for Cody Rhodes and the Young Bucks. You just have to be smart and you have to be a plan.
I interviewed the former head of WWE Talent Development for a special seminar for my coaching clients in my program "Double Your Bookings."
He goes, "I don't know what all of these guys are suffering for. Suffering for what? We are in a predetermined sport where the object is to fake throw your opponent into ropes and pretend to bounce off."
They're suffering because of lack of perspective.
The greats were passionate about this business, of course – but they were just as passionate about putting food on their family's tables. They treated wrestling as if they were grown men going to a job.
It seems as though a lot of guys today, even more so than treating it like a grown men going to a job, treat it more like star struck fans who can't believe they actually made it, so they try not to rock the boat just hoping the opportunity doesn't go away.
And it's real interesting – I coach talent one on one so I can speak from personal experience.
Some will say, "Well Stone Cold has passion." Because they romanticize the part where Steve Austin had to live in his car and eat tuna. So they mistake "Passion for the business EQUALS starving in your car and eating Tuna."
But they miss the part where Austin's passion for the business meant he's going to step up and succeed by any means necessary and speak up and create his own opportunity. Yes, Stone Cold is a passionate guy… and if Stone Cold stayed quiet in the corner, waiting for an opportunity to come, he would have been stuck as the Ring Master, Ice Dagger, or Chilly McFreeze.
He spoke up.
He took risks.
He took chances.
That's why Austin happened the way he happened.
I'm happy guys have passion – you've got to have it to survive in this business. But if you're going to mistake passion for, "I'm going to show them how much suffering I can take in silence, and hope for an opportunity to arrive someday," you're going to have a hard time making it.
If you want to be successful, model success. And between Cody, The Young Bucks, guys like Austin, The Rock, HHH, all these guys, model the ones that are DOING IT. Not the ones that romanticize "Respect my passion" yet use it as an excuse to stay stuck settling for less than what they're capable of achieving.
---
Always Use Your Head and visit the official Pro Wrestling Tees store for The Chairshot All t-shirt proceeds help support the advancement of your favorite hard-hitting wrestling website, The Chairshot!

---
Becky Lynch Is A Heel Whether Fans Believe It Or Not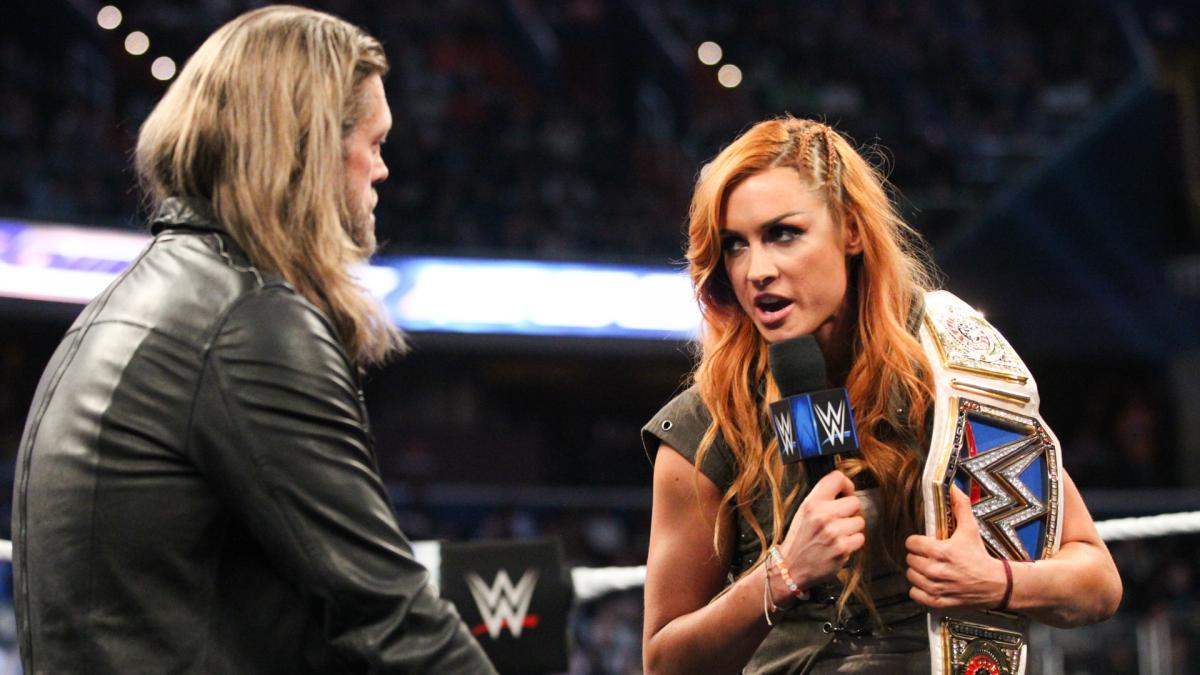 Becky Lynch is the hottest heel in WWE today. That statement can be denied, it can be argued and it can be dissected from start to finish. In fact it has been and that will likely continue for the duration of her current run on SmackDown Live.
Many fans want to believe that heels and babyfaces do not matter anymore in pro wrestling and especially in WWE. They feel that it's an outdated concept, best kept for the smoke-filled arenas of the territories in the 1980's. To them, the hero and villain dynamic is pointless and has no place in today's modern era of professional wrestling. 
But no matter how often critics want to dispute the validity of good versus evil and right versus wrong, the truth is that the foundation of it is still there. It will always be there and if it wasn't, this would no longer be pro wrestling. That's because when everything else strips away, the business is about good versus evil and right versus wrong. Even shades of gray are not enough to change that.
This is evident in Becky's case, as her story is still unfolding. She was Charlotte Flair's best friend and the two supported each other through thick and thin. In spite of all the drama happening around them or to them individually, Flair and Lynch were in this together.
But then Charlotte returned to SmackDown Live and was added to Becky's title match at SummerSlam. In that moment, Becky's heel turn began. She believed that Charlotte's ego had taken over and suddenly their friendship meant nothing. Becky saw this intrusion as a betrayal and she wouldn't let it go unanswered.
Of course common sense says that in the reality of pro wrestling, it's every woman for herself. If a Superstar wants to get to the top, then she has to take every opportunity given to her and make the best of it. If Charlotte had declined the opportunity to compete for the SmackDown Women's Championship at SummerSlam and Lynch had lost, then what? Would Becky still be a babyface right now?
In Becky's mind, Charlotte crossed a line that cannot be uncrossed. Charlotte simply did what anyone in her position would have done but that's of little consequence now. Becky Lynch is a heel and a heel's perspective is much different than everyone else. 
Fans know all of this of course, just as they know that WWE is using the whole FairPlay point to bolster Charlotte as the babyface of the story but to no avail. In fact it really doesn't matter what Flair says at this point, she's going to be hated. She is hated and that's okay.
The WWE faithful has its favorites and that's just how it is. Becky is a huge favorite and that's understandable. She was also a favorite before she turned on Charlotte and she's even more relevant now that she ever has been. But for anyone to believe that she's not a heel perhaps is not paying attention to the way WWE is booking her.
She sneak attacks Charlotte. She mocks her and she belittles her on TV. Becky Lynch had the opportunity, just as Flair did, to compete for the title and just like Charlotte before her, Becky won. Lynch could have taken that victory and moved on to the next opponent, leaving Charlotte far behind. 
But instead Becky keeps provoking Flair. Lynch has beaten Charlotte and Charlotte has every reason to keep chasing the gold but it's Becky that keeps coming back for more. Lynch proved her point when she beat Charlotte at Hell in a Cell and that could have been the end of it. But it's not, because Becky's obsession is proving that she's better than Charlotte. 
It's gone far beyond the championship now. For Becky Lynch, this feud is about disgracing Charlotte and leaving her for dead as often as possible. Becky had the title in her sights, she won it and she's on top now. She has everything she wanted and she could be spending her time proving she's the best against every single female Superstar on the blue brand. But she won't do that because she only cares about taking down the woman she's already beaten. This is the definition of a heel, pure and simple.
This is how the company books Becky and to further prove that point, even WWE Hall of Famer Edge himself could not get through to her. Edge, who has the respect of fans and who typically never receives criticism for anything, could not convince Lynch that she's doing the wrong thing. The crowd did not turn on Becky for mocking him and in fact, she was cheered during The Cutting Edge.
But just because WWE made the effort to heel Becky out again does not mean it was the most ideal effort. Edge was one of the most notorious heels in WWE history. He was the ultimate opportunist and he took every avenue available to get to the top. He was as devious as any heel on the roster and this is the man that WWE brought in to talk some sense into Becky Lynch?
However despite how many times the company tries to salvage Lynch's heel turn and fails, the point is that the work is taking place. WWE wants the fans to hate Becky. That was the plan from day one and everything the company has done proves that. Fans may not want to play along, but that does not change the facts. Becky Lynch is a heel and that's just how it is.
But fans want to love her, so that truth is denied. Fans want to hate Roman Reigns so they lie to themselves and claim that he's really a heel anyway. Charlotte is the daughter of The Dirtiest Player in the Game but she does nothing to heel out against Becky. Yet, fans hate her anyway. Just like Roman, fans believe WWE is pushing Charlotte as a face on them and they don't want that. Once again, the audience disregards the truth in favor of controlling the narrative.
The point is that WWE is not going to change the way it does business. Fans can believe whatever they want and the company itself can suggest anything it wants. But it's all in the execution and the timing. It was not the right time to turn Becky heel, just as the time came and went to turn Roman heel but WWE did nothing. 
The fact that fans can't determine which way is up should be no mystery. The most well-laid plans tend to fail when WWE does not establish the most basic elements from the very beginning. That's not on the fans, it's on the company. No matter who's right in this scenario, the truth is that fans are enjoying the ride and that's what matters the most.
---
Always Use Your Head and visit the official Pro Wrestling Tees store for The Chairshot All t-shirt proceeds help support the advancement of your favorite hard-hitting wrestling website, The Chairshot!

---