WWE Should Reunite American Alpha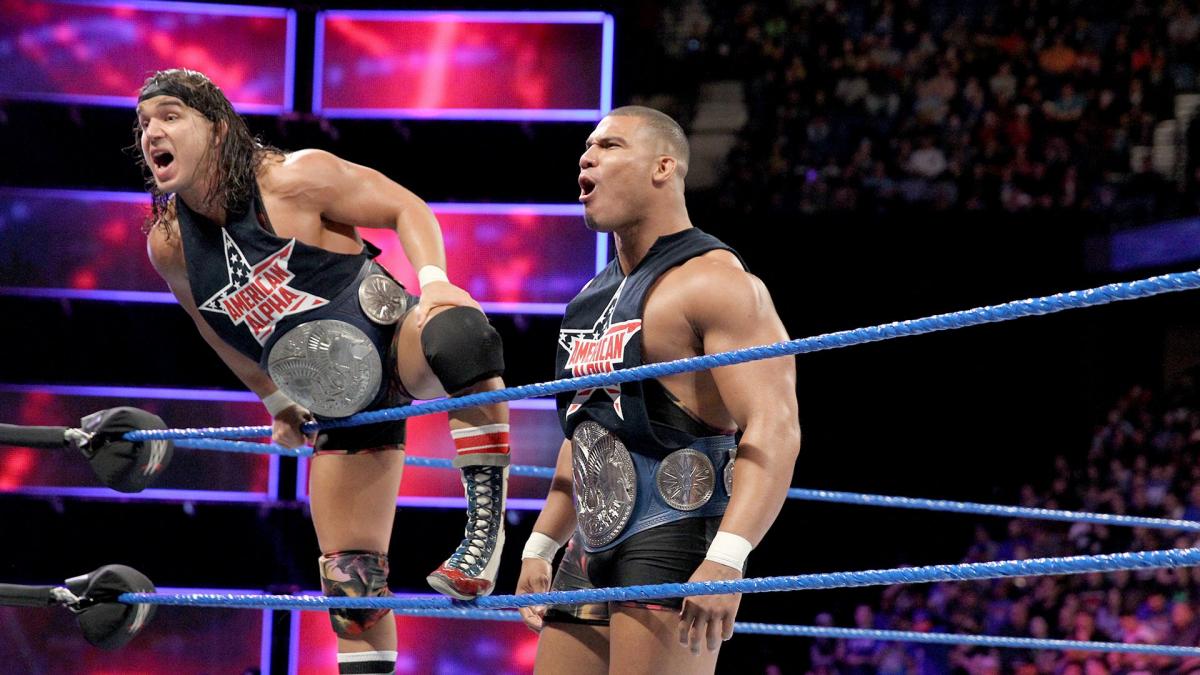 It has been quite some time since American Alpha won the Smackdown tag team titles. Since then, WWE repackaged Jason Jordan as Kurt Angle's son, gave Chad Gable some losing workhorse efforts on Smackdown and finally had Gable drafted to RAW in 2018.
Jason Jordan has been out with an injury since February of this year, and now that he is cleared to return, WWE should deeply consider once again pairing him with Chad Gable to reform American Alpha.
Jason Jordan is set to return as soon as creative has something for him, and Chad Gable is wandering around in the RAW ether. There is no better time than now to reunite American Alpha and reignite the RAW tag team division.
Gable on RAW
Chad Gable has done next to nothing on RAW. An upset defeat over Jinder Mahal is really all he's been allowed to accomplish since being drafted to the red brand after WrestleMania 34. His RAW storylines have been rather stop/start since then and he is rarely featured on each week of programming.
Much like Mojo Rawley, Zack Ryder, Curt Hawkins, Mike Kanellis, No Way Jose and other midcard RAW stars, Gable is constantly jockeying for a regular position on the show. Since there's not enough time to push each and every one of those guys as singles stars, they have to make some openings elsewhere on the show.
Ding ding! Say hello to the tag team division.
Jordan's "Angle"
Jason Jordan was having a decent run on RAW before his injury. He was in matches with Braun Strowman, John Cena and Roman Reigns and he even won the tag titles with Seth Rollins after Dean Ambrose was sidelined with an injury.
The whole "Kurt Angle's" son may have been a misstep, btu that coupled with Jordan's annoying clean cut promo delivery made him garner some real stable heat when he was an active competitor. That only helped his case in being featured on TV each week.
Jordan's injury, although unfortunate, is a way to restabilize his character on the roster. He never won singles matches against big names because I'm sure many in WWE didn't view him on the level of a Roman Reigns or even The Miz. However, he could really pick up some wins if he was repurposed into the tag team division.
Just Think of the Matches
There's no way everyone's forgotten about the great matches American Alpha had in NXT. Strangely enough, their best matches are ones that include two teams that are both also an Monday Night RAW: The Revival and The Authors of Pain.
Jordan and Gable getting back together may be what the tag division needs to get to a higher level. With those three teams burning at full speed, the division could present WWE's most entertaining segment each week.
Jordan and Gable clearly will not be given any big singles wins right now, so why not give them a huge run at the top of the RAW tag team division? RAW is so cluttered with singles stars, and the B Team, Titus Worldwide and Hardy & Wyatt just aren't cutting it as the sole members of the tag team title picture.
An Alpha Conclusion
Give Jordan and Gable something to do. Legitimize the RAW tag division. Make some epic matches for fans. Intrigue us in tag team wrestling again. These are all the benefits of investing in American Alpha upon Jordan's return. Don't screw it up WWE, give the fans a great way to see great talent perform.