ALL IN On Being A Wrestling Fan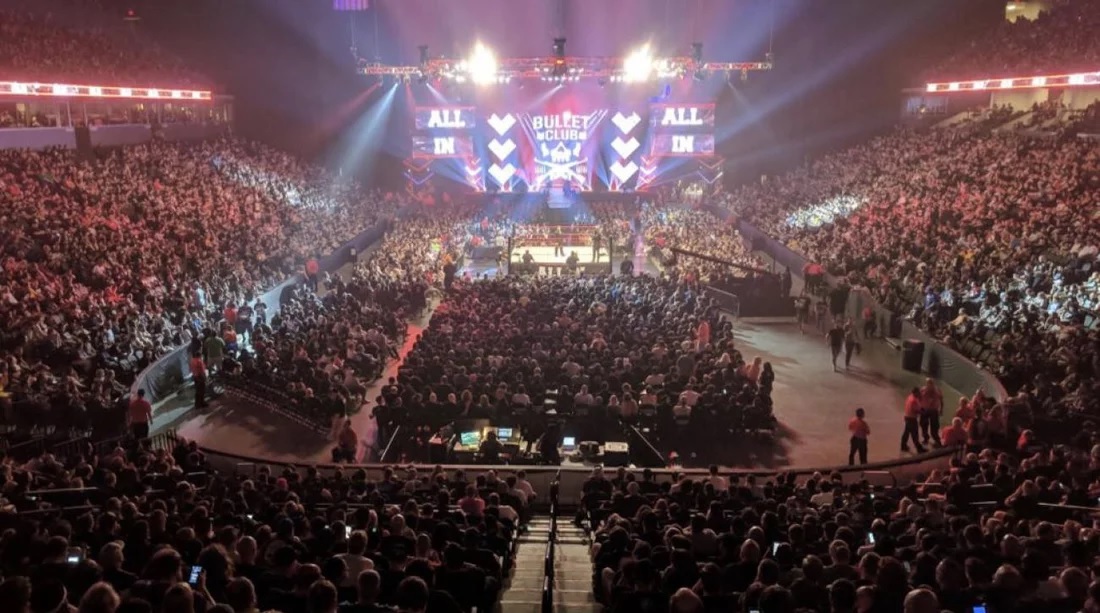 It seems to be becoming less and less en vogue to be a "wrestling" fan. You might be an avid WWE fan (or avid fan of criticising them), a New Japan fan, a ROH or independent darling, but, like politics, I see less and less middle ground being embraced or even accepted. The internet says you have to be on one side or the other, in one promotion's camp or the other.
The latest example was last weekend's ALL IN event. Many reactions I saw on social media either declared it the best wrestling show of all time, clearly superior to anything WWE has done in a long time, or a display of self-service that catered to a faithful, rebellious internet wrestling community that would gladly pay out big money to feel apart of "something special" and was only commercially successful because of the fact that it was a one-time event. I say, why can't it be acceptable to be somewhere in between?
Remember, the "wrestling business" is an entertainment business. At its core, that is what its purpose is- to entertain a paying audience with its unique medium. And just as there are many genres of TV and film, there also is differences in taste in the wrestling business. The WWE caters to a certain demographic, which has changed throughout the years. ALL IN catered to a certain demographic. New Japan is the same, as is every wrestling promotion around. The hope should be that all audience members can find something that piques their interest and keeps them coming back.
I didn't watch ALL IN live, but I did view it this week and was entertained. I thought the event did what it was designed to do. It gave you an alternative to the mainstream product. While incorporating names the casual fan would probably recognize (Jericho, Bully Ray) probably helped legitimize the show in those fans' minds, it also paved the way for giving many performers massive new exposure. Personally, this was the first time I had watched people like Penta, Flip Gordon, and Fenix wrestle. I had never even heard of MJF before. ALL IN gave them a big stage to perform on and promote themselves, likely to their single largest audience to date.
I will admit that the show had its ups and downs. I enjoyed Jay Lethal's homage to Randy Savage. I hated the Joey Ryan stuff. Their were pros and cons, celebrations and personal critiques, just as in many shows. Not everything is going to be your cup of tea, and some things may not be intended for you anyway. For example, I would not have taken my 4-year old son to ALL IN. But I am taking him to a Smackdown Live house show next month (he loves The New Day, or "the pancake guys" as he refers to them.) Should that inherently make WWE inferior because it caters better to children? Some would argue it makes the WWE superior because they appeal to a bigger audience. I don't think there is a right or wrong answer.
I like the WWE. I liked ALL IN. I enjoy New Japan most of the time. There's also things I don't like about all of them. And that's OK. The bottom line is, I'm a "wrestling" fan.
A wrestling program that caters to the IWC is no greater or lesser than one that caters to kids. Some people like brawlers, some like mat technicians. Some enjoy hardcore matches, some enjoy lucha libre, some enjoy matches that are hour long marathons. Some people's favorite wrestlers are the bad asses, some people's favorites are the comedians. You don't have to hate one thing to enjoy another. The point is, the wrestling genre makes you feel something. That's what hooks us all! The beauty of wrestling is the experience of finding what really makes you a fan and celebrating it, no matter what it is. Don't let petty biases and prejudices get in the way of that.