Andrew's Stardom 5 Star Grand Prix Red Stars Ratings & Review: Day 3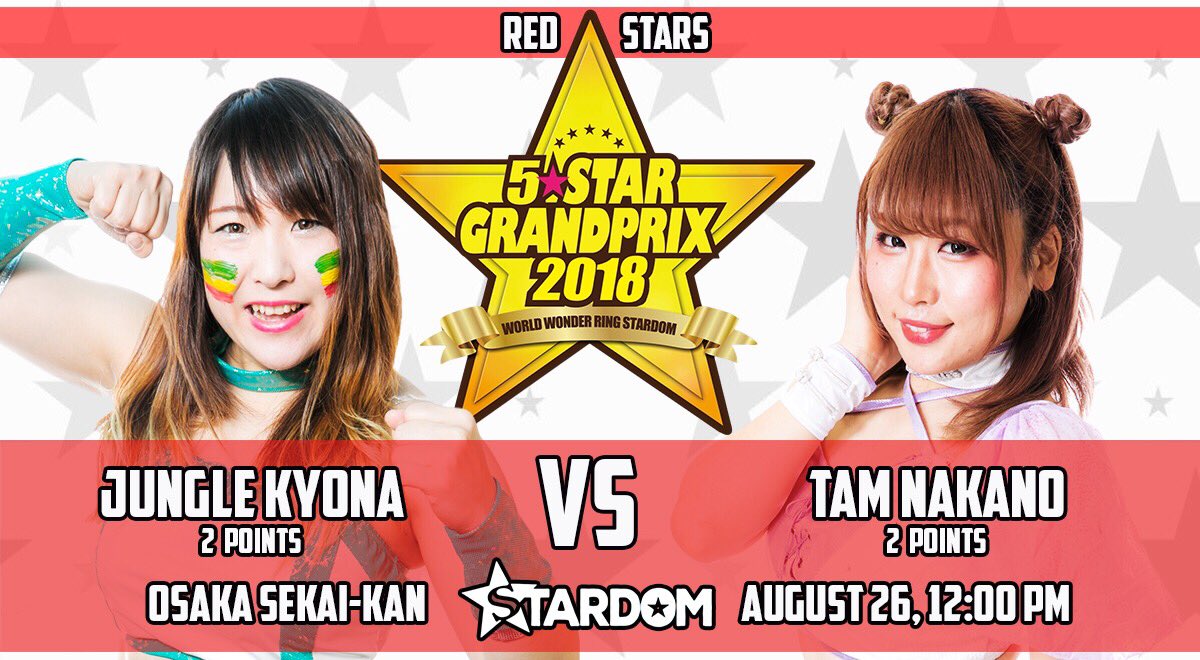 Well Day 3 of the Grand Prix is broken up between an afternoon and evening show. So for the first time this tournament, the blocks have a different number of matches.
This is very curious, but it could have something to do with the international talent's availability. I didn't really look into it, but similar unbalanced blocks happened during the Champion Carnival, because of freelancers.
Three women have to work double duty, so it should be interesting how this effects the rest of the tournament.
Natsuko Tora vs Konami
So Natsuko points out that her afternoon show kicks off the day and her evening match is the main event, so Day 3 starts and ends with Natsuko. Konami makes mention of her Triangle Lancer win percentage being 100%, but with Tam countering it last time…again, math is weird people.
This match starts off painfully bad. A few bad forearm shots against the ropes from Natsuko then lead to her charging, but getting low bridged. However the trip over the top rope is so slow, I've seen disgruntled cats flop over something with more gusto. Then Tora goes for a shoulder tackle through the middle ropes, but Konami isn't close enough to make it look decent. It looks like she rushed to the next spot and Konami half executes a sloppy Twisting Neckbreaker.
Things do recover a little after the first minute or so of sloppiness. However, it's also just Konami beating on Natsuko. Stiff kicks, a hesitation Dropkick to her head while Tora is seated, and it's not until Natsuko follows her into the ropes with a leg lift, that starts to bring Tora a little offense. We then see Tora pull off a few power moves followed by a Spear and then a Shining Wizard for separate 2 counts. She then hits a Forward Roll Fireman's Carry Slam as she goes up to the top rope for a big body splash, but only for 2 again.
Natsuko bounces off the ropes, and yeah…this doesn't go smoothly. Konami catches her with a DDT and then rolls through for a Front Necklock, but it's not pretty. Konami pulls Natsuko to the middle while holding a Sleeper Hold, wraps her legs around for the Coquina Clutch, but Natsuko eventually powers back to her feet and drops back to break the hold.
Konami flips out of a suplex, gets the Front Necklock back in, before wrestling Natusko to the ground and putting on the Triangle Lancer for the submission victory. It wasn't pretty, it wasn't really good, but our little cheat code picks up 2 points.
Winner: Konami via Triangle Lancer
Rating: * 
Tam Nakano vs Jungle Kyona
Now we all know I have a Tam bias, but her opening promo was very subdued. She seems to want to prove she's gotten better and to make a statement after JAN refused to join STARS during the draft and went independent. Kyona on the other hand is her usual energetic and fun self, with a small dig that the result will be the same as last year (Kyona beat Tam last year). So this seems to have some personal feelings involved.
Well Tam wanted to prove something right out the gates, and tries to exchange shoulder tackles with Kyona, to no avail. Sadly for Tam, this would lead to a long period of Kyona dominating. A number of Should Tackles, Sliding Lariat, Dropkicks and general strikes just leave Tam kicking out of multiple pin attempts. Things continue to look bad for Tam as Kyona drives her into the corner, but a few weak Forearm shots prove Tam still has some fight.
Kyona shrugs them off and tries to send her into the ropes, but Tam reverses and lands a Flying High Kick, for her first real offense all match. The women trade corner maneuvers as Tam hits a Double Knee, Kyona then follows her back for a Splash, Tam follows Kyona back for a Single Knee and Kyona gets a small edge after following in with a Lariat. Kyona goes to whip Tam into the corner, but Tam reverses with a crisp Step Up Enzuigiri. Tam lands her Cartwheel Knees and gets a 2 count.
More back and forth from both women, until Tam catches Kyona with a full extension Standing Side Kick, sending Kyona to the outside. Tam doesn't waste the opportunity and goes to the top rope for a Crossbody into the seconds on the outside, but hitting Kyona fully across the shoulders. Tam rolls in Kyona, hits a beautiful Spinning Crescent Kick, but Kyona grabs the bottom rope to break the count. Tam's reaction was fantastic as she looked furious.
Tam goes to the top rope again, Kyona cuts her off and seems to attempt an Avalanche Scoop Slam, but Tam fights her off. Tam grazes Kyona with an Axe Kick, and continues to attempt a high risk move. Kyona charges a couple times as Tam kicks her away, but Kyona eventually catches Tam's foot and pulls her off the ropes, crashing to the mat. Kyona goes for her Hammer Throw Powerbomb, Tam slips out and then the counters begin. Tam catches Kyona with a High Kick, goes for a Running Knee, but Kyona catches the knee, attempts a Sitout Powerbomb, but Tam slips out again, misses the Buzzsaw Kick, but hits and Back Side Kick, for only 2 again.
Tam tries to grab Kyona for a German Suplex, but Kyona fights it off until Tam keeps wrist control and pulls off a Rainmaker German Suplex Hold (shuddup, that's what I'm calling it), for only two though. Tam goes for the Running Knee again, but misses, Kyona Sliding Lariats Tam's back, which is important because Tam has been favoring her back most of the match. Taking advantage of that. Kyona puts Tam in a Canadian Backbreaker, but Tam doesn't quit. Kyona spins it into a normal Backbreaker across the knee, and Tam's face tells the whole story. Kyona goes for the pinfall, but Tam kicks out at 2.
Kyona immediately goes to the Half Boston Crab, but Tam gets to the ropes. Very quickly Jungle goes to the top rope and hits a Body Splash across Tam's back, drags her to the middle of the ring and sinks in a Scorpion Deathlock (aka Sasori-Gatame, aka Sharpshooter). Tam tries to hold out, but eventually taps cause her back can't take it anymore.
Winner: Kyona via Sasori-Gatame
Rating: **** 1/4
Konami vs Jungle Kyona
Match starts off with Konami trying a Hammerlock to control Kyona, but both end up trading a few moves before Konami gets an early edge when the Buzzsaw Kick finds its home and sends Kyona to the outside. Konami sees Kyona is a little dazed and lands a Running Knee Strike on the apron, sending Kyona sprawling further onto the outside. Konami collects Kyona, tries to send her into the ring post but that gets reversed.
Kyona lands a few open hand chops, before missing the third one and giving Konami an opening. Konami works over her arm for a while, before then peppering in about a dozen kicks between Kyona's shoulder blades. It's not until Konami gets a little cocky and starts slapping Kyona's face disrespectfully, that Kyona fires up and we get the Fighting Spirit strike exchange.
It's not until Kyona hits a Shoulder Tackle sending Konami backwards into the corner, that someone gains a distinct advantage. Corner Splash, Front Dropkick and Sliding Lariat put all the momentum in Jungle's favor. Kyona goes for another Sliding Lariat, but Konami catches her beautifully into a Fujiwara Armbar, then transitions to a Cross Armbreaker, then a Guillotine and as Kyona tries to fight out, Konami moves to her back for the Sleeper Hold. Just when she looks like she's gonna fade, Kyona rams Konami into the corner to break the hold.
Every time Kyona goes for a lariat, Konami catches her into different arm bar variations. Kyona catches Konami in a submission of her own, the Canadian Backbreaker, but this time when Konami doesn't quit she just dumps her on her face and gets a 2 count. Kyona misses a top rope splash, and Konami tries the Triangle Lancer, but can't get it, as Kyona hits the Hammer Throw Powerbomb for the victory and current lead in Red Stars.
Winner: Kyona via Hammer Throw Powerbomb
Rating: *** 1/2
Natsuko Tora vs Kagetsu
Kagetsu holds strong to her promise of winning in 3 minutes, going as far as to say if she doesn't she'll let Natsuko win. I doubt that, but hey, you never know with Oedo Tai.
Kagetsu hands out Cup of Noodles, and even has Hazuki pour hot water in a couple and they start a 3 minute timer. Amusingly though, Natsuko is purposely not wrestling. She sits down in the corner and sticks out her tongue, forcing Kagetsu to make the referee give her a 5 count to get up. Then Natsuko holds the ropes to waste more time, Kagetsu eventually wrestles her down and goes up for her 450 Splash, but Natsuko rolls to the middle of the ring and waits. Yelling at Kagetsu something to the effect of " Okay, get me" and even the referee is like " jump off, come on", so Kagetsu gets mad and stomps Natsuko. We then get a spot of Natsuko ducking under Kagetsu's lariats and just making faces on the other end.
So even if comedy is subjective and not always a good fit for a tournament, the fact that Kagetsu made this 3 minute rule and Natsuko outsmarted the Prime Minister of Oedo Tai, makes it enjoyable. As the 3 minutes expires, Natsuko thinks she's won, Kagetsu shakes her head and tries to roll her up. THE HEEL LIED! NO WAY!
Regardless, the match actually picks up and Natsuko puts up a hell of a fight. She has Kagetsu down and on the receiving end for a few minutes. Even hitting her Forward Roll Fireman's Carry Slam, middle rope Frog Splash and her top rope Body Splash, but only for two. After fighting out of a Scoop Slam, Kagetsu catches Natsuko with a desperation Roundhouse Kick as both women drop.
A few more kicks turn into a display of anger and power from Kagetsu. Samoan Drop for 2, Brainbuster for 2, Michinoku Driver also only for 2. Natsuko catches Kagetsu with a Backslide, into a Jacknife cover and then rolls it into a Triangle Arm Bar, but the Prime Minister gets to the ropes. Kagetsu counters Natsuko's offense with a …Shouten Kai? Hirooki Goto would be proud.
Back to back Chokeslams, a Michinoku Driver and her Oedo Coaster (the afore mentioned 450 Splash), finally gives Kagetsu the win.
Winner: Kagetsu via Oedo Coaster
Rating: *** 1/2
Red Stars Standings:
Jungle Kyona 3-1 (6 Points)
Utami Hayashishita 2-0 (4 Points)
Konami 2-2 (4 Points)
Kagetsu 2-1 (4 Points)
Tam Nakano 1-2 (2 Points)
Kimber Lee 1-1 (2 Points)
Rachael Ellering 1-1 (2 Points)
Natsuko Tora 0-4 (0 Points)
Thoughts:
Well this was different for tournament coverage, but Stardom does afternoon and evening shows quite often, so I guess it's to be expected. Either way, Kagetsu closed the show and explained why she kept going after the 3 minutes. She said that because President Ogawa is in Mexico, she never got clearance for a special rule. So even though she wanted it to be a 3 minute rule, no one approved it. Then she continued to say that even if Natsuko won the 3 minutes, she won the normal match, so it was a Draw at best. BUT again, sadly, no President Ogawa to approve the Draw, so just deal with it.
So this split show did have the worst match of the block so far, but aside from that, it was actually a pretty high level day. Tam was the MVP of Day 3, because her match, her selling and everything about that was just tremendous. Hopefully, Tam can get a couple more wins, since she's really been impressive given that just a few months ago Io was insulting her.
Tam is the best – Tam number 1 *clap clap*
Mitchell's WWE Monday Night Raw Results & Report! (2/18/19)
Celebrate the new WWE Women's Tag Team Champions, Bayley & Sasha Banks!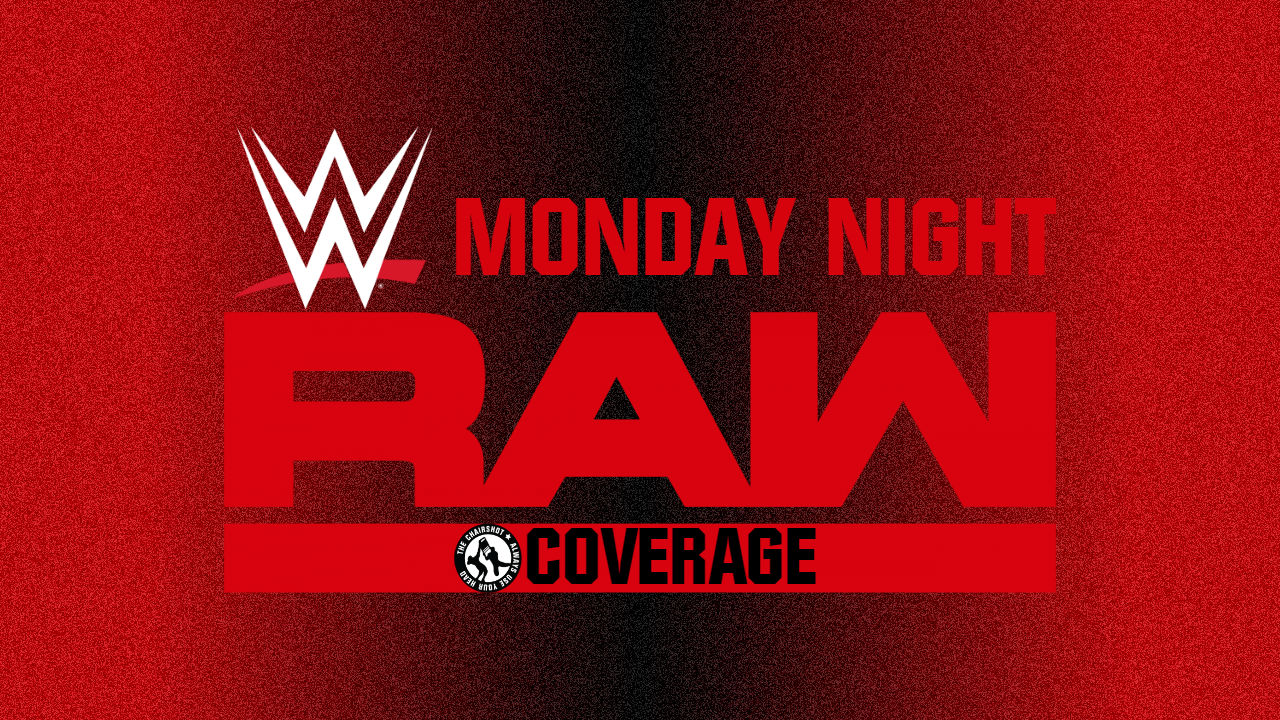 The Boss & Hug Connection bring the WWE Women's Tag Team Championships to Raw! Who will be the first team to challenge Bayley & Sasha Banks for the belts?
OFFICIAL RESULTS
Tables Match: Baron Corbin VS Braun Strowman; Strowman wins.
Ricochet & Finn Balor VS Bobby Lashley & Lio Rush; win.
The Revival VS Tommaso Ciampa & Johnny Gargano; win(s).
Raw Women's Championship: Ronda Rousey VS Ruby Riott w/ The Riott Squad; wins and
PLAY BY PLAY
WWE honors the memory of Pedro Morales.
Triple H is in the ring!
The Game wants the Cajundome to "feel it in the air." The electricity can be cut with a knife as we grow ever closer to Wrestlemania. Elimination Chamber was proof enough when history was made. Sasha Banks and Bayley won the WWE Women's Tag Team Championships! Finn Balor won the WWE Intercontinental Championship in a Handicap match! Kofi Kingston went the distance and captured the world's hearts coming so close to winning the WWE Championship. Becky Lynch showed up and showed everyone that not even a suspension and a bad leg will stop her from getting at Charlotte Flair and Ronda Rousey. As a businessman, HHH has to warn Becky not to do that again or she'll be arrested. But as a former wrestler, "that was pretty damn cool."
And speaking of pretty cool things, ESPN let this loose this morning. The WWE Hall of Fame class 2019 starts with none other than Degeneration X! HHH, HBK, X-Pac, Road Dogg, Billy Gunn, and yes, the Ninth Wonder of the World, CHYNA! But if that isn't enough that it's Wrestlemania season, HHH pours gas on the fire. HHH isn't just an authority figure on Raw and SmackDown, he oversees WWE's third global touring brand, NXT! Fans love NXT, so it is HHH's pleasure to introduce us to some debuting NXT superstars, who will all be in action! And that starts with a man that has redefined aerial combat: The One and Only, Ricochet! For those unfamiliar, a highlight reel of Ricochet plays, including his time as NXT North American Champion.
But not only Ricochet, it will be the Embodiment of the End, the Dutch Destroyer, Aleister Black! A former NXT Champion and a prolific striker, Aleister will look to make his opponent #FadeToBlack! Then there will be Johnny Wrestling, the current NXT North American Champion, Johnny Gargano! Gargano has gone back and forth but has never lacked in match quality. Gargano was also in this year's Men's Royal Rumble match, but now he looks to make an impact on the main roster. And last but not least, the Psycho Killer, the Black Heart, Tommaso Ciampa! The current NXT Champion looks to make his mark on Raw tonight! HHH says the future is now, the future is tonight.
But all Hell is about to break loose, because it's time for a Tables Match! It will be Baron Corbin VS Braun Strowman! The Monster Among Men wants retribution, will he get back at Corbin for Elimination Chamber's assault?
Tables Match: Baron Corbin VS Braun Strowman!
Strowman and Corbin make their entrances, but Corbin makes sure to grab steel steps first. The Monster glares at Corbin while we go to break.
Raw returns with the bell and fans chant "Get These Hands!" Corbin runs but Strowman catches him! But those bad ribs keep Strowman from doing anything. Corbin grins but then Strowman shoves him out of the ring! Strowman throws uppercuts then throws Corbin into barriers! Strowman hurries and pulls a table out from under the ring, but Corbin clobbers him from behind! Now Corbin puts Strowman into barriers, ribs first. Corbin puts the table back under the ring, but Strowman rocks him with an uppercut! Corbin rams Strowman into barriers and again. Fans rally for Strowman while Corbin brings him around the corner. Corbin rams Strowman into barriers yet again! Corbin whips but Strowman reverses and Corbin hits barriers even harder!
Strowman drags Corbin up for a headbutt then throws uppercuts. Strowman fetches the table again and puts it in the ring. Corbin slides in from the other side while Strowman's ribs slow him down. Corbin kicks Strowman on reentry and then clubs away on his back. He stomps and stomps Strowman then tears off the shirt. Corbin goes at the taped up ribs with hammering hands! Fans boo as Corbin mocks Strowman's pain. Corbin kicks the table out of the ring while Strowman bails out the other side. Corbin follows Strowman and throws hands right on the ribs. And then he stands on Strowman's side! Fans boo while Corbin gloats. Corbin rams Strowman into the apron! Corbin grins as he drags Strowman over and punches him in front of the fans.
Strowman denies Corbin's suplex, to then suplex Corbin onto the ramp! Now Corbin writhes in pain, clutching his back. Strowman hobbles over and drags Corbin up. He shoves Corbin to the stage and then throws him into the LED wall! Strowman drags one table over, but he clears off the announce desk! Strowman fetches Corbin again and brings him over to the desk! Corbin slips out and throws Strowman into the desk, ribs first! Strowman and the desk fall over! Strowman's in trouble while we go to break.
Raw returns and Corbin hits a corner splash on Strowman! He tries again but Strowman turns it around to splash him! Strowman runs in but misses, getting post! Corbin goes to throw Strowman at the table, but Strowman denies him. Strowman clubs Corbin down with one hand! Fans fire up and Strowman drags Corbin up. Strowman scoops but Corbin slips out. Corbin runs, slides past the table, and slides back in to clobber Strowman! Corbin rains down rights, then takes a moment to gloat. Strowman rolls to ropes but Corbin goes out after him. Corbin punches the ribs and bumps Strowman off the barriers. Corbin fetches a kendo stick, flashback to last night! He sits Strowman up to SMACK the bad ribs!
Corbin drags Strowman around to bounce him off the steel steps. Corbin gloats from the apron, then runs over, only for Strowman to ram him with steel steps! Strowman jams Corbin again! And again! Corbin staggers and Strowman dumps the steps. Strowman throws Corbin into more barriers! Strowman puts Corbin in the ring as fans fire up again. Corbin boots Strowman away then throws a big right hand. Strowman staggers but dodges Corbin. Corbin slides out and in, but is caught, MONSTER SLAM through the table!! Strowman wins!
Winner: Braun Strowman
The Monster Among Men gets revenge! Strowman toughs it out through bad ribs but now Corbin will be feeling sore. Will Strowman be able to recover those ribs and make a big run towards a title at Wrestlemania?
Strowman heads up the ramp and encounters Paul Heyman. The Advocate "congratulates" Strowman on the win, but Strowman grabs him by the shoulder! Heyman begs for mercy but fans want another table destroyed. Strowman shows Heyman mercy and leaves. Heyman composes himself and clears his throat. But it's a bit tricky to get his usual introduction out, so we go to break.
Raw returns to Heyman in the ring.
"I can't say that I'm surprised by Braun Strowman's actions." Everyone should be jealous of Heyman's client. His client is the most dominant champion in WWE and MMA history. That is why, at Heyman's own expense, he has put together an "educational" video to teach us about the "reigning, defending, undisputed Universal Heavyweight Champion and the main event, BROCK! LESNAR!" Footage rolls with Heyman introducing "the story of a real life Beast." Lesnar prepares to defend his title at Wrestlemania 35. Why is this year different? The hero, Seth Rollins, has no hope of winning. That's not a knock on Rollins but a plus for Lesnar. Lesnar was made strong by his life on the farm and he became NCAA Champion. The WWE came knocking and Lesnar defeated The Rock to become the youngest world champion ever.
Lesnar dominated the entire roster in under two years, so he moved on to a new field: UFC. He would dominate Randy Couture to become the UFC Heavyweight Champion. But then Lesnar even grew bored of UFC. The WWE field had regrown, so Lesnar went after The Streak. He was the 1 in 21-1, but that was only the beginning. The video ends and Heyman reminds everyone that Lesnar defeated Undertaker at Wrestlemania 30. Fans don't like it, but there's not a thing anyone can do about it. Heyman takes a survey: How many fans actually believe that Seth Rollins will win at Wrestlemania and become Universal Champion? Everyone does! But Heyman says there's not enough fire to burn Suplex City down. But wait, out comes Finn Balor! The NEW Intercontinental Champion heads to the ring but we go to break!
Raw returns and Finn has the ring alone.
"It's been awhile since I've held one of these championships. And boy does it feel good!" Finn remembers watching Razor Ramon, Shawn Michaels, Ric Flair, so it's been a dream to hold the Intercontinental Championship. And he is proud to carry on that legacy! Finn plans on defending- Wait, here comes Lio Rush! But without Bobby Lashley, given how Lashley body slammed Lio after their loss. "You don't deserve to be the Intercontinental Champion." Lashley deserves that title. And Lashley attacks from behind! Seems they aren't as broken up as we thought! Lashley stomps Finn out in a corner, then Lio comes in to add on. Lio stomps a mudhole into Finn and then Lashley hauls Finn up. Lashley scoop slams Finn and tells Lio to finish this. Lio climbs up, Final Hour splash! But wait, it's Ricochet!
The King of Flight dodges Lio and goes right at Lashley! Then asai moonsault onto Lio! Ricochet springboards to dropkick Lashley out! Ricochet and Finn stand together, ready for both Lio and Lashley! We go to break as things sort themselves out.
Ricochet & Finn Balor VS Bobby Lashley & Lio Rush!
Holla holla! The King of Flight joins forces with the Extraordinary Man to shut up and shut down the Rocky Mountain Machine and Man of the Hour! Will this impromptu dream team be successful in Ricochet's Raw debut?
AAA Review & Results (2/16/2019)
Triple A coverage, brought to you by our Lucha genie Joe Dinan!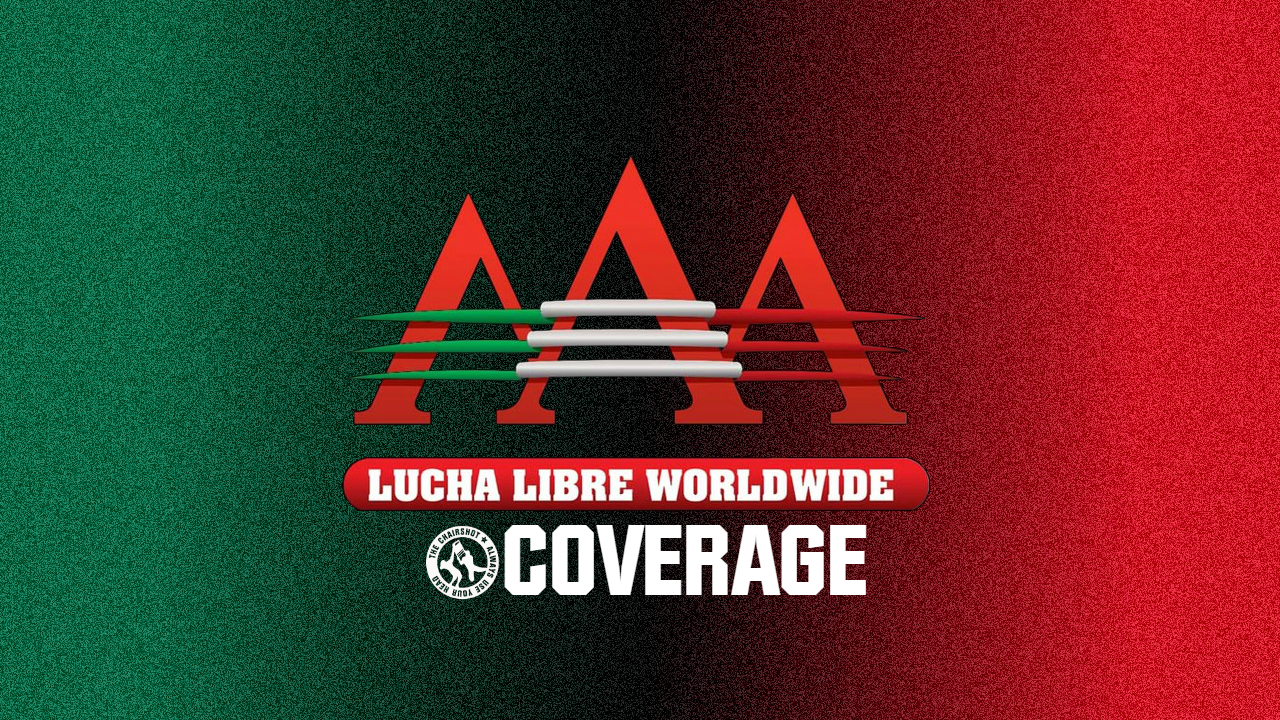 AAA coverage, brought to you by our Lucha genie Joe Dinan!
Live on Twitch 2/16
Dinastia (Draztik Boy), Dragon Bane, and La Parkita vs Mini Murder Clown, Mini Monster Clown, and Latigo
I don't usually like reviews minis matches from AAA because they don't do stories for them. CMLL does for the midgets even if they are dry stories. It's still something, but I'd like to make note that La Parkita nearly killed himself cracking his skull on the ground doing a swanton bomb. Later in the show they revealed he was okay.
Winners: Draztik Boy, Dragon Bane and La Parkita
Super Porky or Brazo de Plata comes out to cut a promo. Mascara confronts him and Psycho Clown then confronts him. Porky has a walker. :/
Nino Hamburguesa, Lady Shani (Golden Magic), and Starfire vs Villano III Jr, Keyra, and Lady Maravilla
Magic and Villano start out with some acrobatic spots. Maravilla and Starfire come in and trade spots. Hamburguesa then comes in with Keyra and shoulder blocks her to oblivion. Villano hits a missile drop kick on Hamburguesa. Maravilla holds Nino in place and Keyra kicks him. Golden Magic gets drop kicked in the corner by Keyra. Starfire is getting teamed on now. Villano drops Starfire on Maravilla's knee. Keyra hits a moonsault. Keyra prevents Nino from getting in then throws Maravilla to the corner. Starfire drop kicks Keyra into the corner and Nino runs into all of them. He then does a flipping senton. Nino then does it again. Magic gets in with Maravilla and super kicks her. Maravilla then trips him on the apron, drop kicks him to the outside then hits a splash off of the top. Keyra and Starfire trade pinning combinations. Starfire hits knees to Keyra's back then hits a flip dive off the apron. Villano hits a code breaker on Nino then poses. Villano goes for a moonsault and he moves. Nino goes to the top and hits a guillotine leg drop. He goes back to the top. Maravilla tries to distract him. She succeeds and Keyra hits a sunset flip on Starfire and then a german suplex for the win. Keyra pins Starfire with a german suplex.
Winners: VIllano III Jr, Keyra, and Lady Maravilla
(Cruiserweight Championship) Laredo Kid vs Sammy Guevara (Champ)
Guevara fakes out Kid to pose in the beginning. They actually do acrobatic flips until Laredo just drop kicks him. Laredo Kid flips out of the ring, Sammy does the same and then Kid gets back in the ring and hits a middle rope missile head butt basically. Kid then hits an asai moonsault. He got impressive air. Kid goes to the ground then Sammy pretends he's hurt. He pushes the ref into the ropes to crotch Laredo. He goes to the top and throws Kid up from a fireman's position and he falls on the turnbuckle for a two count. Kid runs at Sammy and gets power slammed. Sammy then misses a moonsault, lands on feet, misses standing moonsault, lands on feet, then hits a standing shooting star. Sammy hits a standing spanish fly and Laredo no sells it and hits a flipping DDT. Kid kicks Sammy to the outside and hits a 450 off the apron onto the floor. Laredo misses a corkscrew tornado dive and Sammy hits a reverse GTS for a two count. Villano III attacks Laredo from behind when he was setting up the Laredo Fly. Sammy then kicks Laredo to the outside and hits a corkscrew dive over the top rope. Sammy goes to the top and hits a big shooting star press but Laredo kicks out. Everyone is surprised. Villano grabs Laredo by the head and La Parka pulls him down and attacks him on the apron. Sammy goes for a slam but Kid flips out of it and super kicks him. Sammy leaps up to the ropes and jumps but Kid catches him with a cutter. Laredo goes to the top and Sammy leaps to the top rope and hits a Spanish fly for a close two. Sammy goes to the top and Laredo leaps up and kicks him and goes up and hits the Laredo Fly for the win. And naturally he gets beat down by the Mercenaries afterwards. Vikingo and Myzteziz come to his rescue. Laredo Kid wins with a Laredo Fly.
Winner: Laredo Kid
Taya (Lady Shani), Aerostar (Dinastia), and Myzteziz Jr vs Faby Apache, Jack Evans (Super Fly), and Sammy Guevara (La Parka Negra)
This match got picked apart. Dinastia drop kicks Negra and he no sells it. Dinastia hits a head scissors then springboard splash. Super Fly comes in to work with Shani. Faby comes in and kicks Shani. Parka beats on Myzteziz on the outside. Shani gets teamed on in the ring. The technicos try to stop the teaming up but can't just yet. Faby and the heel ref push each other. Faby kicks Shani and Negra kicks her butt. Myzteziz bounces on the ropes and hits a hurricanrana on Negra. Shani back breakers Faby and Dinastia takes out Super Fly. Apache and Shani meet in the ring now and Faby attacks her butt. Shani kicks Faby and then Super Fly beats on Shani. Shani hits an arm drag then a DDT on Super Fly. Negra runs over Myzteziz. Negra throws Myzteziz in the air but he gets caught for a hurricanrana. Myzteziz back drops Super Fly to the outside. Shani then dives to the outside on Super Fly. Myzteziz then dives over the top on Negra. Dinastia flips Faby in the ring then super kicks her. Faby hits a face buster and the ref counts slow so Dinastia kicks out. Faby then hit a Tiger suplex after dodges Dinastia and this time the ref counts but Faby is still upset with him. Faby Apache pins Dinastia with a tiger suplex.
Winners: Faby Apache, Super Fly, and La Parka Negra
Maximo, Mamba, and Pimpinela Escarlata vs La Mascara, Taurus, and Chessman
Maximo starts out against Mascara and goes for a dive off the apron but misses and Mascara beats on him. Escarlata and Mamba get taken out and they team on Maximo. Escarlata gets kicked in the groin but since he/she is playing a girl. No dq. Escaralata goes for a cross body and turns it into an arm drag on Taurus. Mamba hits an apron dive on Mascara and Maximo on Chessman. Escarlata tries to choke Taurus but he shrugs her off. Escarlata puts her butt in Mascara's face to his disgust. Escarlata hits a double arm drag on Chessman and Taurus. She tries to kiss Mascara but he moves his head. She hits an arm drag then finally kisses him. She must be poison ivy. Mamba twerks a little bit in the ring with Chessman but then he slaps her ass and flips her over. Mamba hits a hurricanrana then an arm drags followed by the kiss of death twice. He falls out of the ring and she twerks. Maximo gets in with Mascara and Mascara leaves the ring. Maximo hits hurricanrana's on Chessman and Taurus, then Mamba hits a flip dive through the flip rope. Maximo walks the ropes and hits a flip dive to the outside. Mascara goes to the top with Escarlata but Maximo goes up and kisses him. Escarlata school boys him for the win. Pimpinela Escarlata school boys Mascara for the win.
Winners: Maximo, Mamba, and Pimpinela Escarlata
Drago, Laredo Kid (Aerostar), and Hijo Del Vikingo vs Mocho Cota Jr, Carta Brava Jr, and Tito Santana
Porde de Norte drop kicks everyone to start to get the advantage. Vikingo hits a drop kick to change momentum. He chops Tito Santana's chest. Afterwards Porde de Norte continues to work over everyone. Not much detail to say, just constant triple teaming. Drago hits a head scissors on Santana then launches Vikingo into the others for a drop kick. Aerostar then does a dive through the middle rope where he goes flying into the crowd. Vikingo does an asai imploder 450. In the ring Cota hits a belly to belly on Drago for a two count. Aerostar comes in and hits a running cutter on him. Brava crotches Aerostar on the ropes and does the double foot stomp off of the top. Vikingo catches Carta for a swinging slam that Santana breaks up. Santana jumps into a brutal Canadian destroyer and Drago breaks it up. Drago rolls into a code breaker and Brava breaks it up. Aerostar and Vikingo hit drop kicks on Brava and Santana. Aerostar hits a moonsault, Vikingo a 450 and Drago gets a pinning combination all for a two count. Drago then hits a dive through the middle rope on Cota. Vikingo drop kicks Santana then hits a dive through the middle rope on Santana and Cota. Aerostar dumps Brava to the outside and does a cannon ball splash on Brava and Cota. In the ring Drago sprays mist in Santana's eyes and Vikingo hits an imploder 450 for the win. Hijo Del Vikingo pins Tito Santana with an imploder 450.
Winners: Drago, Aerostar, and El Hijo Del Vikingo
Psycho Clown, Dr. Wagner Jr, and Pagano vs Jeff Jarrett, Rey Escorpion, and Texano Jr
Escorpion attacks Clown with a chair. Texano ties his rope around Pagano's neck. Jarrett works over Wagner. Texano then chokes Wagner, and Rey continues to beat on Psycho Clown. Clown gets Rey to the outside and hits a dive over the top. Pagano then hits a dive through the middle rope. Wagner hits a cutter on Jarrett then dragon screw leg whips Texano. Psycho Clown grabs the rope and hits Texano with it. Clown breaks a broom over Escorpion's back. They hit multiple clotheslines in the corner on Jeff Jarrett. Clown works with Rey and Rey hits a power slam for a two count. Clown hits a head scissors followed by a sunset flip for a two count. Rey hits a draping DDT with Clown caught in the ropes for a two count. Rey postures on the top rope and Clown drop kicks him off. He goes on the turnbuckle post and leaps off onto Esocrpion. Wagner gets distracted by the ref and Jarrett breaks a guitar over his head. Pagano hits a leg drop to stop the count. Pagano hits a cutter on Texano and sets up a table. Pagano head butts a chair into Texano then smacks himself with said chair. Pagano goes to the top with the chair but Texano hits a crucifix power bomb through the table on him for the win. Texano Jr pins Pagano with a crucifix power bomb off the top. 
They continue to beat on the technicos post match. They steal Psycho Clown's mask, yet again as they do every taping.
Winners: Jeff Jarrett, Rey Escorpion, and Texano Jr