Andrew's Stardom 5 Star Grand Prix Red Stars Ratings & Review: Day 3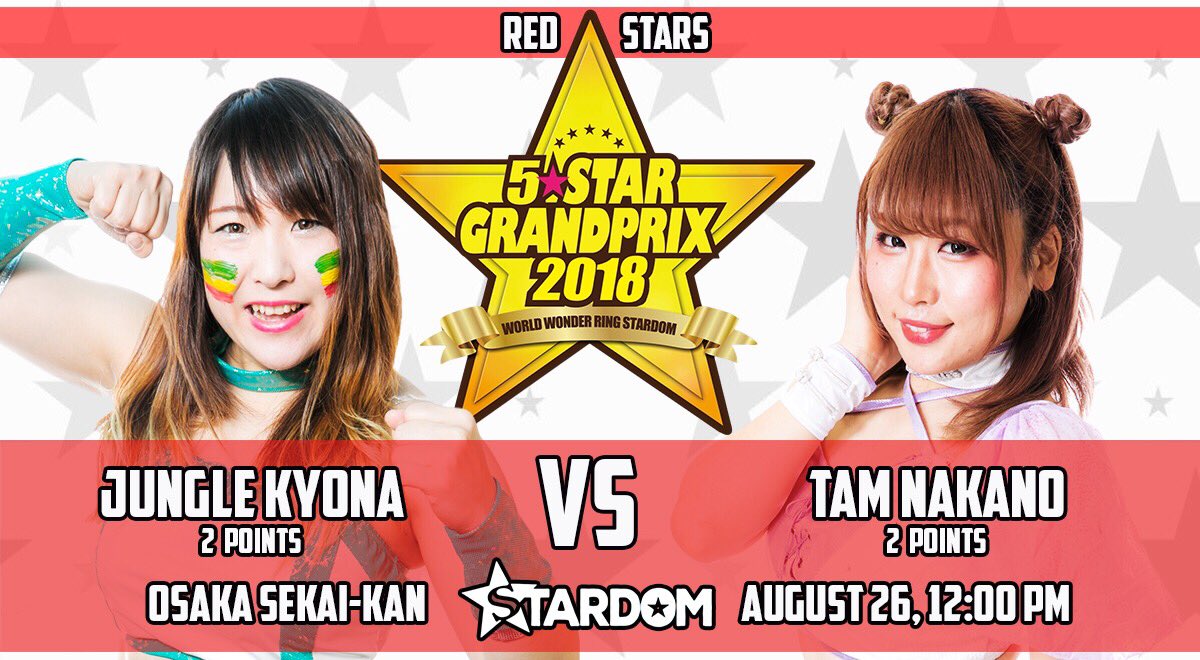 Well Day 3 of the Grand Prix is broken up between an afternoon and evening show. So for the first time this tournament, the blocks have a different number of matches.
This is very curious, but it could have something to do with the international talent's availability. I didn't really look into it, but similar unbalanced blocks happened during the Champion Carnival, because of freelancers.
Three women have to work double duty, so it should be interesting how this effects the rest of the tournament.
Natsuko Tora vs Konami
So Natsuko points out that her afternoon show kicks off the day and her evening match is the main event, so Day 3 starts and ends with Natsuko. Konami makes mention of her Triangle Lancer win percentage being 100%, but with Tam countering it last time…again, math is weird people.
This match starts off painfully bad. A few bad forearm shots against the ropes from Natsuko then lead to her charging, but getting low bridged. However the trip over the top rope is so slow, I've seen disgruntled cats flop over something with more gusto. Then Tora goes for a shoulder tackle through the middle ropes, but Konami isn't close enough to make it look decent. It looks like she rushed to the next spot and Konami half executes a sloppy Twisting Neckbreaker.
Things do recover a little after the first minute or so of sloppiness. However, it's also just Konami beating on Natsuko. Stiff kicks, a hesitation Dropkick to her head while Tora is seated, and it's not until Natsuko follows her into the ropes with a leg lift, that starts to bring Tora a little offense. We then see Tora pull off a few power moves followed by a Spear and then a Shining Wizard for separate 2 counts. She then hits a Forward Roll Fireman's Carry Slam as she goes up to the top rope for a big body splash, but only for 2 again.
Natsuko bounces off the ropes, and yeah…this doesn't go smoothly. Konami catches her with a DDT and then rolls through for a Front Necklock, but it's not pretty. Konami pulls Natsuko to the middle while holding a Sleeper Hold, wraps her legs around for the Coquina Clutch, but Natsuko eventually powers back to her feet and drops back to break the hold.
Konami flips out of a suplex, gets the Front Necklock back in, before wrestling Natusko to the ground and putting on the Triangle Lancer for the submission victory. It wasn't pretty, it wasn't really good, but our little cheat code picks up 2 points.
Winner: Konami via Triangle Lancer
Rating: * 
Tam Nakano vs Jungle Kyona
Now we all know I have a Tam bias, but her opening promo was very subdued. She seems to want to prove she's gotten better and to make a statement after JAN refused to join STARS during the draft and went independent. Kyona on the other hand is her usual energetic and fun self, with a small dig that the result will be the same as last year (Kyona beat Tam last year). So this seems to have some personal feelings involved.
Well Tam wanted to prove something right out the gates, and tries to exchange shoulder tackles with Kyona, to no avail. Sadly for Tam, this would lead to a long period of Kyona dominating. A number of Should Tackles, Sliding Lariat, Dropkicks and general strikes just leave Tam kicking out of multiple pin attempts. Things continue to look bad for Tam as Kyona drives her into the corner, but a few weak Forearm shots prove Tam still has some fight.
Kyona shrugs them off and tries to send her into the ropes, but Tam reverses and lands a Flying High Kick, for her first real offense all match. The women trade corner maneuvers as Tam hits a Double Knee, Kyona then follows her back for a Splash, Tam follows Kyona back for a Single Knee and Kyona gets a small edge after following in with a Lariat. Kyona goes to whip Tam into the corner, but Tam reverses with a crisp Step Up Enzuigiri. Tam lands her Cartwheel Knees and gets a 2 count.
More back and forth from both women, until Tam catches Kyona with a full extension Standing Side Kick, sending Kyona to the outside. Tam doesn't waste the opportunity and goes to the top rope for a Crossbody into the seconds on the outside, but hitting Kyona fully across the shoulders. Tam rolls in Kyona, hits a beautiful Spinning Crescent Kick, but Kyona grabs the bottom rope to break the count. Tam's reaction was fantastic as she looked furious.
Tam goes to the top rope again, Kyona cuts her off and seems to attempt an Avalanche Scoop Slam, but Tam fights her off. Tam grazes Kyona with an Axe Kick, and continues to attempt a high risk move. Kyona charges a couple times as Tam kicks her away, but Kyona eventually catches Tam's foot and pulls her off the ropes, crashing to the mat. Kyona goes for her Hammer Throw Powerbomb, Tam slips out and then the counters begin. Tam catches Kyona with a High Kick, goes for a Running Knee, but Kyona catches the knee, attempts a Sitout Powerbomb, but Tam slips out again, misses the Buzzsaw Kick, but hits and Back Side Kick, for only 2 again.
Tam tries to grab Kyona for a German Suplex, but Kyona fights it off until Tam keeps wrist control and pulls off a Rainmaker German Suplex Hold (shuddup, that's what I'm calling it), for only two though. Tam goes for the Running Knee again, but misses, Kyona Sliding Lariats Tam's back, which is important because Tam has been favoring her back most of the match. Taking advantage of that. Kyona puts Tam in a Canadian Backbreaker, but Tam doesn't quit. Kyona spins it into a normal Backbreaker across the knee, and Tam's face tells the whole story. Kyona goes for the pinfall, but Tam kicks out at 2.
Kyona immediately goes to the Half Boston Crab, but Tam gets to the ropes. Very quickly Jungle goes to the top rope and hits a Body Splash across Tam's back, drags her to the middle of the ring and sinks in a Scorpion Deathlock (aka Sasori-Gatame, aka Sharpshooter). Tam tries to hold out, but eventually taps cause her back can't take it anymore.
Winner: Kyona via Sasori-Gatame
Rating: **** 1/4
Konami vs Jungle Kyona
Match starts off with Konami trying a Hammerlock to control Kyona, but both end up trading a few moves before Konami gets an early edge when the Buzzsaw Kick finds its home and sends Kyona to the outside. Konami sees Kyona is a little dazed and lands a Running Knee Strike on the apron, sending Kyona sprawling further onto the outside. Konami collects Kyona, tries to send her into the ring post but that gets reversed.
Kyona lands a few open hand chops, before missing the third one and giving Konami an opening. Konami works over her arm for a while, before then peppering in about a dozen kicks between Kyona's shoulder blades. It's not until Konami gets a little cocky and starts slapping Kyona's face disrespectfully, that Kyona fires up and we get the Fighting Spirit strike exchange.
It's not until Kyona hits a Shoulder Tackle sending Konami backwards into the corner, that someone gains a distinct advantage. Corner Splash, Front Dropkick and Sliding Lariat put all the momentum in Jungle's favor. Kyona goes for another Sliding Lariat, but Konami catches her beautifully into a Fujiwara Armbar, then transitions to a Cross Armbreaker, then a Guillotine and as Kyona tries to fight out, Konami moves to her back for the Sleeper Hold. Just when she looks like she's gonna fade, Kyona rams Konami into the corner to break the hold.
Every time Kyona goes for a lariat, Konami catches her into different arm bar variations. Kyona catches Konami in a submission of her own, the Canadian Backbreaker, but this time when Konami doesn't quit she just dumps her on her face and gets a 2 count. Kyona misses a top rope splash, and Konami tries the Triangle Lancer, but can't get it, as Kyona hits the Hammer Throw Powerbomb for the victory and current lead in Red Stars.
Winner: Kyona via Hammer Throw Powerbomb
Rating: *** 1/2
Natsuko Tora vs Kagetsu
Kagetsu holds strong to her promise of winning in 3 minutes, going as far as to say if she doesn't she'll let Natsuko win. I doubt that, but hey, you never know with Oedo Tai.
Kagetsu hands out Cup of Noodles, and even has Hazuki pour hot water in a couple and they start a 3 minute timer. Amusingly though, Natsuko is purposely not wrestling. She sits down in the corner and sticks out her tongue, forcing Kagetsu to make the referee give her a 5 count to get up. Then Natsuko holds the ropes to waste more time, Kagetsu eventually wrestles her down and goes up for her 450 Splash, but Natsuko rolls to the middle of the ring and waits. Yelling at Kagetsu something to the effect of " Okay, get me" and even the referee is like " jump off, come on", so Kagetsu gets mad and stomps Natsuko. We then get a spot of Natsuko ducking under Kagetsu's lariats and just making faces on the other end.
So even if comedy is subjective and not always a good fit for a tournament, the fact that Kagetsu made this 3 minute rule and Natsuko outsmarted the Prime Minister of Oedo Tai, makes it enjoyable. As the 3 minutes expires, Natsuko thinks she's won, Kagetsu shakes her head and tries to roll her up. THE HEEL LIED! NO WAY!
Regardless, the match actually picks up and Natsuko puts up a hell of a fight. She has Kagetsu down and on the receiving end for a few minutes. Even hitting her Forward Roll Fireman's Carry Slam, middle rope Frog Splash and her top rope Body Splash, but only for two. After fighting out of a Scoop Slam, Kagetsu catches Natsuko with a desperation Roundhouse Kick as both women drop.
A few more kicks turn into a display of anger and power from Kagetsu. Samoan Drop for 2, Brainbuster for 2, Michinoku Driver also only for 2. Natsuko catches Kagetsu with a Backslide, into a Jacknife cover and then rolls it into a Triangle Arm Bar, but the Prime Minister gets to the ropes. Kagetsu counters Natsuko's offense with a …Shouten Kai? Hirooki Goto would be proud.
Back to back Chokeslams, a Michinoku Driver and her Oedo Coaster (the afore mentioned 450 Splash), finally gives Kagetsu the win.
Winner: Kagetsu via Oedo Coaster
Rating: *** 1/2
Red Stars Standings:
Jungle Kyona 3-1 (6 Points)
Utami Hayashishita 2-0 (4 Points)
Konami 2-2 (4 Points)
Kagetsu 2-1 (4 Points)
Tam Nakano 1-2 (2 Points)
Kimber Lee 1-1 (2 Points)
Rachael Ellering 1-1 (2 Points)
Natsuko Tora 0-4 (0 Points)
Thoughts:
Well this was different for tournament coverage, but Stardom does afternoon and evening shows quite often, so I guess it's to be expected. Either way, Kagetsu closed the show and explained why she kept going after the 3 minutes. She said that because President Ogawa is in Mexico, she never got clearance for a special rule. So even though she wanted it to be a 3 minute rule, no one approved it. Then she continued to say that even if Natsuko won the 3 minutes, she won the normal match, so it was a Draw at best. BUT again, sadly, no President Ogawa to approve the Draw, so just deal with it.
So this split show did have the worst match of the block so far, but aside from that, it was actually a pretty high level day. Tam was the MVP of Day 3, because her match, her selling and everything about that was just tremendous. Hopefully, Tam can get a couple more wins, since she's really been impressive given that just a few months ago Io was insulting her.
Tam is the best – Tam number 1 *clap clap*
Mitchell's NJPW AXS TV Results: G1 Climax 29, Part 3!
The G1 rages on in the summer heat!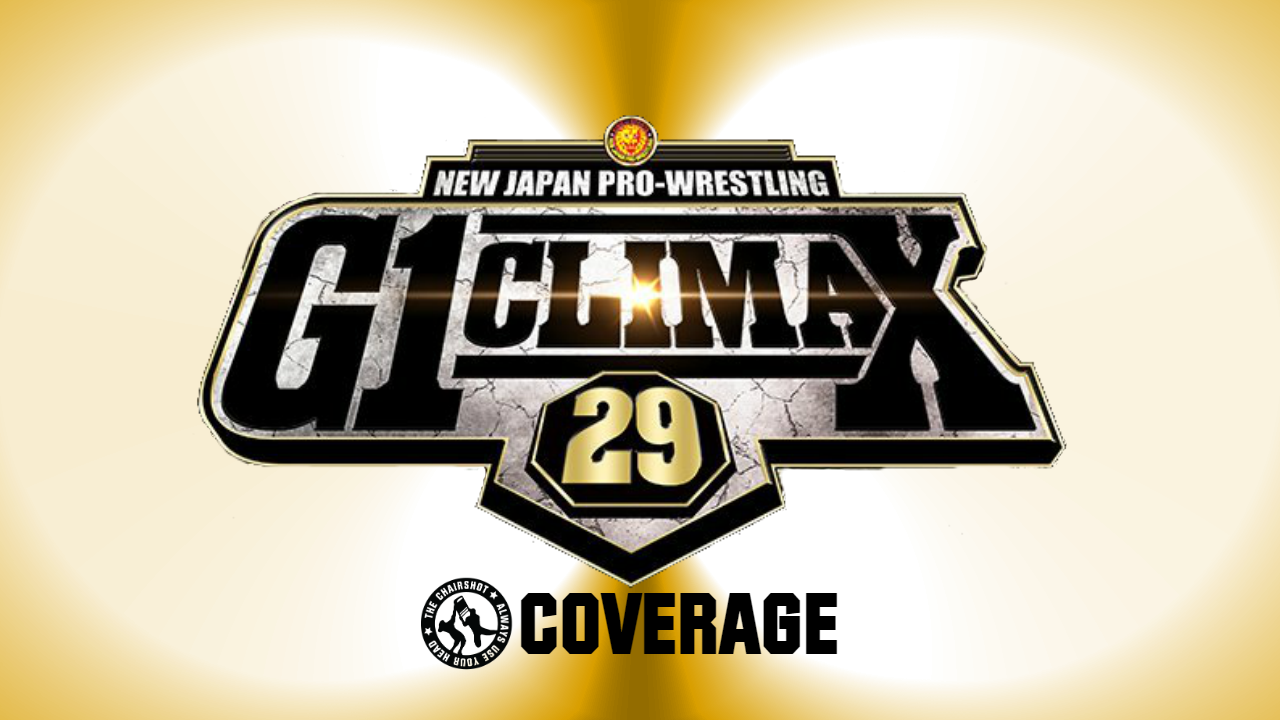 AXS TV brings us NJPW G1 Climax 29, Night 7!
A week into the annual summer blockbuster, and the standings are coming into focus. Who in A Block gets some much needed momentum? And who SPOILS it for the rest of them?
Coverage of the G1 Climax 29 will be as broadcast by AXS TV.
Gifs to come courtesy of https://frentique.tumblr.com/
OFFICIAL RESULTS
Bad Luck Fale VS Zack Sabre Jr; Zack Sabre Jr wins.
Lance Archer VS Hiroshi Tanahashi; Tanahashi wins.
EVIL VS KENTA; KENTA wins.
Kota Ibushi VS SANADA; Ibushi wins.
Kazuchika Okada VS Will Ospreay; Okada wins.
PLAY BY PLAY
NJPW and AXS set the scene for this critical night of action!
The A Block enters its fourth round, and only newcomer Kenta and the IWGP Heavyweight Champion himself, Kazuchika Okada, have perfect scores! But the Aerial Assassin is still in the running. The IWGP Junior Heavyweight Champion lost to the Killer Elite, Lance Archer, and the Golden Star, Kota Ibushi, but there is still time for a comeback! However, he'll have to do it against the Rainmaker! Okada has had Ospreay's number every time, but the clash of champions may prove who is truly the BEST in NJPW!
But then there are the highly anticipated match-ups of the fastest rising stars! Ibushi was a finalist of G1 Climax 28 while the Cold Skull was a New Japan Cup 2019 finalist! Each has come close to the title, but their standings are at a make-or-break point with tonight! Sanada got the best of Ibushi last time, but that doesn't mean it's over for the former IWGP Intercontinental Champion. With only so much time left, who survives and who is out of the running as the G1 reaches its climax?!
Bad Luck Fale w/ Jado & Chase Owens VS Zack Sabre Jr!
But even before all of that, the Bullet Club's Rogue General enters #ZackSabreTime! Will bad luck fall on the Submission Master? Or will Fale #JustTapOut?
The bell rings and ZSJ jumps right at Fale! He has a guillotine and body scissors but his weight is not enough to drag Fale all the way down. Fale endures and powers out, but ZSJ slips around to a sleeper! ZSJ squeezes tight and uses his own shoulder as a way to keep the lock. But Fale just powers out and throws him down! Fale catches his breath but ZSJ dodges to wheelbarrow to a kneebar! But again, ZSJ is just not enough weight to make Fale fall. Fale pries at the leg scissors, and drags ZSJ over as he heads for ropes. ZSJ bends and twists the leg but the ropebreak makes him let go. After the ref counts to 4, that is.
ZSJ unties himself and avoids Fale's angry stomp. He wrenches the arm and again, but Fale blocks the whip. Fale whips ZSJ to a corner hard, then runs in to squash him! ZSJ flops over and Fale drops an elbow. Into an armbar! ZSJ has Fale down but Fale has a tight grip. Fale shifts his weight, and deadlifts ZSJ up! ZSJ lets Fale go, but gets run over with a clothesline! Fale goes to the writhing ZSJ and brings him in for a Canadian rack. ZSJ fights out of Bad Luck Fall to get the sleeper, to the Iron Octopus! Fale endures as ZSJ twists the arm and pulls on fingers! ZSJ twists that arm all sorts of ways, but Fale backs into a ropebreak. And Jado SMACKS ZSJ with his kendo stick! Fale "falls" into the ref, so that he doesn't see ZSJ get mugged by Chase Owens!
The Crown Jewel is becoming an ace in the hole as he gets away with beating down ZSJ. Sadly, Taka Michinoku can't watch ZSJ's back with his own injury keeping him out. Fale fetches ZSJ to then whip him into railing. Fale throws body shots as he brings ZSJ out into the crowd. Chase keeps the ref back as Fale dumps ZSJ onto chairs. Fans back out of the way as Fale throws things onto ZSJ. Fale brings ZSJ deeper into the crowd to throw him into more chairs. They go into the bleachers! Fale shoves the ref away and Chase helps back people off. Fale drags ZSJ up for the crucifix, but ZSJ escapes! ZSJ standing switches with Chase, Fale runs in, Fale only gets Chase! Fale grabs ZSJ for the Grenade! But ZSJ traps him in a hanging armbar!
The ring count finally begins as ZSJ manages to drag Fale down! Fale has to work with ZSJ's dead weight, but the count is past 10! ZSJ lets go at 14 to scramble to the ring! He gets in at 17, Fale is still outside! The count hits 20!! ZSJ gets his first win of the tournament!!
Winner: Zack Sabre Jr, by count-out; earns 2 points
The Undisputed British Heavyweight Champion wins by the seat of his pants, but a win is a win for the G1! Will ZSJ be able to use this for a comeback? Or is even this count-out victory just not in time?
Lance Archer VS Hiroshi Tanahashi!
#EverybodyDies, but The Ace won't do so without a fight! Tanahashi wants to make this his strongest comeback yet, but he's up against another strong and returning heavyweight. Will Tanahashi survive the Killer Elite? Or will it be #GoAce as A Block keeps rocking?
Just like on night one, and every night, Archer DECKS Young Lions on his way out to the ring! It seems nothing can put out the raging fire inside of him. But then Tanahashi makes his entrance, and this fight begins as he dropkicks Archer's legs before the bell! The bell does ring as Tanahashi keeps going at those legs with dropkicks and chop blocks! Archer bails out while Tanahashi takes off his jacket. Tanahashi then slingshots and topples Archer over! Tanahashi kicks Archer but Archer shoves him back. Archer reverses a whip but then Tanahashi reverses it back to send Archer into railing! Tanahashi catches his breath before pursuing Archer around the corner. Archer choke slams Tanahashi onto the apron!
Tanahashi crumbles to the floor while Archer grits his teeth. Archer shouts at the fans cheering for Tanahashi to shut up, then he glares as he goes back to the ring. Tanahashi anchors Archer's feet on the apron! Archer kicks him away with ease, then apron CANNONBALLS to bowl Tanahashi over! Fans have to cheer for that, but then he tells them to shut up anyway. Archer drags Tanahashi up to ram him into the railing, then into the apron. Archer CHOPS Tanahashi while the count climbs. He puts Tanahashi in at 15 to finish this in the ring. Fans rally while Archer grinds his knee into Tanahashi's face. Archer lets up as the ref counts, and fans actually start to duel!
Tanahashi throws forearms but they do nothing. Archer CLUBS Tanahashi ones, but then Tanahashi is up again. So Archer CHOPS Tanahashi off his feet! But Tanahashi is back again! He kicks the leg then whips, but Archer reverses for a scrapbuster! Cover, TWO! Archer is furious with the ref and scares him out of the ring. The referee reprimands Archer for a bad attitude, but then Archer intimidates Young Lions. Fans duel as Archer drags Tanahashi up. He reels Tanahashi in for a BIG lariat! He stands on Tanahashi for a cover, TWO! Archer is on Tanahashi with an armlock and chinbar. Fans duel as Tanahashi endures.
Tanahashi fights his way up but Archer throws him down by his hair. Archer tells Tanahashi, "This is MY house now! I'm the Ace now!" He then grabs the legs to tie them up, and the Texan wants to give Tanahashi a Texas Cloverleaf! But Tanahashi resists and fights free! Tanahashi blocks the boot to spin Archer, but he can't get Archer up for a German Suplex. Archer elbows free and then runs at Tanahashi, big back elbow and again. He gets a third, then goes again, but gets a Slingblade! Both men are down and the fans are thunderous! Tanahashi and Archer slowly stir, but Tanahashi gets up to get the legs, for a grounded dragon screw! And then he laces them up, for the Cloverleaf! Archer resists, grabs some of Tanahashi's hair, but then Tanahashi stops him with another dragon screw!
Fans continue to duel as Tanahashi is up first. Tanahashi runs but into a choke grip! He breaks free to palm strike! Tanahashi runs again, but Archer goes sideways to POUNCE! Archer has a wild look in his eyes as he looms over Tanahashi. He drags Tanahashi up into a corner, then to the top rope. Tanahashi fights back and has an arm, only for Archer to yank him down with it. Archer won't let Tanahashi steal something from him. Archer has Tanahashi's arm now, and climbs up the corner. Fans cheer as Archer goes Old School! And then extends it to another corner, for the ax handle, into TWIST 'N' SHOUT! Tanahashi fires up, runs and Slingblades again! Cover, TWO! But Tanahshi doesn't slow down, he goes up top! High Fly Flow-body! But is deflected into a CHOKE SLAM! Cover, TWO!!
Archer doesn't care Tanahashi survived, he'll just add on! Twisting Vader SPLASH! Cover, TWO!! But Archer still has that wild look in his eyes. He prepares the claw, drags Tanahashi up, but the #EBD is blocked! Tanahashi tries his hardest to hold off that claw, but he and Archer go back and forth! The claw clamps on!! Archer powers Tanahashi back to the ropes, but holds on until the ref pulls him off! Archer drags Tanahashi back up and up top again to CHOP! Fans reach a fever pitch as they duel. Archer has Tanahashi's legs and drags him off top for an Electric Chair. VICTORY ROLL! Tanahashi wins!!
Winner: Hiroshi Tanahashi, by pinfall; earns 2 points
The Ace had something up his sleeve and he pulls this win out of nowhere! Archer is furious because he was just moments away! And he takes it out on the ref with a toss! Is Tanahashi going to make it back to the top? Is Archer's next opponent going to pay for what Tanahashi did?
EVIL VS KENTA!
The King of Darkness wants to prove #EverythingIsEvil, but he has to end the winstreak of the man who wants to #Takeover NJPW! Will Evil spoil Kenta's perfect debut run? Or does the "return to the original Kenta" only end with the G1 Climax 29 Finals?
The bell rings and the two stare down while fans cheer already. Evil and Kenta approach, and then Kenta runs into Evil's kick. Evil headlocks and holds on as Kenta tries to power out. Kenta tries again but Evil holds on tight. Evil brings Kenta down to the mat but Kenta powers up and fights back. Kenta finally powers out but Evil runs him over with a shoulder! But Kenta is up quick to boot and whip Evil back. Kenta boots Evil again, but Evil's right up! The two grind foreheads, but Evil pushes Kenta to the ropes. Kenta turns that around and lets up, but with a cold stare. Kenta rubs Evil's eye shadow! He dare smudges the King of Darkness' warpaint!? Evil grabs Kenta by the face, but Kenta kicks free and snapmares him down for a SWIFT kick!
Kenta circles Evil while he writhes. He positions Evil and jumps, only to scuff Evil's face. Fans are divided by Kenta's attitude as he smirks at Evil. Evil sits up but Kenta kicks him. Evil shakes his head, that doesn't seem enough. So Kenta kicks him harder! Still not enough, and then Evil catches the kick, to give to Red Shoes, to mule kick Kenta down! Fans cheer as Evil throws Kenta out and follows after. Evil whips Kenta to railing, and then follows him around the way. Evil whips Kenta back into railing, then starts looking under the ring. He brings out chairs and jabs one into Kenta's ribs. That chair's not in good shape for what Evil wants, so he grabs another. Evil puts that chair around Kenta's head! However, that broken chair still works for the HOMERUN!
Kenta falls from that chair shot, but fans fire up. Red Shoes reprimands Evil and tells him to get this back in the ring. Evil mostly ignores him to drag Kenta to the crowd! Anything Fale can do, Evil can do better, by throwing Kenta into the hallway! They brawl as they head backstage! Red Shoes follows to insist they go back to the ring. Evil brings Kenta around behind commentary and to the front row! The special VIP section clears out as Evil throws Kenta down! Evil clears some space by stacking chairs. Evil then drags Kenta over for a suplex, but Kenta resists! Kenta turns things around, but now Evil resists the suplex! Evil fights with body shots, and then suplexes Kenta again. Kenta fights back, too, and switches again, to suplex Evil onto the chair pile!
Evil writhes again while Kenta rises. Fans have a mixed reaction to the Pro-Wrestling NOAH and WWE alumni, but Kenta doesn't care. He drags Evil back up and back to ringside as the ring count climbs to 10. Kenta gets Evil in at 13, then climbs up top. Kenta leaps to clothesline Evil down! Cover, TWO! Fans rally up for Evil but Kenta is on him again with stiff kicks in the corner. Then he scrapes his boot on Evil's face over and over. Kenta wants to hear the fans so they boo. He runs, but Evil follows to clothesline him in the corner. But then Kenta returns the favor with a hell of a kick! But then Evil gets the clothesline again! And then baits Kenta into another clothesline! Evil drags Kenta up, fisherman buster! Cover, TWO!
Fans rally up for Evil again as he stalks Kenta to the ropes. Evil kicks and scrapes Kenta back for just a moment ago. But Kenta grabs the foot and stands, to put the foot down. But Evil intercepts the slap with a forearm! Evil runs, but into a powerslam! Kenta catches his breath then heads for a corner. Kenta springboards to missile dropkick Evil to a corner! Then runs in to flying BOOT! Evil sits down, and Kenta gives him the hesitation dropkick! Kenta fires up and fans have to give him credit where credit is due. Kenta climbs up top again, leaps, double stomps! Cover, TWO!! Evil survives Kenta's coup de grace but Kenta slashes the throat. He drags Evil up but Evil resists the fireman's carry. Evil spins Kenta but Kenta slips to a sleeper, then the fireman's!
But Evil escapes, to German Suplex Kenta down! Both men are down but stirring as fans rally and duel. The two grind foreheads to start throwing forearms. Evil hits first then Kenta hits back, and repeat! They do not stop, they only speed up! Evil gets an edge but Kenta counter punches! Then clotheslines, but Evil stays up! Kenta pins but is blocked, Evil headbutts Kenta down! Evil grits his teeth while fans are thunderous. Evil fireman's carries, DARKNESS FALLS! Cover, TWO!! Kenta just manages to survive, but Evil keeps his cool. Evil slashes his throat now, and drags Kenta up. He spins, but Kenta slips out to a backslide! TWO, and now a small package, TWO! Kenta runs but into a LARIAT! Cover, TWO!!
Evil falls back, exhausted and frustrated from Kenta's resilience. But the fans do not give up, so neither does he. Evil stands, and pulls off the armbands. Evil watches Kenta stand, then runs, but Kenta dodges to PSYCHO KNEE! Cover, TWO!! Evil survives but Kenta keeps his cool. Kenta runs to hit a second Psycho Knee! Cover, TWO!? Evil survives twice, but Kenta won't let there be another. Kenta gets himself up then watches Evil sit up. Kenta runs but the Penalty Kick is blocked! He tries fighting free of Evil's grip, but Evil holds on through many, many forearms! But then Kenta kicks the headbutt away! PENALTY KICK! Kenta slashes his throat again, drags Evil up, and fireman's carry, to GO TO SLEEP!! Cover, Kenta wins!!
Winner: Kenta, by pinfall; earns 2 points
The one true #GTS does it again! Kenta is undefeated, 4-0, in both a NJPW and G1 Climax debut! Kenta has 8 points, and for the moment, he leads A Block! Will he remain the one and only block leader? Or does The Rainmaker keep pace with the newcomer?
Kota Ibushi VS SANADA!
The Golden Star and the Cold Skull are not dead in the block yet! However, one man could end up in dire straits if they drop to 1-3. Which rising star rises above the other as we go deeper into the G1?
The bell rings and fans are already thunderous for these fan favorites. Sanada and Ibushi stare down then circle. They approach with caution, then tie up. Ibushi gets an arm but Sanada the waistlock. Ibushi wristlocks free, but Sanada spins through to wrench Ibushi back. They go around as Ibushi rolls and trips Sanada to a toehold. Sanada works to counter with a chinlock, but Ibushi keeps him off while wrenching the foot. Sanada uses a leg to bring Ibushi down, but Ibushi sits back up before an armbar can be applied. Ibushi works his way out to get Sanada's legs and lace them, and then he shifts to a chinlock. Sanada stands up but Ibushi just shifts to a cravat. Sanada still endures, and handsprings through the snapmare!
Things speed up right away as they each hurdle the other. Sanada dodges to throw Ibushi but Ibushi sweeps the legs. Sanada kicks out to sweep Ibushi back, but Ibushi kicks out just as fast. The two go again, Sanada headlock takeovers but Ibushi headscissors back. Sanada pops out and ducks under a roundhouse! Ibushi ducks the rolling sabat and then just leaves Sanada hanging on the dropkick. Fans cheer as Ibushi smirks at Sanada. Sanada has to smirk at that, too, while Ibushi catches his breath in the corner. Fans cheer and duel as the two men reset.
Sanada points out the crowd is rather even between them. So each man goes to a corner to get the fans cheering. The fans are so thunderous, it really is hard to tell which way it's going. The two climb back down, and they circle again. They tie up and are deadlocked for a moment. Ibushi powers Sanada back to the ropes but he lets up with a pat of the shoulders. Sanada rushes with a kick but is blocked, and Ibushi looks to steal Paradise!? Sanada powers out of that, and then baits Ibushi into going out of the ring. He fakes Ibushi out to then tumble back in with his insane agility! But Ibushi missile dropkicks Sanada down for that! Fans still duel as Ibushi watches Sanada. Ibushi also makes sure his legs are okay before bringing Sanada up in a mounted chinlock. He grabs the arm and make sit a half camel clutch.
Sanada endures and reaches for ropes, but Ibushi pulls him away. They roll away from the ropes and Ibushi body scissors Sanada. Sanada works against the hold while fans continue to cheer, and he gets a ropebreak. Ibushi lets go but doesn't lose his cool. Ibushi wants to see Sanada fight, so he gives him stomps. He eggs Sanada on, and Sanada sits up. Sanada gives Ibushi what he wants, with a CHOP! Ibushi eggs him on more, so Sanada CHOPS more. Ibushi KICKS Sanada down, then moonsaults, but onto knees! The fans continue their own duel while Ibushi winces. Ibushi stands first to kick Sanada more. He whips but Sanada reverses, and we see those infamous hurdles and dropkick! Sanada slingshots to splash down on Ibushi!
Sanada leaves Ibushi behind to check on some Los Ingobernables de Japon fans. They have a Sanada bear, so he holds it up proudly! Then he goes back to Ibushi while encouraging fans to get loud. Sanada drags Ibushi up and into the ring, then slowly follows after. He drags Ibushi up and wants a saido, but Ibushi blocks with a headlock and elbows. Sanada knees Ibushi to a corner, then whips Ibushi corner to corner. Ibushi reverses but Sanada tumbles and springboards. Ibushi gets under and Sanada rolls through, and Sanada runs into Ibushi's powerslam! Then a roll and moonsault! Cover, TWO! The fans are thunderous all over again while both men are down. Ibushi sits up with a smirk while Sanada slowly sits up.
Ibushi fires off a strike fest on Sanada, topping it off with that back kick. Sanada ducks the Penalty Kick but Ibushi counters the roll-up by sitting down! Cover, TWO and Sanada has Ibushi upside-down! TWO, Sanada blocks the kick to dropkick the other leg! Ibushi staggers while Sanada runs, but then Ibushi gets clear of the dropkick to double stomp Sanada down! Both men are writhing from stinging pain in their limbs but the fans rally again. Sanada sits up but Ibushi follows, and the two go forehead to forehead. Ibushi throws the first forearm but Sanada throws one back. Ibushi hits Sanada again, but Sanada still gives it back. Now they stand as they throw forearms back and forth! And they pick up speed! Ibushi wobbles! But he comes back with a kick!
Sanada catches his breath from that impact, to come back with a stiff European Uppercut. Ibushi shakes it off to kick again. So Sanada gives another EuroUpper. Another kick, another EuroUpper! Kick, upper, kick, upper, and then Sanada gives more forearms. He boots Ibushi's away to rolling elbow, but Ibushi LARIATS on the return! Ibushi is up first as fans still duel. Powerbomb, LAST RIDE! Cover, TWO!! Sanada survives and both men are exhausted. Yet Ibushi sits up again, and wants those wrists. Ibushi drags Sanada up, but narrowly misses Kamigoye. He still has hold of Sanada to try again, but Sanada again dodges, back slide. Sanada rolls and pump handles Ibushi, to steal Kamigoye!! Cover, TWO!!
Ibushi survives his own move but Sanada keeps moving. Sanada goes up top, MOONSAULT but he FLOPS! BOMAYE! The King of Strong Style would be proud! But Ibushi clutches his knee and can't make a cover! Fans are thunderous again as Ibushi slowly sits up. Ibushi forces himself to stand and then drags Sanada up again. He scoops but Sanada escapes, to dragon sleeper! But Ibushi slips around to suplex, only for Sanada to get him again! Ibushi steals the dragon sleeper, but Sanada blocks that stolen Skull End, only for Ibushi to escape the stolen long dart! Ibushi again lifts Sanada to LONG DART! Both men are down in the corner and Red Shoes checks on Sanada. Somehow both men are okay to continue, and fans still rally.
Sanada clutches his shoulder while Ibushi holds his knee. Ibushi still rises first and brings Sanada up in a waistlock. He wants the full nelson but Sanada resists. Sanada breaks free of the nelson, but Ibushi German Suplexes! Only for Sanada to land on his feet! Ibushi ducks the clothesline to PELE, but Sanad still hits a sabat! Sanada whips but Ibushi reverses, only to get caught into the dragon sleeper! Sanada takes Ibushi for a swing! Then he drops down, but Ibushi rolls out! Double wrist control, but Sanada dodges Kamigoye again, to spin and Sliced Bread for his dragon sleeper, only for Ibushi to slip out and ROUNDHOUSE him down! Sanada is down but Ibushi wants to end this like a rockstar! BOMAYE!! Cover, TWO!?!
Ibushi won't stop just because Sanada lives. He brings a knee pad down and drags Sanada up in the wristlocks. Kamigoye!! Cover, Ibushi wins!!
Winner: Kota Ibushi, by pinfall; earns 2 points
After missing it time and again, the Golden Star finally hits his best move to end this match! Ibushi keeps himself alive in this tournament while Sanada stagnates. But Ibushi does go over to Sanada, to show that he still respects the Cold Skull. Sanada leaves without a word. Will either of these men make it to the end of A Block?
Kazuchika Okada VS Will Ospreay!
Once again, it is Chaos VS Chaos, Champion VS Champion, Mentor VS Student! The number 4 is considered bad luck in Japan, but will it be the Aerial Assassin's lucky number? Or will the Rainmaker's run remain unstained towards a collision course with Kenta?
The bell rings and the fans are already thunderous, with a lot of fans going for Ospreay! Okada and Ospreay circle and tie up. Okada waistlocks but Ospreay standing switches. Ospreay floats to a facelock but Okada switches that around. Ospreay switches it back, but Okada powers his way up to a wristlock. Okada wrenches but Ospreay spins through, reverses and snapmares to get a chinlock. Okada endures and works his way out the back. He hammerlocks Ospreay and snaps back to tweak it. Ospreay endures and works his way back up, to then hook and reverse the hammerlock onto Okada. Okada drop toeholds back to then waistlock to headlock. Okada throws Ospreay with a takeover, but Ospreay headscissors, only for Okada to pop out. Fans cheer as Ospreay and Okada stand off.
Heavyweight and Junior Heavyweight champions back away to corners while fans duel. They come back and tie up again. Okada and Ospreay have a test of strength and go shoulder to shoulder. Okada rolls back to put the pressure on Ospreay's knuckles. He then spins Ospreay to a hammerlock then the headlock. Ospreay powers out but Okada runs him over with a shoulder. Fans cheer as Okada poses, but then things speed up, and Ospreay monkey flips Okada down! Okada bails out and Ospreay builds speed, but when Okada moves, Ospreay adjusts to handspring and superhero land! Fans are fired up behind the Aerial Assassin while he stares Okada down. Ospreay even offers Okada an easy entry. Okada politely refuses and Ospreay gives him space. Until Okada gets back in!
Ospreay is on Okada with big forearms in the corner, and a CHOP! Okada staggers to another corner, but Ospreay kicks him to CHOP him. Ospreay wrenches and whips corner to corner but Okada reverses. Okada runs into an elbow, but dropkicks Ospreay off the top! Ospreay is down on the outside and Okada is willing to wait. The ring count begins, but Okada offers that easy entry back. Ospreay also declines, so Okada gives him space to get in. Okada brings the sore Ospreay up for a big elbow to that bad shoulder! Ospreay winces as he goes to the ropes, but Okada keeps on him. Okada elbows the shoulder more, then scoop slams Ospreay fast, for an even faster slingshot senton!
Okada goes back to Ospreay and stands him back up. He bumps Ospreay off buckles hard, then throws a big back elbow. Ospreay winces but Okada just gives him another. Okada backs off for Red Shoes to check on Ospreay. Ospreay comes back with a CHOP! But Okada doesn't flinch. Ospreay gives more CHOPS, but they still do nothing. Okada DECKS Ospreay with that forearm! Okada whips Ospreay corner to corner but Ospreay reverses, only to miss and get Okada's elbow again. But then Ospreay scoops Okada for a sudden suplex! Okada looks both shocked and in pain while fans rally up. Ospreay grits his teeth as he gets to his feet. Okada walks into forearms, then a whip. But he dodges only to miss his elbow. He avoids the handspring once, but not on the return! Ospreay takes Okada down with the flipping enziguri!
Fans return to a thunderous rally as Ospreay fires himself up. Okada gets to a corner and Ospreay runs in, but Okada puts him on the apron. Ospreay forearms back, then Pip Pip Cheerio, flying forearm! Cover, TWO! Okada is dazed but he does survive. Ospreay drags Okada up and into the underhooks, but Okada resists the Stormbreaker. Ospreay throws forearms and another CHOP, and that one gets through to Okada. Fans rally up again as Ospreay stalks Okada in the corner. Ospreay brings Okada up and whips him corner to corner, only for Okada to reverse. Okada blocks the boot but not the enziguri! Tiger feint caught, into Alabama position, Air Raid Crash! Now things are even again as both men are down.
Fans cheer as Okada kips right up! Then shotgun dropkick! Ospreay hits buckles then hits the mat! Okada drags Ospreay back up and scoops for another slam. Then he heads up top, and fans cheer as Okada takes aim. Okada leaps, Macho Elbow hits! Fans fire up as Okada gives us the Rainmaker Pose! Okada reels Ospreay in but Ospreay backs him to a corner. Okada boots Ospreay then runs, but into Ospreay's dropkick-flip! But Okada ducks the enziguri that follows, to reel Ospreay into a German Suplex! But Ospreay lands on his feet! ROUNDHOUSE! Ospreay whips but Okada still reverses, only for his dropkick to be left hanging! Ospreay's shooting star gets knees! Okada whips and the dropkick hits this time!
Fans are thunderous once more as Okada gut wrenches, Tombstone Piledriver! Okada gives another pose, then reels Ospreay in, but Ospreay wheelbarrows and victory rolls! TWO, ROBINSON SPECIAL! The falling spin kick hits, and now Ospreay calls for his own. Ospreay springboards but the dropkick clips him enough to send him out! Okada has time to catch his breath now. He goes to the apron and drags Ospreay up. Okada fireman's carries but Ospreay resists. Ospreay fights back with elbows and forearms. Okada hits back, and the two teeter on the apron's edge. They keep hitting each other with forearms and they pick up speed. Ospreay gets the edge and sits Okada down! Fans fire up as Ospreay stands Okada up, only for Okada to uppercut! Fireman's carry but Ospreay slips out to ROUNDHOUSE!
Okada staggers to the floor and Ospreay climbs, but Okada yanks him down! Ospreay is in a Tree of Woe on the outside, and Okada hauls him off for a Tombstone position, only for Ospreay to shove out. HOOK KICK! OSCUTTER!! Ospreay uses railing for a springboard to drop Okada to the floor! Fans rally again while Red Shoes checks on both champions. They're still okay so a ring count begins. Ospreay sits up at 8 and stands at 11 to get in at 12. But Okada is still outside as the count passes 15! Okada staggers at 18 and hops in at 19.5! Ospreay flies in with a Coast 2 Coast missile dropkick!! Cover, TWO!! Okada lives and Ospreay can't believe it. Ospreay keeps moving, springboard to OSCUTTER! Cover, TWO!?
The fans are back at a thunderous level as Ospreay can't believe Okada survives! Ospreay refocuses with a wild look in his eyes. He drags Okada over to a corner, and he uses said corner to leap, but into a GERMAN SUPLEX! Okada holds on and wristlocks, but Ospreay escapes only to run into another dropkick! Okada fires up, stands Ospreay up for the wristlock, Rain-SPANISH FLY!? Cover, TWO!! Ospreay scrambles to a corner and the top rope, SHOOTING STAR!! Cover, TWO!?! Okada survives by the skin of his teeth and the fans are at that fever pitch! Ospreay still has one thing left to try and he vows to do it! He drags Okada up, underhooks, and lifts… STORM- Gut wrench, but Ospreay turns that around! Ospreay throws in knees before stealing the TOMBSTONE!!
But Ospreay won't end it with Okada's move! He stands Okada up, spins him around, HOOK KICK! Underhooks, lift, but Okada slips out to point-blank RAINMAKER! But Okada holds onto the wrist, too! Ospreay and Okada both have looks in their eyes like they're in another space, as Okada drags Ospreay up for another RAINMAKER! Okada isn't done there, either! He drags Ospreay up, wristlocks, but Ospreay slips through! Underhooks, lift, but Okada still escapes Stormbreaker! Ospreay tries to steal Rainmaker at the last second, but Okada ducks and spins Ospreay for a DISCUS RAINMAKER!! And as Okada himself reaches a fever pitch, TRUE RAINMAKER!!!! Cover, Okada wins!!
Winner: Kazuchika Okada, by pinfall; earns 2 points
4-0 is a magic number! Okada is 4-0 against Ospreay all-time, and is 4-0 in G1 Climax 29! The Rainmaker will stay even with Kenta, and now it comes down to them! When these two top A Block contenders meet, there can only be one!
NJPW returns as Okada has the mic.
He counts his wins, and says he has "Number four~!" The G1 Climax isn't even halfway over though, huh? But clearly, Okada still has life yet. Okada vows that the next time he's in Tokyo, it will be for the Budokan three-day event. And he looks forward to closing out this tournament with another win here. Fans like the sound of that! Okada continues to say, "Let's keep this thing rolling, folks!" When the G1 Climax returns to Tokyo, NJPW and Okada will #MakeItRain! A short but sweet statement by THE IWGP Heavyweight Champion!
NJPW Media Backstage Interviews
Okada admits "Ospreay was really strong." And that's all there is to that, "because it's already in the past." But now on to Nagoya, and Kenta. "As the IWGP Heavyweight Champion, the top of the food chain in the pro-wrestling world," he'll make sure Kenta will get "a taste of my power." Another short and sweet statement for the champion. With plenty of Climax left, who will be the very top of A Block after the next round? And who else will start the hard climb up to join them at this whole 'nother level?
---
My Thoughts:
Another great, great night for AXS's coverage of NJPW. There's just so much of the G1 Climax going on, it is all AXS can do to cover Night 7 the same day as it happened in Japan. But it doesn't matter what night, all the action is great! Nobody lets up just because they're down, since they can also spoil things for their opponents. And that's clear with ZSJ and Fale. A similar strategy used against Fale last year, ZSJ strands him outside and lets the ring count take care of him. Tanahashi winning with a victory roll on Archer was great, because it really frames how dangerous Archer has become. This will be great for Archer coming out of the tournament as he looks for targets for feuds. His first feud might even be Tanahashi so we get a decisive finish between them.
Both of A Block's LIJ members did great tonight, even in defeat. Evil and Kenta was a great match, with Evil slowly but surely proving he can be a singles contender like Sanada. But obviously given Kenta and Okada are next, it just makes sense to have Kenta be undefeated to hype that match. Sanada VS Ibushi was a great match, and it felt like it could've gone either way. But it is a great choice to have Ibushi win because it will force Sanada to rethink things just a bit, while Ibushi grows stronger as a reward for his dedication to NJPW. Ospreay's story was incredible for being twofold: he wants to get wins in the tournament, but he also wants to show he finally can beat Okada. And him losing is a double-down on his long journey of rising up. And again, Okada staying undefeated to go against undefeated Kenta, that just makes the next round even more critical to watch.
My Score: 9.1/10
WWE 24/7 Championship Results & Report! (7/20/19)
Stand back! There's a Comic-Con coming through!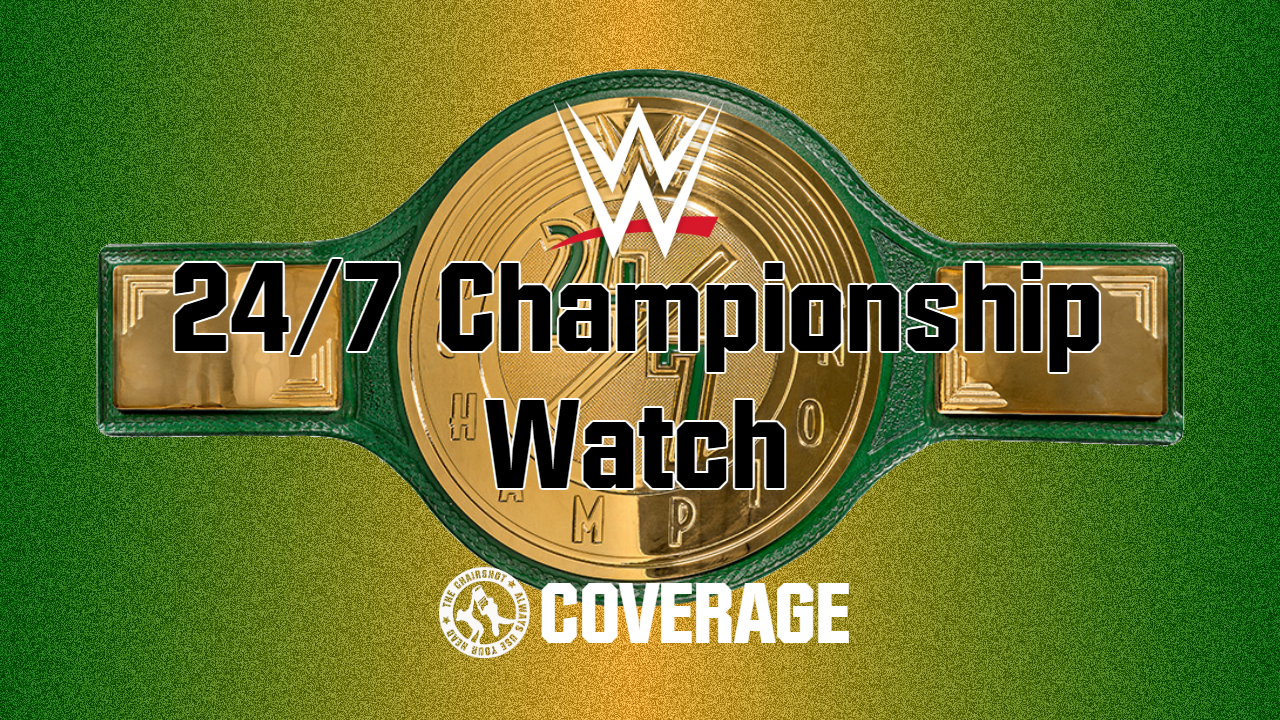 The WWE 24/7 Championship makes an SDCC debut!
As superheroes, super villains and super fans all converge in San Diego, watch as WWE icons collide! Who gets out of the convention with the title?
OFFICIAL RESULTS
WWE 24/7 Championship: R-Truth VS The Hurricane VS Drake Maverick; Truth wins and retains the WWE 24/7 Championship.
PLAY BY PLAY
What's up, San Diego and IGN!? Truth sits with hosts Max Scoville and Sydnee Goodman and has been having a blast. he's seen everything and everybody, but he just hopes no one recognized him. Truth being the 24/7 Champion, he had to stay incognito. Someone, anyone, everyone, they could take this title because it is defended at all times of the day. That is why it is the "48/7 7-11 TV" Championship. How has Truth been holding up? Well he can't sleep, not even for a nap. He's fought over this belt on a golf course, a tarmac, in a plane, and ruined one man's wedding AND honeymoon. But don't worry, Drake Maverick's not constipated.
And now at SDCC, Truth has been able to slip through as a penguin! Pengi the penguin, noot noot! He got to shake hands and hang out with Darth Vader. Truth loves SDCC, it's the bomb. But what else has Truth done while here? Chewbacca stared him down, but then Pikachu came along. The weather's been a bit iffy, though. But wait! Is that…?! Yes! It is THE Hurricane!! Truth mentioned weather, so stand back, because there's a hurricane coming through! Truth thinks this is a really great cosplay, but he's a bit thick around the waist. Oh wow, what a great referee cosplay! He looks just like John Combs! But he's blonde. No, wait, that's… Nevermind. ROLL UP! TWO, but Hurricane runs away before Truth can retaliate. Because here comes Rockstar Banana, Drake Maverick! Roll up, TWO!!
Truth bails out before Maverick can attack again. Maverick vents! Truth has ruined Maverick's life! His wedding, his honey moon, and he's yet to consummate the marriage! Maverick is getting sick and tired of this! And then he realizes he's on camera. Maverick gets up and runs off, but into the cameras! The signal goes down, but is Maverick too down in the dumps to get back up?
---
My Thoughts:
This title continues to be amazing! I was actually shocked Truth didn't lose the title here, but him retaining is actually even more surprising. Great to see Hurricane again, even if it's just for the gag of, "Oh, it's Comic-Con, cosplay is everywhere." Maverick is slowly breaking, and I love that he tied in the banana costume from when he showed up at the WWE Mattel panel during SDCC. Can't wait to see reference to this on Raw.