Andrew's Stardom 5 Star Grand Prix Red Stars Results & Ratings: Day 4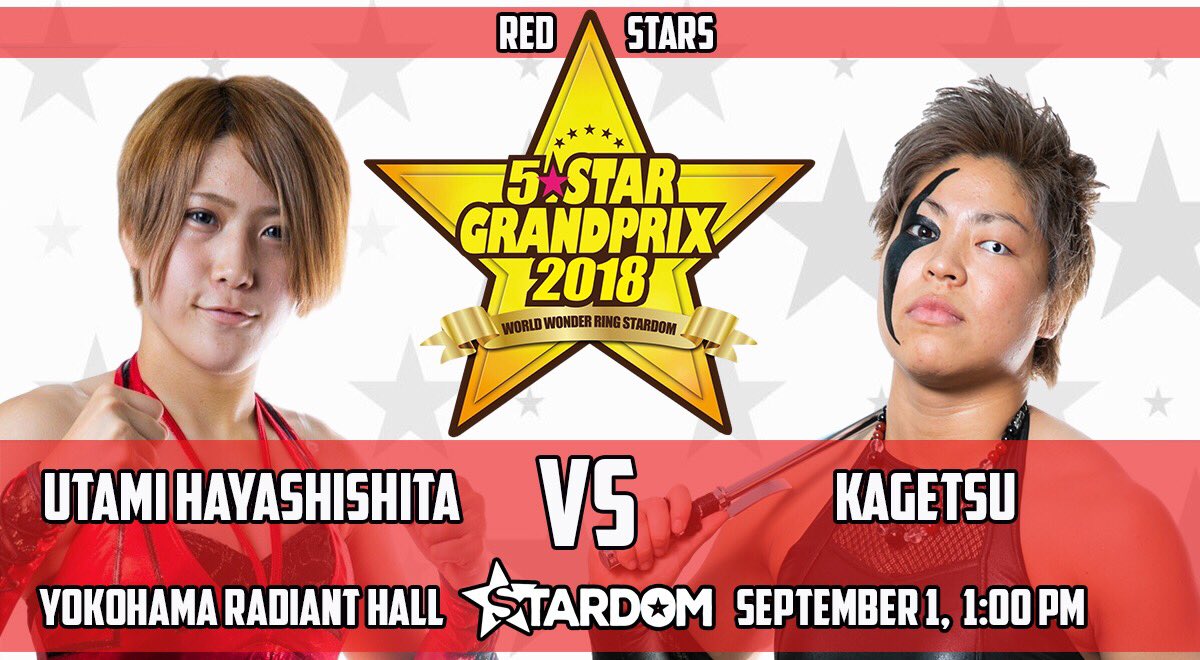 Alright well as we learned last time, Stardom is starting to stagger matches and mix up the numbers. So Day 4 of the Grand Prix only gives us 2 Red Stars matches, but the adorable Tam Nakano gets her tag team title shot with Starlight Kid.
So given that Tam is a part of Red Stars, and I'm terribly biased to her, I'll throw that match in here also, to fill out the article a little.
Call it what you will, but let's just get to the two 5 Star Grand Prix matches.
Konami vs Rachael Ellering
Another match with Ellering, and another match that's just sloppy, poorly paced and hard to watch. Rachael tried a couple power moves and Konami went for a plethora of submissions. Flying Armbars, Triangle Chokes and a Suzuki Style Armbreaker from the top rope leaning to the apron.
Something must have happened because the finish was abrupt after Rachael cursed at her, and then went over and said something to her. So I'm not sure if Konami wrenched too hard on a submission, possibly caught her with a Buzzsaw Kick, but something real happened. Too bad the match was just sloppy, cause I don't really want to rewatch it to find out what Rachael could've been hot about.
Winner: Ellering via Fallaway Power Bomb
Rating: **
Utami Hayashishita vs Kagetsu
The undefeated rookie sensation faces the Prime Minister and world champion of Stardom. Does the rookie get the magical upset or does Kagetsu prove why she's the champion?
Well this was a damn good match as I've come to expect from both of these women. Kagetsu and Utami were basically even when it came to mat wrestling, but Kagetsu brought it to the outside and it got interesting. Throwing Utami into chairs, borrowing an umbrella from a fan, the match was heavily in Kagetsu's favor at this point.
Kagetsu got a little cocky and did her water spitting spot to Utami and also to the referee, but Utami started stringing together some offense. When she went for her Toture Rack, Kagetsu slipped out of it quickly. Utami even did the Hanging Sleeper from the top turnbuckle, but Kagetsu was resilient. The Prime Minister fights back, hits a Michinoku Driver with purpose and then slaps on the high angle Liontamer Style Boston Crab. Utami taps out nearly immediately.
Winner: Kagetsu via Boston Crab
Rating: *** 3/4
Goddesses of Stardom Tag Team Title Match: Tam Nakano & Starlight Kid vs Mayu Iwatani & Saki Kashima (c)
Well both teams are from the STARS stable, so their pre-match promos were more about proving themselves aside from beating the enemies. Finally though, we see Starlight Kid gave Tam a mask to wear on the way out, so Tam finally gets an actual mask (a nod to a few months ago when she was teaming with all of the masked wrestlers and playfully put her hands in front of her face to act like a mask). I obviously hope Tam wins, but it's not going to be easy.
The opening salvo was actually gorgeous in this match. Both teams shake hands, but Kid and Tam rush the others to get the upper hand. Saki manages to reverse a double Irish Whip as she focuses on Tam, sending Kid into the ropes and Mayu comes flying in connecting with a nice dropkick. From that point that match a little hit or miss honestly. Out of all four women, Saki is definitely the weakest link.
Aside from a few awkward spots and near miss/barely hit maneuvers, it really was an entertaining match. My highlight was Kid and Tam drop toe holding Saki and Mayu into the ropes and hitting stereo Tiger Feints (619), and honestly I didn't know Tam could do that. The followed that up with dual Dropkicks, that send Mayu and Saki to the outside and then two Flying Crossbodies really made it look like Kid and Tam had a good shot to take this match. Tam also had a nice moment in the match where she had Saki in a Dragon Sleeper, Mayu tried to break it up, but Tam kicks her and hooks her head for a DDT, so she drops for the DDT/Reverse DDT combo.
Mayu and Tam's interactions were really good in this match and gives everyone watching hope that Tam can maintain this level. Mayu and Saki hit a few tandem moves on Starlight and Mayu keeps Tam out of the ring while Saki hits the Unprettier for the pinfall.
Winner: Saki via Unprettier
Rating: ****
Red Stars Standings:
Jungle Kyona 3-1 (6 Points)
Kagetsu 3-1 (6 Points)
Utami Hayashishita 2-1 (4 Points)
Rachael Ellering 2-1 (4 Points)
Konami 2-3 (4 Points)
Tam Nakano 1-2 (2 Points)
Kimber Lee 1-1 (2 Points)
Natsuko Tora 0-4 (0 Points)
Thoughts:
Well it was a short day when it came to Grand Prix matches, but it was still somewhat enjoyable. Kagetsu and Utami have been a pleasure to watch so far this tournament and Tam has improved by leaps and bounds from the last time I watched a few of her matches. When it comes to the title match, with Mayu starting off so slowly in the tournament, it makes sense to keep the belts on the champions. Plus they had an ongoing joke of not having a team name, so I see them getting a couple more defenses.
So if anything, this was a promising show. People that had to show up in bigger matches definitely did that, so it's always nice when things work out like they should. Here's to the next day when we should have a few more Red Stars matches.