Andrew's Stardom 5 Star Grand Prix Red Stars Results & Ratings: Day 5 & 6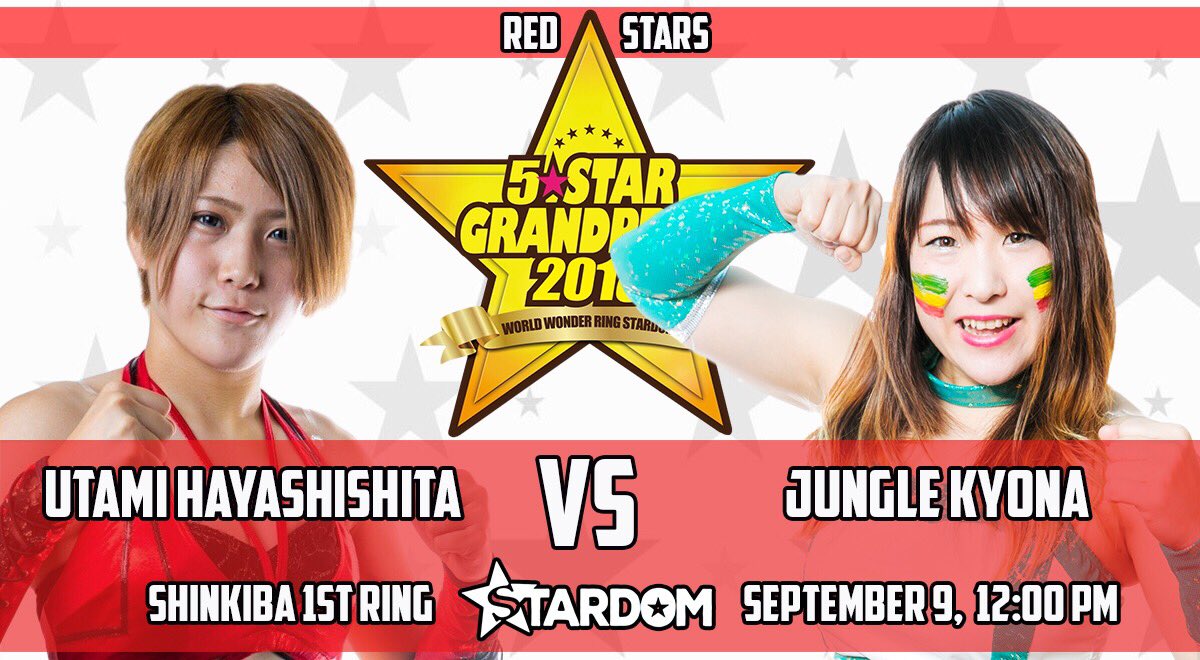 Well coming off a short day for both Red and Blue Stars, Stardom does back to back shows, to even out the match counts.
Kyona has two big matches, where two victories would all but solidify her victory in Red Stars. So I guess it's best for us to see how Stardom decides to keep this tournament interesting.
Day 5:
Natsuko Tora vs Rachael Ellering
…Ellering starts off her promo by saying a scoop of Peanut Butter will power her through. Ughh. Sadly she has Natsuko, and Natsuko hasn't been able to buy a win. So Peanut Butter promo probably wins here, and that's disappointing, very…disappointing.
The opening salvo looks like a battle of, Who can throw the worst looking forearm, German judge says Natsuko, but just barely. But wait – there's more of them.
Ellering hits a couple Jumping Forearms that look marginally better, but that's not saying much. This whole first minute or so is so poorly timed it makes me miss a Bella Twins match. Well, Natsuko finds an opening hits a Spear off the ropes and then a…I don't know, UnShiny Wizard? Falling Sideways Knee Thing? Why is this match still going on?
Natsuko goes for a Fireman's Carry Forward Slam into her middle rope Splash and top rope Splash, for a near fall. Bossman Slam, bad Pump Kick, Spine Buster for a 2 count from Ellering. Rachael then hits Graveyard Smash to put us out of our misery. I've had concussions more enjoyable than this match.
Winner: Ellering via Graveyard Smash
Rating: 1/2
Kimber Lee vs Utami Hayashishita
Kimber comes out with the super babyface promo about not underestimating Utami because she's been underestimated her entire life. Also this is Utami's first match against a Gaijin, and Kimber is a much different style than everyone she's faced so far. This one should be enjoyable, but the previous match set a low bar…so I'll prolly be happy regardless.
Well I was very impressed early, both Kimber and Utami kept it mostly mat based. This helped to show how far ahead Utami is from most rookies, cause her transitioning is fantastic. Kimber stepped up her aggression and played the teacher role during the match, so watching Utami so far on her heels was interesting.
The match started to fall apart a little when Kimber went for a Spider style rope submission, but Utami's one arm came free and it took them a few moves to get their rhythm back. Utami goes for her martial arts style lead into her finish with a nice Judo Throw, two STOs and then her Torture Rack. This time she drops it into a Torture Rack Bomb, and gets the pinfall.
It's nice to see Utami use a few different moves to help the suspense of not knowing what her pattern looks like yet.
Winner: Utami via Torture Rack Bomb
Rating: ** 1/2
Kagetsu vs Jungle Kyona
Kagetsu has an interestingly subtle promo, basically surmising that Kyona reminds her of herself from before, so she wants to win fair and square. Kyona on the other hand, is her usual energetic and fun self just looking forward to someone breaking the tie for the lead in Red Stars. So, who comes out of this match with the lead?
Well these two definitely didn't disappoint. They've been two of the more consistent Red Stars competitors and we can see why. Most of this match was just very nicely matching each other blow for blow and seeing who'd stop getting up. Of course when it spills to the outside we get a bit of Oedo Tai interference, but Kyona fights back nicely and at some point tosses Kagetsu from the entrance ramp into the waiting arms of the rest of her faction members.
Each woman hit most of their signatures, but they did good to protect certain moves. My personal highlight was when Kyona was trying to Powerbomb Kagetsu, Kagetsu kept fighting back, so Kyona pulled a Kawada and just dropped Kagetsu straight down for the Ganso Bomb. We saw a few submission attempts from both, but as the time counts down Kagetsu gets erratic.
She lands a Michinoku Driver and goes up for the Oedo Coaster (450 Splash), hits her move, but after the 1 count, time runs out. So it's a good way to protect the champion and her finisher, as well as give an interesting wrinkle to a fairly straight forward tournament so far. Damn good match.
Winner: Time Limit Draw
Rating: **** 1/4
Day 6:
Konami vs Kimber Lee
So Kimber seemed excited for this match, cause she wanted to see how their styles matched up. Konami just mentioned the Triangle Lancer having 100% win rate, which isn't perfectly honest since Tam countered the transition earlier in the tournament. But hey, nit picks aside this should be a solid match.
Konami is a fun combination of Asuka's striking and Io's swagger in the ring. Her and Kimber went back and forth, Kimber did her split spot and Konami tried to Buzzsaw Kick her face off, but missed. Kimber landed more power moves as well as correctly executing her in the ropes Neck Lock, unlike the match against Utami.
A big Powerbomb from Kimber gave her and opening to go for the Swanton Bomb, but Konami moved and slipped on the Triangle Lancer, causing Kimber to tap rather quickly. Decent match, a bit short, but not bad at all.
Winner: Konami via Triangle Lancer
Rating: ** 1/2
Tam Nakano vs Natsuko Tora
You can see from their pre-match promos they're both dejected. Currently Natsuko has no points and Tam only has 1 win. Both feel they have something to prove. So with the end close in sight, who will build some momentum?
Well this match starts off interesting. Tam charges Natsuko as she's getting her introduction. So Joey Styles may say "Cat Fight", I'd call it more of a "Streamer Fight". They even roll off the apron onto the floor, and ya, it doesn't look comfortable.
After they get back in the ring, the tussle continues. Tam tries a few shoulder tackles, but Natsuko out powers her easily. Tam manages to reverse a whip and go for a Cutter, but Natsuko drops to her knees way to early and makes it look bad. So Tam does her Cartwheel Double Knees, right on the back of Natsuko's head. We get a strike exchange with Tam connecting on Round Kicks for every one of Natsuko's Double Chops. Tora tries to hit the ropes and Tam stuns her with a well timed Super Kick, followed by something I'm calling a T-Trigger (V-Trigger), but only getting a 2 count.
From that point Tam dominates most of the remainder of the match. A few flurries from Natsuko, but Tam puts together a few Spinning Crescent Kicks, Knee Strikes and even her Diving Knee Strike, but only for 2. Tam comes off the ropes and Natusko catches her, then turns it into a Tilt-a-Whirl STO. Three of her Top Rope Body Splashes finally put Tam away, so Natsuko gets her first win.
There were a few sloppy spots, but Tam really is selling her ass off in this tournament. Her back seems to be taped from her Kyona match, and she sells it quite often. If anything I can equate Tam's tournament this year to SANADA's G1 from last year. Trying too hard to wrestle other people's matches, they get caught off guard trying to do too much.
Winner: Natsuko via Top Rope Body Splash
Rating: ***
Utami Hayashishita vs Jungle Kyona
Kyona was Utami's very first match last month, and that ended in a draw. Now we've got both women with a very real chance to win the 5 Star Grand Prix. So whoever gets the win here, will direct their own destiny.
Both women came in with something to prove, and a specific way they wanted to send a message. The match had numerous submissions and most of their signature strikes. Utami did her Judo throws into the STO for a near fall. She even put together a few Sleeper Hold Takeovers into the Coquina Clutch, but Kyona found the ropes.
As the match got close to the time limit, Utami started to lose steam and Kyona really picked it up. Earlier we saw her focus on Utami's back with the Camel Clutch and Canadian Backbreaker into an across the knee Backbreaker. So when Kyona slaps on her Scorpion Deathlock, it could've all been over if they weren't right in front of the ropes.
Kyona dropped Utami a couple times and hits the Hammer Throw Powerbomb, but the time runs out on the 2 count. So again, Kyona and Utami wrestle to draw, but Kyona was literally 1 second away from winning.
Winner: Time Limit Draw
Rating: *** 1/2
Red Stars Standings:
Jungle Kyona 3-1-2 (8 Points)
Kagetsu 3-1-1 (7 Points)
Utami Hayashishita 3-1-1 (7 Points)
Rachael Ellering 3-1 (6 Points)
Konami 3-3 (6 Points) – Eliminated
Tam Nakano 1-3 (2 Points) – Eliminated
Kimber Lee 1-3 (2 Points) – Eliminated
Natsuko Tora 1-5 (2 Points) – Eliminated
Thoughts:
Kyona has the lead, but she's also only got 1 match left. So smart money is probably on Kagetsu or Utami to pull off the Red Stars win. Would be kind of odd to have Kyona win after back to back disappointing draws.
As we've established through this tournament, I have a huge Tam bias. So what I said in her match rundown was pretty accurate for how I see everything has played out so far. Tam has had the most consistent selling and ring work of the tournament, but she keeps wrestling out of her comfort zone. I appreciate how hard she tries to prove herself by going after her opponents strengths instead of weaknesses. However, that's not the best strategy to win a match, she's definitely grown as a wrestler, which is respectable.
So we're down to four viable winners of the block, but Kyona is looking less and less likely, even though she's the current leader. Should be interesting to see who plays spoiler and who edges out the victory in the end.
Mitchell's WWE Raw Results & Report! (1/18/21)
Will Raw be on fire tonight?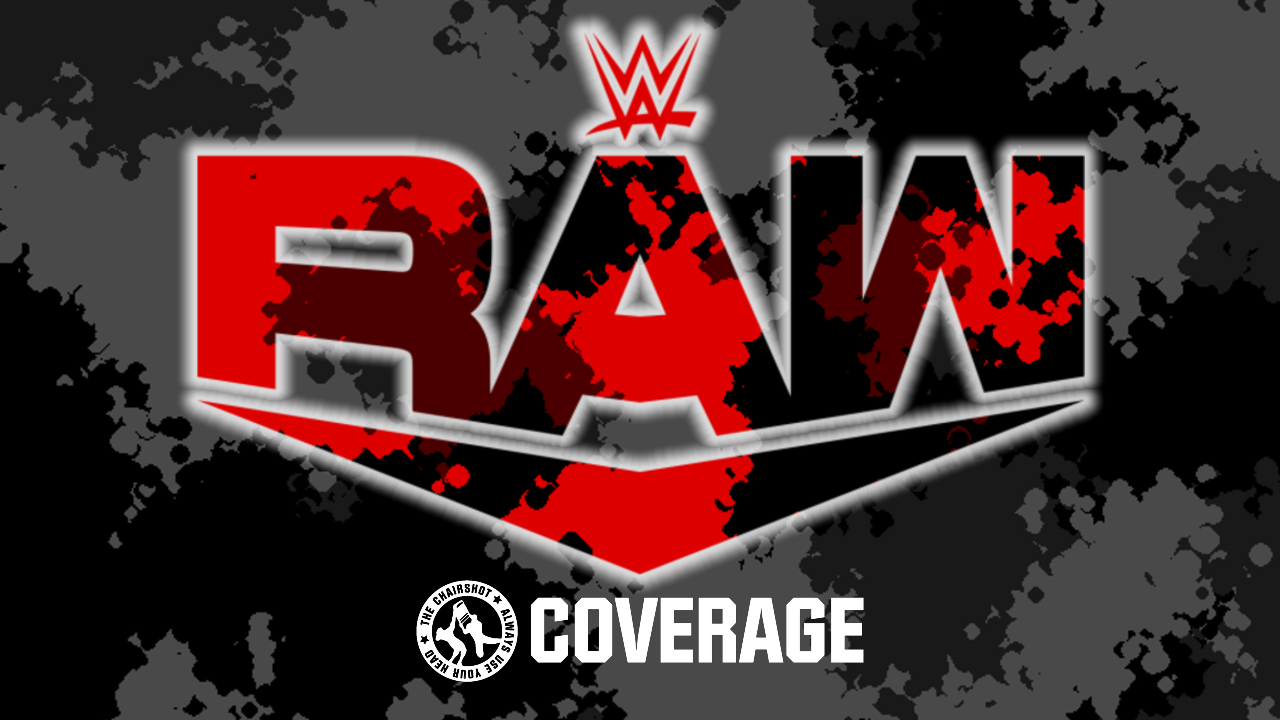 Will Alexa Bliss have a twisted surprise for the Raw Women's Champion?
She gave Randy Orton a taste of his own medicine, but she might be hungry for something more! Will Alexa be ready for Asuka and earn herself a shot at the title?
OFFICIAL RESULTS
Charlotte Flair VS Peyton Royce; Charlotte wins.
Xavier Woods VS Mace w/ Retribution;Mace wins.
Six Man Tag: The Hurt Business VS Matt Riddle & The Lucha House Party; win(s).
Asuka VS Alexa Bliss; wins.
PLAY BY PLAY
"Now is the time."
Martin Luther King Jr's dream lives on, but only if we live it. Do not judge by the color of one's skin, but by the content of their character. We will reach the promised land together. #LongLiveTheDream.
Randy Orton speaks.
"There is a saying that people who fight fire with fire usually end up with ashes. Ashes of the one responsible for their affliction." Orton wears a mask to cover his burned face. "The voices in my head have never been louder. Encapsulating my every thought, just like this mask encapsulates my face." Orton held Alexa Bliss' fate in his hands, yet showed a side of himself he didn't know he had: compassion. Orton rewatches the footage for himself. The hatred he had for himself needed to be redirected, and he was ready to make Triple H "like a lamb to the slaughter, until she interrupted."
It was only just last week that HHH was shockingly spirited away so that Alexa could throw a literal FIREBALL at Orton! "And now look at me. LOOK AT ME! This is the damnation I receive for showing compassion? I haven't been able to sleep because every time I close my eyes, all I see is that ball of fire hurtling towards my face." Orton seethes as he says "that inescapable feeling of the fire burning my flesh will never go away." Whatever compassion was in him, it left with that inferno. Orton wears this mask to not only protect himself, but to shield everyone else from the horrors that he endured.
Orton watches himself from last week flail and writhe as he clutched his face in pain. "Despite the agony I felt that would mortify a lesser man, I consider myself… lucky." Orton came away with just first degree burns and not much worse. He could've been disfigured forever! But Orton doesn't blame Alexa. He blames THE FIEND! Orton already sent him straight to Hell. "There's no doubt The Fiend is responsible for this. Alexa was merely the vehicle. And I know exactly what The Fiend wants. He wants to stop me from achieving the inevitable." That is to say, winning the Royal Rumble again, going back to WrestleMania, and becoming a world champion.
Orton is sure everyone else in the locker room loved seeing his face burn, "knowing that their biggest threat may have just been eliminated from competing in the Royal Rumble match. But you could chop off all my limbs and it wouldn't stop me from winning this year's Royal Rumble match. Because despite my sickening affliction, I vow to remain in the Royal Rumble match. I can only compete as long as I can tolerate the pain, but the funny thing is… I enjoy the pain. It fuels my every move." Orton has a match! Orton wants everyone to thank The Fiend when he burns their dreams to ashes and goes on to main event WrestleMania! He lights the match, watches it burn, then blows it out. Will this new, even darker Orton extinguish 29 other lights before going back to the Grandest Stage of Them All?
Ric Flair arrives at the ThunderDome, with Lacey Evans!
Lacey wants to hear some Four Horsemen stories but Charly Caruso comes over to ask about this "relationship" first. Lacey says that's so nasty. This isn't TMZ. This is beneath Charly! Charly is compelled to ask because Ric helped Lacey beat Charlotte Flair, his own daughter! Lacey says to show respect to the 16-time world champion, and a living legend. But to answer the question, there's a reason Ric is the Dirtiest Player in the Game. He was just living up to that name. As far as the relationship goes, Lacey is simply learning from the greatest man to ever step in the ring. Now, they are going to go watch Peyton Royce knock the nasty Queen of her throne.
Charlotte Flair VS Peyton Royce!
But speaking of dirty, Peyton attacks Charlotte from behind at the ramp! They brawl, referees hurry to separate them but this match is going to happen, after the break!
Raw returns and the bell rings and Charlotte tackles Peyton to a corner! Then stomps away on her! The ref backs Charlotte off but she goes right back for more! She RAMS Peyton, RAMS her again, but Peyton sends Charlotte into buckles to fire stomps back! The ref counts, Peyton stops at 3 and brings Charlotte out to hammer away. Charlotte trips Peyton, gives some ground 'n' pound, then tackles her to ropes! They spill out of the ring and Charlotte CHOPS! And CHOPS! And CHOPS! Charlotte puts Peyton in but Peyton rolls out the far side. Charlotte pursues but Peyton kicks back, only for Charlotte to CLUB her, and bounce her off the desk!
Charlotte stalks Peyton around the way, they go back in the ring, then back out the ramp side. Another CHOP, CHOP and CHOP into the post! Peyton shoves Charlotte into the post, then into the ring! Cover, TWO! Charlotte is still in this but Peyton drags her around to drop elbows. Peyton puts on a thrashing chinlock but Charlotte endures. Charlotte fights up, arm-drags free, and CLOBBERS Peyton! Charlotte looms over Peyton, drags her up and bounces her off buckles. Charlotte bends Peyton against ropes, lets go at 3, and brings Peyton around for another buckle bump! Peyton dodges, Charlotte hits buckles, and Peyton throws Charlotte down by her hair! Cover, TWO!
Peyton is frustrated but she kicks Charlotte down and around. She pushes Charlotte to ropes, bumps her off buckles in return, then digs her boot into Charlotte's face! The ref counts, Peyton lets off and bumps Charlotte off more buckles. Peyton whips corner to corner, Charlotte goes up and out to shoulder back in! Slingshot and roll up, TWO, but Charlotte ROCKS Peyton with a right! Charlotte blocks boots, has Peyton in the ropes, DRAPING NECKBREAKER! Cover, TWO! But now Ric makes his entrance?! Ric swaggers on stage and Charlotte is annoyed, because here comes Lacey in one of Ric's robes!
Charlotte is confused as ever, but Peyton catches her with the HEEL KICK! Cover, TWO!! Peyton is furious that Charlotte survives and Raw goes to break.
Raw returns and Peyton goes to buckle bump but Charlotte blocks to CHOP! And O'Conner roll, TWO! Charlotte goes into buckles but she dodges to send Peyton back into buckles! Both women are down and Peyton crawls away. Charlotte gets up, checks her nose, and then goes after Peyton. Peyton jawbreakers, whips, but Charlotte holds ropes to KICK back! Peyton dodges to HEEL KICK back! Peyton runs but Charlotte puts her on the apron, but Peyton SCORPION KICKS! Peyton goes up, leaps, but Charlotte gets under! Peyton turns around into the backbreaker and BUCKLE SHOT! Cover, TWO!
Charlotte watches Peyton go to the apron, runs in and BOOTS her down! Charlotte dares Lacey to do something again, but no, Lacey stays in the back this time. Peyton drags herself up as the ring count is 8 and is in at 9, but gets stomped by Charlotte! Charlotte puts Peyton's leg on the rope, then drops a knee, only to miss! Peyton mule kicks then hobbles away from her back hurting. She dodges Charlotte's clothesline to elbow, kick and HEEL KICK, to then ENZIGURI! Cover, TWO!
Peyton is furious and she drags Charlotte up to suplex. Charlotte slips out to CHOP BLOCK the leg! Knee breaker after knee breaker, Charlotte shows no mercy! Charlotte steps through, Figure Four, to FIGURE EIGHT! Peyton taps, Charlotte wins!
Winner: Charlotte Flair, by submission
But she doesn't let go! She wants Peyton to suffer on behalf of Lacey! Charlotte finally does let Peyton go, will Peyton even be able to team with Lacey now? Will anyone want to?
Matt Riddle crosses paths with The Hurt Business.
Riddle just wants to say hi but MVP doesn't want to hear it. Does he wear this same lame outfit on the streets? Of course. Riddle lives his life free and untethered. And unkempt, it seems. Uncalled for, bro. But Riddle will take the high road. Of course he will. Riddle just wants to say he admires how nice they all dress. MVP is like Gordy Gecko, then there's "Ceddy the Cheddy," and Benjamin spending the Benjamins. And of course, who would ever call Lashley "Slobby Bobby." Lashley handles this and the others head out.
Lashley tells Riddle that if it were him, he actually likes the flipflops. But he heard they're bad for your feet. What? No they're not. Lashley STOMPS one of Riddle's feet, and says that proves his point. Riddle says Lashley will see this foot later, right up his ass! Will The Bro and his "brochachos" make the Hurt Business pay in their 3v3 later tonight?
Raw returns as Lucha House Party checks with Riddle.
Is he going to be okay for the match? Riddle says when he was in high school, his cousin ran his foot over with his truck, and Riddle was still able to go to prom. He'll just tape it up. If he says so…
Xavier Woods VS Mace w/ Retribution!
Here he goes again on his own! Mustafa Ali says this is their time to strike. Kofi Kingston at home with a broken jaw isn't enough, Ali wants to break his spirit, and that's by breaking one of his most beloved friends! Ali prays Kofi can't compete or even be in Elimination Chamber or WrestleMania. Then Kofi will feel what Ali did just one year ago! Will this revenge a long time coming be carried out by the menacing monster at Ali's command?
Ali shouts at Woods about Kofi being a coward. Woods DECKS Ali for that and the ref has to keep Retribution back! Woods is ready for a fight but Raw goes to break!
Raw returns and the bell rings! Woods circles with Mace but is cornered! Mace keeps Woods from getting away but Woods CHOPS back, only for Mace to shrug it off. Woods and Mace go again, Woods CHOPS and fires off hands but Mace shoves him away. Woods kicks low, climbs up and throws more hands but Mace shoves him away again. Mace catches Woods with both hands and brings him out to center for a CHOKE SLAM! Cover, TWO!! Woods survives but Mace choke grips Woods again and dead lifts him to shove him to a corner! Mace runs in to elbow Woods down! Ali mocks Woods' pain as Mace whips Woods and KNEES him in the back! Mace looms over Woods, covers, TWO!
Mace sits Woods up, pries on fingers and then clamps on for a neck wrench! Woods endures, Mace fish hooks Woods' mouth, and Ali says Kofi doesn't need to worry. Woods will break his jaw and be right next to Kofi tomorrow. Woods bites Mace's hand! Woods mule kicks, CHOPS away, then kicks low to CHOP and CHOP again! Mace ROCKS Woods with the uppercut! Mace whips, Woods dodges and ducks to dropkick a leg out! Woods keeps on Mace with haymakers and elbows! Mace shoves Woods away but Woods CLUBS him! Mace shoves Woods but runs into a boot! HONOR- NO! Choke grip! Woods fights the grip, gets free, and ENZIGURIS!
Mace flops out of the ring but Ali shouts at him to get back in. Mace goes up, but Woods baseball slides under Mace to hit Ali! Woods hits Mace off the apron again but Ali tells them they stop this. They're going to shut Woods down! Mace gets in, the other members run distraction, Woods SUPERKICKS but runs into a BOOT! Mace drags Woods back up, fireman's carries, and SWINGING AIR RAID CRASH! Cover, Mace wins!
Winner: Mace, by pinfall
Retribution wins again, and Ali stands over Woods. "Tell Kofi, Retribution says, 'Get well soon.'" Ali and his cohorts are laughing now, but will Kofi make a comeback to shut them up?
Backstage interview with Asuka.
She's been invited to Alexa's Playground, what does she expect? Asuka honestly doesn't know. But even after seeing her set Orton on fire, Asuka isn't afraid of Alexa's dark side.
Andrew's Impact Wrestling Hard to Kill Results & Match Ratings: 1.16.21
Three title matches, the return of Decay, Barbed Wire Massacre and a main event with Kenny Omega. Impact Wrestling's Hard to Kill definitely sounds like it's got a little bit of everything. Check out how it went!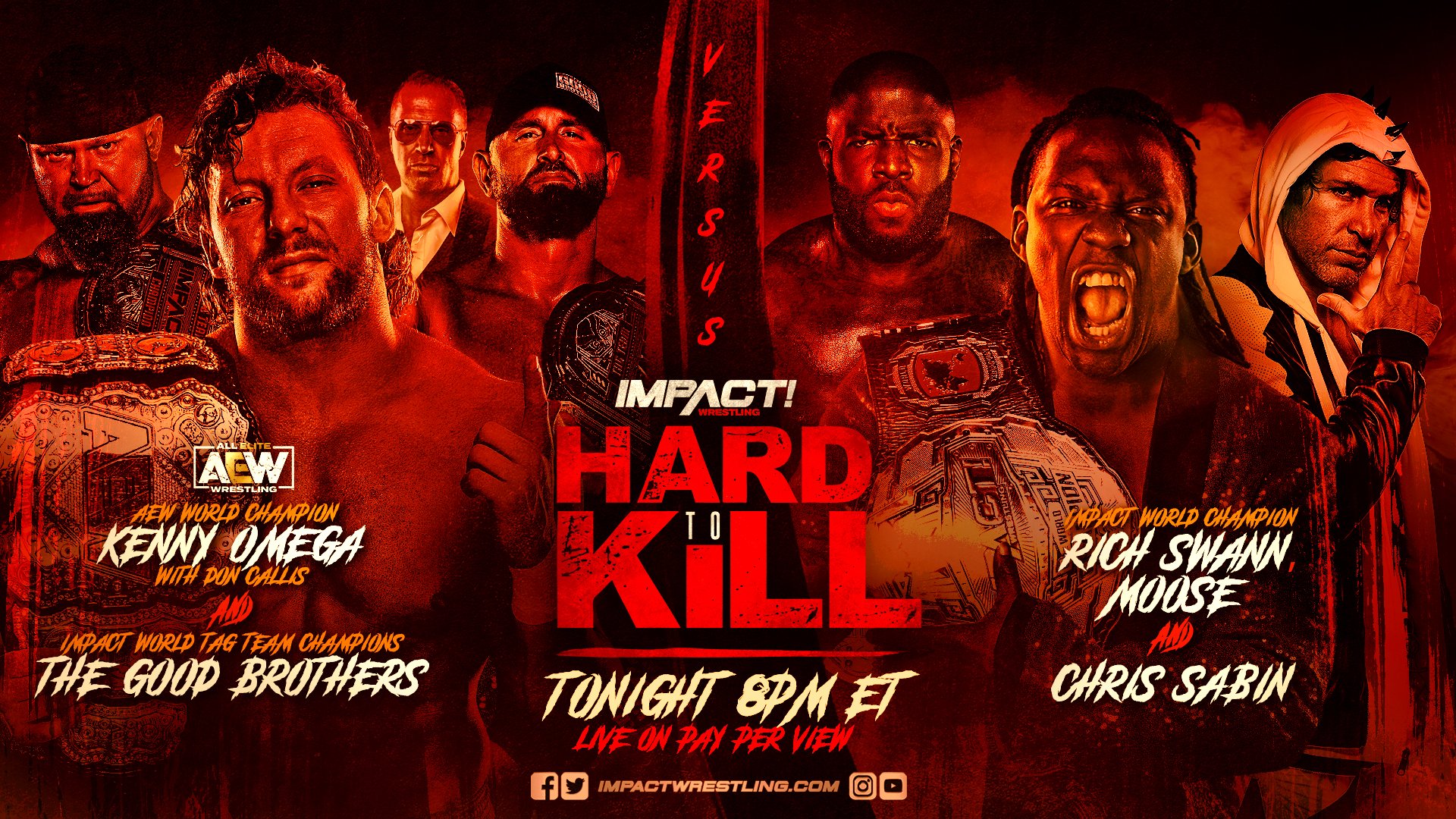 So the news that made many people cry a few days ago, was that Alex Shelley would be out of the main event. He went out of his way to film a response/promo/apology so fans knew it was something non-pandemic related, so that was an effort that wasn't necessary, though appreciated.
Aside from losing it's "Dream Match" luster, we get Moose as a replacement, which could really work for the cold calculated persona he's taken on after his EC3 encounter. We also get to crown Knockouts Tag Team champions for the first time in seven and a half years. Let's also not forget, this could end up being Taya's swan song from Impact, so we should expect a good match but no Wera Loca victory.
Let's see if we get any surprises!
Ratings:
Decay (Rosemary & Crazzy Steve) vs Tenille Dashwood & Kaleb: Steve wins via King Kill 33 @8:55 – * ½
Old School Rules Match: Violent by Design (Joe Doering, Eric Young & Deaner) vs Tommy Dreamer, Rhino & Cousin Jake: EY wins via Piledriver @9:55 – ** ½
Knockouts Tag Team Title Finals: Fire & Flava (Kiera Hogan & Tasha Steelz) vs Nevaeh & Havok: Kiera wins via Face the Music @8:40 – *** – TITLE CHANGE!!
Ace Austin w/Madman Fulton vs Matt Cardona: Cardona wins via DQ @2:30 – N/A
X Division Championship: Manik (c) vs Rohit Raju vs Chris Bey: Manik retains via Ole Cradle @13:50 – *** ½
Knockouts Championship: Deonna Purrazzo (c) w/Kimber Lee & Susan vs Taya Valkyrie w/ Decay: Deonna retains via Venus de Milo @11:40 – *** ¼
Ethan Page vs The Karate Man: Karate Man WINS…Fatality – 200 Stars
Barbed Wire Massacre: Sami Callihan vs Eddie Edwards: Eddie wins via Diehard Flowsion @18:50 – *** ¾
Moose, Rich Swann &Chris Sabin vs Kenny Omega, Karl Anderson & Doc Gallows: Kenny Omega wins via One Winged Angel @20:30 – ****
Results:
During the last few moments of the Countdown, Madison Rayne officially retired from wrestling and from Impact Wrestling. Not sure how long she'll stay a house wife, but good for her. She did great to actually prove to people she was a decent wrestler since her run during the WOH tournament, she was a fun commentator, so good for her.
Decay (Rosemary & Crazzy Steve) vs Tenille Dashwood & Kaleb
The weird thing about this match was the dynamic between who was involved and what went on.  Crazzy Steve showed a very high work rate in this match, with his strikes and moves looking fantastic. But Rosemary got exposed a bit on still being less than 100% with the knee and generally sloppy on a lot of spots.
Kaleb and Tenille definitely tried to add comedy and their quirky personalities, but the fact that we saw a lot of sloppiness, Steve working his ass off and just comedy spots or gimmick spots too often; this was a giant mess of a match. It also didn't help that D'lo and Striker are still getting used to each other, so the announcing was distractingly bad.
It can only get better from here!
Old School Rules Match: Violent by Design (Joe Doering, Eric Young & Deaner) vs Tommy Dreamer, Rhino & Cousin Jake
This starts the same way every Tommy Dreamer match starts, with a brawl and weapon use.  This wasn't a terrible match, but it's really not anything worth going deeply in to. EY did the flair corner to top rope spot, which ended with Dreamer hitting him with a cookie sheet. We had a Tower spot in the corner, with Joe Powerbombing a Suplex, and it landed right into Dreamer's face.
Doering got to look like a beast when the entire team took the chairs to him, and he still fought back, ending up in control. Dreamer introduced tacks, then we saw the Signature/Finisher spam which ends with EY breaking up the pinfall and hitting Cousin Jake with the Piledriver.
Again, decent enough, but nothing really special.
Knockouts Tag Team Title Finals: Fire & Flava (Kiera Hogan & Tasha Steelz) vs Nevaeh & Havok
Oh, Brian Hebner is back for this match. Slightly surprising.
Kiera and Tasha try to start fast, but the bigger women over power the smaller team and throw them around a little bit. Havok beats up on both of them, Neavaeh comes in to keep up the momentum, but eventually Tasha and Kiera start making a comeback. We see Fire and Flava go for a lot of quick spots, fast tags and trying to spin around the larger women, but they just get taken for a ride more often than not.
It's not until Kiera hits a High Round Kick, followed by Tasha with the Springboard Neckbreaker actually takes Havok off her feet. Nevaeh tries to make a save and get things back on track, but Tasha picks her leg, Havok gets wiped out after a great Super Kick from Kiera, Tasha and Kiera use some tandem attacks on Nevaeh, then Tasha slows down Havok as Kiera hits Face the Music and we have new Knockouts Tag Team Champions!
Ace Austin comes out to declare himself into the X Division Triple Threat to make it a 4 way! D'Amore comes out, says he can have a match, just not the title match. Matt Cardona comes out.
Ace Austin w/Madman Fulton vs Matt Cardona
Ace tries to go at Cardona before the ring jacket is off, but Cardona absorbs some offense and then fires back a bit. Fulton gets in the way quite often during this match, so the finish is a little telegraphed. But right as Cardona starts building momentum; Fulton slides in to cause the DQ.
Decent enough way to protect Ace and give Cardona quick win.
X Division Championship: Manik (c) vs Rohit Raju vs Chris Bey
Rohit went after Manik to try and prove his point that it's TJP. Bey seemed dead set on finding a way to win, and as we expected in an X Division match; there were a lot of spots, but they all made sense. Rohit does manage to take off the mask, but TJP painted his face under the mask, so it still throws off Rohit. TJP strings together a few moves, goes for the Mamba Splash, but gets caught by Bey with a Cutter. Bey then hits a Double Art of Finesse, but his brief moment of not knowing who to pin, caused the pinfall breakup.
Rohit almost won the title back after his call back to hitting his Tiger Knee after a Mamba Splash but Bey kicked out. Haymakers get thrown, Rohit hits the Dragon Stomp on Bey, and looks to finish things, but TJP slides in for the style of Cradle he's used a bit lately, and retains his title after a fun, hard fought match.
Knockouts Championship: Deonna Purrazzo (c) w/Kimber Lee & Susan vs Taya Valkyrie w/ Decay
Early on all of the seconds get kicked out, with the beauty of the situation being that Susan pulls out her phone and says she's filming the whole thing. So Susan, really may be a middle aged transformation of Su Yung. Susan might as well be named Karen.
EVERYBODY has been ejected from ringside.

(and Susan is recording everything) #HardToKill pic.twitter.com/9Bh5HwusLy

— IMPACT (@IMPACTWRESTLING) January 17, 2021
As we focus on the actual match, Deonna starts slowly picking apart Taya. Going after her left arm, then her left knee and just trying to apply submission and weaken different limbs. Taya was able to push back and have her own submission attempt moment. Taya went for an STF, but the submission game isn't her wheelhouse.
Deonna was able to pick her apart, counter a pinfall attempt and keep Taya grounded long enough to work in some holds. The normal Fujiwara didn't get her submit, so Venus de Milo followed up and Taya verbally submitted.
Ethan Page vs The Karate Man
Since this is cinematic or at least green screen, I won't rate this as a real match. But it was amazingly entertaining. Dragon Ball Z references, Karate Kid, and Mortal Kombat references, it was just amazing.
GET HIM A BODY BAG! #HardToKill @The_KarateMan @OfficialEGO pic.twitter.com/lcBAX90Sj6

— IMPACT (@IMPACTWRESTLING) January 17, 2021
Barbed Wire Massacre: Sami Callihan vs Eddie Edwards
Interesting pacing to get across the familiarity, twisted respect and love for punishment between these two. We saw Barbed Wire Tables, Chairs, Baseball Bats, Kendo Sticks and even an…N64 Controller!
Sami took a ton of punishment, but the story was basically playing with Eddie's emotions to bait him into bad dives, and openings for Sami to move out of the way, or sneak in a barbed wire shot. Eddie hit a Blue Thunder Bomb on a barbed wire chair, Sami hit an Avalanche Piledriver through a barbed wire table, but none of this was enough. If anything, the Piledriver just pissed Eddie off.
Going for the callback that started it all, Sami tries to hit a Barbed Wire Chair into Eddie's face with a Barbed Wire Bat, but Eddie hits a low blow to get a moment. Sami tries to bring himself up with a chair, Eddie hits the Boston Knee Party, then the Diehard Flowsion for the win!
Eddie hasn't hit that Flowsion in a long time. I did appreciate Sami paying homage to Cactus Jack and Striker acknowledging Jun Akiyama and Mitsuharu Misawa on commentary though.
Moose, Rich Swann &Chris Sabin vs Kenny Omega, Karl Anderson & Doc Gallows
The early onset is interesting. Karl Anderson and Chris Sabin start off and there's some solid technical counter wrestling, and it's fast paced action. Moose and Gallows come in to do a big boy showdown which worked fairly well, where Swann and Omega had a brief lockup before the Brothers come in to start heeling it up.
We get a lot of Japanese tag stylings, from the triple team that Team Impact pulls off, to the way the Club breaks up any type of momentum with their own train attacks into the corner. Moose looked amazing in this match. He went toe to toe with everyone, pulled off great moves like a Standing Moonsault, leaped to the top rope for a Spanish Fly and was a really good teammate, regardless of his issues with Rich Swann. Hell Swann and Moose even hit a Doomsday Device variant together. Small aside, I did like seeing Chris Sabin pull off Cradle Shock, which just doesn't happen often enough anymore.
Omega almost has the match one on Rich, but the only one able to break it up was Moose, and he did so. Omega went into V-Trigger spamming mode to wipe out Moose, rock Rich and then a One Winged Angel won the match for the Bullet Club former members.
Overall Score: 6.75/10
Well this started off pretty bad, but at least it built upwards. The main even had a lot of fun wrinkles which increased the storytelling, psychology and overall enjoyment of the show. Hell even when Callis nearly jumped into the ring to break up a pin on Kenny was a good little nugget.
As I said in the weekly coverage, this is probably Taya's final match, or at least one of the last, especially since they logically moved Rosemary back to Decay with Crazzy Steve. Eddie and Sami had a hell of blood feud and it was nearly cathartic. Let's also not overlook the fact that Tasha and Kiera actually won the Knockouts Tag titles. I almost thought they wouldn't win just because they are so charismatic and attractive without the titles, where Havok and Nevaeh don't exactly have electric personalities. But I'm ecstatic that Kiera finally has a title in Impact!
With the pretty awful start for the wrestling and the commentary, which put the show behind the eight ball; but it did recover fairly well. Not nearly as good as Genesis, but it managed to keep the stories rolling and end on an interesting note. A pretty good show after all was said and done.