Andrew's Stardom 5 Star Grand Prix Red Stars Results & Ratings: Day 5 & 6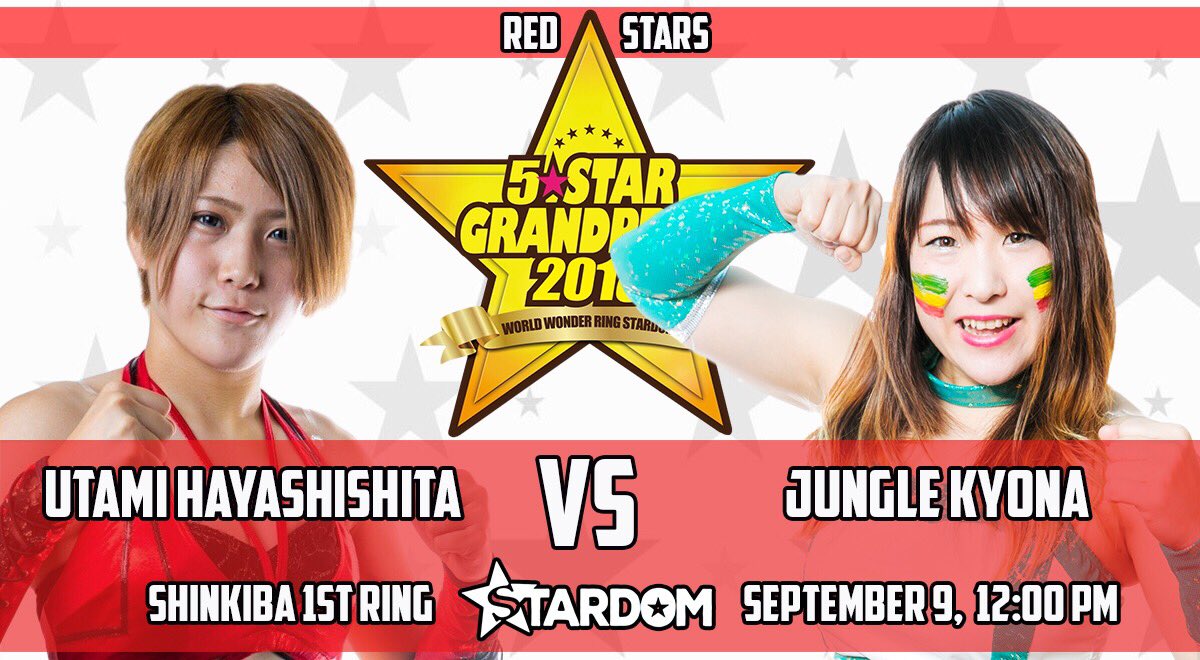 Well coming off a short day for both Red and Blue Stars, Stardom does back to back shows, to even out the match counts.
Kyona has two big matches, where two victories would all but solidify her victory in Red Stars. So I guess it's best for us to see how Stardom decides to keep this tournament interesting.
Day 5:
Natsuko Tora vs Rachael Ellering
…Ellering starts off her promo by saying a scoop of Peanut Butter will power her through. Ughh. Sadly she has Natsuko, and Natsuko hasn't been able to buy a win. So Peanut Butter promo probably wins here, and that's disappointing, very…disappointing.
The opening salvo looks like a battle of, Who can throw the worst looking forearm, German judge says Natsuko, but just barely. But wait – there's more of them.
Ellering hits a couple Jumping Forearms that look marginally better, but that's not saying much. This whole first minute or so is so poorly timed it makes me miss a Bella Twins match. Well, Natsuko finds an opening hits a Spear off the ropes and then a…I don't know, UnShiny Wizard? Falling Sideways Knee Thing? Why is this match still going on?
Natsuko goes for a Fireman's Carry Forward Slam into her middle rope Splash and top rope Splash, for a near fall. Bossman Slam, bad Pump Kick, Spine Buster for a 2 count from Ellering. Rachael then hits Graveyard Smash to put us out of our misery. I've had concussions more enjoyable than this match.
Winner: Ellering via Graveyard Smash
Rating: 1/2
Kimber Lee vs Utami Hayashishita
Kimber comes out with the super babyface promo about not underestimating Utami because she's been underestimated her entire life. Also this is Utami's first match against a Gaijin, and Kimber is a much different style than everyone she's faced so far. This one should be enjoyable, but the previous match set a low bar…so I'll prolly be happy regardless.
Well I was very impressed early, both Kimber and Utami kept it mostly mat based. This helped to show how far ahead Utami is from most rookies, cause her transitioning is fantastic. Kimber stepped up her aggression and played the teacher role during the match, so watching Utami so far on her heels was interesting.
The match started to fall apart a little when Kimber went for a Spider style rope submission, but Utami's one arm came free and it took them a few moves to get their rhythm back. Utami goes for her martial arts style lead into her finish with a nice Judo Throw, two STOs and then her Torture Rack. This time she drops it into a Torture Rack Bomb, and gets the pinfall.
It's nice to see Utami use a few different moves to help the suspense of not knowing what her pattern looks like yet.
Winner: Utami via Torture Rack Bomb
Rating: ** 1/2
Kagetsu vs Jungle Kyona
Kagetsu has an interestingly subtle promo, basically surmising that Kyona reminds her of herself from before, so she wants to win fair and square. Kyona on the other hand, is her usual energetic and fun self just looking forward to someone breaking the tie for the lead in Red Stars. So, who comes out of this match with the lead?
Well these two definitely didn't disappoint. They've been two of the more consistent Red Stars competitors and we can see why. Most of this match was just very nicely matching each other blow for blow and seeing who'd stop getting up. Of course when it spills to the outside we get a bit of Oedo Tai interference, but Kyona fights back nicely and at some point tosses Kagetsu from the entrance ramp into the waiting arms of the rest of her faction members.
Each woman hit most of their signatures, but they did good to protect certain moves. My personal highlight was when Kyona was trying to Powerbomb Kagetsu, Kagetsu kept fighting back, so Kyona pulled a Kawada and just dropped Kagetsu straight down for the Ganso Bomb. We saw a few submission attempts from both, but as the time counts down Kagetsu gets erratic.
She lands a Michinoku Driver and goes up for the Oedo Coaster (450 Splash), hits her move, but after the 1 count, time runs out. So it's a good way to protect the champion and her finisher, as well as give an interesting wrinkle to a fairly straight forward tournament so far. Damn good match.
Winner: Time Limit Draw
Rating: **** 1/4
Day 6:
Konami vs Kimber Lee
So Kimber seemed excited for this match, cause she wanted to see how their styles matched up. Konami just mentioned the Triangle Lancer having 100% win rate, which isn't perfectly honest since Tam countered the transition earlier in the tournament. But hey, nit picks aside this should be a solid match.
Konami is a fun combination of Asuka's striking and Io's swagger in the ring. Her and Kimber went back and forth, Kimber did her split spot and Konami tried to Buzzsaw Kick her face off, but missed. Kimber landed more power moves as well as correctly executing her in the ropes Neck Lock, unlike the match against Utami.
A big Powerbomb from Kimber gave her and opening to go for the Swanton Bomb, but Konami moved and slipped on the Triangle Lancer, causing Kimber to tap rather quickly. Decent match, a bit short, but not bad at all.
Winner: Konami via Triangle Lancer
Rating: ** 1/2
Tam Nakano vs Natsuko Tora
You can see from their pre-match promos they're both dejected. Currently Natsuko has no points and Tam only has 1 win. Both feel they have something to prove. So with the end close in sight, who will build some momentum?
Well this match starts off interesting. Tam charges Natsuko as she's getting her introduction. So Joey Styles may say "Cat Fight", I'd call it more of a "Streamer Fight". They even roll off the apron onto the floor, and ya, it doesn't look comfortable.
After they get back in the ring, the tussle continues. Tam tries a few shoulder tackles, but Natsuko out powers her easily. Tam manages to reverse a whip and go for a Cutter, but Natsuko drops to her knees way to early and makes it look bad. So Tam does her Cartwheel Double Knees, right on the back of Natsuko's head. We get a strike exchange with Tam connecting on Round Kicks for every one of Natsuko's Double Chops. Tora tries to hit the ropes and Tam stuns her with a well timed Super Kick, followed by something I'm calling a T-Trigger (V-Trigger), but only getting a 2 count.
From that point Tam dominates most of the remainder of the match. A few flurries from Natsuko, but Tam puts together a few Spinning Crescent Kicks, Knee Strikes and even her Diving Knee Strike, but only for 2. Tam comes off the ropes and Natusko catches her, then turns it into a Tilt-a-Whirl STO. Three of her Top Rope Body Splashes finally put Tam away, so Natsuko gets her first win.
There were a few sloppy spots, but Tam really is selling her ass off in this tournament. Her back seems to be taped from her Kyona match, and she sells it quite often. If anything I can equate Tam's tournament this year to SANADA's G1 from last year. Trying too hard to wrestle other people's matches, they get caught off guard trying to do too much.
Winner: Natsuko via Top Rope Body Splash
Rating: ***
Utami Hayashishita vs Jungle Kyona
Kyona was Utami's very first match last month, and that ended in a draw. Now we've got both women with a very real chance to win the 5 Star Grand Prix. So whoever gets the win here, will direct their own destiny.
Both women came in with something to prove, and a specific way they wanted to send a message. The match had numerous submissions and most of their signature strikes. Utami did her Judo throws into the STO for a near fall. She even put together a few Sleeper Hold Takeovers into the Coquina Clutch, but Kyona found the ropes.
As the match got close to the time limit, Utami started to lose steam and Kyona really picked it up. Earlier we saw her focus on Utami's back with the Camel Clutch and Canadian Backbreaker into an across the knee Backbreaker. So when Kyona slaps on her Scorpion Deathlock, it could've all been over if they weren't right in front of the ropes.
Kyona dropped Utami a couple times and hits the Hammer Throw Powerbomb, but the time runs out on the 2 count. So again, Kyona and Utami wrestle to draw, but Kyona was literally 1 second away from winning.
Winner: Time Limit Draw
Rating: *** 1/2
Red Stars Standings:
Jungle Kyona 3-1-2 (8 Points)
Kagetsu 3-1-1 (7 Points)
Utami Hayashishita 3-1-1 (7 Points)
Rachael Ellering 3-1 (6 Points)
Konami 3-3 (6 Points) – Eliminated
Tam Nakano 1-3 (2 Points) – Eliminated
Kimber Lee 1-3 (2 Points) – Eliminated
Natsuko Tora 1-5 (2 Points) – Eliminated
Thoughts:
Kyona has the lead, but she's also only got 1 match left. So smart money is probably on Kagetsu or Utami to pull off the Red Stars win. Would be kind of odd to have Kyona win after back to back disappointing draws.
As we've established through this tournament, I have a huge Tam bias. So what I said in her match rundown was pretty accurate for how I see everything has played out so far. Tam has had the most consistent selling and ring work of the tournament, but she keeps wrestling out of her comfort zone. I appreciate how hard she tries to prove herself by going after her opponents strengths instead of weaknesses. However, that's not the best strategy to win a match, she's definitely grown as a wrestler, which is respectable.
So we're down to four viable winners of the block, but Kyona is looking less and less likely, even though she's the current leader. Should be interesting to see who plays spoiler and who edges out the victory in the end.
Joe's CMLL Review & Results (12/7/2018)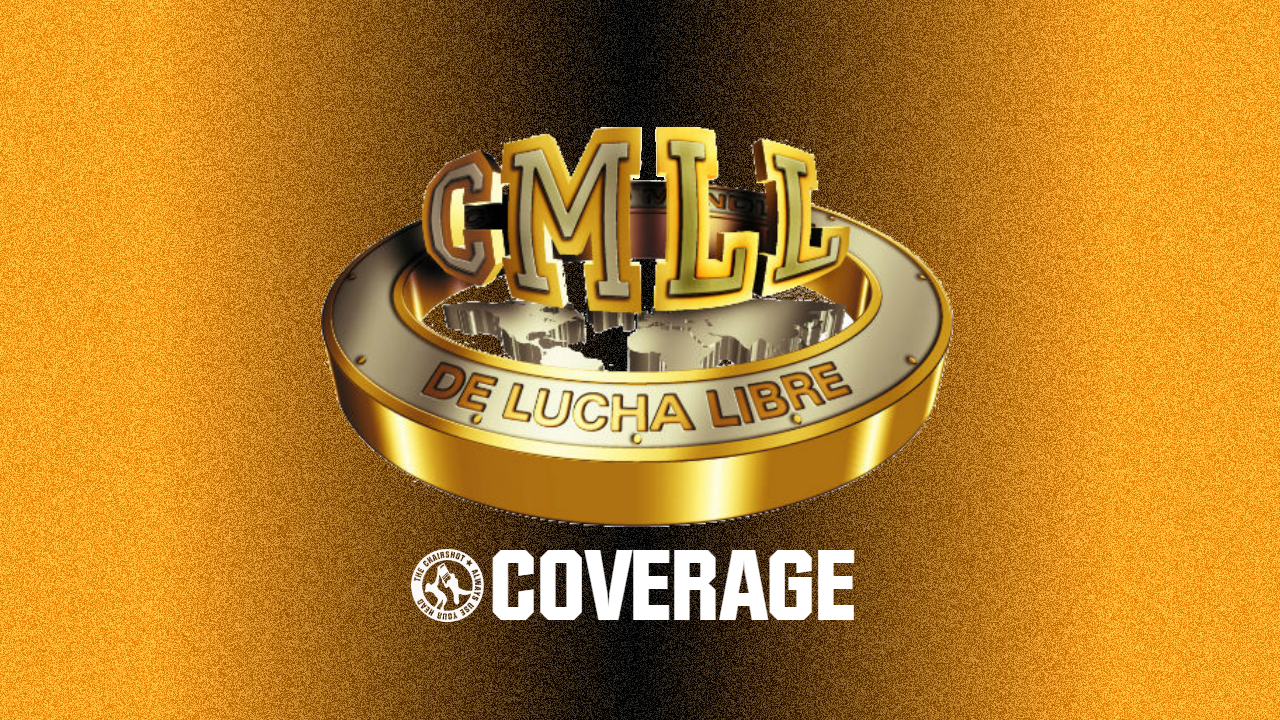 Another week of CMLL, and another week of Joe's coverage. Indulge in the Lucha information if you couldn't find time to watch it yourself.
Arena Puebla Monday
Sonic, Meyer, and Astro vs King Rocker, Sombra Diabolina, and Guerrero Especial
Rocker and Astro start out doing some ground grappling. They do a lot of acrobatic transitions into submission holds. Especial and Meyer are in next and they continue to do grappling as well. Especial hits an arm drag to the outside and feigns a dive. Sonic is in now with Diabolina. They do some freestyle wrestling while exchanging pins. Sonic arm drags him to the outside and in comes Astro and King Rocker again. Especial launches Astro into Diabolina and he hits a hurricanrana for the pin. Sonic victory rolls Rocker and Meyer submits Especial with a neck crank. First Fall: Meyer submits Guerrero Especial with a neck crank.
Sonic and Diabolina start this round off. Sonic goes wild hitting a very elaborate arm drag then feigns a dive. Especial and Meyer are in next and they trade strikes and they start to trade moves. Especial hits a power slam, Diabolina hits a basement drop kick, and then Rocker hits a splash on Meyer for the pin. Diabolina submits Sonic with an arm bar. Second Fall: Sombra Diabolina submits Sonic with an arm bar.
Rocker and Astro stare each other down then exchange strikes. Especial and Sonic get in and Especial works him over for a bit. Diabolina and Meyer are in and Diabolina hits an Alabama Slam on him followed by a basement drop kick. Meyer hits a splash off the top on Diabolina and then launches Astro into him and Especial for a double drop kick. He does a hurricanrana off the apron on Rocker. Sonic hits a swanton bomb on Especial while Meyer gets Diabolina in a knee bar. Third Fall: Meyer submits Sombra Diabolina with a knee bar.
Winners: Sonic, Meyer, and Astro
Mellinum, Arkalis, and Tigre Rojo Jr vs Espanto Jr, Fuerza Chicana, and Police Man
Police Man and Mellinum start out the match with grappling and submission trading. Tigre Rojo and Espanto come in next and they start to fight for position. Rojo using his speed, Espanto using his size. Espanto sits on his knees frustrated that Rojo won the grappling exchange. Fuerza Chicana and Arkalis are in next. Arkalis does a victory roll, into a basement drop kick. Arkalis does a double splash to Espanto and Chicana. Rojo gets Police Man in an abdominal stretch and Arkalis pins Chicana with a sunset flip. First Fall: Arkalis pins Fuerza Chicana with a sunset flip.
Rojo and Police Man start the round and Rojo uses his quickness, getting him in a back breaker. He feigns a dive and hits a pose. Espanto and Mellinum go at it but Mellinum uses his quickness to his advantage getting Espanto out with an arm drag. His two teammates knock everyone off the apron and get Mellinum in the corner. Espanto kicks him in the groin. Ref doesn't see it apparently. Espanto pulls on Arkalis' mask. Police Man splash pins Arkalis for the pin. Chicana hits a back drop on Mellinum the goes for a pinning combination for the fall. Second Fall: Fuerza Chicana hits a back drop then pinning combination on Mellinum for the fall.
Rojo gets teamed on to start the round. When he's taken care of they move the attack to Mellinum. A come back gets made as Arkalis hits a hurricanrana then a back breaker. Rojo and Mellinum hit arm drags to the outside, then Rojo and Arkalis go for dives but gets their feet pulled to the outside. Espanto and Mellinum are in the ring. Mellinum hits a hurricanrana for a pin but no three. He goes to the top for a move but Espanto gets the feet up. He hits a back stabber for the win on Mellinum. Third Fall: Espanto Jr pins Mellinum with a back stabber.
Winners: Espanto Jr, Fuerza Chicana, and Police Man
Titan, Triton, and Stigma vs Kawato San, Okumura, and Tiger
Triton and Okumura start the match out and they lock up and quickly go to the ground. They grapple briefly and Kawato and Titan come in next. Kawato whips Titan to the corner but Stigma replaces him and kicks him. Now everybody is trading big moves. Okumura hits a cross roads on Stigma then Titan comes in and takes care of Kawato. Tiger hits a Canadian destroyer on Triton for the pin. Kawato hits an handspring elbow on Titan followed by Okumura with a clothesline. They do a hangman's neck breaker for the fall. First Fall: Kawato pins Titan after him and Okumura hit a hangman's neck breaker.
Tiger is beating on Stuka on the ramp while Okumura and Kawato team on Titan. Stuka is getting teamed on now and he makes the tag to Triton but the ref acts like he doesn't see it. This ref is either awful or a heel. Triton is standing back on the ramp in protest or disgust. Titan makes a come back hitting some super kicks. Stigma drop kicks Kawato's inner thigh while he's tied up on the rope. Triton tries but gets pulled out. ThenTitan and Stigma hit middle rope dives on Kawato and Tiger. In the ring Triton gets Okumura down for a 450 splash and the fall. Second Fall: Triton pins Okumura with a 450 splash.
Stigma and Okumura start out the round and Stigma gets him out and Tiger comes in. Triton answers the call for Tiger. Triton hits an arm drag to the outside then feigns a dive and hits a pose. Titan and Kawato are in next and they trade strikes in the middle of the ring. Titan runs wild, taking out Kawato eventually, and then kicking Tiger off the apron. Okumura catches him with a cutter off the top. Stigma breaks up the pin. Kawato catches him with a splash off the top. He hits him with a 1 percenter but Triton breaks up the pin. He hits a power bomb into a pin but Tiger breaks it up. Triton goes for a handspring attack but is caught in a back stabber. Titan breaks up the pin. He gets him in a pinning combination with a neck bridge but Okumura breaks that up. Sheesh. Triton hits an asai moonsault on Okumura and in the ring Titan gets Tiger in an elaborate neck stretch submission. Stigma hits Kawato with a falcon arrow for the win. Third Fall: Stigma pins Kawato San with a falcon arrow.
Winners: Titan, Triton, and Stigma
Mitchell's NJPW AXS TV Results: Power Struggle 2018 Part 2!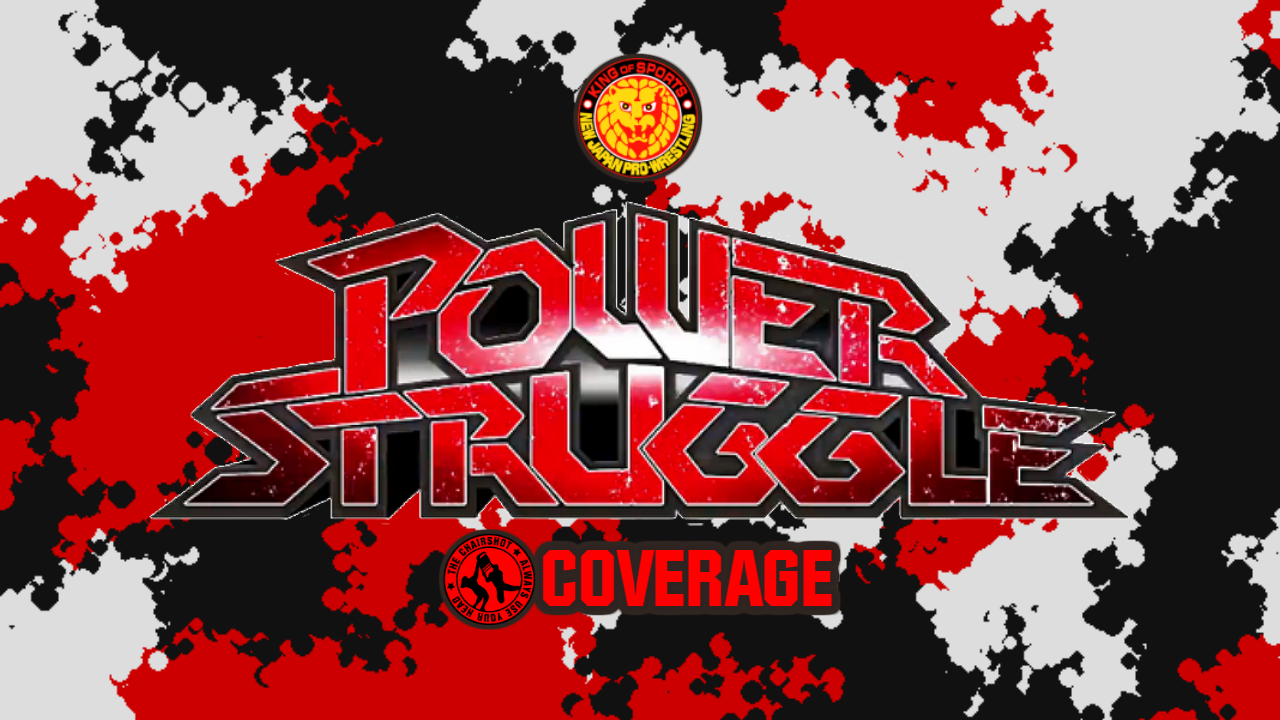 NJPW Power Struggle continues as Tetsuya Naito once again battles Zack Sabre Jr! Will Tranquilo #JustTapOut? Or will ZSJ lost to The Ungovernable Charisma?
This coverage of Power Struggle will be as broadcast by AXS TV.
Gifs can be found at http://frentique.tumblr.com/
OFFICIAL RESULTS
Super Junior Tag League Finals Triple Threat: El Desperado & Yoshinobu Kanemaru VS Roppongi 3K VS Bushi & Shingo Takagi; RPG3K wins the 2018 Super Junior Tag League.
Tetsuya Naito VS Zack Sabre Jr; Naito wins.
PLAY BY PLAY
NJPW and AXS TV set the scene!
Los Ingobernables de Japon continues to war with Suzuki-Gun! The leader of LIJ, Tetsuya Naito, has lost to the Submission Master, Zack Sabre Jr, twice this year in both the New Japan Cup and the G1 Climax! ZSJ angered Naito when he picked the bones of Evil after a vicious attack from Chris Jericho. Naito looks to get back at ZSJ for both Evil and those defeats, but ZSJ talks of retiring Naito himself. Who will win in this third time around in 2018?
Meanwhile, the Super Junior Tag League Tournament bring together familiar foes as the factions of LIJ, Suzuki-Gun and Chaos battle again! The IWGP Junior Heavyweight Tag Team Champions are still Desperado and Yoshinobu Kanemaru, and they look to show true dominance over the division. However, Roppongi 3K's Sho & Yoh look to repeat as tournament winners while Bushi has LIJ's newest member, Shingo Takagi, by his side. Who comes out of this finals match primed to rule over the Junior Heavyweight Tag Division?
Super Junior Tag League Finals Triple Threat: El Desperado & Yoshinobu Kanemaru VS Roppongi 3K VS Bushi & Shingo Takagi!
The round robin format of this tournament makes it so that the teams with the best records qualify for this tournament climax, and this year it ended up being three! All three teams have a 10-0 record going in, impressive to say the least. And naturally, the winners of this tournament, if they're not the champions, get a shot to face the champions for the belts in the future. Will Sho & Yoh become back-to-back tournament champs? Will the tag champs come out as supreme rulers of Junior Heavyweight Tag wrestling? Or will this new combination of ungovernable stars be the key to victory?
Suzuki-Gun's duo bring their belts, and a bottle of whiskey for Kanemaru. Kanemaru tags a swig then spits it to the sky, before attacking Bushi! Desperado goes after Shingo, but Sho & Yoh go after them! The match starts with the bell and Suzuki-Gun throws Yoh out of the ring. Kanemaru keeps on Sho with an eye rake, and Desperado adds a kick. Suzuki-Gun mug Sho then double whip, but he hits back! Desperado kicks Sho and chops him. Desperado runs, Sho ducks and Yoh comes back! They drop toehold and dropkick Desperado, then double dropkick Kanemaru. LIJ returns but they get dropkick'd out. Yoh goes back to Desperado while fans rally up. Sho keeps on Desperado with a big scoop slam. Sho drags Desperado up but Desperado rakes eyes.
This kind of Triple Threat Tag, anyone can tag anyone so long as it doesn't create a match-up of the same team. Therefore, Bushi is allowed to tag in from Desperado. He goes after Sho, then drags him up for a neckbreaker. Cover, TWO! Bushi keeps his cool as he tags in Shingo. Shingo hits Yoh for good measure before bringing Sho up. Sho chops, but Shingo chops back. Sho leans against ropes, but Shingo double chops him down! Shingo drags Sho up and whips, follows after and rams his knee into Sho. Then he suplexes Sho up and over, floats to cover, TWO! Tag to Bushi and LIJ double whip. They double hip toss and combine back senton and leg drop. Bushi covers, TWO! Bushi uses his shirt to choke Sho, but lets up at 4.
Fans cheer while Bushi clubs Sho. Bushi runs but Sho hits him with the kitchen sink knee! Hot tag to Yoh! Yoh rallies on LIJ, ducks the enziguri and dragon screws Shingo. Yoh gives Bushi a backbreaker to necbreaker and kips up! Fans rally up as Yoh back elbows Bushi in a corner. Yoh suplexes but Bushi slips out. Bushi fires off forearms, then runs, but Desperado trips him up. Kanemaru tags in off Bushi and goes after Yoh. Desperado drags Bushi down to beat him up while Kanemaru hits Shingo. Bushi and Shingo go into barriers while Kanemaru whips Yoh. Kanemaru gives Yoh a kitchen sink, then tosses Yoh out. Desperado uses the backing of a chair to SMACK Yoh in the head. Then he whips Yoh into barriers! Desperado feeds Yoh to Kanemaru for a scoop slam.
Kanemaru grinds his foot on Yoh's face, then tags Desperado. Desperado kicks Yoh down, and taunts Sho to return. Desperado chops Yoh back, but Yoh chops back. Yoh keeps firing strikes but Desperado shrugs it off. They go back and forth, but Desperado rakes eyes. Desperado runs but Shingo gets him to stop. Desperado hits Shingo, but turns around into Yoh's calf kick! Hot tag to Kanemaru and he stops Sho from tagging in. Suzuki-Gun work together to start a corner train, and then Desperado cradles Yoh for Kanemaru to shotgun dropkick-start the slam! Cover, but LIJ breaks it. LIJ goes after everyone else, and double whip Kanemaru. Kanemaru holds ropes and dumps Shingo out. He puts Bushi on the apron and Desperado knocks him off. Kanemaru helps Desperado build speed to DIVE on LIJ! Desperado ends up safely on the announce desk!
Fans fire up, even if it's for Suzuki-Gun. Desperado returns as Kanemaru brings Yoh up. Suplex to inverted DDT! Cover, TWO! Kanemaru grows frustrated, but he keeps on Yoh. Yoh hits back and they brawl with forearms and European Uppercuts. Kanemaru tilt-o-whirls for a DDT! He drags Yoh up again, but Yoh gets him back with a Falcon Arrow! Yoh is too sore to make the cover, and we go to break.
NJPW on AXS returns as fans rally up. Yoh and Kanemaru stir but Desperado attacks Sho! Desperado comes in but Bushi hits him first. Bushi grabs Yoh and throws him to the LIJ corner. Shingo tags in off Yoh, and then goes after Kanemaru's inner thigh. Desperado saves Kanemaru by whipping Shingo but Shingo reverses. Shingo then starts up a clothesline train, first hitting Desperado then going corner to corner to hit Kanemaru. Desperado staggers into a shoulder from Shingo! Fans fire up as Shingo grabs Kanemaru. Sho comes in but gets caught, DDT and complete shot! Shingo goes back to Kanemaru for another suplex, but Kanemaru slips out. Kanemaru has a waistlock but Shingo fights out. Shingo whips and pop-up Death Valley Driver on Kanemaru! Cover, TWO!! Kanemaru barely survives but Shingo is not bothered.
Muscle Dragon Shingo stalks Kanemaru, but misses in the corner. Kanemaru misses, too, and Bushi hits a knee! Bushi feeds Kanemaru to the spinebuster, adding a backstabber! Cover, but RPG3K break it! RPG3K is thrown out and LIJ coordinates. Shingo lifts Kanemaru in a wheelbarrow, but Desperado intercepts Bushi! Kanemaru victory rolls, TWO! Bushi fights Desperado off to slingshot headscissor Desperado! Shingo runs but to a basement dropkick! Kanemaru staggers into a tag from Sho! Sho then rocks Kanemaru with a right, and throws Kanemaru out. Sho runs at Shingo for a big corner clothesilne. He whips but Shingo reverses, and they collide with clotheslines. Neither man falls so they try again. Shingo runs but into a dropkick!
Sho fires up, as do the fans. He deadlifts Shingo but Shingo fights back. Sho runs, but Shingo rocks him with an elbow and an uppercut! Shingo lifts Sho in the chicken wing, but Sho slips out. Shingo runs, but into RPG3K double knees! Yoh takes out Bushi while Sho brings Shinogo back up. Backstabber feeds into the shotgun dropkick! RPG3K fire up and stalk Shingo. Shingo stands but Bushi stops Yoh with a backstabber of his own. Sho gets Bushi in a deadlift German Suplex! Desperado spears Sho, but can't spear Shingo! Shingo and Desperado brawl, but Desperado rakes the eyes. Shingo still waistlocks Desperado, Desperado kicks Sho but Shingo shoves Desperado into Sho. Sho and Desperado turn around into Shingo's clotheslines!
Shingo lifts Sho in the chicken wing, for the Gory Bomb! Shingo gets up and builds speed, to clothesline from hell! Cover, TWO!? Sho lives and Shingo can't believe it! Shingo roars as he drags Sho back up. He lifts Sho with a wristclutch, but Yoh SUPERKICKS! RPG3K hit 3K!! Cover, but the ref is yanked out! Kanemaru gets in and kicks away on Yoh! He stomps away on Sho, then drags Sho up. Desperado is in with a belt, and he clobbers Sho! Desperado drags Shingo over to a corner and uses him to tag in. Then he goes back to Sho while Kanemaru takes out Bushi. Desperado lifts Sho in the torture rack, for the slam! Cover, TWO!? Sho lives again! Desperado is furious and vows to end this.
Desperado brings Sho up in the double underhook, but Bushi jumps over the ref to use the GREEN MIST! You SUPERKICKS Bushi! Kanemaru goes after Yoh, but Yoh ducks the Whiskey Mist to dropkick Kanemaru out! Yoh builds speed and FLIES onto Bushi and Kanemaru! Sho is up, and clobbers Desperado! Sho drags Desperado up again, powerbomb lift, double knees! Cover, TWO!! Desperado survives but fans are thunderous. Sho fires up and wants another, but he tucks the arms this time. Package driver, the Shock Arrow! Cover, RPG3K win!!
Winners: Roppongi 3K, Sho pinning
Sho & Yoh win their second Super Junior Tag League! And best of all, it was on the tag team champions! Can Sho & Yoh use this momentum to get the IWGP Junior Heavyweight Tag titles back?
Tetsuya Naito VS Zack Sabre Jr!
Los Ingobernables de Japon and Suzuki-Gun are not through with each other, and these two are far from through with each other on top of it. Will Naito make ZSJ Tranquilo? Or will ZJS make Naito #JustTapOut?
As always, Taka Michinoku takes up the mic before the match. He welcomes everyone to "Zack Sabre Time." This is a special singles match between ZSJ and Naito. "Who is gonna win this one?!" ZSJ is the man who can finish you with any lock anytime, anywhere, who has the deadly Zack Driver, and when he locks on, you #JustTapOut! This wrestling master is Zack Sabreeeeee Junior~! So Naito, you will repeat the New Japan Cup and G1 Climax. You can't beat Zack, so "come on over here!" Naito makes his entrance, and takes his time as always with undressing. ZSJ doesn't let the mind games get to him, but we go to break.
NJPW on AXS returns with the bell. Fans cheer for Naito as he circles with ZSJ. Naito and ZSJ tie up and ZSJ gets the headlock. ZSJ throws Naito but Naito shrugs it off. He and ZSJ circle again and feel it out. ZSJ gets a wristlock but Naito reverses quick, so ZSJ breaks and slips away. They circle again and tie up. ZSJ gets the arm again and wrenches for a hammerlock. Naito rolls and goes for a leg but ZSJ gets his legs into a deathlock. Naito manages to pop free and get a headlock, but ZSJ headscissors. ZSJ squeezes tight as Naito tries to escape. Naito moves around but ZSJ goes for an arm. Naito frees himself from the headscissors to go for an armbar. ZSJ moves around and gets a leg again, Bow 'n' Arrow! But Naito pops out to a cover, ONE, Tranquilo!
Naito rolls out to catch his breath but ZSJ stays in the ring. Naito takes his time returning, and circles with ZSJ again. They approach and tie up, and ZSJ brings Naito's hands down to stand on one and wrench the other. ZSJ shifts to a headlock, then throws to the takeover. Naito endures and rolls ZSJ to a cover, ONE. Naito sits up and gets up, and powers out of the headlock. He arm-drags ZSJ around, then runs him over with an elbow to hit the basement dropkick! Naito poses but ZSJ runs in with a leaping triangle hold takedown! Naito gets a ropebreak but ZSJ lets go at 4. ZSJ takes a moment to catch his breath now while Naito bails out again. Naito comes back but ZSJ presses a knee down on him.
ZSJ loops Naito's arm through the ropes and then a leg and uses them to pull in a modified Bow 'n' Arrow. ZSJ backs off at 4, so he can mock the LIJ posing. Naito sits up but ZSJ is on with the double wristlock, then top wristlock to stomp! Naito writhes but ZSJ circles him like a shark. ZSJ brings Naito up for a EuroUpper, but Naito chops back. ZSJ gives another EuroUpper, but Naito gives back a CHOP. That stuns ZSJ, but ZSJ still kicks and whips Naito. Naito reverses, then run sin. ZSJ puts him on the apron to sweep the legs! ZSJ goes after Naito on the ramp and uses a calf killer! Then he shifts to a modified half crab! ZSJ tortures the legs, then rams the knees on the ramp. ZSJ leaves Naito behind as the 20-count starts.
Naito slowly gets up but the count is at 16! He hurries and gets in at 19! ZSJ is on Naito again with another trapped leg toehold to a half crab! Then a heel hook, then a deep crab! ZSJ just keeps combining holds, such as a trapped arm and another deep crap. But Naito gets the ropes and is freed. Fans rally up as Naito gets to a corner. ZSJ stomps the legs, but Naito hits back. ZSJ kicks the legs but Naito hits back. They continue to go back and forth, a kick for a forearm and back again. Naito goes down after another kick to the leg, but he crawls to a corner. ZSJ runs in but into boots. Naito gives an atomic drop and running headscissors!
Both men are down as Naito tries to get feeling in his legs. Michinoku coaches ZSJ up but Naito stands first. Naito hits ZSJ with punches and kicks, then gets the dragon sleeper to backbreaker, and adds a basement dropkick! ZSJ gets to a corner, but Naito hits the jump kick and leg sweep. Naito slingshots but into the cravat! Naito arm-drags out, but ZSJ runs back in. ZSJ is put in a corner, but he boots Naito. Naito spits then spins ZSJ sideways for the draping neckbreaker! Naito then scoops ZSJ into the reverse DDT! Cover, TWO! Naito has things back in his favor as we go to break.
NJPW on AXS returns, and Naito gives ZSJ elbows in the corner. Naito drives elbows into ZSJ even as ZSJ sits down. Then Naito hoists ZSJ up top and climbs up to join him. Naito drives in more elbows and then stands up for a SUPER STEINER! But ZSJ makes it a cradle into a leg lock, into an STF! ZSJ keeps shifting to modify the crossface, then keeps pushing with his weight. Naito pushes back and gets the ropebreak! ZSJ lets Naito go, and both men are down from exhaustion. Fans rally up, and ZSJ slowly stands. ZSJ grabs Naito's leg for a spinning toehold. Naito clutches that bad leg, but ZSJ does the spinning tweak to his arm! ZSJ stalks Naito as he stands, and gives him a EuroUpper. Naito hits back with a forearm, but ZSJ gives another EuroUpper. Naito CHOPS ZSJ and sits him down.
ZSJ gets up to kick Naito in the leg again. Naito CHOPS, but ZSJ stays standing this time. ZSJ eggs Naito on so Naito fires off forearms until ZSJ sits down. Naito goes side to side for the basement dropkick! He brings ZSJ up but ZSJ gets a full nelson! Naito arm-drags ZSJ away but ZSJ comes back with another EuroUpper. ZSJ tries again but Naito back slides and back elbows to the tornado DDT! Naito keeps going, hammerlock and lift, GLORIA! Cover, TWO!! ZSJ lives but Naito keeps his cool. Naito brings ZSJ up again, wrenches the arm but ZSJ kicks it! Naito kicks back and then whips. ZSJ reveres and catches the lariat into an Octopus! Naito endures as he steps towards ropes. ZSJ shifts to go after the arm, then cradles to a Calf Killer!
Naito endures leg pain, but he rolls. ZSJ keeps him trapped for a calf slicer, but Naito fights with his free leg. But ZSJ grabs it to make it part stretch muffler! Naito gets free and gets another ropebreak! ZSJ lets Naito go but he grows frustrated. Fans rally for Naito again, but ZSJ gets up first. ZSJ EuroUppers Naito again and again and again, then even more in the corner. He throws Naito out to Penalty Kick him! Cover, TWO!! Naito survives, but barely. Michinoku keeps ZSJ focused as he gets up again. ZSJ lifts Naito but Naito slips out to waistlock. ZSJ elbows out and wants the Octopus, but Naito breaks free. Naito runs into an uppercut but enziguris, only for ZSJ to make it an ankle lock! ZSJ then reels Naito in but Naito standing switches, for a German Suplex!
Naito runs, DESTINO!! Cover, TWO!! ZSJ barely survives, but Naito keeps on him. Naito wrenches the arm but ZSJ drops down, only for Naito to sit on it! TWO and ZSJ drags Naito into the European Clutch! TWO but barely! ZSJ and Naito go to opposite ends as they stand up. ZSJ kicks but Naito catches it to enziguri back. Naito wrenches and tilt-o-whirls, but into ZSJ's scoop! But Naito slips out to scoop ZSJ, brainbuster! Fans are thunderous as Naito wrenches and whirls, DESTINO! Cover, Naito wins!!
Winner: Tetsuya Naito, by pinfall
The Ungovernable finally wins against the Submission Master! Naito did not tap out and he didn't fall to the Zack Driver, but can Naito use this to launch himself back towards a title?
Backstage interviews
Taka Michinoku explains that Zack only just arrived yesterday. This loss was because of jet lag! He was battling jet lag and an opponent at the same time. But ZSJ dares Naito to come to England and see if this still happens. ZSJ will even fight him in a pub if he wants.
As for Naito, he finally got his revenge. To be precise, Naito won in last year's G1, but yes he did lose in the 2018 New Japan Cup and G1. Therefore, Naito is 2-2 against ZSJ all-time. Naito appreciates ZSj, because this match had no upside for him and yet he took it. He has Naito's thanks, "Gracias, amigo." When and where will there be a tiebreaker for their overall series?
---
My Thoughts:
Another great hour version of this event. While there wasn't a lot of Super Junior Tag League coverage on AXS, this triple threat finals was great to see. It was all an impressive match and I was really impressed to see that RPG3K got to repeat. I really hope this means Sho & Yoh get those titles off of Desperado & Kanemaru, that would be great for them. The evolution of these two from being the Tempura Boyz to the gold 'n' silver duo has been great to see, and while they've already had the titles, getting the titles again would just add to their great growth. Naito VS ZSJ 4 was also great, just as good as their previous matches. I'm glad to see Naito won this time, it works for his story of coming back around strong towards the IWGP Intercontinental Championship.
My Score: 8.7/10