Andrew's WWE Hell in a Cell Results & Review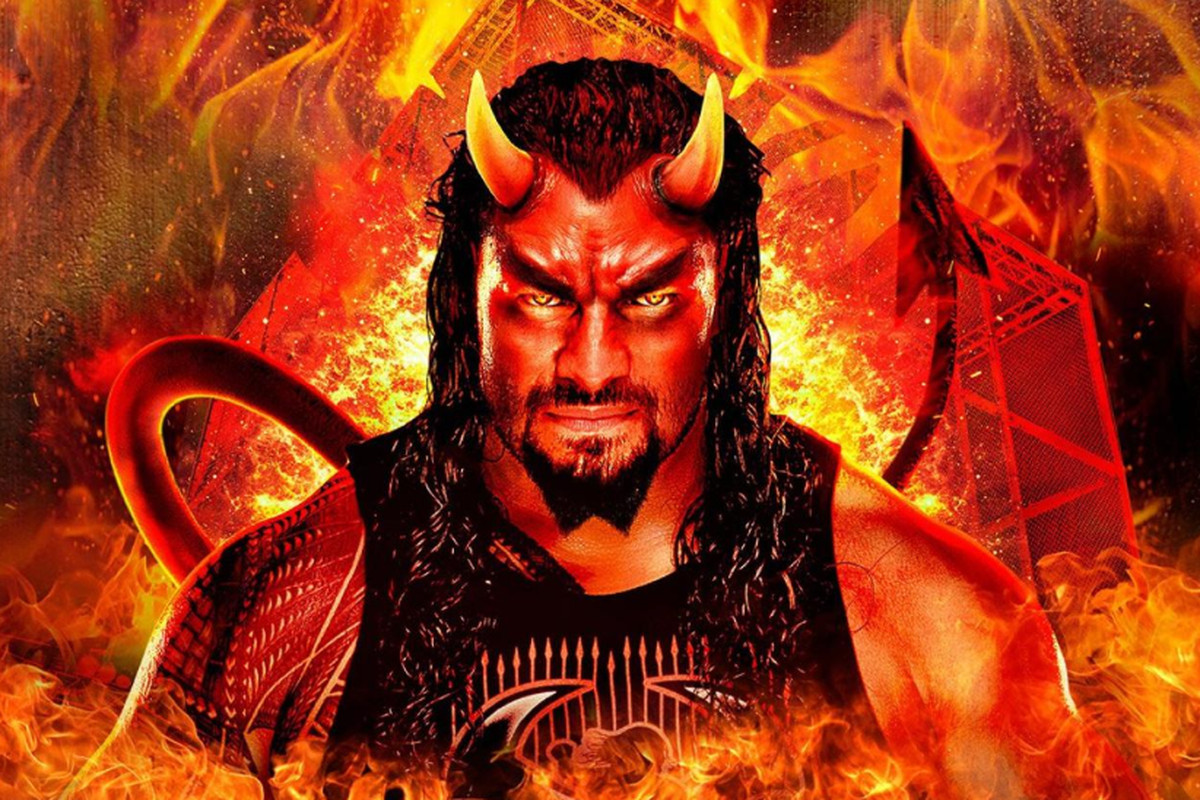 One of WWE's most popular gimmick match/PPVs is finally here! Hell in a Cell has given us numerous memories and OMG moments in the past. So one has to believe something will ascend to that level tonight.
Jeff Hardy is known as a daredevil, so maybe we will get some big crazy spot off the cage, or through the cage. Not sure what it will be, but I think most of us are looking to him to surprise us.
Now let's hope this is a good WWE PPV and not a disappointing one, they've been kind of a coin flip so far this year. Let's get to the show.
SmackDown Tag Team Championship Title Match: New Day (c) vs Rusev Day
Well what can I say here. There were a few fun spots, the only spot that made you think Rusev Day had a shot was when Rusev caught Kofi with a Machka Kick on the outside. But that lead to a miscommunication and small hiccup in the Rusev Day plan.
So because Rusev and Aiden's chemistry seemed to slowly come apart, it gave New Day the opportunity they needed to catch Aiden with Trouble in Paradise, to retain the championships. The match was fine, nothing special, but can't really complain.
Winner: New Day via Trouble in Paradise
Rating: ** 3/4
Hell in a Cell Match: Randy Orton vs Jeff Hardy
Well we get one of the Hell in a Cell matches right off the bat, and it's the one that' has the crazy guy. So this one should be interesting.
Umm…damn. The match was very deliberately paced as you can anticipate with a Randy Orton match, but the creativity and callbacks were great. The brutality of the match was actually pretty solid given that WWE has scaled down quite a bit.
Hardy was utilizing ladders and chairs, but one of the highlights has to be Orton grabbing a screwdriver from the toolbox. I personally immediately knew where that was going, and it didn't disappoint. Orton puts the screwdriver through Hardy's earlobe gauges and starts twisting the screwdriver as a callback to when he first went after Hardy on SmackDown.
Surprisingly, Hardy fired up nicely after that, whipping Orton with his studded belt, a chair and then setting up two ladders and a table. At first I thought he was gonna try the leap frog Swanton he's done in the past, but Hardy noticed there wasn't enough clearance in the cage. So he grabs the structure and starts swinging back and forth. Right before he lets go, Orton rolls off the ladder and Hardy crashes through face first.
The referee tries to call a stoppage, Orton demands he count the pinfall. So Orton wins via pinfall and Hardy gets stretchered out. Damn good match though.
Winner: Orton via Pinfall
Rating: **** 
SmackDown Women's Championship Match: Charlotte Flair (c) vs Becky Lynch
Well the best friends split because one feels like they are always in the shadow. We've seen this story before, but it should be interesting to see how this one plays out. Does Becky prove that she's really the best?
Am I watching a WWE show? I mean, the main card opener was great, and this match was fantastic. Becky came in with a very specific strategy to leave Charlotte with one arm, but Charlotte played the face in peril nicely. The action stayed mostly in the ring save for some apron exchanges, but still, wow.
Charlotte misses her Moonsault, Becky tries to take advantage of it with the Disarm-Her, but Charlotte powers through. Becky even tries an Arm Bar, which Charlotte powers out of, but the whole thing was entertaining. Just when we think that Charlotte has Becky dead to rights, Becky rolls through the Spear with Charlotte and picks up the flash pinfall.
Becky got the belt, the IWC rejoices…until they don't.
Winner: Becky via Spear Counter in Pinfall
Rating: **** 1/4
Raw Tag Team Title Match: Drew McIntyre & Dolph Ziggler (c) vs Dean Ambrose & Seth Rollins
Well ya most people will find this match entertaining, but this really wasn't anything we haven't seen a half a dozen times, or however many times these men have already interacted. Seth gets beat up, forgets to sell his knee, tags in Ambrose, then a bunch of dives and spots where Seth should remember he has a bad knee but never does.
These matches get less and less enjoyable for me because 88 false finishes and just having to get in certain moves and patterns is asinine. I will say I really enjoyed the finish, cause it was different. McIntyre catching Rollins in the face as he was mid Falcon Arrow, allowing Ziggler to just fall on Rollins was nice. Also gave us an interesting image of Ziggler draped over McIntyre's shoulders as they walk off.
You would've thought with all the history between these four in just a few months, there could've been more layers than just a generic tag match with 20 moves too many. It obviously wasn't awful, but even if you like math, things get less enjoyable when the formula is written on the walls in purple crayon.
Winner: Ziggler via Claymore
Rating: ****
WWE Championship Match: Samoa Joe vs AJ Styles (c)
One of the better storylines coming into the show, so this was definitely one many were looking forward to. Does Styles put his family or his title first?
AJ came out irate and took it to Joe pretty quickly. Samoa Joe eventually got the advantage on the outside, but the whole match was a nice back and forth.
Styles pulled off his Asai DDT and Springboard 450, but Joe kicked out. Joe teased the Muscle Buster again, but Styles managed to slip out and counter it into a Styles Clash attempt, but Joe got away from that. Either way, pacing was solid, the near falls mattered and both men had a legitimate chance of winning…which makes the ending interesting.
Joe goes to try and sink in the Coquina Clutch, Styles floats over for a pin and the referee counts the pinfall for Styles. Joe argues that Styles tapped, we didn't see it until a different camera angle proves that Joe was right. Styles has a moment in the ring where he sees the replay, but still holds up the title anyway. So this just makes the story deeper of what AJ cares about more. Because right now…it looks like the title matters more.
Winner: Styles via Pinfall
Rating: **** 1/4
The Miz & Maryse vs Daniel Bryan & Brie Bella
I doubt any of us expected much from this match. Brie hasn't shown much proficiency in the ring be it tag matches or the singles match last SmackDown, and Maryse was never a great wrestler. So, the question really is, how do they make this entertaining?
Well they did it, Miz protecting Maryse from getting in the ring was a nice way to keep the in-ring action at a level to entertain people. Miz actually showed to be on kind of even grounds with Daniel, especially since Daniel kept trying to get Brie in the match.
When the women were finally the legal competitors, Miz still tried to interject himself and it kept a lot of attention off of Brie and Maryse. Daniel and Brie got the husband and wife stereo Yes Kicks in, before the heels tried to retreat. Brie goes to grab Maryse, brings her into the ring, goes for a roll up, but Maryse reverses it into her own pinfall with a handful of tights.
Much more entertaining than anyone was probably anticipating.
Winner: Maryse via Dirty Pin
Rating: *** 1/4
Raw Women's Championship Match: Alexa Bliss vs Ronda Rousey (c)
Well Ronda dominated Alexa at SummerSlam, but Alexa managed to get some damage on Ronda's ribs. Will that be enough?
So I think the fact that everyone expected Ronda to run through Alexa again, that added to this match. Yes some spots were sloppy, poorly timed or just flat looked bad. But those were few and far between, and the over arching story paid off well.
Alexa focused on the injured ribs, and Ronda looked very vulnerable at different point through this match. So if the 5 feet of fury can nearly put together a good enough game plan to beat Ronda, a more seasoned superstar might be able to do more effectively. All in all, not bad and a little better than expected. Alexa continues to improve and prove she's more than just a pretty face.
Winner: Ronda via Arm Bar
Rating: *** 1/2
WWE Universal Title Hell in a Cell Match: Roman Reigns (c) vs Braun Strowman
A nice continuation from their feud last year, coupled with the Money in the Bank cash in implications. Established storylines that play well into each other are just nice sometimes.
Well…by the end, this match was like kissing your sister. I'm really annoyed at how this played out. Did someone call Vince Russo or 2000 WCW and ask for advice?
We got a hard hitting brawl for the match, which is exactly what we expected. Braun overpowered Roman through most of the match, but Roman showed some resiliency. Numerous Superman Punches, a few weapons and then Roman Spears Braun through a table in the corner, for only 2.
Now it's at that point the WCW 2000 shows up. Dolph Ziggler and Drew McIntyre try to get in the cage, so the rest of the Shield shows up to mitigate the interference. Doesn't seem too bad right? But wait, the focus of the match is now purely on the interference, which lasts for about 5 minutes. They all go to the top of the cage, they fight, Dolph and Seth try to get down, and then more stuff. They fight on the side of the cage until they ram one another's head into the cage at roughly the same time, which causes the double table spot. Spanish and English announce tables, RIPeronies.
BUT WAIT – there's more! Then Brock Lesnar shows up, and kicks in the door when the outside refs don't want to open it, and then he uses the door like a ramp up into the ring. Which, okay, that was cool. But then Brock uses fractured pieces of table to beat down Braun and Roman, then F5 each of them.
Brock walks out, an outside referee replaces guest ref Mick Foley and throws out the match. A MATCH WITH NO RULES, gets thrown out. Brock could've just F5'd Roman on top of Braun and a random referee could count a pinfall. BUT NO! Let's make no GODDAMN SENSE AND THROW OUT THE MATCH.
So the rating doesn't reflect the work in the ring, cause Braun and Roman were pretty solid, but since all of the overbooking happened during the match, the Russo was too strong for me to rate this well.
Winner: No Contest
Rating: *
Thoughts:
This was probably the best PPV of the main roster, until the main event. Hell even with the overbooked awful idiocy of the main event, it prolonged the Dogs of War versus The Shield and Lesnar I suppose will get his rematch some time soon. So yes, the main event overbooking did have storyline relevance, so I'm still okay with it once I calm down.
So SummerSlam was the best main roster PPV, but this was very close. The first half of the show was significantly better than the latter half, so that hurt the over all momentum of Hell in a Cell. Regardless, damn good show and kept storylines moving with enough wrinkles to get us to Super Show, or whatever is next.
Either way, good job WWE. The whole clusterfuckery of the main event may make me twitch, but I do get the bigger picture. In the weekend where New Japan had probably their weakest show of the year, WWE has a show that could be easily argued as their best.