Chris' IMPACT! Wrestling One Night Only: Night of the Dummies Report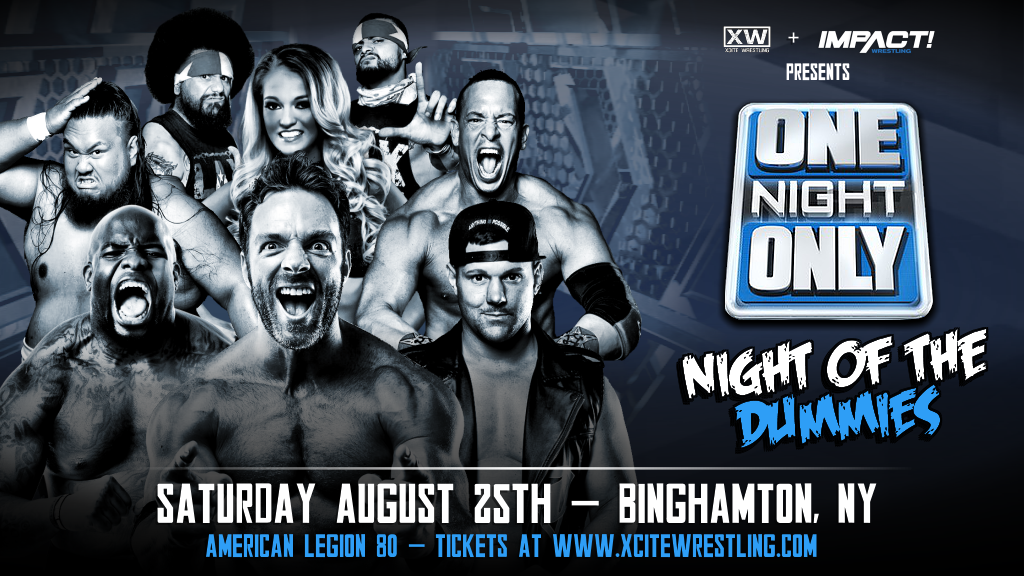 Welcome to a SPECIAL EDITION (the second of the WEEK) of Chris' IMPACT! Wrestling Results!!
Tonight, is IMPACT! Wrestling's One Night Only: Night of the Dummies, exclusively on the GWN app
QUICK RESULTS
Jay Freddie d. Isys Ephex – pin fall, Leaping DDT
Fallah Bahh d. "Super Cop" Dick Justice – pin fall, Banzai Drop
Slyck Wagner Brown d. Axel Lennox – pin fall, Top Rope Sit Out Dominator
Alisha d. Rebel – pin fall, Backpack Stunner
Team Tremendous d. Heavenly Bodies – pin fall, Doomsday Sliced Bread, Dan pins Dustin
Street Fight: Santana d. Homicide – pin fall, Frog Splash
Sean Carr d. Brute Vanslyke – pin fall, Swanton Bomb
Moose d. KM – pin fall, Spear
Eddie Edwards d. Eli Drake – pin fall, DDT
___________________________________________________________________________________
IMPACT! Wrestling One Night Only: Night of the Dummies
Coming to you from a really small arena in Binghamton, New York, this is Night of the Dummies (YEAH!)
Match One: Jay Freddie vs Isys Ephex
The ring announcer mistakenly calls this a triple threat match
Josh Matthews and Sonjay Dutt calling the action
Arm ringers from both with some chain wrestling to start. Isis with a huge shoulder tackles, and Jay with a receipt. Two arm drags by Jay and a drop kick to take down Isys. Second drop kick and a cover for two. Jay charges the corner, gets placed on top and kicks away Isys, and hits a missile drop kick. Suicide dive puts Jay into the crowd (as they as SUPER close).
Back in the ring, Jay tries to hit a cross body, Isys tries a backbreaker counter and misses. Seated arm bar by Isys and punches to the gut. Cover for one. They exchange chops until Isys knees the midsection and moves Jay to the corner. Shoulder blocks, and he dumps Jay into the middle of the ring. Cover for two.
Punch exchange by both men, Isys gets a knee in and goes for a suplex thats blocked three times, and he drop kicks Jay's knee out from under him. Supplies by Isys reversed into a reverse DDT by Jay, both men down. Running back elbows by Jay followed by a clothesline. Leg lariat by Jay after a missed clothesline, and a gut wrench duplex gets a 2-count.
Jay up to the second turnbuckle, leaps off to nothing, charges the corner by Isys gets a boot up and hits a DDT for 2. Kick to the back. Jay counters into a Tiger Driver for 2 and 3/4. Jay misses the Shining Wizard and counters in to the Awful Waffle (not making that up) for a 2-count. Isys puts Jay on the top buckle, gets head butted off and Jay hits leaping DDT for the 1-2-3
Your winner: Jay Freddie
Video of Eli Drake playing piano… horribly. He also can't sing… Welcomes us to the show, says he's gathered the top talent for us tonight. Sends us to his "guest correspondent" on the street to get the people's reaction, and he sends it to Eli Drake.
Match Two: Dick Justice vs Fallah Bahh
Dick Justice was the "stand by wrestler" in IMPACT!, but here he is known as "The Super Cop"
Bahh tries to get a chant for himself, but the crowd just chants "Dick". They shake hands and the fans chant "we want Dick." Sumo charge and neither man goes down. Justice off the ropes, shoulder charge gets nothing "No No No" from Bahh. Bahh off the ropes with the same result. Second shoulder charge, and a third and fourth, and fifth. No result and now both men are winded. Both men off the ropes, collide and both men go down and out of the ring.
For some reason this starts the first Saintly Fecal Matter chant of the night…
Bahh charges in and they both hit a clothesline. Justice tries a slam, gets nothing but a double sledge to the back. Bahh charges Justice in the corner who pulls out a finger gun (yes, he made a gun shape with his fingers) and that stops Bahh in his tracks and Bahh puts his hands up. Justice orders Bahh to get on the ground, Bahh prays for his life and kisses the finger gun. The Bahh asks "No No No?" and Justice puts the finger gun away in his fanny pack that he's still wearing. Justice goes for a hug, and Bahh hits a Samoan Drop.
Bahh hits a series of headbutts and then a Hadouken (WHAT?!?!) that takes Justice down. Bahh hits a dropkick (-ish) and then rolls over Justice. Bahh covers for two. Chop exchange by both men, Justice chops him into the corner, then calls time out as he's winded. More chops then charges across and eats an elbow from Bahh. Bahh then charges and Justice moves and Bahh eats post. Left hand punches from Justice followed by a right, and he bodyslams Bahh.
Justice then leaves the ring and poses for the crowd.  Justice returns to the ring and Bahh hits a belly to belly on Justice. Drags Justice to the corner, Banzai Drop for the 1-2-3
Your winner: Fallah Bahh
After the match, they shake hands and hug it out before Bahh leaves.
Backstage interview with Moose as he gets sentimental about how Binghampton sucks. Talks about how he gets to wrestle KM, saying he didn't even know there was a man on the IMPACT! roster named KM…
Backstage now with Dick Justice, saying how he isn't a stand by wrestler, he's the Super Cop, and how he was going to put Bahh away, but Bahh is one of the smartest men he's ever faced. Says next time, Justice will be served
Match Three: Slyck Wagner Brown vs Axel Lennox
Lennox looks like a reject from The Ascension…
Collar and elbow tie up to start. Side headlock by Brown, whipped off into a shoulder block, Lennox off the ropes into one of his own and takes down Brown. Chain wrestling take downs leads to a spot where Brown visually signals for Lennox to grab his wrist, which he does, just for Brown to duck under and escape and try his reverse DDT, but Lennox escapes as well.
Back to the collar and elbow. Wrist control to Lennox, but a leg sweep by Brown into a headlock. Lennox runs to the rope but Brown clotheslines his over the top. Brown grabs a fans water bottle and hits Lennox in the head with it. Clothesline by Brown on the floor. Lennox fights back and slams Brown's face in to the guardrail twice. Lennox breaks up the nonexistent count, which now the referee starts…
Lennox places Brown on the apron and hits a leg drop. Back in the ring, he covers Brown for two. Lennox hits a scoop slam and an elbow drop again for two. Matthews says this maybe a rivalry, Sonjay says its one we know nothing about. Way to build the match guys…
Lennox goes for a suplex, Brown cradles for two. Double clothesline, both men down. Brown charges out of the corner with two clotheslines, then a short DDT after whipping Lennox off the ropes. Reversals a plenty until Lennox hits a spine buster for two. Cutter by Lennox, covers again for two. Punch exchange in the middle of the ring. Goes to the corner by Wagner hits a drop kick and then a power bomb. picks up Lennox, sets him on the top buckle and hits an enziguri to the back, then a sit out Dominator off the top for the 1-2-3
Your winner: Slyck Wagner Brown
An earlier today segment plays, Eddie is looking for his wife. Eddie finds potato salad, decides to take it. Finally finds her in the Knockout's dressing room and offers her potato salad. Alisha calls Eddie the biggest dummy here and kicks him out.
Match Four: Rebel vs Alisha
Handshake to start, chest bumps from Rebel. Arm ringer by Alisha, Rebel just throws her across the ring and calls Alisha tiny. Waist lock, Rebel just walks her to the rope and hits an elbow. Alisha looking for a crucifix for one, backslide attempt is reversed, Rebel misses a kick on the ropes, Alisha gets a schoolgirl for two. Headlock take over by Alisha, Rebel just stands up. Rebel picks her up and plants her face first and dances over Alisha, then chokes Alisha on the second rope.
Rebel slams Alisha into the turnbuckle, then a second one, and a third. Rebel then hits a handspring clothesline, pulls out Alisha and goes for a delayed suplex, Alisha rolls her up and the roll back and fourth for a few two counts. Alisha chops, Rebel misses a few kicks, and then takes down Alisha. Shining Wizard by Rebel gets two. Alisha catches a kick and makes Rebel do the splits, hits a dropkick for two.
Alisha goes for a body scissor, Rebel grabs the hair and then face plants Alisha for two. Off the ropes, Rebel hits a roundhouse kick and celebrates. Referee checks Alisha to see if she's knocked out, she's not, Rebel covers for two. Rebel goes for the handspring clothesline again but Alisha moves and hits a palm strike and forearms to take down Rebel. Alisha hits a charging forearm and a bulldog for two.
Rebel hits a scoop slam, goes to the second buckle. Alisha hits the worst looking backpack stunner for the 1-2-3
Your winner: Alisha
They shake hands and hug it out after
Backstage with Eli Drake, he congratulates Alisha, and Jimmy Jacobs is sitting behind him. Jacobs wonders why he's not on the card tonight. Eli says he will have a special Fact of Life, and Jacobs can be the guest.
Alisha backstage, says she can hang with the best of the Knockout's Division.
Match Five: Heavenly Bodies [Desirable Dustin & Gigolo Justin] vs Team Tremendous [Detective Dan Berry & Detective Billy Carr]
Justin starts against Dan. Shoulder tackles takes down Justin and into a headlock. Forearm by Justin, punches from Dan. dropkick by Dan takes him down. Tags in Billy who chops him in the corner. Scoop slam, tags in Dan who hits a senton over the top rope for two. Knee by Justin and he tags in Dustin. Dropkick by Dan and he whips Dustin into the rope. Charges but is sent over the top, he elbows Justin, and Dustin, before Justin knocks Dan off the ring.
Cover by Dustin for 2. Dustin then throws Dan back out and Justin hits a senton off the apron. Justin tags in and rolls Dan back, cover for two. Short arm clothesline gets two again. Uppercut and he tags in Dustin who hits a leg lariat for two. Ground and pound by Dustin before Dan starts fighting back. Justin tags in, Dustin hits an arm ringer and Justin hits a moonsault off Dustin, referee is distracted, and finally counts for a one. Sanjay and Josh are talking about Josh frosting his tips here, it seems they've lost interest too.
Dan fights back, but can't escape. Dan then whips Justin over the top rope, and Dan tries to tag Bill, but Dustin pulls him off the apron. Bodies double stop Dan in their corner. Justin with a scoop power bomb, go for a rocket launcher, but Dan moves. Justin stops Dan from getting a tag, then he finally does and Billy comes in like a house of fire. Exploder duplex to Justin gets two, Dustin comes off the top, Billy moves and Dustin splashes Justin.  Billy tosses both men, and Dan hits a flip topi onto the Bodies on the outside. Justin is thrown in to Billy, who tosses him with an outsiders edge to a flatliner by Dan. Referee counted to three on the pin, but says he only did two as Dustin breaks it up. Billy gets Justin up for a Doomsday Device, but Dustin tags himself in. Double flap jack on Billy, Dan fights off both men, eats a super kick from Justin and a spinning power bomb from Dustin. Billy then throws Justin in to break up the pin.
Enziguri on Dustin by Dan, Superkick by Billy, Doomsday Sliced Bread by Dan for the 1-2-3
Your Winners: Team Tremendous
From earlier today, we see Homicide, and he says he is LAX, Konnan is despicable, and the little bitches in LAX are going to learn.
The Fact of Life with Eli Drake
Eli Drake comes out. Eli has had a cord hanging down the entire time, and he stops to plug it back in mid way through his talking segment. He pulls out a smart phone to show off the mobile version of the Eli Drake Dummy Button, so we can have a live version of The Facts Of Live. The app plays "Dummy, Yeah" every time you press the screen. He then brings out "The Zombie Princess" Jimmy Jacobs.
Jimmy says tonight is about what Eli needs, as he doesn't understand what he's getting into when he faces Eddie Edwards. Drake says he's insulted by this talk and says he's out of here, and Jimmy can say and do whatever he wants. Jimmy starts running down Binghamton, and says theres got to be someone out there who needs his help. He then calls out Santana from the LAX
Santana immediately gets in Jacobs' face, who says he's here to help. Jacobs also said he's heard a rumor that Ortiz got jumped by the OGz, meaning Santana is all alone tonight. Jacobs offers to help Santana in his match tonight, one OG to another. Santana looks unimpressed, shakes Jacobs' hand, and then hits a front kick to his face and a rolling senton in the corner.
Santana then calls out Homicide to start their match.
Match six, Street Fight: Santana vs Homicide (How does this not violate the cease fire?!?!)
Punches by both to start, Santana throws out Homicide and hits a suicide dive. Punches and chops back and forth, Homicide attempts to climb the scaffolding, and Santana hits a bodyslam on the floor. Thrusts to the throat by Homicide, and he chokes Santana on a ringside chair. Homicide then gets the chair, hits Santana in the gut. Homicide then gets a stick from a fan, but gets booted in the gut. Santana then jabs the metal rod into Homicide's face.
Santana drapes Homicide over the guardrail and slams the chair into his back. Santana then clotheslines Homicide into a fan, poke in the eye by Homicide. Homicide slams Santana into the post and gets the chair. Homicide then tells the fans to shove it, and Santana hits about to the gut and throws a chair at Homicide. Santana throws him back in the ring, goes from a cross body, Homicide rolls through and gets a two count. Moonsault by Santana gets two.
Belly to Belly throw by Homicide off the ropes, and then an exploder by Homicide, bridged in to a two count. Homicide tells fans to suck it and then flips them off before Santana hits a boot to the face in the corner. Homicide puts Santana on the top and hits a cutter off the turnbuckle, gets two before Santana gets his foot on the bottom rope. Homicide threatens the referee before he charges the corner, nobody home as Santana sidesteps. Super kick by Santana, Michinoku Driver by Santana, who goes up top and hits a frog splash for the 1-2-3
Your winner: Santana
Backstage again with Eli Drake, who's rehydrating. Eli lists off his three favorite moments of the night, all which involve himself. Also says in Fall of 2019, Night of the Dummies 2 will have no Jimy Jacobs as theres no room for princesses on his show.
Santana backstage, says by taking out Ortiz, the OGz have made this put bull more rabid.
Match seven: Brute Vanslyke (w/Father Derek) vs Sean Carr
Collar and elbow, Brute moves Sean into the corner. Collar and elbow again, he throws Sean in this time. Misses a charge, whip out and Bruce cartwheels out. Sunset flip attempt, Brute goes to sit, Sean moves. Standing moonsault by Sean gets one. Sean calls him out, Brute charges and Sean lowers the top rope. Sean hits a rolling sexton off the apron.
Back inside, Sean goes up top, but Father Derek shakes the rope, and a big boot by Brute takes him down. Face rake and Brute chokes him in the corner. Father Derek then chokes Sean on the bottom rope. Brute with a scoop slam followed by an elbow drop for two. Backbreaker by Brute, Sean gets up into another backbreaker. Sean reverses a third into a hurricanrana, putting Brute into the corner. Chops and a charging forearm, then a popup headbutt by Brute, then a cross body for two.
Brute puts Sean on the top, Sean fights back, hits a drop kick but Brute stays up. Enziguri and a Code Breaker, Brute is still up. Sean goes up top and hits a moonsault taking Brute down for a two count. Super kick misses, Bruce hits a wind up chokeslam and gets two. Sean slips out of a Razor's Edge, can't whip the big man. Big splash in the corner from Brute. Vader Bomb by Brute for two.
Brute goes back up, but misses a second Vader Bomb. Carr up top, Father Derek interferes, and gets a big boot from Sean on the apron. Brute then throws in Carr, who fights off Brute until Brute hits a left arm lariat. Brute goes up top, misses the splash! Super kick by Carr, and a second, ducks a clothesline and hits a third super kick!! Carr goes up top, Swanton Bomb for the 1-2-3
Your winner: Sean Carr
Fallah Bahh and KM backstage celebrating, but Bahh is upset KM isn't wearing his matching gear. KM says if he can't beat Moose wearing his gear, he will wear the matching gear for the rest of his career.
Match eight: Moose vs KM
Moose gets a mic, talking about how he went to Syracuse, just down the road. Says the fans didn't help his career and Binghamton sucks. Tells KM to hurry up so he can beat him and get out of this God forsaken town.
KM starts the "Douche" chants
Moose ducks in the corner to start. Moose hits a boot, KM hits a shoulder block taking Moose down. Then another. Punch exchange, KM gets the best of it, and clotheslines Moose over the top. Moose pulls KM out and they fight on the floor. Moose goes to chop KM against the ring post, KM ducks and Moose hits his hand.
Moose then rams KM into the post. Referee still isn't counting…
Moose gets a chair, sits KM in it. Punches and chops, Moose flips off the crowd and hits a running kick to KM's face in the chair. Moose puts KM back on the chair, goes for the running kick again. KM catches him with a chokeslam on the apron. Finally the referee starts counting…KM asks him to stop counting as he goes and gets Moose. Moose then hits a belly to back duplex on the apron. Moose picks up KM and drops him again on the apron before rolling back in to the ring. KM gets back in to the ring at 9.
Moose uses ground and pound on KM and throws him back out. KM back in at nine again. Stomps from Moose, a snap mare, and a seated dropkick for two. Moose calls for the finish, can't get KM up for the suplex, so he punches him. Tries the suplex again, KM counters into one of his own. KM puts Moose in the corner, whip reversed, KM boots Moose, but is dropkicked to the floor over the top!
Moose rolls out after KM and whips him into the ring post. Moose grabs the chair again and gives it to a fan. Moose parts the crowd, and fakes like he's throwing KM into them, but rolls him into the ring. KM hits a baseball slide, and rolls Moose back in. Moose intercepts KM on the way back in, goes off the ropes and eats a POUNCE from KM. Both men down.
Moose thrown KM on the ramp, landing on his feet, KM hits a chokeslam and a slingshot splash for two. KM hits a neck breaker on Moose, Moose reverses a full nelson for two, hits a pump kick and them KM hits a clothesline, and a fell nelson slam for two. KM misses a corner charge, Moose charges into an elbow, and the Moose hits the Go To Hell for two! Moose looks for the Spear, eats a knee. KM behind, and Moose hits a low blow, a Spear, and gets the 1-2-3
Your winner: Moose
Bound For Glory video package
KM backstage wondering what he did wrong. Bahh is in the back eating, KM asks if he's going to rub in his lost. KM is reminded of the bet, says he was kidding
Match nine: Eli Drake vs Eddie Edwards (w/Kenny the Kendo Stick)
Eddie high fives nearly ever member of the audience (yes the arena is that small)
Eli has a mic. Names Eddie a dummy, and says theres no kendo sticks allowed in a match with him. Tells the ref he has to disqualify him if he won't get rid of it.
Eddie slaps Eli on the butt, who then rolls out of the ring, grabs a mic and says this is his show, so there will be no "ass slapping" on his show.
Collar and elbow tie up, headlock by Eli. Eddie shoots him off, shoulder tackle by Drake takes him down. Arm drag by Eddie, and a second and Eli rolls out again. Eli has a mic again. Says he hates cheaters, and arm drags are illegal.
Collar and elbow again. Eddie walks him to the corner. Eli with a low blow, and takes Eddie to the other corner. Whip reversed and Eddie hits a belly to belly throw. Eli rolls out again as Eddie does a snow angel in the ring. Eli has a mic and says he hates cheaters, and a braggart, no snow angels are allowed in the match.
Eli reenters and leaves again. Eddie joins him and the fight on the floor. Eli thumbs Eddie's eye to take advantage, but gets chopped again! Cameras lose both men, as the chops continue. Eli rolls in, followed by Eddie, and he rolls back out. Eli has a mic again. Hates cheaters. Chops are illegal now.
Eli keeps talking and Eddie hits a big boot, sending him to the floor. Eddie goes for a dive, Eli hits him with the mic to the head. Eli now stomps away at Eddie on the floor. Eli makes Eddie wave to a fan, and then slams him back first in to the apron. Eli rolls Eddie onto the apron and hits an elbow. Eli slingshots Eddie into the bottom rope. Seated clothesline for two. Now Eli chokes Eddie on the middle tope, leaps out and slaps Eddie's face.
Punches from Eddie, and a thumb to Eli's eyes. Whips Eli across but misses the splash, Eli hits a neck breaker for a two count. Eli drops a knee and chokes Eddie again on the rope. Leg drop across the back on the middle rope. Kicks and a cover for two. Eli drops some elbows and locks on a reverse chin lock. Eddie bites his thumb, Eli lets go and hits a neck breaker for two. Eli then bites Eddie's thumb. Outside the ring, Eli gets a chair, referee threatens a DQ, Eli says he was just kidding. Eddie then smashed Eli's face in to the ring. Eddie takes a drink of a fans soda, and spits it into the eyes of Eli. Eli then pulls Eddie face first into the ramp. Eli rolls Eddie back in, covers for one.
Eddie reverses a scoop slam, Eli hits a neck breaker for two. Eddie's gum here falls out of his mouth, landing on the mat, and he casually picks it back up and continues to chew it, grossing out both Josh and Sonjay. Rear chin lock by Eli, Eddie counters with a jaw breaker. Back to the chin lock, Eli throws Eddie to the buckle, Eddie hits a back elbow and a dropkick, both men are down. Scoop power slam by Eli, and then an elbow drop for two.
Eli picks up Eddie, hitting a snap suplex. Eli to the second rope, Eddie hits an enziguri. Eddie goes up top, hits the Frankensteiner. Punch exchange by both men. Eli takes advantage but Eddie doesn't feel the pain. Two back elbows and then Eddie sends Eddie to the floor and hits a quebrada. Fans chanting "use the leg" as a fan holds up his prosthetic leg. Eddie takes it. Eddie kisses the prosthetic foot (ewwwww). Eli gets a mic, saying prosthetics are illegal. Eddie hits Eli with the camera man. As the refs was checking on the camera man, Eddie hits Eli with the prosthetic leg, then pretends its his in the ring before giving it back.
Both men back in, Eddie tries a Tiger Driver, hits a gordbuster, then hits the Tiger Driver for two and 3/4!!! Eddie then talks to his kendo stick before picking it up. Referee tries to stop Eddie, fans chant "hit the ref." Eddie goes up, Eli hits the ref into the ropes dropping Eddie. Eli gets a chair, referee stops him, Eli shoves him down. Eddie hits Eli with the kendo stick and hits a DDT, covers Eli for the 1-2-3
Your winner: Eddie Edwards
Eddie then does a snow angel in the ring to celebrate
Eddie celebrates with the Xcite Wrestling crowd as we go off the air.
THAT'S ALL SHE WROTE!
Grab your beard oil and join me on Twitter @OldSkewlPantz
Follow Turnbuckle Topics on Instagram: @turnbuckletopics
Listen to the Bearded IMPACT Podcast every Friday on Anchor.fm, iTunes, Spotify, Google Podcasts, Breaker, Stitcher and Radio Public!!!!
Andrew's Impact Wrestling Uncaged Ratings & Review
With the tag titles changing hands last week, do we see more changes with Impact Wrestling Uncaged?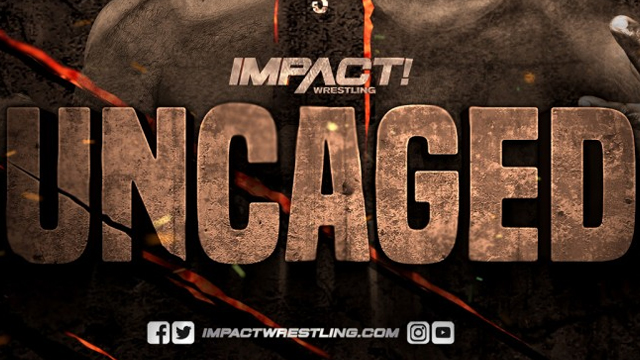 With the tag titles changing hands last week, do we see more changes with Impact Wrestling Uncaged?
The pseudo-PPV atmosphere is sure to bring in more consistent viewership, but they're in an interesting spot. Taya and Tessa are really the only two credible Knockouts unless Gail comes out of retirement (since Rosemary, Su and Jordynne are in the same storyline), so we'll probably see this get extended somehow. As for the other title match, The Machine has a lot of support and wrestling fans all know the money is in the chase. So I could see Cage getting "screwed" again, but I'd much rather see Cage with the title.
So let's get hype for the show with a video package of the returning Reno Scum!
Reno Scum return to IMPACT in 2 weeks! #IMPACT @Thornstowe_Scum @legendbaby81

WATCH NOW – https://t.co/jyZYT6QL46 pic.twitter.com/hyHnwi2E4s

— IMPACT (@IMPACTWRESTLING) February 16, 2019
Ratings:
Knockout's Championship Street Fight: Tessa Blanchard vs Taya Valkyrie (c) – Taya retains via Double Footstomp through Table – *** 3/4
'All Ego' Ethan Page vs Willie Mack: Mack  wins via Stunner – ** 1/2
Elimination 4v4: Team Impact (Fallah Bahh, Sami Callihan, Eli Drake & Eddie Edwards) vs Team AAA (Puma King, Psycho Clown, Hijo del Vikingo & Aerostar): Team AAA 4-3 – *** 3/4
Fatal 4 Way Impact World Championship: Killer Kross vs Moose vs Johnny Impact (c) vs Brian Cage: Johnny retains via Starship Pain on Moose – *** 1/4
Review Notes:
Both women come out with throwback shirts. Tessa comes out with the old school Four Horsemen shirt and Taya comes out in her Perros de Mal shirt (old Triple A stable she was in with Perro Aguayo Jr). This match was a little awkward at times, and the first table they had " La Wera Loca vs Diamond" painted on, didn't break after two spear attempts. Really good hardcore style action, with chairs, insults, ring posts and another table. Definitely more of a brawl than wrestling, but after the table didn't break the subsequent spots seemed to be a little off. Still a solid match, entertaining to watch, good way to start off the Uncaged show. Dios perdona, los perros no.
After a quick promo with Team Impact, Scarlett joins Melissa during the commercial break moment and she's barely dressed and her and Melissa start doing squats. I mean they're doubling down on sex sells, and I'm not even mad.
Mack and Page was a solid match. Good brawling, Willie's agility outlasted Page's strikes. One would assume the winner should be closer to an X Division title shot at least. So it should be interesting where this leads.
Killer Kross follows that with his typical chilling, slightly unhinged promo, and damn it was well done.
The interesting thing about the commercial break stuff tonight is Melissa doing live interviews with different people. It's kinda neat, like extra content.
Team Triple A has a clap back promo after the commercial, which says the Cup is staying in Mexico. If memory serves, Team Triple A beat Team TNA in the first World X Cup, so I'm curious if they'll pull from that for a storyline.
Sami Callihan calls out Swann one more time, Swann throws the shirt at Callihan, so a fight ensues. Swann gets the best of things momentarily, but an eye gauge allows Sami the opening to toss Rich around a little, Piledriver him on the stage and then Powerbomb him off the stage through a table. So I guess Sami will get the X Divison shot, but might have to go through Willie Mack first in the following weeks before Rebellion.
A lot of fun fast paced action, good dives, good strikes, nice story telling and only one slip so far from Aerostar. Eli Drake is the first one eliminated by Puma King because he tries to tell Eddie to not use the kendo stick, but tries to use it himself, Eddie catches him and takes his stick back, then pushing Eli. So one Gedo Clutch later, Eli is eliminated by pinfall. Fallah Bah eliminates Vikingo after a Twisted Running Powerslam. Aerostar eliminates Bahh after a Crucifix Pin when Bahh misses the Banzai Drop. Boston Knee Party from Eddie eliminates Aerostar. Piledriver from Sami eliminates Puma King. Two on one advantage with Sami and Eddie against Psycho Clown. Eddie hits a Boston Knee Party lays out Psycho Clown, but Sami pushes Eddie off and tries to steal the spotlight, only a two count, Psycho Rolls Up Sami for the pinfall elimination. Eddie has Psycho on the ropes, but Eli returns, takes Kenny the Kendo Stick and distracts Eddie. Then he hits Eddie to give Psycho a shot to hit a Backstabber, followed up the La Magistral for the victory. So Impact kinda played themselves, but it was a damn good match with a lot to unpack.
Melissa finally returns after a few commercial breaks off, with Sami Callihan and David Crist. This was ridiculous but great. Just erratic idiocy, they steal Melissa's sandals at some point, David sings "Hey there Samuel" and Sami does a pitch like a dating service while Melissa is getting her sandals. So dumb, but great.
.@TheSamiCallihan stealing @ThisIsMelSantos's shoes is the sort of amazing content you only get if you're a Twitch subscriber. #IMPACT

WATCH NOW – https://t.co/jyZYT6QL46 pic.twitter.com/uKf5PKFSpu

— IMPACT (@IMPACTWRESTLING) February 16, 2019
Small promotional video package for Reno Scum. Returning to Impact for the first time since the first wave of GFW "invasion" (nearly 2 years).
A quick little moment with Dark Allie, Su Yung and Rosemary, followed by a commercial with Melissa and KM & Fallah Bahh. Very funny, Melissa plays off the wrestlers well. She needs to stick around since she's got a nice personality and seems to work well with most of the guys.
Scarlett with a weird video package, her in a bed, a little moan and showing cleavage is her formula. So if it ain't broke, I'm not gonna fix it, shut up, stop judging me!
LAX joins Melissa before the main event and the Latina comes out in her. She's more animated that usual, very fun and entertaining. She even busts their chops a little, but they take it in stride and seem to enjoy each other's company.
Since the match starts with only about 12 minutes before time limit the match wasn't going to be a technical masterpiece, but for what it was it was fun. It was more of a brawl, since there were 3 bigger guys. Kross had a bunch of moments looking like a beat, Cage looked like a million bucks hitting the Drill Claw on both Moose and Kross. But Johnny pulled the opportunistic thing, and while Kross and Cage were tied up, Johnny pulls Moose to the corner, barely hits Starship Pain and sneaks in a pinfall before Cage finishes the Drill Claw + pin on Kross.  So Johnny retains while looking like a punk, and the crowd wanted nothing to do with him. Terminator claps most of the match.
.@MrGMSI_BCage had the World Championship right within his fingertips once again…

But @TheRealMorrison escaped with the title by the skin of his teeth. #IMPACT pic.twitter.com/pzg4gPZIhB

— IMPACT (@IMPACTWRESTLING) February 16, 2019
Overall Score: 7.5/10
Solid solid show from start to finish. Tessa and Taya got things kicked off well, Melissa doing backstage interviews as the Twitch commercial break stuff was great. World Cup match was fun and set up a few storylines for the Impact stars while Team Triple A got the home field advantage win. Main event was a little disappointing to be honest. Johnny has worn out his fan support both in Mexico and on Twitch chat. Granted yes, I'm hopeful this is building towards a big blow off at Rebellion, maybe with Cage going over and Austin Aries returning, but I guess we'll have to see.
Also from the main event, we see some cracks in the Moose and Kross alliance, so that could definitely be an interesting match in the near future.
So yeah, we have a lot to chew on moving into TV tapings for the shows leading up to Rebellion, but from a completely playlist mentality view point, Cage got screwed. Brian Cage better be getting this damn title soon, or I want him to put Don Callis through the announce table.
Now the weekly Twitch viewers portion:
Week 1: High – 10,350 / Low – 8,500
Week 2: High – 8,000 / Low – 6,500 
Week 3: High – 8,500 / Low – 7,900  
Week 4: High – 7,100 / Low – 5,300
Week 5: High – 7,450 / Low – 5,650
Uncaged: High – 9,000/ Low – 8,000
Well it looks like people just need a reason to tune in. Not only was this week mostly main event talent, but since the event had was named, I feel like people just expected better quality. So still no record breaking high, but solid numbers throughout the entire show.
Andrew's Impact Wrestling Ratings & Review (2/8/2019)
Impact Wrestling, coming off the worst Twitch viewership, and worst rated show of the year…do we see a bounce back leading into Uncaged?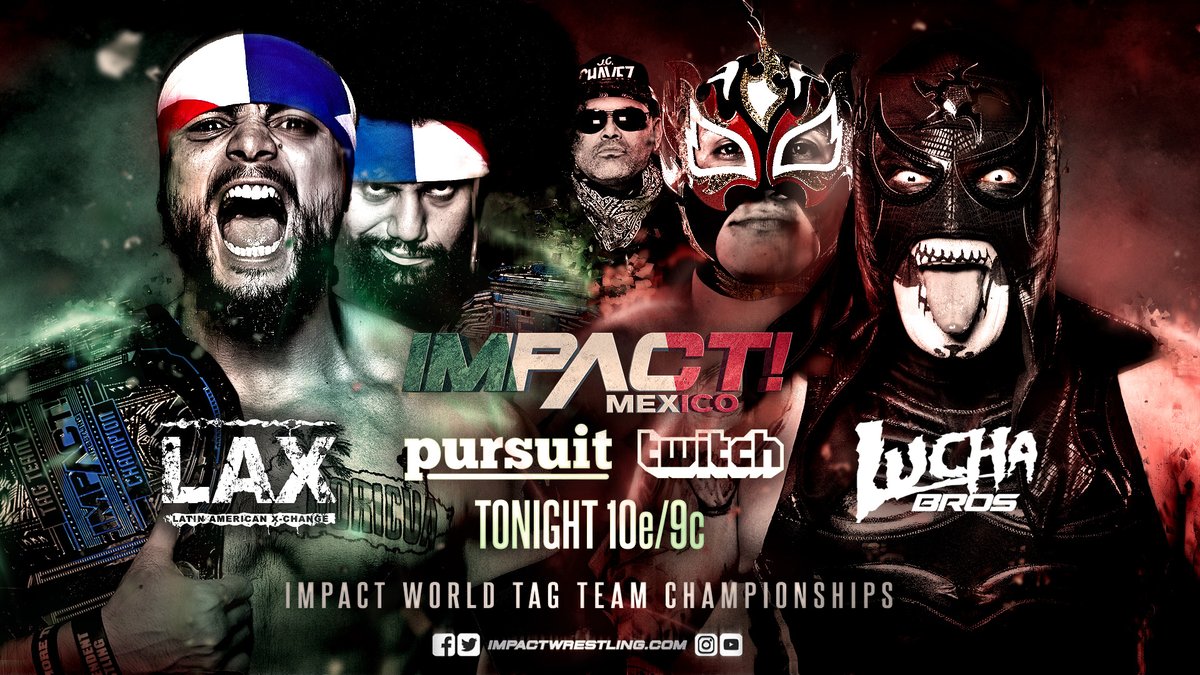 Impact Wrestling, coming off the worst Twitch viewership, and worst rated show of the year…do we see a bounce back leading into Uncaged?
With my assumed direction for the main event to become a 4 way, Allie's ongoing struggle with Demons and Zombies, Team Impact vs Team AAA and Sami's history with Rich Swann, Uncaged has a lot to build towards.
Let's not overlook that we're getting an Impact Tag Team Championship rematch between LAX and the Lucha Bros. So it's gonna take some impressive fail for this episode to fall short.
Time to find out.
.@PENTAELZEROM and @ReyFenixMx are ready for LAX TONIGHT! #IMPACT

WATCH NOW – https://t.co/jyZYT6QL46 pic.twitter.com/Kmw8zfACK4

— IMPACT (@IMPACTWRESTLING) February 9, 2019
Ratings:
Rich Swann & Willie Mack vs Dave & Jake Crist: Swann wins via 450 Splash – ***
Kiera Hogan vs Allie: Hogan wins via Face the Music – ** 1/4
Rohit Raju vs Trey: Trey wins via Meteora – ***
Sami Callihan vs Puma King: Callihan wins via Piledriver – *** 1/4
Impact Tag Team Championship: LAX (c) vs Lucha Bros: Lucha Bros win via Spike Fear Factor – *** 3/4 – TITLE CHANGE!!
Review Notes:
Tag action starts us off. The Crists come out to continue the story with Swann and Sami Callihan. We get a solid match. Crowd was asleep, so that did make it come off a little flat, but lots of good action from both the Crists and Mack/Swann. So it's a good start.
Lucha Bros promo, followed by the announcement that the Uncaged main event is now a 4 Way match. Johnny vs Cage vs Moose vs Kross. Obvious twist with how things have been going, but no complaints.
Flashback moment is the last few minutes of Pentagon's World Championship victory against Austin Aries and Fenix at Redemption 2018.
We see the storyline move forward with all the Darkness, Su Yung gets wiped out and Allie has a fit thinking Su disappeared and Rosemary might show up. So because she freaks out and doesn't just grab the bloody glove, Kiera takes the opening to hit her Cradle Neckbreaker finish. No appearance by Rosemary though.
They announce RVD & Sabu vs Lucha Bros for United We Stand.
Allie and Su are seen in the back, with Allie muttering "she's here". Screen flickers and a message is seen " The witching is upon us. Don't say we didn't warn you."
The contrast in styles between an old school heel and the new school "flippy" guy, worked fairly well. Old heel tactics kept Trey grounded for the most part, but he still pulled off a Triangle Enzuigiri as well as his Head Tucked in the Turnbuckle Tiger Feint ( think Will Ospreay's Cheeky Nandos Kick, but tucking the head and then hitting a 619 instead). Trey winning with the Meteora off the top, punctuated the shenanigans more than looking cool.
Quick Scarlett bumper about her in-ring debut next week.
Sami and Puma King starts off with a lot of Sami brawling with some nice heel work. Puma King has a nice Headscissors out of a Tree of Woe, and then starts putting some offense together. After a huge miss on the dive to the outside, Puma King is on the back foot, but they do put together a nice sequence to pick things up a little. We get an odd Drop Toe Hold into La Magistral spot, but the finishing sequence is solid. All in all in the best match on the show so far, a damn solid episode already.
Video hype package for Taya versus Tessa.
Eli confronts Eddie Edwards about next week's match, trying to convince him to drop the hardcore style.
Melissa Santos interviews Moose and Kross. Moose turns on a little more goofiness, trying to say it's unfair to the others because they're a team and have one another's blind sides. Moose says "Just like Bill Belichick says, there's no I in team" and Kross nods, " That's good. But I prefer the one with the Frog and the Scorpion". Moose doesn't get the reference, but it alludes to Kross using Moose to get to a goal. So we'll see if it falls apart next week.
.@TheMooseNation and @realKILLERkross seem to have some different ideas about next week's four way championship match. #IMPACT

WATCH NOW – https://t.co/jyZYT6QL46 pic.twitter.com/LONSFrNpdh

— IMPACT (@IMPACTWRESTLING) February 9, 2019
They had a lot to follow after their Homecoming match, but this wasn't bad. It starts quick again, and this match had the same issue the last one did, where it felt too fast. Moves weren't hitting flush, double clutching or waiting too long to take a spot hurt the match a little. Both tag teams kicked out of the respective finishers, so no one looks bad. Lucha Bros have to hit a second Spike Feat Factor, as Fenix lays out Ortiz with a tope. Konnan makes them shake hands, but there's still a little heat.
This is exactly how @SantanaLAX and @Ortiz5150 put away The Lucha Bros at Homecoming but it's not enough tonight. #IMPACT pic.twitter.com/Q8nQA9vir1

— IMPACT (@IMPACTWRESTLING) February 9, 2019
Overall Score: 7.25/10
Nothing about this show was bad. Stories moved forward, big announcement for United We Stand with the RVD & Sabu vs Lucha Bros main event. Also coming off of the AEW news that Lucha Bros will show up there, winning the Impact Tag Championships could lead to some interesting cross over. Who knows.
But like I said, good show. Nice to see Impact bounce back a little from the lack luster show last week.
Week 1: High – 10,350 / Low – 8,500
Week 2: High – 8,000 / Low – 6,500 
Week 3: High – 8,500 / Low – 7,900  
Week 4: High – 7,100 / Low – 5,300
Week 5: High – 7,450 / Low – 5,650
As you see, the overall numbers were a little better than last week when it comes to Twitch audience, and it held steady at 6,000 for most of the show. So the product was a little better, as the 'Go Home' to Uncaged. So maybe we'll see a spike next week for the bigger show.