Chris' IMPACT! Wrestling Results & Report (9/20/18)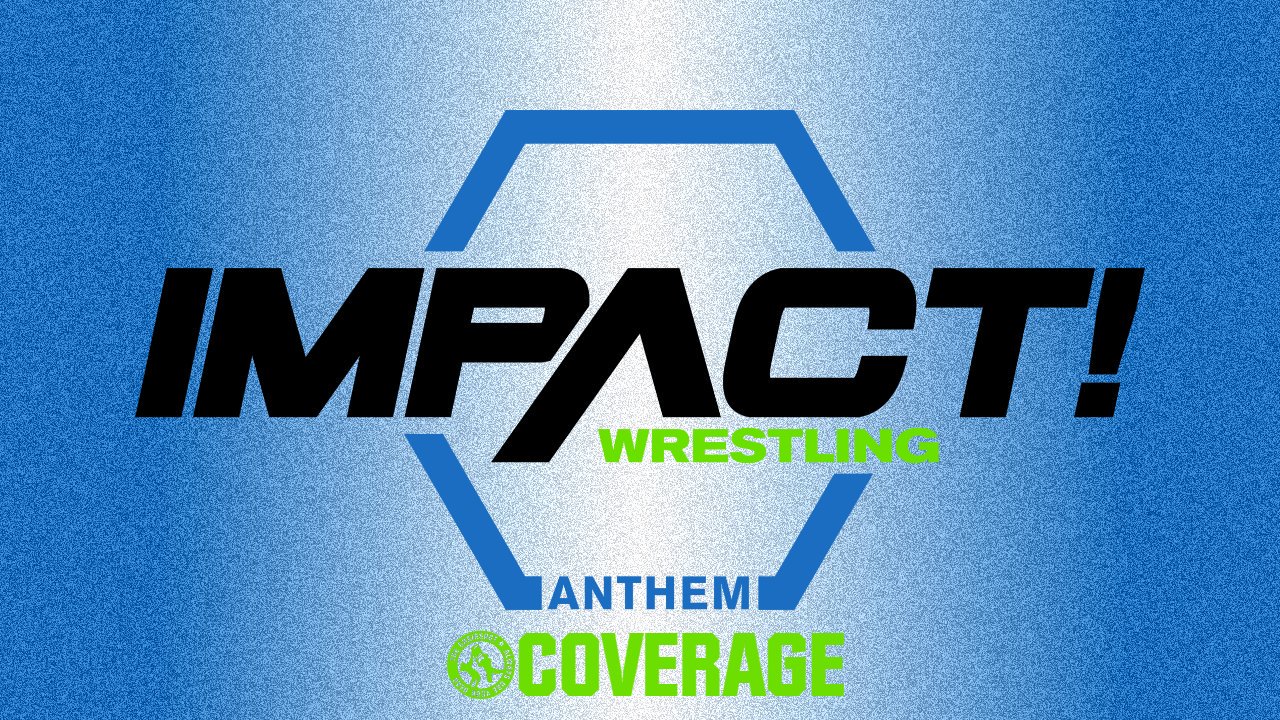 For the first tim ever, IMPACT! Wrestling comes to us from Mexico!!!
QUICK RESULTS
oVe d. Aerostar, El Hijo Del Vikingo & Laredo Kid – pinfall, oVe pinned Vikingo, Doomsday Cutter
Eli Drake d. Trevor Lee – pin fall, Gravy Train
King d. Chronus – pin fall, spinning back fist
Faby Apache d. Alisha – pin fall, sit out powerbomb
The Lucha Bros. d. Matt Sydal & Rich Swann – pin fall, Fenix pins Sydal, muscle buster power bomb
IMPACT! Title: Austin Aries(c) d. El Texano Jr. – pinfall, brainbuster
________________________________
IMPACT! Wrestling from Mexico
Video package recapping last week starts us off.
Match One: Aerostar, El Hijo Del Vikingo & Laredo Kid vs oVe [Jake Crist, Dave Crist & Sami Calihan]
Nice touch here as the ring announcement for the Mexican trio was in Spanish and announced them as the "Technicos"
Brisk pace to start between Sami and Laredo, everyone in, kicks all around leave Laredo standing. "Mexico" chant for the Technicos. Dave and Laredo in, Laredo flying everywhere, hits a front kick sending Dave to the floor. Jake cuts him off, superkick to the back of the head, then chin, and a crescent kick takes him down. Aerostar in with a headscissor interrupted by Sami with a powerbomb.
Vikingo in and walks across the ring on HIS HANDS!!! Front kick by Sami takes him down. Misses in the corner, Vikingo with a hurricanrana. Hits a tope con hilo, but oVe catches him and hits a powerbomb in the apron. Laredo and Aerostar on the top buckle, Aero goes off Laredo's shoulders and dives on oVe on the floor. Laredo follows with a delayed moonsault!!! Vikingo follows with a shooting star press!!!
Brawling begins all around he ring. Laredo tosses in Sami, who hits a huge clothesline. Mounted punches and tries to rip the mask. Tags in Jake.
Jake takes out Aero and Vikingo and a savate kick to Laredo off a toss. Sami and Jake toss Laredo out of the corner.
Vikingo tags in against Jake. Jake tosses Vikingo into the buckles, sets him in them and kicks his back. Double kick to a held Vikingo, Laredo breaks up the pin at 2. Dave tags in.
They toss Vikingo who hits a senton on Jake. Aero In, hits a springboard off Dave into a double cutter, then a springboard code breaker on Dave. Vikingo hits a splash, Laredo hits a 450, all men cover, broken up by Sami and Jake.
oVe all pick up an opponent and tombstone, all get two on their man. Dave puts a Vikingo on his shoulders. Jake with a doomsday cutter off Sami's shoulders for the 1-2-3
Your winners: oVe (pin fall)
Rich Swann is back stage and runs into Matt Sydal. Says they've had misunderstanding but he wants Swann to succeed. Susan says he received a divine transmition that they're supposed to be a tag team, and they'll face The Lucha Brothers, TONIGHT!!
**commercial break**
Backstage we see Sexy Starr getting ready when Tessa Blanchard walks in. Tells Starr she can't put her stuff where the champion sits and if she wants to make it she better start moving. Faby Apache then approaches asking what Tessa's problem is, and telling her around here, they treat each other with respect. Tessa says she thinks she has a better locker room anyway and walks away.
To the announce table for Josh Matthews and Don Callis, and they talk about Tessa's disrespect and run down the card.
Next up, Eli Drake has an open challenge! Eli starts by saying he came to Mexico looking for a real challenge, but all he found was "tontos! Si!" And challenges anyone to come out.
Match Two: Eli Drake vs Trevor Lee
Trevor Lee answers the challenge with a referee in arm, and Eli jumps him. Trevor gets Eli in the corner and stomps away and celebrates. Kick and uppercut, Trevor then gets whipped across and Eli hits the uppercut. Forearm send Eli to the floor who then trips Trevor on the apron.
Back in, Eli chokes him on the middle rope, then hits a leg drop across the back of his neck. Trevor then drops Eli on the top rope, hits a back breaker for two. More corner work, as they've move from one to the next. Eli then charges out with a clothesline, scoop slam, and Eli drops him, goes for the Faby train and Lee reverses into a pin with the tights for two. Eli picks him back up, hits The Gravy Train for the 1-2-3
Your winner: Eli Drake (pin fall)
Earlier today, we see the OGz saying they need to get out of this trash town, and they're going to get the LAX to break the cease fire.
**commercial break**
Match three: King (w/ Homicide & Hernandez) vs Chronus
Chronus looks like a masked Spartan warrior.
Handshake to start and the OGz jump Chronus. Cutter by Homicide. Now the bell rings, match starts.
Spinning back fist by King for the 1-2-3
Your winner: King (pin fall)
King gets a mic, calls out Konnan, tells him to ignore the cease fire. Calls them nothing but cowards.
**commercial break**
Bound For Glory video package.
LAX back stage and Santana is sick of the OGz. He asks Konnan where his heart went? Konnan tells them not to tell him how to run his business. Says he won't break the cease fire, because if they do, The Comission will make sure they disappear. Says their match at BFG will be a Concrete Jungle Match.
Match four: Alisha vs Faby Apache
Apache had her head shaved at TripleMania this year.
Collar and elbow to start, Apache takes her down into an ankle lock, Alisha reverses, but reversed back. Arm drags and leg trips by Faby and a stand-off. Kick exchange, then chops, snspamare  dropkick by Faby.
Scoop slam and a leg drop by Faby for two. Drop toe hold onto a surfboard by Faby, into a face buster!!! Back elbow from Alisha stops a charge and then she hits a slow hurricanrana. Forearm strikes, into a wheelbarrow roll up for  one. Alisha charges a corner, Faby hits a superkick for two.
Alisha off the ropes kicks in an headscissor octopus but Faby walks to the ropes. Alisha hits a clothesline to take her down, both women up, Alisha hits a flatliner for two. Alisha goes up top, hits a cross body, then Faby hits a running boot and a sit out powerbomb for the 1-2-3
Your winner: Faby Apache (pin fall)
Josh Matthews interviews Faby with a translator, who says she represents women's wrestling and she wants to face Tessa NEXT WEEK!!
El Texano Jr. getting interviewed backstage, he welcomes Austin Aries to Mexico. Says he will win the title and ride off into the sunset as champion!
**commercial break**
Scarlett Bordeaux back stage, she's got a huge announcement next week
Match five: Rich Swann & Matt Sydal vs The Lucha Bros. [Pentagón Jr. & Fenix]
Fenix is wearing his AAA Mega Championship to the ring tonight (nice touch)
Penta shoves Swann as he enters the ring.
Swann and Fenix start. Collar and elbow, go behind by Swann,  reversed, throws Fenix into the ropes, springboard after springboard, trip, Fenix misses a moonsault and they flip away and a stand off.
Pentagón  and Sydal tag in. Taunts to start. Kick from Pentagón, and another when Sydal tries to roll. Fenix tags in and they both kick Sydal. Fenix hits an assisted cutter on Matt and they kick away at Swann. Fenix hits a double stomp for one. Superkick from Fenix to Matt, body scissor splash for two.
Sydal hits a kick for one. Snapmare and he tags in Swann who hits a rolling hilo over the top rope. Swann gets Penta in a corner and snapmares him out. Double team on Penta, he kicks them both, and tags in Fenix.
Springboard double cutter by Fenix, then a tornado con hilo on both men on the floor. Fenix hits a superkick on Sydal on the floor, as he tries to enter he gets an enziguri from Swann, who then hits a twisting con hilo from the top to the floor
**commercial break**
Fenix with a springboard crossbody to Sydal, who hits a spinebuster. Misses a charge, Fenix gets a knee after a roll through. Double team on Fenix, Penta interrupts, Swann sets him up for an enziguri, both Swann and Sydal hits top rope frankensteiners, Swann gets a two on Fenix. Both men up top and interrupted by Penta and Fenix. Fenix hits a double stomp on Swanns neck, then Penta hits a package oiledriver teal on the apron.
Fenix then hits a Muscle Buster powerbomb on Sydal for the 1-2-3
Your winners: The Lucha Bros. (pin fall)
oVe hits the ring and taunts the Brothers from outside the ring. Cage comes out and evens the odds and oVe retreats.
Backstage interview with Aries and his crew. Aries says tonight, he takes on Texano because there's no one left to challenge him.  Says the title will stay right where it is, on his shoulder. Moose then takes a selfie with the interviewer.
**commercial break**
Backstage the Desi Hit Squad are getting massages, saying next week they have a non-title match against LAX. Gama interrupts  saying it's not time to relax and they need to get their heads right. They proceed to beat each other.
Joe Hendry's new music video debuts next talking about his "Best Friend" and how he won't abandon Grado for Katarina.
GWN Flashback Moment of the Week is an Ultimate X Match: Petey Williams vs Chris Sabin vs Matt Bentley
Video package covering Allie's promise that no one will go in Su Yung's coffin
**commercial break**
Announcers hype the main event, saying KM is still recovering at home as well.
They hype next week as well.
They then announce their 2018 IMPACT! Hall of Fame inductee – ABYSS!!!!
Match six, IMPACT! World Championship: El Texano Jr vs Austin Aries(c) (w/Killer Kross & Moose)
Arm ringer by Aries, reversed by Texano and back by AA. Aries gets out of a head scissor take down, and chills on the top rope.
Texano takes down AA and hits a con hilo and chills on the corner himself. AA snaps Texano off the top rope, goes for a con hilo himself but Texano moves. They brawl on the floor as we head to commercial.
**commercial break**
Aries knees Texano in the corner, works him over against the ropes, and in the corner again. Back take to Texano and then he takes him to another corner.
Texano reverses a whip, AA floats over. Texano gets a back rake of his own and a second. Goes for a third against the ropes and AA hits his knees. Texano hits a back breaker and chops in the corner. Texano then hits a leg lariat for two.
AA rolls out and wants to leave. AS he goes back in, he grabs the bull rope, which is taken by the ref. AA grabs the title, referee sees him, Texano hits a superkick, whips him with he rope, covers and AA gets his foot on the rope at 2
Texano goes for a powerbomb, AA reverses for a brainbuster and the 1-2-3
Your winner, and STILL champion: Austin Aries (pin fall)
Johnny Impact appears on the video screen, says they put him on the shelf, and he may not be medically cleared by BFG, but he promises, he will be seeing him a little sooner than he thinks. AA says he's not stupid, Impact has to be there somewhere.
Impact comes down the ramp, jumps AA in the ring. Superkick to Kross, knocks Moose off the apron. The heels regroup, when all of the suddenness a kendo stick starts hitting them, and Eddie Edwards is jumping them from behind!!!
Impact and Edwards stand tall as when go off the air!!!
Don't forget to follow me on Twitter @OldSkewlPantz
Make sure you check out The Bearded IMPACT! Podcast, every Friday on all your favorite podcast services!!!
GOOD NIGHT EVERYBODY!!!