Chris' IMPACT! Wrestling vs. The UK Results & Report (9/9/18)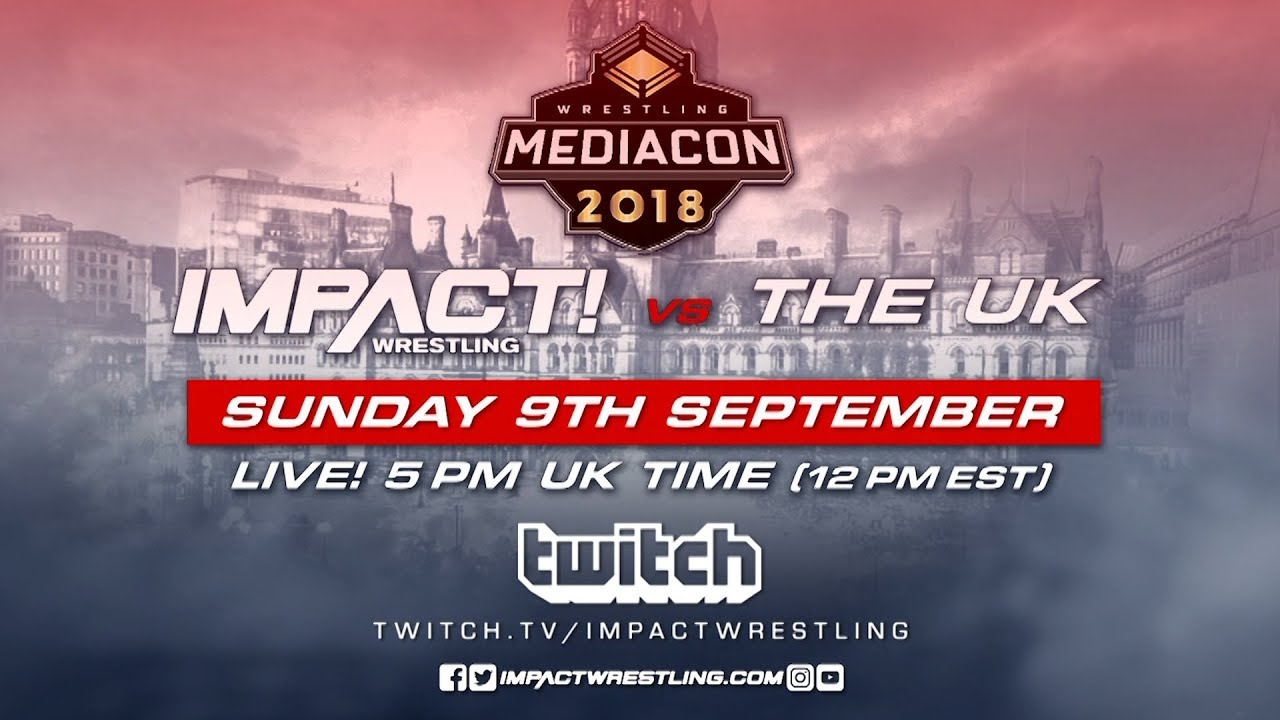 Join Chris Pinheiro for this morning's edition of IMPACT Wrestling vs. The UK on Twitch.tv!
---
Results
Rich Swann defeated Trevor Lee and Matt Sydal – pinfall on Lee, roll up
Adam "Flex" Maxted & Robbie X defeat Jake McCluskey & Lucas Steel – pinfall Robbie X pinned Jake McCluskey, standing shooting star press
Su Yung defeated "Stunning" Lana Austin – pinfall, Panic Switch
Impact World Tag Team Titles: LAX(c) defeated Jody Fleisch & Jonny Storm – pinfall, Street Sweeper
Joe Hendry defeated Eli Drake – pinfall, roll up
Eddie Edwards & Justin Sysum defeated Moose & Nathan Cruz – pinfall, Cruz pinned Cruz after a 450 Splash
Barbed Wire Bat Death Match: Sami Callihan defeated Jimmy Havoc – pinfall, piledriver on thumbtacks
---
Play By Play
Welcome to IMPACT! Wrestling vs The UK, live from MediaCon 2018 and only on Twitch.tv!
Sonjay Dutt and Andy Boy Simmons are on commentary from Manchester, England, and they run down the card to start.
Both men joke that they're more of a color commentator, and theres audio and video issues to start, hopefully nothing that keeps happening throughout the show.
Match One, X-Division Triple Threat Match: Trevor Lee vs. Rich Swann vs. Matt Sydal
I'm going to keep up with this the best I can, but it's going to get crazy!! On top of the fast action, Twitch keeps playing ads about every minute, so I hope that doesn't interfere too much (but it will)
Smoke has filled the arena from Sydal's entrance, making for an interesting visual with the lighting…
All three men jaw with each other to start. Swann starts dancing, Sydal starts with kicks to everyone. Swann of Sedan's back and hits a hurricanrana on Lee. Dropkick to Sydal sends him to the outside. Corner punches from Swann to Sydal, big right to Lee knocks him off the apron, Sydal rolls Swann up for 2. Snapmare to a kick from Sydal to Swann, pin for 2 and a Twitch ad…
Sydal with a submission on Swann, hits a vertical suplex on Lee as well, and then Lee breaks up the submission. Lee pins Swann for 2. Hard buckle whip and Lee pins Swann for 2. Lee in full control of Swann, stomping his fingers and short forearms to the back. Sedan goes for a tilt a whirl, Swann reverses into a head scissor take down. Swann hits a flipping topei con hilo to both men on the floor.
Sydal goes under the ring and hits Swann with a chair in view of nobody. Back in and Lee hits a back breaker on Sydal for 2. Punch and kick exchange, and Sydal takes control with a head kick. Sydal hits a spinning neck breaker on Lee but the pin was broken up but Swann. Swann with a rana on Sydal, then an enziguri to Lee in the corner. Followed by one on the top rope, and a hurricanrana off the top gets a 2 count. Sedan in and throws Swann to the floor. Lee drops Sydal into the turnbuckle.
Lee with a big slam on Sydal, Swann then hits a super kick, rolls him up and a Twitch ad plays… really bad timing there!!
Apparently, that roll up got the 1-2-3. Nice of Twitch to let the pinfall play…
Your Winner: Rich Swann
Swann then flips off the crowd after the win and taunts them all on his way out to cheers
Video package for Bound For Glory plays.
Match Two: Lucas Steel & Jake McCluskey vs. Robbie X & Adam "Flex" Maxted
Twitch ad ends and we are brought into the action. Robbie X and Steel start it off (at least what I saw). Collar and Elbow, Steel pushes X into the corner and beals him out. X tags in Maxted. Corner punches from Maxted, Steel misses the clothesline, two flying shoulder tackles and Steel is still on his feet. Maxed with a shoulder tackle off the top finally knocks him down, Steel tags in Jake. Maxed tags in X, runs back and forth, spring board cutter caught, then a step up rana by X. Knee to Jake in the corner, X over the top and a dropkick. X tags in Maxted, delayed suplex to Jake.
X back in, double team on Jake with a arm drag take over. X with a hand spring double boots to Steel, and Maxted launches Robbie X over the top rope onto their opponents. X rolls Jake back in, kick to Steel, second one is caught and X eats the ring apron. McCluskey then dropkicks Maxted to the floor. Another drop kick in the ring as Steel handles X on the outside. Jake stomps away at X then tags in Steel.
Steel chokes X on the floor, big right hand, slams X into the corner. Big slam on X and Steel is in full control. In the corner, Steel tags Jake, Robbie tries to fight out, cannot make the tag. Steel hits flatliner and Jake with a  basement drop kick for two. McCluskey whips X across, charges in and eats an elbow. Comes back with a kick and a sliding German suplex. Jake springboards back in and hits a dropkick off the second rope as we go to another Twitch ad….
X with a jawbreaker, still can't make the tag. Enziguri to Steel, X finally take Maxted. Big splash in the corner, floats over and a drop kick to both opponents. Spine buster on Jake, springboard drop kick on Steel. Cover on Steel broken up by Jake. Jake puts Maxted in the corner, tags himself in.
Big duplex sees Maxted land on his feet and X joins him. X Factor by Jake on Robbie X gets 2. Jake pulls X to the corner and goes up top moonsault eats boots, X hits a death valley driver and a shining wizard before Steel hits X with a Pop Up Jones. Maxed in and exchanging punches with Steel, followed by a press slam. Steel goes for a power bomb, Maxted floats out. Maxed hits blockbuster off the second rope.
X with kicks to McCluskey, handspring cutter met by a super kick in mid air. McCluskey gives X to Steel, goes for a powebomb, rants out, Maxted with a springboard sligblade on Steel, X with a springboard cutter to Jake, a standing shooting star and pins McCluskey for the 1-2-3!
Great match, not much selling, but they were quick, big moves were big and powerful, and all four guys looked really good.
Your winners: Adam "Flex" Maxted & Robbie X
GWN App video package
Match Three: "Stunning" Lana Austin vs. Su Yung
Crowd 100% behind the hometown girl, Lana Austin. Su screams to start and Lana backs off into the corner. Lana goes for a roll up for 2, backslide for 2 again. Big European uppercut and a butt attack before Twitch shows another commercial….
Austin is now in the corner, hits a cross body for 2, Yung retreats to the outside. Basement drop kick by Austin, and now they fight to the outside. Chops and forearms against the guardrail, referee not even counting them out…
Su reverses a whip and Austin runs into the guardrail. Young then scares off the referee before hitting a duplex on the floor. Austin laded head first on Su with this move, but Yung then rolls her back in the ring.
Cover only gets one. Lana fights back, Su throws her down. Snapmares Austin across the ring, then back again. Young chokes Austin in the corner then sets Lana on the top rope, hanging her down in the tree of whoa. Rapid dire kicks to the back, Su runs corner to corner, Lana pulls up, Su hits a hanging neck breaker from the top rope and Austin rolls to the floor.
Su grabs a chair, and again scares the referee away. Sets up the chair and slams Lana's face into it before sitting her on the chair and hitting a palm strike. Su rolls in to break up the count, takes off the dress, and hits a rolling dive onto Austin on the chair from the apron.
Su rolls Austin back in and covers her for 2. Su kicks away at her left thigh, then tries for a submission but is kicked off. Clotheslines from Austin and a knee to the gut as we go back to commercial… (these are getting annoying)
We come back and both women are down. On their knees, both women start exchanging hands. Su is the first to be knocked down. Su goes off the ropes, Lana hits two kicks and a headbutt called The Manchester Kiss. Goes for the Killswitch, Su gets outs, and she hits a rolling elbow for two. Su spider crawls up the turnbuckles and slams Austin into the second buckle for two.
Su now puts on the bloody glove. Lana with another huge headbutt. DDT reversed, Panic Switch reversed, Austin hits a DDT and Su rolls to the floor. Su then throws the chair in and as the referee was distracted, Su spits the mist into Lana's eyes! Panic Switch hits and 1-2-3
Your winner: Su Yung (pin fall)
Another good back and forth match, both women looked strong, both women did really well
Su then walks up the ramp with the chair and Austin's face is covered in mist.
Video package for Bound For Glory weekend plays. The Tag Team Championship match is up next!
Match four, IMPACT World Tag Team Championship: Jody Fleisch & Jonny Storm vs. LAX [Santana & Ortiz](c)
Storm and Fleish extend their hands, LAX shake and then attack from behind. Chops against the ropes to Storm, now a double team irish whip, he floats out and Fleish hits a spear. Storm hits a springboard Total Elimination. Flesh fakes a dive, Storm does a twisting con hilo to the outside on LAX.
Fleisch with a snap make, tags in Storm, double drop kick gets two on Santana. Springboard Lolita, then Storm walks the ropes into a lucha arm drag, followed by a rana, tag to Fleisch. Santana floats over, heads to the corner, Ortiz tags himself in, and a big arm drag controls Storm. Single leg trip, Ortiz runs the ropes, rolls Fleisch, off the ropes, Fleisch cartwheels outs, moonsault lands on his feel, enziguri by Ortiz, then a reverse rana by Fleisch.
Clothesline by Ortiz, and Fleisch rolls outside. LAX both off the ropes, topeis on both sides take out both men on the floor. Santana throw Fleish back into the ring, chokes him in the middle of the ring. Neck breaker gets a two count, second pin also gets two. Santana tags in, double stomp off the top.Snap duplex by Ortiz gets two, followed by a snap mare into a headlock.
Fleisch fights out, off the ropes, eats a back elbow from Santana, Ortiz tags in. Dropkick connects and a shimmy from Ortiz. LAX hits a double team power bomb, Santana locks Fleisch in a Boston crab. Santana tags in Ortiz who puts Fleisch on the top rope. Fleisch shoves him off, goes for a shooting star press, lands on his feet, and then hits a Spanish Fly on Santana. Ortiz knocks Storm off the apron, isolating Fleisch. Double team whip, and Fleisch hits a double sunset codebreaker on LAX. That was sloppy. Storm tagged in, hits a cross body on both. Hurricanrana on Ortiz for two, moves so Santana hits Ortiz, and Fleisch hits a shooting star for two.
Ortiz hits a thumb to the eye and tags in Santana. LAX hits double back drop and Santana goes for a moonsault of Ortiz's back, Fleisch gets the knees up. Fleisch hits a moonsault off the top rope to LAX on the floor!!! The first sainted fecal matter chat breaks out followed by a this is awesome!!
Jonny sets Santana on top, hits a Spanish Fly, then a Jody hits standing shooting star for two. Jonny Storm then throws Fleish off the top rope into a moonsault on Santana who kicks out at two!!! Santana fighting off both men, hits a double enzeguri. Flesh goes for a reverse rana, Santana walks to the ropes, Fleish turns it into a tarantula, then everyone adds into the submission, but their in the ropes and have to break. Flesh hits a super kick on Ortiz.
Dropkicks for everyone and everyone is down. This is awesome chant again. Springboard DDT by Fleisch is blocked, but then hits a slam on Santana. Storm then leaps into a powerbomb by Storm onto Santana called The British Airways for two. Santana springboards off Ortiz and hits a sexton on Fleisch in the corner. Street Sweeper hit by LAX for the 1-2-3
Your winners and STILL World Tag Team Champions: LAX (pin fall)
Storm brings the belts into the ring and looks to be trying to steal them. Storm and Fleisch then put the belts around the waists of LAX, who then get on one knee and extend their hands. Fleisch and Storm shake and then raise the hands of LAX
Chris Jericho cruise video package
Match five: Eli Drake vs Joe Hendry
Eli with the mic before Hendry comes out. Welcomes everyone to the Church of E-Li-Drake. Eli has the fans in the palm of his hands, they're cheering him and booing Hendry. Says Hendry has a first class ticket on the Gravy Train, and THAT is just a fact of life.
Henry comes out, also with a mic. Henry begs for cheers, and they boo him some more. Henry said after he arrived, Eli's catch phrase changed from "Dummy…Yeah" to "I don't want Joe Hendry to make any more videos about me"
Henry said people want to hear a song from JOE HEN-DRY to which people boo again. He begins singing anyway, about Eli becoming Hendry's bitch.
Drake goes for a clothesline and the action is underway. Shoulder tackle knocks down Drake, running the ropes and a knee from Hendry takes him down again. Eli pulls Joe out, and is then slammed in to the apron. Big chop, Eli then slams Joe into the guardrail. Referee again being lenient and Eli rolls Hendry in. misses the elbow. Henry same Sli into the second buckle, then Eli with a shoulder tackle in the corner. Henry misses a Stinger Splash and Eli hits a neckbreaker.
Stomps and punches by Eli before he chokes Joe on the second rope, then dumps him to the outside. Eli follows him with a double axe handle to the back. Henry with a right and a chop before Eli rakes the eyes. Elbowby Eli on the apron the Hendry as the referee finally starts to count. Back in Eli hits another elbow and stands over Joe.
Swinging neck breaker gets a two. Eli mugs for the camera, but gets caught with upercuts by Hendry. Eli floats out of the supplies into a neck breaker and gets two.
Two quick slams by Eli and he hits a leaping elbow for 2. Into a headlock. Fans chant for Joe to tap. Eli with a huge clothesline then punches as Joe attempts to stand back up.  back elbow and a neck breaker from Hendry, floats over in the corner and hits a DDT on Drake for 2.
Henry picks the ankle and locks in the Ankle Lock in the middle of the ring. Eli rolls out ad Hendry eats the buckle. Henry hits fallaway slam but again gets two. Eli hits a jaw breaker, goes for a Gravy Train, reversed by Hendry into a roll up for the 1-2-3
Your winner: Joe Hendry (pin fall)
Bound For Glory video package
Match six: Nathan Cruz & Moose vs. Justin Sysum & Eddie Edwards
Moose has new entrance music, a rap song with no more "Moose" chant.
Edwards puts his kendo stick in the corner and then applies chapstick for some reason…
Moose goes to start  so Edwards tags in  and Moose retreats. Eddie and Crus will officially start. Chain wrestling to start. Eddie goes to kick Moose again, who backs off. Eddie chant. Headlock by Cruz, shoved off and hits a shoulder block. Eddie hits an overhead belly to belly and makes snow angels in the ring. Tags in Sysum. System hits a springboard cross body off the second rope for two. Moose tags himself in.
Sysum dodges, but then gets thrown into the corner. floats over, goes for the cross body and Moose catches him. Lands on his feet and hits a tilt a whirl head scissor. Dropkick after Moose kips up knocks him back down. Eddie gets tagged in, Moose takes off and tags out.
Eddie gets whipped across, Moose gabs his ankles, and Cruz hits a high knee to take over. Eddie whipped into the buckle and Moose tags in, choking Eddie in the corner. Mounted punches, then he bites Eddie. Moose digs his hand into his trunks and goes to chop Eddie who ducks and hits chops. Moose hits a big drop kick and tags out. Cruz and Moose work him over in the corner as Sysum tries to help.
Sysum snaps Eddie down and locks on a headlock. Fans chant Eddie again. Eddie bites him to escape, tags in Sysum, Cruz tags Moose. System hits an uppercut, and gets whipped into the corner. Sunning clothesline by Sysum, Moose escapes after, Sysum floats over and hits an exploder duplex. Cruz comes in and gets tossed out. Moose whips Sysum toward his corner and Cruz hits a clothesline from the apron. Double team work on Sysum now in the corner, Cruz hits a big back suplex for two.
Cruz with  hard whip to the corner on Sysum and tags in Moose. Huge chop by Moose. Eddie on the apron has his kendo stick. Moose whips Sysum to a corner, but eats a boot when he charges. Dropkicks Sysum off the top rope to the floor, and goes out after him, then throws Sysum back in, only for Sysum to hit a piscatto over the top to the floor. Cruz prevents the tag, then Moose pulls Edwards off the apron. Cruz and Moose double team Sysum in the ring. Cruz legal again, and Sysum is in the bad corner. Trying to fight out, Cruz catches the feet and slams him down for two.
Eddie ripped a turnbuckle pad off, as Moose looks for a suplex, Blocked three times by Sysum before Moose hits a chop. Sysum suplexes Moose, Cruz cuts off the tag. Sysum evades and tags in Eddie. Back elbows all around, followed by chops. Eddie then hits a topi suicida on Moose that takes out the guardrail!!!
Back inside, Eddie hits a gordbuster and hits a big double chop on Cruz for two. Eddie charges Crus in the corner and eats a gordbuster. Cruz then picks him up, Eddie floats behind and eats an elbow. Crus charges Eddie, cuts off by Sysum with a spear!! Eddie hits a Tiger Driver and Moose pulls the referee out of the ring, breaking up the pin.
Moose hits the Go To Hell out of the corner, Cruz follows with a diving headbutt for just 2!! Moose tagged back in, talking trash to Eddie. Eddie has lost it and feels no pain from Moose's punches. Eddie tears his shirt, begging for a chop. They exchange chops, Moose removes his glove, but eats a big chop from Eddie, Superkick, and another, followed by a headbutt from Moose. Eddie hits a Blue Thunder Bomb on Moose, but cannot make the cover!!
Both men tag their partners, and its a slugfest. Cruz eats buckle, Sysum follows with a clothesline, then an exploder duplex. Calls for the 450 Splash and Moose takes him down. Boston Knee Party takes down Moose and goes and gets the kendo stick. Eddie brings the stick in, the referee is distracted by Sysum. Moose moves out of the ring and Eddie hits Cruz with the stick. 450 Splash from Sysum for the 1-2-3
Your winners: Eddie Edwards & Justin Sysum (pin fall)
Chris Jericho Cruise video package
Blund For Glory video package
Neither of these have audio, we head the announcers agreeing to get some water, then we hear the ring announcer telling the audience that this can get bloody and violent, and if anyone is going to get offended, it would be best to leave now.
Match seven, Barbed Wire Bat Death Match: Jimmy Havoc vs Sami Callihan
The fans explode for Jimmy Havoc when he emerges from the back.
Loud reaction for Sami as well, but mixed cheers and boos. Fans chant O-V-E with Sami.
In this match, the bat is sitting on the top of the ramp, first man to get it can do whatever he wants with it. There are also other weapons in the corners of the ring, including bags of mystery stuff.
Stare down to start. Jimmy's Gonna Kill You chant. Jimmy flips off Sami, then a big slap. Tilt a whirl head scissor take over by Havoc, then Sami dumps him on the apron, gets clotheslined down. Sami goes for a baseball slide, no one home, Havoc hits a basement drop kick and gets a staple gun. He staple guns Sami's throat. Now a staple gun to the butt. Sami gets the gun and throws it, Havoc then slams him into the barricade. Sami gets revenge and controls Havoc. Spits on his hand and chops the post.
Sami ducks a chop, Jimmy stops, slaps the back of his head and pokes the eyes. Havoc hits Sami with a chair over the head. Havoc runs around the ring, stops at Sami and thumbs his eyes when he uncovers. Another chairshot and Jimmy throws a chair at Sami. Sami gets a drink from a fan and eats a slap from Sami, who begins throwing chairs at Havoc.
On the apron, Samie picks up Havoc who hits him with a chop. They exchange standing front kicks, Havoc then goes for a piedriver, reversed, and Sami grabs the eyes. Sami then hits a piledriver on Havoc on the ring apron!
Sami shoves the referee and spits on him. Throws Havoc back in the ring, followed by a chair. Now Sami has the staple gun and he goes for Havoc's face. Knee to Havoc'c gutHavoc goes for a sunset flip and Sami reverses by stapling Havoc's head.
Sami gets a bag and pulls out a magazine which he staples to Havoc's shoulder blade. Havoc is bleeding. Staples another magazine to the other shoulder. Another page to the chest. Another bag stapled to his face. Havoc is calling for Sami to bring it. Sami rips the pages off of Havoc. Havoc rips the pages off his face, but gets kicked in the balls.
Sami pulls out a drill bit and starts hitting Havoc in the head with it. Sami then drives the bit into Havoc's open wound. Sami now starts heading for the bat and gets it with no opposition and brings it back to the ring. Havoc flips Sami off agin, and grabs Sami's finger. Havoc uses the paper to give Sami a paper cut in-between his fingers and under his arm. Havoc then gives him a paper cut in the mouth. Havoc then grabs Sami's tongue and gives him another paper cut. Havoc the gets a lemon and starts squirting juice into Sami's open paper cuts. No, you didn't read that wrong. A lemon.
Sami grabs the bat and hits Jimmy in the gut, then rakes the right arm with it, drawing blood. Sami grabs the lemons, and squeezes the juice into the cuts on Havoc's arm. Havoc then grabs the staple gun and staples the cuts closed. Havoc sets a chair up in the center of the ring, picks Sami up on his shoulders, and plants him on the top turnbuckle. Sami fights back, shoving Havoc off. European uppercut by Havoc and he hits a Death Valley Driver onto the chair, and a pump kick gets two.
Sami flips off Havoc, who hits a second DVD onto the chairs for two again! Havoc grabs a bag and dumps thumbtacks onto the chair. The he takes the barbed wire off the bat, and wraps it around his left arm. Sami reverses a rip cord clothesline and knocks Havoc onto the thumbtack chair three times. Havoc, with the barbed wire wrapped hand grabs Sami's testicles.
Havoc rakes the face of Sami with the wire, then eats a drop toe hold onto the chair with the thumbtacks. Sami dumps them off the chair and throws it out. Sami begins to take off Havoc's shoes and socks, picks up Havoc, goes to set him on the tacks, Havoc rolls him up for two. Right hand from Havoc, rip cord blocked, then hits a rip cord clothesline out of the corner, onto the thumbtacks for two. Havoc goes for a top rope stomp, but lands, bare feet first onto the thumbtacks. Second saintly fecal matter chant tonight. Sami then hits a piledriver onto the thumbtacks for the 1-2-3
Your winner: Sami Callihan
Sami leaves Havoc alone in the ring, who gets a major ovation from this crowd, who grabs a beer from a fan as he limps back to the locker room.
THATS ALL SHE WROTE FOLKS! THANKS FOR JOINING ME FOR MY COVERAGE TODAY, FOLLOW ME ON SOCIAL MEDIA, LET ME KNOW WHAT YOU THINK!
Twitter: @OldSkewlPantz
Instagram: turnbuckletopics
Andrew's IMPACT Sacrifice Results & Match Ratings: 3.24.2023
Well damn, 24 hours changes everything! Josh is injured and has to vacate the World title! Mickie is also injured but she's making her announcement during the show. How does IMPACT salvage their two main title pictures at Sacrifice?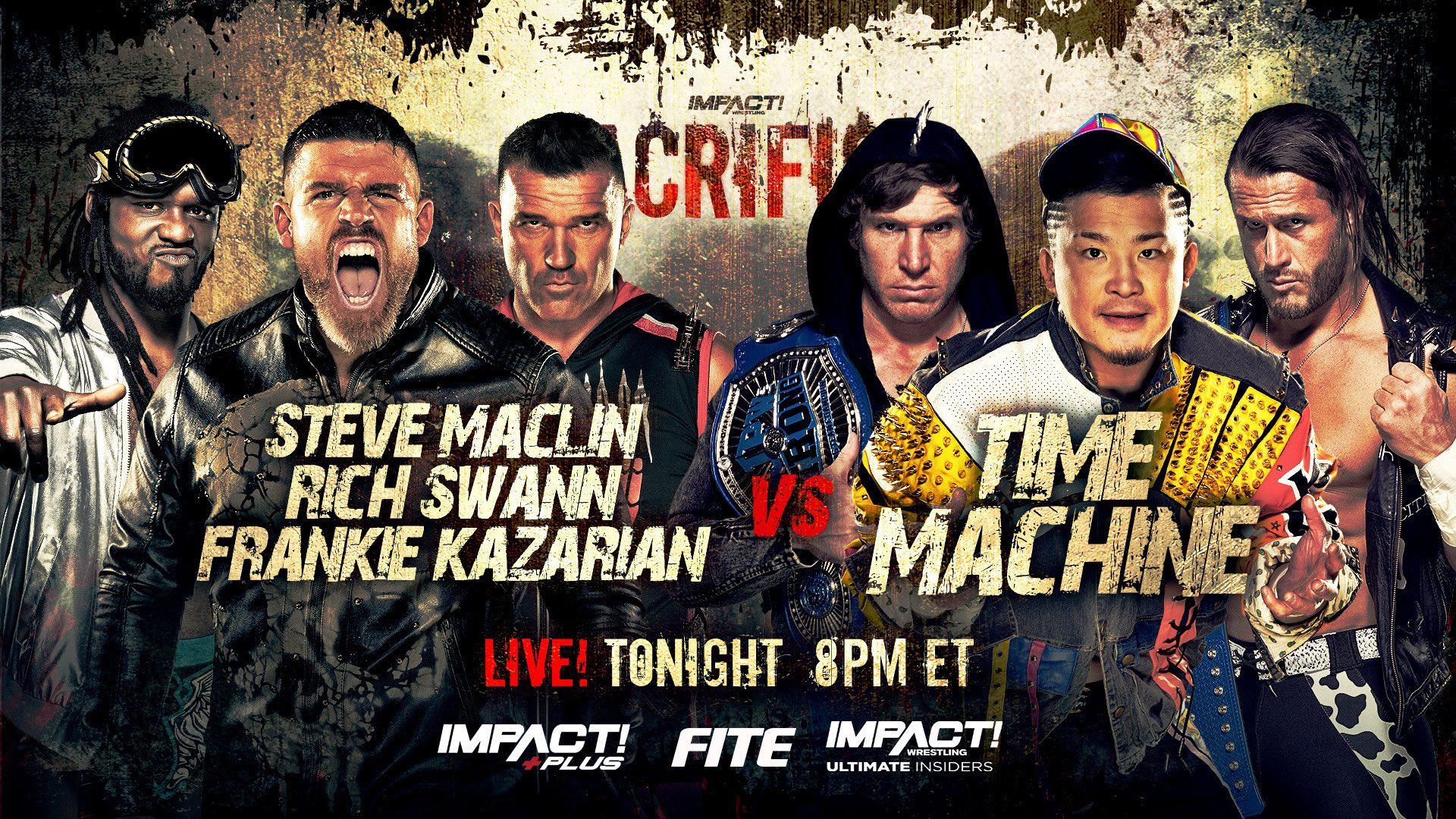 Well hot damn, a lot of news popped up in less than 24 hours. So Josh Alexander tore his triceps; so he has to vacate the World Title and he's being replaced by Steve Maclin in the 6 man match. Mickie James apparently also has an injury, but they are going to turn it into a segment on the show instead of a straight up vacating.
Now from a story perspective this sucks since I loved the Maclin/Alexander segment last night. That's just me being selfish since I wanted to see that build and Maclin get the big win he deserves. Now he'll be facing Kushida for the vacated title at Rebellion, and even if Maclin wins it will feel a little flat. Here's to hoping that when Josh returns from injury they can find a way to bridge the time lost and keep the story going eventually.
.@MeanGiaMiller caught up with @FrankieKazarian and #RichSwann to talk about @Walking_Weapon's unfortunate injury and @SteveMaclin replacing him as their partner TONIGHT at #Sacrifice! #CountdownToSacrifice pic.twitter.com/jdnqk6BLN9

— IMPACT (@IMPACTWRESTLING) March 24, 2023
Ratings:
Speedball Mike Bailey vs Jonathan Gresham: Bailey wins via Reverse Figure Four – *** 3/4
Digital Media Championship: Joe Hendry (c) vs Brian Myers: Hendry retains via Standing Ovation – ***
Gisele Shaw w/Jai Vidal & Savannah Evans vs Deonna Purrazzo: Deonna wins via Venus de Milo – *** 1/4
Kenny King w/Eddie Edwards vs PCO: PCO wins via Straight Right Chair Punch – *** 1/4
X Division Championship: Lince Dorado vs Trey Miguel (c): Trey retains via Cradle – *
IMPACT Tag Team Titles: TMDK (Shane Haste & Bad Dude Tito) vs Bullet Club (Ace Austin & Chris Bey) (c): Bullet Club retains via ABC 1-2-Sweet – ****
Busted Open Match: Bully Ray vs Tommy Dreamer: Bully wins – ** 1/2
Time Machine (Kushida, Chris Sabin & Alex Shelley) vs Rich Swann, Frankie Kazarian & Steve Maclin: Kushida wins via Hoverboard Lock – ****
Results:
Speedball Mike Bailey vs Jonathan Gresham
With the injuries in the main event, I could definitely see one, or both of these guys; fast tracked into the title scene after Rebellion. And I don't think anyone would really be mad at that.
A quick tit for tat start, no one really gets any advantage. Just a few quick counters and takeover attempts. They both pause to take in chants from the crowd and then lock up again. Collar and Elbow tie up, they don't release and both roll one another under the rope and out of the ring. There is an early moment where while he's against the ropes he pokes Speedball in the eye and then apologizes. So things go back to a technical face vs face, but it could be a precursor.
Technical catch wrestling continues. Wrestling one another down, trying to get positions for small submission picks or limb attacks, but nothing is sticking yet. Gresham does manage to an Indian Deathlock, and then a Reverse Figure Four that Gresham conveniently can't untangle so the referee has to do it and Bailey is pissed. Gresham tries to explain it, but Bailey lights him up, Gresham falls out of the ring, Golden Triangle Moonsault and now the aggression is starting to pick up. Hamstring Kicks and Chops from Bailey, but Gresham baits the attack and trips up Bailey before attacking the left knee with a grin on his face. Bailey is grounded for a while and Gresham keeps trying to twist off his leg. Eventually some Up Kicks break the submission attempt but Gresham wrestles him down again into a Bow and Arrow Trailer Hitch kind of move. Since Bailey has Tanahashi next week, Gresham must be trying to make Bailey's knees equal. Good Guy Gresham.
Bailey starts stringing some offense together, but a few Low Dropkicks ruins Bailey's base and causes him to face plant and the offense is going nowhere. Gresham even goes for the pinfall by trying to hyper extend the leg he's been working on. Strikes continue to trade, Gresham tries to shoot the half but Bailey kicks off, Hamstring Kick again, Gresham Kips Up but clutches the leg a little, a chance for Speedball but Gresham cradles him to the ground and locks in a Figure Four. Speedball eventually rolls to the apron, Gresham tries to continue the stretching but Bailey kicks him into the post, sweeps the leg and Moonsault Double Knees right on Gresham's head; Bailey went full Billy Kidman with his offense.
Bailey and Gresham continue to jockey for position on the outside, it looks like it might be a double count out. Gresham gets in at 9, Bailey gets in right at the 10 and the referee allows the match to continue. Some quick offense, Tornado Kicks to the corner, Ultima Weapon misses, Gresham goes for the Figure Four again but Speedball reverses it and Gresham taps pretty quick.
Backstage segment with Brian Myers, Moose joins and says he'll help him beat Hendry – but then Santino shows up! He tells Moose he's dumb and just stooged himself out, so he's banning him from ringside. Who would've thunk it, the comedy character brings the logic. 
Digital Media Championship: Joe Hendry (c) vs Brian Myers
Myers powders after a few early bumps and then Hendry follows him. Hendry is definitely not fighting with "champion's advantage", as is the way for babyfaces. Myers tries to fight back on the floor but a Scoop Slam leaves Myers on the receiving end. Hendry has to roll in to reset the 10 count and Myers catches him.
A few quick attacks, Roster Cut attempt but Hendry gets the goozle on. Standing Ovation attempt but Myers slips it, Chop Block, and continues to hammer down on Hendry. Myers with a Falcon Arrow and a bunch of slightly arrogant offense until he goes for the Crossbody, gets caught again, Sack of Shit, and Hendry is back on the offensive. Pop Up Power – no, slips and a Running Spear from Myers for a 2 count. Myers hits the top rope but Hendry cuts him off, Myers pushes him off, launches and Hendry hits the RKO mid move! Throws Myers into the ropes, Standing Ovation, and Hendry retains!
So Mickie addresses her injury, it seems she broke a rib during the tag match. They are allowing Mickie to hold on to the title until Rebellion. Either she defends it in a 3 way versus Jordynne and the winner of the 4 Way at the Multiverse United show or Jordynne will face the winner of the 4 Way for the vacated title. 
Gisele Shaw w/Jai Vidal & Savannah Evans vs Deonna Purrazzo
Deonna starts off angry, Gisele is getting rocked early, they go through a few rope running counter cradles and slides but its just early counter wrestling. Gisele manages to surprise Deonna going for an Armbar, but Deonna counters it, tries the Venus de Milo but Shaw powders. Deonna hits the Baseball Slide, starts beating on Gisele but she slides back in to distract the referee while Savannah clocks Deonna.
Triplicate European Uppercuts from Gisele keep her very comfortably in control. Another distraction to the ref and Savannah swings and connects with Deonna again. Deonna tries to fight from the corner, Gisele grabs Deonna's feet drapes her across the ropes and drops both knees on Deonna. Gisele drives her knee into Deonna's shoulder blades and goes for the Chin Lock. Deonna tries to power out, Gisele stifles it a little, but Deonna catches her with a Twisting Neckbreaker. Slow start to the strike exchange but it slowly picks up, Deonna with a beautiful spot of a no look Back Kick right to Gisele's stomach, Running Knee Lift into the Russian Leg Sweep for 2. Deonna Pump Kick, Gisele Superkick, Deonna bounces off the ropes, Flatliner into Koji Clutch, but Gisele slides back a little to turn it into a pinfall to break the submission.
Both women have wrist control and just swing at each other. Deonna gets the best, one big swing but Gisele ducks it, catches Deonna in Shock and Awe (Backbreaker into Flatliner). Denouement attempt, Deonna grabs at the arm for the Fujiwara attempt but Gisele fights it off. Venus de Milo gets locked in and Deonna holds it a little longer to make a point.
Savannah attacks Deonna afterwards, but Tasha Steelz music hits. Tasha tries to play nice like she's here to help Savannah, then cheap shots her, fights off Jai with a Tornado DDT kicking off of Savannah. Okurr on Jai and Tasha cleans house and babyfaces herself. 
Kenny King w/Eddie Edwards vs PCO
Kenny comes out in an Honor No More shirt, which is a nice way to play into the story. 
Eddie tries to get PCO's attention and then Kenny attacks him right as the bell rings. PCO turns things around shortly, Eddie keeps trying to find angles to give Kenny ambush spots but PCO keeps fighting back. PCO stalks Eddie on the outside and Kenny hits a beautiful Tornillo, then a Scoop Slam as he mocks the whole Frankenstein gimmick. PCO rolls in and Kenny John Woo's him into the corner and starts Bootwashing his face to talk smack. PCO fires, goozle and just throws Kenny out of the ring.
PCO kicks Kenny from getting back in the ring, looks to do his Senton but "short circuits". So PCO does a Senton to the wrong side of the ring, crashing but popping right back up, and it apparently helped correct the issue. So Senton onto Kenny, throws him back in, Kenny tries the Eddy Gordo kick but PCO just barrels over him.  PCO drapes Kenny in the corner, Codebreaker, into the back of the head Guillotine Leg Drop and now PCO pulls him to the apron.
Here we go, Deanimator attempt – but Eddie cuts him off, PCO kicks him back into the cameras, Kenny gets up and an Iconoclasm bouncing off the apron of the ring! Kenny throws him into the steps, rolls in, things he's all but won…yet PCO beats the 10 count. "He's Not Human" chant starts, Frog Splash from Kenny and PCO kicks out and fires at 2. Eddie throws a Kendo stick in the ring to distract the referee from Kenny using a chair. Kenny hits PCO once, PCO shakes it off and has a gameplan. So he actually helps keep the referee distracted to bait in Kenny for another chairshot attempt, but PCO just punches through the chair and knocks out Kenny.
Maclin, Kaz and Rich have a backstage segment. It perfectly shows the story beats of Maclin being annoyed that he put in all this prep and recon on Josh just for the opponent to be flipped. Typical tumultuous team members vibe, but Maclin gets his story beats across beautifully.
Can #RichSwann and @FrankieKazarian trust @SteveMaclin? #Sacrifice pic.twitter.com/TcEZ79IWkC

— IMPACT (@IMPACTWRESTLING) March 25, 2023
X Division Championship: Lince Dorado vs Trey Miguel (c)
Okay Lince comes out in a bathrobe with some cringe ass "Lucha Lit" gimmick. I…hate it. This is probably the first time ever that I want Trey to win. Cause Dorado is cringe as hell. In a game of them both sucking, I'll pick the style of trash that I can tolerate more…which is Trey. 
Lucha counter wrestling with flips over trips and that stupid ass Mirrored Dropkick Spot. I also don't love the Lince doing the cat mannerisms, but Puma King and a few others have done that…so I guess its more tolerated in Lucha. This whole match has been a little paint by numbers boring Lucha where the moves are done just to pop the crowd but not to actually accomplish anything.
Diving whatever moves they accomplish nothing. Its really hard for me to care about flippy trash matches. Lince hits 2 of the 3 step Moonsaults, but Trey of course no sells and dodges the third, Tiger Wall Kick, but Trey stumbles a little for the Enzuigiri, Trey also hits a sloppy Outside In Tiger Feint…its just sloppy spots for spots sake. I would probably be more entertained if I had Runescape fired up on a different tab. This is just a waste of space, much like both "wrestlers".
Lince hits a Avalanche Frankensteiner, into a Shooting Star Press but Trey powders. Lince tries that bounce off the corner with his legs spot, but its sloppy. Another sloppy Tiger Feint from Trey, Slingshot Sunset Bomb for 2. These are just stupid moves for stupid sake. Lince tries to cut off Trey from a rope run with a Big Boot but mostly misses, makes the whole cut off exchange look stupid. Trey with a flash cradle during the cut offs for pinfall. Eww…this was garbage.
IMPACT Tag Team Titles: TMDK (Shane Haste & Bad Dude Tito) vs Bullet Club (Ace Austin & Chris Bey) (c)
It is nice to see a variation of TMDK back together. I also enjoyed Tito called Ace and Bey the "Mini Bullet Club" since they're the juniors heavyweights.
 Tito and Bey start off, Bey is trying to show off his speed, Tito gets across the power though. Tito kinda looks like a young Scott Steiner, and he literally tosses Bey back into his corner. Ace tags in, tries to do something but Tito is just too strong. Haste gets tagged in for some flashy yet effective offense. Ace finds something with the Triangle Victory Roll, Bey blind tag, cheap shot on Tito, Russian Leg Sweep + Low Sweep combination into some Click Click Boom. So Bullet Club is showing very nice Junior style synergy. Haste is very loud and animated, so he's a great one to have eating the offense. Especially when they do their Back Rake goof spot.
Haste finally maneuvers things to tag Tito in, and Haste hands off Ace to Tito and Tito hits a Standing Blue Thunder Bomb. Tree of Woe, Bey tries to come in to break up the spot but the referee is distract, Tito steps up and stands on the groin, nice homage to Petey Williams. We are in Canada. Announce team almost sets up too much meme fodder, and then Rehwoldt steers into it. Rehwoldt said Bey was trying to rush into to get Tito off…paused for a second, which you know Hannifan gave him a look. So then they just pivot to everyone in TMDK being like Australian Sex Pistols. Very clever misdirection.
The match is fun, Bey gets the hot tag, clocks everyone, Haste tries a Lariat, Bey ducks that, flies onto Tito on the outside, comes back in, Tornado Fameasser for 2. Bullet Club goes for a Torture Rack/Triangle Kick combo, but Haste gets out of it. Tito gets tagged in and he start to look like Steve Williams with the Doctor Bomb for 2. Tito hits a big battering ram Dive on Bey to clear him out. Haste Falcon Arrow, Tito Froggy Splash, but Bey breaks it up.
Tito starts getting ping ponged between the two Juniors, Torture Rack/Triangle Kick combination, for 1-2-3? – no Haste comes in the referee says it was in time to stop the 3 count. Tito charges and a beautifully times Superkick + Spinning Back Heel Kick on Tito. He's dazed, ABC 1-2-Sweet! Bullet Club retain!
Busted Open Match: Bully Ray vs Tommy Dreamer
This is a First Blood Match for anyone who doesn't know, and Dreamer comes out with an ECW Championship Belt. 
Chair duel to start things, ECW replica belt to the face of Bully Ray. Dreamer grabs a soda from a fan, Muta mist on Bully, tries to shove the can into his skull for early blood but no. Bully crotches Dreamer on the guardrail and then picks a fight with Darren McCarty who's in the crowd. Darren McCarty was the enforcer for the Detroit Red Wings, so its very old school letting the ex sports guy play. Bully also has a great spot where he pulls out a step ladder, then asks the referee to hold it, does the Jimmy Snuka pose and goes for a Splash and misses. Bully gets to rile up AEW and WWF fans all in one spot. Good old school heat. Corny, but good.
Dreamer gets a bag of tacks, Bully fights off the Piledriver, gets the cheese grater but Dreamer hits the Bionic Elbow as a counter. Cheese grater with Dreamer, Dreamer charges, Bully pulls the referee in the corner, so ref bump. Dreamer eventually makes contact with the cheese grater, but there's no referee and Bully has his back to the  camera, so it slow rolls the result nicely. Good Hands hit the ring, on with a towel to see if he can blot the bleeding before the ref comes to.
Bully hits Tommy with pocket tacks instead of pocket sand. Tries to drive Dreamer's face into the tacks and then Elbow it further down but Dreamer moves. Dreamer grabs the grater again, Bully tries to beg off, screams he's sorry and now tries to guilt Tommy with his family is going to see this. Dreamer actually stops and then Bully hits him in the balls. Bully busts open Tommy with the tacks, the Good Hands slide in Tommy as the referee comes to, so the referee only sees Dreamer bleeding. Its a solid old school Hardcore match but it was definitely a little too plodding and corny.
Yuya Uemura tries to make the save, then Darren McCarty jumps the railing. This really has turned into ECW, Bully gets a mic, asks him if he really wants to fight and tells security to let him go. LOL – a literal Hockey Fight. McCarty gets the best of things, Good Hands mug him from behind. Triple Powerbomb McCarty through the table. 
Scott D'Amore's music hits! Scott starts stripping like he's Ric Flair. Bully calls down Scott, but Scott has backup. He calls Rino, Heath, Gresham, Baily and Joe Hendry.  Good Hands try to attack Scott…Scott stops him…and HITS A CANADIAN DESTROYER! Can this lead to a Lethal Lockdown match? Team D'Amore versus Team Bully? Give me that…give me some Lethal Lockdown now! 
Time Machine (Kushida, Chris Sabin & Alex Shelley) vs Rich Swann, Frankie Kazarian & Steve Maclin
Shelley and Swann start off, and its just a bit of chain wrestling. They both have Hammerlocks, Headlocks, and just twist around to try and find an angle. Shelley speeds things up a little, Shoulder Tackle, rope run, Swann goes down and Shelley puts on the brakes to sink in a quick STF but Rich grabs the rope. Kaz and Sabin tag in and we get some Battle of the Futures nostalgia.
Back and forth, Up and Over, Sabin with the Arm Drag into the Top Wristlock. Kaz fights through, a little more quick counters and fun stalemate spots as they are all having fun with each other. Kushida tags in and points to Maclin. Kaz slaps Maclin's chest and we all know Maclin isn't a fun loving babyface like Kaz and Swann, so the tone should start to change. Kushida starts by starting Grounded ala Inoki vs Ali, then manages to trip up Maclin and keep the mat wrestling going, but Maclin finally gets back to hit feet and can finally use his size and power to  his advantage. Shelley blind tag, Time Splitters PK to the Arm combo.
Shelley keeps on the arm that got kicks with the Arm Wringer and then a few quick shots to the damaged arm. Kaz makes the blind tag after Maclin uses the middle rope into Shelley's throat. Kaz and Rich with a little Hip Toss tandem stuff for a near fall on Shelley. But the tone of Rich and Kaz is definitely much different. Shelley fights his way out of the enemy corner, Time Machine triple team, Single Leg Crab, Camel Clutch, Sliding Dropkick from Sabin onto Rich. Kaz is trying to police too much of Maclin's motion, typical team that doesn't get along stuff. Rich driven into Kaz in the corner, triple Dropkicks from all of Time Machine.
Kushida tags in, stares down Maclin and then Maclin picks up and throws Rich to Time Machine because you can tell he's frustrated getting policed with all of his moves. MCMG hold Rich, Kushida hits the Baseball Slide on the restrained wrestler and Kushida does the little Liger spin around pose/taunt and stares down Maclin. Shelley starts with the joint manipulation, and Swann is just getting torn apart. Swann in the Tree of Woe, Sliding Dropkick to Swann's face, and then the Triple Baseball Slide. Sabin tags in with the Octopus Hold on Rich which he rolls into a pinfall, but Rich kicks out. You hear Maclin say "All you have to do is tag me bitch" – which proves that Maclin is trying to be a team player in his own way.
Rich fights out of the triple team, and chooses to tag in Kaz. Kaz hot tag, exchanges with Sabin which turns into the Guillotine Leg Drop through the ropes, Kaz is taking out everyone right now. Two Springboard Leg Drops…and now a third as all of the Time Machine offense is stopped. Sabin blind tag though gives Time Machine some momentum. Rich tries to come in, gets rocked, Maclin charges, Sabin grabs him and Tornado DDT sends Maclin to powder. Missile Dropkick/Flatliner on Kaz for 2.
Cradle Shock counter, rolling tag to Rich. Avalanche Headscissors, Rich goes to the top rope, Maclin tags himself in, but Time Machine gets rolling. Dragon Screw from Kushida with the Mutoh pose afterwards. Maclin and Shelley are legal, and going back and forth. Double Arm Breaker from Shelley after Kaz tries to get involved. Maclin gets some offense back in, Caught in the Crosshairs form Maclin, Maclin tags in Kaz, Kaz tags Rich, tandem attacks, Cutter form Rich into a 450…1-2-Kushida Kicks out! Swann goes for Phoenix Splash but misses. Flying Armbar from Kushida, triple Submission spot, but Maclin gets out of his and breaks Kushida's submission. Maclin stares down Time Machine, hits the ropes and gets eaten alive by tandem attacks.
Time Machine goes for a Double Shiranui Tower, but it gets broken up. Outatime lands on Kaz. Sliced Bread lands on Swann. Tanaka Punch blocked, Maclin eats Shell Shock, Sabin gives Kushida a rolling start to throw him onto Maclin like a Spider Monkey and sink in the Hoverboard Lock. Maclin taps relatively quick, which is strategic to not risk injury.
Overall Score: 7/10
Talk about a show that no one knew what the hell to expect! Josh vacating the belt means that things had to change with fairly short notice. Mickie's implications of either a Triple threat or she'll hand over the belt to the winner if she's not cleared is something you don't see too often. But when it comes down to the card, the show was relatively good. Trey & Lince was hot garbage, and Busted Open was what we all kind of expected. Was it a bit more entertaining with some of the ECW nods? Sure. But it was just a spectacle and honestly Scott D'Amore hitting the Canadian Destroyer made that all worth it.
OH CANADA! @ScottDAmore CANADIAN DESTROYERS @TheJasonHotch and Windsor EXPLODES! #Sacrifice pic.twitter.com/iqqpiH0tMZ

— IMPACT (@IMPACTWRESTLING) March 25, 2023
The tag and six man matches were the best stuff on the card, and sets the stage decently well for storylines into Rebellion. I'm not joking though, if we don't get Team D'Amore vs Team Bully in a Lethal Lockdown…the salt will pour. Don't let the Canadian Destroyer spot be for naught! Oh – and put the damn belt on Maclin!
Andrew's IMPACT Match Ratings & Results: 3.23.2023
The Go Home to Sacrifice! PPV this week, Mania weekend special next week! Fun times for Impact!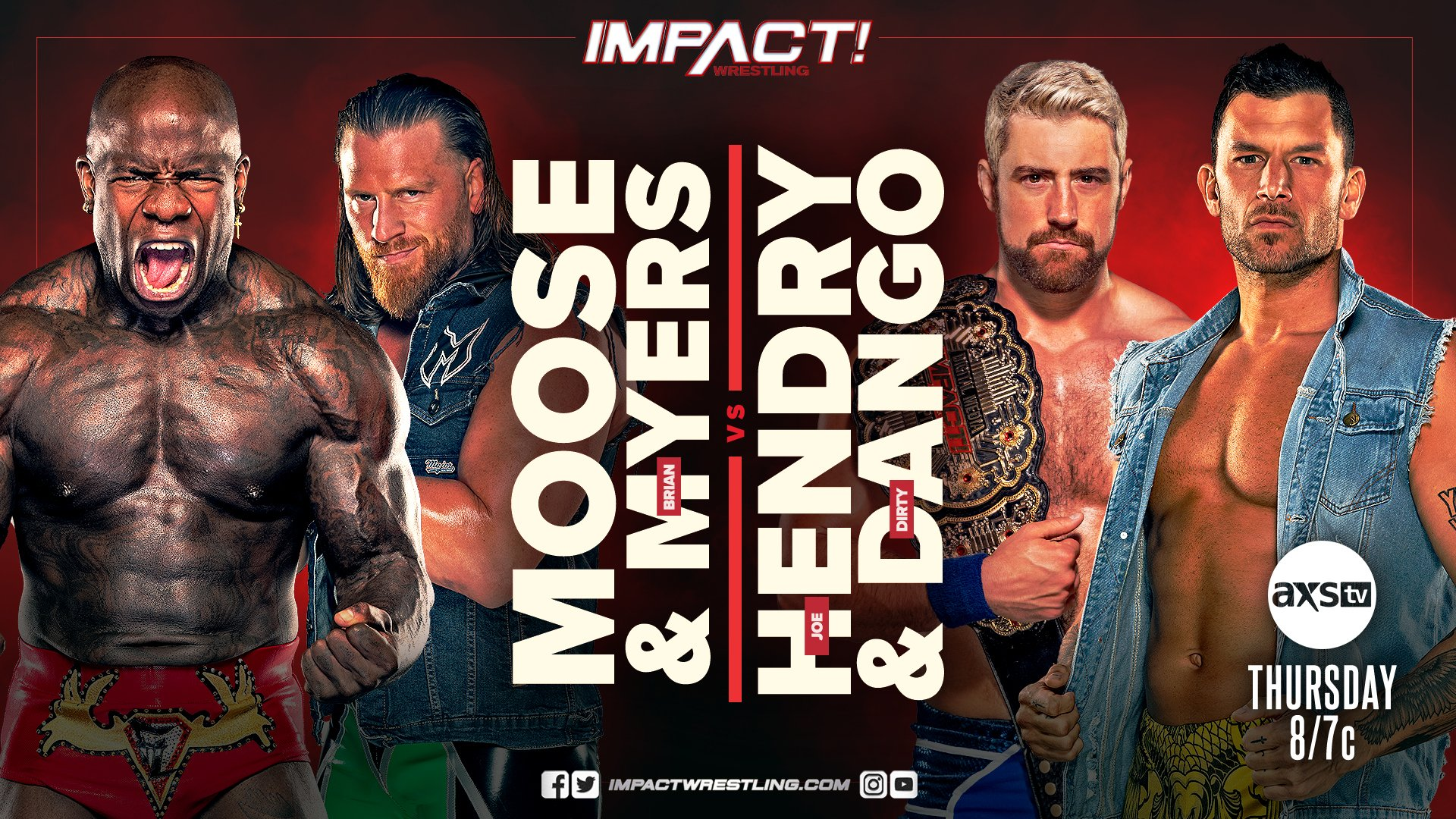 It's the Go Home to Sacrifice! I think there's definitely more than a 33 1/3% chance that I'll at least tolerate the episode. But with all of the fun pairings with Sacrifice participants we get the potential for a ton of story beats. We also might get a clearer picture of whatever the endgame is for The Design (doubtful though).
With all that, let's hop into the show and kick off with how Kenny King and Eddie Edwards are exactly feeling about their Frankenstein problem.
.@KennyKingPb2 and @TheEddieEdwards want @PCOisNotHuman "On Ice"!#IMPACTonAXSTV pic.twitter.com/blVnhWPv4p

— IMPACT (@IMPACTWRESTLING) March 24, 2023
Ratings:
The Design (Deaner, Kon, Angels w/Callihan) vs Time Machine (Alex Shelley, Kushida, Chris Sabin): Kushida wins via Hoverboard Lock – *** 1/4
Savannah Evans w/Gisele Shaw & Jai Vidal vs Deonna Purrazzo: Deonna wins via Crucifix Bomb – ** 1/4
Masha Slamovich & Bully Ray vs Tommy Dreamer & Mickie James: Bully wins via Piledriver – ** 1/4
Dirty Dango & Joe Hendry vs  Brian Myers & Moose: Myers wins via Roster Cut – ** 1/2
Results:
The Design (Deaner, Kon, Angels w/Callihan) vs Time Machine (Alex Shelley, Kushida, Chris Sabin)
Well Kushida does enjoy mixing it up with Heavyweights…and he starts against Kon. Kushida tries to chop down the tree, gets stifled, Shelley tags in to try and assist but they both meet the brick wall of Kon. Kon tags in Deaner and Shelley is getting worked over. Blind tag from Sabin, Deaner gets spun around and kicked in the face for a quick near fall.
All six mix it up a bit before Time Machine gets the best of it, they post Angels in the corner, Hesitation Dropkick from Sabin while Angels is retrained and we get a quick tag bringing Shelley back in to work over Angels left arm. I guess you can see they made him a…one winged angel – okay no more FF7 references. I feel dirty. Kushida lays in the grounded Bow and Arrow Liger Style, and Angels is just get rocked.
Eventually Angels manages to get away from Sabin and tag in Deaner, then The Design start quick tags and stomping away on Sabin in their corner. The Design tries to set up a tandem move, Sabin manages to escape and tag in Kushida. Hot tag with a few quick spots, Running Crossbody, Pele Kick, and then Shelley comes in. They go for some Time Splitters action but Angels interrupts it, so he receives the Time Splitters tandem offense of the PK to the Arm and Kon stunned on the apron eating a Back Handspring Kick, big Dive from Kushida puts an exclamation point on the Time Machine momentum.
Commercial break, we come back to Kushida and Shelley going for the Enzuigiri/Shotei combination, but Deaner moves and Shelley kicks Kushida. Angels gets tagged in and we see The Design put some stuff together. After a Spine Buster/Frog Splash combo, they set up a Double Doomsday and finally the MCMG portion of Time Machine come in for the save. Things start breaking down into signature spams, Angels looks to have the advantage until her stumbles just a little and the triple team starts.
They look for Outatime, but Deaner breaks it up, then Callihan slides in to just protect Deaner. He even stands there and asks the Guns to hit him. So Callihan gets rocked and Kushida flies in with the Hoverboard Lock for the win.
There was a vignette for The Coven, which checks that weird IMPACT spin since they love to play in the Shadow Realm. Not bad, just not work showing in the article.
JESUS H CHRIST – they are rebranding Raj Singh as Champagne Singh? I hope this is a short lived attempt at relevance, because he is talentless. Raj was the worst part of the Desi Hit Squad and somehow he's stuck around the longest. I don't get it…he's cringe, can't cut a promo and wrestles like trash. 
Savannah Evans w/Gisele Shaw & Jai Vidal vs Deonna Purrazzo
Deonna takes the offense right to Savannah, which is dumb; but Deonna does love to be the female Minoru Suzuki. By that I mean, just fighting the opponents fight for a little bit until the gameplan eventually kicks in. So it looks dumb, but let's see if it continues to be dumb.
The match has been fairly basic, but not awful, hence why its hard for me to really highlight anything. Savannah hits some nice power moves, Jai and Gisele tend to jaw and be petty distractions but never physically get involved. Deonna tries to fire up with a few quick Chops, but Savannah puts the brakes to the that and hits a great Snap Suplex. Deonna absorbs some offense, tries to use a little bit of join manipulation and momentum to give herself a few openings. Savannah stops Deonna, goes for a Backbreaker, but Deonna counters.
Deonna runs the ropes, hits a few big Knee Lifts, Russian Leg Sweep, float over, Fujiwara…but Savannah grabs the ropes. Savannah stalls Deonna's offense attempts, catches her with a beautiful Northern Lights Suplex Hold for 2. Full Nelson Slam attempt, Deonna drops down, rolls through, tries to use the ropes to her advantage, but Gisele and Jai finally makes their presence really felt. Deonna hits the ropes, Jai grabs her, Savannah swings, misses Deonna and wipes out Jai, Gisele eats a Pump Kick from Deonna. Deonna flies through the attempts slam, Crucifix Bomb from Deonna, and Deonna gets the pinfall.
Post match 3 on 1 beatdown begins! Deonna has no friends left, so she eats a Full Nelson Bomb and Denouement, and she's left laying. 
Flashback Moment: Sacrifice 2010, Team 3D vs Beer Money vs MCMG, #1 Contender for the TNA Tag Team Championship Match
Masha Slamovich & Bully Ray vs Tommy Dreamer & Mickie James
Dreamer and Bully circle a little, Bully tries to take a swipe at Mickie and then goads her to tag in. Bully keeps talking crap but Masha demands to be tagged in. So Masha and Mickie start off, while Mickie is trying to keep her eyes peeled for Bully while getting the best of Masha early after a Thesz Press, Sole But, Flapjack, Kip Up. But Mickie allows herself to be distracted a little, Masha returns the Sole Butt and clocks Mickie to drop her and tag in Bully. Bully talks too long before the Elbow Drop, so Mickie rolls away and Dreamer tags in. So the babyfaces are getting the best of the early going until Bully grabs Mickie's hair as she runs the ropes while the ref is distracted.
Bully cheap shots Dreamer, tries to grab the Kendo Stick and threaten Mickie but the referee stops him. Bully starts man handling Mickie, tags Masha back in and Masha is literally whipping her around by her hair. Same time Lariats give Mickie the chance to tag out, simultaneous tags on the guys and Dreamer is doing…as hot of a tag as he can. 10 Count Punches, Bites his head, Cutter, but Masha breaks the pin. Flip, Flop and Fly in stereo, Dreamer calls for a WAZZUP, Mickie does a Diving Polish Hammer to Bully's balls. Then Dreamer shoves Mickie and tells her to get the tables.
Masha does one of the ugliest dives I've ever seen on Mickie, but its effective. Bully hits a Low Blow while the referee is messing with the table, Piledriver from Bully and the Bully wins it for the team.
Masha tells Bully to set up the table after the match. Bully is about to Powerbomb Mickie, but Jordynne Grace hits the ring with a Kendo Stick. Bully turns, Jordynne hits the ropes for a Spear but Bully moves and Jordynne cuts Mickie in half.  
Is @SteveMaclin getting into the heads of #RichSwann, @FrankieKazarian, and @Walking_Weapon?#IMPACTonAXSTV pic.twitter.com/1iDn0ehHMx

— IMPACT (@IMPACTWRESTLING) March 24, 2023
Next week is going to be more of a hype show for Mutiverse United. There will be a few never broadcasted matches, but since its WrestleMania Weekend, that takes precedence. 
Dirty Dango & Joe Hendry vs  Brian Myers & Moose
Joe Hendry's doing his usual promo after his music, but Dango also grabs a microphone which throws off Hendry a little. So when Hendry says "Say the only two words that matter" – Dango interjects with SUCK IT. Fun ways to tap dance around trademarks. 
Hendry and Myers start off which actually plays nicely into the story. Hendry invoked Myers' rematch clause, so of course he wouldn't be opposed to mixing it up before the PPV. Dango gets tagged  and tries to get Moose to dance. Moose's leg shakes a little like he has to fight the urge to dance, and then charges at Dango. Little things like that reminds everyone that Moose is a likable performer, he's just a heel right now, so he's trying to ignore his fun side. Myers comes back in, Arm Trap Suplex, Tornado DDT where he kicks off of Moose who's trying to interrupt. They wipe out Moose and Myers, Hendry puts his hands in the air for the wave, but Dango thinks it should be something else. Moves Hendry's hands a little and then does a SUCK IT.
Off the commercial, Falcon Arrow from Dango, he tries to go to the top but Moose distracts Dango and Myers throws him off the top rope to the outside. Dango tries for the Cradle Counter Roll, but Myers blocks long enough to tag Moose. So Moose blindsides Dango before the 1 count even happens. Myers Knee Lift, holds onto Dango's ankle and reaches to tag in Moose. So Dango is just getting totally singled out. Dango kicks Moose away, Moose tries for Go To Hell, but Dango keeps swinging, rocks Moose a little and then the Diving European Uppercut gives Dango the space he needs for the tag.
Simultaneous tags, Myers gets caught mid Crossbody, Sack of Shit from Hendry and then Joe Kips Up. Hendry tries a Trust Fall, Myers slips it, Enzuigiri, but then Hendry hits the Pop-Up Powerbomb for 2. Moose is in, Dango is in, Dango gets dumped out, Moose hits the Lights Out on Hendry. Roster Cut from Myers, 1-2-3.
Josh Alexander walks out to the ring after the Maclin/Swann shenanigans. Josh punctuates his promo with saying Maclin is afraid of failure, afraid of being a man without a purpose, afraid of being a Forgotten Son. Maclin's music hits and he chuckles at the line and gives Josh a little kudos. 
Maclin is cutting a perfect heel promo since he's validating everything Josh said, and even presents video evidence of how much scouting he's doing to avoid failure. However, through his validation he's also poking holes in Josh's confidence. Josh tries to say it changes nothing and he's a fighting champion and tries to challenge Maclin now…because now Josh is scared. Like Frankie said, Maclin is doing it "My Way". So he says no to the challenge and that he wants to take it in Josh's home town. 
Overall Score: 7.25/10
Now I usually get bored with promos to close a show, but they both played their parts perfectly. Josh with the strong babyface opening trying to discredit the opponent as just another victim of circumstance; but Maclin bringing the receipts like he just walked into H&R Block was beautiful. I've enjoyed a lot of Maclin's run in IMPACT, but this is the cherry on the top. He NEEDS to win the title, he's perfect since you could see in Josh's face and body language his confidence is a little shaken.
I also appreciated a few of the little storytelling beats, like in Hendry's match. Opening against Myers plays into the story, and then Moose hitting the Lights Out and then walking out of the ring just watching his handy work as Myers hits the Roster Cut for the win. Proves everything both men said leading up through this story. Deonna also being the best wrestler in the Knockouts division, but still not capable of beating a 3 on 1 with no friends played well towards something. It's either going to culminate in Mickie and Deonna burying the hatchet frenemies style, or we'll see Deonna having to evolve into a more straight forward babyface since she can't play the heel or tweener with no friends.
The Twitter feed didn't have the segment with The Death Dollz, but potentially writing off Taya by bringing Su Yung/Susie/Susan back works well since it gives JesSICKa a chance at an angle, Su could always side with The Coven, they can play in the paranormal nicely for a few more months. I just really hope they don't return JesSICKa to Havok. Havok got stale and pathetic, whereas JesSICKa is entertaining both in and out of the ring.
But hey, tomorrow is Sacrifice, so watch your Steiner Math promos and strap in for the PPV!