Dear Smarks, The Saudi Arabia Show Has Nothing to Do With Evolution!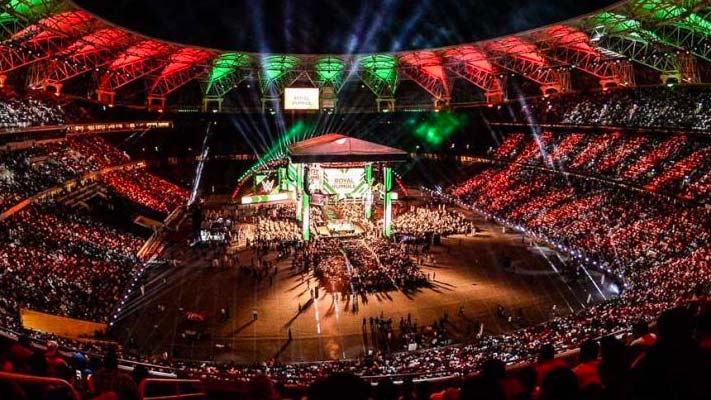 It's that time of year again. WWE is getting ready to go to the Kingdom of Saudi Arabia for a Network Special, and once again, the wrestling PC Police are up in arms about it. The rallying cry this time is about how AWFUL it is that WWE is doing a show in Saudi Arabia, where the Women's Division isn't allowed to compete, just days after the first all women's PPV. Obviously, this is a blatant attempt by WWE to undermine the Women's Evolution by doing this and that WWE should be ashamed to take 'blood money' from Saudi Arabia.
There's so much wrong with this argument, I'm not sure where to start. First of all, the scheduling of the Crown Jewel for November 2 would've happened if WWE had put No Mercy on instead of Evolution. The scheduling for both events was done long before either was formally announced.  Secondly, as I have stated before, WWE goes to the Middle East as part of their bi-annual overseas tour every year and have done so for decades, and every time, except for the match in Abu Dabai, the women have never gone on that leg of the tour because they weren't allowed to compete. This wasn't a secret, but no one cared until after the deal with Saudi Arabia was announced and Banks and Bliss had their history making match in Abu Dhabi.
Here's a question: How is doing TWO shows a year in Saudi Arabia undermining the Women's Division? Seriously. Do you HONESTLY, truly and honestly, think WWE is going to spend three years building the Women's Division, putting on two all-Women's tournaments, doing the first Women's Royal Rumble, Elimination Chamber, and WrestleMania Battle Royal, while secretly plotting to undermine it by doing two glorified house shows in a country where women are banned from participating in sports?
As for the 'blood money', oh where do I start? What brand of shoes do you have on? What brand of clothing are you wearing? Or your phone? Chances are pretty good that your clothes, shoes, and/or your phone, was made in an overseas factory by workers who get pay a very small amount and often work long hours in terrible conditions. Yet, companies stock these products and not a word is said about the business deals being 'blood money'.
Before anyone starts about Saudi Arabia's human rights violations, let me point out that Australia, site of the Super Show-Down and China, which will be getting it's own Network Special, BOTH  have their own recent histories of human rights violations. Australia has been HEAVILY criticized for its treatment of migrants and refugees, many of whom are from predominately Muslim countries, as well as the continued mistreatment of Aboriginal peoples. China's list of human rights violations is a pretty lengthy one, but they have also recent come under fire for its persecution of a Muslim minority, and yet, no one has complained about WWE doing shows there. No one has made nearly the same amount of noise about 'blood money'. So why is Saudi Arabia unacceptable while Australia and China are acceptable?
The bottom line is that WWE is a business, not the United States Government, or the United Nations. The deal with Saudi Arabia is a business deal that gives fans in the Middle East a chance to see a WWE show without having to stay up to the crack of dawn.
If the idea of WWE doing TWO shows a year without the women present bothers you that much, don't watch it and focus that energy on supporting women's wrestling and women's causes where you live. Cheer when the women's matches are on instead of going to the bathroom or changing the channel, watch the Mae Young Classic (it's great, I promise), plan to watch Evolution, buy merchandise to support the female superstars. The Women's Evolution is bigger than two house shows in Saudi Arabia, don't diminish it by making that the end all-be all.