Dear WWE, Can We Please Stop Living in the Past?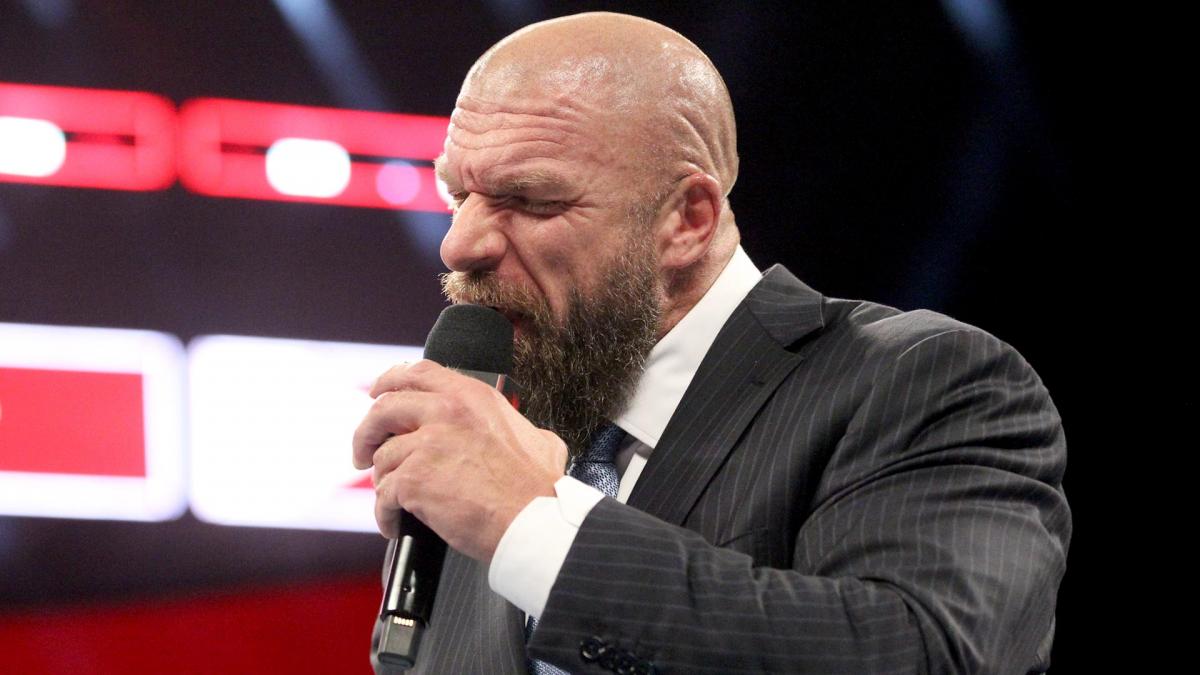 In light of the Super Show Down event that will take place in Australia on October 6th, WWE has pulled out all the stops.  The main event for the show is The Undertaker vs. Triple H – billed as last time ever despite the end of an era at WrestleMania 28 just six years prior.
We get why it's happening – those are big names that are guaranteed to draw a big crowd.  Booking these epic rematches is the easy way out to get fans tuned in.  But do they really have to square off against one another when that chapter has been closed?  Do storylines not matter at this point anymore on the main roster?  Nostalgia is great, but it's a rock and a hard place for a WWE that is struggling to create moment makers with its current talent.
The advertising for this event via commercial, Raw and SmackDown has been overkill at best.  The company has drilled it into everyone's heads to make sure everyone knows this is happening.  From getting others' opinions backstage to bringing Shawn Michaels into the fray, promoting this match has been at the maximum effort.
While there is no doubt that both men will put on a great performance, this just makes some fans feel some type of way.  Both men are part-time now, which isn't undisputed in any sense and neither is the great feud they had.  With their status and other commitments, their time in the ring is rare, but its precious considering that they are past their prime.
With a Michaels and Undertaker confrontation last Monday on Raw, many fans has been buzzing about a potential rematch between those two.  Their history is storied with many classic moments.  Their match at WrestleMania 25 is perhaps one of the top WrestleMania matches of all time.  I'll never forget about their first encounter at In Your House: Ground Zero that was so chaotic it ended up a no contest.  They were also the first men to participate in the inaugural Hell in a Cell match.
Rumors of a Michaels return has got fans talking even more.  However, if this is against Taker, it defeats the whole purpose of him having the retirement match at WrestleMania 26 and his goodbyes following it.  Unless the creative team does something wild to bring him out of retirement, it just doesn't make sense right now.  But if the Heartbreak Kid is going to lace up his boots one more time, why not have him versus AJ Styles?  Please?  Seriously, please?  How about a contest with Daniel Bryan now that he's wrestling again?  Maybe Seth Rollins, which all of these are sure to be money.
With opponents such as Styles, Samoa Joe and Bobby Roode to name a few, there is no doubt in my mind that those would be matches to remember.  WWE has a great talent roster, but it's apparent that they have no idea what to do with it.  It is the perfect scenario to bring the past versus the present, but the company doesn't capitalize on it.  Before Sting's untimely career-ending injury, it was a matter of time before fans were going to get the dream match of all dream matches.  Now, it will never happen and that's a damn tragedy.
While it is perfectly fine to bring legends back, feeding fans nostalgic rematches are past overdone.  It's a double edged sword; it's what works, but at the same time it is a headache inducer.  Stop revisiting the past, and take all the effort to create an epic future.
The Good, Bad and Ugly: WWE NXT (01/23/2019)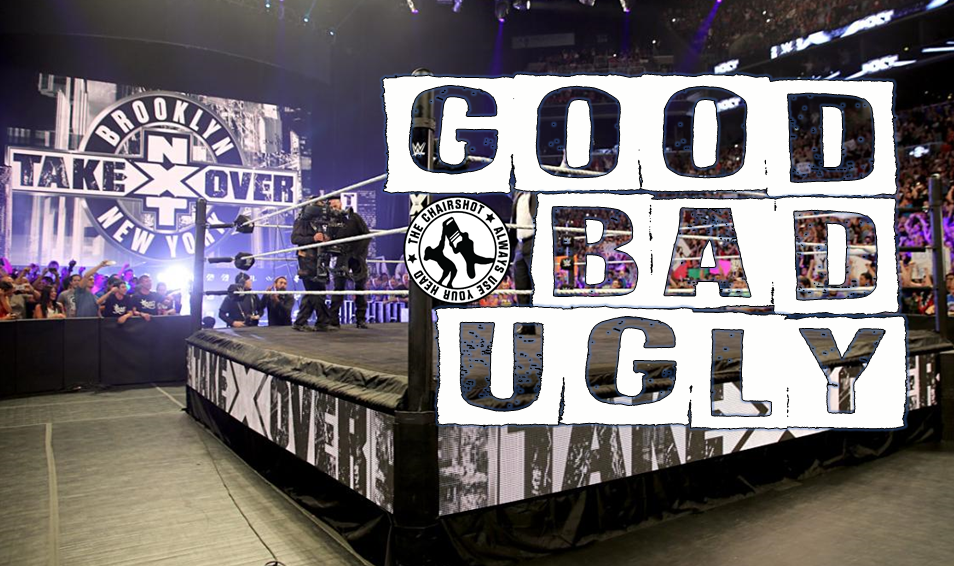 The go-home show for WWE NXT Takeover: Phoenix is in the books, and Bobby Fernandes takes a look at the episode from the Good, Bad, and Ugly perspective!
WWE NXT Takeover is coming on Saturday Night before a huge Sunday Royal Rumble.  The stories finalize before the big PPV and everyone has one final chance to solidify their place on the show.  Raw was packed with a ton of content, SmackDown in contrast was not, but was pure quality with the exception of a few small issues.  Now its NXT's turn to get us and keep us sucked in.  Will NXT do their job as usual? 
THE GOOD
Opening Segment w/ Velveteen Dream
What an interesting way to open the show.  Dream always has a spectacular time in front of the camera in any fashion.  It is no secret that he has been a bit unhappy with his current "drawbacks" and wants more.  Just when he makes a claim to the North American Championship, Adam Cole and Bobby Fish, interrupted Velveteen Dream.  This would be such a brilliant feud.  Undisputed Era is just fantastic and brings the best to the audience constantly.  Dream doing what he does best, got in Undisputed's head before fleeing safely away.  Very interesting open. 
Danny Burch and Oney Lorcan vs. Fabian Aichner and Marcel Barthel
Burch and Lorcan are dangerously Good.  They pair up so well, and have great matches with anyone they face.  Aichner and Barthel didn't seem like anything special from previous times but the chances for a better showing with Danny and Oney increase significantly.  Oney Lorcan got singled out early on by Barthel and Aichner and took a lot of punishment until Burch came in hot and took control.  Lorcan again however got singled out.  Aichner did some awesome stuff in there nearly getting the win, but Lorcan would not surrender.  There was a lot of action here.  Oney Lorcan is so freaking Good.  After a seriously kick ass back and forth match, Oney Lorcan gets a rollup for the victory.     
Io Shirai and Kairi Sane vs.  Tanea Brooks and Amber Nova
Shirai and Nova started out, full steam.  Shirai has a unique style and always delivers.  The same can be said about the ever popular Kairi Sane.  Her gimmick, style and absolutely talented abilities have been well showcased and appreciated.  Tanea Brooks is a powerful wrestler and had a Good energy.  She just was a bit of an afterthought while in the ring with Sane and Shirai.  With the Main Roster's Women's Tag Team division coming up Sane and Shirai could make a strong case for those new shiny Championship belts once things are in motion.  They certainly won this week in a decisive fashion.  Nothing great but passible as Good overall. 
Velveteen Dream vs. Bobby Fish w/ Adam Cole "BAY BAY"
Oh my God, what an awesome treat here.  We have an incredible match set up, and a surprise one at that.  The presence of these two, the respect they demand is unprecedented.  Bobby Fish is an unsung hero as to how talented he truly is.  Both competitors are greatly unique.  As it should be expected, the action went back and forth and was plentiful.  Dream is all over the ring, continuous action.  Fish finally got a chance and went after Dream's legs and knees.  Great move keeping Dream down.  Fish really got in deep with a half crab on the injured knee of Dream, but Dream does not quit.  As hard as Fish tried he just couldn't get Dream to stop but Fish countered an elbow drop an ended up almost getting dream to tap, but Dream again came back.  Dream hit his "Purple Rainmaker" for the win.  Adam Cole of course ran in but Dream got out in time.  Great match.       
Ricochet Promo
Ricochet is one of the most talented high flyers of all time, that will be repeated often his entire career.  He moves around like no other.  Gargano is called Johnny Wrestling confidently for well deserve reasons.  They will put it all out there.  Hyping it will only get Good attention and heat.  Ricochet is so confident and wears the North American Title well.  Ricochet's Achilles heel is his mic skills.  He could use a Good hype man or woman so that he can only focus on his in ring talents.  Johnny Gargano could not interrupt fast enough and luckily for everyone he isn't Bad to listen too.  Gargano and Ricochet did not waste any time and went at it.  Out of nowhere, Ciampa the NXT Heavyweight Champion attacked Ricochet coming to the aid of his former friend and heated rival.  Very interesting.  Of course Aleister Black came out and beat the hell of Ciampa for his trouble.  Gargano came to Ciampa's rescue hitting Black with a devastating "superkick."  The duo previously known as "DIY" dominated both Black and Ricochet before leaving their rivals laying in the ring.  Ciampa and Gargano seemed like they were about to bury the hatchet until Gargano's wife Candace put a stop to it.  Decent promo and end to a successful week.
THE BAD – No
THE UGLY – and No
FINAL TALLY
OVERALL
Good which means it must be NXT.  Again, another successful, entertaining, content filled NXT.  They literally had as much impressive content as SmackDown did and they did it in an hour.  NXT sets the standard and hopefully WWE Main Roster watches and takes notes every chance they get. 
NXT continues to be the most entertaining brand of all weekly.  The sky is the limit and with HHH steering the ship, the momentum is surely going to continue for some time.  They have a lot of fresh talent as well as established Superstars, and Takeover should deliver above expectations.  That is what NXT does. 
Daily DeMarco: New Japan's "New Beginning in USA' Cards Are Irresponsible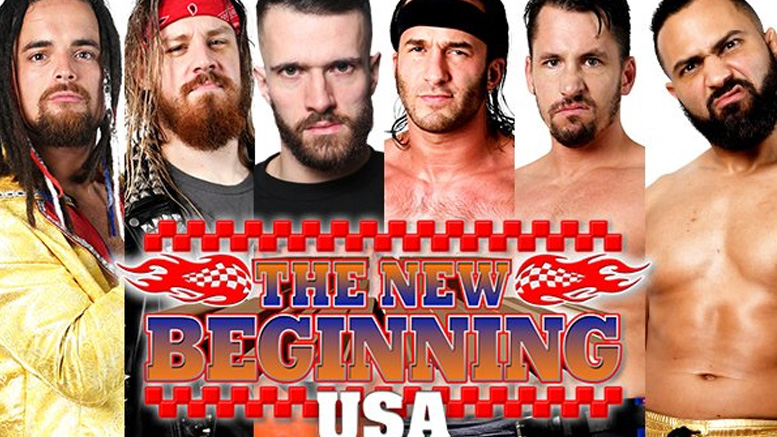 Greg DeMarco weighs in on the sure-to-be-controversial New Japan "New Beginning In USA" cards that were recently released.
Well hello there! I know it's been a few days since I last posted, and if you follow me on Facebook, you know what's been going on (see that here). But I am excited to be back, and excited to share my opinions with you!
So…shall we?
New Japan's United States events, called "New Beginning In USA," finally got their announced cards today.
January 30 in Los Angeles:
Alex Coughlin vs. Clark Connors
Jonathan Gresham vs. Tyler Bateman
Colt Cabana vs. Shane Taylor
Brody King & Marty Scurll vs. Killer Elite Squad
Jeff Cobb vs. Karl Fredericks
David Finlay vs. Chuckie T
Tracy Williams & Juice Robinson vs. Roppongi Vice (Trent Beretta & Rocky Romero)
February 1 in North Carolina:
Karl Fredericks vs. Clark Connors
John Skyler & Colt Cabana vs. Shane Taylor & Lance Archer
Tracer X vs. Great-O-Kharn
Jonathan Gresham & Jeff Cobb vs. Brody King & Marty Scurll
Alex Coughlin vs. Davey Boy Smith Jr.
Tracy Williams & David Finlay vs. Rocky Romero & Chuckie T
IWGP United States Championship: Juice Robinson (c) vs. Trent Beretta
February 2 in Nashville:
Karl Fredericks vs. Alex Coughlin
Jonathan Gresham and Colt Cabana vs. Shane Taylor and Lance Archer
Harlem Bravado vs. Great-O-Kharn
Clark Connors vs. Marty Scurll
Jeff Cobb vs. Brody King
Tracy Williams, David Finlay and Juice Robinson vs. Rocky Romero, Chuckie T and Trent
These shows aren't bad, but they aren't New Japan cards! The company isn't even sending over any lower card guys. I know you have a concurrent tour in Japan, but like you couldn't spare Jushin "Thunder" Liger?
Don't get me wrong, there are great matches on each show. The problem is they are being promoted as New Japan, and that's simply not true. This is "ALL IN was self-funded by Cody Rhodes and The Young Bucks" levels of untrue.
Hell, much like ALL IN, these are basically ROH cards (with less ROH talent).  I love Ring Of Honor, but they need to focus more on their own product and less on partnerships that are doing nothing but hurting them in the end.