Does WWE Have a Plan For Kevin Owens This Time?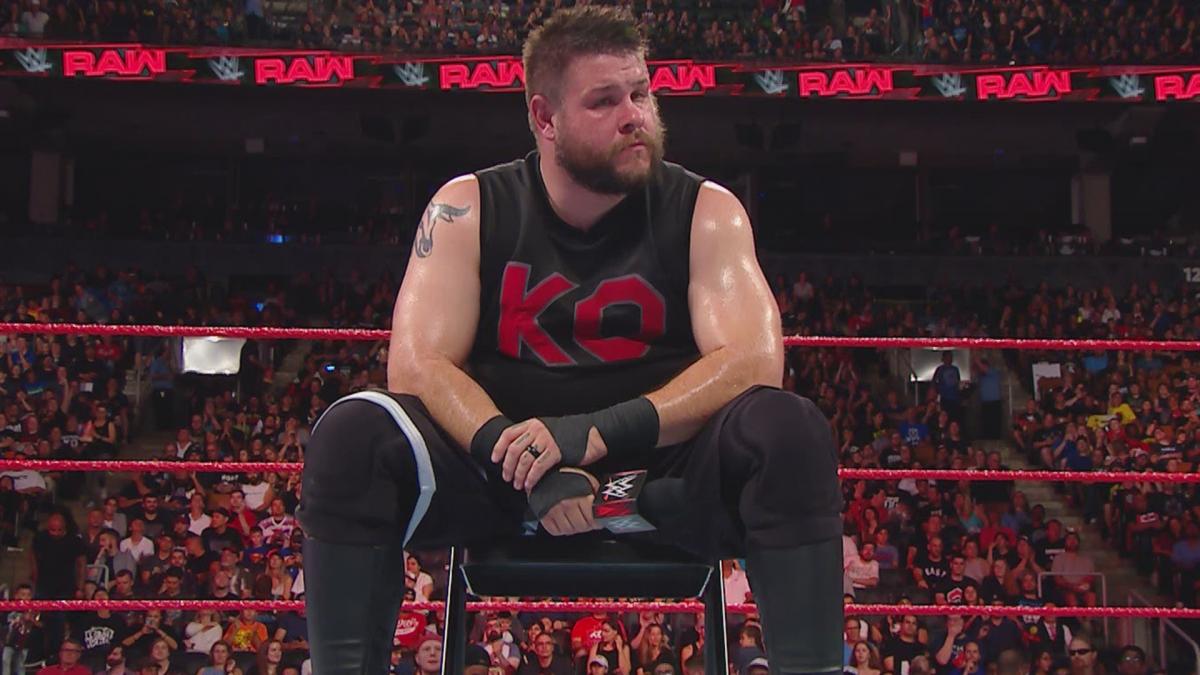 Kevin Owens has returned to Monday Night Raw and many WWE fans are surely happy to see him back. The prizefighter came back on the September 3 edition of Raw and attacked Bobby Lashley. Now the two men appear to be on a collision course, possibly for Hell in a Cell on September 16.
But many are perhaps a bit apprehensive about his return. That's because Owens supposedly quit WWE just seven days prior to his appearance on Raw. In the week between those two programs, the company did very little to publicly address the situation. It's not that fans actually bought into the idea of KO walking out on his job. But that short-lived angle may be a sign of bigger problems when it comes to his booking. Does WWE truly have a plan for Kevin Owens?
Owens has been floundering for quite some time. This is up for debate of course, but it is a fact to many of the WWE faithful. KO has had his issues and those issues have led him to a very lackluster career over the past year.
The first indication that things were getting a bit out of hand was Owens' run as Universal champion in 2016. This should have been KO's crowning achievement but instead this storyline left many fans disappointed in the end. 
Owens rarely ever looked like a real champion, which was mostly due to Chris Jericho's interference. Y2J and KO did work well together and they were the hottest act in WWE at the time. But every time Owens cheated to win or was given the assist by Jericho, fans questioned why. Why did the company insist on making Owens look weak, even in victory?
But KO's program with Chris Jericho is arguably the highlight of his WWE career thus far. He and Chris had great chemistry together, it was a very emotional rivalry and both men were committed to getting it over. Owens stood out as the top heel that he is and he has perhaps never looked better since he started with Vince McMahon's company.
KO's United States Championship reign was fun and gave him the opportunity to stretch his wings creatively. Owens' claim that he was the "face of America" made him one of the more entertaining figures on SmackDown Live. It was a very tongue-in-cheek angle that definitely worked for him and played to his strengths as a character.
But then his heat with Shane McMahon and Daniel Bryan began. This is where things once again took somewhat of a disappointing turn. The angle should have been a hit and it was in the beginning. But weeks after it began, the feud was still going with no end in sight. The addition of Sami Zayn into the equation was definitely a twist and helped matters along but in the end, it just wasn't enough to make fans believe that something good was on the horizon for Owens.
Indeed, KO lost at Wrestlemania 34 as he and Zayn could not defeat Shane and Bryan. This was perhaps not a reason for Owens' fans to panic but it was yet another indication that WWE had a blank page when it came to him. 
After months of losing and getting destroyed by Braun Strowman, Owens is apparently now heading for a feud with Lashley. Bobby doesn't tend to lose many big matches and WWE could change course at any time and utilize him in the Universal title picture. What are the chances that Owens gets over on him? Maybe the bigger question is, why does this continue to happen?
Kevin Owens a former Ring of Honor world champion, a guy that built his reputation match by match on the independent wrestling scene. "Fight Steen Fight" was more than a catchphrase for ROH fans. It followed KO everywhere he went. Kevin may not look like the prototypical pro wrestler but he doesn't need to. He has heart, he has talent and most importantly, he has drive.
While some guys relax a bit when they finally make it to WWE, Kevin Owens is the exact opposite. He's not happy with mid-card matches. He doesn't want to be overlooked or cast aside as if he doesn't matter. Owens takes pride in what he does and it shows. He's the kind of Superstar that WWE should love because of his commitment to his work. He wants to be the best. But WWE, for whatever reason, does not seem to have a real plan for him. Or maybe fans just don't see it yet.
Could it be that this most recent return is the beginning of something much bigger? When Owens "quit" in the middle of the ring, many likely believed it was the start of something important for his career. At least he finally had the spotlight and maybe he was headed toward a clean slate. He may have been back just one week later, but is it possible that he's now moving on to better things?
Perhaps the most glaring issue for KO right now is the main event scene on Monday Night Raw. Roman Reigns is the new Universal champion and he's probably not losing the title any time soon. Strowman is the solid number two and Drew McIntyre could become the number three. Seth Rollins is a viable main event player and the company can elevate him right behind Roman at any time. Many fans feel he's there right now. Then there's Dean Ambrose and Finn Balor, both of whom have the potential to rise up at any moment. 
Where does Kevin Owens fit in? Does WWE have the answer to that? KO is fully capable of getting over in any situation he finds himself in but it's a matter of booking him in situations where he can shine. He has everything it takes to succeed but if he does not have the support of the company behind him, there may be no chance of success at all. When it comes to giving Kevin Owens a real shot, the next move is up to WWE. But then again, it always is.
WWE Week in Review: November 5-11, 2018
As WWE leaves the controversy of Crown Jewel in the rearview mirror, all eyes turn to Survivor Series. What happened this week?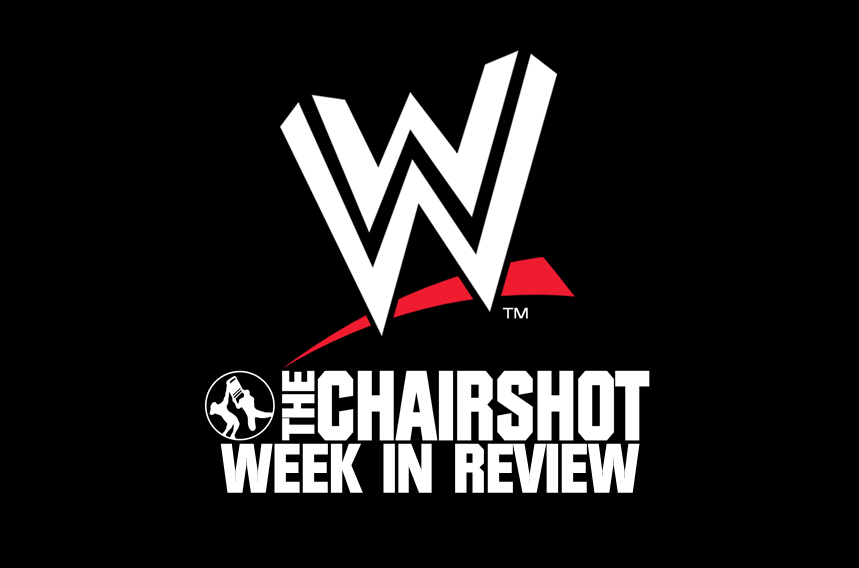 As WWE leaves the controversy of Crown Jewel in the rearview mirror, all eyes turn to Survivor Series. What happened this week?
On RAW, Baron Corbin deals with the fallout of his actions at Crown Jewel. The RAW Men's and Women's Survivor Series Teams begin to take shape. A dangerous new team forms in the Women's Division. Team Boss Hart Hugs' bid to earn spots on the Women's team runs up against the ruthless Riott Squad. Seth Rollins tries to defend the tag titles on his own, and Kurt Angle tries to take back his spot on RAW.
On SmackDown, the fallout of Crown Jewel and build of the Men's Survivor Series Team leads to some very surprising bedfellows. The SmackDown Women's Team is announced, but there are some sour grapes that comes with the announcement. Becky Lynch fires back at Ronda Rousey, and deals with an insane challenger, and a dream match takes place.
On NXT UK, Pete Dunne takes on Danny Burch in a match you have to see to believe. Dakota Kai and Toni Storm go one on one in a bid to put their names in contention for the Women's Championship. The Coffey brothers explain the shocking turn of events last week, and Pete Dunne and Mark Andrews' old friend, Eddie Dennis makes his debut, but will bitterness spoil the reunion?
On 205 Live, Buddy Murphy takes on Mark Andrews in a cross-promotion pride match. The new team of TJP and Mike Kanellis try to gel against the Lucha House Party. Cedric Alexander tries to get back to his winning ways, and gets a surprising offer from Lio Rush.
On NXT, all eyes are turning to War Games. Johnny Gargano explains his actions against Aleister Black. Dakota Kai takes on the dangerous Taynara Conti, Mia Yim's dream finds a challenger in the EST, and Lars Sullivan looks to take out his rage on Velveteen Dream.
So, what happened? Let's find out!
RAW
 WWE Universal Championship: Brock Lesnar was not at RAW this week, but he will be at RAW next week.
Braun Strowman vs Baron Corbin: Baron Corbin sought to explain his actions at World Cup, saying that he'd been trying to teach Braun Strowman a lesson in respect. He'd cost Strowman the match as retaliation for Strowman attacking him last week, though, it has to be said, Corbin deserved it. Corbin then said that he hoped that Strowman would understand that he needed to respect the authority of Corbin.
Fat chance.
As you can well imagine, Braun Strowman was NOT in the mood to be understanding after being robbed of the Universal Championship. He wanted to get his hands on Corbin, and Corbin's 'crack' security squad and the heels on RAW were no match for the irate Monster Among Men, and Corbin was eventually chased out of the building.
RAW Women's Division: One of Corbin's announcements for Survivor Series involved the Women's Division and introduced Alexa Bliss as his 'Administrative Assistant' and as non-competing team captain.
Bliss addressed the Women's Division, stating that she doesn't want RAW to lose to SmackDown again this year and wants to see 'killer instinct', so the auditions for the RAW Women's team starts tonight with Sasha, Bayley, and Nattie facing the Riott Squad starting as soon as the segment is over.
Nattie, Sasha, and Bayley were full of confidence in their pre-match interview. Nattie revealed that she'd brought her dad's sunglasses, dedicating the match to her dad's memory.
The match was really good. Both sides wanted to impress Alexa Bliss and showed a lot of aggression. It looked like Nattie was going to get her team another victory when Ruby Riott came up with Jim Neidhart's sunglasses and BROKE them in front of a devastated Nattie. The match ended in a no-contest, but if Alexa Bliss was looking for killer instinct, the Riott Squad showed a lot of it.
Ronda Rousey, who will be meeting Becky Lynch at Survivor Series, cut a promo on her fiery opponent. Showing a surprising amount of arrogance, Rousey basically dismissed Lynch as a threat, stating that Lynch had her respect. She poo-pooed Lynch's road to WWE, citing a childhood that sounds more like signs of a very dysfunctional family life, like her mom waking her up by trying to break her arms. She also mocked the various careers Lynch had while learning to wrestle, including being a flight attendant. She said that Lynch might call herself the Man, but Rousey is the Baddest Bitch on the Planet and tells Lynch to bring all her anger to Survivor Series because she wants a challenge.
At this point, Rousey was interrupted by her #1 Contender, Nia Jax. Nia thanked Ronda for getting her fired up for Survivor Series and warns Rousey that she'll need that fire because Nia's waiting…champ.
Nia took on her friend, Ember Moon, in a one-on-one contest. Ember seemed to have learned something from last week's encounter because she managed to get more offense in, and the two ladies put on a pretty good match. However, like last week, Ember proved no match for Nia's size and strength and the Irresistible Force had her hand raised in victory.
The real surprise came after the match was over. Nia had been having staredowns with her cousin, Tamina Snuka, for weeks and, as usual, Tamina showed up once the match was over. However, Tamina attacked Ember, not Nia. Nia seemed shocked for a moment and then joined in the attack, leaving Ember in the ring. The RAW Women's Division now has a dangerous new partnership brewing.
RAW Tag Team Division: Last week, the Lucha House Party made their debut against the Revival, defeating the Top Guys, despite the Revival dominating the match. Not surprisingly, the Revival were NOT amused by the Lucha House Party's antics, calling them an embarrassment to tag team wrestling and vowed to send them back to 205 Live.
Seth Rollins vs Dean Ambrose: Despite their falling out two weeks ago, Seth Rollins and Dean Ambrose are still the RAW tag team champions. On Monday, Seth Rollins went to the ring wearing all three belts: Intercontinental Championship and both tag belts.
Rollins addressed the controversial Universal Championship match at Crown Jewel and said that Brock Lesnar holding the title again was a slap in the face to Roman Reigns, who fought so hard to win it, and to everyone in the locker room, being very critical of Baron Corbin's role in the debacle.
Turning his attention back to his own problems, Rollins admitted that he'd wanted to come to Manchester with the belts AND the World Cup Trophy, but that didn't happen. He addressed his former partner, Dean Ambrose, who had still not explained his actions two weeks ago. Rollins admitted that he couldn't defend two titles at once, which seemed to imply that he was going to vacate the Tag Team Titles since he no longer had a partner.
At that point, he was interrupted by Corbin, who was clearly not happy about Rollins comments about him. Despite Rollins clearly not having a partner anymore, Corbin says that Rollins and his invisible partner will defend the tag titles against a rising team: AoP!
Despite the fact that AoP are both much larger than Rollins, who isn't a small man, and aren't the best wrestlers in the world, this was a great match. Rollins was able to make AoP look great without letting himself get squashed. The outcome of this match was never in doubt and we have new Tag Team Champions.
After the match, Dean Ambrose finally appeared and made his way to the ring. Sitting next to Rollins, he commented that Rollins wanted to know WHY Dean turned on him. As Rollins got to his feet, Ambrose dropped him with another Dirty Deeds, still with no explanation.
In a post-show interview, an angry Rollins said that he was done trying to get answer out of Ambrose by asking. Now, he was going to beat the answers out of his former friend. Good luck with that, Seth.
Dolph Ziggler vs Elias: Fresh off his shocking defeat at the hands of Shane McMahon at Crown Jewel, Ziggler looked to regain some momentum, especially since he'd been added to RAW's Survivor Series team. Addressing his loss, Ziggler claimed that he'd been the victim of a vast conspiracy to screw him over yet again.
Before he could finish putting on his tinfoil hat, he was interrupted by Elias, who was very over with the UK crowd. Elias claimed that he wanted to play a song that two members of Oasis had liked and had promised to reunite if he did. He also took the time to insult Ziggler and his excuses, calling him a loser.
Ziggler wasn't interested in Elias' musical ambitions and challenged Elias to a match.
The match was really good. Ziggler and Elias worked really well together and put on a great match. Despite the best efforts of Ziggler, Elias would put the Show-Off away with his patented Drift Away for the win.
Jinder Mahal vs Apollo Crews: Apollo Crews has been looking to gain some momentum since leaving Titus Worldwide and has come up a little short in his attempts. This week, he faced Jinder Mahal, another RAW star who has been coming up short in his bids for momentum.
The match was good, but very boring. Apollo Crews would pull out the win with a standing moonsault.
Bobby Lashley (with Lio Rush) vs Finn Balor: Finn Balor and Bobby Lashley have been feuding for the last few weeks, egged on somewhat by Lashley's hype man, Lio Rush.
This week's match was pretty good. It's still not really clear just what Lashley and Balor are feuding about, but the matches are always good, except for the constant annoyance that is Lio Rush.
Rush did prove his worth to Lashley this week by helping him get a win over Balor by causing enough distraction that Balor took his eyes off the ball and chased him, which gave Lashley the opening he needed.
Survivor Series: Before being chased out of the arena by the furious Braun Strowman, Corbin made several announcements for Survivor Series, including announcing the first member for the RAW Men's Team: Dolph Ziggler, Drew McIntyre, and Braun Strowman. Corbin expressed the hope that once Strowman understood and accepted why Corbin screwed him out of the Universal Championship, he'd understand that he's the best man for the RAW Men's Team. Again, this was BEFORE Strowman chased him out of the building.
Corbin also said due to his status as RAW General Manager, he would not be competing in the match, but would be the team captain.
Kurt Angle, who is the REAL General Manager of RAW, came out and said that competing at the World Cup had lit a fire in him and he wanted into the Survivor Series match. Corbin refused, mocking Angle, so Angle offered him a deal. They would have a match on RAW and the winner would not only be on Team RAW but would be team captain. Corbin agree, but that had been before he'd had to run for his life from Braun Strowman.
Drew McIntyre vs Kurt Angle: Since Corbin was forced to vacate the premises, his spot in the Team Captain match was filled by Drew McIntyre.
The match was great. Angle and McIntyre worked very well together and were able to put on a really good match despite Angle's age and injuries. Despite Angle's best efforts, he would be forced to tap to his own Ankle lock by Drew McIntyre. Given that Stephanie McMahon is going to be back next week and that McIntyre was a substitute for Corbin, Angle could still get his wish to be on Team RAW, but time will tell.
Top 5 Matches: Week Ending 11/11/2018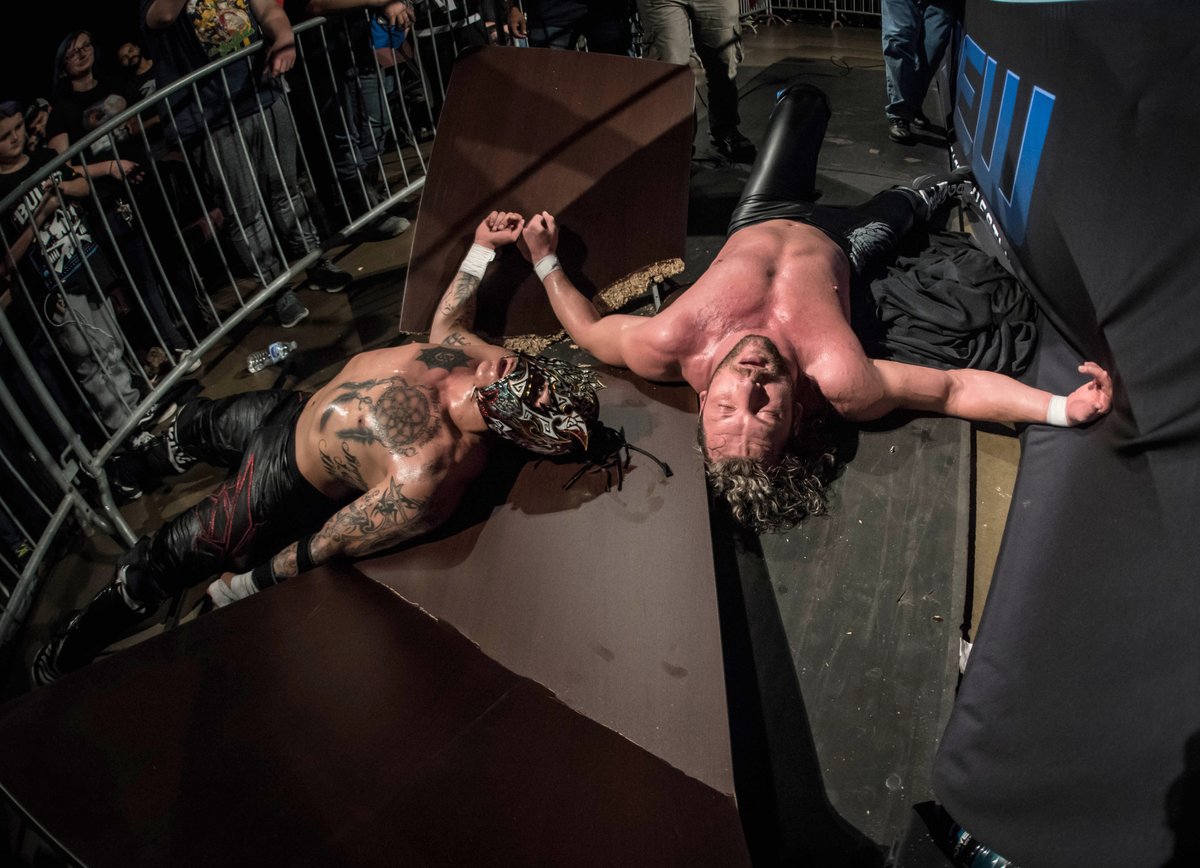 Well this is certainly an odd weekend. Not exactly a ton of stand out stuff from the usual companies, but a lot of the usual suspects. Pro Wrestling NOAH has been putting on some of the best wrestling all year, and currently has their round robin tournament going on, and Northeast Wrestling had an event with some familiar names.
But before we get to this week, let's not ignore the two votes we just finished. Let's look at the MOTY pool since it's nearly complete.
January – NXT Takeover Philly NXT Championship: Johnny Gargano vs Andrade Alma(c)
 February – New Beginning in Osaka IWGP Heavyweight Championship: Kazuchika Okada(c) vs SANADA
 March – NJPW Strong Style Evolved: Golden Lovers vs Young Bucks
 April – NXT Takeover NOLA NXT Championship: Andrade Almas(c) vs Aleister Black
 May – WWE Backlash Intercontinental Championship: Seth Rollins(c) vs The Miz
 June – NJPW Dominion IWGP Heavyweight Championship 2 out of 3 Falls: Kazuchika Okada(c) vs Kenny Omega
 July – G1 Climax 28: Hirooki Goto vs Tomohiro Ishii
 August – G1 Climax 28 Finals: Hiroshi Tanahashi vs Kota Ibushi
 September – All In NWA Championship Match: Cody vs Nick Aldis(c)
 October – Evolution SmackDown Women's Title Last Woman Standing Match: Becky Lynch(c) vs Charlotte
So the Evolution match left a big enough impression on our voters to make it the only women's match currently in the pool. As for last week, another WWE match won the vote, SmackDown WWE Championship: AJ Styles (c) vs Daniel Bryan.
Now let's see what kind of variety we have in the list this week.
5. SmackDown: The New Day vs The Usos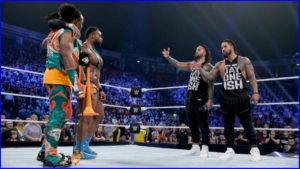 Kofi Kingston, Xavier Woods and Big E didn't win back the tag team titles, but they have a chance to lead their brand into battle! However, so do Jimmy & Jey, as the winning team of this match will be captains of the Survivor Series team! But don't get confused, it's for the WWE Tag Team Division match.
The teams sort out and the New Day goes with Kofi and Big E. Woods tosses pancakes as Kofi starts with Jey. Jey and Kofi circle and tie up. Jey gets a headlock but Kofi powers out, only for Jey to run him over. Things speed up and Kofi jumps, but Jey catches him! Jey back suplexes but Kofi slips out to dropkick! Jey is out, Jimmy runs in but is sent out. Big E tags in, Kofi bounces as Woods plays the trombone. Kofi fakes out Jey, and Woods adds some "laughter". Big E runs Jey over! The New Day has control while we go picture in picture.
Big E drags Jey up and in, cover, TWO! E tags in Kofi, and they work together for a leap frog senton! Cover, TWO! Kofi keeps on Jey with an arm wrench and armlock. Woods flings more flapjacks to the fans while Jey endures. Jey gets up but New Day brings him around for a whip. Jey reverses but Kofi goes up, only for Jey to kick his legs out! Kofi goes down and Jey tags in Jimmy. The Usos stomp Kofi, then Jey brings Kofi up. Jimmy uppercuts, then chops Kofi in the corner! Tag to Jey, and Jimmy feeds Kofi to a lariat. Cover, TWO! Jey drags Kofi away, tag to Jimmy. Jimmy runs as Jey holds Kofi down, leaping headbutt! Cover, TWO! Jimmy wraps Kofi in a chinlock, but fans rally for Kofi.
Kofi gets up and fights back, but Jimmy keeps him from the corner. Jimmy whips Kofi into the Uso corner and Kofi hits buckles hard. Tag to Jey, and the Usos stomp a mudhole into Kofi. Jey backs his brother off for the hesitation dropkick! Kofi gasps and rolls to an open corner, but Jey is right on him. Jey whips Kofi corner to corner hard and Kofi hits buckle then the mat. We return to single picture as Jey takes aim from across the way. "Uce! O!" Jey runs into Kofi's double stomps! Fans rally up while The Bar watch from backstage. Hot tags to Jimmy and Big E! Jimmy runs into Big E's overhead belly2belly suplex! Then another, then another! Fans fire up and Big E swivels the hips. Big E runs, but into an uppercut! Jimmy runs in, but into the urenag-E! Cover, TWO!
Big E has the fans rally up with the "New! Day Rocks!" clap. He scoops Jimmy but Jey tags in. The Usos double kick Big E away, Jey climbs up, Uso Splash onto knees! Big E scoops, Big Ending! Cover, but Jimmy breaks it just in time! Fans duel as Big E gets up. He keeps his eyes on Jey as he rolls to the apron. Jey stands, Big E runs and Kofi tags in. Jey dodges the DIVE and Big E hits the floor! But Big E gets up to barrel Jimmy into barriers!! Then he goes after Jey, to scoop him and run! Jey slips off to send Big E into the timekeeper's area! The Usos regroup but Kofi climbs up high, SUPER TRUST FALL!! Woods checks on his team, and gets them going. Kofi puts Jey in, covers, TWO! Somehow Jey lives, and this match continues.
Fans rally up as Kofi brings Jey around. Jey breaks free but runs into SOS! Cover, TWO!! Both men are down but so are their partners. Jey hits Kofi to a corner but Kofi boots him away. Kofi quickly goes up and leaps, crossbody! Cover, TWO!! The New Day are frustrated but still in control as we go to break.
SmackDown returns as Kofi goes after Jey at the ropes. He kicks and punches away, then drags Jey up for a whip. Jey reverses but Kofi holds ropes, so Jey runs in. Kofi dumps him out, but Jimmy tags in! Jey hits Kofi, and then the Usos double suplex Kofi! Kofi fights his way out, Big E SPEARS Jey!! They both go down and Kofi hits Jimmy with Trouble in Paradise! Kofi drags Jimmy in for a cover, TWO!? How?! Kofi gets back up and brings Jimmy up. He headbutts Jimmy to a corner, then CHOPS. Kofi hoists Jimmy up top and climbs up to join him. Kofi wants the superplex, but Jimmy resists. Jimmy fights back, and headbutts Kofi down. Jimmy adjusts, but Kofi comes back, SUPER STEINER– Blocked into a powerbomb!!
Both men are down but Manchester is fired up. Woods tries to coach Kofi up as Jimmy climbs. Uso Splash! Cover, Usos win!
Winner: Usos via Uso Splash
Rating: *** 3/4
4. Stardom Goddesses of Stardom Tag League: Hazuki & Kagetsu vs Jungle Kyona & Natsuko Tora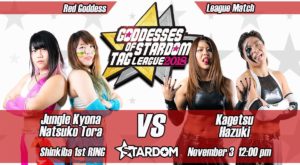 Well our little Oedo Tai monsters refer to Kyona and Natsuko as the Short and Dumpy Piggies. So they seem more amused that the current tag champs are pigs, as opposed to concerned about a loss. Will the Oedo Tai shenanigans prevail, or will they eat their words?
This match had a little bit of everything. Early on Hazuki is in a submission and Kagetsu blatantly uses their toy mallet to wack Natsuko and then hand Hazuki her folded fan to beat Natsuko with. Another spot is a twist on Kagetsu's usual water spot, but this time she dumps most of the bottle on Natusko's head and spits the rest at Kyona.
That's when it gets a little interesting, cause both Kyona and Natsuko just start wailing away on the extra members no selling some moves and just looking generally annoyed. After these dumb spots we get to some actual forward motion when Kyona flings Hazuki into a row of chairs, then Kagetsu to follow up before they both drag them back into the ring.
Surprisingly a lot of this match is Kyona and Natsuko in charge of the match. Hazuki even eats the big JAN Splash from the top rope, for a near fall. Oedo Tai never really gets a good handle on the match. Kagetsu lands a few suplexes, Hazuki hits a Codebreaker, but just as things look bleak, Hazuki hits her La Magistral cradle, the Hazukistral for a rather surprising win.
This match had a little bit of everything for most people, but still suffers from a little more of the goofy aspects of Japanese wrestling. Obviously a solid match, especially since there are a few elements for many to enjoy, but not really a stand out match for Joshi.
Winner: Hazuki via Hazukistral
Rating: *** 3/4
3. N.E.W. Redemption: Pentagon Jr vs Darby Allin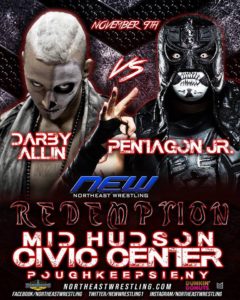 Not even gonna pretend here, I don't know what a Darby Allin is really. So I couldn't even begin to invent a lead in, so let's just get to the match.
Pentagon does his usual "Cero Miedo" in the person's face and Darby tries to take his arm. A quick back and forth leads to a Suicide Dive to the floor and Allin takes control on the outside until he goes to the top rope, Pentagon catches him and suplexes him right on the apron. Pentagon lights him up in and then back out of the ring with chops. Goes for his chops against the post. Misses the third one as usual, so Darby takes advantage, hits combination ear clapping strikes, a headbutt to the stomach and then a Code Red for a two count.
A strike exchange  leads to Pentagon getting annoyed and threatening the ref, Darby tries to take advantage of the distraction but Penta hits the Hanging Double Footstomp in the corner for a near fall.
Allin puts together some interesting offense with a Stunner out of being over Pentagon's should, his Coffin Drop Trust Fall, but Pentagon won't be outdone, so he hits the Mexican Destroyer on the apron. The Destroyer was leading to the end, Darby tries to fight back, Pentagon breaks the arm and then hits a Fear Factor in the middle of the ring for the pinfall victory.
Now since I said I didn't know Allin, I'm not unhappy with what I saw. His offense is a little unorthodox at times, and nothing was overly unique, but everything he did, he did well. So I might have to find more of his stuff.
Winner: Penta via Feat Factor
Rating: **** 1/4
Honorable Mentions:
NOAH Global League: Go Shiozaki vs Kazusada Higuchi
Winner: Go via Burning Lariat
Rating: *** 1/2
NXT UK: Toni Storm vs Dakota Kai
Winner: Storm via Neckbreaker
Rating: *** 1/4
NOAH Global League: Takashi Sugiura vs Kaito Kiyomiya
Winner: Kiyomiya via Counter Cradle Pin
Rating: *** 1/4
205 Live: Buddy Murphy vs Mark Andrew
Winner: Murphy via Murphy's Law
Rating: *** 1/4
SmackDown: Rey Mysterio vs Andrade 'Cien' Almas
Winner: Mysterio via 619/Droppin the Dime
Rating: ***
N.E.W. Redemption: Rob Van Dam vs Jack Swagger
Winner: RVD via 5 Star Frog Splash
Rating: ***
NXT: Velveteen Dream vs Lars Sullivan
Winner: Sullivan via Freak Accident
Rating: ***
2. N.E.W. Redemption: Kenny Omega vs Fenix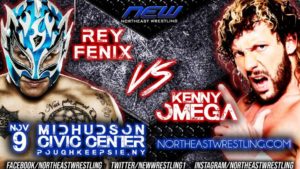 Fenix shows that he's a little faster than Omega early on. A few quick strikes and a diving Suicide Senton gives Fenix an early advantage. He takes Omega towards the ramp and goes for an Old School variation where he walks the guardrail, jumps off for a Frankensteiner, but Omega catches him and Powerbombs him onto the ramp.
Then we get a long period of Omega dominating. It should be noted, that during this period of dominance, Omega utilized a Camel Clutch and Triangle Cross Armbreaker, and submissions aren't really what he's known for. He lands a Kotaro Crusher, throws Fenix around outside, Fenix tries to fight back a little but the opening doesn't happen until Omega throws him into the ropes and Fenix hits a Handspring Headbutt, followed up by a Springboard Headbutt and then a Rolling Cutter for the near fall. After this point we finally start seeing more of both of their styles.
Fenix hits a Fire/Thunder Driver for 2 and goes to the apron. The two exchange moves, before Omega gets the best of the exchange and Suplexes them both through the ringside table. Omega attempts the One Winged Angel numerous times, with Fenix either rapid fire punching Omega in the head, or even hitting the Reverse Frankensteiner, to counter the move.
After a plethora of near falls and crazy moves, Fenix goes for a Triangle Springboard Corckscrew Headbutt, but Omega hits him with a mid air V-Trigger. Fenix can't fight out of the concussion, Omega hits the One Winged Angel, and gets the pinfall victory.
Winner: Omega via One Winged Angel
Rating: **** 1/2
1. NOAH Global League: Naomichi Marufuji vs Kenoh
Kenoh is never one to withhold his opinion, since he is openly brash and fluent in cursing. This is important to know that Kenoh feels that Marufuji is still an obstacle he needs to get over. Besides the Super New Generation versus Old Guard storyline that's been going on, there is really no love loss between these two. Will Kenoh's shrieking pay off, or will NOAH's Genius out smart the younger wrestler?
The match started off at a slower pace with both men trying to play a few mind games. We see a nice exchange with Marufuji using Kawada Kicks and Kenoh, who's known for his kicking ability, screaming something and hitting back with Low Round Kicks to Marufuji's hamstring. The match spills to the outside, where Marufuji takes the advantage and uses the guardrail masterfully. Driving Kenoh chest first into the rail four times before seating him next to the gate and then slamming it against his shoulder blade.
Kenoh wrestled from underneath for a long period, but he never lost the defiant sneer. Marufuji's demeanor became increasingly more stern, almost like he was trying to prove a point to Kenoh. But the familiarity these two have really started to show in full when Marufuji countered a kick attempt simply by kicking Kenoh's plant leg out from under him. Then we got the following beautiful exchange:
#noah_ghc #NOAHtheLIVE #GL2018 pic.twitter.com/a1J3QyCaab

— Hisame (冰雨Pro-Wrestling Noah in English) (@Hi5ame) November 11, 2018
After this we saw both of them basically try to kill each other. Marufuji catches Kenoh right under the chin with the Ko-Oh, and looks like he might have dropped the young brash foul mouthed kohai. But Kenoh took a page out of Kenny Omega's book where he hit a Snap Dragon Suplex out of nowhere, and even pulled off the Release Avalanche Dragon Suplex, which left Marufuji dazed. A penalty kick and Double Footstomp couldn't put Marufuji away, so Kenoh digs into the play book and hits a Rolling Diving Stomp. Marufuji looks like his organs just exploded as Kenoh pins him for the win and 2 points.
Winner: Kenoh via Rolling Diving Stomp
Rating: **** 3/4
Thoughts:
Kenoh versus Marufuji exudes psychology without even needing to know the history or language. Their body language explains what the match means to them, and the moves were crisp, stiff and all made sense. Even if the overall grades weren't too far off, Omega versus Fenix was more of a spot fest that went too long, and Marufuji versus Kenoh was an actual wrestling match that told a story.
So there we go, yeah yeah, Japan bias whatever. Watch both matches and decide for yourself. No matter which you like better, all you have to do is, Always Use Your Head.
WWE Women Need More
Evolution was great, but what are we doing now?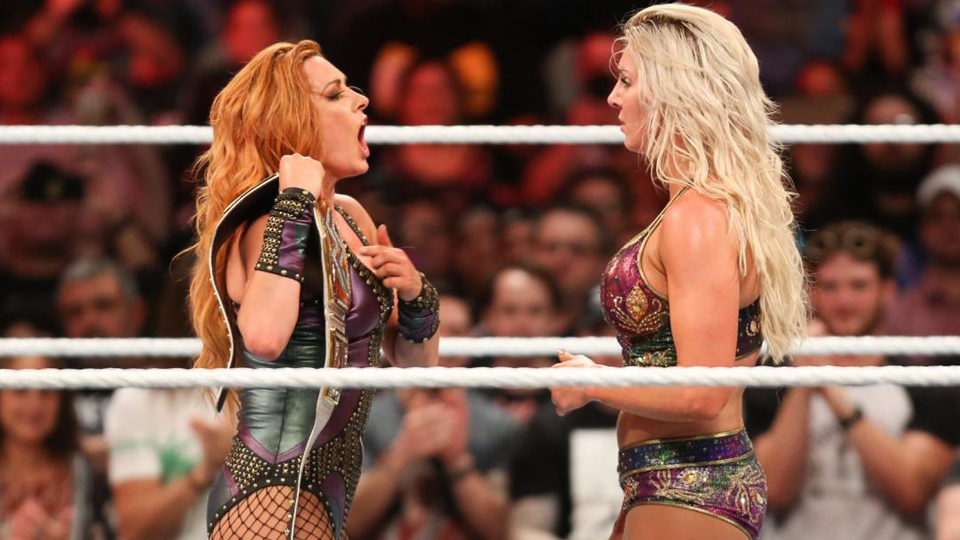 WWE Evolution was a monumental event for the stature and morale of the women's division, but the follow-up proves that more is needed for the WWE women.
The success of Evolution showed that WWE, in terms of women's wrestling is going in the right direction. But the work is not done yet! The women's division in WWE still needs a lot of work so it can evolve and be better for future generations of female wrestlers that join WWE.
They need more…
Their Own Show
The first thing WWE women need to do is their own WWE network weekly show. They have all this amazing talent and they have ot featured them on a more consistent basis, because nowadays at best we have 1 women's match per show. More TV could be good for the division that desperately is asking for more TV time, but WWE still ignores this fact.
More To Fight For
Another thing is WWE women need either a midcard belt or tag team belt for them. WWE for the last couple of months has been giving hints for the return of the women's tag team championship but all is just hints. Evolution was the perfect opportunity to announce this new championship, but it never happened. But hope is not lost since lately WWE has been giving signs to the fans on live show saying ''we want women's tag team championships'' so the return of this championship could happen any time soon, also there is the fact WWE is setting all types of women tag teams with Naomi and Asuka, The IIconics, Nia and Tamina and Boss and Hug Connection (Sasha Banks and Bayley).
PPV Focus
A big factor that will determine if WWE women are really part of this ''women's evolution'' is if they're giving more longer matches on PPV. Becky Lynch and Charlotte Flair proved on WWE Evolution that women can have some of the best matches in the main roster and in the case of these two talented women they made the best match on the main roster of all 2018. NXT has also proved that people really want long women's matches but only time will tell if Vince will do this for the women.
Total Divas
A big problem is Total Divas, this show is the last thing remaining from that horrible era for women in WWE. This show is some of the worst garbage TV you can see ever and the women who appear in the show haven't gain anything from it, that's why wrestlers like Becky, Charlotte, Sasha and others avoid being in this show because it won't do any favors in their career down the line. So, WWE pulling the plug to a show that even the ratings are seeing lowest records in the latest season is a clue this show will end soon. Also it will end the reign of The Bellas as top talent in WWE's women division and ending the last parts of the divas era.
Stronger Promotion
The last thing is seeing if Evolution will become a yearly thing, despite being the best WWE main roster PPV on 2018 the show had really bad promotion because WWE instead was promoting Crown Jewel and the ironic thing is Crown Jewel was one of the worst PPVs in 2018 from WWE. If Evolution becomes a yearly PPV the talent and fans will appreciate this for sure and WWE would be in the right path on changing for the better.
---
What do you think? Do the women in WWE need more? Sound off on social media @theCHAIRSHOTcom and use the hashtag #UseYourHead!