Joe's CMLL Results & Review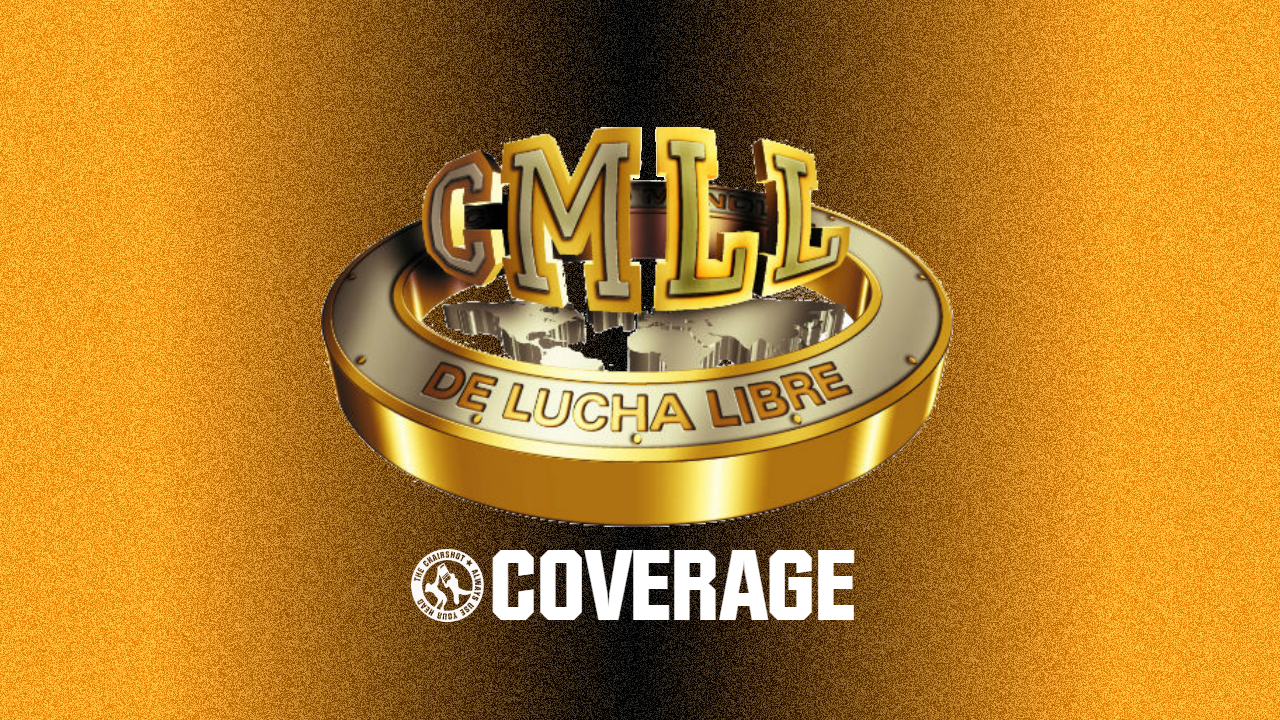 CMLL Monday Arena Puebla
Millenium and El Hijo de Centella Roja vs Aries and Rey Apocalipsis
We start with Centella Roja and Apocalipsis in the ring. Roja gets the better of him bringing in Aries and Millenium. They do some mat wrestling and come to a stale mate bringing in Roja and Apocalipsis again. It was a trick though and Millenium hit a dive from the ramp to pin Apocalipsis, and then Roja gets Aries in a standing ki lock for the fall. First Fall: El Hijo de Centella Roja submits Aries with a standing Ki Lock
The pace picks up a bit to start, as Aries gets Roja out of there. Millenium goes for a dive but is cut off by Apocalipsis. Roja is now getting double teamed, until Millenium gives him relief but to no avail. When Roja comes in Apocalipsis gets him down and Aries submits him with an arm breaker, and then Apocalipsis hits a lionsault on Millenium for the fall. Second Fall: Rey Apocalipsis pins Millenium with a lionsault.
Aries starts the third fall with Millenium and he quickly gets him to the outside. They start double teaming Roja until Millenium gets back in the ring. The crowd is calling them Perros. Their double team effort on Roja is stopped with Millenium intercepts for a dive on Apocalipsis. Apocalipsis gets Millenium in a modified indian deathlock for the submission. Aries gets Roja in an arm breaker for the victory. Third Fall: Aries submits El Hijo de Centella Roja with an arm breaker.
Winners: Aries and Rey Apocalipsis
Pegasso, Rey Samuray, and Lestat vs Sangre Azteca, El Malayo, and King Jaguar
Malayo starts out with Samuray but Pegasso comes in quick. Samuray comes back in with Azteca and they trade arm drags back and forth. Azteca goes back to his corner to talk strategy. The match breaks down and everyone is brawling with each other. Rey Samuray gets triple teamed after the other two got taken out. He gets hit with a drop kick to the butt and gets pinned. Then Pegasso gets spine bustered and submitted in some kind of unconventional stretch by El Malayo. First Fall: El Malayo submits Pegasso with an indian deathlock arm stretch.
Second fall starts with all of them brawling. Malayo hits Samuray with a drop kick off the apron. Lestat gets hit with a big back body drop, taking him out. Now Pegasso is getting beat on. Samuray gets back in and starts getting double teamed. He was hit with a drop kick to the groin in the corner which the ref just ignored. Samuray and Pegasso start to make a come back, Samuray hits a springboard 450 on King Jaguar, and then Lestat hit a swanton bomb on Malayo for the fall. Second Fall: Lestat pins El Malayo with a swanton bomb.
King Jaguar and Samuray start the third fall out. Samuray is getting the better of him. He misses a springboard moonsault and this brings Azteca and Pegasso to come in. The one on one phase doesn't last for long. Lestat botches a few moves and El Malayo tries to cover for him. After they all exchange spots until Rey Samuray, Pegasso, and Lestat get all three in a pinning combination. Samuray hit a hurricanrana on King Jaguar. Pegasso got a victory roll on Azteca, and Lestat hit a sunset flip on Malayo. Third Fall: Rey Samuray pins King Jaguar with a hurricanrana.
Winners: Pegasso, Rey Samuray, and Lestat
Flyer, Esfinge, and Triton vs Mascara 2000, Universo 2000 Jr, and Kawato San
Kawato starts out with Triton. They do some chain wrestling to start off. It soon evolves into them exchange slaps and holds. At a stale mate they both tag out bringing in Universo and Flyer. They too feel each other out with some mat wrestling. Now it's time for Mascara and Esfinge. Esfinge shakes his butt and Mascara is not impressed or pleased. Mascara gets him with a stump puller, a move we saw twice in the UFC this past weekend after only seeing it once in its history. These two exchange holds as well and Mascara taunts the ref because he's not pleased with Esfinge. Mascara hits one big chop and that brings in Kawato and Universo to attack the other team. This leads to Triton getting triple teamed then Flyer after Triton gets disposed to the outside. Triton makes his way back in but gets hit with a bunch of moves and is thrown out again. Universo hits a fireman's drop on Flyer and then Kawato hits the double stomp for the fall. First Fall: Kawato pins Flyer with a double stomp.
The second fall starts with Esfinge getting triple teamed. After they're done with Esfinge it's time for Triton to try his hand against the trio. Triton makes a come back and then hits a dive. Esfinge gets Kawato in a pinning combination for the pin. Then he gets Mascara in a boston crab arm stretch. Second Fall: Esfinge submits Mascara 2000 with a boston crab arm stretch.
Flyer is down holding his knee, and there are doctors by ringside and also a stretcher. If this was WWE I'd say it's a work because they keep panning to it, but I don't know here. Flyer did shoo away the doctors so I believe he's gonna try to tough it out. They show on replay he was being stomped by the other team during the break. Triton starts with Kawato but soon after Universo comes in and lays a big slap on Triton. Flyer gets back into the ring limping with Mascara. Mascara tries to chop Flyer but he keeps missing and htiting his teammates. Esfinge gets in there with Kawato but gets the better of him. Eventually all six of them get in the ring and Mascara, Universo, and Kawato get the other three in submission holds. Mascara beats Esfinge with an abdominal stretch. Third Fall: Mascara 2000 submits Esfinge with a abdominal stretch.
Winners: Mascara 2000, Universo 2000, and Kawato San