Joe's CMLL Results & Review (9/17/2018)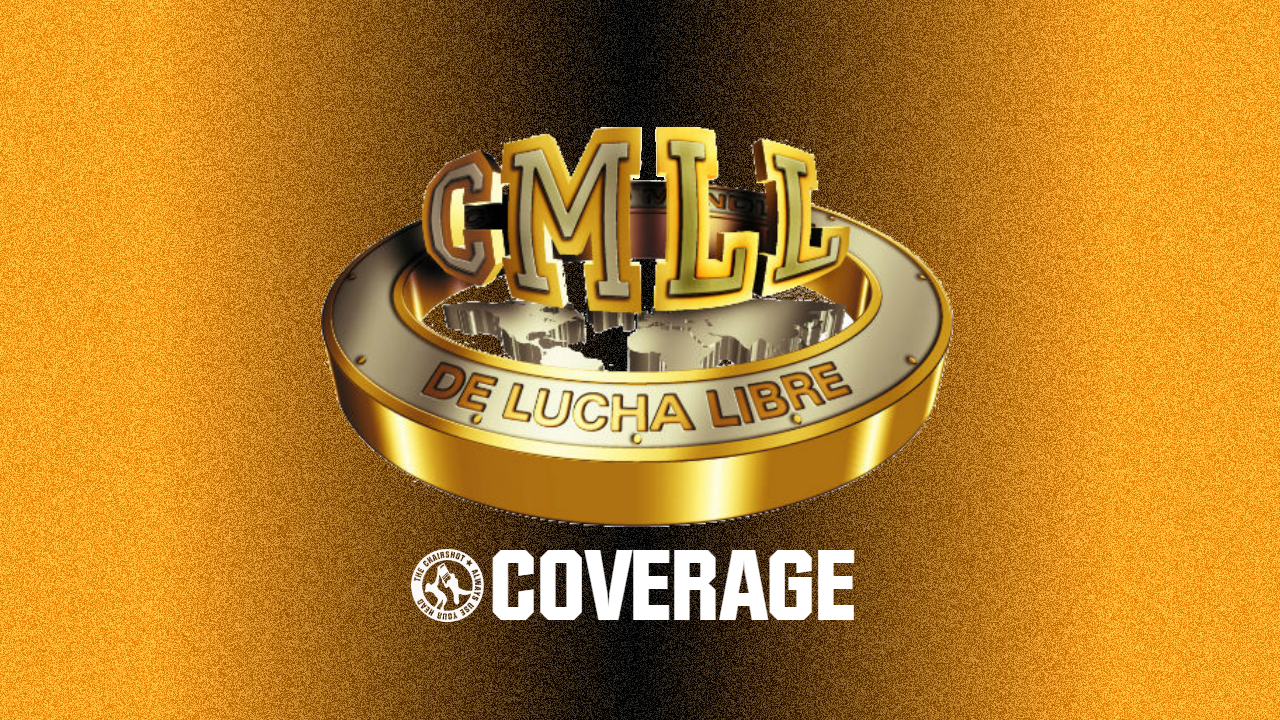 CMLL Arena Puebla Show Monday
El Asturiano and Black Tiger vs Espiritu Maligno and Fuerza Chicana
Maligno and Asturiano start out the match exchanging arm drags. Maligno is bare foot so Asturiano while having him in a hold bites his feet. Not very hygienical. Tiger and Chicana make their way in trading holds. Tags are made briefly and they pick up the pace but Chicana and Tiger come back in soon after to continue the faster pace. Maligno misses a splash and Tiger gets him in a surfboard stretch for the submission, then Asturiano pins Chicana with a hurricanrana pin combo. First Fall: El Asturiano pins Fuerza Chicana with a hurricanrana.
Black Tiger hits a monkey flip on Maligno to start the round and then hits a pose. Asturiano and Chicana are in to follow. He ends up feigning a dive to the outside. Maligno and Chicana start to get heat on the other team by double teaming both guys when they get the chance. Malingo hits a baseball slide to Asturiano in the corner and then they get both of them in submissions. Some elaborate stretches. Second Fall: Espiritu Maligno submits El Asturiano with a submission hold.
Third round starts with Asturiano being double teamed. Maligno hits a drop kick on him sending him out bringing in Black Tiger to get doubled. All four are in the ring now exchanging chops. Maligno gets Asturiano in a Gory Guerrero special into a pinning combination for the pin. The Chicana gets Black Tiger in a single leg boston crab for the win. Third Fall: Fuerza Chicana submits Black Tiger with a single leg boston crab.
Winners: Espiritu Maligno and Fuerza Chicana
Oro Jr, Super Astro Jr, and Tigre Rojo Jr vs King Rocker Jr, El Malayo, and King Jaguar
King Jaguar and Oro Jr start off with some chain wrestling, exchanging holds. They meet a stale mate and King Rocker come in and continue to exchange holds and chain wrestle. Tigre Rojo and Malayo come in and pick up the pace. Malayo gets Rojo in the corner to get an advantage on him, but it doesn't work out. Oro Jr and Rojo hit a combo neck breaker on Malayo. Super Astro hits him with a dive for a pin. Tigre Rojo gets King Jaguar in an arm bar for the first fall. First Fall: Tigre Rojo Jr submits King Jaguar with an arm bar.
King Rocker starts the second fall with Oro jr and Oro gets him to the outside and then hits a pose. Astro comes in there next with Malayo. Astro gets him to the outside and then feigns a dive and hits an elaborate pose. After that Rojo and Jaguar come in and he too gets Jaguar to the outside and feigns a dive. Finally Rocker and Malayo are working over Tigre Rojo. Once they dispose of him they start to triple team Astro Jr. Jaguar hits a big baseball slide dive on Astro. Oro Jr gets hit with a basement drop kick to the hit by King Rocker for the second fall. Second Fall: King Rocker pins Oro Jr with a basement drop kick.
Oro and Rocker start out in the third round. This becomes a triple team attack soon. It doesn't last for long and Oro Jr, Astro, and Rojo go for dives but they get dodged and then it becomes a brawl. They exchange spots and go for pins that get broken up. Astro hits a top rope headbutt on Malayo and pins him. Oro hits a power slam on Rocker and then Tigre and him do a double team move where Rojo flips Oro onto Rocker for the pin. Third Fall: Oro pins Rocker while being flipped by Tigre Rojo.
Winners: Oro Jr, Super Astro Jr, and Tigre Rojo Jr
Guerrero Maya, Fuego, and Stigma vs El Sagrado, Misterioso, and Tiger
Interesting note, the Arena Puebla is called Temple of Pain in translation. They should do Lucha Underground out of here. Maya and Misterioso start out in the match, and as they exchange holds and perform some mat wrestling, I'd like to point out how hype Fuego's entrance is. After they go to a stale mate Sagrado and Stigma come in. They don't last long and Fuego and Tiger get in there and pick up the pace.
Tiger irish whips Fuego into his corner and this causes his teammates to come in and triple team Fuego for a moment. Fuego's teammates come in to confront. Fuego makes a come back and gets Tiger to the outside and then a brawl breaks out on the outside. After that Maya starts to get triple teamed. Misterioso hits a weak drop kick bringing Maya to the outside then hits a pose, but Fuego rolls him up. First Fall: Fuego rolls up Misterioso.
The second round is started with Stigma getting triple teamed. After they dispose of Stigma to the outside, Maya comes in to try his hand but the numbers are too much. El Sagrado hits an elbow drop for the second fall. Second Fall: El Sagrado hits an elbow drop on Guerrero Maya for the pin.
Maya starts the fall getting triple teamed but made a come back by hitting everyone with a tilt-a-Whirl back breaker. After that Stigma and Fuego came and hit middle rope dives. They all start to exchange spots now, one at a time. Fuego hits his matrix bridge spot and then hits a dive. Stigma hits a big hurricanrana on Misterioso. Tiger and Stigma start to exchange chops.
Eventually Tiger hits a big power bomb. Fuego hits a big victory roll on Misterioso and the ref takes forever to go for the count and Sagrado breaks it up. Misterioso hits a reverse power slam and Fuego breaks up the pin and then he hits a big dive. Stigma hits a pinning combination on on Sagrado and Maya hits a spring board, shoulder block on Tiger for the win. Third Fall: Guerrero Maya hits a shoulder block on Tiger for the win.
Winners: Guerrero Maya, Fuego, and Stigma