Joe's AAA on Twitch TV Tapings 9/2/18, Review & Results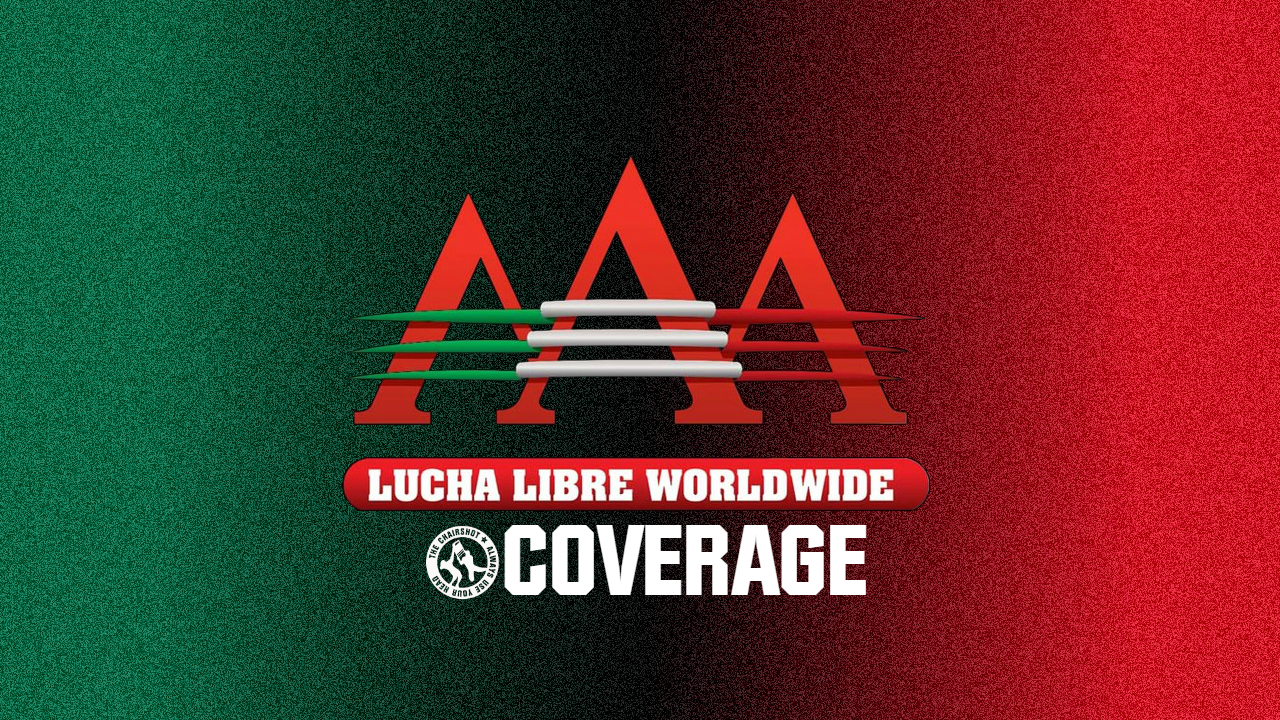 Check out Joe Dinan's coverage of AAA live on Twitch!
Draztik Boy vs. Belial vs Ultimo Maldito vs Arez
On the poster this was billed as a 6 man tag, but it appears two of them aren't here so it's a 4 way match. We have Draztik Boy, Ultimo Maldito, Arez, and Belial. This is very fast paced spot fest similar to the first match of triplemania. Basically it's a rotation of two people in the ring doing spots. They're moving 100 miles per hour, Maldito hit a double stomp from the top to the apron. Arez tried some figure four spot that he really messed up. Belial goes for an asai moonsault, or lionsault and while flipping Arez hits him with a code breaker.
Now they're all doing dives to the outside. Each taking their turn. Belial hits a hurricanrana on Arez while he's on Maldito's shoulders, then Maldito hits Belial with a canadian destroyer from the top. Arez hits a sliced bread on the apron to Maldito. Draztik Boy goes for a dive to the outside which Belial turns into a spanish fly and nearly crushed Arez. Hope he's okay. Maldito hits a tiger driver then goes to the top but Belial hits him with a spanish fly, followed by some dives. In the midst of the Chaos, Draztik Boy pins Arez. Draztik Boy pins Arez.
Apologies if I got some names wrong, these a newer guys I'm not familiar with just yet.
Winner: Draztik Boy
Faby Apache vs. Lady Shani
Faby sporting a different look now that she's bald. The heel ref is out there again. Fans really do not like him. Faby goes for the hand shake to start, but tricks Shani with a suplex. Apache is working over Lady Shani. Shani finally reverses Faby and takes off her bandana revealing her bald head.
Taurus comes down to interfere but Shani gets the best of him for now. Shani slips up, posing to the crowd and Faby gets her from behind. Shani reverses Faby into a pinning combination for a close two count. Apache hits a flapjack, for a close two count. Taurus grabs Shani's leg when she ran the ropes to distract her, then Faby hit a german suplex for the win. Faby Apache pins Lady Shani with a german suplex.
They beat her up after the match and then steal her mask.
Winner: Faby Apache
Dr. Wagner comes out to the ring in street clothes. He's cutting a promo, shouting out where they are, then makes reference to the Mega Champion Fenix. He calls out Jeff Jarrett. Jeff comes out to that glorious tune. Hijo Del Fantasma comes out with him, looking rather handsome. Fantasma calls him Rey Ignorante. He praises Jeff, and then Jeff comes in the ring to have a stare down with Wagner. Fans are obviously behind Wagner. Jeff calls Wagner Basura. Then calls the fans Basura. I think that's the only word Jeff knows in Spanish.
Hijo Del LA Park, Hijo de Vikingo, and Joe Lider vs. Mocho Cota Jr, Carta Brava Jr, Tito Santana
Laredo Kid will not be in this match, which explains the change to the earlier match. Tito Santana and Lider go at it from the start, but it breaks down to Cota and Brava being in the ring, with Lider taking them all out. He's starting out hot. Park refuses to tag in and he gets booed for it, so Vikingo comes in. He's going wild, and feigns to hit a dive then poses. Very popular spot in Lucha Libre.
Park is finally in there with Santana. Park hits a hurricanrana from the apron on Brava, then he goes for a dive and gets hit with a chair. Time for Joe Lider to get triple teamed. I hope he's healed up from last week. Now they're triple teaming Hijo de LA Park. After they take out Park, it's back to beating on poor Joe Lider. Santana hits a stomp to the balls. Vikingo is the poor chap now getting beat on by Porder de Norte. Park makes a huge dive, leaving Lider and Santana as the only two in the ring. As Lider gains momentum, Brava hits him with a chair from behind. Vikingo hits a hurricanrana on Santana then dekes out Brava as he goes through the ropes then hits a big dive.
Park hit a big move on Cota but the pin is broken up by Brava. Vikingo hits a phoenix splash on Brava, but Santana breaks up the pin. Joe Lider grabs the staple gun but gets kicked. Santana then grabs it but Lider kicks him. He then staples Santana's eye, then Cota's head. Cota fights back and hits a big dive. Vikingo is ready to hit a big move on Brava but Park hits Vikingo with a chair, turning on his teammates. He hits a big move on Vikingo, then Santana hits a splash and all 3 of them pin Vikingo. Park then leaves the ring. Porder de Norte pins Hijo del Vikingo with a dive by Santana.
Winners: Mocho Cota Jr, Carta Brava Jr, and Tito Santana