Joe's AAA Results & Review (9/7/18)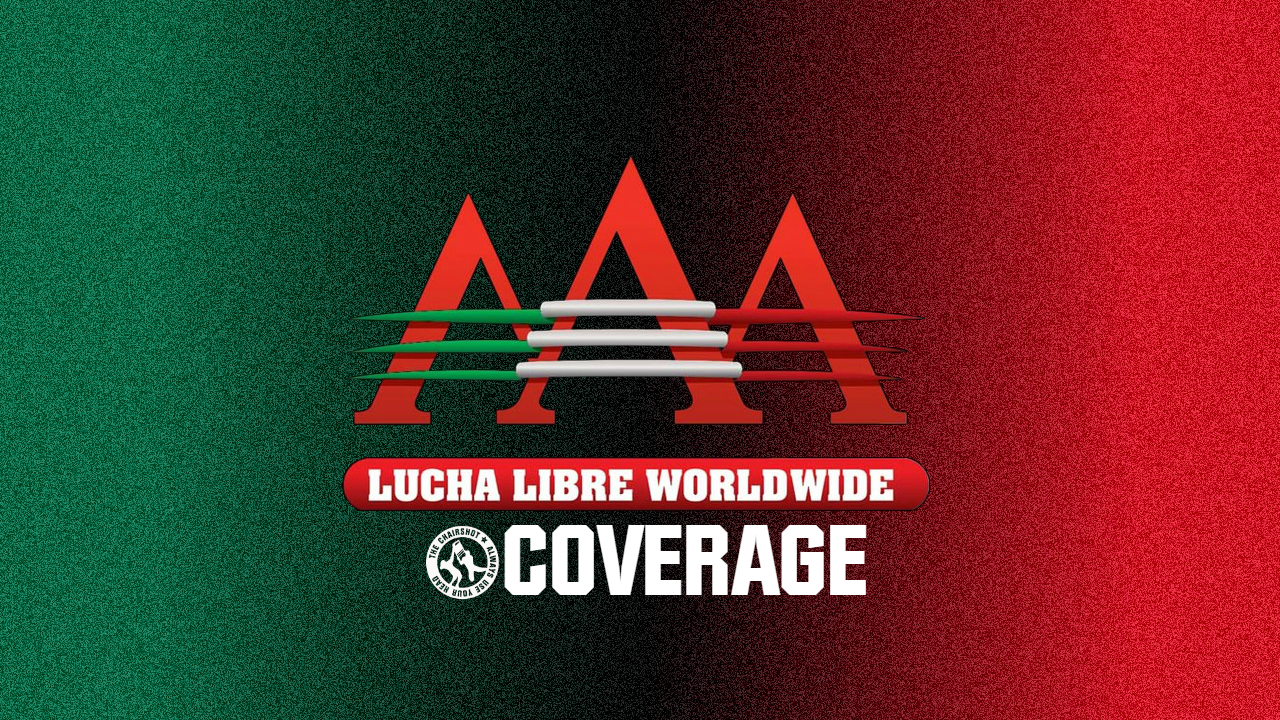 AAA TV Tapings on Twitch 9/7/18
Lady Shani, Lady Maravilla, and Vanilla vs Keyra, La Hiedra, and Scarlett Bordeaux
Scarlett comes to the ring looking… very um, revealing. Lady Shani starts with La Hiedra, and she quickly hits a head scissors to the outside. Bringing in Keyra and Maravilla. Maravilla gets the best of her, then feigns a dive and hits a pose. Vanilla gets in there with Scarlett now. Vanilla hits a big chop right to Scarlett's, uh, boobs. Keyra and Hiedra double team Vanilla, then Scarlett comes back and hits her with her butt in the corner while she's down. We see Maravilla getting triple teamed and after she's disposed of, Vanilla gets triple teamed.
As they then triple team Shani, Vanilla and Maravilla make the save. They get Scarlett alone, and spank her. Hierda and Shani go back and forth until they both fight to the outside. Vanilla hits a big dive taking out Shani, Scarlett, and Hiedra, leaving Maravilla in there with Keyra. Maravilla hits a spanish fly that's kicked out of, then after a few moments Keyra hits Lady Maravilla with a sunset flip, variant canadian destroyer. Keyra pins Lady Maravilla with the canadian destroyer.
Winners: Keyra, La Hiedra, and Scarlett Bordeaux
Dr. Wagner, not booked for this show is coming out now, interestingly in his ring gear. He brings up being the real mega champion then he calls out Jeff Jarrett again, but Wagner is still standing after last week and AAA is his house. He challenged him to a hair vs hair match. Wagner being there indicates he might be replacing someone later. I guess we will see. Short promo, then we go backstage with Vampiro and Keyra and she asked for a title match against Faby Apache and he agreed. They shook hands on it.
Angelikal, Australian Suicide, and Hijo Del Vikingo vs Mocho Cota Jr, Carta Brava Jr, and Tito Santana
Vikingo and Cota start out first at a frantic pace. Santana and Angelikal are already in not even a minute into it. Angelikal takes Santana to the outside, and goes for a dive but Carta Brava denies him. Australian Suicide then comes in to bring relief and he hits a head scissors sending Brava to the outside, then Angelikal and Vikingo help when Santana and Cota entered the ring, this lead to all three hitting dives on Porde de Norte on the outside. They then threw them in the ring and all went for 450s that missed. Porte de Norde then threw them to the outside and then all 3 hit middle rope dives. We are going one million miles in this match. Or Kilometers since we're in Mexico.
A chair gets introduced and they take out Angelikal then Vikingo with it with a shot to the back. They then spring board Australian Suicide into a chair shot. A double spine buster is hit on Angelikal leading to Santana hitting a top rope drop kick to the butt. Now it's time to team up on Vikingo. Porde de Norte is in charge and in control of this match. Angelikal and Vikingo start to gain momentum, Angelikal is holding one for Suicide to hit him. But suicide walks away.
Continuing without him, Vikingo goes for a big dive but he takes the brunt of it rather than Santana and Cota Jr, leaving Angelikal with Brava. The numbers prove to be too much though and Mocho Cota hits a frog splash on Angelikal for the win. Moche Cota Jr pins Angelikal with a frog splash.
Winners: Mocho Cota Jr, Carta Brava Jr, and Tito Santana
Laredo Kid and Sammy Guevara vs Golden Magic and Jack Evans
Laredo Kid comes out to Can't Be Stopped by Roy Jones, mentioned that during Triplemania that that made me pop. It still does. Sammy Guevara gets on the headset for a second saying Jack Evans is an old Sammy Guevara and he needs to retire. Golden Magic and Laredo Kid start off. They certainly start off with a slower pace than the previous match. They start to pick up the pace, exchanging elaborate arm drags until Kid hits a hurricanrana then a dive to the outside where it looked like he broke his neck, but he got up back into the ring and Evans goes for a dive on him but really botched it bad.
Eventually we get Evans and Guevara going at it. Evans goes for four standing moonsaults and misses them all. Then Guevara does it but hits a standing shooting star press. Golden Magic hits a dive on Guevara which he botched bad. Laredo Kid hits a huge Asai Moonsault. Jack Evans then goes for a dive but misses, which Guevara answers with a dive on Evans. Golden Magic kids a hurricanrana from the top on Laredo Kid and Kid goes flying into Guevara.
Kid hits a michinoku driver on Evans, then spinebusters golden magic on Evans, then goes for a spring board 450 on them both for a two count. Laredo Kid and Guevara both go for 450s, Kid hits his on Golden Magic, but Guevara misses. Evans hits him with a low blow then a pinning combination for the win. Jack Evans pins Sammy Guevara with a low blow then pinning combination.
Winners: Jack Evans and Golden Magic