Joe's Lucha Libre Weekly: News & Opinions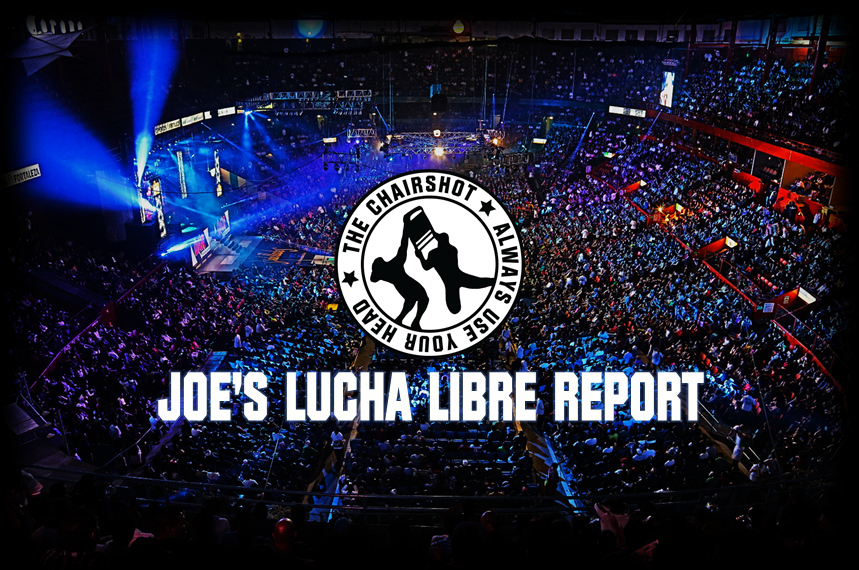 CMLL Anniversary Show
CMLL 85th Anniversary show will be airing live on Honor Club at 9:30 Eastern time. The main event features Volador Jr, and Ring of Honor's own Matt Taven vs Rush and Barbaro Cavernario in a hair match where the losing team will have their heads shaved. The remaining card looks like this,
Caristico, El Hijo del LA Park, and LA Park vs Diamante Azul, Pentagon Jr, and King Fenix.
Ultimo Guerrero, Gran Guerrero, and Euforia vs Ciber the Main Man, The Chris, and Scharly Rock Star for the CMLL Trios titles.
Atlantis, Mistico, and Soberano Jr vs El Cuatrero, Forastero, and Sanson
Angel de Oro, El Audaz, and Niebla Roja vs Negro Casas, El Felino, and Mephisto
La Jorachita, Mercela, and Princesa Sugehit vs Dalys, La Maligna, and Reyna Isis
That is the whole card. My predictions for the card look like this,
La Jorachita, Mercela, and Princesa Sugehit will defeat Dalys, La Maligna, and Reyna Isis
Negro Casas, El Felino, and Mephisto will defeat Angel de Oro, El Audaz, and Niebla Roja.
Atlantis, Mistico, and Soberano Jr will defeat El Cuatrero, Forastero, and Sanson.
Kaos Klan, Ciber the Main Man, The Chris, and Scharly Rock Star will defeat Los Guerreros, Ultimo Guerrero, Gran Guerrero, and Euforia.
Diamante Azul, Pentagon Jr, and King Fenix will defeat Caristico, El Hijo Del LA Park, and LA Park
Rush and Barbaro Cavernario will defeat Matt Taven and Volador Jr.
Now normally this would be a perfectly acceptable main event. Volador Jr never lost his hair and neither has Rush. Rush has the most valuable hair in Mexico and Volador's isn't too far behind but the problem with the building of this match is, all summer they teased LA Park vs Rush in a hair vs mask match, the most valuable mask vs the most valuable hair, a living legend vs the current top guy in Mexico. It's like teasing Hulk Hogan vs Stone Cold and then instead they give us, HBK And HHH vs Scott Hall and Kevin Nash in their prime.
It would be a great build and match but it's not what the people would want after building Hogan vs Austin. I expect the crowd to be into the match but not as much as they should be. It's almost a guarantee that Rush and Cavernario win because as I've mentioned before, if CMLL was willing to have Rush lose his hair, then they should have done LA Park vs Rush and have Park win to set up a future rematch. It would make no sense to have Rush lose.
AAA
There are no TV Tapings for AAA until September 30th.
What happened on recent AAA shows are the continuing of the Jeff Jarrett, Dr Wagner feud. Wagner challenged Jarrett to a hair vs hair match because he is still pissed that Jarrett and Konnan screwed Wagner out of the mega championship. LA Park seems to be feuding with Psycho Clown and Fantasma. Fantasma still wants a proper rematch against Park to get revenge on him losing his mask. And Park seems interested in a mask vs mask match with Psycho Clown. That will probably not happen because Psycho Clown is a top guy and much too young to lose his mask right now, and they already set up a tentative Park vs Wagner match for next years Triplemania.
Other feuds going on include the Mercenaries just beating on poor Maximo. The last two tapings they busted him open twice and Texano has beat him with his whip. So Maximo will have to find allies to combat Rey Escoprion, Texano, and La Mascara. Fantasma, also part of the mercenaries, isn't involving himself much in this feud.
Scarlett Bordeaux of Impact Wrestling made her debut at the last two tapings and by the looks of it got over pretty well and Konnan stated on twitter that she will be back.
AAA is also promoting heavily the Impact Television tapings in Mexico City September 13th and 14th. These tapings are curious because one has to wonder as I keep bringing up, if Impact will follow the trend and bring in LA Park. But other than that, how will Impact write TV to take into account that Pentagon and Fenix are working the CMLL Anniversary show?
I assume they'd want to highlight those two because they're in Mexico but the plan seems to be Fenix and Pentagon won't be at the Friday tapings. With Bound For Glory happening on October 14th, with the two tapings days after (I will be at all three events), I assume they're only writing TV for about 4 weeks so they could run an angle leaving them off the last two shows, or they'll film all their segments on Thursday. I guess we will see.
AAA's Review & Results 6/16/2019
Joe brings us AAA updates! Big matches! The Young Bucks defend the Tag Titles!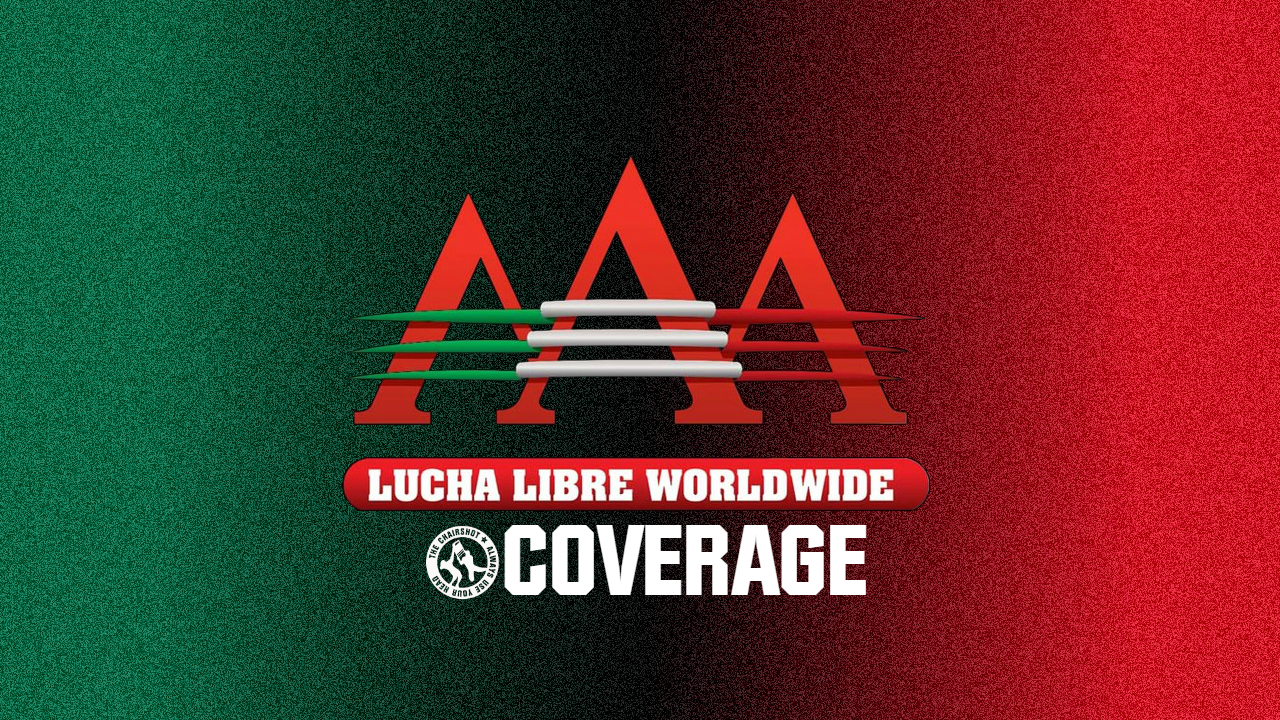 Joe brings us AAA updates! Big matches! The Young Bucks defend the Tag Titles!
Live on Twitch 6/15
Keyra and Hijo Del Tirantes vs Mamba and Maximo
This match wasn't even remotely advertised. Well a cookie sheet gets introduced really quickly by Tirantes. After getting beat on some Maximo hits a dive through the middle rope. Nothing really happens for a few minutes. This is a really slow paced match. Mamba hits a power bomb on Keyra, reversing her hurricanrana. Tirantes tries to pretend he was fouled. Ref ain't having it. Tirantes argues with the ref, Maximo kisses him and then rolls him up for the win. Maximo pins Tirantes with a roll up
Winners: Mamba and Maximo
Dr. Wagner comes out for a promo talking about Silver King. Rey Escorpion comes out saying he doesn't care. Wagner pushes Rey and folks come out to beat him up but Pagano helps Wagner out.
Taya Valkyrie, Lady Shani, and Scarlett Bordeaux vs La Hiedra, Chik Tormenta, and Tessa Blanchard
Match starts out much quicker than the first thankfully. An array of trading moves. We get some normal back and forth action before it becomes a brawl again. Taya gets hit with a super kick, stunner, then a german suplex. Scarlett does a canadian destroyer on Tessa. Boy has that move been bastardized. Scarlett power bombs Tormenta but the pin gets broken up. Shani has a flurry on Hiedra and Tormenta and Scarlett hits a dive off of the top to the outside. Daga comes down and super kicks Taya and Tessa hook DDTs her for the win. Tessa pins Taya with a hook DDT
Winners: La Hiedra, Chik Tormenta, and Tessa Blanchard
Myzteziz Jr vs Puma King vs Sammy Guevara
A make shift triple threat match. Puma and Myzteziz tried to work on Sammy to start. This match is going at a crazy pace. Myzteziz hits a tornillo splash. Guevara hits one of his own. Myzteziz messes up a hurricanrana spot with Puma. There's some double team offense with Sammy and Puma. Puma hits an over the top rope dive. Puma counters Myzteziz on the top rope for a power bomb. Sammy comes and hits a shooting star press during the pin to break it up and pin Myzteziz. Sammy Guevara pins Myzteziz Jr with a shooting star press.
Killer Kross comes out. Kross kills Puma King with a kick. He hits a modified F5 on Myzteziz
Winner: Sammy Guevera
Daga vs Laredo Kid
There is a feel out process and then each postures to the crowd. They have some back and forth pinning exchanges and then Daga starts to work him over. Laredo Kid hits a middle rope dive but it hurts him more. Daga takes advantage. It's really a long casual back and forth. Tessa interferes when Laredo Kid has Daga beat. Laredo Kid goes for a top rope move and Daga low blows him and then double stomps the back of his head for the victory. There was a lot of posturing in this match. They try to remove Laredo Kid's mask and Taya comes to make the save. Daga pins Laredo Kid with a double stomp to the back of the head.
Winner: Daga
La Parka, Aerostar, and Hijo del Vikingo vs Chessman, Australian Suicide, and Monster Clown
The rudos quickly beat up on the tecnicos. This is pretty much a hardcore match. A trashcan gets introduced fairly early. Chessman brings a chair in. Vikingo uses his agility to gain the advantage on Chessman. Aerostar hits a tornillo splash and then makes Chessman miss an attack and hit Monster Clown. Aerostar climbs a structure which is legit like 25 feet off of the ground. Aerostar cannon balls off of it. What the hell. Suicide hits a piledriver on Vikingo for a close count. They go to the top rope and over rotate on a spanish fly. Vikingo gets crotched and dropped by Suicide. Suicide goes for a sideways shooting star but Vikingo gets the knees up. Vikingo hits an imploder 450 for the win. Hijo del Vikingo pins Australian Suicide with an imploder 450.
Winners: La Parka, Aerostar, and Hijo del Vikingo
Dr. Wagner Jr, Psycho Clown, and Pagano vs Rey Escorpion, Taurus, and Killer Kross
Scarlett was a baby face earlier in the night and now she's heel because she's with Kevin Kross. They all start brawling on the outside. Dr. Wagner clearly has hair extensions in. It's hilarious. This is really like 5 on 3 with Scarlett and Hiedra out there. We got cookie sheets and other weapons. Psycho Clown gets his trusty broomstick. Kross is selling on the outside and Scarlett is shielding him. Clown gets his strap and hits everyone with it. Wagner and Escorpion go at it. Kross goes to the top and hits a sloppy frog splash. He goes up to the top again but Puma King comes out and head scissors him. He drops kicks a chair into him then hits a plauncha. Pagano then hits a dive through the middle rope. Wagner hits a flip dive off of the apron on Taurus. Clown gets Rey in a pinning combo and Hiedra stops it. Clown makes Rey attack Hiedra and then Rey takes his mask off for the DQ. Escorpion attacks the ref with a cookie sheet. The rudos stand tall at the end. Which is usual for AAA. Psycho Clown wins via mask removal
Winners: Dr. Wagner Jr, Psycho Clown, and Pagano
Live on Twitch 6/16 Verano de Escandalo
(Reina de Reinas) Keyra vs Lady Shani (Champ) vs Chik Tormenta
Just as the match was gonna start AAA has technical difficulties. Never change AAA. We finally come back to Keyra having Shani in a pinning combo. They apologize for the technical difficulties. Hey don't apologize to us, you guys probably have a lot of casual viewers for this show. Lol. Keyra hits a nice hurricanrana and split leg moonsault on Shani. She hits a face buster on Tormenta but Shani breaks up the pin. Tormenta does a running death valley on Keyra into Shani. We are a little sloppy in this match but it's okay, they're working hard. Shani does a back stabber on Keyra on the apron. I think that hurts Shani more. Tormenta kicks her and does a knee dive off of the apron. Back in the room they do a tower of doom spot. Keyra kicks out of the power bomb by Shani. Shani hits a northern lights suplex on Keyra but she kicks out. Keyra rolls out of a victory roll and stomps on Shani and then pins her. Interesting finish. Keyra pins Shani with a double stomp into a pinning combo.
Winner: Keyra
The Young Bucks come out for a promo. Fenix comes out with that belt he'll never defend. Pentagon alerts us Los Lucha Bros have 0 fear. Konnan comes out in a D Wade Jersey and a chair. Looking in the best shape he's looked in years probably. So basically Lucha Bros turned on Konnan so he brings the Bucks in. Konnan slaps Pentagon and the Bucks come running out. The beat down is on. Definitely got better heat this time than last time they were here. Now the crowd knows to boo them later.
Faby Apache vs Hijo del Tirantes
Time to follow up that segment with this match. Tirantes beats up on Faby to start. Tormenta is at ring side with Tirantes so it's basically a handicap match. Tirantes smashes Faby with a cookie sheet. Faby dodges the attacks finally and gets the cookie sheet and hits Tirantes and Tormenta. They keep starting up someone's theme by accident I presume. Sounds like Scarlett's. Faby is now beating down Tirantes. Crowd's going crazy for this. I imagine the casual viewers on twitch aren't. Faby gets a conveniently placed trash can and lid. She goes to put Tirantes in a surfboard stretch but Tormenta comes from behind. Faby hits a face buster on her. Tirantes hits one on her and nearly kills her but she kicks out. Tormenta throws a trash can to Tirantes. Faby drop kicks it and pins him. Faby Apache pins Tirantes with a top rope drop kick into a trash can.
Post match he goes to shake her hand but he beats her down with Tormenta.
Winner: Faby Apache
Maximo and Mamba vs Sammy Guevara and Australian Suicide
Sammy gets on commentary during the Exoticos entrance to tell everyone to check out his youtube page. There's a ridiculous amount of posturing to start this match. Mamba slaps Sammy and drop kicks him out. And that's like all that's happened for 5 minutes. Maximo knocks them out of the ring, and then Mamba comes in to go for dives but Suicide and Guevara enter and super kick them. Sammy and Suicide pretty much just beat them down. They miss spots and Maximo and Mamba kiss them then make them kiss each other. Then they hit middle rope dives. Back in the ring they both hit swanton bombs that get kicked out of. Suicide and Guevara get Maximo and Mamba to the outside. Suicide hits a back flip dive and Guevara hits a tornillo. Guevara hits a swanton bomb. Suicide hits a 450 then hits a middle rope dive on Maximo. Guevara then hits a shooting star press for the win. Sammy Guevara pins Mamba with a shooting star press
Winners: Sammy Guevara and Australian Suicide
Laredo Kid and Taya Valkyrie vs Daga and Tessa Blanchard
Taya and Tessa start fighting to start. Laredo Kid hits a hurricanrana on Daga and Taya kicks Tessa to the outside. They go for dives but Tessa and Daga get back in. Tessa is clearly jawing at someone in the crowd. Tessa spent time working on Taya. Taya gets the hot tag to Laredo and he hits a michinoku driver on Laredo followed by two moonsaults. Daga catches him and hits a neck breaker. Tessa hits a cutter on Laredo. Taya attacks her. She hits her of of the apron and Daga catches her. Taya hits a dive onto them, then Laredo Kid hits a moonsault to the outside. Back in the ring Daga hits a kicking combo on Taya. Daga hits a back stabber but Laredo breaks up the pin. Laredo hits a 450 on Daga but Tessa breaks it up. Daga pulls out brass knuckles and goes to punch Laredo but he ducks and Daga hits Tessa. They go to the top and fight and Laredo Kid hits a Laredo Fly on Daga for the win. Laredo Kid pins Daga with a Laredo Fly
Winners: Laredo Kid and Taya
Pagano, Aerostar, and Puma King vs Chessman, Monster Clown, and Killer Kross
Kross coming out with Scarlett. Monster Clown grabs a kid out of the crowd because why not. We are wasting no time and it's time for some brawling. They're beating down the tecnicos with weapons. Scarlett is getting involved so it's like a 4 on 3. Pagano tries a handspring attack and it goes very bad. Kross choke slams him. Scarlett seduces Aerostar then hits a Canadian Destroyer. Aerostar gets launched and hits a hurricanrana on Monster Clown. Scarlett hits Kross by accident. Aerostar hits a fast paced dive on Monster. Pagano hits a middle rope dive on Chessman. Puma hits one on Kross. Dives everywhere. Pagano completely misses a leg drop on Chessman. Pagano completely fucks up a middle rope dive by bouncing off the ropes. Aerostar climbs the structure and dives off of it. And he bounces off the floor. What's wrong him. A ladder gets set up and Puma power bombs Chessman through it for the win. Puma King power bombs Chessman through a ladder for the pin.
Kross beats up Puma post match. He hits an F5 and a power bomb and takes Puma's mask.
Winners: Pagano, Aerostar, and Puma King
La Parka, Myzteziz Jr, and Hijo del Vikingo vs Texano Jr, Rey Escorpion, and La Hiedra
Match starts with a beat down. Naturally. Rudos beating down tecnicos. They throw Vikingo with a rope by the balls and then Hiedra drop kicks him. Hugo asks if that's a foul as La Parka comes in with a chair. Myzteziz almost breaks him neck on a failed shooting star attempt. Vikingo shows him how to do it. Back in the ring Myzteziz does a few spots redeeming himself. Vikingo gets offense in on Escorpion. Tries a springboard dragonranna but messes up. Eventually he hits a hurricanrana to the outside. La Parka does a plethora of goofy spots. Myzteziz goes for a dragonranna on Escorpion but he counters with a power bomb through chairs. Vikingo slams Hiedra and hits an imploder 450 for the win. Hijo del Vikingo pins Hiedra with an imploder 450.
They beat down Vikingo post match.
Winners: La Parka, Myzteziz Jr, and Hijo del Vikingo
(AAA Tag team titles) Pentagon Jr and Fenix vs Nick Jackson and Matt Jackson (Champs)
Lucha Bros jump the Bucks. Matt Jackson does 3 northern lights suplexes to Fenix then does one to Fenix and Pentagon at the same time. Matt does a baseball slide and then Nick does a dive over him. Matt unties Pentagon's mask and then beats him up in the crowd. Back in the ring they hit double super kicks. Pentagon hits sling blades on both Bucks. Fenix does a double cutter. They roll out and Fenix hits a huge dive and goes flying into the crowd while Pentagon hits Matt with the Pentagon driver. Matt hits a Canadian destroyer then a spear and Fenix breaks it up. Lucha bros go for super kicks but the Bucks reverse it into sharptshooters. Lucha bros break out and a ton of super kicks get hit. Nick hits a frog splash on Fenix and Penta runs up his back and hits a Canadian destroyer on Matt. Fenix then hits a stomp on the apron on Nick. Pentagon hits the package piledriver on Matt. He kicks out. Then Fenix and Pentagon do the combo package piledriver. Nick pulls the ref out. Nick does an asai moonsault to the ref and Fenix. Matt pulls off Pentagon's mask and kicks him in the groin and then they hit a Meltzer driver. Fenix pulls the ref out now. Fenix kicks Matt in the groin and then hits a cutter for a two. A new ref is out here now. They do the combo package piledriver again and Fenix hits a middle rope splash on Nick. Penta pins Matt. Pentagon pins Matt Jackson with a package piledriver combo.
Winners: Pentagon and Fenix
Dr. Wagner Jr and Psycho Clown vs Blue Demon Jr and Taurus
There's some posturing and now the match is on. Wagner and Demon quickly brawl into the crowd. Actually all 4 of them are brawling. Wagner is bleeding already. Finally after a long beat down Wagner and Psycho make a come back. Wagner back drops Taurus to the outside and Clown hits a dive through the middle turnbuckle. Wagner hits a senton splash on Demon. Wagner rips Demon's mask and bites him. Clown breaks a broom over Taurus' back. Blue Demon is bleeding badly now. Taurus sets up a table. Clown hits the double stomp in the corner for a two count. Taurus misses a corner attack and then Clown hits a dive through the middle rope. Wagner back drops Demon onto a table. Wagner then hits a michinoku driver for the win. Dr. Wagner pins Blue Demon with a Michinoku driver
Winners: Pscyho Clown and Dr. Wagner Jr
Joe's AAA Review & Results (6/11/19)
Keeping up with AAA Lucha Libre? Joe Dinan is and he has your updates for the week!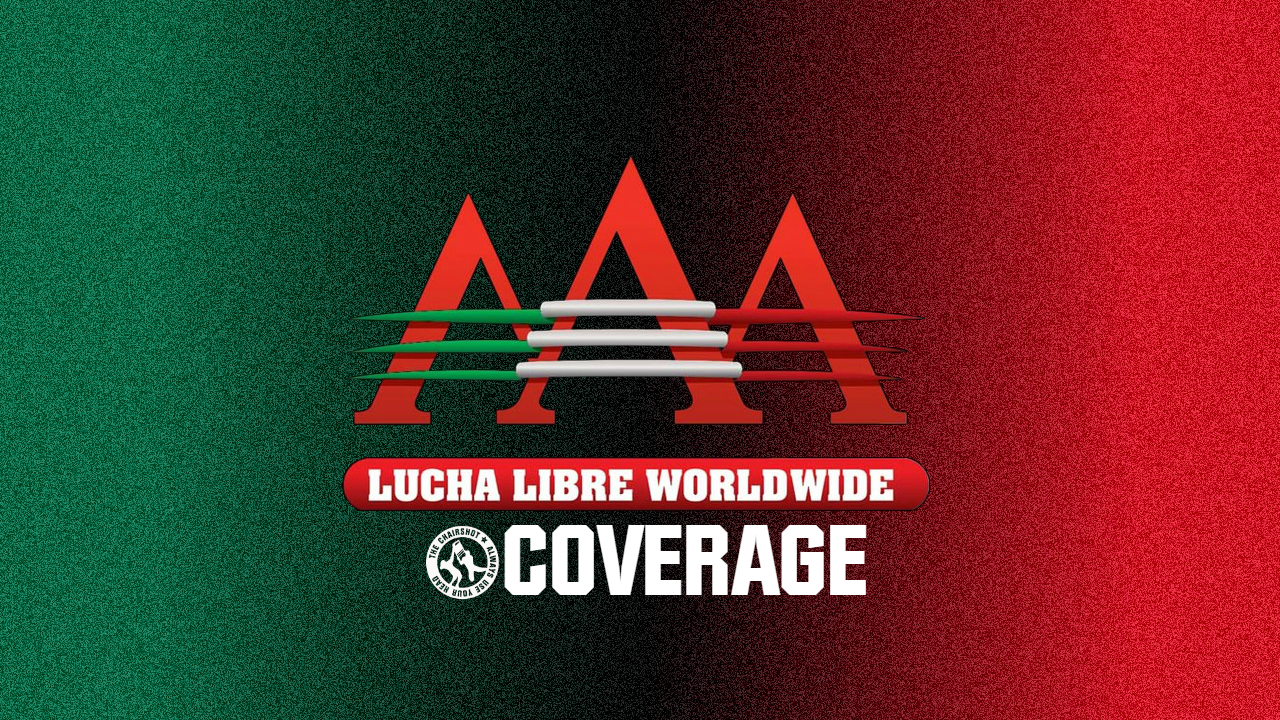 Keeping up with AAA Lucha Libre? Joe Dinan is and he has your updates for the week!
Catch-up on what happened in AAA last week…
AAA Live on Twitch
Konnan comes out and cuts a promo about the Bucks vs Lucha Brothers.
Baby Extreme, Big Mami, and Nino Hamburguesa vs Komander, La Hiedra, and Lady Maravilla
Mami wants to fight Maravilla to start. She gets jumped. Nino helps her make a come back hitting the running senton in the corner to all three. He still doesn't directly attack Maravilla. Maravilla has Mami in a submission and Nino doesn't know if he should stop it. Komander hits a big dive on Nino. Mami looks to brutalize Maravilla but Nino tries to stop her. She pushes him and hits a gory special on Maravilla. Mami pins her. Nino doesn't know what to do. Big Mami pins Maravilla with a gory special.
Mami tells Nino to make a choice but Daga comes out and eliminates him with a chair. He wants the mixed titles I imagine. He goes to hit Mami with the chair but Nino stops him and splashes him. Tessa comes and beats on him. Now Drago comes out to make the save.
Winners: Big Mami, Nino Hamburgeusa, and Baby Extreme
Tessa Blanchard and Keyra vs Lady Shani and Faby Apache
They start the match going back and forth trading offense. This has been a relatively normal tag team match by AAA standards. Nice back and forth with not much outside the ring action. Faby drop kicks Shani by accident. Keyra german suplexes Faby. Keyra hits a double foot stomp out of nowhere on Shani for the win. Keyra pins Shani with a double foot stomp.
Keyra yells at the fans. Probably wants a match with Shani. They brawl afterwards.
Tessa Blanchard and Keyra
Golden Magic and Myzteziz Jr vs Villano III Jr and Australian Suicide
Unlike the last match this match is basically tornado rules off of the bat trading big spots immediately. No build up here. Magic and Myzteziz work well together but Suicide hits a big dive. Villano power bombs Myzteziz on the ramp. The work over the tecnicos some more. Myteziz is laid out on the ramp still. Villano FUs Magic onto the ramp. Myzteziz jumps in the ring and neatly botches a hurricanrana. Magic does a jump up tornillo onto the pile. Myzteziz then hits a springboard shooting star press. Back in the ring Magic goes for a moonsault but Villano gets feet up. Myzteziz hits a Canadian destroyer on Villano and Suicide comes from behind with a poisonranna. Suicide does a dive and lands on his feet. Myzteziz hits a moonsault. Villano spears Magic for a two count. Fighting on the top, Magic hits a power slam Spanish fly off of the top. Golden Magic pins Villano III Jr with a powerslam spanish fly
Winners: Golden Magic and Myzteziz
(AAA Cruiserweight Champion) Hijo Del Vikingo vs Laredo Kid
Believe it or not they start the match with some actual wrestling. They start trading submission holds. They start to ramp up the pace doing more acrobatic things. Vikingo springboards off the second rope for a hurricanrana. Vikingo shot gun drop kicks him to the outside. Vikingo hits a huge dive over the turnbuckle. Wow. Back in the ring Laredo Kid shot gun drop kicks Vikingo to the outside and then hits a huge asai moonault. Laredo bomb. Laredo hits a michinoku driver then two moonsaults for a two. Back in the ring Vikingo rolls into a package suplex from a small package. Impressive. AEW needs to book Vikingo immediately. They both kick each other and fall. Laredo goes for a springboard move but Vikingo meets him for a spanish fly. Wow holy cow. Kid hits him with a face buster then gets a cloverleaf like submission. Vikingo selling his ankle bad. They're both babyfaces so Laredo helps him up. They both run to the outside and Laredo misses an asai moonsualt and Vikingo goes to the ramp and kicks Laredo and then does a shooting star off of the ramp. Back up, Laredo throws him against the ropes and does a spanish fly on the ramp. Vikingo stands on the post and does a double stomp to Kids back. Vikingo then leaps off the ropes and does a springboard 450 for a close two. They meet on the top rope and Laredo does a reverse Laredo Fly and Vikingo kicks out. Kid then does a 450 and is completely angry Vikingo kicked out. Vikingo then does running knees to the corner after avoiding a phoenix splash. Vikingo then does a imploder 450 and Kid gets his hand on the rope. Finally on the top rope Laredo Kid hits the Laredo Fly and Vikingo reaches for the ropes but can't kick out. Holy shit what a match. Top 5 match of the year in any company. Laredo Kid pins Vikingo with a Laredo Fly
Winner: Laredo Kid
---
Time to pick up a new Chairshot shirt!

Get yours at:
https://www.prowrestlingtees.com/related/thechairshot.html
---
Monster Clown and Daga vs Drago and Aerostar
Monster Clown meets Aerostar on the ramp and beats him up. Daga beats up Drago. Finally back in the ring Aerostar uses his speed against Monster Clown. Monster rips at Aerostar's mask. Aerostar back drops Monster Clown onto the ramp. Drago pulls down Daga from the apron. Aerostar rips at Monster Clown's mask. Aerostar hits a big dive on Monster Clown. Daga hits a bunch of strikes on Drago. Drago counters with a tornado DDT. Monster Clown misses a moonsault. Daga hits the ref by accident. Clown kicks Aerostar in the balls. Then Drago kicks Clown in the groin. He head scissors Daga to the outside. Aerostar then hits a sunset flip power bomb on Monster Clown for the pin. Aerostar pins Monster Clown with a sunset flip power bomb
Daga cuts a promo on Drago and Drago replies. I think it's for an eventual title match.
Winners: Aerostar and Drago
Psycho Clown, Dr. Wagner Jr, and Puma King vs Rey Escorpion, Texano, and Taurus (With Hiedra)
Wagner has a homage to Silver King on. His brother for those that didn't know. Clown is with children dancing on the way to the ring and Escorpion clunks him with a chair. Escorpion got pelted with drinks for that. Clown is getting his ass handed to him in the crowd. Hiedra is constantly getting involved. The Rudos are completely destroying the tecnicos. Wagner clotheslines Texano and Escorpion and then hits a samoan drop on Taurus. Puma King hits a splash onto Taurus. Wagner does a flip off of the ramp onto Texano and then Clown does it to Escorpion. Clown breaks a broom over his back. They put a trash can on Rey's head and Clown and Puma super kick it. The tecnicos celebrate by doing a 3 man fusion dance. Texano gets his bull rope and goes to hit Clown with it but he ends up hitting Hiedra and Escorpion with it. Clown then whips Texano's butt with the rope. Taurus brings a table in. Wagner hits a cutter on Taurus then rips his shirt off. Wagner does a samoan drop off of the apron onto a table on Texano. Clown goes to pin Rey but Taurus pulls the ref. Puma King leaps over the ref and dives. Rey then rips Clown's mask off then slams him into the table. He throws his mask on him then pins him. Rey Escorpion pins Psycho Clown with a slam through a table after mask removal the ref missed. 
Winners: Rey Escorpion, Texano Jr, and Taurus