Joe's Lucha Libre Weekly: News & Opinions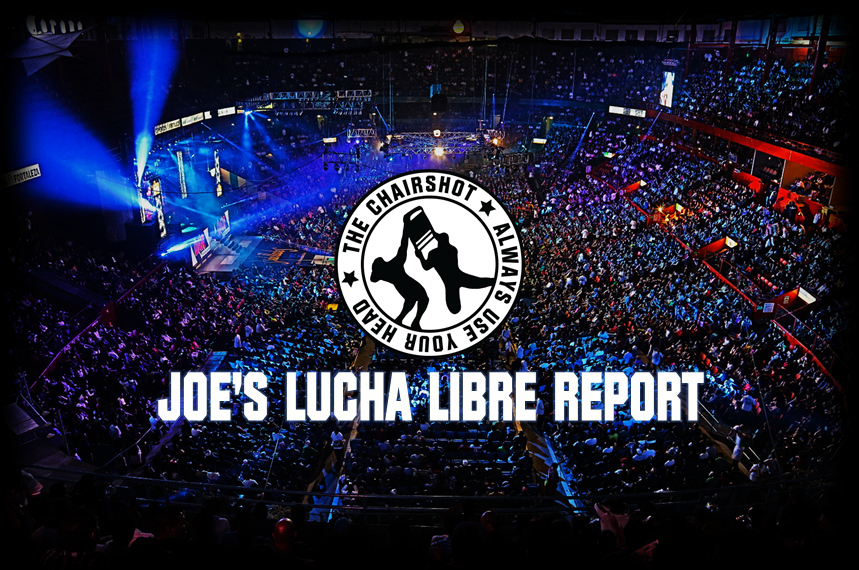 MLW
MLW War Games is airing on Firday on BEin Sports, Youtube on Saturday at 6:05. We don't know yet what matches will air other than the War Games match, but reports indicate that LA Park and Pentagon might have had the best match of the night during the taping. Fenix and Low Ki was said to be very good too. It's only an hour long I believe unlike their last special event, unless that changes in the next two days.
Here and There
I think the program CMLL builds to for next year will be Atlantis vs Rush. Park is on fire and you can't assume he'll be done with American booking by next year yet, and even then who knows what CMLL will do with him vs Rush. It feels like when Park loses his mask it should be against Rush. But in the mean time, Atlantis is really hurting so his career might be winding down, and it would also be appropriate for Rush to take his mask. So I think maybe they'll eventually build to that.
LA Park says he will be in Arena Puebla following the CMLL Anniversary show, so I wonder if he keeps working CMLL after the anniversary show, and what direction they take him in. Same goes for Pentagon and Fenix. Speaking of which, Pentagon denies the claim that he and his brother are WWE bound, but anything can change if WWE offers enough money.
Lucha Match of the Week: Atlantis vs La Sombra
From the 82nd Anniversary show Atlantis vs La Sombra (Andrade Cien Almas)
Sombra comes to the ring dressed in a suit with a top hat. I wonder if that's where Naito got that from. Sombra starts the match off hot with a big dive. Rush beats on Atlantis while the ref is distracted. Sombra continues to get heat on Atlantis, by choking him with the cable wire. Sombra continues to beat on him on the ramp. Atlantis hits a roll up and Rush pulls the ref out of the ring. Rush is interfering and is now being told to leave. Atlantis wins that first fall by DQ.
He starts the second round stomping Atlantis. Atlantis makes a come back and hits a big middle rope dive. Sombra hits a arm in power bomb to win the second fall against Atlantis.
Sombra gets heat on him to start the third round and hits a moonsault in which Atlantis kicks out of. He stomps him in the corner and then poses to the crowd. Atlantis counters this into a power bomb. Sombra goes for a hurricanrana that's countered into a power bomb for a close two count. Sombra gets Atlantis to the outside and hits a rotating dive off the top. Atlantis counters him on the outside and whips him over the barricade then hits a dive over the barricade. They get back in the ring and Sombra gets Atlantis in an armbar but Atlantis makes it to the ropes.
Atlantis monkey flips Sombra to the outside and then hits a splash off the top rope to the outside. Atlantis goes for the torture rack but Sombra reverses it into a pinning combination and then his power bomb that Atlantis kicks out of this time. Sombra pushes Atlantis into the ref and then Atlantis does two tilt a whirl back breakers to Sombra. Sombra then clotheslines Atlantis to the outside and hits a moonsault over the ring post to the outside. They get back into the ring and Sombra hits a big superplex. Atlantis gets Sombra in the torture rack but Rush comes back to distract the ref. Sombra goes for a tombstone but the ref stops him because its illegal and in the middle of that Atlantis gets him in the torture rack for the win.
Fun match with a lot of drama.