Joe's Lucha Libre Weekly: News & Opinions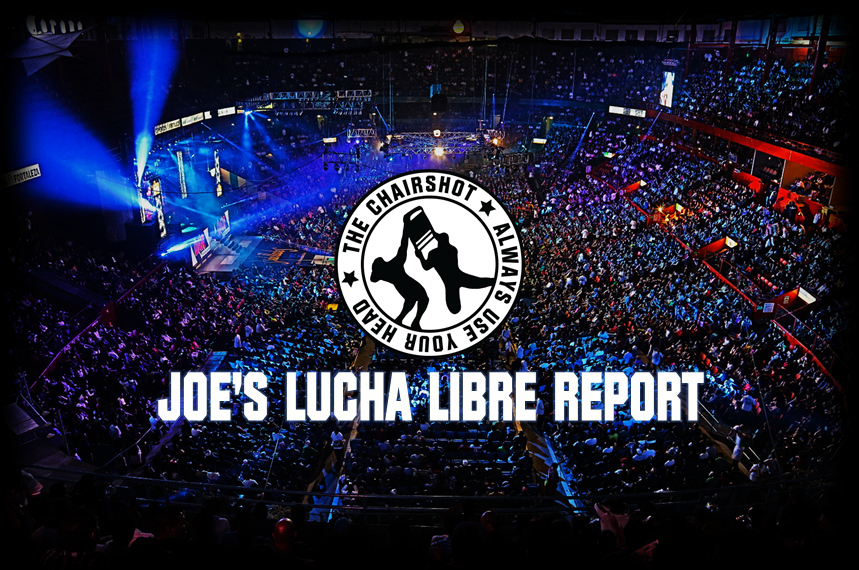 CMLL
CMLL Anniversary
We saw at the anniversary show, in predictable fashion, Rush and Cavernario defeat Volador and Matt Taven in the hair vs hair match. Everyone knew what the result would be which helped kill intrigue in the match because as discussed before, if CMLL was willing to hair Rush lose his hair it would be against LA Park and if he were to lose it against anybody else it wouldn't make sense. So Volador and Taven lost 2 falls to 1 and at the end of the match, as a way to weasel out of it Taven turned on Volador as if it was his plan all along but they weren't going to stand for it. I wonder how much Taven had his head shaved, I suppose we shall see on the next Ring of Honor live event. The show was pretty close to a sell out containing 16,000 fans.
The Co-main event saw Pentagon, Fenix, and Diamante Azul defeating LA Park, his son, and Caristico 2 falls to 1 in what was a very good match. LA Park, for a man who is very large in his older age can still put on some very good matches and held his own in their with the much young Fenix and Pentagon and the always entertaining Caristico. The match before that which was the Kaos Klan vs Los Guerrero's for the trios title. This wasn't in technical terms a very good match, but it had heat on it. One of the issues was the finish was a complete let down and out of nowhere. Not in a good way either, sometimes out of nowhere finishes are good if they're done during hot moments, but this one was just a standard pin with feet on the ropes.
CMLL Friday Show/Future
The top three matches for this show will feature a rematch with Kaos Klan and Los Guerrero's. This is the third time this match is happening in a short span so I wonder if they will have Los Guerrero's win here after potentially swerving the fans at the Anniversary show. It was a weak finish and wasn't a good match so I have to imagine that they're going to put forth a better performance this time. However, a lot of the men involved are much older and broken down so they need the pomp and circumstances more. We also have a lightning round match between Mistico and Negro Casas so that should be something. They must be going for a program with them.
In the main event we have, Atlantis, King Fenix, and Diamante Azul vs Rush, Cavernario, and El Terrible. I wonder if my theory about building a program with Rush and Atlantis for next year starts and if maybe they move towards Fenix and Cavernario. I can only imagine how good those singles matches would be. LA Park worked the Arena Puebla show with Rush in the match. This was a very good match, perhaps an anniversary show standard.
There was a lot of instances in the match where Park and Rush had a show down one on one in the ring. It was a very long match and very good. Rush won with a low blow and Park then cut a promo after the match challenging him hair vs mask again to which CMLL cut his mic. But it magically turned on when Rush got the mic. Park was upset and left. They are promoting LA Park and Hijo Del LA Park vs Rush and Cavernario next week for the Monday Puebla show. So it looks like they're going back to this well for financial purposes, who knows if the hair vs mask match will ever happen.
AAA
AAA has announced their big October Show, the Antonio Pena tribute show, and it has a pretty big card, with the main event being Jeff Jarrett vs Dr. Wagner Jr in a hair vs hair match. I'm almost positive Jarrett is losing that match especially if they're building towards Park vs Wagner at the next Triplemania. Wagner is gonna need to have more hair grown out to make it a viable match on paper. He doesn't have much hair so why would the fans buy his hair vs the value of Park's mask? I feel like there'd be so much more intrigue with Psycho Clown vs Park mask vs mask, but it all depends on when and who Park wants to lose to. Everyone seems to agree that it has to be to Rush whenever the time is.
Also on that card which we'll preview more in the coming weeks, Park will team with Psycho Clown against Murder Clown and Kevin Kross. So something is going to have to happen in the coming weeks that pairs Kross with Murder Clown because they were just attacking each other during the last encounter with Wagner and Jeff Jarrett. A three way tag match for the tag titles will happen and Bandido and Flamita will actually get their chance. There was rumblings wondering if AAA would remember the stipulation on the Triplemania show. There's also a four way match for the women's title. More info in the coming weeks as the card gets built on the TV tapings.
AAA on Twitch 9/21
We will have a women's match to start the show, which seems to be typical featuring, Keyra, Lady Maravilla, and Starfire vs Faby Apache, La Hiedra, and Lady Shani. We get a six man tag team match next which will be action packed featuring, Emperador Azteca, Demus, and Ciclon Ramierz vs Aerostar, Argenis, and Nino Hamburguesa. The next match is a three way tag match between Texano Jr and Escorpion vs Maximo and Mamba vs El Hijo De Dr. Wagner Jr and Golden Magic.
The co-main event is another six man tag between, Laredo Kid, Tayrys, and Hijo Del LA Park vs La Parka, Pagano, and Joe Lider. Any match with Joe Lider and Pagano is bound to be crazy. The main event sees LA Park teaming with Electro Shock vs Psycho Clown and El Hijo Del Fantasma. The theme of this show is Lucha Libre Elite vs AAA. They're playing up an invasion storyline. They have another show on September 30th but I will preview that one next week.
Joe's Lucha Libre Weekly: News & Analysis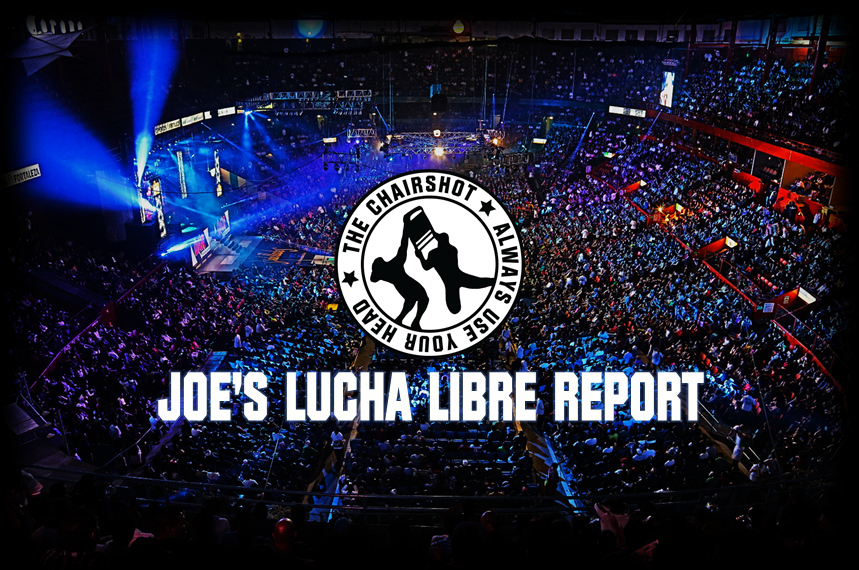 As the year winds down, we see all of our favorite companies setting up for 2019. Joe will give us a nice snapshot of where some of our favorite Luchadors are headed, down the home stretch of 2018.
CMLL
Arena Mexico Last Friday
Volador Jr and Ultimo Guerrero wrestled in the main event in a rare singles match with nothing on the line. It was a really good match that saw Volador winning. That's interesting and since he pinned the heavyweight champion, I wonder if that's a program that look for. Volador doesn't seem to be any less over since losing his hair so why not keep booking him strong? When he grows his hair back fully it could help a younger talent get over again. He's clearly talented enough to stay over. Atlantis, El Valiente, and Diamante Azul took on Rush, El Terrible, and La Bestia del Ring. This was a DQ finish which saw the former winning. It's typical for a Los Ingobernables match. There wasn't much else important on the show. It wasn't a huge show and only drew 6,000 fans. Looks like they're back to the pre LA Park numbers.
Arena Puebla Monday
The main event of this show was Volador against El Terrible. He challenged him on a previous show to a singles match because he's tired of the way Los Ingobernables acts during their matches. He won the match in a match that wasn't very good and featured a lot of posturing. The third fall was okay but it was really slow moving. Caristico, Angel de Oro, and Niebla Roja faced Cavernario, Hechicero, and Rey Bucanero. This was a really fun match. Caristico, Oro, and Roja have good chemistry together. They ended up winning the match in three falls.
Arena Mexico Tuesday
Atlantis, Diamante Azul, and Stuka faced Cavernario, El Terrible, and Euforia in the main event. It was an okay match. Atlantis was moving decently in this match. The former won the match when Atlantis got Cavernario in a torture rack. The co main event featured, Blue Panther, Blue Panther Jr, and Black Panther facing off against Mephisto, Luciferno, and Rey Bucanero. This also wasn't a bad match. Blue Panther can still go at a reasonably high rate for a man who is almost 60. He did two middle rope dives. But the latter team won with an elaborate submission, as Mexico is known for.
Arena Mexico Friday Preview
The main event for this show is Caristico, Volador Jr, and El Valiente vs Ultimo Guerrero, Sanson, and Cuatrero. An interesting pairing for the latter team. Also interesting to know that Rush will be on MLW live on Friday interest of being in Mexico.  The co main event is Angel de Oro, Niebla Roja, and Flyer vs Shocker, El Terrible, and Rey Bucanero. Sounds like a fun match up. There is a lightning match between Soberano Jr and Forastero. That should also be a fun match.
AAA
AAA had a show. Yeah, that had a show. Moose returned to AAA which is cool, I like Moose. Dr. Wagner, Psycho Clown, and Pagano faced Moose, Blue Demon Jr, and Rey Escorpion in the main event. It was a brawl like match where Pagano unceremoniously pinned Moose in the main event. The OGTs faced Porde de Norte in the co main event in which was a fun match. Aerostar faces Monster Clown in a strap match and he won. It was somewhat brutal but not as crazy as I've seen in AAA. It was pretty much a nothing show.
They have a show on Christmas. Branded as the AAA vs Elite. Elite being a dead brand they resurrected just for storyline reasons. I'm not watching that live probably because I'm not an animal. Psycho Clown, La Parka, and Pagano will face Electro Shock, Taurus, and Rey Escorpion in the main event. The co main event sees Averno, Chessman, and Super Fly face Australian Suicide, Golden Magic, and Jack Evans. Hijo Del Vikingo, Luchador Sorpersa, and Halcon 78 Jr face Emperador Azteca, Samoano, and Tonga. Faby Apache and Lady Shani face Lady Maravilla and Keyra. Chicano, Vanilla, and Villano III Jr face Chica Tormenta, Demus, and Toxin. Then there's a minis match.
Joe's Lucha Libre Weekly: News & Analysis (12/9/10)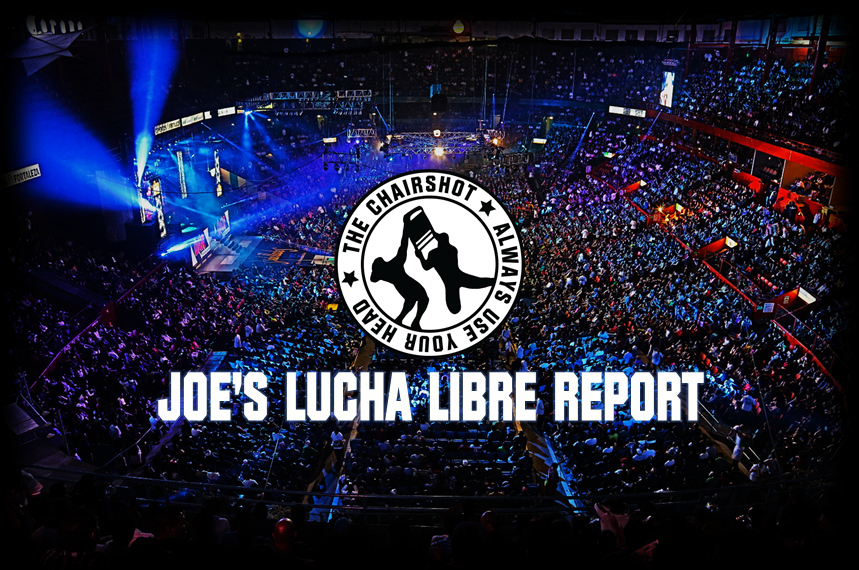 What happened in CMLL, AAA, and the world of Lucha Libre this week? Joe Dinan has you covered!
CMLL
Last Friday Arena Mexico
So this was the Legends of Mexico show or Leyenda de Mexicana. The main event was a legends match which… wasn't exactly good. It's fun to see legends in the ring, and that's why the fans were there but judging from a match point of view they couldn't really move well. The match included Rayo de Jalisco, Atlantis, and Blue Panther vs Mascara Ano 2000, Canek, and Villano IV. In fairness Blue Panther can still move really well for his age. Rayo, Blue Panther, and Atlantis won the match. There was a 6 man tag titles match between Los Guerrero's facing Sanson, Cuatrero, and Forastero. Los Guerrero's retained their titles. Mano Negra, Solar, and Felino faced off against Fuerza Guerrera, Jerry Estrada who hasn't been in Arena Mexico for 25 years, and Negro Navarro. That match was okay.
Arena Puebla Monday Show
The main event saw Rush and Terrible facing Volador and Diamante Azul. Volador and Azul won the match and at the end Terrible wanted to face Volador in a match. That'll happen in the future I assume. Co Main event saw Atlantis, Soberano, and Valiente facing Felino, Bucanero, and Cavernario. It was a fun match with the latter winning.
Arena Mexico Tuesday Show
The main event of this show saw Sanson, Cuatrero, and Forastero facing Atlantis, Angel de Oro, and Niebla Roja. This was a fun match which saw the latter winning. I feel like they're setting up an Atlantis match with Sanson out of this. Titan, Triton, and Esfinge faced off against Mephisto, Luciferno, and Ephesto. It was a really fun match with Mephisto, Luciferno, and Ephesto winning. Misterioso defeated Black Panther in a lightning match as well.
Arena Mexico Friday
The card this Friday sees the main event being Volador Jr facing Ultimo Guerrero in a singles match. It doesn't appear that the heavyweight championship is on the line. Atlantis, Valiente, and Azul face Rush, Terrible, and Cavernario in the co main event. This really isn't that big or important of a show based off the match card. I don't expect the attendance to be over 10,000 this week.
AAA
AAA was live on Twitch on December 2nd. Every title was on the line but the story during the show was Brian Cage sent in a video message with Melissa Santos explaining in Spanish that he had a ton of injuries and couldn't make it to the show. I think that was just to save face since Fenix also couldn't wrestle because Cage just worked a match on Wednesday. Fenix comes out to cut a promo and explain things. The fans boo him because AAA stupidly kept promoting the match knowing for 9 days that Fenix wasn't going to wrestle. He even mentioned it on their Lucha Capital show on Facebook the previous Wednesday. The false advertisement and use of card subject to change to trick the fans is bullshit. Subject to change means the card changes if an injury or last minute thing happens. It's not a free pass to advertise matches you know you're never going to do. Anyway on to the card.
Lady Shani won the title in the first match. Keyra was supposed to be in the match to make it a 5 way but she was at a WWE try out in Chile. So it was a four way and Scarlett Bordeaux left the match mid way through. So Shani won the match after Faby had a spat with the ref. The next match built on the angle of Mascara and Maximo. Mascara and his team win the match further continuing the feud. There's talks of Maximo and Mascara being in a hair vs hair match.
Laredo Kid, Hijo Del Vikingo, and Angelikal who is now called Myzteziz Jr, as AAA La Parka pronounced him earlier in the show (Have fun typing Myzteziz.), faced Porde de Norte for the 6 man tag titles. The story going in here was the former team beat Porde de Norte 3 straight times so conventional thinking is they won't win this match, but they actually did, crowning new champs. There was an impromptu match afterwards where Vikingo was taken out by the OGTs and La Parka replaced him. They still beat the OGTs, later we learned this match was because there was no Fenix vs Cage match.
Pagano and Joe Lider faced Ciclope and Miedo Extremo and Texano and Rey Escorpion for the tag titles in a hardcore match. It wasn't as hardcore as the previous matches but it was still pretty hardcore. Texano and Rey retain their titles. Fantasma faced Drago to defend his Latin American championship. The story of the match was Fantasma was dominating and Drago just kept kicking out and Drago basically rolled him up for the win. As said before Cage and Fenix didn't wrestle.
The main event was between Blue Demon Jr and Killer Kross facing Dr. Wagner Jr and Psycho Clown. Scarlett came out with Kross to distract. Vampiro came out to stop her but Kross kills him. Kross and Blue Demon ended up winning and Scarlett was hitting Wagner after the match. You know she's going to get hers soon. Better not show anyone in the United States. They'll complain to Roshfrans.
AAA on Twitch 12/8
There's a show on the 8th which isn't much of a star driven show. The main event features Dr. Wagner Jr, Psycho Clown, and Pagano facing Blue Demon Jr, Killer Kross, and Rey Escorpion. I'm sure Scarlett Bordeaux will be by ring side for that. The Co-Main event sees the OGTs facing Porde de Norte. That's Averno, Chessman, and Super Fly vs Mocho Cota Jr, Carta Brava Jr, and Tito Santana. Aerostar will face Monster Clown in a special singles match. Laredo Kid, Hijo Del Vikingo and a luchador surprise who might just be Myzteziz Jr will face Taurus, Australian Suicide, and Jack Evans.