Joe's Lucha Libre Weekly: News & Opinions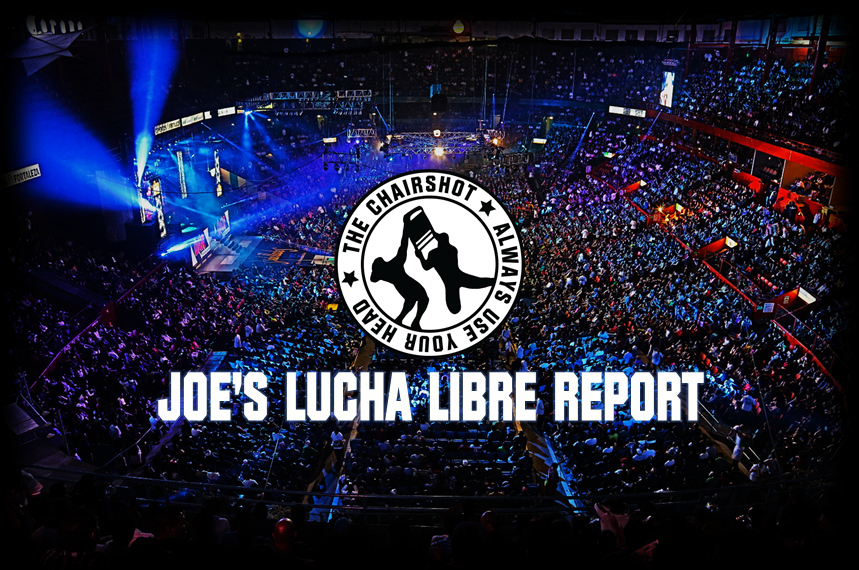 Here & There
MLW
Somewhat big news earlier today on Twitter and as reported by this site. Court Bauer has said that he has "Moved heaven and earth" to keep Pentagon and Fenix through 2019. So that means independent and Mexican fans can breathe a sigh of relief as for 15 more months Pentagon and Fenix won't have to go to WWE, but I'm almost sure come 2020 they'll be there. Maybe by then they will have learned English better making their chances of succeeding in WWE much higher. Also happening sometime in the future will be the LA Park vs Pentagon Mexican Death Match in MLW. We don't know when the match will air but it'll clearly be within the next 3 weeks, I would guess this week but Court doesn't show his hand. Bauer also speaks about having a Chingon division centered around Park. I would suspect that means some kind of hardcore division.
AAA in Impact
Impact held their tapings out of Mexico this past week. For some reason they had one taping line up with the CMLL anniversary show so there's a chance Fenix and Pentagon won't be on some episodes. Luckily it'll only be two episodes based off when Bound for Glory and it's tapings are. Some notables that I read about (trying to avoid spoilers, terrible journalism by me) was AAA's La Parka, I recently wondered if LA Park would show up but i guess he didn't. Faby Apache, whom has spoke about bringing the Knockout's title to Mexico so I figure she'll be a cog in the show in the future. Hijo Del Vikingo who I heard had a stellar performance and Texano Jr who is challenging for the Impact Heavyweight Title this Thursday on television. I'm sure there will be more and they got (Post attendance numbers when I get them)
Power Rankings
Some weeks I will do a Lucha Libre Match of the week, but sometimes I'll do power rankings, and other times I will wonder about somethings, like my Mil Mascaras question about how much money his mask would be worth. But I will do power rankings for CMLL and AAA.
CMLL:
Rush
Barbaro Cavernario
Pentagon Jr
LA Park
Fenix
Now I didn't put LA Park first or second here because he's fallen down the card a bit since he stopped working his feud with Rush. Though based off the last Puebla show they might be teasing it again, but other than that he's kind of just an attraction there, but when he's on the card the attendance numbers go up. His direction isn't the clearest just yet though. Rush and Cavernario are self explanatory, they just won the main event of the anniversary show. Fenix and Pentagon I put them here because attendance also rises with them and their seems to be more direction with them. Which makes sense because they're younger. Pentagon, I feel is a bit more over than Fenix and having that catchy Cero Miedo catch phrase helps. It's no secret that the outsiders, Park, Penta, Fenix, Cibernetico (Ciber the Main Man), El Zorro (The Chris), and Charly Manson (Scharly Rockstar), have immensely helped their business.
AAA:
Dr. Wagner Jr
LA Park
El Hijo Del Fantasma
Psycho Clown
Texano Jr
Dr. Wagner is one of their biggest stars but he's having one bloody feud with Jeff Jarrett and the rest of MAD. He will face Jeff in the main event of the Antonio Pena Memorial show in a hair vs hair match and that right now is the main storyline on the program. LA Park is being positioned as a top guy in AAA, having on and off feuds with both Psycho Clown and Fantasma. He is being kept strong because they plan for him to face Wagner in the main event of Triplemania next year. Whether that happens or not is anyone's guess.
I put Fantasma third because losing his mask hasn't hurt him at all because he's very handsome and has so much nice hair. He's trying to get revenge against Park for losing his mask and I think it's keeping him over. Psycho Clown being fourth is because he's their biggest consistent star. He's always in the main events and he's always front and center, though he feels less important as of late. Texano Jr is 5th for me because he's feud with Maximo along with La Mascara and Rey Escorpion is getting him and them over as huge pieces of garbage and I believe it'll help him in the long run. We'll see how he impresses this week on Impact, and at the AAA tapings.
Rey Mysterio
PWInsider reports that Mysterio has signed a 2 year deal with WWE with an out after 18 months. He'll be worked back into WWE whenever they find a story for him. I wonder if he debuts at the Australia Show, he was after all being tentatively advertised for that show when it was first announced.