Levin's SmackDown Live Review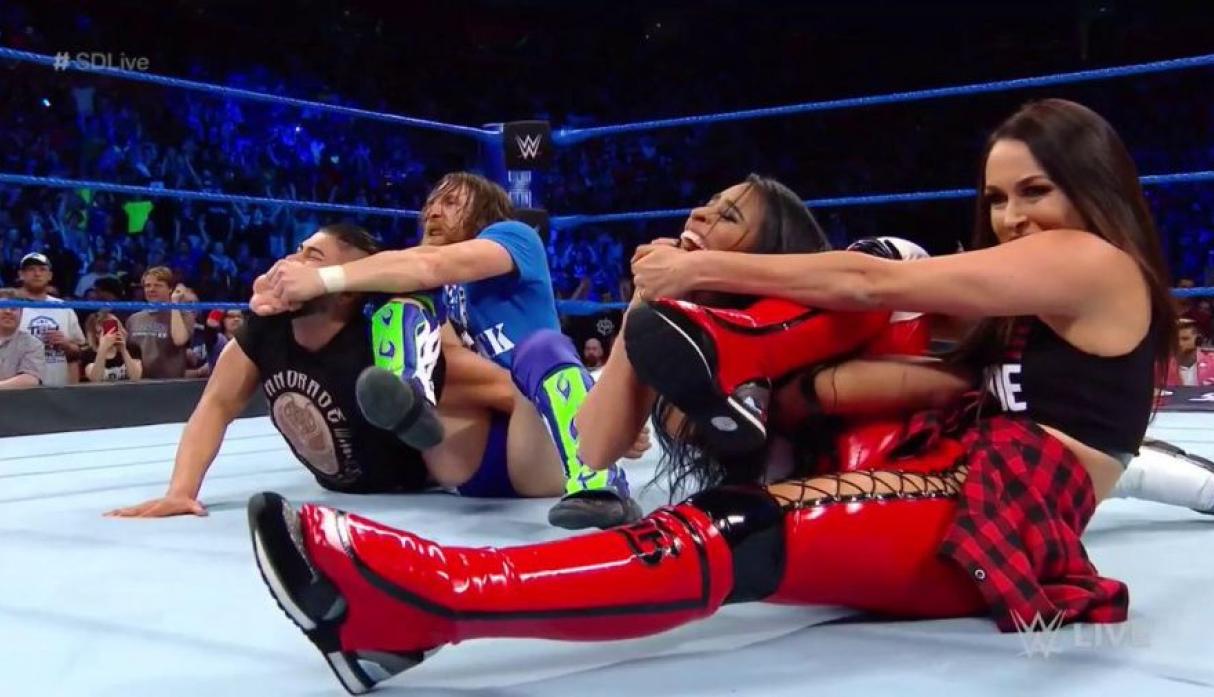 After finally getting to see SmackDown Live in its entirety (thanks, Mom) because some cable companies just aren't worth the money you pay for them and take hostage of your internet as well, I must say the Daniel Bryan family runs Tuesday nights.
That's a blessing and a curse in one sentence.
After seeing WWE's power couple take care of business, furthering the storyline of their upcoming match with The Miz and Maryse at Hell in a Cell, the company has convinced me there is no other way to say it – this should be a good match at the pay-per-view. Daniel Bryan and Brie Bella showed they can dominate a situation when they have to.
It also should be a one-time deal with a third and deciding match at Super Show-Down that hopefully means the former three-time WWE champion finally exacts revenge on his arch nemesis.
WWE is doing the right thing in prolonging the storyline a bit, but a singles match between two of the best competitors in the business would have been just fine. Like other bloggers who have taken to social media to talk about the impending match, I am OK with this kind of angle because it enhances the chance for subplots.
I do, however, want to know why Brie is doing double duty on both Monday and Tuesday nights and does this mean she becomes the "free agent" much like John Cena had been portrayed to be? Scratch that no one is as big time as Capt. Jorts, himself. What was I thinking?
While I usually talk about other matches on the show in the order in which they were received, I have to add to close out this segment that adding R-Truth to the mix was a bit over the top (I can't believe I just wrote that about a match with The Miz). That angle needs a quick and painful death. While the two former Awesome Truth teammates put on a good show, it shouldn't have come at a time when promoting a pay-per-view is so important.
The "disruption" that led to Truth getting the win will now become a side note and nothing more. R-Truth used to be a solid performer and a borderline main event star years ago. Now, it's just part of the cartoonish sideshow WWE likes to add to weekly programming.
Daniel Bryan and Andrade "Cien" Almas
When is WWE going to do the right thing and take the former NXT star and place him in the main event picture? Almas has lost to WWE's top echelon of talent of late and still hasn't moved from a storyline where he should be winning matches, taking names and kicking ass.
I like the connection between him and Zelina Vega, but at some point, the company must push him toward the top and a potential WWE Title run.
Naomi vs. Peyton Royce
Another one of those old angles. Naomi was once a world champion, now she is part of the minutiae of the befuddled women's division. Royce continues to show promise in the ring. I like the idea of Asuka finally re-entering the scene, but she too has fallen from grace. Yes, Becky and Charlotte are the stars of this division. Everyone else is living in their world.
Next, please.
A.J. Styles Destroys Samoa Joe
I wanted to see a series of matches between two former TNA rivals. Now, I have gotten a scenario that is borderline upsetting.
Styles, the current WWE Champion, and Joe had a chance to give fans a better show than the Styles-Nakamura confrontation. It's personal angle makes it a hot-button match and Styles shows more aggression, which I do not mind.
But when can we get back to wrestling and a little less family involvement?
I hope the match at Hell in a Cell is as brutal as the previews have been.
Rusev Day beats The Usos and SAnity
I like the fact WWE has decided to move away from the Usos slightly in the tag team division. I don't like The New Day holds the Tuesday night belts.
Rusev Day appears to have made amends and will challenge for the straps, embarking on a new storyline. Rusev has fallen far from his recent title match with Styles. He has been booked poorly and the angle with Lana (you can never have too much Lana on television) is worrisome to me.
Will Rusev ever become a world champion? Will Aiden English ever be taken seriously? Something has to give.