Mathew's Stardom 5 Star Grand Prix Blue Stars Results & Review: Day 5 & 6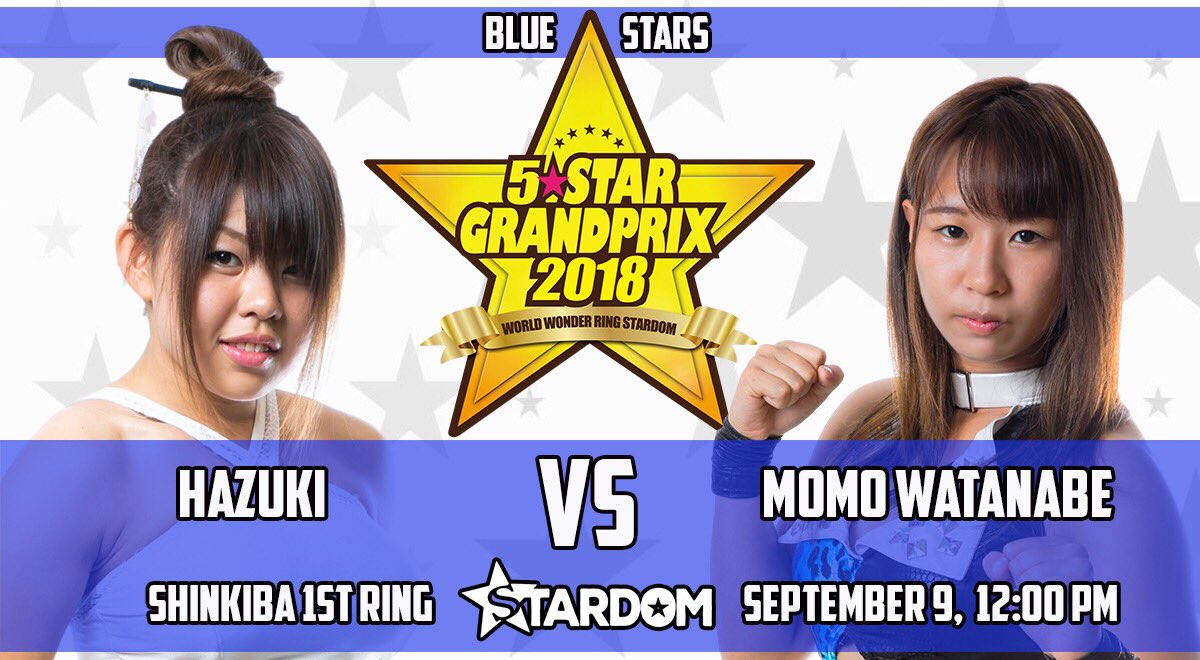 We're back at Stardom as we have two days worth a shows to be covered since they had three matches each and plenty to give you all a full article, unlike the last show.
I know this is technically day 6 and 7 if we're going by the actual schedule but that's they considered the noon and night show as two separate show days instead of just one, so I'm going by the actual day instead of the tournament day if that makes sense. Anyway, we got some big matches for these two days and things are starting to shape up as possible chances of winning.
So let us…dive right in.
9/8/2018
Grand Prix Blue Stars Match
Hazuki vs. Jamie Hayter
Review: So Hazuki suffered her first loss at the previous show due to Nicole Savoy robbing her of her undefeated streak and now she looks to get back into the race with her Hazukistral as her next opponent is Jamie Hayter who has an even record right now. Jamie is looking to win both shows this weekend to help put her into the lead, can she do it or will Hazuki bounce back?
Sumire, what're you doing with AZM's stolen mask? Anyway, a nice and slow build-up of a match with Jamie at the beginning mocking Hazuki's height with the test of strength and moving her arm a bit higher due to the fact that Hazuki is a bit shorter than her and she even wiped her hand on Hazuki's leg for good measure, but Hazuki had enough and stomped on her foot to get some offense into the match. Jamie looked good in this match too and even gotten creative with her arsenal when it looked like she was gonna do a Falcon Arrow and instead dropped her down to do a Lungblower instead as Hazuki was still able to kick out of it. Hazuki did her Springboard Dropkick and covered her for a two but turned it around into the Crossface and was unable to make her tap out. Hazuki went for the Atomic Bombs Away aa Jamie moved out of the way and Hazuki was able to pull off the Hazukistral once again to give herself another victory.
Rating: Tony Schiavone and a half
Grand Prix Blue Stars Match
Mayu Iwatani vs. Nicole Savoy
Review: Right now, Nicole has a good lead in the top spot since she's now tied with both Hazuki and Momo Watanabe but she could be in first place if she defeats her next opponent, Mayu Iwatani. Mayu had a rough start in the tournament and has picked up back to back wins at the previous shows to help her catch up a little bit and now she has a chance to stay in the race and tie with the others if she does somehow win here against her. Can Mayu get a third win in a row or will Nicole kick her down to become first place?
Some people do seem to forget that Mayu's elbow is still in some bad shape when she injured it last year, but not Nicole as she actually works on the injured body part during the match with her submissions and that's smart of her to do that since you always wanna exploit their weakness to help you secure your chances for a victory over your opponent. This match was nice and technical as I keep on getting more impressed with Nicole Savoy here compared to Jamie and Kelly when it comes to the gaijins on my block, I like all three of them but Nicole so far has impressed me more than the other two. Mayu still selling amazingly while still holding out her own against Nicole here to give us a solid bout here between the two with nothing too major for them to do in the match either, and sometimes you don't really need to do anything flashy to have a good match and these girls show that here. Nicole attempts to go for a German Suplex until Mayu fights out of it to roll her up for a two count, but Mayu quickly rolled her up again in a Crucifix position to get the three count this time around!
Rating: Eric Bischoff and a half
Grand Prix Blue Stars Match
Momo Watanabe vs. Saki Kashima
Review: So the last time they fought was on the August 12th show when it was for the Wonder of Stardom Championship and Momo was able to retain her title against Saki in a great bout. Now they must fight again during the tournament so try to advance and Saki isn't in a great position right now and is probably close to being eliminated or going to be if she loses to Momo again. Can Momo make lightning strike twice or will Saki pull off another upset like when she defeated Mayu?
Gonna be honest, part of the match felt a little bit underwhelming, I mean it was good but compared to their title match about a month ago, it was a little bit disappointing. My big problem with the match is that I felt like they were out of sync during certain spots and most of the strikes they did weren't fully connecting at the same time either and it did hurt the match quite a bit in my opinion. Now that I got the nitpicking out of the way, Momo despite the issues with the match was still dominating and controlling most of the match to keep looking strong. Saki still had good agility and would find ways to counter most of Momo's big moves when she would need to so she could outsmart her. Momo would hit her Tequila Sunrise on Saki and instead of going for the pin, she would go to do another Tequila Sunrise but Saki would duck down to roll her up for a two count. Saki would roll Momo up from behind one more time and would get the three count for another surprise win! Now that Saki was able to beat Momo again, do you think she would get another rematch for the Wonder of Stardom Championship once the tournament is over? Could be very well likely, but we'll see.
Rating: Eric Bischoff
9/9/2018
I was supposed to have a match here between Saki Kashima and Natsu Sumire, but we found out that Saki got hurt and was unable to compete meaning Sumire would get the bye victory over Saki and that pretty much sealed her fate of being eliminated, Sumire most likely also at this case.
Grand Prix Blue Stars Match
Kelly Klein vs. Jamie Hayter
Review: Now that we had one match canceled, the first one for the blue stars block is Kelly Klein making her return and taking on Jamie Hayter, who hasn't had a great run herself and would need to beat Kelly somehow or she'll be considered eliminated mathematically. Kelly is in a decent spot since she has about three matches left to do and could be in an okay position if she wins this one here. Can Jamie hold on for much longer or will Kelly overpower her?
Kelly keeps on impressing me whenever I see her performing here in Stardom and this match is no different here as she gives us another solid performance against Jamie here. Jamie despite her losing the majority of her matches, has still been performing well in her matches and has been an enjoyable part of the roster that I hope to see her in more tours when available. For what they had to work with here, they gave us a solid bout that was short, sweet, and to the point which is probably for the best for this match. Kelly is just too powerful and just likes to throw Jamie around as if she was nothing while Jamie used her technical ability to give Kelly a run for her money also. Despite Jamie trying her best to take down Kelly, she failed to do so when Kelly hits her Fireman's Carry Slam and picks her up to knee her in the face to double tap Jamie for good measure as she picked up the win and Jamie is eliminated.
Rating: Eric Bischoff
Grand Prix Blue Stars Match
Hazuki vs. Momo Watanabe
Review: Our main event of the evening is here with Momo Watanabe taking on her rival, Hazuki. The last time these two fought in July, Momo defeated Hazuki in a great match to retain the Wonder of Stardom Championship and it left room to show that these two would cross paths once again, and that rematch happens to be today. Both of these women are at the top of their blocks and a victory here for either of these women would put them in first place and in a strong position. Can Momo win twice in a row or will Hazuki redeem herself here?
Wow, that's really all I can say about this match. Joking aside, both of these women brought their A-game here tonight and just their intensity alone was enough to carry over the story in this match since they pretty much tried to kill each other any chance they get. Momo was more vicious than usual in this match, mostly due to the fact that she was fighting Hazuki in this match and it felt like she still had something to prove to her since both of them are young and future stars of the company, maybe Hazuki had more to prove due to her being overlooked when they were together in Queen's Quest. All the kicks, Dropkicks, high impact moves, you could just feel everything from how they delivered their moves and just how into it they were. Hazuki was able to hit her Atomic Bombs Away and it looks like this could be over, but Momo surprisingly kicked out of the move, what a match! Hazuki started getting desperate and Momo was able to turn it around to hit the Tequila Sunrise, but the bell would ring soon as the referee started counting, meaning it was a draw due to the fifteen-minute time limit expiring.
After the match, Hazuki would grab the microphone first and told Momo that they're both tied with seven points each but it didn't matter since she still has a flatter stomach than her. Momo would tell her the only reason she cares about her stomach is that she can't beat her for the belt. Hazuki told Momo that she didn't win either and she should start looking like a champion, but also reminds her that she only has one match left while Hazuki has two left meaning she could surpass her if she wins both bouts. This feud is becoming more interesting and is probably gonna be in my top feuds list for the year if they keep this up.
Rating: Bruce Prichard
Overall: Some of the matches were decent at best and we at least had a great main event during the second show to end this article. Some people have about one to two matches left and right now we're starting to see who are our possible people to win the whole thing. Right now, our only possible winners here are down to Momo Watanabe, Hazuki, Nicole Savoy, Kelly Klein, and Mayu Iwatani. So their next set of matches would give us a clear direction as some of them could be eliminated depending on who they fight.
Favorite Match: Hazuki vs. Momo Watanabe
Least Favorite Match: Hazuki vs. Jamie Hayter
Score: 7.5/10
Blue Stars Standings:
Momo Watanabe: 3-2-1 (7 Points)
Hazuki: 3-1-1 (7 Points)
Nicole Savoy: 3-3 (6 Points)
Mayu Iwatani: 3-2 (6 Points)
Kelly Klein: 3-2 (6 Points)
Jamie Hayter: 2-4 (4 Points)
Saki Kashima: 2-4 (2 Points)
Natsu Sumire: 2-3 (4 Points)
Andrew's AJPW Champion Carnival 2019 A Block Ratings & Analysis: Part 4
A Block and Andrew bring out Part 4! Top 3 competitors are only separated by 2 points. How does the Champion Carnival start to take shape?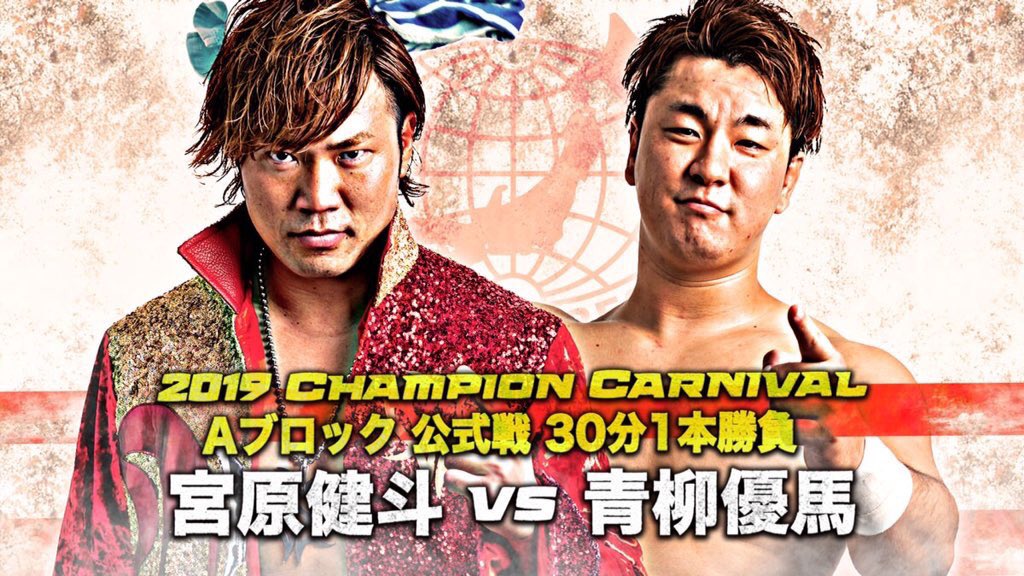 A Block and Andrew bring out Part 4! Top 3 competitors are only separated by 2 points. How does the Champion Carnival start to take shape?
Welcome to Part 4 of the Champion Carnival A Block! Shuji, Zeus and Ryoji are currently in the drivers seat, but with Okabayashi with only 2 matches completed…he could be a big spoiler.
This will cover matches on 4/15 – 4/16 – 4/17.
Ratings:
Dylan James vs Yuma Aoyagi: Dylan wins via Chokeslam @5:00 – **
Zeus vs Atsushi Aoki: Zeus wins via Jackhammer @10:45 – *** 1/4
Yuji Okabayashi vs Gianni Valletta: Valletta wins via Chainwrapped Double Axehandle @9:05 – ***
Yuma Aoyagi vs Atsushi Aoki:Aoki wins via Rolling Cradle @10:00 – *** 1/2
Atsushi Aoki vs Ryoji Sai: Aoki wins via Rolling Cradle @8:35 – *** 1/4
Shuji Ishikawa vs Gianni Valletta: Valletta wins via Chainwrapped Double Axehandle @5:05 – *1/2
Kento Miyahara vs Yuma Aoyagi: Miyahara wins via Shutdown Suplex Hold @17:55 – ****
Analysis:
So…yeah…I got nothing. Yuma and Dylan was fine, but even with Yuma trying to get a jump at the bell, this was never overly competitive. Yuma got one shot with a Japanese Leg Clutch pin attempt, but it was never really close. So nothing bad, just nothing much.
Aoki is once again outmatched in size. Not so much height this time, but Zeus is a former bodybuilder and Aoki is a Junior Heavyweight, so the math isn't hard here. Zeus easily overpowers Aoki for most of the match until Aoki gets annoyed. Three or four of Aoki's chops get returned by one of Zeus' and Aoki drops. So he fires up, stomps on Zeus' foot and DDTs him. Aoki has decent flurries of offense, usually branching off of stepping on Zeus' foot. Only messy moment was a Crucifix Pin attempt that Aoki looked like he double clutched on so that made it odd, but it wasn't totally messed up. Solid match and Zeus had to pull out the Jackhammer, which he seemed like he was avoiding all match until he started getting annoyed with Aoki's resiliency. We end 4/15 with a big WASSHOI!
So the 4/16 matches of A Block start with the living crap basket himself, Gianni Valletta. Now I give him some points, the crowd started chanting for Okabayashi so he went to the outside and whipped his chain against the guardrail as a scare tactic. As for the match it was a brawl. Some time outside went back and forth, but the turning point was when the referee tried to stop Valletta from biting Okabayashi in the corner, and Okabayashi kicked him away, bumping the referee. So a low blow, followed the the chain that we should all know Valletta carries, and that equals the first win for that moron. It's a good upset, done in a way that keeps Okabayashi looking strong. But any points for Valletta will leave a bad taste in my mouth.
Finally, Aoki gets someone that's closer to his size and style.Yuma got a few wins so far, but Aoki finally has a believable match up. This doesn't disappoint. More Junior Heavyweight style, but Aoki kept focusing on Yuma's arm since he has a multitude of Arm submissions in his arsenal. Yuma nearly pulls off End Game, but Aoki gets to the rope. After some back and forth, Yuma has Aoki reeling, goes to meet him in the corner, and Aoki does that Forward Roll Cradle for a surprise pinfall. Not a surprise that Aoki finally won, surprise since Yuma had most of the momentum at that point.
The first of 3 matches for 4/17, sees Aoki with another winnable match up. Sai has a height advantage, but is not a particularly impressive physique, so the pace is actually fairly quick. Lots back and forth moments, even though Aoki was mostly fighting from beneath. The crowd always gets behind Aoki, so it's great to hear them pop hard for him. In a very similar way to his first victory, as soon as the match looks to be in Sai's favor, Aoki manages a rolling cradle for a surprise victory.
Well I think we're noticing a theme with Valletta's matches. They are usually started before the bell, involve outside shenanigans, and sloppy wrestling. Since he won this one, it followed suit with the Okabayashi match, with ref bump, low blow, chain. However, the general wrestling was just significantly worse. Shuji being a top contender for the Block, this really hurts. Could come back to bite him since Valletta would've been one of those matches you check off as a win ahead of time.
Aoyagi is the last remaining member of Nextream, but Miyahara being the champion…everyone's going to want to step it up. Aoyagi took his sweet time stepping it up though. Kento manhandled him and Yuma looked outclassed for a while. Yuma caught Miyahara in End Game, and that was the closest he was to really winning the match. Yuma managed to pull off his triple German Suplexes, but nothing really looked to point in Yuma's favor. He showed some fighting spirit, but Kento just outclassed him. Good match, but only one real hold your breath moment to suspend disbelief.
Overall Score: 7/10
Good couple of days! Honestly the only reason these upsets don't rank higher is because they seem like hollow upsets. By that I mean Valletta getting a few wins is just a tool to keep the standing closer, but he's got no chance in hell at winning this block.
As for A Block in general, we didn't really get a monumental shift. Zeus moved into first, Shuji is 1 point behind, Dylan James and Kento are 2 points behind. At this point, Aoyagi is eliminated because he only has 1 match left and Valletta is eliminated because Zeus beat Valletta, so even if Valletta were to win out…Zeus holds a tie breaker.
Everyone else is technically still alive, but Aoki is most likely dead in the water. Anyway! The next part should start making the finish a little clearer as we slowly get through the tournament.
Current Standings:
Zeus (4-2) – 8 Points
Shuji Ishikawa (3-2-1) – 7 Points
Dylan James (3-2) – 6 Points
Kento Miyahara (3-2) – 6 Points
Ryoji Sai (2-2-1) – 5 Point
Yuji Okabayashi (2-1) – 4 Points
Yuma Aoyagi (2-5) – 4 Points
Gianni Valletta (2-4) – 4 Points
Atsushi Aoki (2-3) – 4 Points
Mitchell's WWE 205 Live Results & Report! (4/23/19)
Drew Gulak wants to teach Humberto Carrillo a lesson!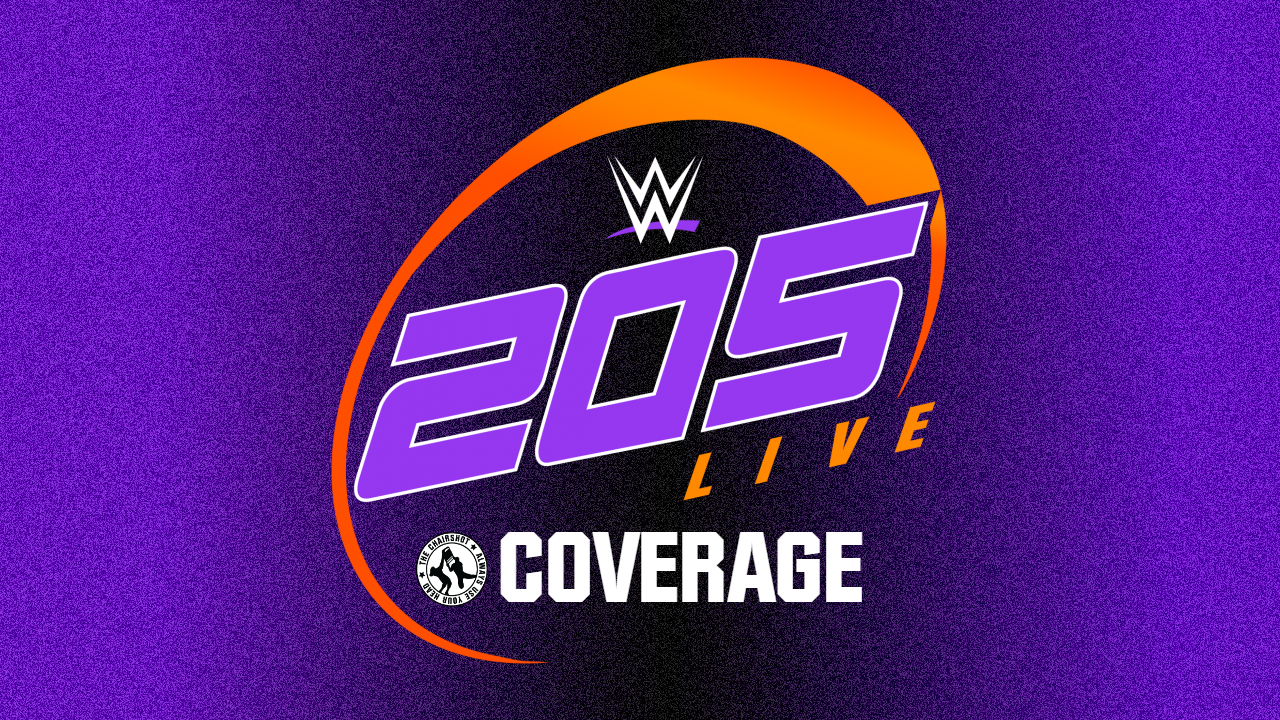 The Cruiserweight Crusader says class is in session! Will Drew Gulak force Humberto Carrillo to submit to the submission style of wrestling?
OFFICIAL RESULTS
Drew Gulak VS Humberto Carrillo; Carrillo wins.
WWE Cruiserweight Championship #1 Contender's Match: Oney Lorcan VS Ariya Daivari; Daivari wins and will challenge Tony Nese for the title.
PLAY BY PLAY
The Cruiserweight Crusader addresses the WWE Universe.
"Hello, my name is Drew Gulak." And these are strange times on 205 Live. It's alright if you're confused. Gulak's long time rival, Tony Nese, became Cruiserweight Champion against all odds at Wrestlemania. Cedric Alexander left for Raw while Buddy Murphy moved to SmackDown via the Superstar Shake-Up. But tonight, the Premier Athlete will learn who his first challenger is when Oney Lorcan and Ariya Daivari battle for the first time ever. No one could've predicted 205 Live's current state of affairs, but Gulak assures all his constituents that he will soon have that Cruiserweight Championship around his waist to finally bring about his Drewtopia. And that begins by taking his rebellious student to school and finally shows him that "when you step to me, you will tap out."
David Otunga joins 205 Live commentary!
While Nigel McGuinness trains superstars in the UK Performance Center, WWE's top lawyer joins Vic Joseph and Aiden English in calling the fastest action in sports entertainment!
Drew Gulak VS Humberto Carrillo!
The Philly Fury steps down from the podium after his State of Division Address to now address what he feels is a travesty in the state of Ultimo Ninja's young career. Will Gulak get Carrillo to stay safe and sound with feet on the ground? Or will Carrillo show Gulak there's more than one way to live on 205 Live?
As Gulak finishes his entrance, WWE shares Gentleman Jack Gallagher's Instagram message. "Salutations, 205 Live, ladies and fellow gentleman." Gallagher is on the sidelines given he needs to get some stitches in his moustache. Now fans are surely wondering why he gave Gulak a headbutt. As a gentleman, he must explain. It's all rather simple. What has Gulak done for Gallagher? Gallagher suspected Gulak was just furthering his own goals at the expense of Gallagher's. Gallagher was proven right when Gulak got Gallagher disqualified against Carrillo, so he made sure Gulak understood something. Gulak may not have valued Gallagher as a friend, but he will learn to respect him as an enemy. Gallagher will surely come back to settle his grudge with Gulak, but will Carrillo get his pound of flesh first?
Carrillo makes his entrance and we begin this fight of philosophies. Gulak circles with Carrillo and ties up. Gulak gets a headlock takedown and cover, TWO! Carrillo scrambles away to a corner but Gulak dares him to come back. Carrillo does and ties up with Gulak again. Gulak rolls Carrillo, TWO! Gulak is feeling himself as he taunts Carrillo. But he also tells fans to show respect when they boo and jeer. Carrillo and Gulak tie up again and Gulak gets a waistlock takedown. Carrillo slips out to a crucifix pin, TWO! But Carrillo suddenly gets La Majistrol, TWO! Gulak is frustrated, but he's caught in an Oklahoma Roll! TWO and Gulak realizes Carrillo does know how to mat wrestle like him. Gulak gets up and circles with Carrillo then ties up.
Gulak grabs Carrillo's hair and pulls him to ropes. He gives Carrillo a cheap shot then an uppercut! Gulak brings Carrillo up but Carrillo trips him up. Things speed up and Carrillo's agility allows him to headscissor and springboard arm-drag Gulak around! Carrillo also dropkicks Gulak out and then builds speed, but Gulak avoids the baseball slide. Gulak swings on Carrillo but he blocks to CHOP and use the apron to climb way up high! Carrillo waves hi but Gulak says he should come down. Carrillo dares him to join him up top but Gulak insists Carrillo come down. Gulak climbs up to get at Carrillo but Carrillo kicks him away. Carrillo hops down and speeds up to triangle enziguri Gulak down! Fans fire up as Carrillo handsprings to arm-drag Gulak off the mat! Cover, TWO!
Carrillo clamps on with a chinlock but Gulak endures. Gulak fights up and snapmares Carrillo off, but Carrillo handsprings through to SUPERKICK! Gulak is dazed but he still trips Carrillo's springboard up! Carrillo crashes to the mat and Gulak shakes out the cobwebs. Gulak gives springboard stomps with the bottom rope. Then he rains down rights before getting an armbar! Carrillo rolls to block but Gulak goes after fingers! Fans rally for Carrillo as he endures Gulak pulling at fingers. Carrillo gets the ropebreak but Gulak holds on until 4. Gulak stalks Carrillo to the corner but Carrillo fights back. Carrillo throws haymaker after haymaker, then runs, only for Gulak to tilt-o-whirl scoop. Carrillo lands out of it and ducks a clothesline, but Gulak wheelbarrows to a step-through! Gulak drops a leg on Carrillo's leg, and puts on an Indian Deathlock!
Carrillo endures as Gulak pushes on the legs. Carrillo keeps it from being a cover and he throws a BIG right! Gulak gets mad and gives a ground 'n' pound. Gulak makes it a cover, ONE, so Gulak stands with the deathlock on. Carrillo endures so Gulak clubs him down to a cover. TWO, but Gulak shifts to another cover, TWO! Gulak wraps on with a chinlock of his own, but Carrillo fights his way up. Gulak throws Carrillo down then drops an elbow, cover, TWO! But Gulak doesn't let up as he puts a deep leg hook on Carrillo. Fans rally for Carrillo but Gulak rocks back into a surfboard! And chinlock! Carrillo reaches and flails, then pries free, only to fall on his face. Gulak covers, TWO! Gulak drags Carrillo up and wraps on another chinlock.
Carrillo endures as Gulak grinds him into the mat. Carrillo reaches for ropes as fans build to another rally. He works his way up and fights out but Gulak suplexes. Carrillo lands on his feet and elbows Gulak away. Then he boots Gulak away, and runs to whip Gulak to a corner. Carrillo clotheslines and snapmares to quickly dropkick him down! Nebraska fires up with Carrillo as he somersault moonsaults! Cover, TWO! Gulak lives and scrambles to ropes, but Carrillo grits his teeth as he drags him up. Gulak reverses the whip but Carrillo handspring back elbows him down! Carrillo hurries to a corner and leaps for a crossbody! Cover, TWO! Carrillo grows frustrated but he has the fans on his side. Carrillo drags Gulak up but Gulak blocks the suplex.
Gulak throws hands and scoops Carrillo into the dragon sleeper! But Carrillo slips out and shoves. He leaps but Gulak sunset flips, TWO! Gulak fireman's carry to gutbuster drop! Ghost pin cover, TWO! Gulak grows frustrated now but he stalks Carrillo to ropes. Gulak drags Carrillo up but Carrillo blocks the whip. Carrillo lets Gulak's pull help give him momentum for a forearm! Carrillo then whips Gulak to a corner and runs in. Gulak puts Carrillo on the apron and hits Carrillo back. Carrillo blocks the buckle bump to give a roundhouse! Carrillo climbs up, leaps, missile dropkick! Cover, TWO! Gulak survives and Carrillo grits his teeth. Gulak grins at Carrillo's frustration as both men slowly sit up. Carrillo throws a forearm but Gulak gives it back. Carrillo hits again, so Gulak headbutts. The brawl continues back and forth as they stand up.
Gulak CHOPS then kicks, but Carrillo blocks to kick back! Both men stagger, Carrillo springboards to enziguri, but gets caught into an Ankle Lock! Carrillo rolls through to a cradle, TWO!! The Ankle Lock is on again! Gulak drags Carrillo around but Carrillo endures. Carrillo reaches for ropes, but turns to kick Gulak away! Gulak is down and fans fire up for Carrillo as he crawls to a corner. Fans rally up as Gulak stands. Gulak swipes blind but he finds Carrillo. Carrillo fights back but Gulak elbows and headbutts him down. Gulak hoists Carrillo up top and CHOPS him! Gulak climbs up and bends his own rules, but Carrillo resists the superplex. Carrillo fights Gulak back then SLAPS him down! Gulak staggers back up but Carrillo sunset flip powerbombs! Carrillo puts Gulak in the drop zone, headstand, AZTEC PRESS! Cover, Carrillo wins!!
Winner: Humberto Carrillo, by pinfall
It looks like the student has surpassed the teacher! Gulak thought he'd drag Carrillo down to his level but Carrillo soars higher than ever! Will this springboard Carrillo towards a future title opportunity? Will Gulak be able to rebound before Gallagher comes back for his own grudge match?
Oney Lorcan speaks.
"I have been training, competing and making sacrifices for over a decade, for one goal: Make it to the WWE and become a champion." There's one man between him and Tony Nese: Ariya Daivari. Daivari isn't like other Cruiserweights. He doesn't care about being flashy or technical. All he does is hit as hard as possible until there's only one man left standing. Luckily, that's the kind of fight Oney likes.
Ariya Daivari speaks.
"Ever since I got my priorities straight and focused on myself rather than those past flops I was propping up for the last year, I have been untouchable." Daivari is undefeated in 2019! And he plans to keep it that way. It doesn't matter if it's Lorcan, if it's Nese, or the entire 205 Live roster, nobody is keeping him from becoming the next Cruiserweight Champion.
Will the Privileged Persian Lion give Lorcan more fight than he can handle? Or will Lorcan take it all in stride as he looks to accomplish his goal?
Drake Maverick speaks with Mr. & Mrs. Kanellis, again.
The 205 Live GM feels like he's having the same conversation every single week. Maria has this inability to let Mike succeed on his own. Her interference in the Fatal 4 Way is inexcusable. THE Brian Kendrick walks over and hopes he's not interrupting. Maverick doesn't want any trouble, but Kendrick plays innocent. Why would he do something when Maria is the one constantly distracting Mike's opponents? Like when she cost Kendrick's good pal, Akira Tozawa, in that Fatal 4 Way. This isn't a vendetta. Kendrick just wants to talk. Tozawa can fight his own fights.
Maria says they can blame her all they want, but if Kendrick's looking for the reason his "meal ticket" lost, the two of them should look in the mirror. But maybe they're just too cowardly to do that. Kendrick just wanted to talk. Tozawa can fight for himself. Then why is Kendrick here? Right, he should get going. He was just a distraction, anyway. What? Akira Tozawa attacks Mike outta nowhere! The Stamina Monster find the right opportunity to attack the Opportunist, but Maverick reprimands him as security pulls him off Mike. But then Mike sucker punches Tozawa and Maria laughs at him. Maverick gets Mr. & Mrs. Kanellis to leave, but this fight is far from over.
WWE Cruiserweight Championship #1 Contender's Match: Oney Lorcan VS Ariya Daivari!
The Premier Era of 205 Live truly begins, and it's time to see who will step up to challenge Tony Nese now that Cedric Alexander and Buddy Murphy have moved on. Will it be the Boston Brawler of the Persian Lion that punches their ticket for a title match?
But before the match begins, the Cruiserweight Champion appears to watch this up close and personal. The bell rings and Lorcan focuses on Daivari and vice-versa.
Lorcan and Daivari tie up and push each other around. Lorcan puts Daivari in a corner but they continue along the ropes. The ref calls for a break and Lorcan honors it to let Daivari come out. Daivari circles with Lorcan and they tie up again. Lorcan wrenches to a hammerlock but Daivari slips through to hammerlock back. Daivari wants his hammerlock lariat already, but Lorcan gets clear! Lorcan and Daivari tie up again as fans cheer for "Oney! Oney!" Daivari gets the hammerlock again and again wants the lariat! But Lorcan gets clear and wants his Half 'n' Half! Daivari gets away and gets out of the ring. Lorcan stares Daivari down and dares him to get back in. Daivari takes his time as he eyes Nese. Daivari gets back in at the ref's count of 6 and circles with Lorcan again.
Lorcan headlocks but Daivari powers out to punch Lorcan in the back. Daivari wants a cobra clutch but Lorcan holds the ropes. The ref counts and Daivari lets go at 4. Lorcan comes back gets a headlock and takedown to a cover. ONE but Lorcan tries again, ONE. Daivari goes around but Lorcan holds on. They stand and Daivari tries to power out but Lorcan holds on. Daivari makes it a cover now, ONE! Lorcan squeezes tighter but Daivari keeps it from being a cover. They stand again and Daivari powers out. Lorcan runs Daivari over and covers, ONE, so Lorcan tackles him, ONE! Daivari kicks low and CHOPS Lorcan at the ropes! Lorcan staggers from the string but Daivari whips. Lorcan reverses and atomic drops Daivari. He gives Daivari another atomic drop, then a third! Daivari ends up flying out of the ring!
Fans fire up for Lorcan as he builds speed, but Daivari clobbers him out of the air! Lorcan tumbles down and the referee checks on him. Lorcan's okay to continue so Daivari takes his time getting him up and into the ring. Daivari stalks Lorcan to a corner and whips corner to corner. Lorcan hits buckles hard and falls over. Daivari stomps Lorcan out then fires up. Fans boo and jeer but Daivari goes back to Lorcan. Daivari drags Lorcan up to CHOP again. Lorcan seethes as Daivari gives more CHOPS. Daivari can't believe this, so he keeps trying the CHOP! Lorcan glares and CHOPS back! CHOP after CHOP and then Lorcan scoops. Daivari slips out to a spin Lorcan for an inverted DDT! Cover, TWO! Lorcan lives but Daivari keeps his cool.
Daivari glares at Nese but Nese shrugs it off. Daivari goes back to Lorcan to whip, but Lorcan elbows Daivari down! Lorcan clotheslines and whips back, but Daivari holds ropes. Lorcan runs over but Daivari dumps Lorcan out hard! Daivari fetches Lorcan to bounce him off the announce desk. Lorcan staggers around and Daivari grinds him into the timekeeper barrier. Daivari puts Lorcan in the ring at 8 and argues with the ref about that count. Daivari drags Lorcan up by his ears and bumps him off buckles. The Persian Lion CHOPS Lorcan and chokes him on the ropes in full view of Nese. Daivari stalks Lorcan and puts him in another corner. Daivari whips corner to corner but Lorcan reverses. Lorcan misses as Daivari goes up and over, and Daivari wants his Million Dollar Dream!
Lorcan flails to resist, but Daivari drags him down! Daivari goes for the body scissors but Lorcan keeps moving around. Fans rally and Lorcan gets a second wind! Lorcan sits up and drags Daivari with him for the ropebreak, but Daivari rolls him off! So Lorcan uses buckles to push back to a cover, TWO! Daivari frees Lorcan but clobbers him back down. Daivari stands and drags Lorcan up, but Lorcan suplexes him first! Lorcan grits his teeth and fans rally up behind him. Daivari crawls over and they both stand up. Lorcan throws big European Uppercuts! Lorcan whips but Daivari reverses, only to get a kick! And a CHOP! And a dropkick that sends him way out! Lorcan slingshots and splashes down! Fans fire up with Lorcan as he drags Daivari into the ring.
Lorcan becomes the Fury of 205 Live as he wants his Half 'n' Half, but Daivari elbows out. Daivari boots Lorcan then hops up to leap, into a EuroUpper! Lorcan runs to BLOCKBUSTER! Cover, TWO!! Daivari survives but Lorcan's rage builds! Lorcan glares and drags Daivari up in the half nelson. Daivari arm-drags out and SUPERKICKS! Million Dollar Dream! Daivari has Lorcan down and Lorcan flails around but he's stuck in the middle of the ring. Lorcan fades, but he comes back to life! Lorcan sits up again and fans rally behind him. Daivari can't believe Lorcan is prying out of the hold! Lorcan grabs Daivari to slap, slap, SLAP! Running EuroUpper!
Lorcan drags Daivari up again, and to the top rope! He climbs up behind Daivari, half nelson, but Daivari fights out for dear life. Lorcan falls hard, and Daivari turns around for the LION SPLASH! But he flops as Lorcan gets clear! Nese likes what he sees as Lorcan glares at Daivari. Lorcan runs in for a big clothesline, then a back elbow! He keeps moving, but gets another SUPERKICK! Daivari flounders his way up top, LION SPLASH! It hits, but he's not done! Daivari hammerlocks for the LION LARIAT! Cover, Daivari wins!!
Winner: Ariya Daivari, by pinfall; NEW #1 Contender to the WWE Cruiserweight Championship
Nese has to applaud that performance, because that was truly worthy of fighting for the title. Daivari walks up to Nese and Nese offers a respectful handshake. Nese wants to congratulate Daivari on a "hell of a match", but all Daivari wants from Nese is the title. Nese holds up the title and dares Daivari to take it. Daivari backs down for now, but this match is coming. What will it take to stop the man who stopped the unstoppable?
---
My Thoughts:
An incredible episode of 205 Live! Gulak did a great job in his promo to frame the new chapter in the Cruiserweight Division after the Shake-Up, and I was really surprised he lost to Carrillo. Gallagher's own promo made it seem like the main thread of this story was going to be their blow-off match to settle things so I feared Carrillo was going to be fodder to give Gulak momentum. But instead, Carrillo gets the win he should've had all along, and can move on to whatever is next. Gulak VS Gallagher meanwhile will be great, and I hope they get a stipulation of some kind to make it even more exciting. Tozawa VS Kanellis is obviously going to happen again, I also hope that gets something special for the blow-off.
Lorcan VS Daivari was a great contender's match. As Lorcan put in his promo, their styles parallel each other so closely, it was great to see them hit hard and move fast. Nese being Face, naturally the Heel wins but this was honestly another long time coming moment in 205 Live. If Enzo had stuck around, I'd imagine Nese would've still found his way to the title off him, then the "Zo Train" would break up and we'd have gotten Nese VS Daivari sooner. But after the time that's passed, it's great to get this match with the forms of Nese and Daivari we have now. I don't know if this match will be part of MITB PPV, but even if it's the go-home or the episode after, it'll be great. I'm sure Nese will retain, this is his first defense outside of the rematch with Murphy.
My Score: 8.3/10