Mathew's Stardom 5 Star Grand Prix Blue Stars Results & Review: Day 8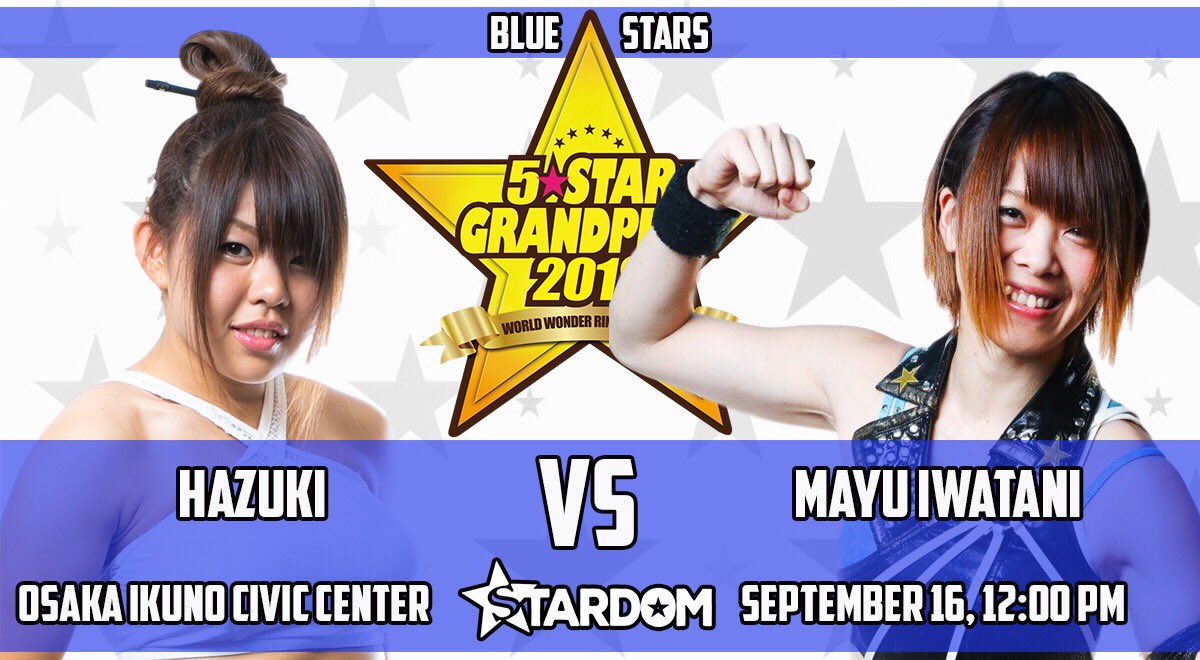 So tomorrow is the last day of the Five Star Grand Prix where we will have our final four matches and the final match on the same day but we got two matches left to cover before we go to the final day.
This show is for people that didn't have their six matches before the final day and we're using this to make sure they're all caught up to speed and we can see who has a chance to make it and who doesn't. I know it says day 8 in my headline but I had no matches on the seventh day, so I decided to just skip it and go where I have my actual matches. So who wins these two matches?
Let's find out and…dive right in.
Grand Prix Blue Stars Match
Kelly Klein vs. Natsu Sumire
Review: It's pretty clear that Sumire is pretty much eliminated and even if she does win this match and her last one, the fact that Mayu would hold the tiebreaker over her if she lost today and won tomorrow, but would still be out if Momo won on the final day since she'd have nine points while Sumire would still have eight if she won both and wouldn't matter, but she has been one of the highlights of this tournament due to her personality flourishing a lot more here and the fans loving her more and more. Sumire in her pre-match interview seems to be more focused on her bust size and even talked about the supplements she's been taking for a couple weeks now and is disappointed that there's been no change in her results just yet and hopes to provide progress updates. Kelly is her opponent tonight and if Kelly does win here, she'll be in the top spot of the standings and would have a strong chance of winning. Can Kelly win again or will Sumire ruin it for her?
Once again, Sumire made the match fun when it was needed due to it not being the best bout in the tournament here but they did work with what they got, even if it was as pretty standard as they come. Kelly did an okay job in the match as well and probably my least favorite outing of her in the Grand Prix and she just wanted to dominate Sumire. Sumire was mostly doing her antics that you would see in her matches with the false handshakes, cradling them up when they least expect it, and just whipping them. It looked like Kelly was going to go for the win here and when she ran the ropes, Kagetsu kicked her in the back to stun her long enough for Sumire to grab the Oedo Tai sign so she could hit Kelly with it, but Kelly moved out of the way causing the sign to bounce off the ropes and hit Sumire instead in which it gets turned around for Kelly to hit the Fireman's Carry Slam for the victory and she's now in first place.
Rating: Tony Schiavone
Grand Prix Blue Stars Match
Hazuki vs. Mayu Iwatani
Review: A win here is very crucial for Mayu Iwatani if she wants to tie it up with Kelly, otherwise she would be eliminated from the tournament and her opponent, Hazuki would take the top spot with nine points and potentially win the whole thing if things work out in her favor. The last time the both of them fought one on one was around February during the ROH Women of Honor tournament and Mayu would come out the winner of that match and Mayu wants to beat her again to show she's on a whole different level now. Who will take the top spot of the standings, Mayu or Hazuki?
Hazuki is in my top 5 wrestlers of Stardom right now and this match here with Mayu just solidified my statement for this claim. This whole tournament, she has been one of the most consistent wrestlers in her matches with her sequences being on point, her moves are crisp, and how to handle a match lately has been outstanding that she should be under peoples radar. Hazuki right away was being aggressive with Mayu before the bell even rang when she attacked her from behind and kept rolling her up which failed, but she kept on the attack by throwing her around into chairs on the outside and even destroyed Mayu's arm during the whole match and not holding back on her, I love this side of Hazuki.
This match is one of my favorites in my block next to Hazuki/Momo still being my favorite one, but this one was still pretty damn close with their chemistry in the ring together gave us a special match and it's not even their last one for their block. They told a great story in the ring, executed everything almost flawlessly, seeing a more aggressive side of Hazuki in her previous two matches, and Mayu selling it all to make it look more dangerous than it probably is, but they were just on point with everything together. Hazuki was pulling out all the stops with having her in the Crossface, working on her arm, stiff Dropkicks and a Codebreaker, but it still wasn't enough to take Mayu out as she hits the Dragon Suplex Hold and gets the victory to tie first place with Kelly Klein. After the match, she told the crowd that she was now in first place and hopes the crowd will still support her as she looks to win it all at the final.
Rating: Bruce Prichard
Overall: Can't really give it a fair assessment due to only having two matches with one being average and the other one being great, but the average of it was solid enough. I'm glad to see that all three of my picks are in the top 4 of potential winners and excited for the last day since it's stacked.
Favorite Match: Hazuki vs. Mayu Iwatani
Score: 6/10
Blue Stars Standings:
Mayu Iwatani: 4-2 (8 Points)
Kelly Klein: 4-2 (8 Points)
Momo Watanabe: 3-2-1 (7 Points)
Hazuki: 3-2-1 (7 Points)
Nicole Savoy: 3-3 (6 Points)
Jamie Hayter: 2-4 (4 Points)
Saki Kashima: 2-4 (2 Points)
Natsu Sumire: 2-4 (4 Points)
Now that we have our final standings before the final show tomorrow, we see that our top 4 people that could still win this are Mayu Iwatani, Kelly Klein, Momo Watanabe, and Hazuki. We're gonna break down the final card for tomorrow and see who has a real chance and how can it be done.
Mayu Iwatani vs. Momo Watanabe
Hazuki vs. Natsu Sumire
Kelly Klein vs. Nicole Savoy
Saki Kashima vs. Jamie Hayter
Here is how these four can win.
Mayu Iwatani: Defeat Momo Watanabe and Nicole Savoy defeats Kelly Klein.
Momo Watanabe: Defeat Mayu Iwatani and Nicole Savoy defeats Kelly Klein.
Kelly Klein: Defeat Nicole Savoy
Hazuki: Defeat Nicole Savoy, Momo Watanabe defeats Mayu Iwatani, and Nicole Savoy defeats Kelly Klein
If Momo and Hazuki do win their matches and Kelly loses, these two will be in a tie and it'll be interesting to see who gets the final spot since they did tie it up in their outing, interesting direction if that's the case.